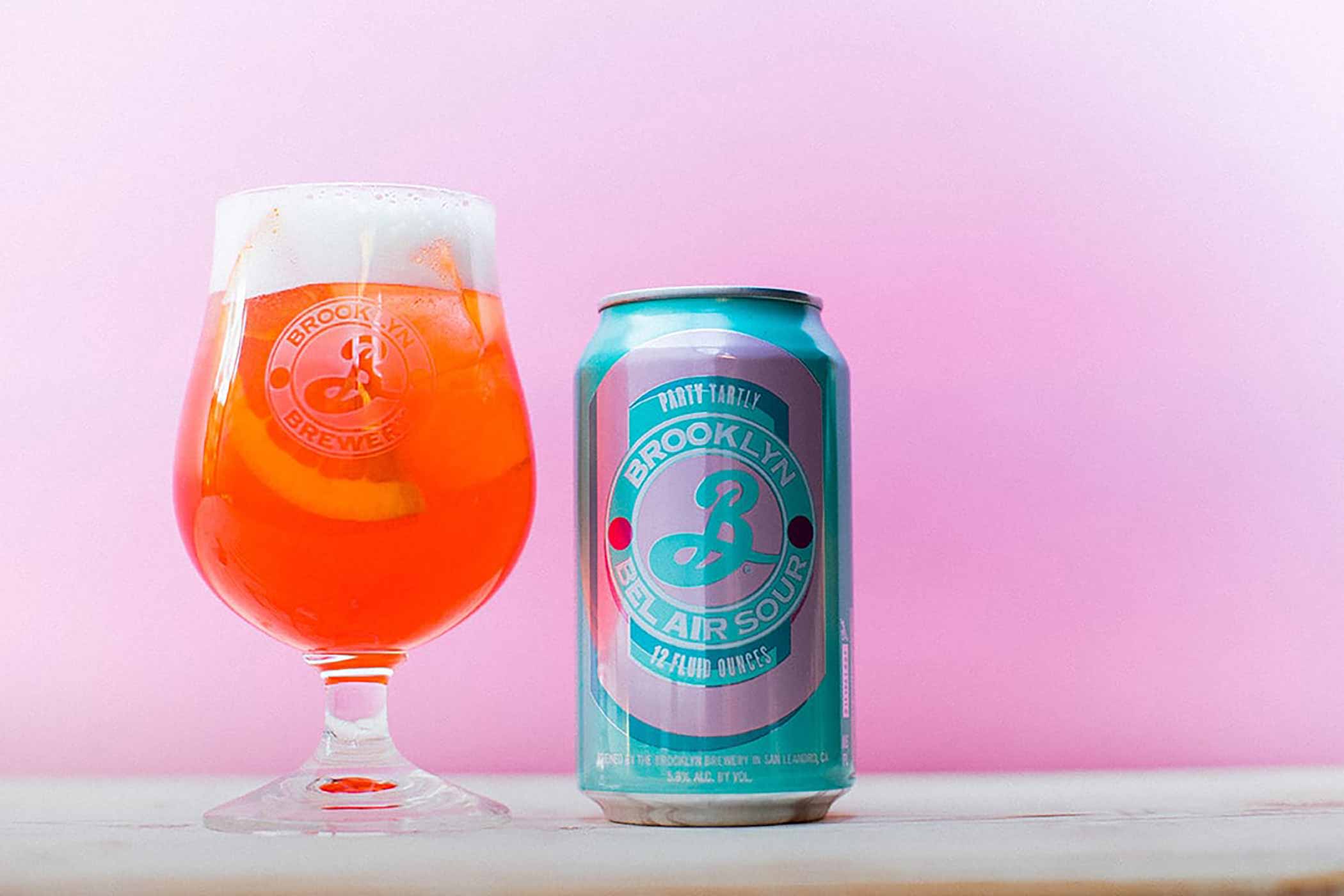 Photography courtesy of Brooklyn Brewery
Recently, we've enjoyed putting together a series on some of the best style-specific beers you can find in a store near year.
So far in the winter, we covered "The 10 Best Stouts Available in Most Stores Right Now."
In spring, we wrote about "The 15 Best American IPAs Available in Most Stores Right Now."
And for any time of the year, we introduced "The 11 Best Hazy IPAs Available in Most Stores Right Now."
But for the summertime, we feel there is no better beer style to explore than a fruity, thirst-quenching, juicy sour.
From kettle-soured to spontaneously fermented to dessert-inspired, sours have swept the nation with their fruit-forward knockout punches. For most brewers, flexing their sour prowess means flipping the entire beer making process on its head. They throw out all the rules they've known as professionals about making beer and let the beer take on the wild whims of nature and bacteria.
Which means putting sours in a can and making them accessible to the masses can actually be very tricky.
But it's not impossible
A Super Short History of Sour Beer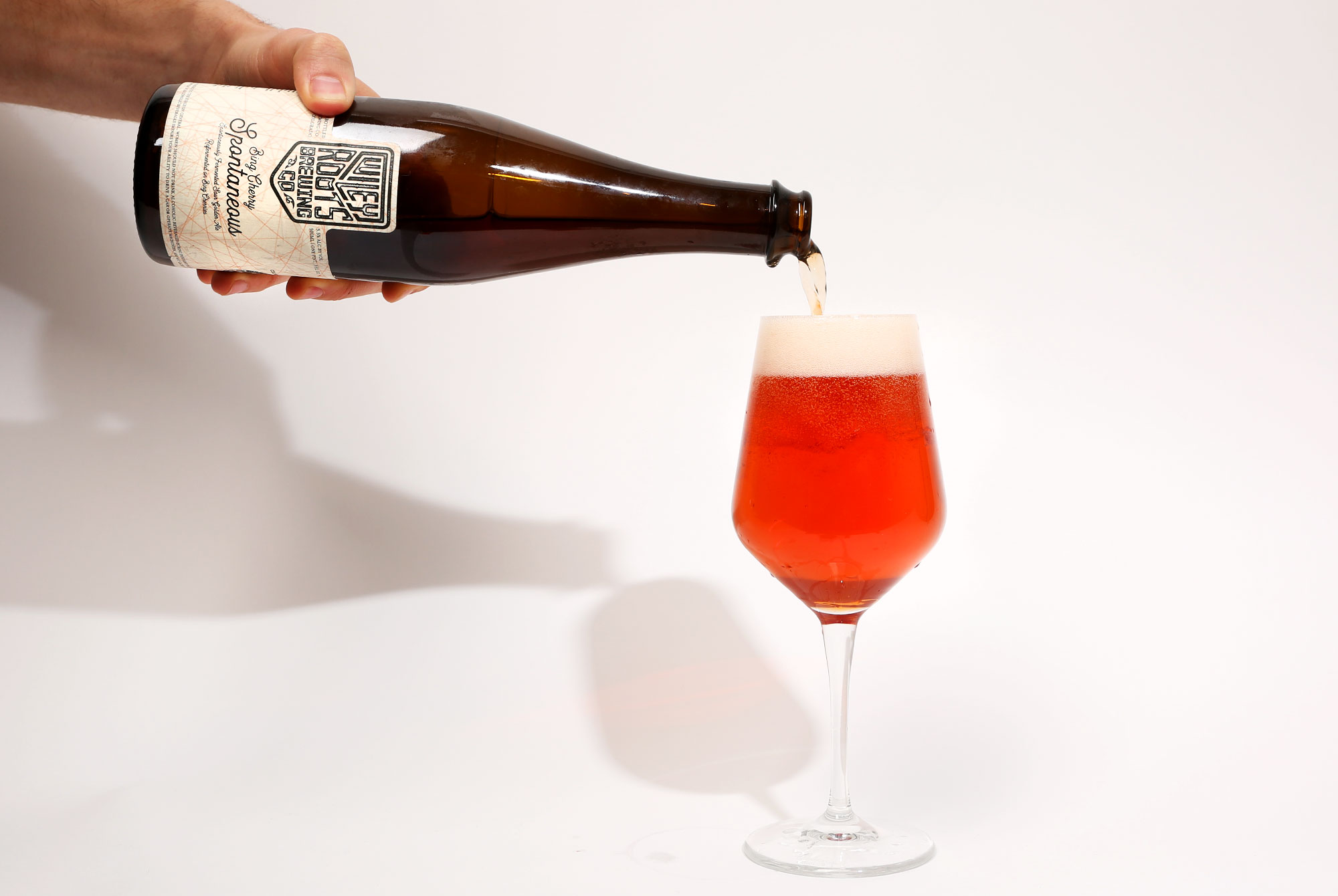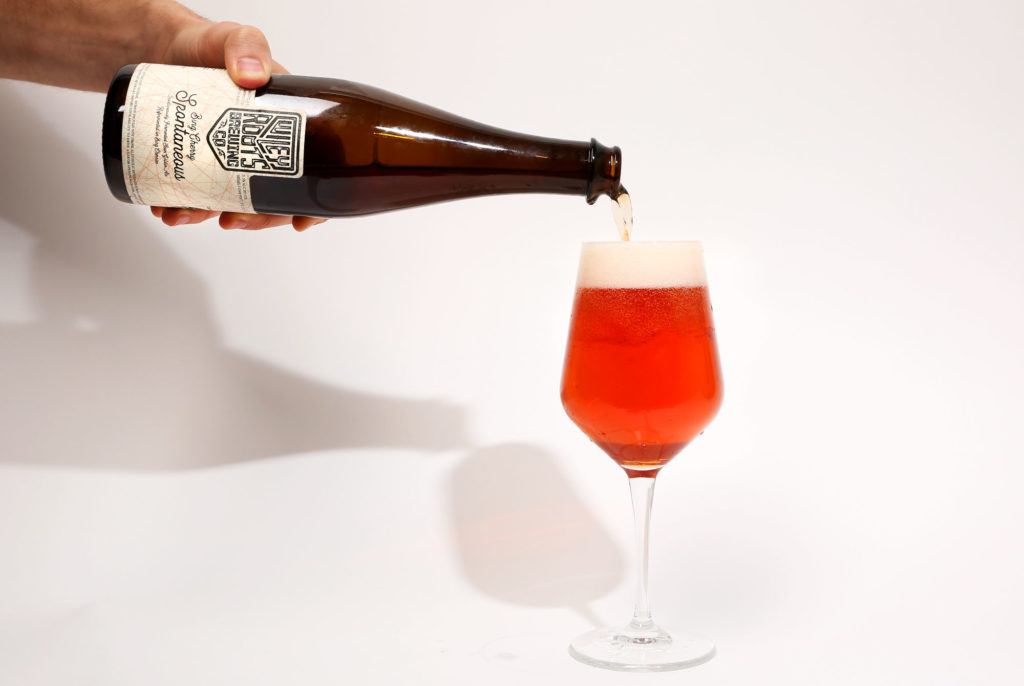 The history of sour beer can probably be traced back to the spontaneously fermented creations of Belgian farmhands who relied on local microflora and fauna to ferment the beer.
Breweries like Cantillon and Drie Fonteinen became renowned for spontaneously fermented beers often available only in large format bottles.
For that reason, when sours first started to gain momentum in the United States, you'd be more likely to find them sold in limited quantities or in exclusive 375mL or 750mL bottles (often corked).
American breweries like Black Project Spontaneous & Wild Ales, The Bruery, Jolly Pumpkin, and Jester King became revered for their tart trade. But these heavy, glass bottles made sours hard to take outside and enjoy on the lake, at the beach, or even just in the backyard.
Today however, many brewers have wrangled that wild yeast. Now, you're more likely to find a reasonably priced canned sour on the shelf next to a hazy IPA. Which is good news for folks interested in traversing the funky waters of a sour beer.
Below, you'll find a list of our favorite sours that are widely available across the country. Again, we're not talking about some of the world's rarest sours like Zwanze, but rather those expertly executed versions that are easy-to-find, accessible, and perfect for taking anywhere on a hot summer's day.
Hop Culture's 10 Best Sours Available in Most Stores Right Now
Anderson Valley Brewing Co. – The Kimmie, The Yink, and The Holy Gose Ale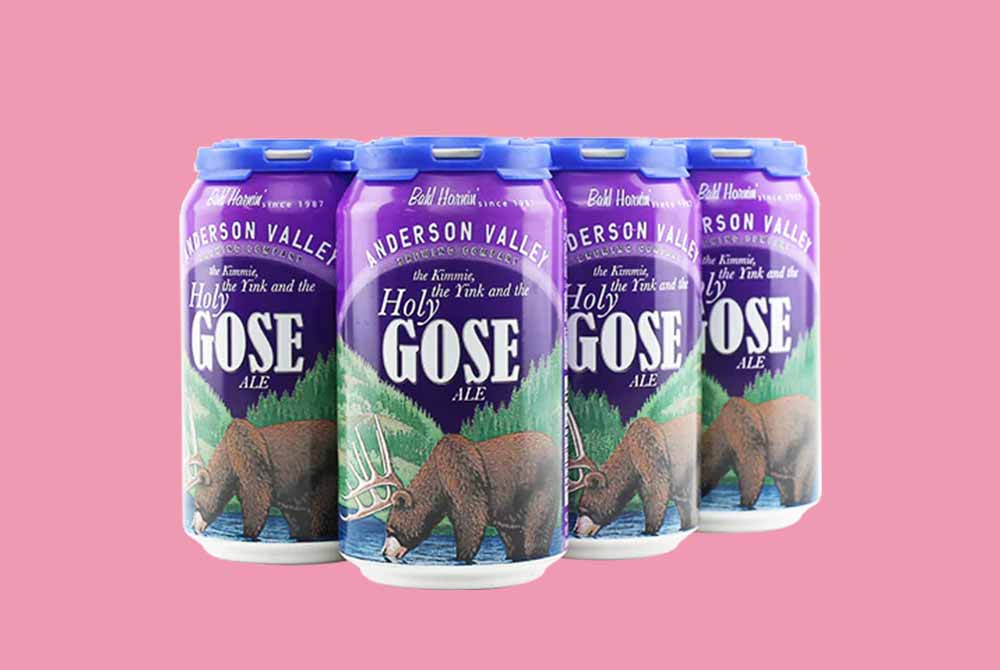 Funny story, this is probably one of the first sour beers I ever tried. Taking one sip hit my tongue with an explosion of simultaneously tart and salty liquid. Little did I know I'd just tried a gose for the first time.
And little did I know that Anderson Valley has actually been credited with introducing this slightly salty German sour to Americans. Before becoming ubiquitous, the gose in the hands of Anderson Valley became like a gateway beer for many Americans exploring sours.
Pouring a bright gold with undertones of citrus and tropical fruit zest, Holy Gose has to be on the list of any approachable sours to try. Consider this beer like putting that first foot onto the sand at the beach and getting hit in the face with a blast of briney ocean breeze. It's simultaneously shocking and comforting.
Even today, the "the gose that started it all" is still winning awards, including a gold at the 2022 World Beer Cup.
Currently, Anderson Valley distributes in thirty-nine states; so to find an Anderson Valley Holy Gose near you, use AVBC's "Find Our Beer" page.
Almanac Beer Co. – Sournova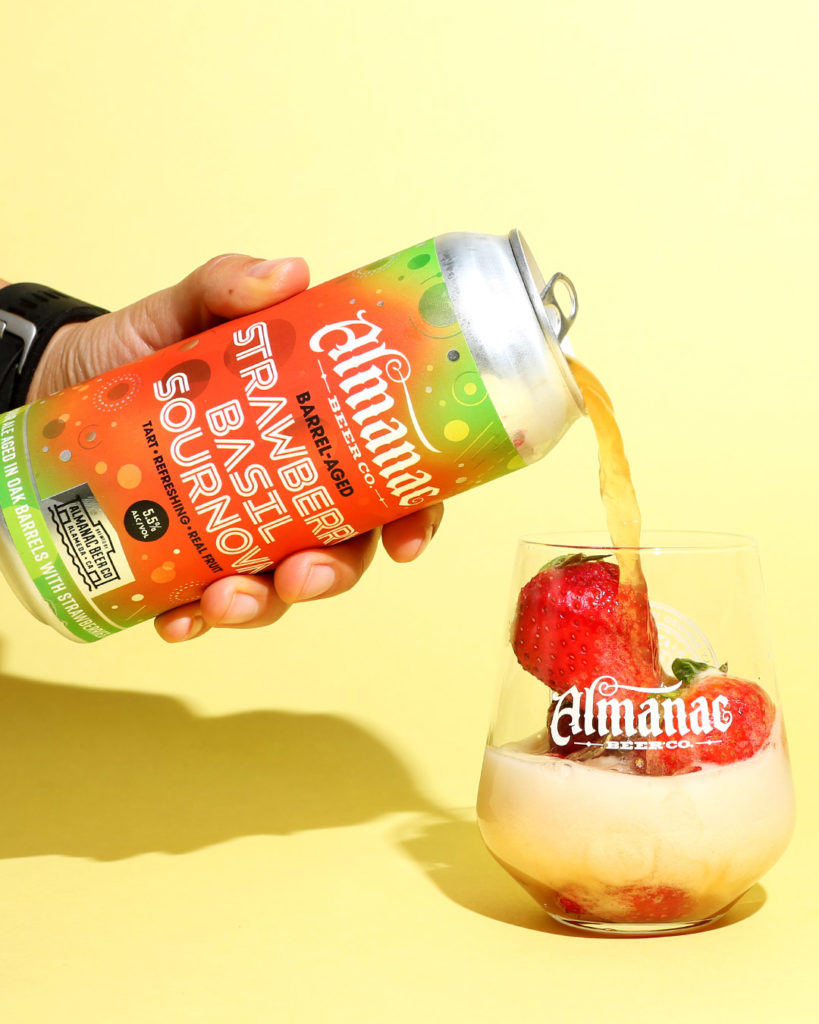 As we mentioned, putting sours into accessible, easy-to-pack cans is no easy feat. Almanac spent two years of extensive R&D to understand how to properly and safely can their mixed-fermentation series with a minimum of a one-year shelf life.
See, Almanac's Sournova series isn't kettle soured, but rather naturally conditioned for months in various barrels with various fruits. For example, strawberries, blackberries, peaches, raspberries, cherries, or apricots, to name a few.
Because Almanac doesn't pasteurize its beer, their sours will continue to ferment even inside the can, creating a liquid that evolves over time much like wine. The results have been mesmerizing.
In the past, we've been fans of the Strawberry Basil Sournova for its light, spritzy, refreshing notes. But you really can't go wrong with any of the versions available in this series.
Today, Almanac distributes in upwards of twenty-five states with direct-to-consumer delivery available only in its home state of California. To find an Almanac Sournova near you, use the brewery's "Where To Buy" page.
Brooklyn Brewery – Bel Air Sour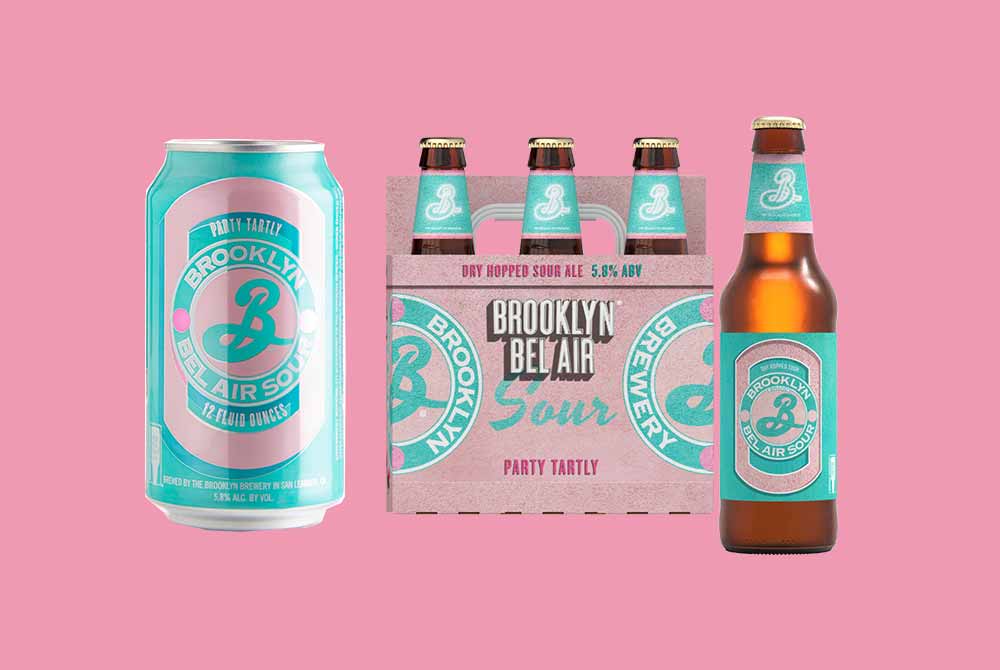 In 2017, Brooklyn Brewery released Bel Air Sour as a super limited-edition SKU. But surprise, surprise, the tart, effervescent California-inspired sour made huge waves. So much so that Brooklyn Brewery decided to make Bel Air Sour a part of their permanent portfolio. And that's not something the brewery does often. The last time? Almost ten years ago, when Brooklyn Brewery turned Sorachi Ace from a limited-run beer into a regular staple.
But good thing they made Bel Air Sour a regular because this beer embodies everything we want in a summer beer—crisp, citrusy, and thirst-quenching. Plus, at only 5.8% ABV, you can knock back a few around the pool and still make it to the barbecue at night.
Today, Brooklyn Brewery distributes in thirty-four states and over thirty countries. To find a Brooklyn Brewery Bel Air Sour near you, use the Brooklyn Brewery Beer Finder.
Burley Oak – J.R.E.A.M. Series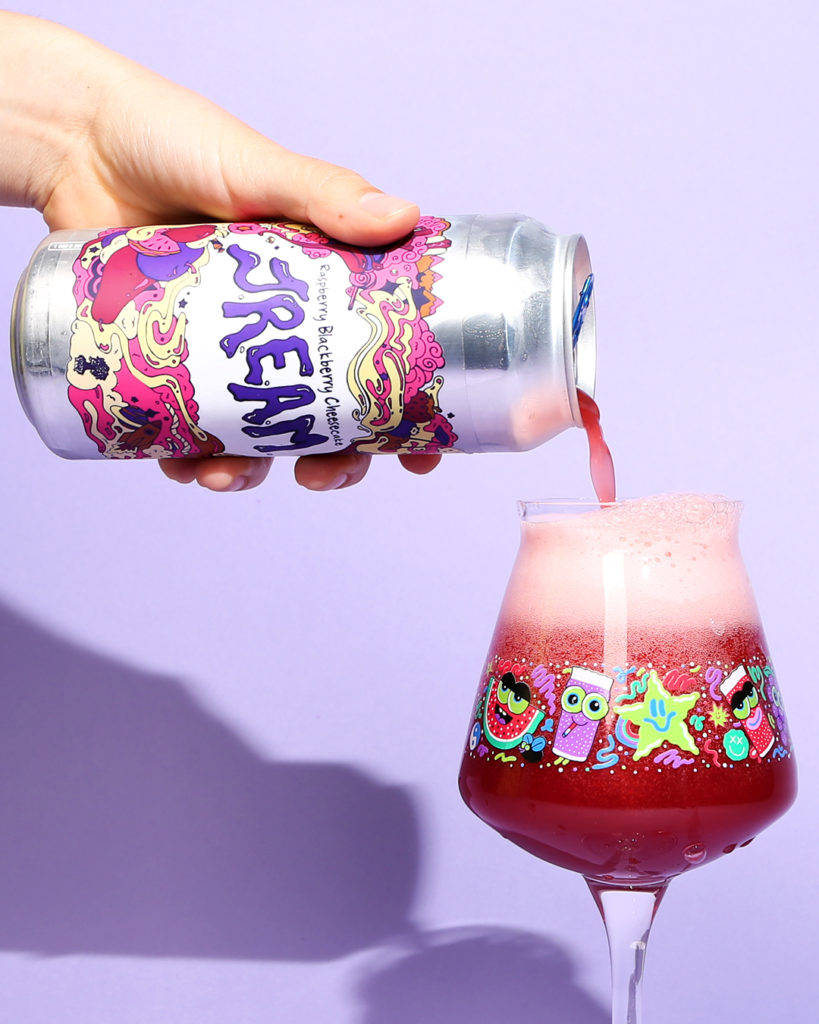 It would be hard for us to write a piece on sour beers without mentioning one of the most coveted sour series in the country to date. Burley Oak's J.R.E.A.M. beers have earned a place on a pedestal. These sours are up there with Other Half's IPAs and Jester King's own mixed-fermentation bottles. In other words, J.R.E.A.M. is synonymous with phenomenal fruit-infused sour beers. And not just fruit, but all kinds of crazy creations from a Miami Vice J.R.E.A.M. with a blend of the brewery's Strawberry Daiquiri and Double Pina Colada J.R.E.A.M to a Tiger's Blood Sno-Ball J.R.E.A.M. inspired by the eponymous snow cone flavor. No limits in this sour galaxy. Whatever Burley Oak Founder Bryan Brushmiller and his team can dream up, they're putting in a can.
Burley Oak's distribution footprint is a bit smaller; you can find them in nine states.
Dogfish Head – SeaQuench Ale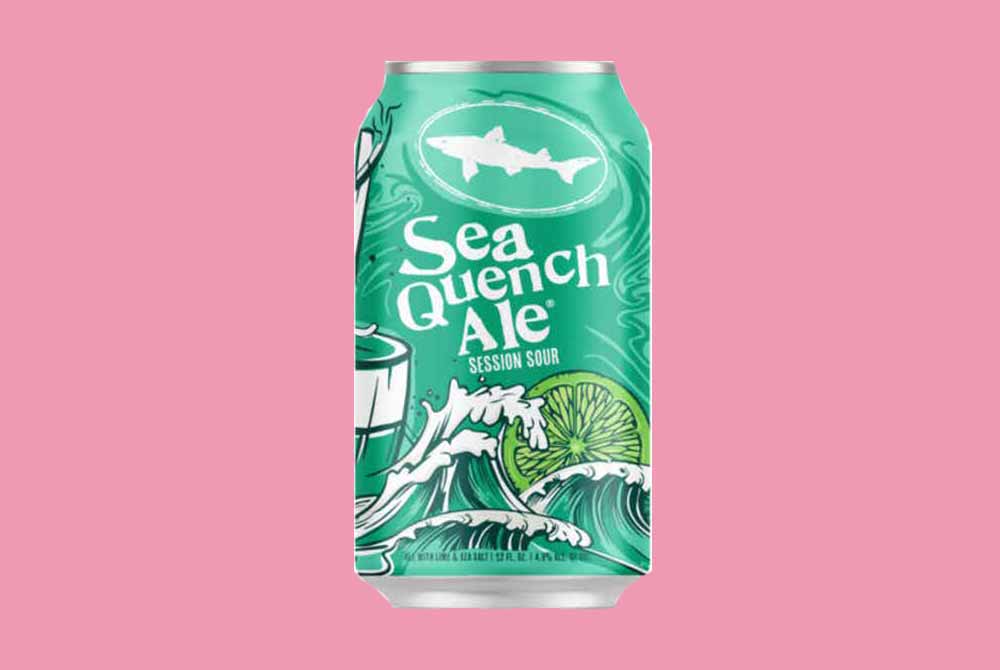 From the brewery that brews one of our "14 Most Iconic Beers," comes a sour that continues to pave its pioneering ways. Technically considered a mash-up of a kölsch, a Berliner weisse, and a gose, SeaQuench Ale includes black limes, sour lime juice, and sea salt.
Dogfish Head took its time creating this summer standout. Dogfish released SeaQuench into the world after one year of dedicated research and development.
The approachable, refreshing sour from this pioneering brewery clocks in at only 4.9% ABV for a beer perfect for any active lifestyle.
You can currently find this classic in all fifty U.S. states and Washington, D.C. We recommend using Dogfish Head's Fish Finder to track down a SeaQuench Ale near you.
Lagunitas – Aunt Sally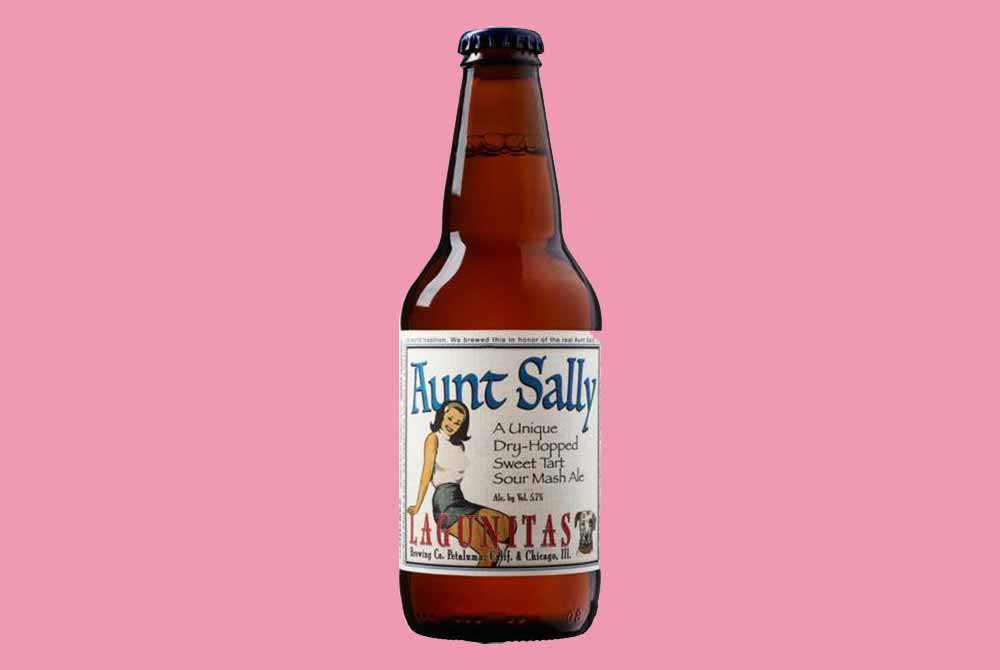 Lagunitas already makes one of our "15 Best American IPAs Available in Most Stores Right Now." so it's no surprise that they also earn a spot on our list of accessible sours. Lagunitas considers this beer a dry-hopped sweet tart sour mash ale. All that means is that they sour the wort on the hot side with Lactobacillus for a few days. The result? "It tastes like a big bowl of fruity candy or some chewable flavored vitamins, but what's the difference?" writes the brewery in its Untappd description. "It's sweet, tart, and sassy, just like the tasty cherry pie that your favorite aunt makes." This is a sour with a side of style.
Currently, Lagunitas distributes to thirty-two states, so to track down a Lagunitas close by, use the brewery's Brew Finder.
New Belgium – Dominga Mimosa Sour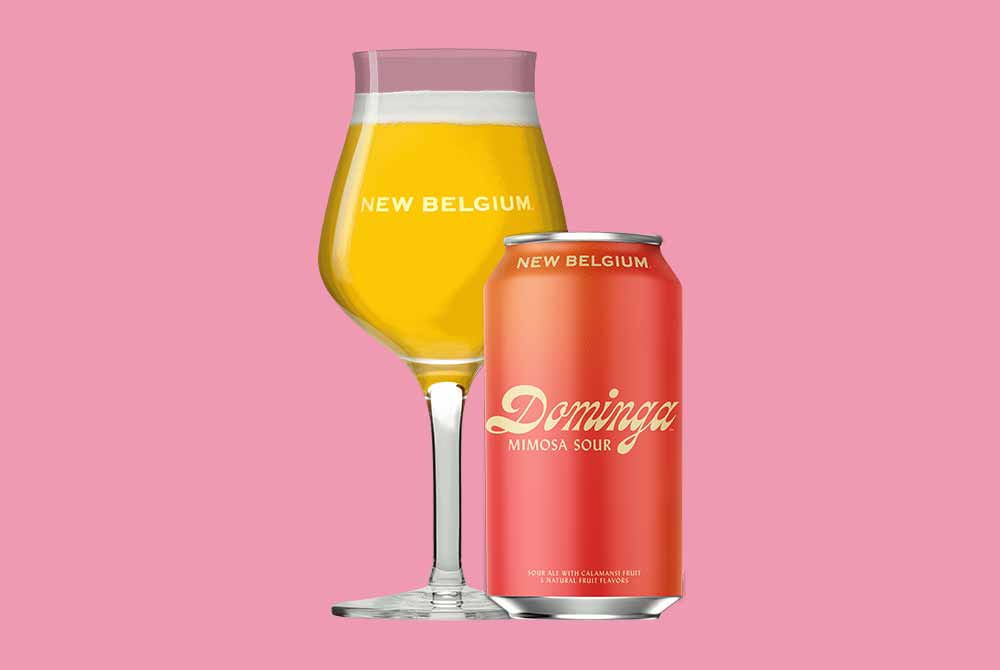 It's the origin of this beer that makes it a spot-on selection. As the story goes, the New Belgium team sipped on mimosas one Sunday afternoon when their Wood Cellar Blender, Lauren Limbach, received a gift—a new foeder. Limbach named the large oak barrel Dominga based on the Spanish word for Sunday. Accordingly, Dominga Mimosa Sour became the first beer to grace her "Dominga" foeder.
The mimosa-inspired golden sour has become a year-round favorite for the Fort Collins- and Asheville-based brewery. Leveraging Calamansi oranges, Dominga brings tartness and effervescence to your palette. Overall, saying it is the perfect brunch beer pretty much sums up this beer.
Look for Dominga Mimosa Sour across New Belgium's distribution in all fifty states plus Canada, Australia, Japan, South Korea, Sweden, and Norway. The best thing to do is to use New Belgium's Beer Finder to scout out a Dominga Mimosa Sour near you.
Night Shift – Weiss Series
When Night Shift opened in 2012, co-founder Michael Oxton liked this sour style so much that he added a Berliner Weisse to the portfolio right from the beginning.
According to Oxton, that naturally occurring bacteria known as Lactobacillus gives the Berliner Weisse its classic acidity and sourness.
"It's not a wine, but it moves in the direction of a wine profile," says Oxton. "It's complex, it's fun, and it's something to talk about. I don't ever crack a Berliner Weisse without talking about the experience."
Night Shift's original Berliner Weisse, Ever Weisse, included strawberries, kiwis, and hibiscus.
But since that original beer, Night Shift's Weisse series has included everything from Orchard Weisse—featuring apples—to Picnic Weisse, which highlighted peaches and apricots.
Most recently, Night Shift brought a Slushie Weiss to Hop Culture's Queer Beer Fest. The sour ale includes orange, strawberry, and peach for a "blended sour that pours hazy sunset orange and sips bright and juicy with notes of orange juice and stone fruit," according to the beer's Untappd description.
Currently, you can find Night Shift mostly in the Mid-Atlantic and Northeast including in D.C. and the following eleven states: CT, MA, MD, ME, NH, NJ, NY, PA, RI, VA, and VT. To get a close up of where you can buy Slushie Weiss, Ever Weiss, or any of the other Weisses, visit the brewery's "Where To Buy" page.
Odell Brewing Co. – Sippin' Pretty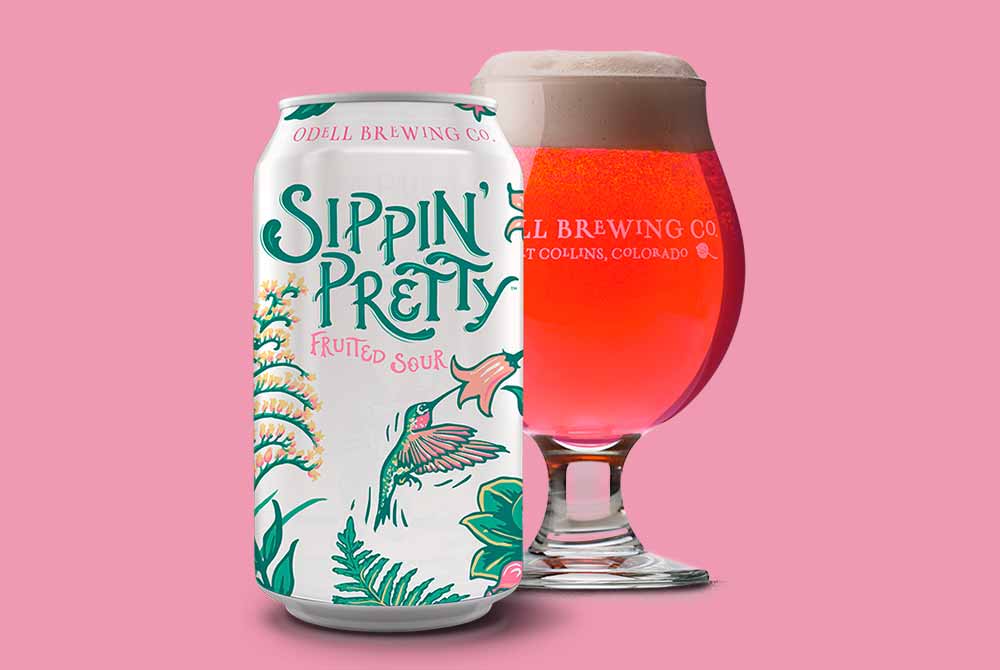 A fruited sour ale packed with acai, guava, elderberry, and a hint of Himalayan pink sea salt, Sippin' Pretty brings a distinctly tropical flair to sour beers. Pouring a brilliant ruby red, this refreshingly tart sour from Odell just hits the mark. When you want to put your feet up, kick back, relax, and "sip on something pretty," this is your beer.
Odell currently distributes in twenty states. To find an Odell Sippin' Pretty near you, use the brewery's "Beer Finder" page.
Westbrook Brewing Co. Gose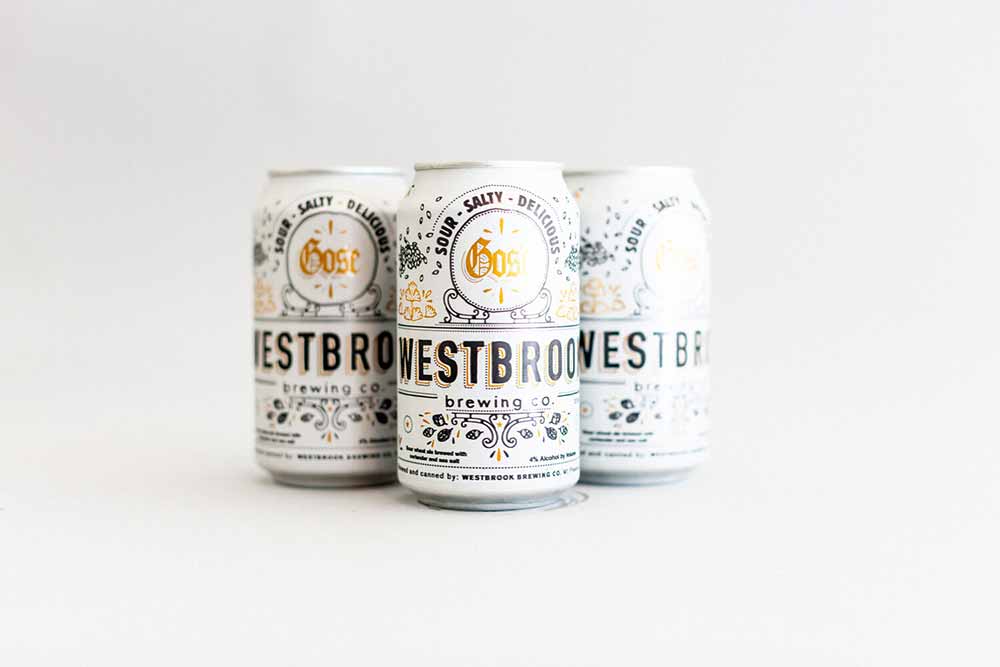 We started with a genre-defining gose and we're ending with an equally groundbreaking gose. Westbrook's interpretation of the traditional German-style sour wheat beer took the industry by storm when the brewery released it in 2012.
Including coriander and grey sea salt, Westbrook's original tart wheat beer just satisfies our soul.
Plus, the OG has gone on to inspire limited-edition variants with almost cult-like followings including the Key Lime Pie Gose (a seasonal brewed with cinnamon, coriander, key lime, sea salt, and vanilla usually only available from March through October) and Lemon Cucumber Gose (brewed with coriander, cucumber, lemon, and sea salt available April through October).
But for the purposes of this list, we're sticking with the first of its kind.
Today, you can find Westbrook distributed in Europe along with six states in the south and on the East Coast including: SC, NC, GA, AL, NY, and NJ. To find a Westbrooke Gose near you, use Westbrook's Beer Finder.