Just under two years ago, a new brewery opened up in South Florida, a hotbed for some of the most incredible breweries in the country (read: Tripping Animals, 3 Sons, and Odd Breed, to name a few). As if South Florida's beer scene could get hotter, Prison Pals Brewing Co. in Doral, FL, brought jam-packed fruit smoothie sours, hoppy hazy IPAs, and lights-out lagers to the Sunshine State.
To say the brewery has crushed it would be an understatement. In the last twenty-four months, Prison Pals has opened three taprooms across the state, added two new beers to their core lineup, and continued to churn out those unusual, one-off smoothie beers that have become their trademark.
As the brewery approaches its two-year anniversary, we sat down with co-founder Juan Pipkin to chat about the success of the brewery, a couple of new beers on the horizon, and what the future looks like for Prison Pals.
First, Remind Me, Prison Pals Is Who?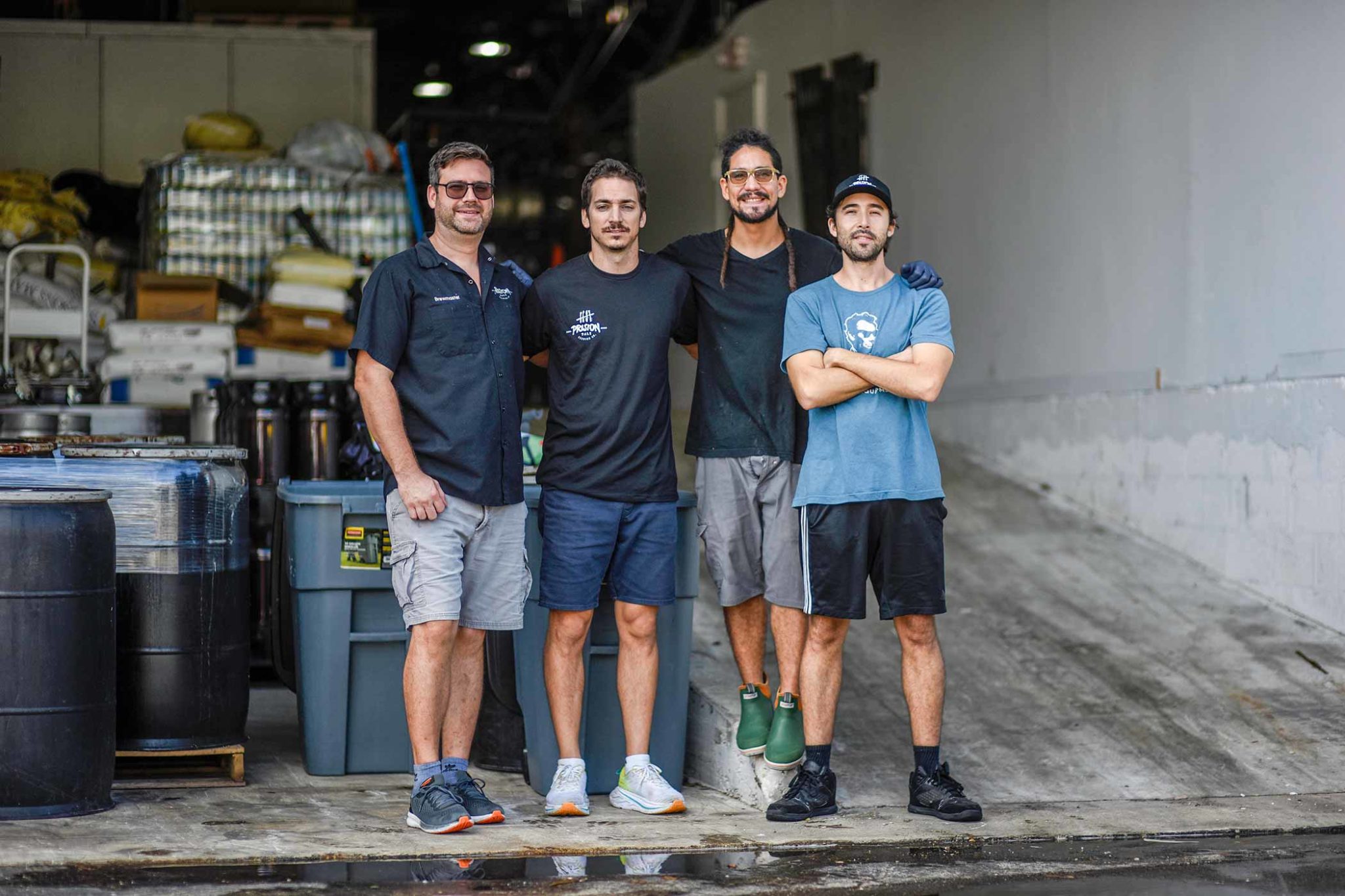 Founded in 2019 by four Argentinians, Juan Pipkin, Diego Setti, Bruno Laperchuck, and Matias Moroni, Prison Pals was originally the brainchild of Pipkin.
A professional race car driver in Argentina, Pipkin had friends who owned breweries, so he began to invest in the process. "I was very interested to learn about breweries and beer," says Pipkin. "And I loved to drink… I only wanted to drink good beer."
So Pipkin recruited Setti, who joined as the brewmaster, and Laperchuck, who became the head brewer and lab manager in charge of everything from quality control and yeast propagation to maintaining the quality standards of the beer and high level of sanitation.
But Pipkin didn't want to open his place in Argentina, where the craft beer industry has limitations, growing slower than in the United States.
Since he already had family in Miami, Pipkin began to explore opening a brewery in America.
In January 2020, Pipkin and Setti visited Florida, touring breweries through Miami, Tampa, and Naples. "We did a lot of miles in two or three days and drank a lot of beer," jokes Pipkin.
But in all seriousness, Florida seemed like the perfect place for Prison Pals. When Argentina allowed residents with tourist visas to leave the country, Pipkin and his co-founders moved, setting up shop in Doral, FL, in early January 2021.
Within three months, they had built pretty much everything in the brewery. "We are handy people," says Setti. "Except for the electricity and some piping for water, we made everything by ourselves. We were so excited about building our own brewery, so why not?"
In May 2021, Prison Pals started pumping out beers, and in April 2022, their taproom officially went live.
Prison Pals Escapes Their Prison
When Pipkin, Setti, Laperchuck, and Moroni left Argentina, it was to escape a country where craft beer couldn't thrive.
"We escaped the prison," says Setti. "The prison was Argentina."
According to Setti and Pipkin, the economic situation in Argentina is very challenging.
"For example, this project made in Argentina would take me sixty to eighty years to recover the money we invested," says Pipkin. "Or we'd have to get lucky and be bought by AB InBev."
But in Florida, Prison Pals has had the freedom to thrive, according to Pipkin. Which is why we named them to our list of "The 23 People to Watch in Craft Beer in 2023."
When asked about the last two years, he says, "Crazy! It has been incredibly good. We've received a lot of good feedback from our customers. We are so happy and thankful for all our fans who have made us very happy and given us more energy to continue working hard."
Which Pipkin and Co. interpret as not resting on your laurels.
In the past two years, Prison Pals has opened three taprooms across Florida and expanded distribution to eighteen states nationwide.
Prison Pals, A Taproom for Every Neighborhood
The taprooms are a huge part of Prison Pals' identity. Pipkin feels that they are one of the best ways to reach customers and tell his story.
"Every taproom is made for each neighborhood," says Pipkin. "We want the bartenders to build a relationship with every customer."
At a Prison Pals taproom Pipkin wants you to "leave your problems at home when you walk in the door," he says. Take a moment out from the stress of your day, sit, relax, and enjoy a beer or two.
To that end, Prison Pals will be bringing its good vibes to new locations this year including Miami South Beach, West Palm Beach, Orlando, Tampa, North Miami Beach, Clearwater, Jacksonville, and Baltimore, with plans to keep opening even more taprooms in the future.
Of course, good vibes will only get you so far. In Florida, and South Florida especially, the beer has to be on point.
Prison Pals Stuns With Smoothie Sours
Once you try any beer from Prison Pals' portfolio, two things stand out right away: the high quality and high drinkability.
"The first thing we agreed on was to brew quality beer," says Setti.
Pipkin continues, "We try to make all our beers with a lot of drinkability."
To reflect those qualities, Prison Pals focused on three styles: smoothie sours, hazy IPAs, and lagers.
Perhaps most unique to the brand and the beers that put them on the map is their incredibly thick, heavily fruited Smoothie Series.
After that initial trip to Florida, Pipkin and Setti knew they wanted to brew kettle sours with a hint of fruit to combat the intense heat.
But Pipkin had a crazy idea.
What if instead of a hint, they added a lot (and we mean a lot) of fruit to those kettle sours?
"When I say a lot, I mean a lot of fruit," says Setti. "I'm talking about forty percent fruit by weight."
Fruits like mango, passion fruit, and peach. All of which went into Smoothie Series No.1.
The result? An intensely thick, intensely fruity, intensely tropical sour creation that sold out in less than a week.
Since that initial release, Prison Pals has gone on to brew tons of beers in their Smoothie Series with a whole orchard's worth of different fruits.
"We're always trying new, different flavors," says Setti.
But they've also honed in on the other styles in their portfolio: lagers and hazy IPAs.
Prison Pals Adds a Crispy Boi and a Juicy Boi to Core Lineup
The smoothie sours have struck a chord, for sure, but Prison Pals doesn't want it to escape attention that they also make highly drinkable lagers and extremely juicy hazies.
Which is why they added two new beers to their core lineup in each of those styles respectively.
Premium Lager
Developed specifically for the hot weather, Premium Lager has become one of Prison Pals' best-selling beers. And recently picked up a gold medal in the "American-Style Lager" category at Florida Best Beer. (The brewery's Phil The Freedom also nabbed a gold in the "Other Hoppy Lager" category).
"We are in Miami, so we need a light and good lager that we can make with high volume and quality," says Pipkin.
Brewed as a traditional American lager, Premium Lager features only barley and old-school hops, according to Pipkin.
"It's a crispy boi that we over carbonated, so the feeling is more refreshing," says Pipkin."This is just a clear, smooth beer that you can relax and drink everywhere."
Although a seemingly simple beer with a simple goal, Premium Lager has a much deeper purpose. Brewed with the tagline "Taste Freedom, Escape Your Prison," Premium Lager embodies Prison Pals' own story.
"[Premium Lager] is whatever stressful moment in your life that you want to escape, grab your pals, and go drink a beer," says Pipkin. "For us, that was leaving Argentina because of the political situation [and starting the brewery]."
Fitting then that this important beer has become such an incredibly popular one in Prison Pal's core lineup.
Hakuna Matata
Piggybacking on those good vibes, Hakuna Matata represents the expression, "No Worries, Be Happy."
"That is a phrase that we've loved since we were young," says Pipkin. "If you have a problem, there is a solution, so no worries."
Pipkin again shares that for him and his co-founders "our problem was Argentina, so we didn't worry, and we ran from them."
When you drink this super juicy IPA the idea is to escape from your problems for a little bit and just drink in the intensely smooth tropical notes.
What Is the Future of Prison Pals?
After a super successful two years in South Florida, Prison Pals aims to grow across the state.
Pipkin shared that the goal is to have ten taprooms open in the next year and to continue expanding distribution in the United States.
And of course, they'll keep releasing those imaginative smoothie sours, tropical IPAs, and revolutionary lagers.
We can confidently say that Prison Pals has broken free, becoming one of Florida's hottest breweries.
"The sky's the limit," says Setti.
Because while Pipkin, Setti, Laperchuck, and Moroni continuously tell people that they escaped Argentina to start Prison Pals, they also want to make sure that you know that visiting any Prison Pals taproom should be "like coming home," says Pipkin. "Only good vibes."