Photography courtesy of @burialbeer (on the left) and @prisonpalsbrewco (on the right)
A new year means new top beers and new year's resolutions.
For instance, we pledge to drink more beers from our "Best Breweries to Watch in 2023."
We promise to listen to these incredible voices changing the way we think about craft beer.
And we dare to drink beers with candy cap mushrooms and pawpaw fruit.
We're committed to trying as many hop waters as we can.
And to honoring historic Belgian styles.
Most importantly, we're one hundred percent on board for a "Wet January."
Tell us: What are your new year's resolutions for the year?
Not sure yet? We bet if you pop anyone of these ten best beers we drank in January, the ideas will start flowing pretty freely. 😜
10 Top Beers We Drank in January 2023
Gotta Have My Hops – Whole Foods Market Brewing Company x Musical Box Brewing
Houston, TX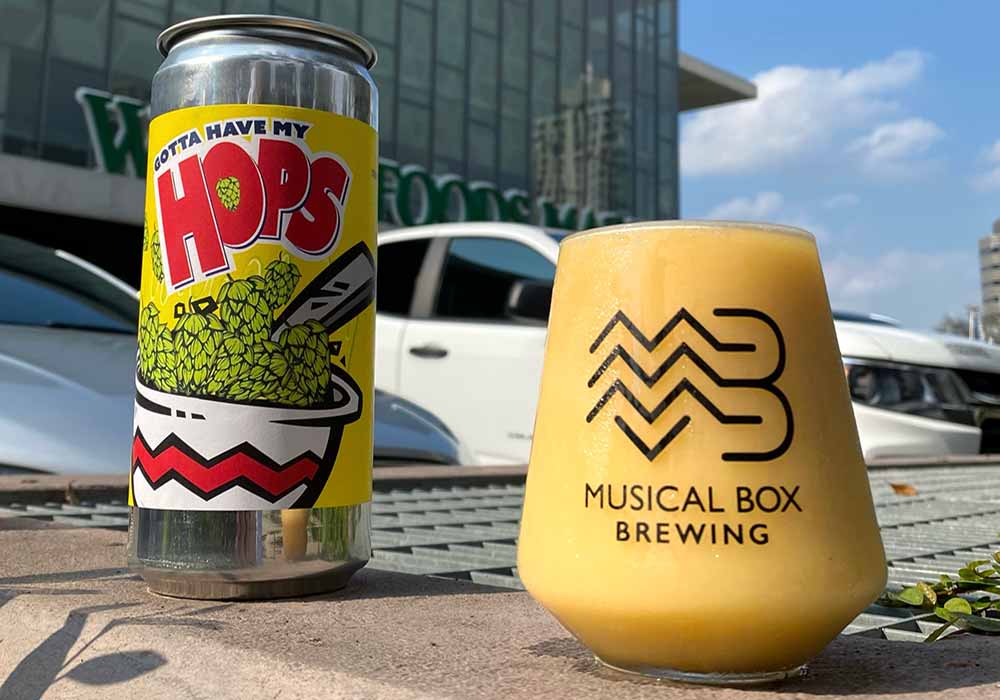 Hoppy Ale – When our friend and hoppy ale historian Larry Koestler sent us one of his newest collabs with a whopping 14.5 pounds of hops per barrel…yeah, we paid attention.
Let's say that again because it's not a misprint: Gotta Have My Hops from Musical Box Brewing and Chris Shelton at Whole Foods Market Brewing Company has 14.5 pounds of hops per barrel including Citra, Vic Secret, Rakau, and Waimea.
In the hands of some, this beer could break the IBU bank. But under Koestler and Shelton's direction, this hoppy ale drinks like a dream.
We must be dreaming to think that someone could funnel so much hoppage into a juicy, balanced bowl of goodness.
We can't officially recommend that this beer be a part of your balanced breakfast, but…
"Chris says it's the best beer he's ever brewed," Koestler wrote to Hop Culture in an email. "And while I can be prone to hyperbole, he is decidedly not."
To us, the best part of any bowl of cereal is the ultra saturated milk at the bottom. Take out the milk, replace it with beer and add hops instead of cereal. Bottom line: With Gotta Have My Hops you have that incredibly saturated last sip at the end of the bowl that's full of hoppy goodness.
Craziness. Just pure craziness. This is the kind of beer that reminds us why we do what we do and why we love the imagination of craft brewers so much. This is a beer with no fear. And we're here for it.
Mittpils – There Does Not Exist
San Luis Obispo, CA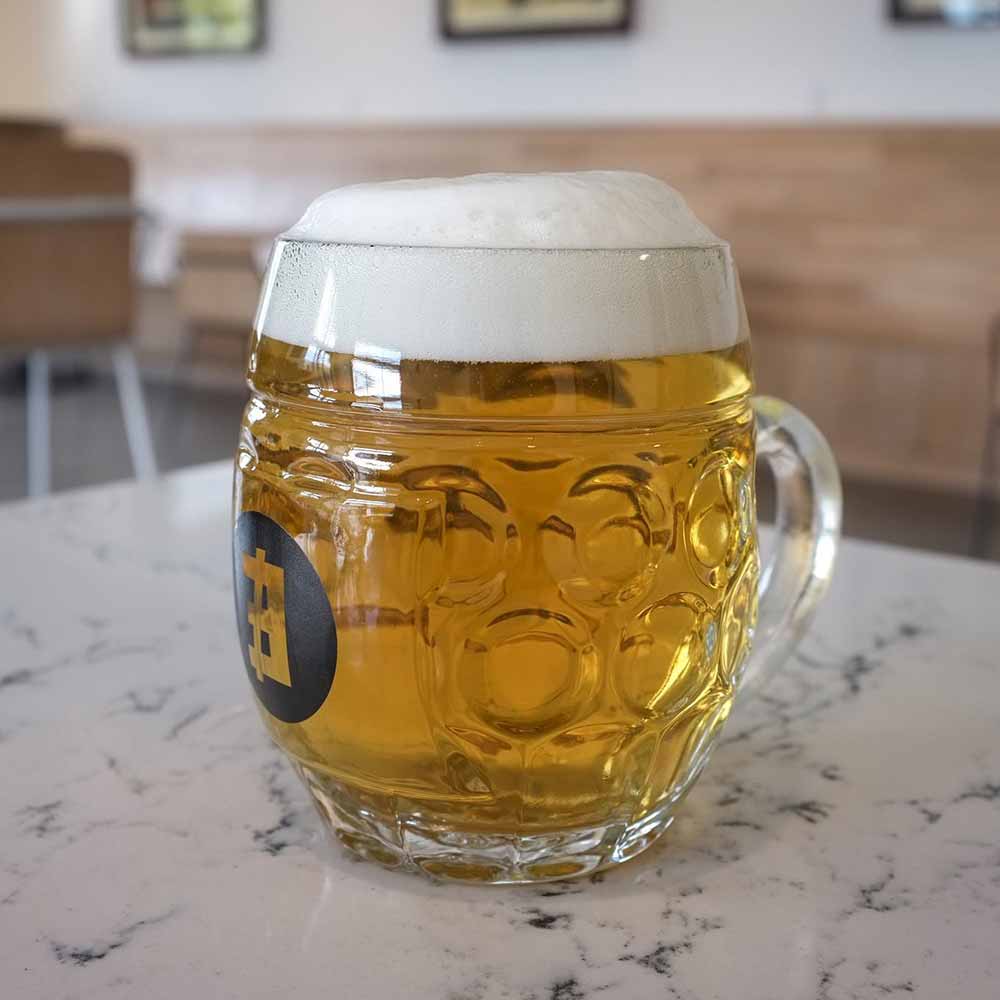 German Pilsner – One of our "Best Breweries to Watch in 2023," There Does Not Exist actually does exist. I had a chance to stop by the San Luis Obispo taproom recently. An absolutely gorgeous brewery belies the gritty craftsmanship that goes into developing a plethora of European-style lagers, hazy ales, and IPAs.
Mosey on up to the sunlit wood and white granite bar, peruse the taplist, grab a small pour or a big one, mosey on back out to a table full of friends, and just while away the hours.
On my visit, I actually enjoyed a 100 Spired Czech-style lager, 60 Days in Hell Bavarian helles, and Mittpils German-style pilsner, the latter of which Next Glass Brewery Solutions Account Executive Libby Borchert named as one of our Best Beers of 2022.
West Coast IPA – RationAle Brewing
Sonoma, CA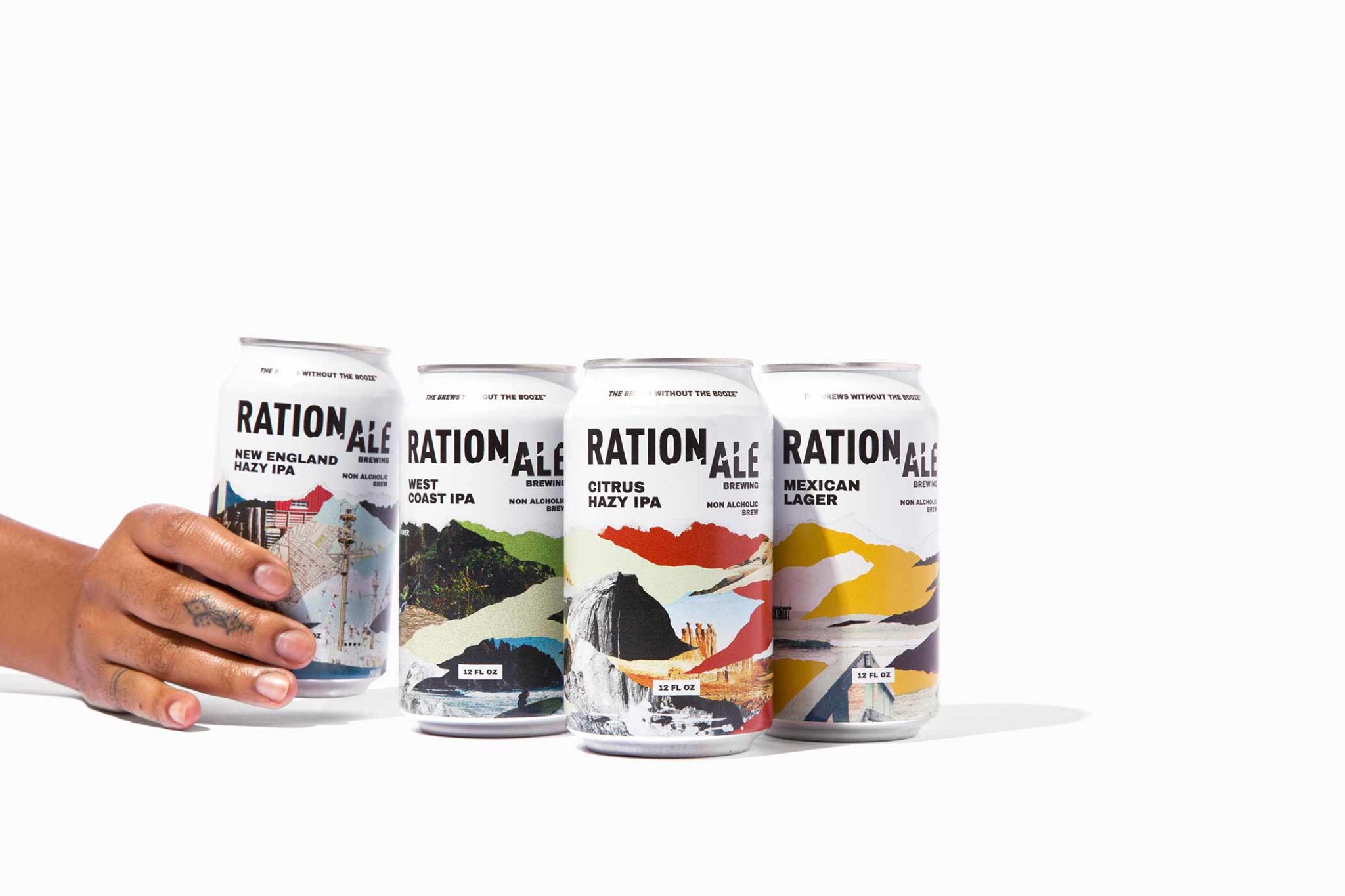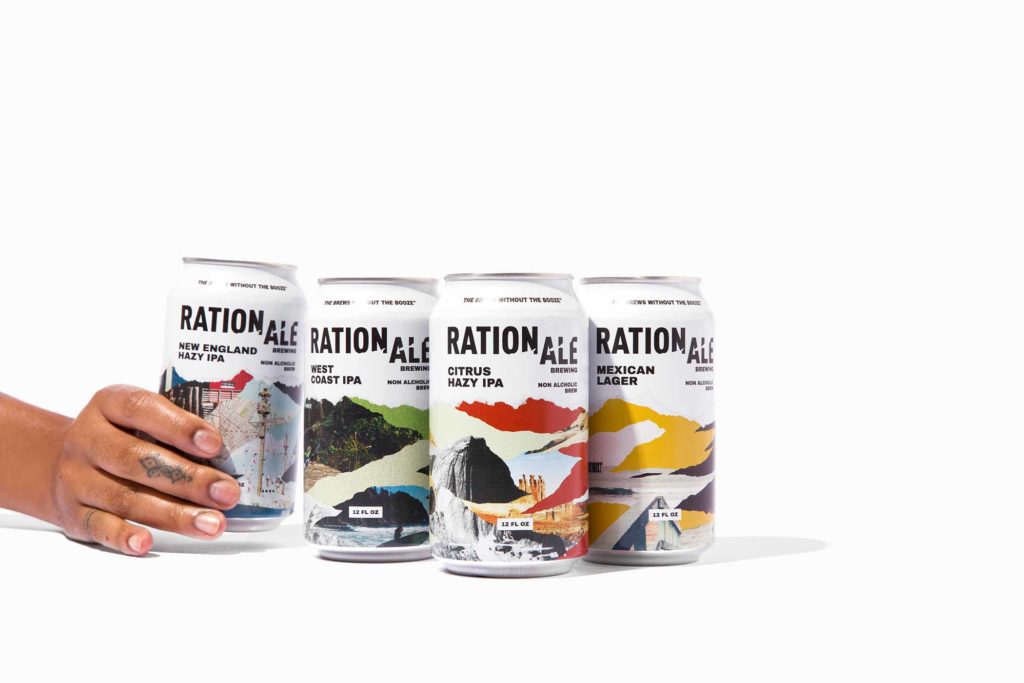 Non-Alcoholic West Coast IPA – One of our favorite non-alcoholic beer brands, RationAle makes four high-quality, craft, premium crushable styles.
We recently had the chance to try all of them. While each brims with flavor, a smooth mouthfeel, and a crisp finish, we particularly enjoyed the West Coast IPA.
Which tracks, because it took five different batches and five months for RationAle to nail this recipe.
"I will tell you right now the West Coast IPA that we packaged in December is frickin' off the charts; I flipped out when I tried it because it is so good," says RationAle Founder Jamie Fay.
Getting those predominant bright, bold notes characterized by a West Coast style can be difficult in a non-alcoholic beer, but RationAle just nails it.
"It has the nose of a West coast IPA, it has the dankness of a West Coast IPA, and it has the hop structure and finish of a piney…West Coast IPA," says Fay.
Overall, the West Coast IPA blew us away because this isn't usually a style you can drink more than one or two of without blowing out your palate.
But with RationAle's non-alcoholic version, you could crush an entire 6-pack. Which means "Wet January" is on!
Hop Splash – Sierra Nevada Brewing Company
Chico, CA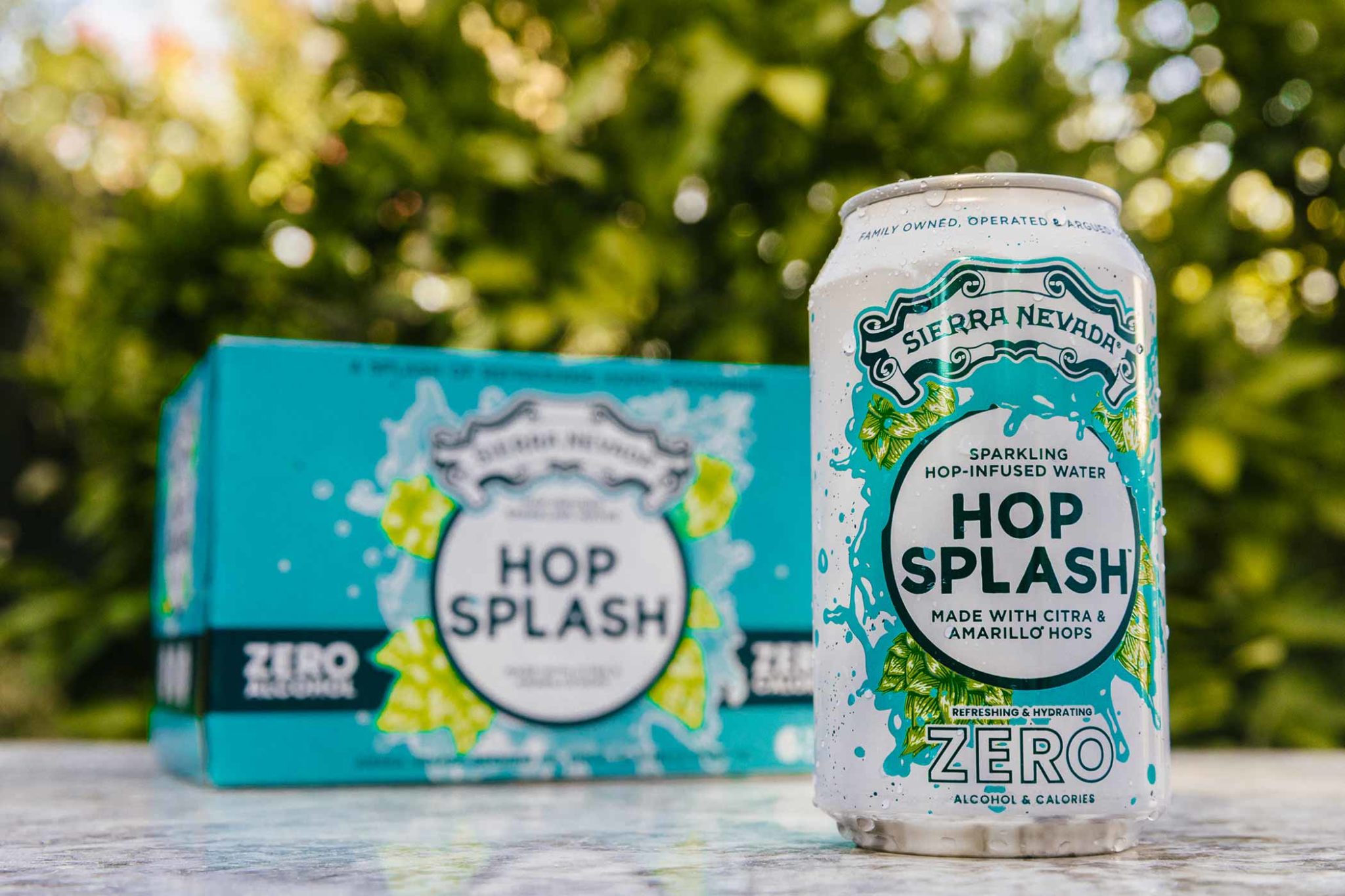 Hop Water – Without a doubt, the non-alcoholic segment is growing in the U.S. and around the world.
But it's not non-alcoholic beer that deserves your attention here.
Two words: hop water, a sparkling non-alcoholic beverage that includes hops (wow, you guessed it!).
We're calling it now: Hop waters will be one of "9 Beer Trends to Watch in 2023."
Several breweries have already created their own versions.
For example, Sierra Nevada recently released Hop Splash.
Look, it's no secret that Sierra Nevada LOVES hops. And if anything Hop Splash is just a way to show their love of this humble bine even more.
It took the Chico-based brewery over a year and a half to develop the right brewing process and recipe, taste testing and playing with a myriad of hop combinations.
Eventually the brewery settled on a mix of Citra and Amarillo hops.
Pop the top on Hop Splash and you'll get a cannonball of passion fruit and mango spattering your face.
This hop water sparkles. The carbonation levels really sing and manage to actually pull out those piquant peach and grapefruit bubbles.
Sierra Nevada set out to create a hop water that respects hops.
Hop Splash almost feels like a requiem, harmoniously combining simple ingredients like hops and water into a resounding chorus.
Consider our interest and taste buds piqued.
Brew Your Story – Raspberry Arnold Palmer – Oak Park Brewing Co.
Sacramento, CA
American Pale Ale – This Black-owned brewery in Sacramento takes pride in what it calls the ABCs—(A)rt, (B)eer, and (C)ommunity. Their Code of Conduct clearly states, "We want OPB to be a place where everyone feels welcome and respected… At OPB, we are about brewing quality craft beer and making a difference."
That means things like a beer collaboration called Brew Your Story. Launched in September 2021, the project invited both Black-owned breweries and homebrewers to brew a shared recipe and share their own story in craft beer. Overall, the collab celebrated one of the nation's first Black-owned breweries—Peoples Beer.
Which is why we wanted to visit when we spent twenty-four hours drinking and eating in Sacramento. And subsequently named Oak Park Brewing Co. one of our "7 Best Breweries to Visit in Sacramento."
When I stopped by recently, I had a chance to try Brew Your Story – Raspberry Arnold Palmer.
This American pale ale inspired by raspberry Arnold Palmers seems like a quirky concept, but here's the thing: It was a particularly rainy day (the first of many, many that would hit California in the coming week) and this beer just reminded me of the sun shining on my face and the waves lapping at the shore.
While I was technically only an hour away from my house, this vacation in a can made me feel like I could be a five-hour plane ride away on a beach in Hawaii.
Bruz Tripel – Bruz Beers
Denver, CO
Belgian Tripel – Bruz Beers does one thing and one thing really well: Belgian-style beers.
This badass Belgian-inspired brewery has been bringing singles, dubbels, tripels, quads, and so much more to American palates for the last six years.
Which is why we named them one of our "14 Best Breweries of 2022."
And it all started with perfecting a tripel.
"Brewers always make fun of me because you can't just drink tripel. I think I could," laughs Bruz Beers Co-Founder Ryan Evans. "If I'm stuck on an island, the tripel would be my choice."
So it goes without saying that Bruz needed to nail its own version.
It took five or six years to perfect the recipe.
It started with Evans and his team trying all the Belgian tripels they could. Oftentimes, Evans' mom would be the team's secret blind taste pourer. "We'd sit on her patio and she'd pour a bunch of tripels out for us," says Evans. "We'd taste them one by one and make a list of attributes we liked and disliked."
For example, the team liked the spice level, color, and creaminess on Tripel Karmeliet.
They took what they loved across the board and kept tweaking the recipe.
"We took the best in the world we could find and built the flavor profile from there," says Evans. With each batch they'd fiddle a little, using a higher temperature here or a longer boil there. Until eventually, Bruz Beers' year-round tripel emerged as a rock-solid traditional abbey-style. According to Evans, it's the recipe they worked the hardest on over the years.
And it shows.
A pale 9.5% Abbey-style with flavors of peaches, pears, and light spice, "It's drinkable, it's approachable, but a little dangerous," laughs Evans. "I don't know that it's similar to anything else out there because we took an approach of the best attributes of all of them and combined them into one."
Non-ComPete – Prison Pals Brewing Company
Doral, FL
American Brown Ale – Usually when we're trying a beer from Juan Pipkin, Diego Setti, Bruno Laperchuck, and Matais Moroni from the Argentinian-owned Prison Pals in Doral, FL, it's a fruit-packed smoothie sour or hazy.
These four talented guys (Pipkin is actually a former professional race car driver 🏎️), all specifically moved from Argentina with one thing in mind: to start a brewery.
Which is why we named them to our list of "The 23 Best People to Watch in Beer in 2023."
So it really shouldn't be a surprise that Prison Pals recently made, of all things, an American Brown Ale.
Gutsy, some might say.
The brown ale isn't exactly a style that shocks and awes. Apparently an old recipe from their friend Pete Slosberg, Non-ComPete (get it?) is just a dark, rich yet beguilingly light brown ale with all those notes you love like chocolate, coffee, and caramel.
Fung Shui – Fox Tale Fermentation Project
San Jose, CA
Farmhouse Ale – Here's the thing about Fox Tale Fermentation Project (one of our "14 Best Breweries of 2022"): They're not just breaking the rules, they're fermenting them.
To walk into Fox Tale Fermentation means you're about to dive down a rabbit hole.
Try every single beer you can at Fox Tale Fermentation. Because we guarantee you will leave having tried something you've never tasted before.
Like Fung Shui, a farmhouse ale aged on candy cap mushrooms that magically smelled like maple syrup. Seriously. You hear the word mushroom and expect savory, but in a Jedi mind trick, Fung Shui actually has a very pleasant sweetness on the nose.
"Upon reading the ingredients, people see mushrooms and think, 'I don't like mushrooms,'" says Felipe Bravo, co-founder of Fox Tale Fermentation along with his life and business partner, Wendy Neff. "Well, you don't understand that these are candy caps that have a very maple, cinnamon, and sweet aroma."
But this beer is a surprise within a surprise because take that first sip and you'll be pleasantly surprised to find that you're not drinking a jug of sap. "We get a lot of joy out of seeing the distinction between people smelling something and finally tasting it," says Bravo. "You smell that beer and it smells very sweet and people think it's going to be very sweet…then you try [the beer] and it's very earthy, funky, and dry. It has all the playfulness of a clean saison but smells very sweet."
We cannot say enough amazing things about Fox Tale Fermentation. Just go and prepare to taste something completely wild, whacky, and new.
Sultana Claus – New Belgium Brewing (San Francisco)
San Francisco, CA
Hazy IPA – If you haven't been to New Belgium's San Francisco taproom, we highly recommend you go. Opened in April 2021, this popular Colorado brewery's West Coast outpost is almost like an R&D brewery. There you'll find here-today-gone-tomorrow beers that are all under the watchful and whimsical eye of New Belgium Brewing Manager Ramon Tamayo.
This dude's pedigree precedes himself. He grew up in Petaluma—but no (before you ask), Tamayo never actually worked at Lagunitas—brewing all around Northern California including Anchor, Russian River, and Magnolia.
At New Belgium, Tamayo has the freedom to pursue his whims. Which often means testing and trying some of the latest hops and hop products. For instance, Incognito and Salvo, a pourable beta-extract from hops that punches up the aroma of beers without imparting bitterness.
When I visited right towards the end of the year, Sultana Claus featured Sultana Salvo, Strata, Amarillo, and Sabro hops.
"Sultana is really citrusy, almost a little bit grapefruit and a tiny bit of pineapple, but a lot of lemon peel aroma," Tamayo told me. Using Sultana Salvo gave this beer an incredible citrus bomb aroma.
Super smooth and dare I say seductive, Sultana Claus was the Christmas present this Jew had always wanted.
Honestly, while you can always find Fat Tire and probably the latest Voodoo Ranger beer on tap, I highly recommend trying something else because all the beers you try here will be completely new and unique.
With Tamayo's offering literally changing every week, you never know what you might stumble upon, but if Sultana Claus is any indication, it's going to be delicious.
Rust – Burial Beer Co.
Asheville, NC
Vienna-Style Lager – What do we love about Burial beers? Beneath the incredibly long names and hyperbolic descriptions, you find simple, solid, incredibly well-made styles. And yes that's usually of the hazy or IPA variety, which is why we were pleasantly surprised to see a Vienna-style lager in the most recent package the Asheville-based brewery sent us.
And lo and behold, this one had an incredibly simple name. In fact, it's just one word: rust.
Really that word says it all.
Pouring a beautiful garnet-ruby-rust red, Rust gives off this earthy almost bitter espresso-like aroma.
Sip into this one and a bit of cocoa, dark chocolate bitterness will hit you on the tongue, but then a predominant roast coffee carousel whips you wildly around past blurs of caramel and malt. Thanks to the German Pils and Vienna malts (and only these two malts) that Burial uses.
That and a time-consuming decoction as only a proper Vienna lager should enjoy. A low-and-slow fermentation builds the flavor and carbonation, so when you drink Rust you're getting a beer that has aged over time. Some might say like…rust.
Burial describes this beer on its Untappd page as "rising loaves of country rye bread coated in caramel butter and zested with fresh lemon."