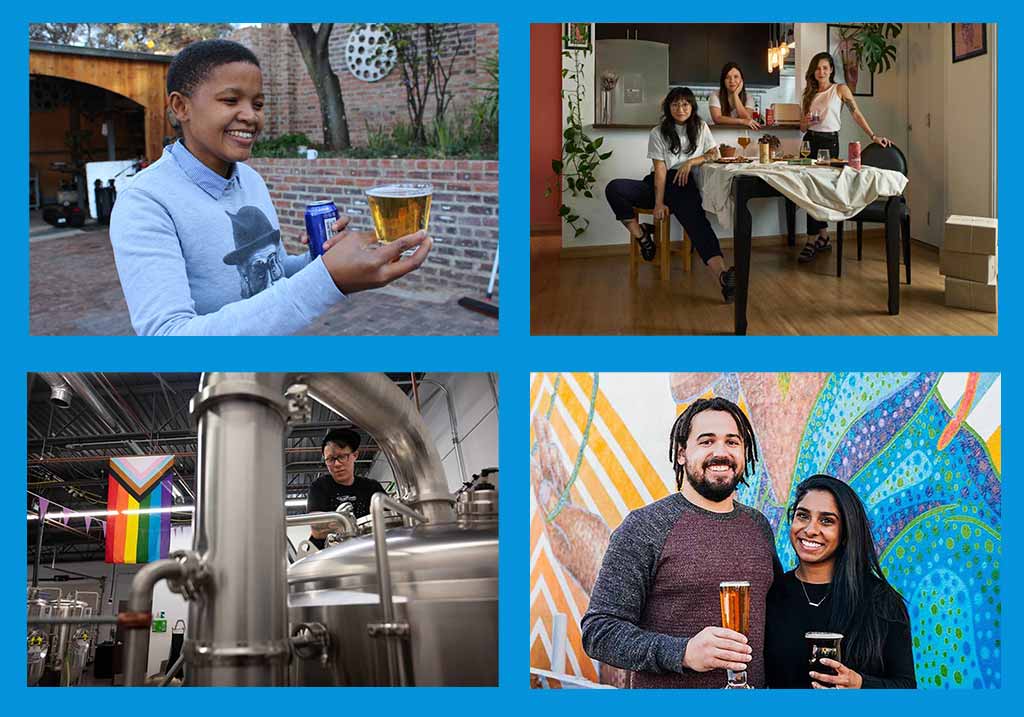 How do you change a narrative? How do you bring diversity, equity, and inclusion to a predominantly white, male industry? There are certain people in craft beer we're watching, who are speaking up for change more than ever before. For us, we believe that the future of change for our industry means making all these voices a part of our everyday canon.
Yes, big gestures like our fifth annual women in craft beer festival Beers With(out) Beards and our first-ever in-person Queer Beer are important. But they only last a couple days.
Similarly, this year, I had the opportunity to be the keynote speaker at the Georgia Brewers Guild's Annual Symposium, addressing a room full of mostly white, bearded men about how making taprooms safer and inclusive for everyone can not only boost your bottom line, but continue to crumble the hard-line barriers of craft beer. As a white, Queer, cis person, I enjoyed the challenge to hopefully change someone's point of view.
Again, these conversations are crucial. But they seem fleeting, a spark in the pan that might flare out after a couple hours.
Consequently, my next question (and one I've been asking folks around the industry): How can we create everlasting change?
What I'm hearing is that, at this point, the panels on diversity, the seminars on inclusion, and the events on equity are great, but they're moments in time. And people are tired of just talking about what it's like to be a "woman" brewer, for instance.
Or a Black brewer or a Queer brewer. (Or quite frankly, all the above).
"We know a lot of things, we're technical, we studied a lot, more than most men!" exclaims Maíra Kimura in a story I wrote on Brazilian-Japanese-owned Japas Cervejaria back in September. She notes that even when she or the other two are invited to speak at conferences, it always goes back to what it's like to be a woman in the industry. "It's important to talk about, but c'mon, we're brewers and Yumi [Shimada] is a world-renowned designer, so let's talk about beer, business, or something else," says Kimura.
Why can't we make representation a part of our everyday language and actions?
For example, from our perspective, if we're writing a piece about pilsners, reach out to talk with ten-year-veteran brewers Kimura and Fernando Ueno, whose Bohemian pilsner Matsurika made our list of the "Best 27 Beers We Drank in 2022."
If we're putting together a piece on pale ales, we can talk with Zachary Day, Richard Bloomfield, and Gregory Williams from BIPOC-owned Funkytown Brewery, whose American pale ale Hip-Hops and R&Brew made it on our list of "The 20 Best Beers to Drink in Spring 2022."
Or if we're writing an article on lagers, make a point to interview Lauren Hughes, a Queer-identifying brewer, who has just been Nailing it (with a capital N) at Necromancer Brewing in Pittsburgh, PA, a, shall we say, pretty predominantly white drinking community.
And if we're examining the smoothie sour phenomenon, we can chat with Juan Pipkin, Diego Setti, Bruno Laperchuck, and Matais Moroni from the Argentinian-owned Prison Pals in Doral, FL.
Point blank: Representation matters.
The deeper answer to our question above means including representation across the magazine 365 days out of the year.
So for us, our list of People to Watch in Craft Beer in 2023 centers around that idea. These are folks whose voices are changing craft beer for the better every day just by doing what they do best: brewing beer. And yes, many of them by nature are also actively championing safer, more-inclusive spaces in craft beer. It's funny how those who are often most looked over are also the ones speaking the loudest, actively campaigning for change.
We want to make sure those voices are heard. And heard every day.
And yes, we are still recognizing those folks who have made it their job to address diversity, equity, and inclusion in the industry. Such as New Belgium's new director of diversity, equity, and inclusion or Safe Bars new executive director.
But for the most part, the people below are changing the industry through the beer they brew.
Because what we now want to see in 2023 are the often unwritten voices becoming a part of everyday conversation.
As we head into the new year, watch how these twenty-three voices continue to break boundaries in the industry.
Hop Culture's 23 People to Watch in Craft Beer in 2023 Maíra Kimura, Fernando Ueno, and Yumi Shimada
Co-Founders, Japas Cervejaria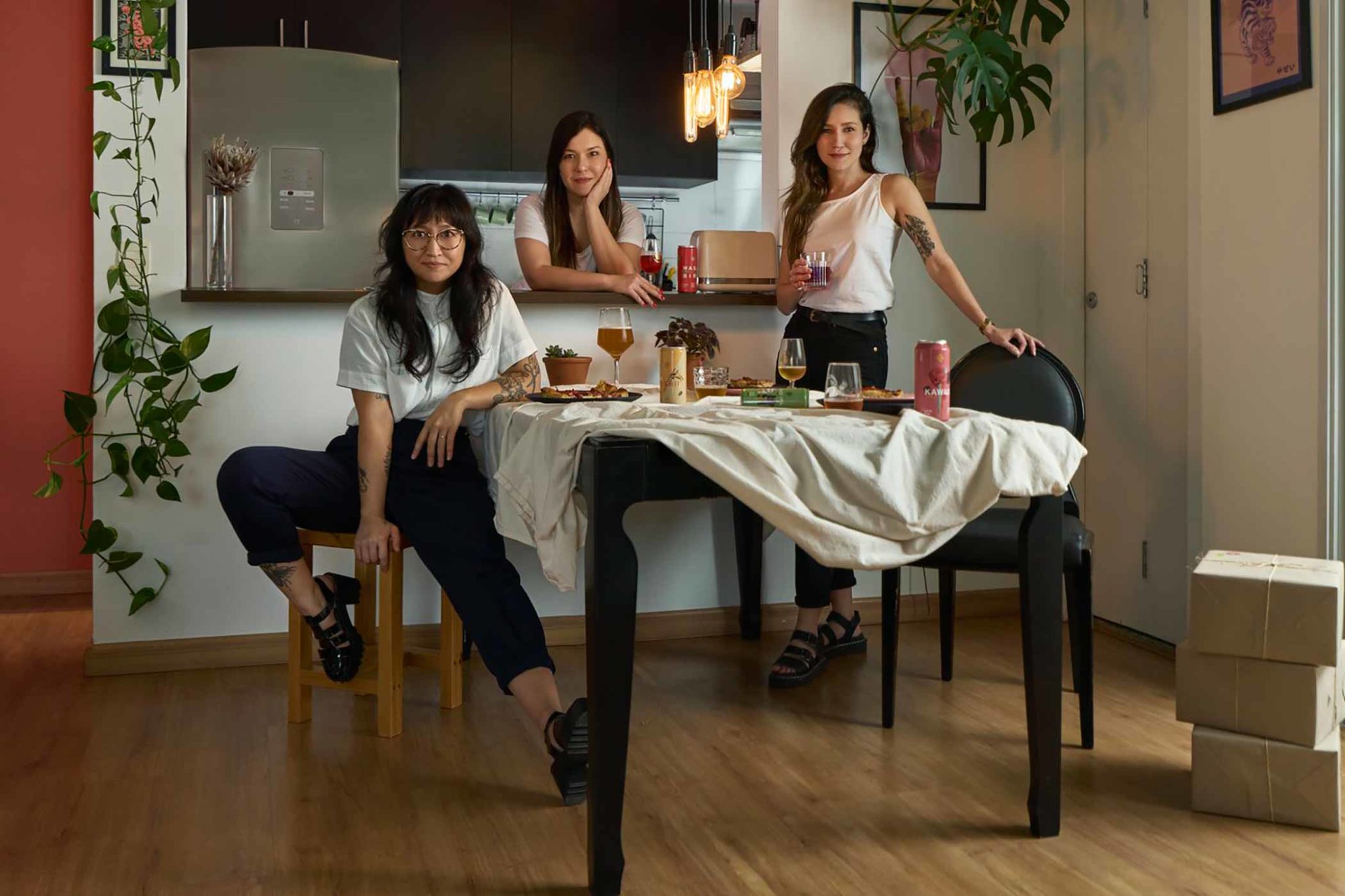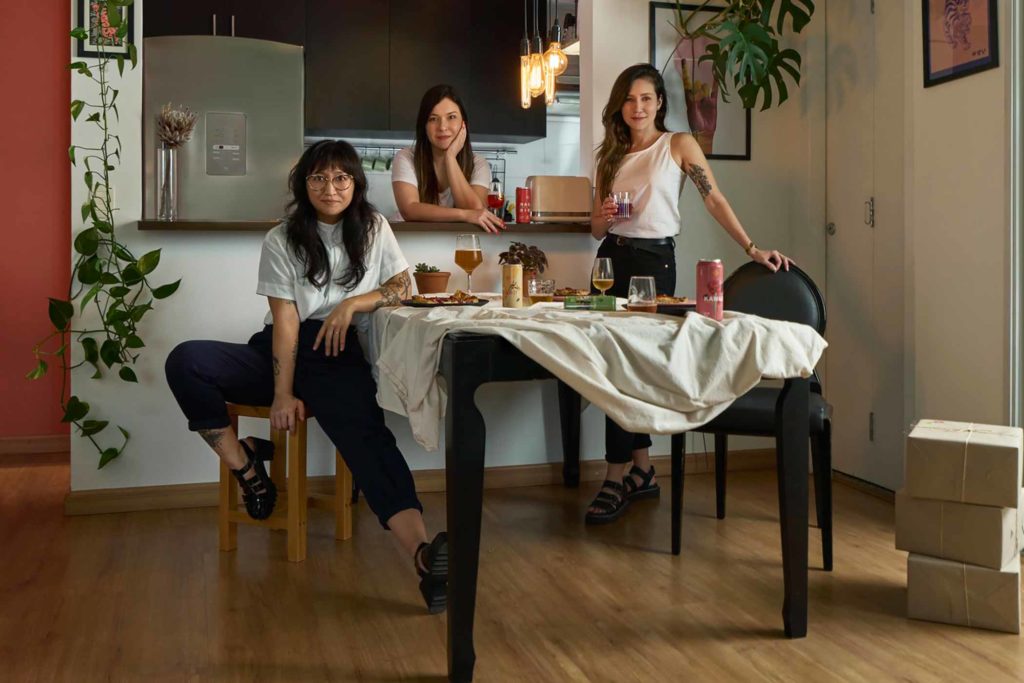 Stop us if you've heard this story before: A couple of white guys decide to quit their day job in finance to pursue their love of homebrewing full time, opening up a brewery. At risk of falling into a casual fallacy, you could probably [insert many an American craft brewery here].
Which is why we love Japas Cervejaria.
Because these three Brazilian-born women of Japanese descent represent the new frontier of craft beer. One with limitless possibilities. One where beer can not only be a passport into one's heritage, but also a kaleidoscope of stories woven together into a quilt of craft beers.
Funny, because isn't that supposed to be a version of the classic American dream?
Which is why we were excited to hear that the women behind this São Paulo-based brewery kicked off a whirlwind tour of the United States, bringing their iconic brand with all its stories and culture to our backyard.
For the first time, all three traveled together from coast to coast, stopping in major cities such as New York and the Bay Area in California to participate in pop-ups, beer collaborations, fireside chats, and beer dinners.
"Our role is to raise awareness not only for our empowerment within feminism and Asian causes, but also to embrace all kinds of diversity that are often excluded," says Yumi Shimada, one of the co-founders of Japas Cervejaria, in a press release. "Because we are women and Japanese descendants in a world of white and male dominance, it is more important than ever to show that representation matters."
For the all-female, Brazilian-Japanese brand, it's a chance to share their beers, stories, and culture with the United States and beyond.
Harsha Maragh and Jesse Brown
Co-Founders, Wah Gwaan Brewing Co.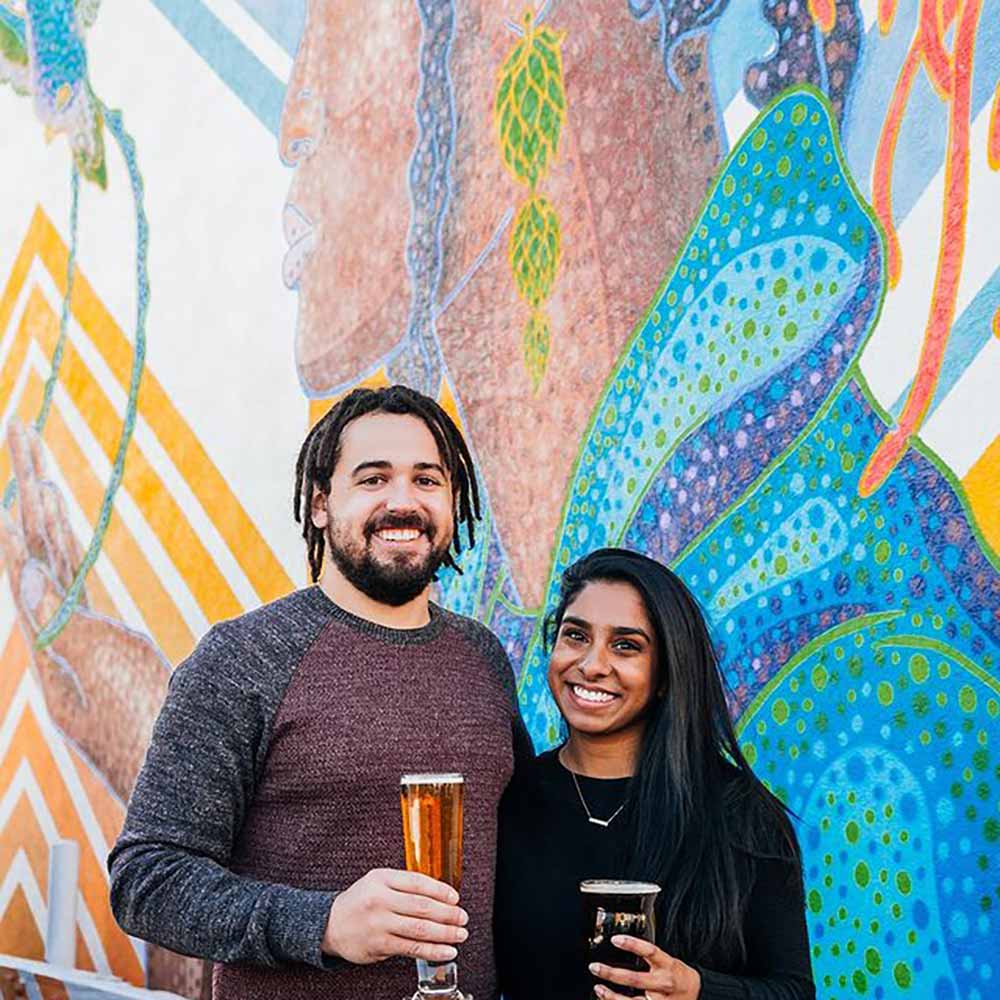 Translating to "what's going on" in Jamaican Patois, an amalgamation of different cultures in Jamaica, wah gwaan is a customary way to say hello.
"It's a greeting you say to everybody whether you know them or not," says Wah Gwaan Co-Founder Harsha Maragh, who notes that Jamaica has been home to people from West Africa, India, China, and Portugal. "Just like 'what's up' or 'how are you,' it's an inviting phrase. We want everyone to feel like they're at home here."
Because at BIPOC- and Veteran-owned Wah Gwaan, inclusivity is key. Especially in Denver, where, according to the most recent 2020 U.S. Census, residents are 72.24% white and only 9.18% Black or African American.
That was a bit of a shock for Maragh, who grew up in a thriving West Indian and Caribbean neighborhood in the Bronx.
"Once we moved out here, it was difficult to find that same type of community," she recounts.
So the duo brought miles of culture to the Mile High City. "We're the hub for folks who were missing what I was missing—the music, the flavors, and the food," says Maragh.
In fact, during Wah Gwaan's opening weekend, a Jamaican-American couple flew all the way from South Carolina to visit. "They were so excited to see their culture represented in beer that they came to our grand opening," says Brown.
Maragh laughs, recalling folks saying, "That can't be a Jamaican brewery? What is that?"
But that's Wah Gwaan: a place where Maragh and Brown can share their traditions, flavors, and heritage with the world. All through beer.
For instance, Don't Curry Be Happy, a mango curry blonde ale symbolizing Indian Heritage Day celebrated in Jamaica every May 10th. The holiday honors India's impact on the island. "It was really important for me to celebrate it here because it's my heritage and how my family grew up in Jamaica and how they were affected and influenced by Jamaican culture," says Maragh. Both mango and curry were brought to Jamaica by people from India, "so we wanted to put them together to make a sweet and earthy but also little lighter…blonde ale," says Maragh.
Or Sweet Chariot, a passion fruit pale ale collab between six different Black-owned breweries across the country brewed for Juneteenth. Named after a slave song called "Swing Low, Sweet Chariot," this beer is "about redemption and about bringing yourself up out of slavery and emancipation," says Brown. "We thought it was a fitting name for beer because it's a representation of the freedom the African American community didn't have and is still fighting for in a lot of ways in this country."
Drinking a beer provides space for conversation, and conversation can lead to change.
"Beer is broken bread," says Brown. "Breaking bread is what creates a situation where we can be more empathetic with each other. Beer is just as powerful or more powerful a platform for social change than food."
Something Brown and Maragh have fought incredibly hard to create at Wah Gwaan since moving to Denver.
When I spoke to Maragh and Brown on a Thursday evening, both had come to the brewery after working full days in other jobs—Brown as a business intelligence developer and Maragh as a sustainability and energy expert at Energy Outreach Colorado.
"We work full-time jobs not because we want to, but because it's a necessity," says Maragh. "It's very difficult to find funding as a startup particularly owned by minorities and People of Color."
Brown continues, "It's systemic racism. The whole concept of equity doesn't really exist for us and is part of the reason why we have to do it all. If you talk to any minority-owned business across all businesses in America, not just in beer, that's the case. We constantly have to work multiple jobs and find creative ways to fund and tap our community to have a voice in the industries we represent."
Wah Gwaan has certainly found a voice, and it's shouting from the mountaintops across the Front Range and beyond.
Editor's Note: Right before publication of this piece, we learned that Maragh and Brown will be closing Wah Gwaan at the end of month due to the current state of the economy, inflation, and rising costs all around, Maragh wrote to us in an email. We're incredibly saddened by this news, but excited to hear that Maragh and Brown are currently trying to navigate what the future looks like and ways in which they can keep Wah Gwaan brand alive.
Lauren Hughes
Head Brewer, Necromancer Brewing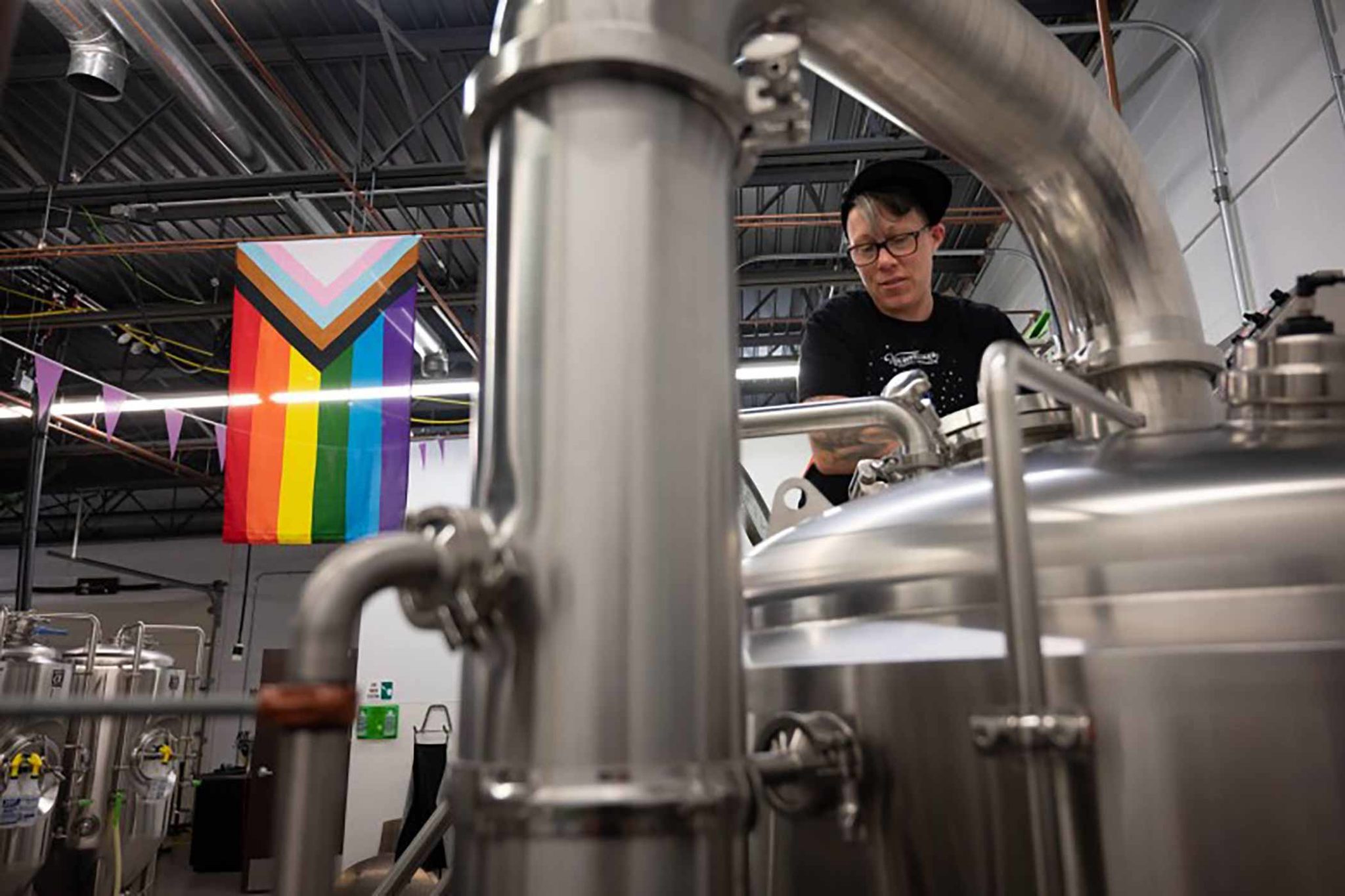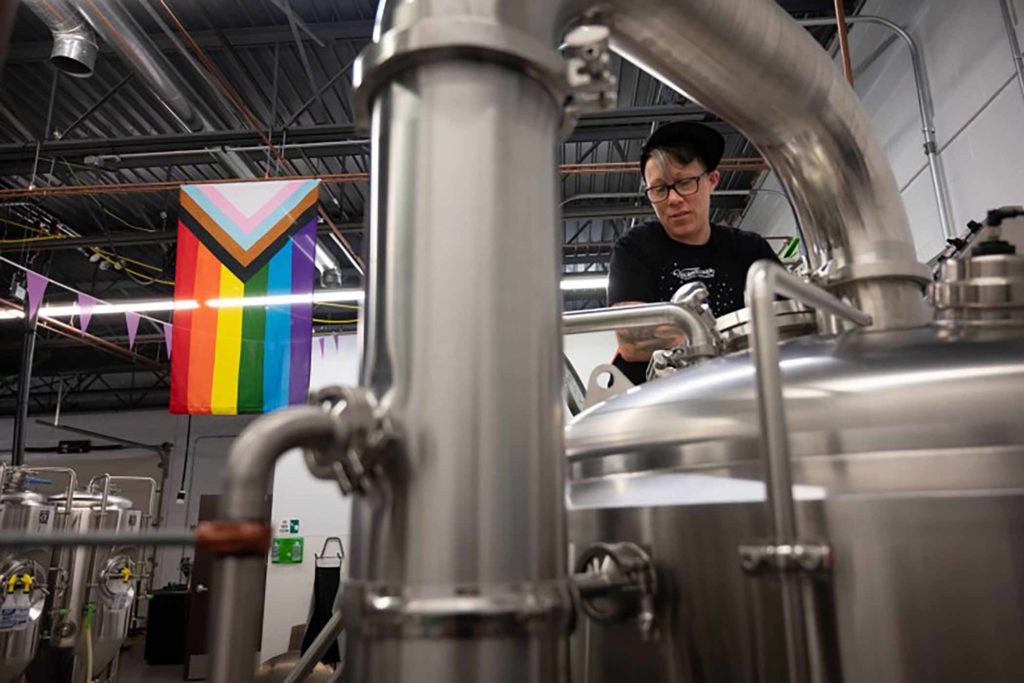 Helmed by Hughes, the second-ever female head brewer and one of only a couple Queer brewers (as far as we know) in Pittsburgh, Necromancer's brewing program has been killing it the Pittsburgh craft beer scene, a predominantly white, male drinking culture.
But it's not just Hughes' incredible brewing skills, it's also her dedication to making not only Necromancer but the entire Pittsburgh craft beer community a safe space to drink that commands our utmost respect.
Currently, Hughes spearheads a subcommittee of the Pittsburgh Brewers Guild dedicated to writing a code of conduct for all the organization's events. Hughes took it upon herself, along with support from Necromancer Founder Ben Butler, Trace Brewing, and Two Frays Brewery, to initiate this project after Necromancer Lead Brewer Nina Santiago, who also identifies as Queer, experienced harassment and homophobic remarks from an employee of Millvale-based Grist House Craft Brewery at a beer festival back in May.
After approaching Grist House management about the incident and unsatisfied with the follow-up conversations, Necromancer posted about the incident on June 18 on Instagram, Reddit, and Twitter.
At the time, the Guild did not have a code of conduct written. So Hughes and Santiago with the support of Butler have made it their mission to change that.
"The main point of us having this is for human kindness, respect, and treating people the right way," Hughes told me during a call for a piece Hop Culture will be working on in the new year on how to make taprooms safer and more inclusive. "I know it costs money and will be hard, but how hard do you think it's been for us just to exist and deal with this? How hard and uncomfortable for us to sit in a room with a bunch of straight white guys making decisions? We don't feel comfortable or have a place at the table. This will help us feel protected and if something happens we won't sit here feeling like shit… The goal is so everyone here has a seat at the table and feels supported and welcomed, otherwise what the f*** are we doing?"
Hughes' and Necromancer's actions have already made an impact, especially in the Queer community in Pittsburgh.
"Our culture is very intentionally focused on creating a safe place and an environment where even right now we have all members of the Queer community seeking us out for employment… People have seen us not only talk the talk but walk the walk, go toe to toe with people who have made remarks, and done things that we've taken stands against and seen our track record," Butler told me, citing the brewery has had a code of conduct publicly posted since day one. "Now we're getting bombarded by applicants who represent the community, which is a massive win for us and shows the credibility and way the community views us."
Both Hughes and Necromancer are proving actions do speak louder than words. And that everyone can take simple, executable steps to making craft beer safer and more inclusive.
Editor's Note: Hop Culture is currently working on a piece featuring Hughes, Necromancer, and other breweries' efforts to create more inclusive and safe spaces in craft beer. Look out for that content to be published in 2023.
Carmen Velasco-Favela and Esthela Davila
Co-Founders, Mujeres Brew House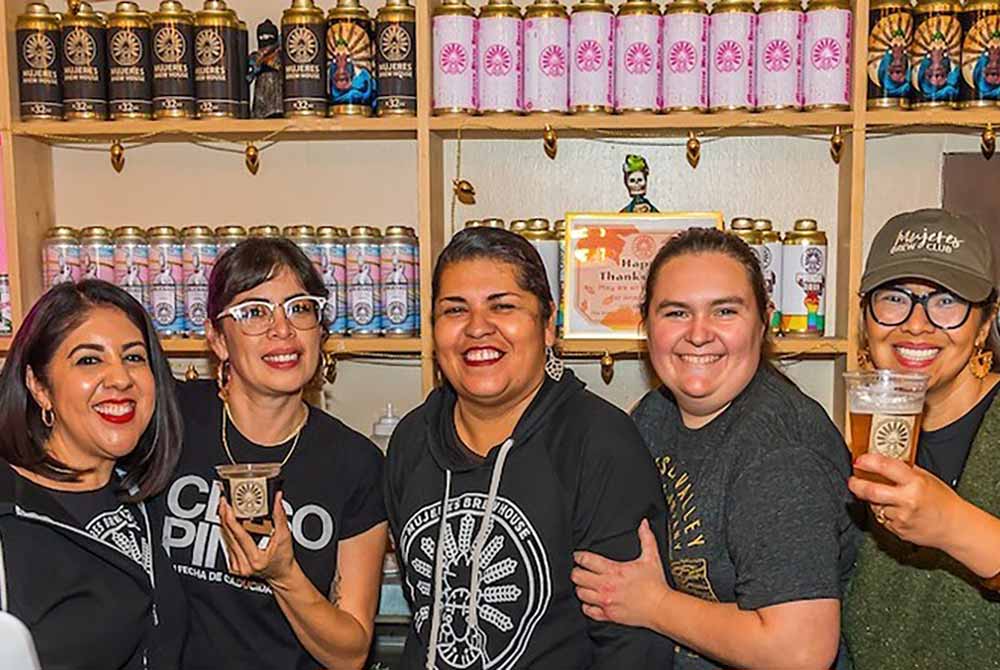 We met Carmen Velasco-Favela while putting together a piece on Latine-owned breweries around the country. The co-founder of Latine-owned Border X Brewing, Velasco-Favela opened the all-female-run Mujeres Brew House with her business partner Esthela Davila in July 2020.
Mujeres Brew House started as a club at Border X Brewing for women interested in craft beer. When the pandemic hit the United States in March of 2020, the Mujeres Brew Club could no longer safely meet in person.
But Zoom events just didn't seem like a great option. "These women needed to come out and be with other women drinking beer and have a moment of time out from their lives," says Velasco-Favela. "I didn't want to let the girls down and end something so beautiful because of the pandemic."
As luck would have it, a vacant brewery building came on the market. And while Velasco-Favela and Davila never planned to open a women's brewhouse, the opportunity seemed too perfect.
Velasco-Favela and Davila scheduled a walk-through with the current owner of the property, Jim Brown, who owns the popular San Diego art space Bread and Salt. Almost immediately Isabel Dutra (Brown's wife) handed over the reins. According to Velasco-Favela, she told them she would love nothing more than to see women using the space. "We hadn't even signed the contract yet, but within twenty-four hours we had the keys," says Velasco-Favela. "Our lives changed that day. I kept thinking about the women and how happy and excited they were for this club and how much it meant to them."
It's a mantra Velasco-Favela comes back to often.
"I could have backed out at any point, says Velasco-Favela. "But I swore to all the women in the industry supporting us that we were going to dedicate our time and energy to empowering women in craft beer and creating diversity in the beer industry because that is what is needed."
Since then, the brewery has been reimagining the stereotypical gender and race of the craft beer industry.
At Mujeres Brew House you'll find a brewery made by women with beers brewed by women.
It's a beautiful ecosystem that will have ripple effects for years to come. How many brewers in San Diego started their careers at major breweries like Ballast Point before going on to open their own places or work at well-known breweries?
Hopefully, the practices at Mujeres Brew House will create a similar culture of success for Latinas and women across the industry.
"Everyone has realized in the industry there are women here," says Velasco-Favela. "Now, let's give them positions that we weren't giving them because we didn't feel comfortable, let's celebrate them, and let's empower them."
Obakeng Malope
Founder, Beer is Art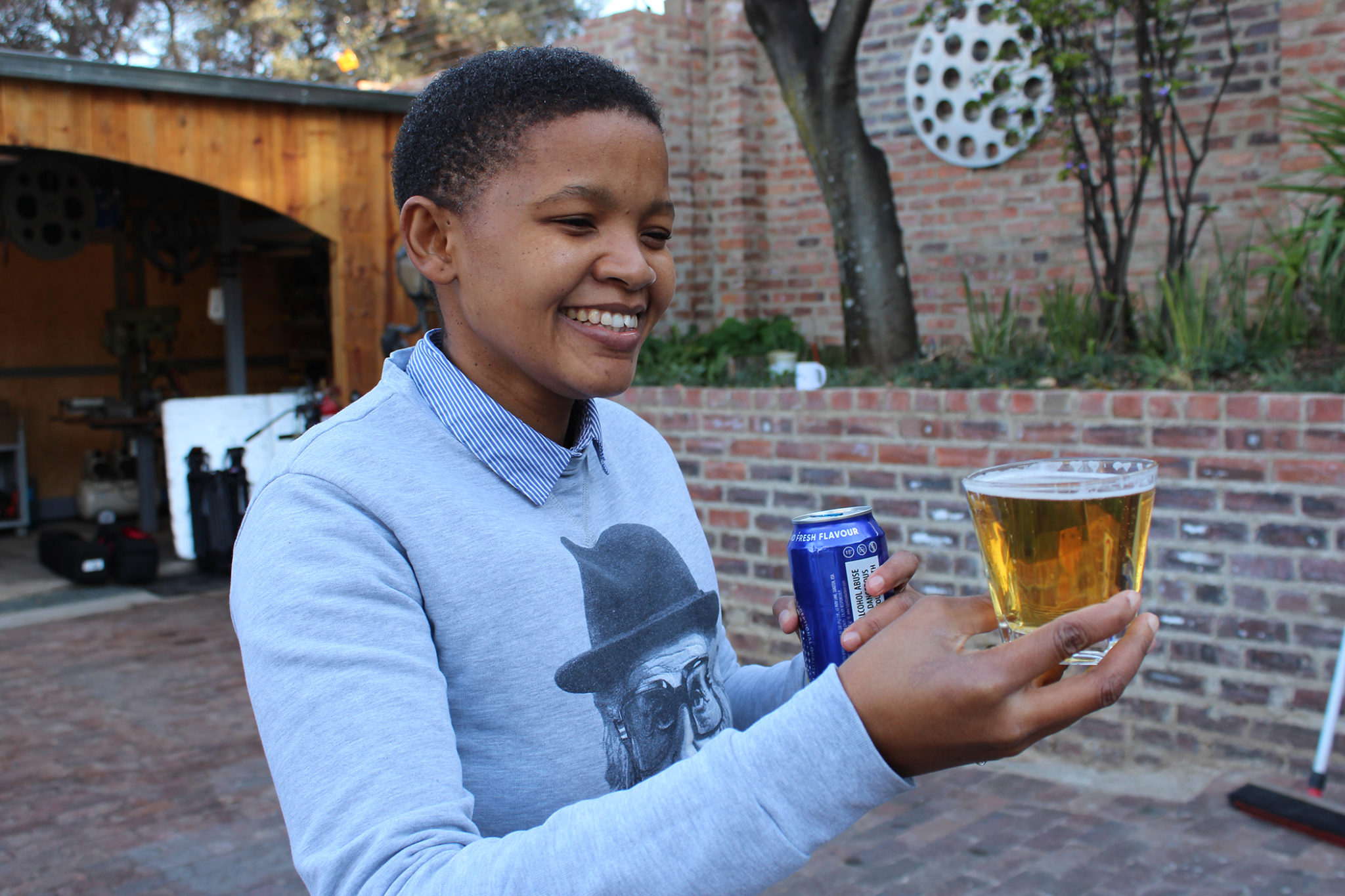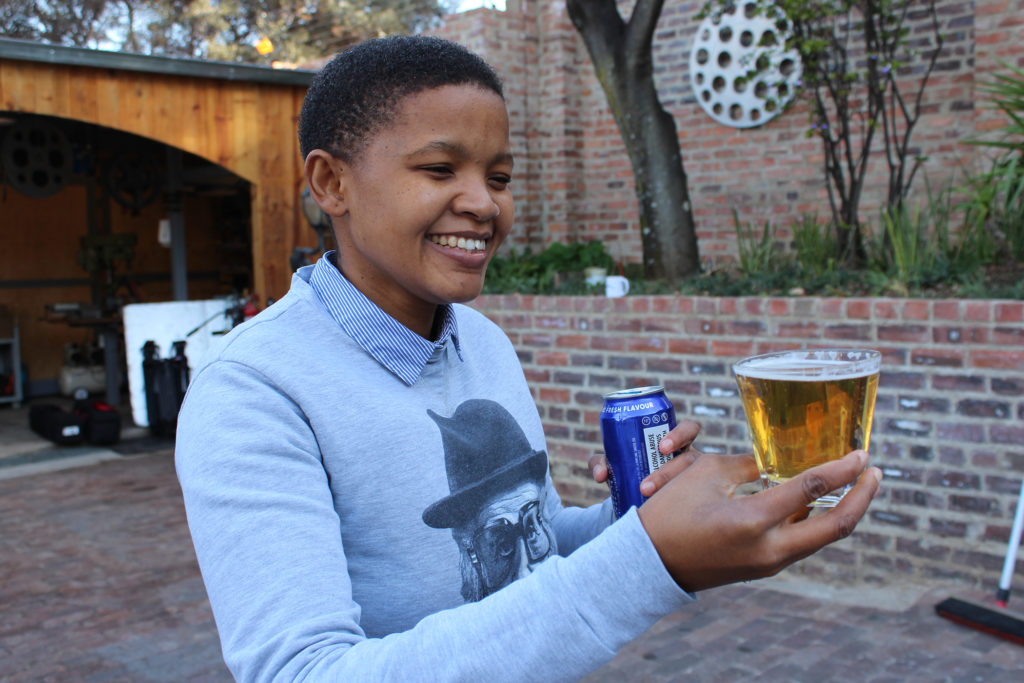 A new initiative called Beer is Art seeks to teach unemployed youth in South Africa not only the science but also the art behind beer. All in hopes that they can provide the necessary tools to those in underserved communities to help jump start new careers in beer.
Founded by South African filmmaker Obakeng Malope, Beer is Art is a passion project. One she started after first discovering the wondrous world of craft beer herself.
With strong roots in Africa, "beer is deep, beer is spiritual, beer is our DNA," says Malope, referring to a history that stretches all the way back to the ancient Egyptians.
"Beer tells a story," says Malope. "The beer that we make now is not the beer they will make in the next 200 years. The people who will be living in those times will be using beer that we are making as history… They will read the stories we have left for them and learn what kind of people we were."
For Malope, who grew up in a rural village in the Northwest province of South Africa called Jericho, beer had always been something made in the home. And only for special occasions such as a party or funeral.
Called Bojalwa jwa Setswana (or sometimes Umqombothi), this beer made of malted sorghum, maize, and water was actually the domain of the matriarchs of the family.
"I remember seeing my grandmother sieving out the brown liquid to leave out the brown grain after it had fermented," says Malope. "That process fascinated me. It looked playful, like she was hand-washing the clothes."
But as Malope grew older she realized, "Who will carry on this legacy?" Because most young people in South Africa do not know how to brew beer or even that craft beer exists.
So, Malope made it her mission to write her own story.
Consider Beer is Art the culmination of Malope's journey as a South African filmmaker and beer connoisseur.
Inspired by seeing beer in other cultures from the United Kingdom to the U.S. and empowered to help those in her own country, Malope started an initiative called Beer is Art.
"The campaign teaches about beer, that beer is not something that you drink and get drunk off," says Malope. "We show them that they can turn beer into a career."
Through courses on everything from beer and food pairing to brewing and licensing to how to start your own beer podcast or beer brand, Beer is Art aims to give unemployed youth in South Africa a chance to create a career in beer.
See, beer is a science. But beer is also very much an art. With Malope's new initiative she is tackling both with gusto and a grand vision.
"I want beer to be as revolutionary as Black Lives Matter," says Malope. "I want it to be practiced all over the world, I want them to know that we invented it, and I want the youth in every poor community to be empowered by beer."
Judy and Rob Neff
Co-Founder, Checkerspot Brewing Company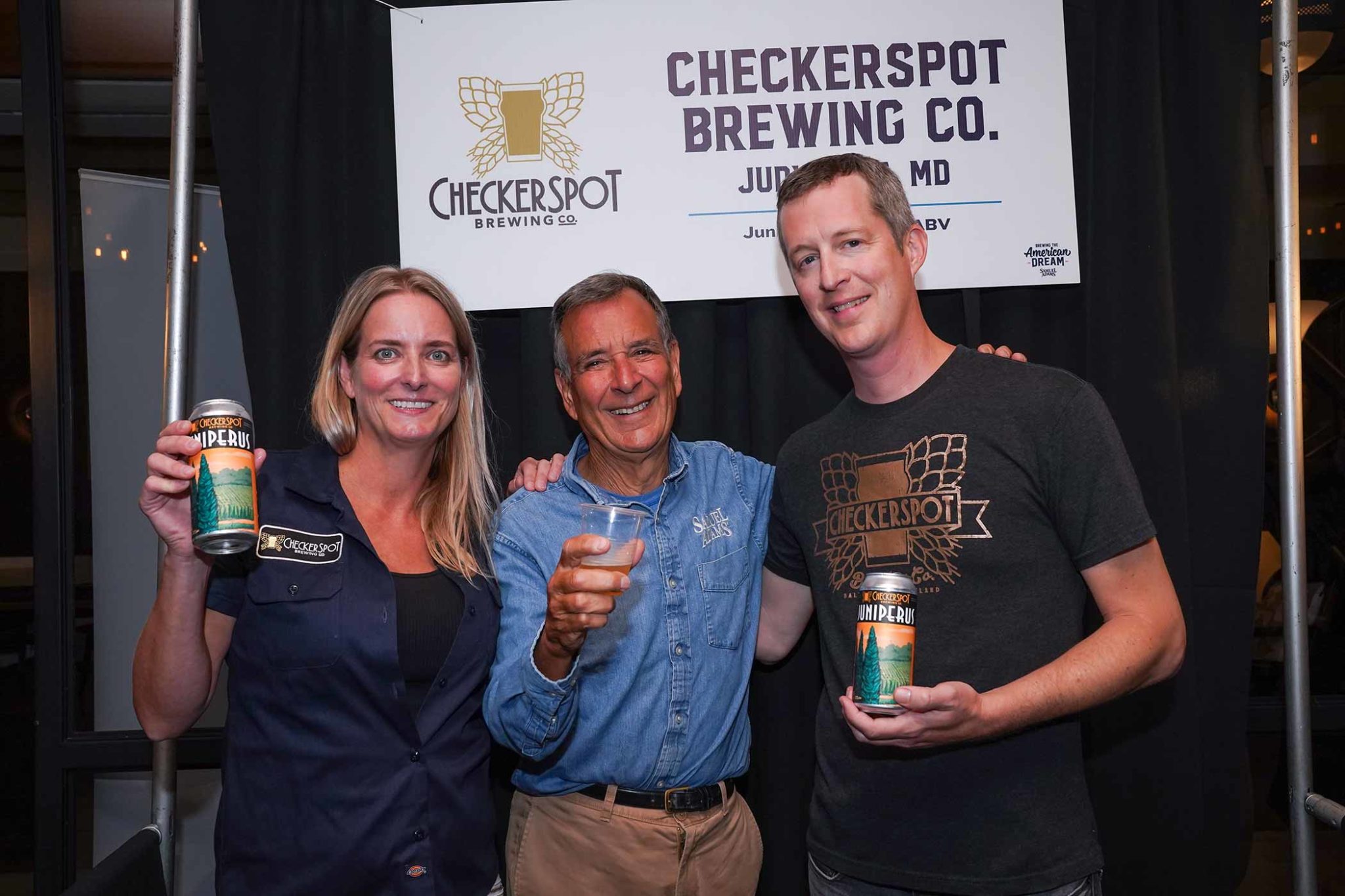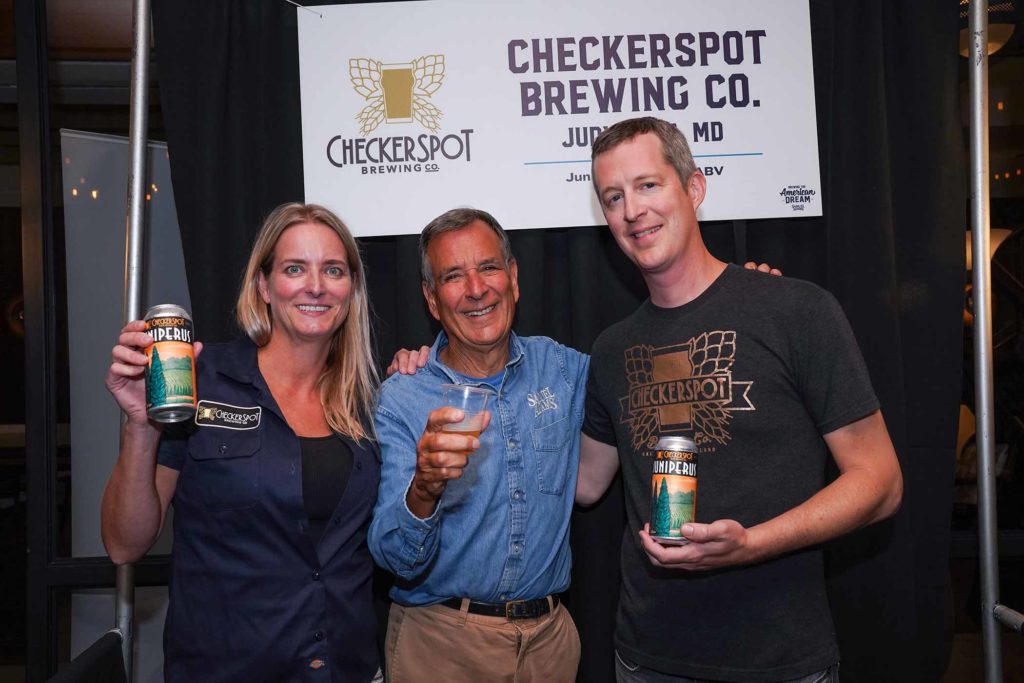 Opening Checkerspot Brewing in 2018, Judy and her husband and co-founder Rob Neff were recently named the recipients of this year's Brewing the American Dream (BTAD) experienceship.
Awarded every year to an up-and-coming brewery with the goal to provide mentorship and capital to food and beverage entrepreneurs, The Samuel Adams Brewing the American Dream Program is a philanthropic arm of Samuel Adams that Jim Koch started in 2008.
In the past fifteen years, BTAD has partnered with the Accion Opportunity Fund to provide more than 3,900 loans totaling $91 million to food and beverage businesses in forty-one states. Additionally, the program has helped these businesses create more than 9,000 jobs and provided free business coaching to over 14,000 entrepreneurs.
This year alone, Accion Opportunity Fund and local partners have provided 510 loans totaling almost $17 million to food and beverage entrepreneurs across the country.
But the crown jewel of the program is The Brewing Experienceship, in which one brewer is chosen every year to learn from Samuel Adams' brewing and business experts such as Jim Koch himself. Furthermore, the winner receives financial support to check out important business building and industry networking events as well as the opportunity to brew a collaboration beer with Samuel Adams.
Those breweries that are chosen, like last year's winners Hopkinsville Brewery and five-year-old Checkerspot, demonstrate an extraordinary ability to fight the odds, thrive, and simultaneously give back to their own communities.
In the last half decade, Checkerspot has made an immediate impact on their city.
"'Something for everyone' is our motto," says Judy. And that extends beyond the taproom.
"One of my favorite things is that you can use beer to do more, to give back so much more, than you could as an individual," says Judy. "From just raising awareness to different groups to donating beer to a ton of non-profit events to raising money."
A fair amount of beers they brew support causes close to them and their fans.
For instance, Daily Dose of Freedom, a beer the duo first brewed three years ago with a veteran homebrewer named Tim Treadwell, who, despite being diagnosed with stomach cancer, had dreams to take his brewing hobby to the pro level. Every year, the brewery has donated proceeds from this collab brew to a different organization.
It's that dedication that attracted the attention of Samuel Adams.
"All the brewers were amazing, it was very hard to choose a winner, but the thing that really resonated about Judy's story was it brought us back to people following their passion," says Jennifer Glanville, brewer and director of partnerships at Boston Beer Co.
And it's Judy's thoughtful, impactful approach to brewing that has us watching how her ripple effects will reverberate throughout the industry and her community in the new year.
Courtney Simmons
Director of Diversity, Equity, and Inclusion, New Belgium Brewing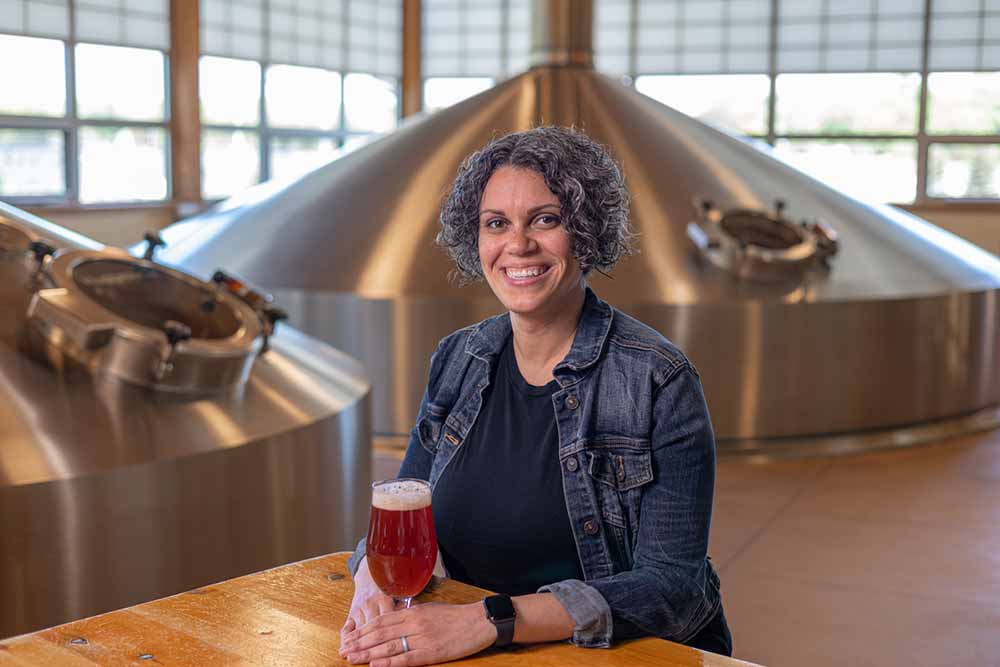 Three years ago, New Belgium became the first brewery in the country to hire a diversity, equity, and inclusion (DEI) specialist, Patrice Palmer (they/them/theirs). With the goal to build up diversity and inclusion at the brewery, Palmer pioneered programs, including adding pronouns to the signature line of interested New Belgium employees; starting Pride@NBB, an LGBTQIA+-friendly affinity group for both Queer and allied coworkers; and introducing Queer Sips, a series inviting folks to talk about policies and how they could affect the community.
Patrice also supported the brewing of Biere de Queer, a purple ale dreamed and brewed for the past three years by Kelly McKnight, New Belgium's lead pilot brewer, in support of LGBTQ+ equality. One hundred percent of proceeds from every Biere de Queer sold benefits New Belgium's hometown LGBTQ+ communities. New Belgium released a batch just in time for Pride month earlier this year.
When Palmer left, New Belgium invested time and effort to find the right person to take up the mantle. When New Belgium acquired Bell's Brewery in late 2021, Courtney Simmons had just started a job leading DEI at Bell's—and it soon became clear that Simmons was the best candidate for an expanded role overseeing DEI across both businesses after the deal closed.
With experience in a variety of industries including retail, sales, furniture, and food service, Simmons early on in her career knew she wanted to figure out ways to make companies more equitable and inclusive.
"Fresh out of college, bright eyed and bushy tailed, going to change the world, I had the opportunity to observe the way organizations tell us implicitly and explicitly we don't belong, we don't fit in," says Simmons, who says early on people often told her she was too ambitious. "I became passionate about creating spaces and organizations that invite people to truly be their full selves and not have to cover, pretend, or use cognitive energy to be in a space that wasn't built for us."
With craft beer, Simmons feels she has the potential to make an incredible impact in an industry that hinges on community and yet may unintentionally alienate so many groups of people in the same breath.
"I had spent time in craft establishments because I love being part of the community and hanging out with friends," says Simmons, who still considers herself a budding beer drinker. "I was really attracted to…how the craft community is vibrant and rich and has so much potential to create spaces that all people can feel a part of, but I'd be in these spaces and see people that didn't look like me and experience a culture that didn't look like my own."
At New Belgium, Simmons is already diving in head first, leveraging her background in workforce DEI to focus on a balance of internal and external programs.
One of the most notable ones this year includes partnering with Hospitable Me, a global leader in inclusive hospitality, to develop a completely free, first-of-its-kind training designed specifically for bars, restaurants and taprooms with the goal of ensuring every space where craft beer is poured—including beers brewed by New Belgium and Bell's—is welcoming and inclusive for all. The training was released in Fall 2022.
"Our hope is that all of our customers will take advantage of this low-barrier-to-access training so their staff becomes better at welcoming and including all identities from LGBTQ+ to BIPOC and intersecting identities," says Simmons.
And on June 3rd, the brewery published a comprehensive "Guide to Rainbow Washing," which refers to an all-too-common practice where companies slap a rainbow flag on something or add rainbow colors to one of their products throughout Pride month without backing up that action in the Queer community.
"It is really important to understand why only putting out Pride flags doesn't necessarily help the community," says Simmons.
New Belgium hoped their "Guide to Rainbow Washing" would be a resource for consumers interested in flexing their personal economic power to support companies walking the walk for the LGBTQ+ equality and for companies truly interested in authentically supporting the Queer community. The guide features a compilation of research, resources, and expertise from both internal members of the LGBTQ+ community and allies at New Belgium along with outside experts. Specifically, the brewery worked with the Equality Federation, as well as its internal LGBTQ+ community of coworkers, for guidance.
At the end of the day, it's important to remember that there is not a one-size-fits-all solution to improving an organization's DEI policies and programs.
"There is no one quick solution to doing this work, no checklist of go-do-these-things-and-everything-will-be-perfect-and-you'll-have-arrived," says Simmons. "This is long-term generational work. I'm not interested in just checking the box, and neither is New Belgium."
But New Belgium and Simmons are certainly writing the guide (literally) on how more breweries can start to take steps forward. Even if they're baby steps.
We'll definitely be keeping an eye on new initiatives from Simmons and New Belgium in 2023.
Kirk Bangstad
Founder, Minocqua Brewing Company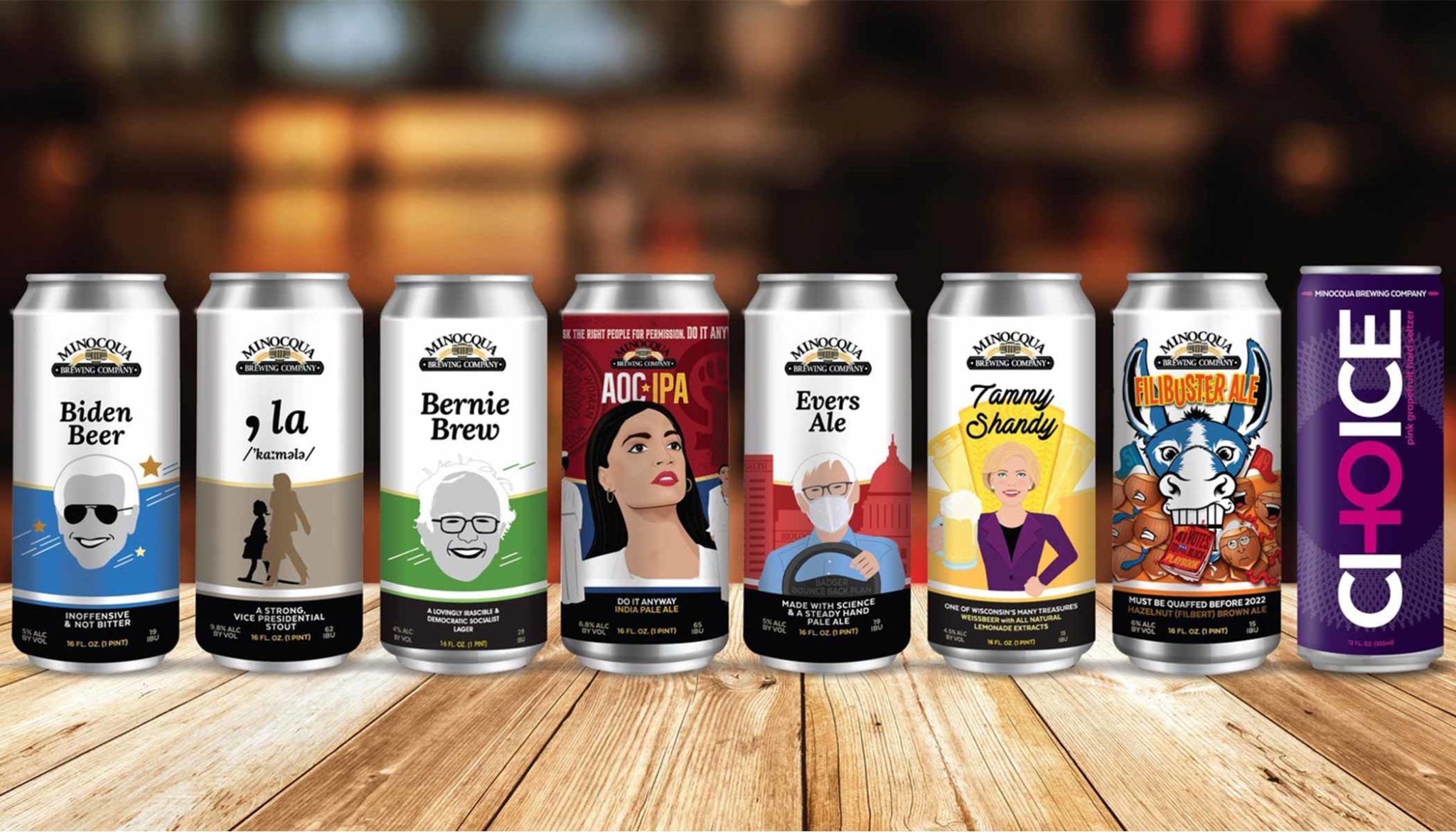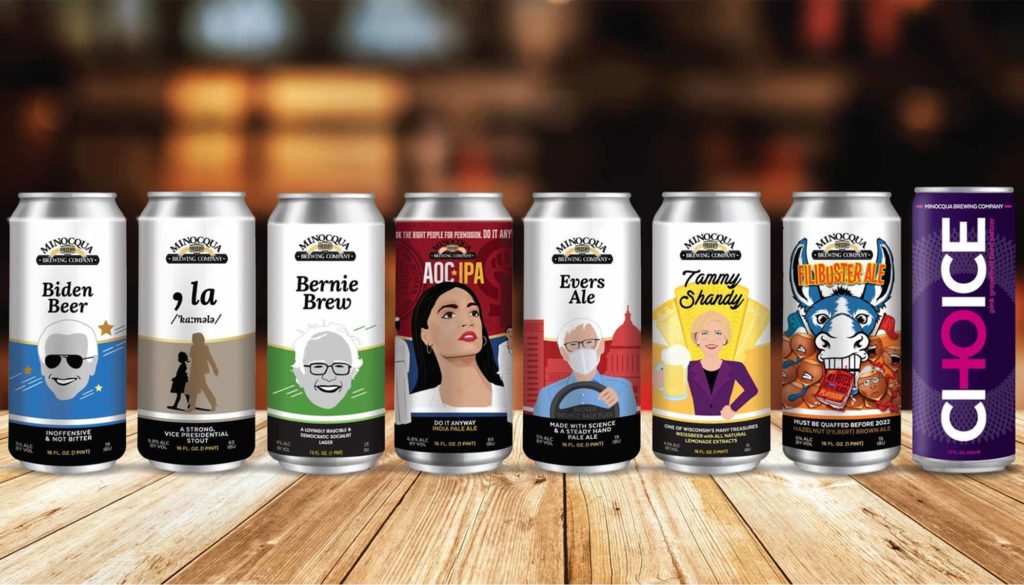 For Minocqua Brewing Company Founder Kirk Bangstad, beer became a way to make a political statement. For over a year during the global pandemic, Bangstad tried his best to enforce safe practices at his brewery. But living in a right-leaning area of Wisconsin made that very difficult; Bangstad received a lot of pushback on everything from mask mandates to keeping his indoor seating closed. The final straw came when Mitch McConnell refused to put the $1.8 trillion stimulus package agreed between the Democrats and Donald Trump on the Senate floorcustom made Biden-Harris sign on the largest building in Minocqua—which just happened to be my brewpub."
So in September 2021, after being forced to close his brewery, Bangstad started a Super PAC.
Over the course of a little over a year, Bangstad raised nearly half a million dollars to support local progressive causes.
For instance, the #progressivebeer line, which features beers dedicated to local and national political figures including Bernie Sanders, Alexandria Ocasio-Cortez (AOC), Kamala Harris, and local politicians Tony Evers and Tammy Baldwin. Each beer covers a political issue in more depth.
Such as Bangstad's Choice Hard Seltzer where Bangstad donated five percent of the profits to Planned Parenthood.
Speaking from the platform of a brewery has given Bangstad an amplified voice in the community, proving that anyone can use the power of beer to create real, tangible change.
"People don't trust politicians but will trust brewers—especially in Wisconsin, the original brewing state," he explains. "People will listen to me as brewers have no vested interest in politics—and everyone loves the guy who brews their beer!"
Let's see how Bangstad's voice and beers move the needle on social issues in 2023.
Amie Ward
Executive Director, Safe Bars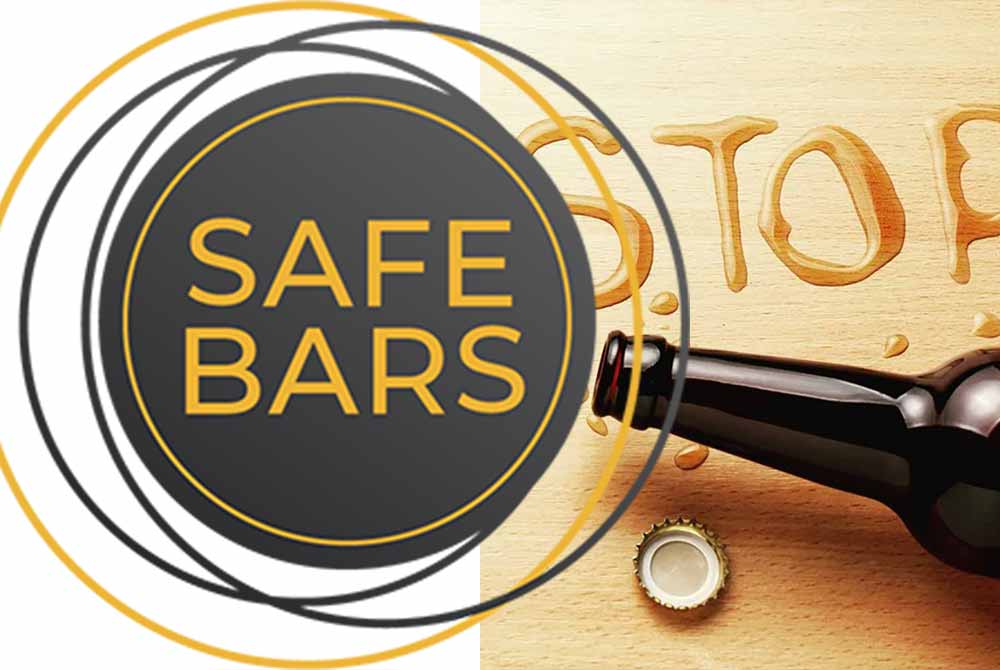 For the first time since the pandemic, we returned to in-person festivals with a renewed focus on safety and inclusivity. Accordingly, we updated our Festival Code of Conduct; deployed tools like #NotMe, a digital, resolution-seeking reporting platform for those who've experienced or witnessed racism, harassment, or any type of discrimination or misconduct; and partnered with organizations like Safe Bars.
Founded in 2013, Safe Bars is a Washington, D.C.-based nonprofit whose mission is to prevent sexual harassment and assault in nightlife by teaching active bystander skills. Safe Bar brings together decades of work against and research on gender-based violence with the knowledge of industry professionals.
In 2021 alone, they provided forty-plus brewery training sessions, part of their ultimate goal of bringing real change to the industry.
In an effort to contribute further to a truly safe and inclusive environment, our team participated in all three available training opportunities: active bystander, de-escalation skills, and empowerment and self-defense.
Safe Bars promised that the training delivered would be "tailored to the life situations and needs of the participants, survivor-centered, trauma-informed, evidence-based, and experiential and participatory."
And they more than delivered on that promise.
That's when I first met Amie Ward (she/they), now executive director at Safe Bars.
She hosted an incredibly interactive session tailored to suit our specific needs as festival producers. She brought extensive experience to the training, and we were deeply impressed by how truly practical it was.
Personally, I found the Safe Bars training invaluable, picking up specific skills that I could use in any situation to be an impactful and active bystander. As someone who considers themselves more introverted, I find certain social situations very stressful. In the past, I've doubted I had the tools to step in and change the discourse. But after taking part in Safe Bars training, I learned simple strategies that even I can deploy to make a difference.
I truly believe that any organization, brewery, bar, or restaurant dedicated to creating more-inclusive and safer spaces should consider Safe Bars.
Accordingly, we had Safe Bars actually come to each of our events, hosting these training sessions for all the attending breweries.
Ward joined us to host a couple of those in-person sessions at our events as well.
We've experienced first hand how Ward's energy and commitment to not only Safe Bars but also to creating more-inclusive and safe spaces across a variety of industries is unparalleled.
So we're definitely excited to watch Ward and Safe Bars continue on its mission to make craft beer a safer space in the future.
Bhavik Modi and Gator Schrand
Co-Founders, Azadi Brewing Company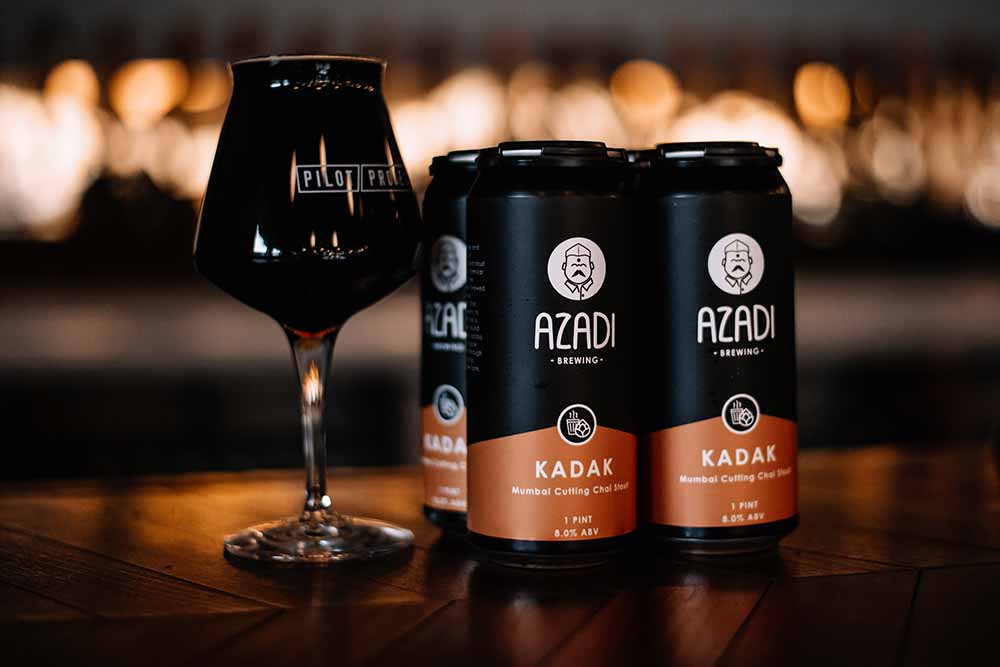 Born in Mumbai, Azadi Co-Founder Bhavik Modi immigrated to the United States but frequently traveled back to India for work. There, he was amazed how brewers incorporated local ingredients into beer.
So he decided to introduce the American craft beer world to Indian concepts, teaming up with his best friend and Madtree Brewer Ray (aka "Gator") Schrand to bring the brand to life.
As the duo looked to open a space in Chicago, they discovered Pilot Project.
"It has been a blessing for a brewery like ours," says Modi. "So many talented brewers out there don't have the capital to start; it's incredible to think about all the ideas left on the table because they couldn't get financing."
Pilot Project gave Azadi a safe space to bring innovative new beers to market.
This includes beers like Kadak, a Mumbai chai stout that pays homage to, "the fuel that powers India," says Modi, who worked with a tea seller in India to procure a 100-year-old recipe for chai spice.
Or Gir, an IPA inspired by the kesar mango, a vibrant orange fruit native to India.
The concept caught fire. According to Abel and Radke, when Azadi launched in November 2020, "They exploded overnight." As one of the fastest-growing brands to ever participate in the incubator, Azadi's first drop sold out within ten days.
"People who have never been to India have fallen in love with these beers," says Modi.
Eventually, Modi and Schrand hope to open their own brewpub focused on pairing Indian food and beer. But for now, Modi will continue to bring new flavors, customs, and traditions to American palates.
Zachary Day, Richard Bloomfield, and Gregory Williams
Co-Founders, Funkytown Brewery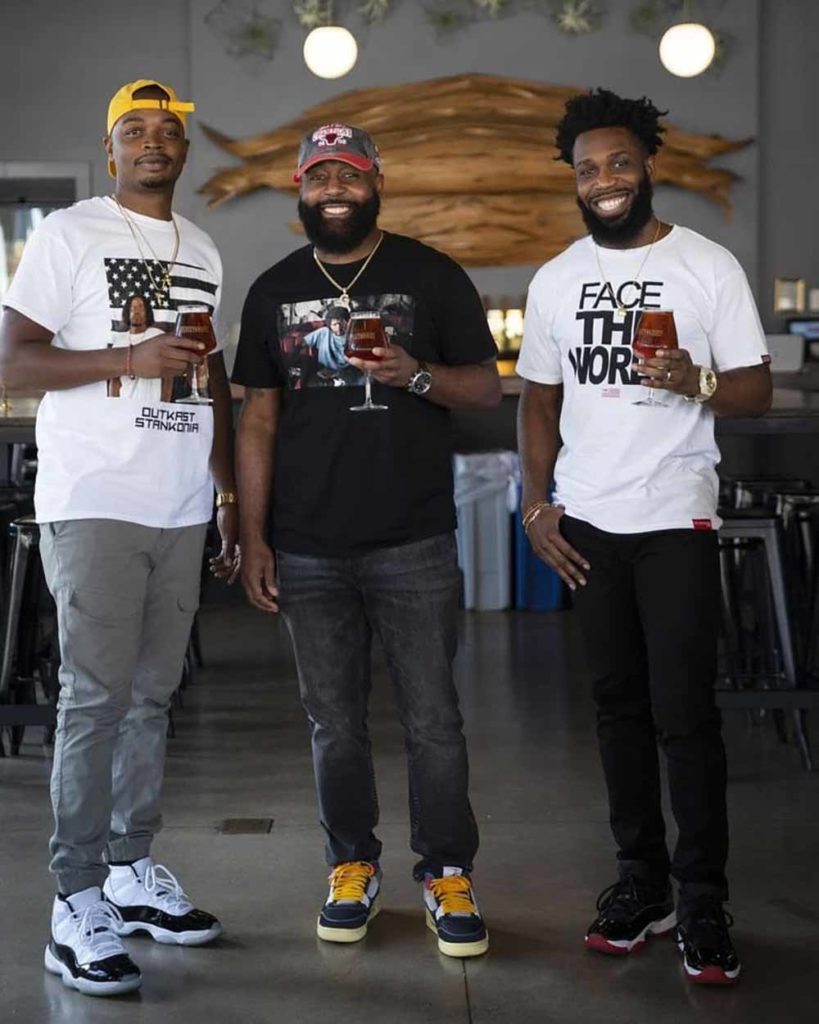 Created to bring a Black perspective to beer, Funkytown is the brainchild of friends Richard Bloomfield, Gregory Williams, and Zachary Day.
When the trio decided to open a brewery, they had a hard time finding advice.
"The space is so white that we didn't know any black brewers to reach out to," says Bloomfield.
And finding financial support? Even harder.
"We always thought we had a great idea… So we figured we'd just go to a bank and get a loan," says Bloomfield.
But that wasn't realistic. Instead, much like Modi at Azadi, the trio found Pilot Project.
The partnership has helped the three—who also all have full-time jobs—scale-up recipes, distribute beer, and get their names into the market.
Most importantly, the incubator helped the second Black-owned brewery in Chicago achieve their vision to bring '90s hip hop culture into craft beer. Like with their flagship pale ale Hip-Hops and R&Brew or amber ale Woo-Wap-Da-Bam.
"They let us come in being unapologetically ourselves," says Day. "And in a space where we've been left out…it's a match made in heaven."
When Funkytown launched at Pilot Project in November 2021, over 200 people showed up, and the beer sold out within only four days.
It's validation for the Funkytown team, who also recently won the 2021 Brewbound Pitch Slam Competition. Bloomfield even returned this year as a judge in the competition.
Eventually, Bloomfield, Williams, and Day hope their experience at Pilot Project will be a launching pad to opening their own brewpub one day. But mostly, they hope to continue bringing their own voices and style into craft beer.
"There are no limits to Funkytown," says Williams. "That's something we take pride in moving forward."
Zahra Tabatabai
Founder, Back Home Beer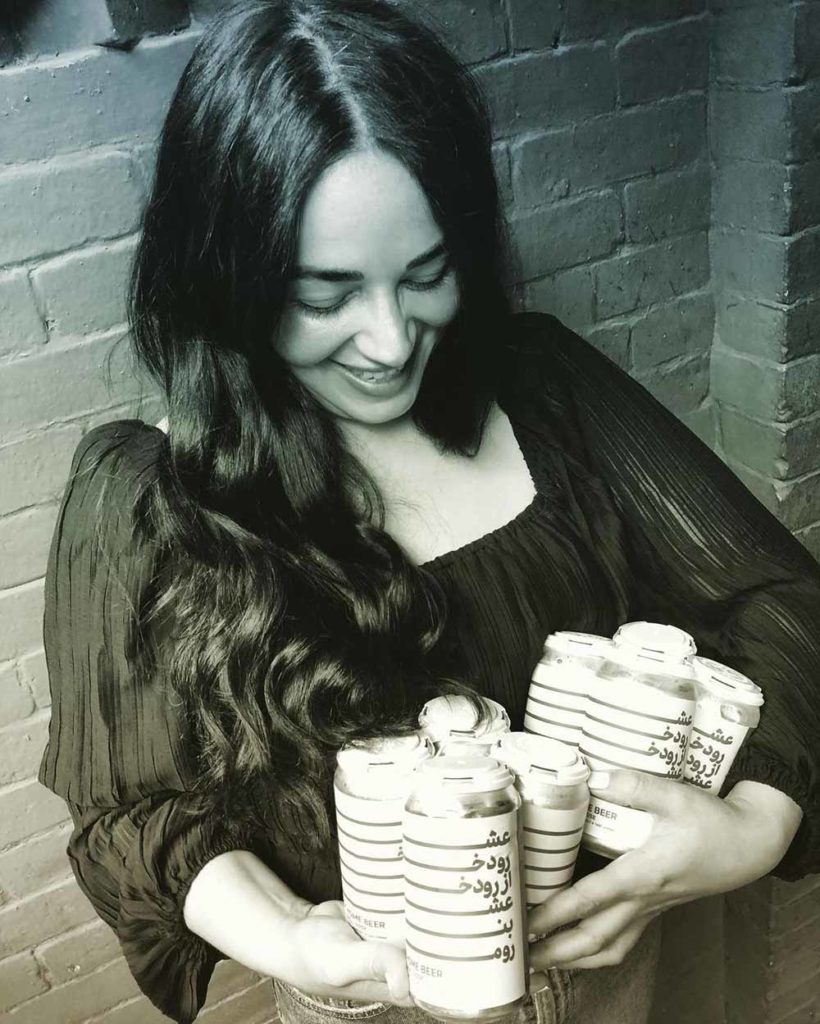 Zahra Tabatabai hasn't been brewing long, but she's already making waves in Brooklyn. The founder of Iranian- and female-owned Back Home Beer, Tabatabai brings a unique background to craft, focusing on flavors and art from Iran and the Middle East.
Tabatabai, the daughter of Iranian immigrants whose grandfather homebrewed in Iran in the 1950s and '60s, started Back Home Beer to share the rich history of brewing in Iran. From the beginning, Tabatabai started homebrewing her grandfather's old recipes. He used a lot of ingredients from his garden in Shiraz, Iran: sumac, salt, barberries, and dried limes.
Earlier this year, Back Home dropped their first cans in New York City. The 4.2% ABV Sumac Gose was cured with sumac, tart cherry, and blue salt. At the time of publication, it held a coveted 4.18 out of 5 on Untappd. Tabatabai chose to release her Sumac Gose first because all of those unique ingredients tell a distinct story.
"In Iran, sour cherries grow like crazy," she says. "They're a popular flavor and fruit. They make a lot of different dishes with sour cherries, but mostly they're just eaten with salt. And some people put sumac on it. My grandfather also brewed a lot with sumac, so that's when I had the idea to do a gose with this beer."
Drinkers have responded to her narrative. Tabatabai's Sumac Gose debuted in mid-October 2021 to rave fanfare. It sold out from the shelves of many accounts within just a few hours.
In 2021, many breweries seem to think that innovation involves throwing as many cookies as possible into the mash tun. But thoughtful brewers like Tabatabai find creativity by looking at their heritage. We'll definitely be keeping an eye on what Tabatabai comes up with next.
Juan Pipkin, Diego Setti, Bruno Laperchuck, and Matais Moroni
Co-Founders, Prison Pals Brewing Company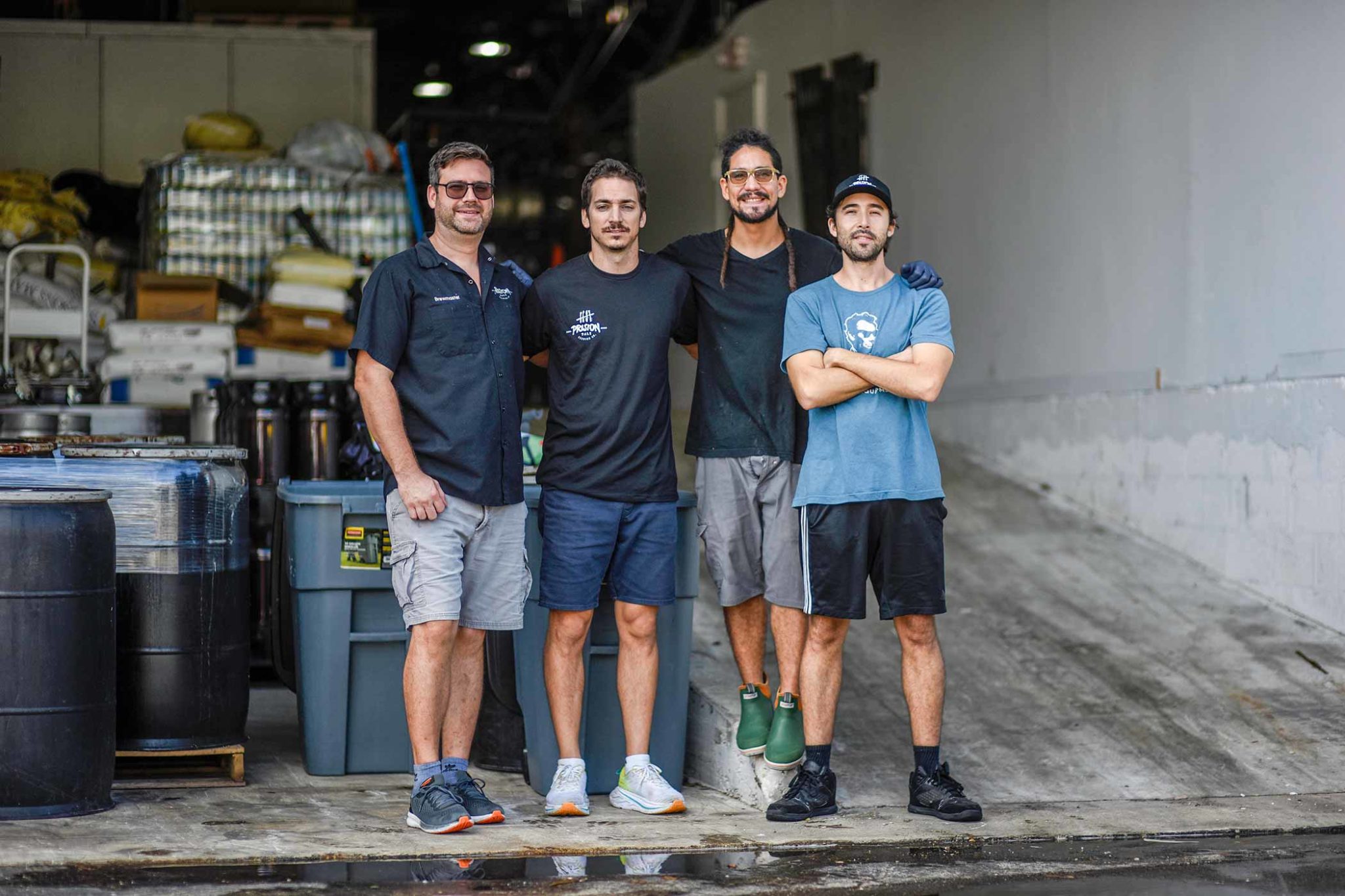 Founded in 2019 by four Argentinians, Juan Pipkin, Diego Setti, Bruno Laperchuck, and Matias Moroni (who just joined the team this year to help with the franchising and marketing of the brand), Prison Pals was originally the brainchild of Pipkin.
A professional race car driver in Argentina, Pipkin had friends who owned breweries, so he began to invest in the process. "I was very interested to learn about breweries and beer," says Pipkin. "And I loved to drink… I only wanted to drink good beer."
So Pipkin recruited Setti, who joined as the brewmaster, and Laperchuk, who became the head brewer and lab manager in charge of everything from quality control and yeast propagation to maintaining the quality standards of the beer and high level of sanitation.
But Pipkin didn't want to open his own place in Argentina, where the craft beer industry has limitations and has been growing much more slowly than in the United States.
According to Setti and Pipkin, the economic and brewing situation in Argentina is very challenging.
"For example, this project made in Argentina would take me sixty to eighty years to recover the money we invested," says Pipkin. "Or we'd have to get lucky and be bought by AB InBev."
So Pipkin and Setti looked elsewhere.
When Argentina allowed residents with tourist visas to leave the country, Pipkin and his co-founders made the move, setting up shop in Doral, FL, in early January 2021.
"We escaped the prison," says Setti. "The prison was Argentina."
Within three months they had built pretty much everything in the brewery. "We are handy people," says Setti. "Except for the electricity and some piping for water, we made everything by ourselves. We were so excited about building our own brewery, so why not?"
In May 2021, Prison Pals officially opened to the public, becoming one of the hottest new breweries in South Florida.
Prison Pals has made a name for itself by producing sensational jam-packed fruited smoothie sours, hoppy hazy IPAs, and lights-out lagers. And in a state where the sun shines enough to give it a nickname, Florida seems to be the perfect landing spot for a brewery looking to break free.
"All the people here and all the owners of breweries have helped us a lot," says Pipkin. "We thought it would be difficult, but all these people make us feel like we're home in Argentina."
And now, the quartet will continue to be a voice for those looking to break free and build a dream.