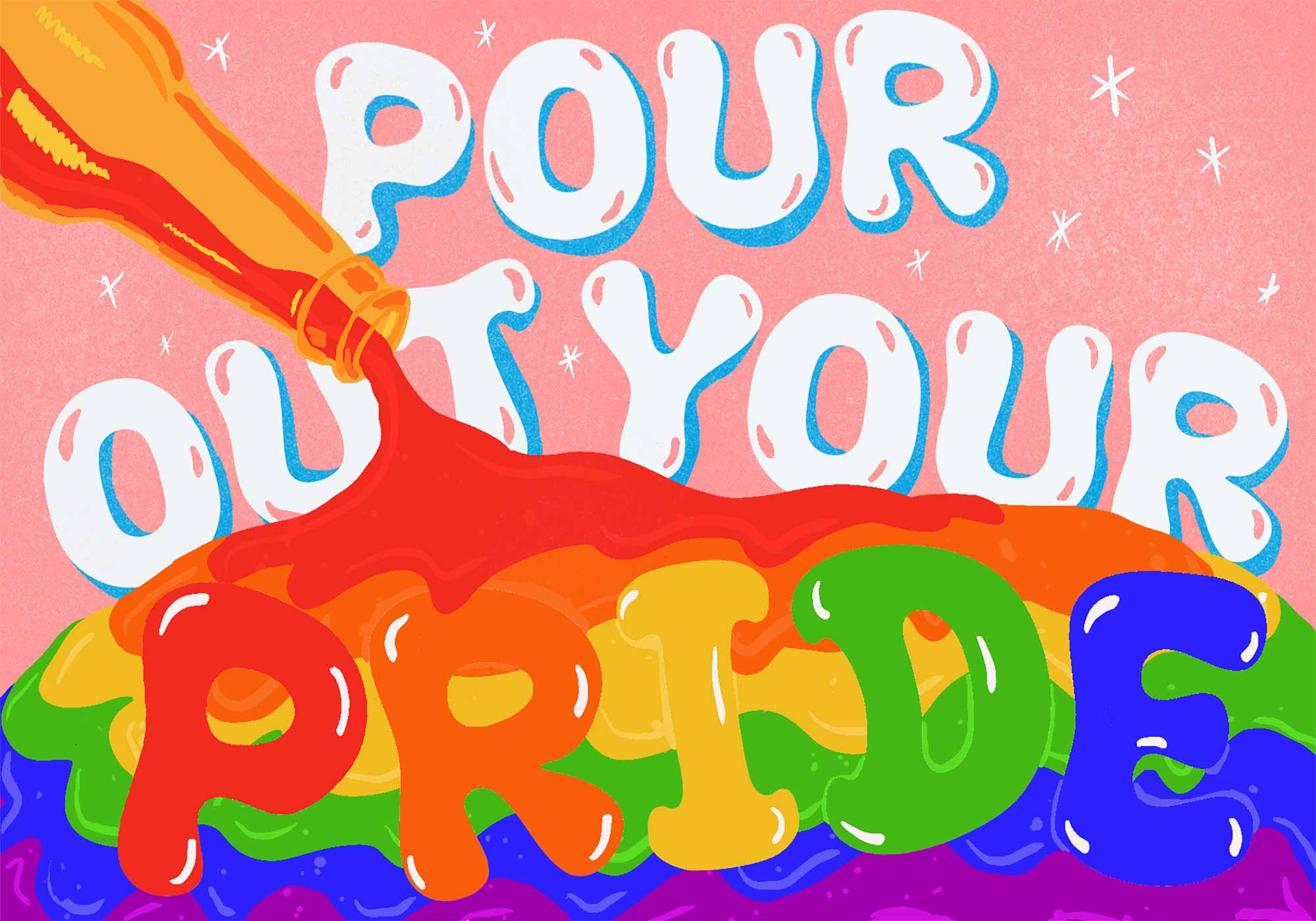 Photography courtesy of Molly Gajdosik
Editor's Note:
Join us on June 5th, 2021, for our inaugural Queer Beer Fest Presented by Samuel Adams celebrating the colorful, vibrant, and diverse voices of craft beer! You can find all the details here!
Two months ago, we celebrated the announcement of our inaugural Queer Beer Fest presented by Samuel Adams by asking queer artists to send us their best illustrations of what it looks like to be a powerful queer person participating in the craft beer industry or culture. This Pour Out Your Pride contest received some amazing vibrant, colorful, and empowering designs.
The winning illustration came from Molly Gajdosick (they/them/theirs), a 26-year-old non-binary designer. Their illustration incorporates the colors of the trans flag and spirit of Pride into a design that captures the motion of pouring out a bottle of beer. We loved the artwork so much, we're featuring Molly's design on 300 limited-edition Colsters (generously donated by YETI).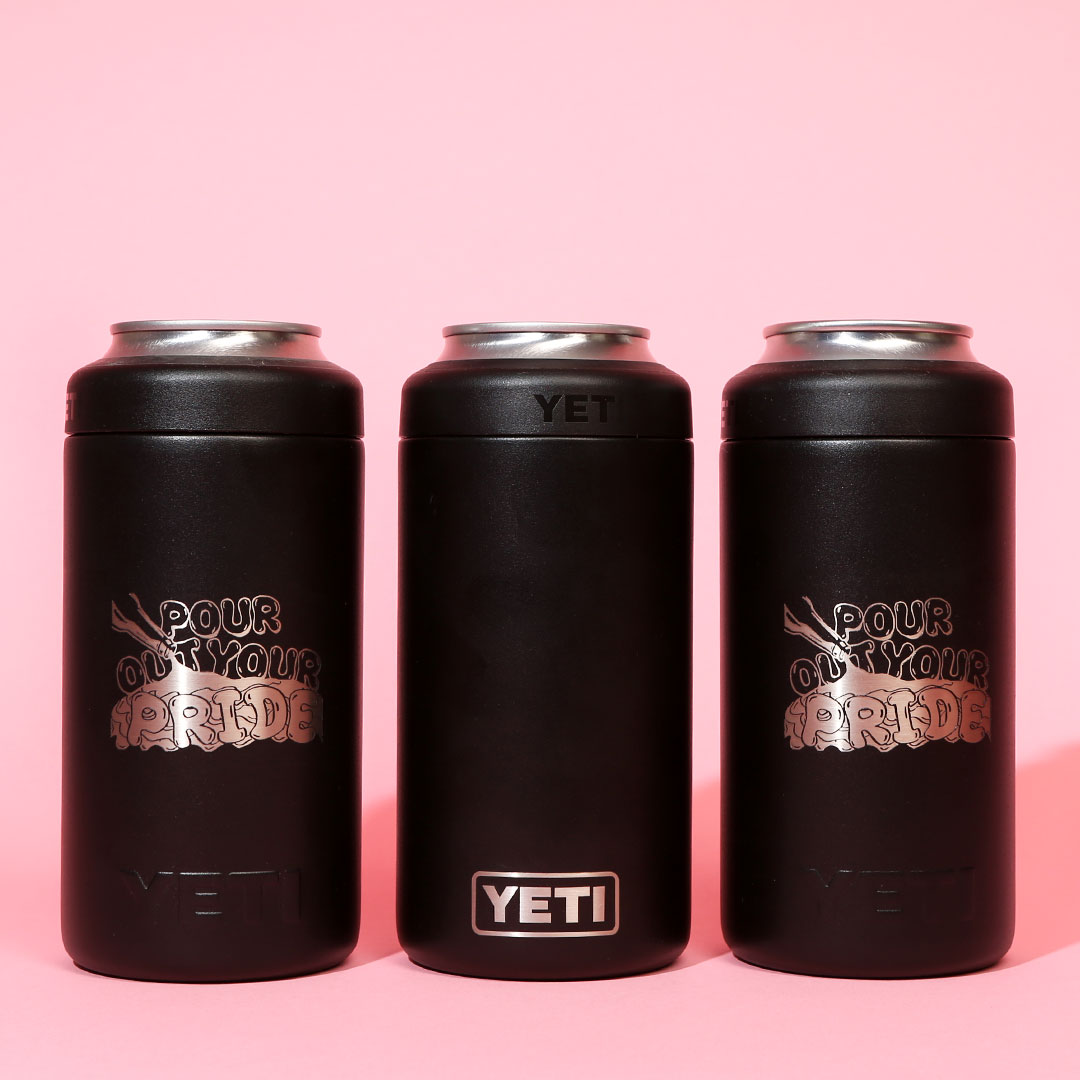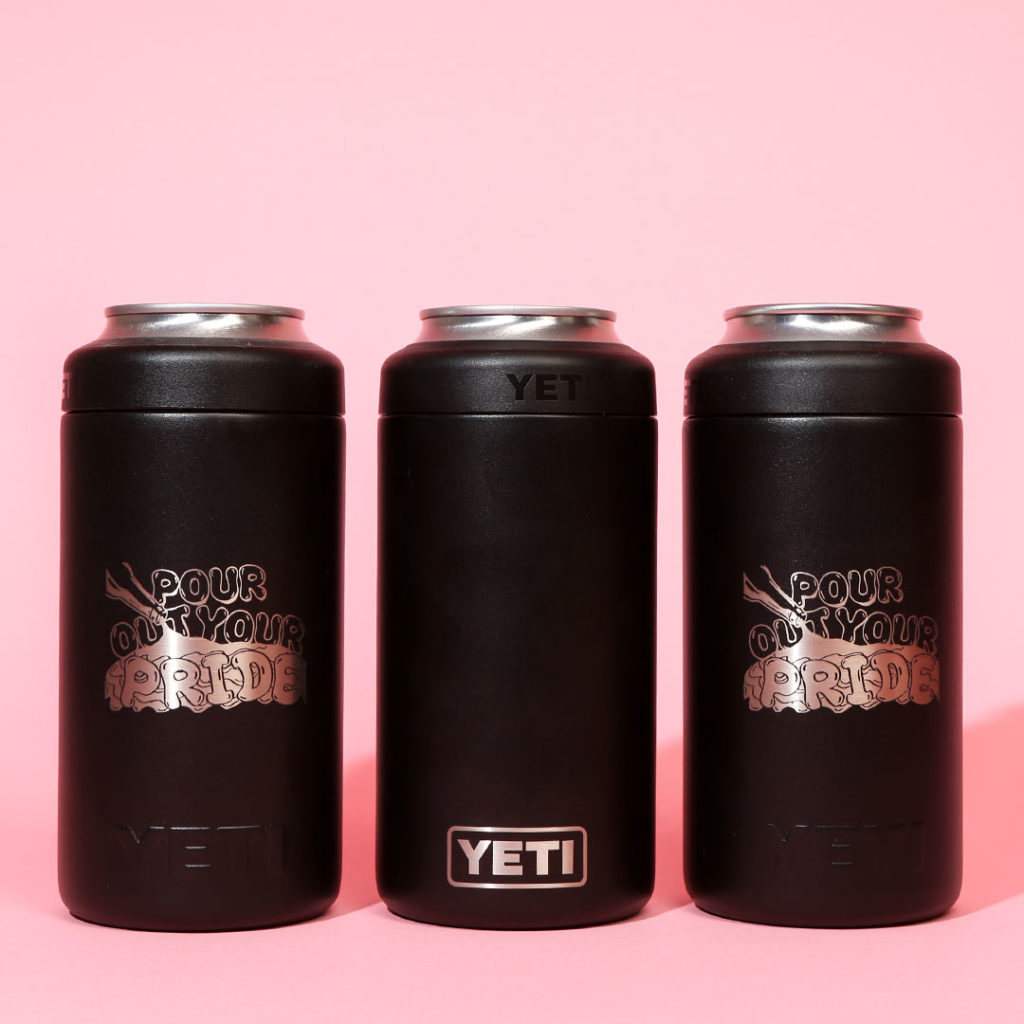 The best part? All of the net proceeds from the Colsters will go to GLAAD, an organization rewriting the script for LGBTQ acceptance. So grab one of these awesome YETI colsters for a good cause and to keep your beer cold throughout the summer.
We sat down with Molly to chat about their first art memories, baking cookies at Milk Bar, and their goal of opening an inclusive tiki bar.
An Interview With Molly Gajdosik, Winner of our Queer Beer Pour Out Your Pride Design Contest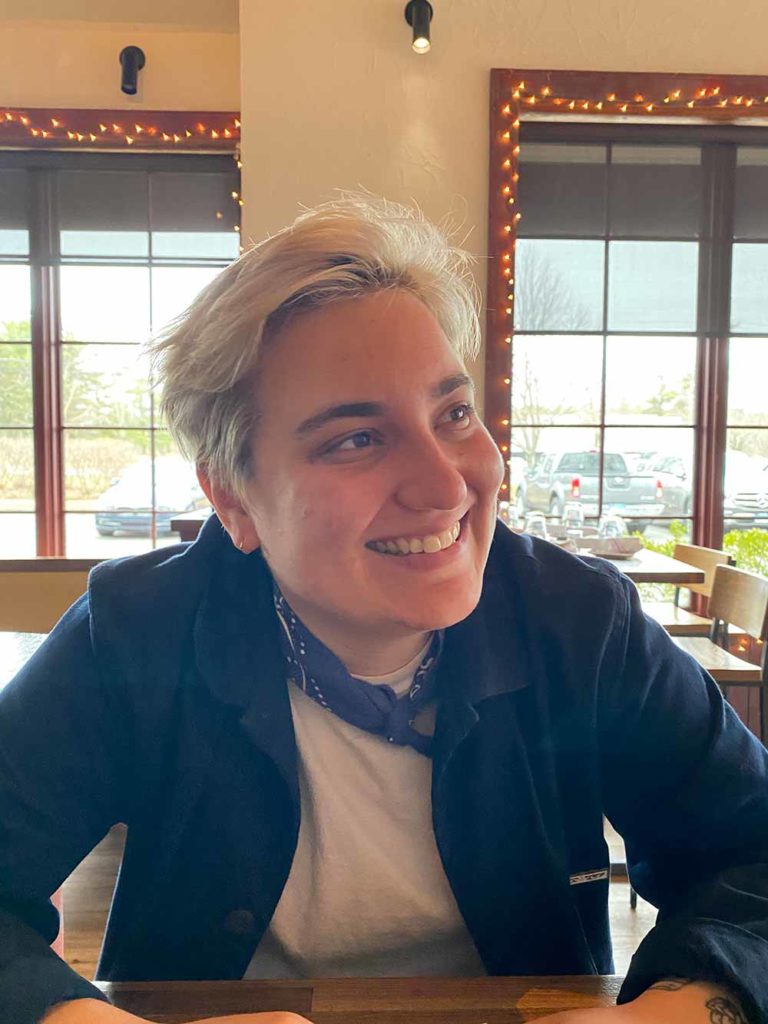 Grace Weitz: What's the first memory you have of something you drew?
Molly Gajdosik: I don't have any distinct memories but my parents do. They got me an art easel one year for Christmas. It's on our home movies somewhere where I'm drawing so seriously, like laser-focused. They always bring that up because that's how they knew I was really into art.
GW: How did art become a big part of your life?
MG: I always really enjoyed art and art class. In high school, I went to an arts magnet school. So I would take all my English and Math classes at a normal high school in the morning and then they'd bus us all to an art school where we would take classes on drawing, painting, sculpture, photography, etc. I got to dip my feet into everything. I always knew I wanted to go to art school, so after high school I went to college for a year in New York at Parsons. But I didn't like it so much. I got a part-time job while in school at a restaurant and fell in love with cooking. I shifted gears and thought I wanted to become a chef. I worked at a bunch of restaurants including Momofuku Milk Bar.
GW: I lived in New York for a while and I loved Milk Bar! Were you one of the bakers that had to get up really early and be there at 3:00 AM?
MG: I worked in their production making 180-quart batches of cookie dough and cakes. It was really fun, but back-breaking work. And, I only had to be there at 8:00 AM. I don't know if I could have woken up at 3:00 AM.
GW: Let's see, drawing and baking — it seems you have many talents!
MG: I was a dog walker too for a while! I dabble in a bunch and I have a lot of interests. I find myself moving back and forth pretty often between things. Eventually, I decided to go back to school and finish my art degree. I wanted to move to Montreal because I love the city. In 2018, I finished up my degree in Design at Concordia University, which is a lesser-known English university in Montreal. Everyone's always like, "Did you go to McGill?" And, I have to tell them no!
GW: When you were working in restaurants and at Milk Bar were you still designing and drawing?
MG: I took a break and funneled all my creative energy into cooking and baking.
GW: Hey, that's just a different form of art!
MG: For sure. Even when I was in school for graphic design I was always cooking and baking at home and working in restaurants. It's always been a side-by-side kind of deal.
GW: Speaking of art and different craft forms, when did your love of craft beer begin?
MG: It started in Montreal. I was living there and thinking, Wow, the beer here kind of sucks. I don't really like it as much as where I come from in Connecticut, which has a ton of great craft breweries. I remember really missing it. I caught the bug. I started looking for that distinct craft beer community that I felt in Connecticut, but couldn't find in Montreal. Every time I'd visit home, I'd go to a brewery. I had to.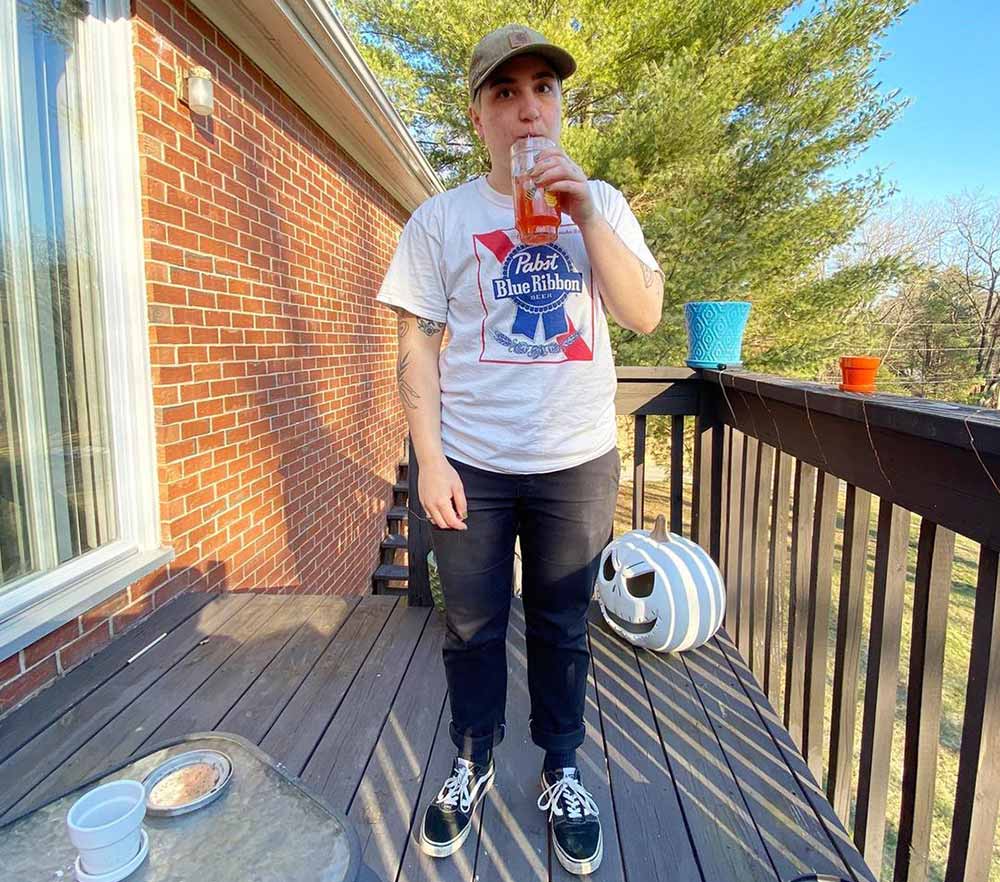 GW: And you eventually started working a a couple breweries around Connecticut right?
MG: One summer, I decided to sublet my apartment in Montreal and go back to Connecticut to look for a job at a brewery. My parents know Tom Sobocinski, one of the owners of Black Hog Brewing Company in Connecticut. He designed my mom's website in high school and did her IT. He's an incredible computer guy. He gave us a tour one time, so I thought, I'm going to shoot him an email and see if he needs an intern for the summer. And he did!
GW: Where did you start in the brewery?
MG: I interned in the brewhouse, filled kegs, worked on the canning line, worked in the taproom part-time, and then eventually shifted to be full-time in the taproom and eventually taproom manager for a little bit.
GW: I heard that at the same time, you started designing beer labels for your dad's homebrews.
MG: My dad is super into craft beer. Actually, we got into it around the same time. He's much more into homebrewing. I'm not going to claim to know technically how to brew anything. Not my forte. But he's an engineer who can do anything he dives into. He's gotten pretty good. He said, 'Hey Molly, I need you to design a label for this beer I'm brewing.'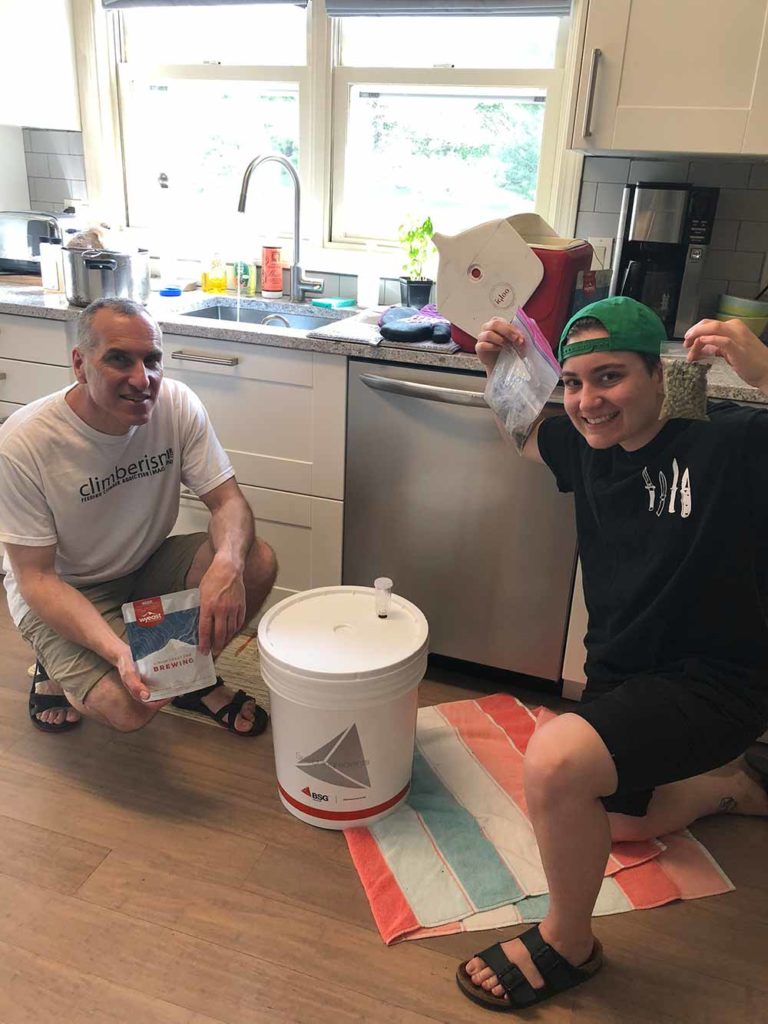 GW: What are some of the beers you've made together?
MG: We did a farmhouse ale a couple of summers ago and I designed a label with farms. He's doing an English-style ale right now. It's going to be called Old Gregg, so he asked me to design a label for that beer. He doesn't bottle much anymore. I design them mostly for bottles but he's upgraded his equipment to a kegerator.
GW: I'm so interested in that Old Gregg beer. Is that your dad's name?
MG: No. It's some English mild. I forget why he's calling it that, but Old Gregg is from the Mighty Boosh skit, Here Comes Old Gregg.
GW: Creativity certainly runs in your family. So, when you first heard about our Pour Out Your Pride art contest, what went through your mind?
MG: When I saw that contest I thought it was super cool. I'd just gotten an iPad, so I decided to fool around with Procreate®. I wanted to design something for the fun of it. I never try to take anything super seriously because I feel that takes the fun out of it. I wanted to create something fun to look at and fun to make. Seeing a contest that was geared toward giving queer artists a platform and an opportunity to design something was really exciting to me. I felt it was something I could participate in.
GW: What did you draw first?
MG: I did a little sketch. I knew I wanted to incorporate a beer bottle and some movement of liquid because it's Pour Out Your Pride. I took it very literally. After the sketch, I dove into it on Procreate® and it evolved from there.
GW: One thing we all appreciate with your design was the incorporation of all the colors of the trans flag. How does that speak to you?
MG: I didn't only want to do the typical Pride flag colors. I wanted to incorporate the colors of the trans flag as well because it's an integral part of our community as a whole. As a person, I'm nonbinary, so that's super important to me to be inclusive and to make sure my voice is heard.
GW: There are so many queer, vibrant voices out there working, making, and drinking beer that we would love to be heard, too. It's why we started Queer Beer. What has been your personal experience in the craft industry as someone who identifies as non-binary?
MG: I came out as non-binary pretty recently at the beginning of lockdown, so I haven't been out to my coworkers for a super long time. But, working in a brewery is a super dude-heavy environment. Although, it has never made me super uncomfortable because I feel like I can hang. People have been pretty welcoming. I haven't had any super negative experiences.
GW: I haven't either, which is empowering.
MG: It's kind of surprising considering how macho the environment can be so much of the time.
GW: It's funny you say that because Queer Beer came out of another festival we host called Beers With(out) Beards. It's a womxn in craft beer festival. And as a woman in beer, there have been times I've felt alone. It took me a while to find that community of people like me in craft beer. It's nice to be able to connect with people that identity with you.
MG: I mean, not having a negative experience is the bare minimum.
GW: Exactly. What does Pride mean to you?
MG: Pride is an opportunity to celebrate because so often we don't get that opportunity. Queer people are always looking for community and Pride is a time to come together.
GW: Right. When I was younger, most Pride celebrations centered around drinking lighter lagers, not necessarily craft beer.
MG: Or Absolut.
GW: Haha, yes! Or Absolut! It's funny because there is this disconnect between queer culture and craft beer. A huge queer bar culture exists, but it's often associated with higher alcohol shelf spirits, shots, and light beers. Actually, you worked for a lesbian bar in New York City, right?
MG: Yes, and I can't remember if we even served beer. I couldn't tell you what beer we had on the menu there.
GW: But things are changing. Now, I think there is a space for queer culture and craft beer culture to connect.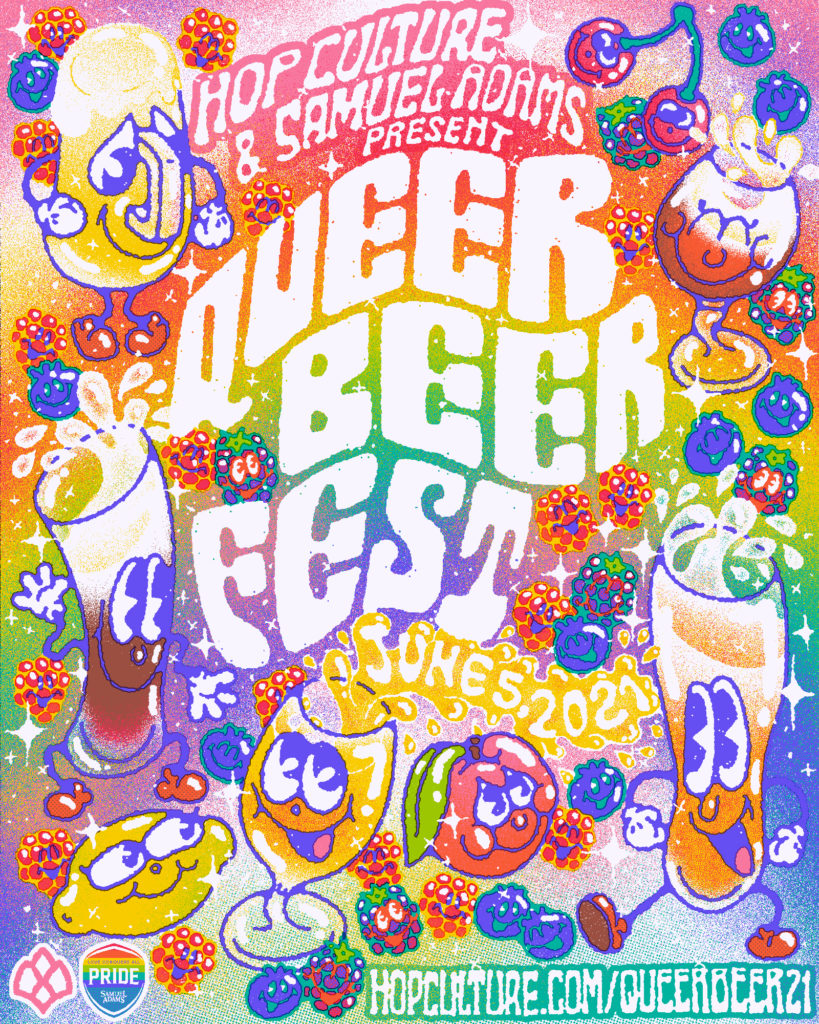 MG: I was always looking for that kind of space and always disappointed that it didn't exist. It is my goal eventually to open up my own bar. I have a bunch of different ideas. Right now, I'm super into Tiki cocktails. I'd love to open a Tiki dive bar, but with really good food and beer. If I wanted to serve beer at my tiki bar, what would that look like?
GW: Tiki beer would be dope!
MG: Hey, that could be a thing. There is a brewery in Connecticut that has done a Tiki cocktail sour. Good idea!
GW: Haha. Well, feel free to run with that idea. I mean, the queer community has always had to create its own spaces right?
MG: That's my approach to everything: if it doesn't exist, I'll try to create it.
GW: I love that! Whether that's on paper, on the computer, or in real life. With that in mind, what are you most looking forward to with Queer Beer?
MG: I just want to say it's so amazing that you're doing this. I applaud your efforts to create a festival centered around queer people in the craft brewing industry. That's so cool and I'm super excited about it. That's why I was excited to make the design.
A previous version of this newsletter referred to Molly Gadjosick with "she/her/hers" pronouns instead of the preferred "they/them/theirs." Hop Culture deeply regrets this error. We understand the importance of this recognition and want to make sure that we authentically represent Molly and the non-binary community.