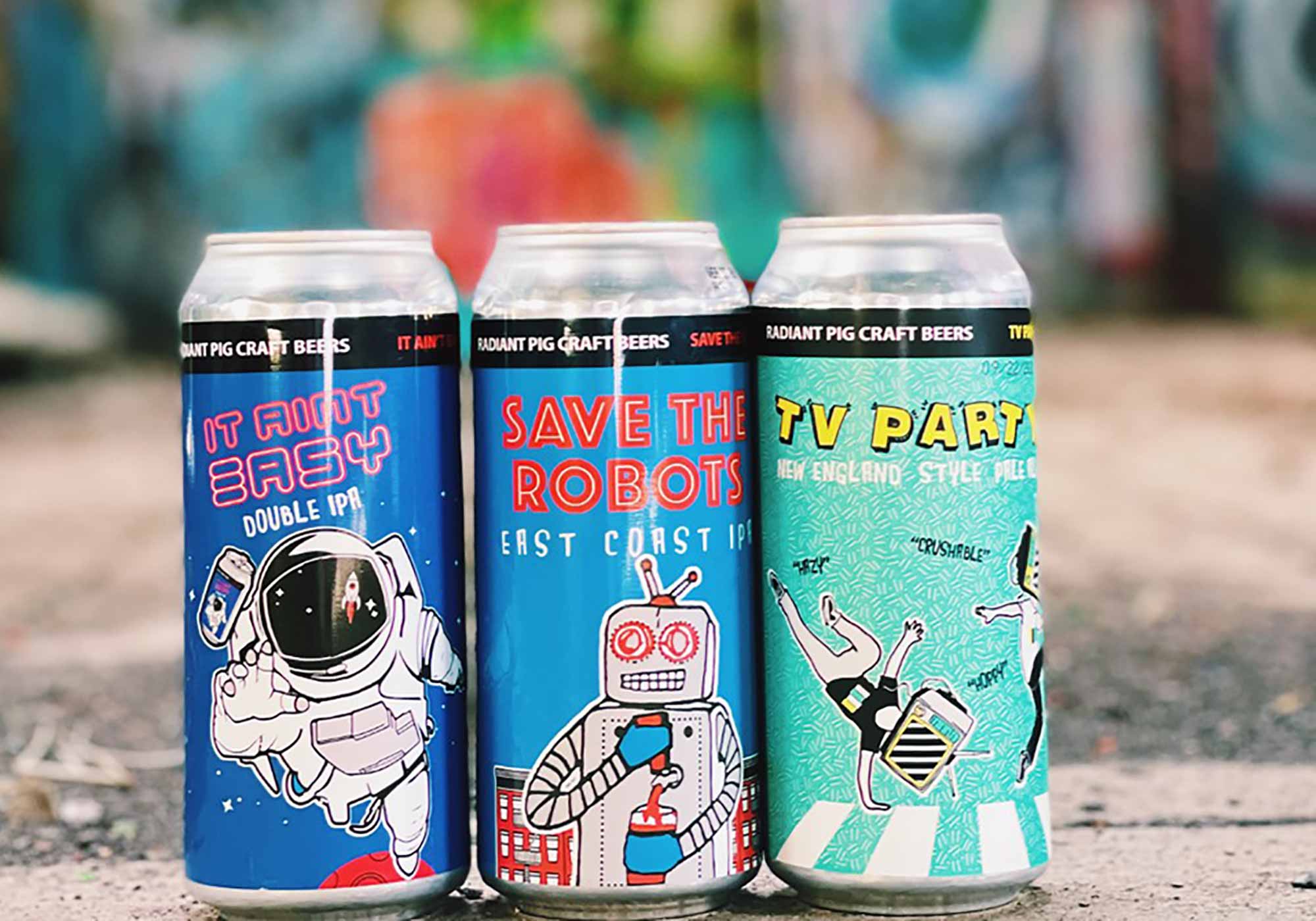 Photography courtesy of Aliyah Jones
Brewing may be a technical profession but any brewer worth his or her salt will describe it as a blend of art and science. And Radiant Pig, a brewery started by a former art student in his tiny Brooklyn apartment, seems to have found the perfect words to describe this mashup: liquid art.
As liquid artists, Radiant Pig respects art across all its mediums, from labels inspired by New York street art to the delicious beer itself.
Balancing art and science is not a tricky task, but rather a labor of two loves for Rob Pihl, Creative Director and Founder of Radiant Pig. And Radiant Pig is a shining example of what happens when art and science come together as one.
How Radiant Pig Became Liquid Artists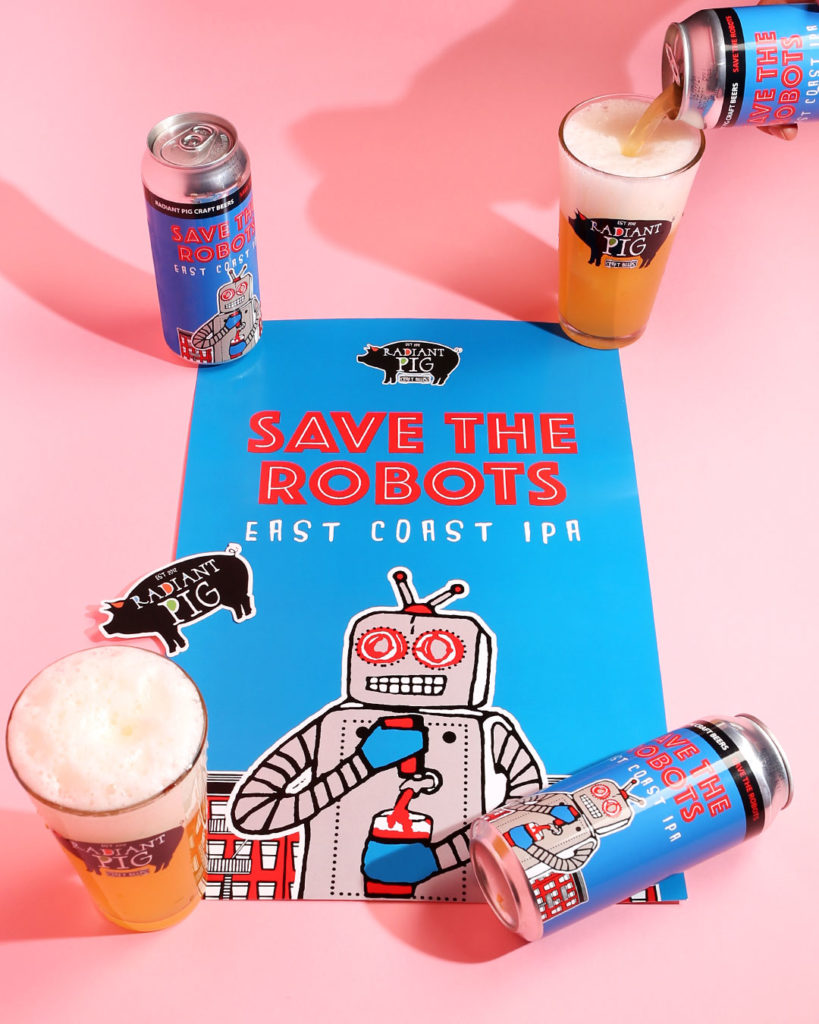 Art is as much a part of the beer that runs through Radiant Pig's veins as the beer itself.
"We look at everything as a form of artwork from the inside out," says Pihl. "The liquid, the labels, we like to think of what we do as creating little 16oz works of art."
To Pihl, brewing is a blank canvas to express creativity.
Vibrant and cheeky, Radiant Pig's designs include a bit of a graffiti-street-art edge. For example, their flagship Save the Robots features a bright blue background with a robot pouring himself a beer from a tap handle in his chest.
Likewise, TV Party — a New England-style pale ale — highlights two human bodies with television sets for faces, cartwheeling across a crosswalk. It almost looks like a late 1980s or early 1990s version of The Beatles iconic stroll across Abbey Road.
"In my mind, the labels are emblematic of the street art you see walking around the city: Bright, colorful, expressive," says Pihl. "Slightly messy with a bit of refinement."
Because art and brewing are collective endeavors, Radiant Pig has continued to add new voices onto the team. Radiant Pig just hired a new in-house designer and copywriter for their marketing department, which are backed by an incredible sales team. They are also working on a creating a scholarship program to embrace the community and help local artists.
Collective, Community, Craftsmanship at Radiant Pig
In the spirit of cultivating community, Radiant Pig joined Newport Craft Brewing & Distilling Co. in 2020. The Newport, Rhode Island-based craft brewery and distillery acquired both Braven Brewing Company and Radiant Pig to create a collective of sorts, sharing brewing space, equipment, ideas, and team members. The Newport Craft team has over 25 years of combined manufacturing, brewing, and distilling experience, which has been a huge factor in Radiant Pig's growth as a brand.
For that reason, Pihl says joining this group of creative thinkers and brewers made sense.
"My pipe dream has always been to have my own space," says Pihl. When he met the folks at Newport Craft through contacts in the industry, he saw an opportunity.
"After connecting, CEO Brendan O'Donnell, COO James Rodrigues and I became fast friends," says Pihl. "We talked about doing collabs together. We continued talking and realized that we got along really well and had similar goals. We decided collectively that we'd be stronger teaming up than trying to do things separately."
CEO of Newport Craft Brendan O'Donnell agrees, "When Rob joined forces with us back in June of 2020 it was in the height of the pandemic which made things very distant physically, but we were able to get closer than we probably would have been because of Zoom with him being in New York and me being in Newport."
Newport Craft Brewing and Radiant Pig: Stronger Together
With newfound access to production tools, design resources, and more, Radiant Pig has continued to grow.
"What Rob built at Radiant Pig is incredible, we realized that he was only able to fulfill about a quarter of the demand he had and was doing it all by himself, so by teaming up we became stronger together," says O'Donnell.
"Working with Brewmaster Ben Chambers and the entire production team has been a great way to expand my own knowledge and expertise and has brought the quality of Radiant Pig beers to a whole new level," says Pihl. "For me, the team approach was a much better way to go. I was going the lone wolf direction trying to start my own thing and it was very hard and challenging."
To help meet growing demand throughout the Northeast, Newport Craft is in the middle of a $10 million dollar renovation of its production facility that will increase the footprint of all its brands.
"When we took over Newport Craft in 2017, there were only about 25 craft breweries in Rhode Island. Now, there are over 50. By becoming a brand collective and adding Braven Brewing Company and Radiant Pig Craft Beers, we can now be classed as a regional brewery!," says O'Donnell. "Not to mention we are not only a brewery but a distillery as well. Our capacity has increased from 1,500 barrels to 20,000, making us one of the largest "Brewdistillerys" in New England."
Concurrently, the team is also planning a taproom and brewery in NYC.
"[Rob] has helped across all brands and has become a partner and good friend. We are excited for all the projects we have in the works; the massive renovation in Newport, and for the expansion into new states that are begging for our product! We are also hoping for a satellite location in New York in the next couple of years," says O'Donnell.
Where To Find Radiant Pig Beer
At the moment, New York State — and especially New York City — are the best places to find Radiant Pig beer. You can even find its flagship Save the Robots at Citi Field, through a partnership with the Mets. New York City gave Pihl his start, both in designing art and in brewing and hand-delivering beer.
You can also find Radiant Pig beers distributed throughout Massachusetts (their second biggest market), Rhode Island, Connecticut, and Maine.
As of Summer 2021, Radiant Pig is expanding into neighboring areas to continue to grow throughout the Northeast and Tri-State area.
And of course, hopefully sometime in the future, Radiant Pig will have a taproom in New York City to call its own.
What Radiant Pig Beers Should I Try?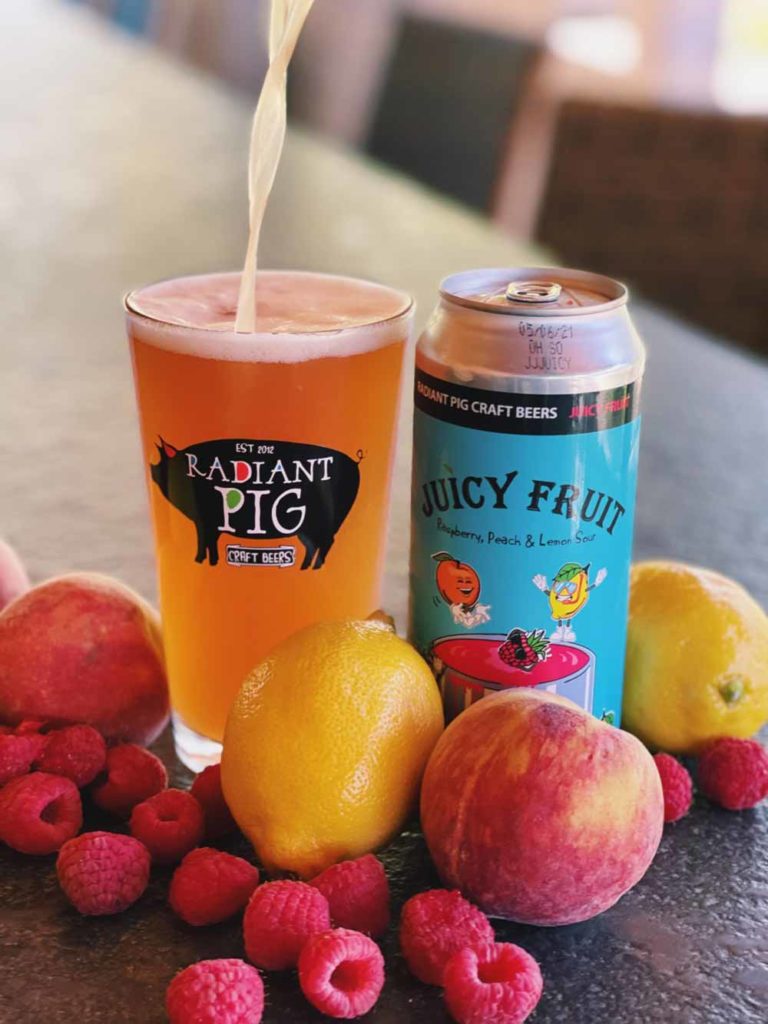 If you find Radiant Pig beer, try Save the Robots. There's a reason the beer is a flagship.
"It's hazy, but not super hazy," says Pihl. "And it doesn't have the same bite that some West Coast IPAs. It has a really soft finish with nice citrus-forward notes from the Citra and Galaxy hops."
Recently, Radiant Pig started brewing sours, putting out a beer series called Juicy Fruit that's definitely worth a try. The name takes inspiration from an old disco funk song called Juicy Fruit, resampled many times, but perhaps most famously by The Notorious B.I.G in the song Juicy.
The first batch of Juicy Fruit sold very well, so a second iteration is on the horizon. Juicy Fruit Raspberry, Peach, and Lemon features freshly-pureed fruit.
"You get fresh character to it because we pop the fruit into the tanks within a day or two of being pureed," says Pihl. "It has a nice, really juicy character, with a bit of tartness."
To achieve that characteristic tang, Juicy Fruit forgoes kettle souring for an innovative new yeast strain that produces lactic acid, souring the beer.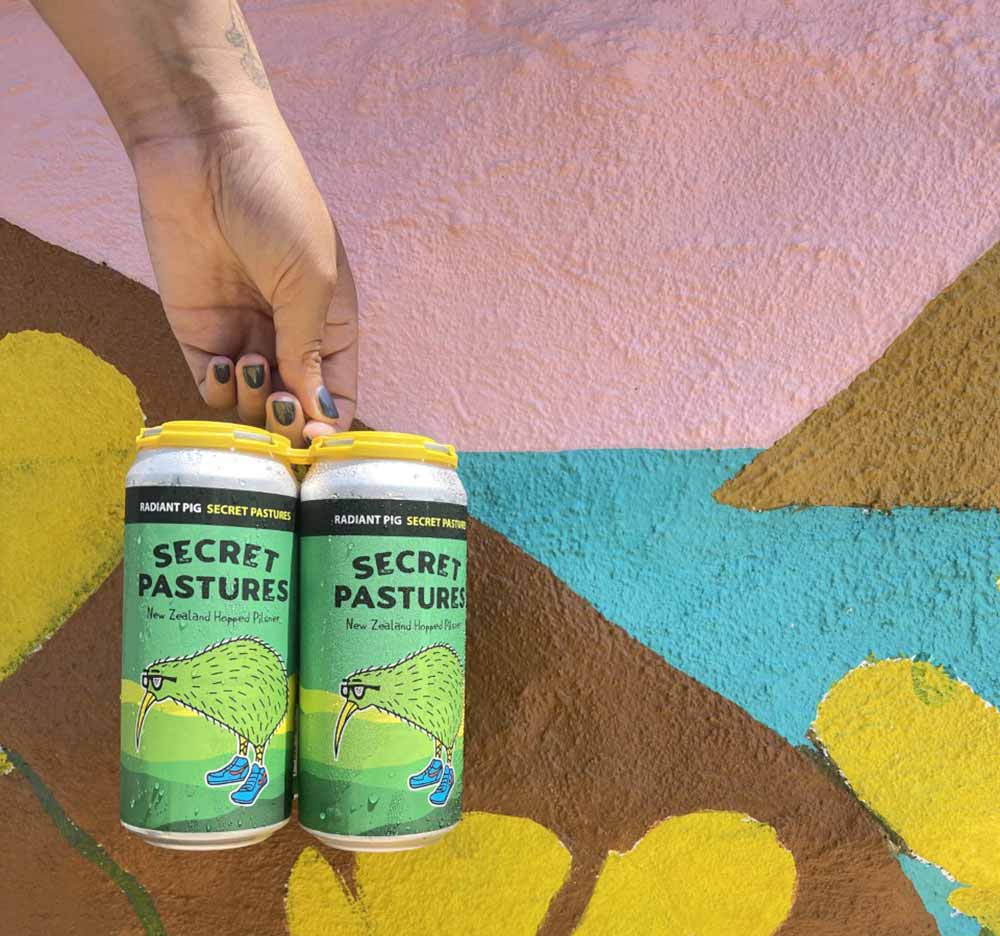 On the opposite end of the spectrum, Pihl recommends trying Secret Pastures. A Pilsner hopped with New Zealand hops, Secret Pastures has a soft finish along with lemon-lime zest notes from the sub-tropical nature of the Kiwi hops.
"It's light and refreshing," says Pihl. "It's not a heavy, hoppy beer masquerading as a pilsner but a true pilsner made with traditional ingredients."
What's Next for Radiant Pig?
The next big project is to see the Newport expansion through to completion. After that, Radiant Pig will look to solidify a taproom and brewery space in New York City.
Look out for this street-art inspired brewery to continue championing liquid artists, bringing together people who appreciate art and beer.