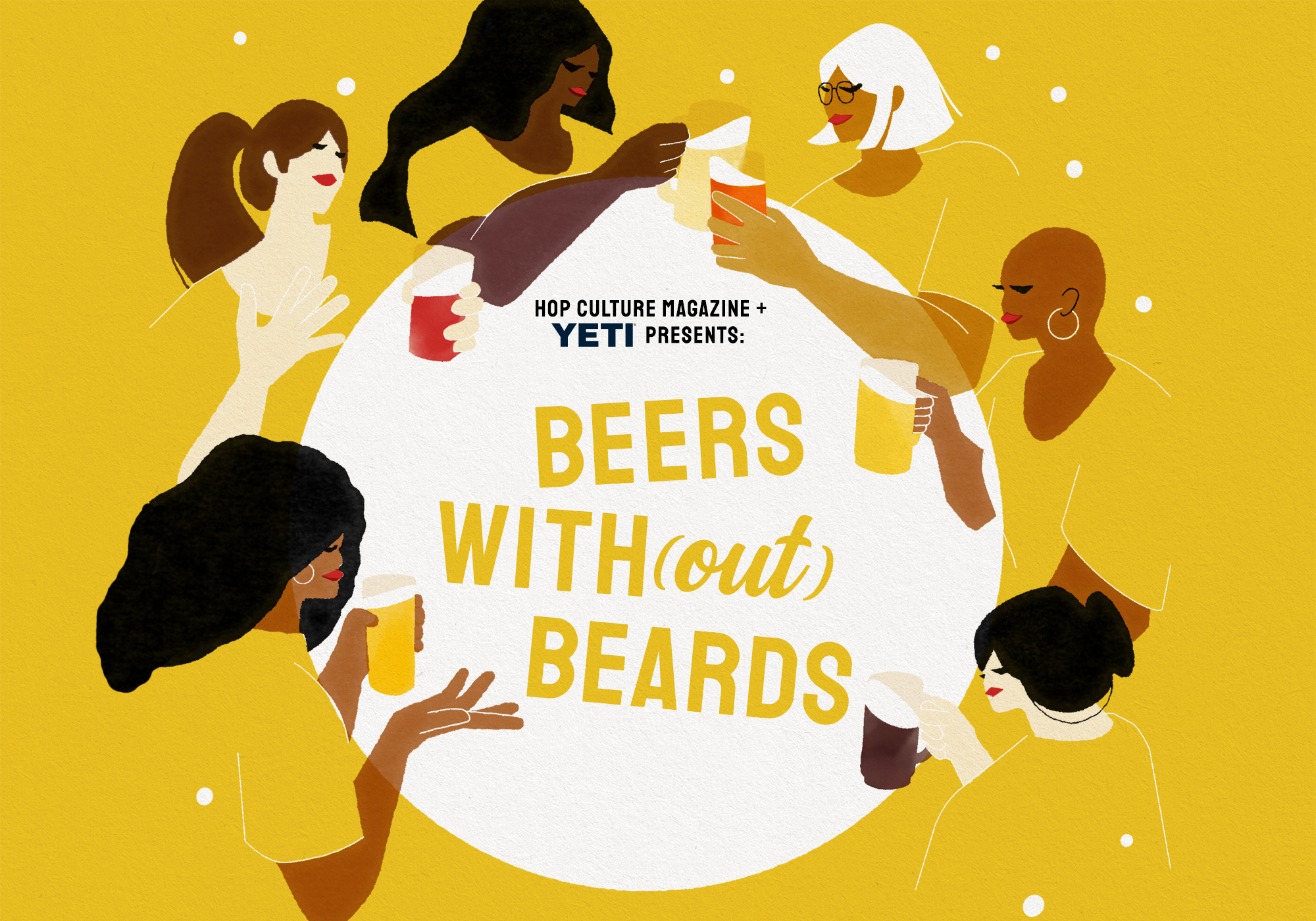 Poster Art courtesy of Kailah Ogawa
Editor's Note:
The Hop Culture x YETI Beers With(out) Beards women and beer festival goes live this weekend on Saturday, Sept. 18th at 1:00 PM ET. You can find the livestream link here!
In 2018, Hop Culture's Head of Partnerships Grace Weitz launched Beers With(out) Beards as a part of her graduate school thesis capstone project at NYU. Over the last three years, this week-long celebration of women in beer has attracted thousands of attendees and fifty women-led breweries. In the same period, the fest has featured over thirty events aimed at celebrating the achievements of women across all aspects of the alcoholic beverage industries.
Even during a global pandemic, the show went on. In 2020, Hop Culture hosted the first-ever digital BW(O)B, which allowed people to attend from all over the world. And this year, the tradition continues with the second-annual digital version of the women in craft beer festival.
Now more than ever women are standing up and asking to be heard in a predominantly white, male industry.
This year many across the industry shared personal and painful stories of sexism and misogyny in the beer industry. And, from all over the world, those stories were met with expressions of support for one another.
Together, everyone's voice is stronger. And we feel empowered that other people had the courage to speak up. We're also proud that for the past three years, Hop Culture has organized its own event to stand together with women in the beer industry.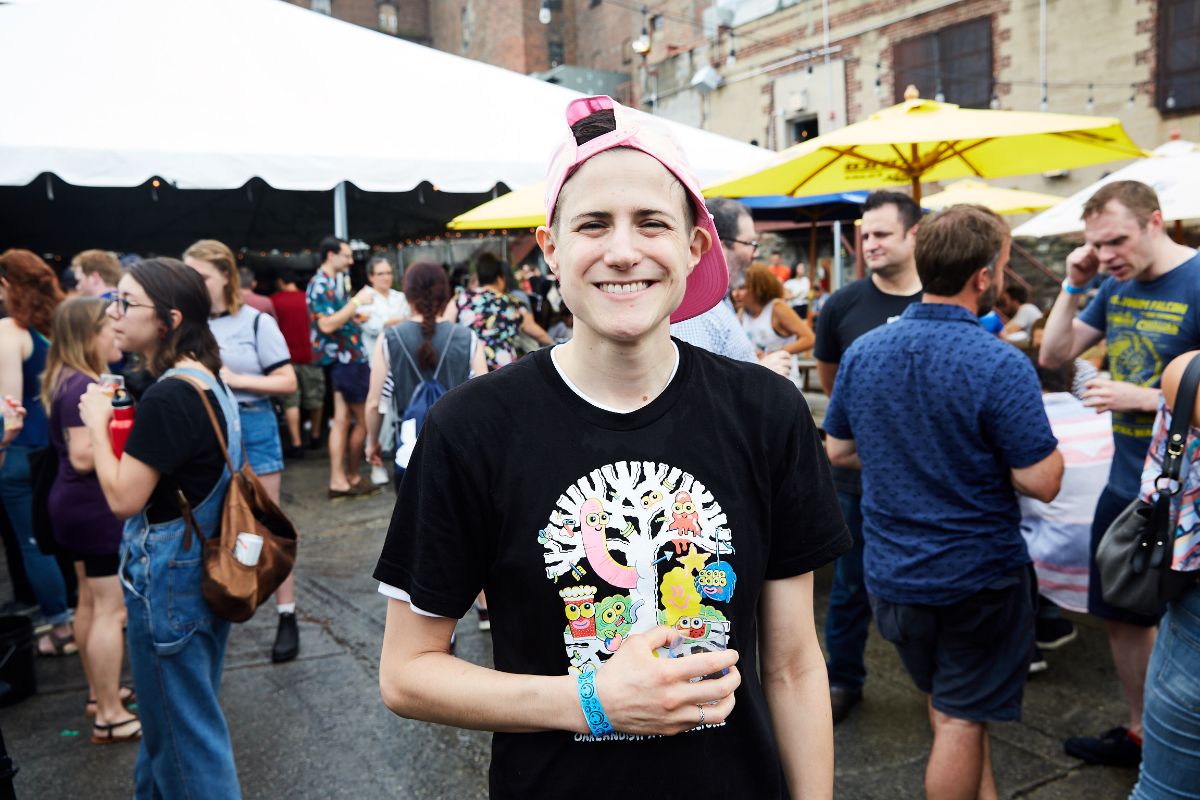 For our 4th annual BW(O)B we teamed up with YETI as our presenting sponsor.
Known for their coolers built for the wild, YETI is also active in supporting a more inclusive and equitable industry.
In 2006, YETI Coolers was founded with a simple mission: build the hard cooler they'd use every day. They've worked equally as hard to start initiatives that create more equitable and inclusive industries from beer to barbecue to the outdoors and everything in between.
Last March, YETI released a film celebrating International Women's Day called Mothered by Mountains featuring Pasang Lhamu, Nepal's first mountaineering instructor and National Geographic's Adventurer of the Year. And YETI has partnered with countless female-focused organizations including Andshesdopetoo, California Watersports Collective, Chicks Climbing & Skiing, Safe as Clinics, Women's Climbing Festivals, and more.
All in all YETI has made huge strides to support women in the community and Hop Culture is honored to partner with this revolutionary company as a presenting sponsor for its 4th annual women in craft beer festival Beers With(out) Beards Beer.
We're also thrilled to share that a portion of the proceeds from every sale of BW(O)B tickets support the Pink Boots Society.
Formed in 2007, the PBS works to shed a spotlight on and garner support for women in the craft beer industry, a segment that is so often underrepresented. In the past two-plus decades the organization has flourished with chapters all over the country and partners at various levels of the craft beer community. Over the years the PBS has awarded annual scholarships to women in the craft beer industry, incorporated educational programing, and hosted conferences all aimed at the goal of supporting women beer professionals.
DONATE TO THE PINK BOOTS SOCIETY NOW
Interested in joining us?
Starting at 12:00 PM EST on Friday, 7/23/21, you'll be able to purchase a ticket to the Hop Culture x YETI Beers With(out) Beards Beer Fest that includes a box of 11 craft beers from either specifically women-owned breweries, breweries with women brewers, or breweries that have demonstrated strong support for women. This includes Russian River, Crowns & Hops, TALEA Beer Co., Allagash, New Belgium, Boston Beer Co., Two Roads Brewing, Japas Cervejaria, Rhythm Brewing, Outer Range, and more.
While the box is available for those in one of our eligible shipping states, anyone can tune into the digital programming. As part of the celebration, we're featuring a virtual cocktail class along with various panels and workshops featuring strong female leaders in the industry. The programming will be aired across YouTube on Sept. 18th, 2021 — join our newsletter or follow us on Instagram to get your free link.
The beer box can be purchased here and we've tried to answer all questions below! If we missed anything, feel free to shoot us a note via email to events@nextglass.co or on Instagram at @hopculturemag. This is the best place for questions about the event; if you have questions about your order, please direct those to virtualevents@halftimebeverage.com.
What is the Hop Culture x YETI Beers With(out) Beards Beer Festival?
The Hop Culture X YETI Beers With(out) Beards Beer Festival 2021 is a digital craft beer festival dedicated to supporting women in craft beer. As part of the event, we'll be hosting workshops and panels, a cooking class, tastings, and more. While the digital programming is free for anyone, attendees in eligible states can order a box containing eleven beers from women-owned or allied breweries.
This festival follows Hop Culture and YETI's mission to be more equitable and inclusive businesses in craft beer.
What Beers Are Included in the Box for the Beers With(out) Beards Beer Festival?
Below, you'll find the most up-to-date list of the breweries participating in the Hop Culture x YETI Beers With(out) Beards Beer Festival, as well as the beers they plan on sending. Please note that breweries and beers are subject to change. The breweries are listed in alphabetical order.
Allagash Brewing Company
Portland, ME
Two Lights Beer-Wine Hybrid – Brewed with Sauvignon Blanc Must and fermented with Lager and Champagne Yeast, Two Lights is an extraordinary beer-wine hyrbrid. Much like Allagash itself. Pioneers in more ways than one, Allagash is committed to supporting women in brewing and beer. A strong female-led marketing, sales, events, HR, and front-of-house team helps run the day-to-day operations of the brewery. And in the past brewers such as Emily Powers have been instrumental in bringing Allagash beers to life. – 6.7% ABV
Area Two Experimental Brewing
Stratford, CT
Pineapple Sour D Hazy Hemp IPA – Here's to taking the road less traveled. Area Two Experimental Brewing is the innovation hub to Two Roads Brewing Co. in Stratford, CT. Following that mantra to a T, Area Two brews quirky, experimental recipes like Pineapple Sour D, a hazy, juicy IPA brewed with pineapple, hemp hearts and terpene extracts. It's a total trip! Dank hemp aroma greets the palate and is followed by a hazy cloud of tart pineapple balanced by a soft, kushy mouthfeel and smooth hop bitterness. A heady brew you can crush til it's cashed!
Following the unbeaten path, Area Two and Two Roads has a stellar team of women leading the way in both the back of the brewery, including Karen Stangl, Director of Quality Assurance, and Jen Pesavento, Sensory Program Manager (who joined us at BW(O)B last year), and the front, including Meghan Zachry, Director of Sales, and Kristen Maleski, Senior Manager of Experimental Marketing, along with many more. – 7.0% ABV
Boston Beer Company
Boston, MA
Wicked Hazy Juicy New England IPA – A revolutionary brewery, Boston Beer Co. has been pioneering programs that create a more inclusive, equitable, and just craft beer industry. Last year Jennifer Glanville, brewer and Director of Partnerships at Boston Beer, joined us at BW(O)B to chat with three female brewery owners from the brewery's Brewing the American Dream Program, founded with the goal to help small food and beverage entrepreneurs succeed through giving burgeoning businesses access to loans and invaluable mentoring. All told, Brewing the American Dream and the Accion Opportunity Fund have provided more than 3,200 loans totaling $65 million to food and beverage businesses across 39 states, creating or retaining more than 9,000 industry jobs, and providing free business coaching to over 12,000 entrepreneurs. And the first clients of the program? Two ladies. Carlene O'Garro, owner of Delectable Desires Pastries & Cakes, and Lucy Valena, owner of Voltage Coffee. On the brewing side, the Brewing & Business Experienceship awards one brewery a year (in a non-COVID year) the opportunity to travel to Boston for a week to brew a collaboration beer with the Samuel Adams team, receive mentorship from Jim Koch and other experts, and continue to reach out with questions for the rest of their business lives. Previous winners have included Shari O'Connell-Stontz, co-founder of Bold Dog Beer Co., Dali Parker, co-founder of Chula Vista Brewery, and Alicia Conger, co-owner of 1912 Brewing.
Wicked Hazy is super juiced to give you haze for days. A one-two-three punch of pineapple, mango, and peach will wake you up while a smooth, silky finish brings you back sip after sip. – 6.8% ABV
Crowns & Hops
Inglewood, CA
BPLB DDH IPA – Crowns & Hops in Inglewood, California, is not only woman-led (shoutout Beny Ashburn!) but also Black-led as well. Along with partner Teo Hunter, Ashburn is on a mission to close the gender and racial gap in craft beer. We've been so impressed with Ashburn and Hunter that we named Crowns & Hops our best new brewery of 2020. And it's programs like their 8 Trill Pils Initiative, a $100,000 grant for Black-owned craft beer brands, that ensure us Ashburn and Hunter will be launching more groundbreaking initiatives (and beers) in the near future. Most recently, the duo launched an equity crowdfunding campaign called "Own Crowns" to raise money for a new flagship restaurant and brewpub.
BPLB DDH IPA features a combo of El Dorado and Motueka hops that equals dopeness in a can. Double dry hopping the original BPLB recipe with Idaho 7 hops adds additional dankness while maintaining that crucial juiciness. – 7.0% ABV
Japas Cervejaria
São Paulo, Brazil
Fuji Sour Ale – An all-star team of Brazilian women of Japanese descent, Japas Cervejaria began when Fernanda Ueno, Maíra Kimura (who joined us last year during BW(O)B for a Women in Leadership Roundtable), and Yumi Shimada decided to open a gypsy brewery. The name Japas Cervejaria actually comes from a Brazilian slang term for a person from Japan. With that in mind, this triple-threat brewery breaks through so many boundaries and barriers in the industry. Since launching in 2016, the three women have brewed creative works from an American pale ale with Japanese Sorachi Ace hops and wasabi to imperial porters made with rice and witbiers including ginger and orange zest. An amalgamation of heritage and culture, Japas Cervejaria breaks the mold at the forefront of innovation in craft beer.
With this beer Japas Cervejaria turned Mount Fuji, Japan's greatest symbol that inspires from cartoons to art pieces, into a beer. Paired with a common Brazilian ingredient of the same name, the Fuji apple, this beer is refreshing and tart. – 5.5% ABV
King Canary Brewing Co.
Mooresville, NC
Chirps Up IPA – For Andrea Gravina, Co-founder of King Canary Brewing Co., running the brewery has been a story of tenacity and courage. Andrea opened the North Carolina-based brewery with her husband Matt Gravina in the late spring of 2018. With a focus on family and creating an environment where anyone can feel welcome on Lake Norman outside of Charlotte, NC, the brewery flourished. Matt handled the brewing while Andrea executed all of the branding design and layout. In the summer of 2019 Matt unexpectedly passed away in his sleep while visiting his late father, who was battling cancer, and his mother in Florida. Andrea and her mother-in-law stepped into the role of active owners, steering the new business through the perils of the COVID-19 pandemic, less than 6 months after Matt's passing. We're honored that King Canary will be joining us for this year's festival.
Chirps Up is a hazy IPA brewed with a blend of malts and oats for a soft rounded mouthfeel. An abundance of Citra and Cashmere hops create an explosion of juicy citrus aromas, while toasted coconut rounds out our tropical, citrusy IPA. – 6.0% ABV
New Belgium Brewing
Fort Collins, CO
Fruit Smash – Craft pioneer Kim Jordan founded New Belgium in 1991. With the brewery, she brought her social work and homebrewing experience to the big brewing stage. For almost 30 years, Jordan blazed a trail for women in the industry, establishing New Belgium as one of the top breweries in the country. Beyond iconic brands like Fat Tire and Voodoo Ranger IPA, New Belgium stays at the forefront of creating change in a predominantly-white, cis-male industry. Two years ago the brewery hired Patrice Palmer (they/them), a black, queer, trans intersectional leadership educator as its Diversity and Inclusion specialist. Palmer works to create and manage programs and projects, and lead initiatives on diversity and inclusion within the brewery. Their work has been so crucial to shaping change in our industry that we named them our most important voice in craft beer in 2020. Using beer as a vehicle to break down barriers and build up community, New Belgium stands for more than just delicious craft beer.
Fruit Smash is New Belgium's newest hard seltzer. Made with real fruit juice and still just 100 calories, Fruit Smash is a bold, flavorful alternative to basic seltzers. Kick back and smash these! – 4.7% ABV.
Outer Range Brewing Co.
Frisco, CO
Steezy DDH IPA  – Outer Range is about  as Colorado as it gets. They even printed a trail map on one of their can designs! Founded by husband and wife team Lee and Emily Cleghorn, Outer Range is known for doing two things exceptionally well: Belgian beers and hazy IPAs. Steezy DDH IPA features Mosaic and Nelson Sauvin hops for an epic IPA with notes of blueberry, peach, and white grape. – 7.2% ABV
Rhythm Brewing Co.
New Haven, CT
Rhythm Unfiltered Light Lager – When she's not running a salsa dance studio, Rhythm (get it?) Brewing founder Alisa Bowens-Mercado crafts lagers inspired by her grandmothers, who loved good, crisp beer. Bowens-Mercado, aka "Lady Lager," also holds the distinction of being Connecticut's first black woman brewery owner. The Rhythm Unfiltered Light Lager is an instant classic! Smooth, crisp, clean, and refreshing, Light Lager is light in calories, not in flavor And Bowens-Mercando will continue to brew to the beat of her own drum. – 4.8% ABV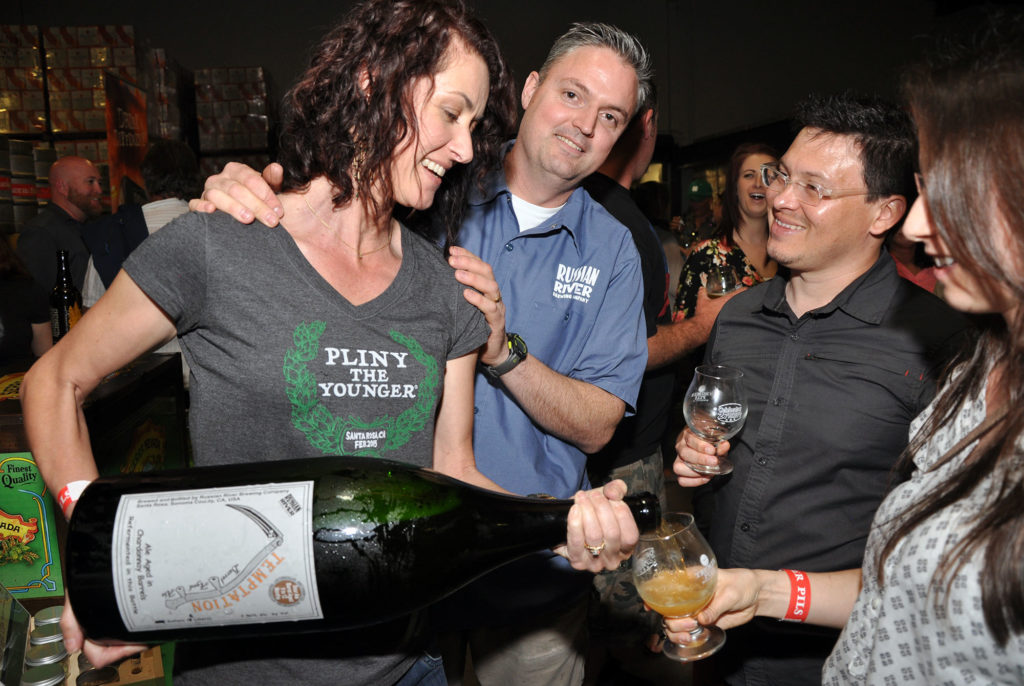 Russian River Brewing Company
Santa Rosa, CA
Pliny the Elder Double IPA – Few American breweries have the same reputation as Russian River Brewing Company, founded in its present incarnation by Natalie and Vinnie Cilurzo in 2004. According to legend, Vinnie brewed the world's first commercially available double IPA back in the mid-nineties when he worked at Blind Pig Brewing, and Russian River undoubtedly helped kickstart the sour revolution. The Santa Rosa, California, brewpub has become a mecca for the craft-minded, who come from all over the world to try Russian River's renowned sours and IPAs. Come February (in a non-COVID year), they line up around the block for Pliny the Younger, one of craft's most storied beers. For BW(O)B Natalie and Vinnie will be adding Pliny the Elder in 510 mL bottles to your beer box! Brewed with Amarillo, Centennial, CTZ, and Simcoe hops. Pliny the Elder is their classic Double IPA, well-balanced with pine, resin, and citrus hop aromas with a lingering, dry finish. – 8.0% ABV.
TALEA Beer Co.
Brooklyn, NY
Wheels Up Hazy IPA – The lady-duo of Tara Hankinson and LeAnn Darland have been cranking out beer from their startup brewery since 2019 when both left their corporate jobs in tech and media to start a business in craft beer. But this past March the pair took a new step, opening up their very own taproom in Williamsburg. BW(O)B vets, Hankinson and Darland have been on our radar for the last two years. So much so that we named TALEA (a mash-up of their first names–Tara and LeAnn) one of the top 40 women-owned breweries in the country. We love TALEA's fruit-focused sours and hazy IPAs. A full-bodied hazy IPA, Wheels Up includes oats and lactose for a smooth, silky body. Double dry hopping with Motueka and Nelson Sauvin hops creates aromas of gooseberry and ripe guava and flavors of papaya and mango. – 6.9% ABV
How Much is a Ticket for the Hop Culture x YETI Beers With(out) Beards Beer Festival?
Access to our schedule of digital programming is FREE!
If you want a box, it costs $109.99 and goes on sale at 12 PM EST on 7/23/21 exclusively from our friends at Half Time Beverage. Purchase your box of beer here and have it delivered straight to your door. Your purchase includes a box of eleven festival beers and direct-to-door shipping. Join us for all of the event programming on 9/18/21, which will be streamed on Hop Culture's Youtube channel.
What Is the Schedule for the Hop Culture x YETI Beers With(out) Beards Beer Festival?
The festival will be live-streamed on Saturday, September 18, 2021 starting at 1:00 PM EST. One week before the festival, we will post the link to the livestream along with embedded video on this page. To get a alert when the link goes live, you can also join our newsletter or follow us on Instagram.
How Did We Choose the Breweries and Beers Included in the Hop Culture x YETI Beers With(out) Beards Festival Box?
Before reaching out to any breweries we developed criteria to follow that we felt would best speak to our mission of supporting women in the craft beer industry. To be considered for this fest, breweries had to fit in one (or more) of the following categories
Women owned and operated – breweries owned by women or breweries with women in prominent leadership positions
Breweries that may not necessarily be women owned, but have women brewers/cellarfolk/production/quality assurance on staff
Breweries with women in non-leadership positions (marketing, sales, events, etc).
For this event, we wanted to recognize breweries that are women-owned along with breweries that may not be specifically women-owned, but either have women brewers, cellarfolk, production, and quality assurance on staff or women in non-leadership positions on other teams like marketing, sales, events, etc. Together each of the breweries participating in BW(O)B are integral to moving the conversation of inclusion, equity, and justice forward in our industry.
Please note that due to timing, availability, and in some cases effects of the pandemic not everyone we reached out to could participate. We're also continuously learning of new women-owned or women-supporting breweries and would love to hear your suggestions if we missed someone that you would like to see included next year. Please let us know by dropping a line to grace@hopculture.com!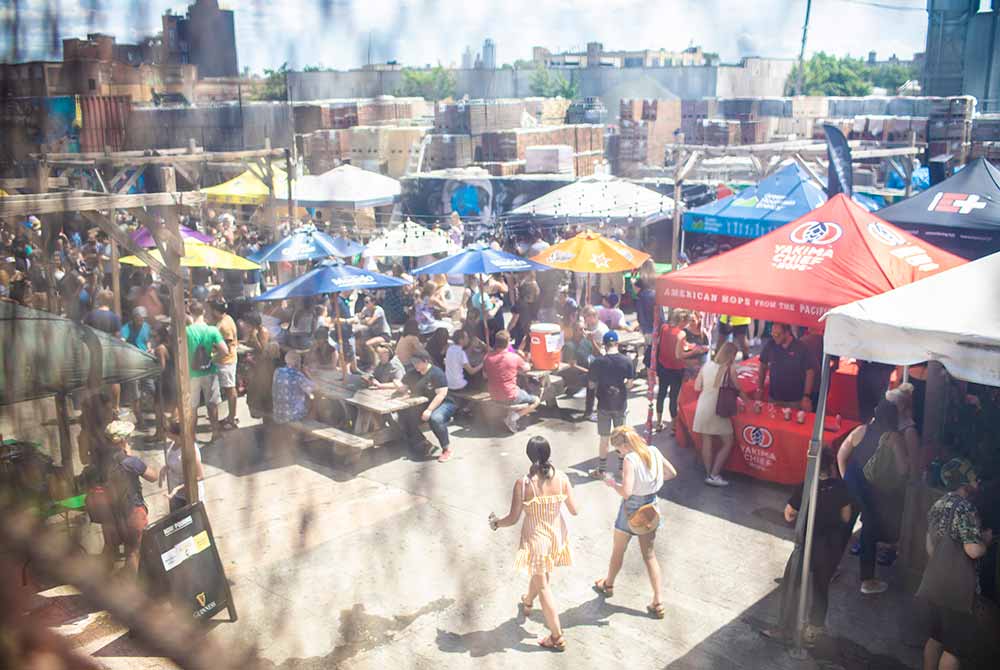 Are You Making Any Festival-Specific Merchandise?
Yes! We will have a festival-specific glass. Stay tuned for more information on that debut.
Is Shipping Included in the Cost of the Hop Culture x YETI Beers With(out) Beards Beer Festival?
Yes!
What States Can Receive Beer Boxes for the Hop Culture x YETI Beers With(out) Beards Festival?
Beer boxes are available for shipping to select zip codes in AK, AZ, CA, CO, CT, DC, DE, FL, IA, ID, IL, IN, LA, MA, NE, NH, NM, NY, NJ, NV, OH, OK, OR, PA, RI, TX, VA, WA, and WI. If you live in another state and want to participate, we suggest ordering a box to a friend in one of the eligible states and arranging a pickup from them. Unfortunately, for legal reasons, we're unable to ship to any states NOT listed above.
If you have any questions about which zip codes we're able to hit in a given state, just put in your shipping info on the ticket page. If the order doesn't go through, we're unable to ship to your zip code. We suggest trying to ship to a nearby friend!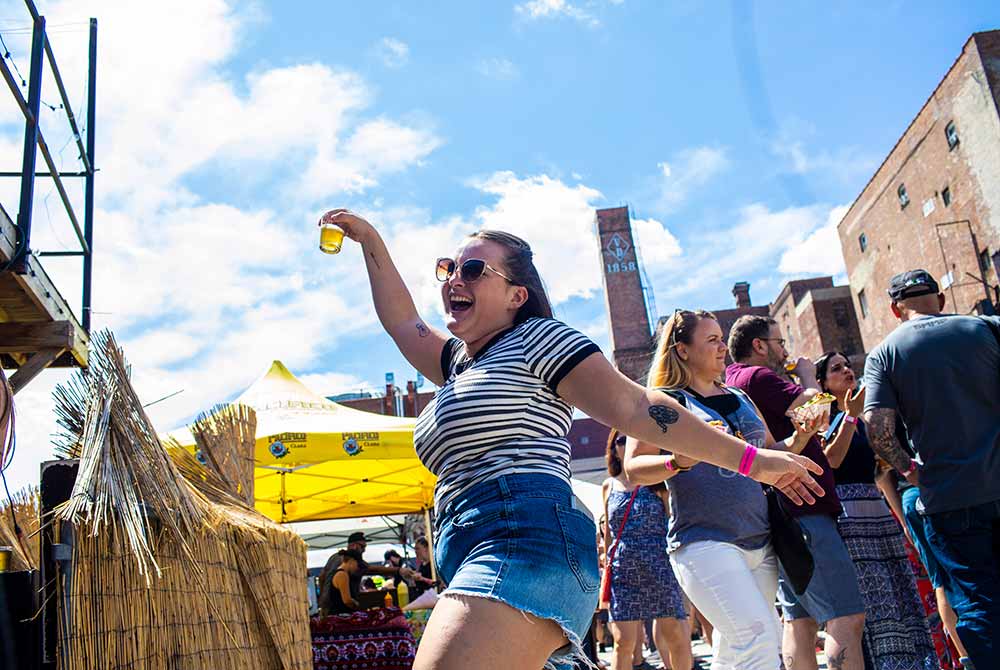 Do I Need To Sign For The Beer Box?
Yes. Please make sure someone 21+ is available to sign for the beer box when it arrives.
What If My Box Of Beers Shows Up Damaged?
Please contact virtualevents@halftimebeverage.com or call 845-462-7899 for assistance.
If I Live Near a Half Time Location, Can I Pick Up My Box In Person?
Yes! If you'd like to pick up your box in person, you'll still need to purchase it online. Once your order has been placed, please email virtualevents@halftimebeverage.com to coordinate your pickup and receive a refund for your shipping costs ($24.99). In your email, be sure to indicate whether you will pick up at the Poughkeepsie or Mamaroneck store.
When Do Sales End For The Hop Culture x YETI Beers With(out) Beards Festival?
Ticket sales will end on August 20th, 2021. However, we expect to sell out much earlier.
Can I Get a Refund?
All sales are final. Please order carefully!
Liked this article? Sign up for our newsletter to get the best craft beer writing on the web delivered straight to your inbox.