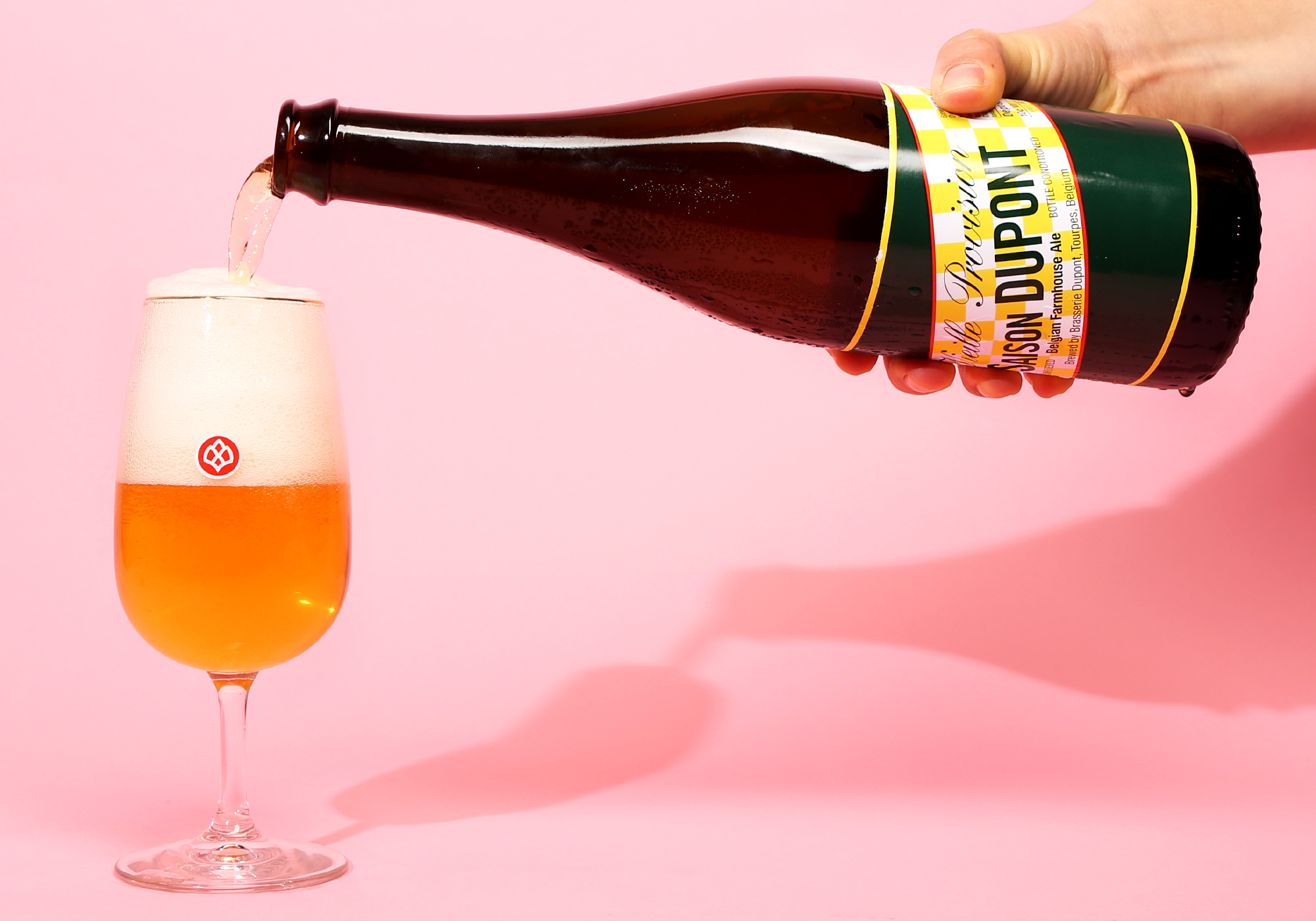 American craft beer consumers crave experimentation. They seek out the latest offerings, newest releases, most exciting styles. That's not a value judgment; with the rise of hazy IPAs, fruited kettle sours, and pastry stouts, it's become clear that American palates have shifted toward speed and freshness. Folks chase the next best thing. We at Hop Culture appreciate and enjoy breweries trying their hands at these styles and producing innovative, balanced, and delicious offerings. Some of our favorite breweries built their brands around these trendy styles, releasing stunningly delicious versions. But, at the end of the day, we're drawn to the subtle beauty of crisp and refreshing lagers or dynamic and dry saisons. And there's no better example than Saison Dupont.
The entire industry is effectively in agreement that Saison Dupont is the benchmark, the godfather, the progenitor of the modern saison. And, while we're big fans of many American interpretations of the style, Saison Dupont is always an ideal choice. Which is why we'd make the, somewhat bold, claim that it is in fact a perfect beer. It's over, folks. You can stop. Saison Dupont is perfect.
In all seriousness, we genuinely want to shine a light on what is often an overlooked and underappreciated beer. One that tends to collect dust on the "imports" aisle in our favorite bottle shop. But this beer is superb and we're going to tell you why.
Saison Dupont at a Glance:
Saison Dupont is, you guessed it, a saison brewed by Brasserie Dupont in Tourpes, Belgium.
The beer is released in 11.2oz, 12.7oz, and 25.4oz bottles. Though sometimes corked and caged, it's typically crown-capped. Saison Dupont is also kegged.
This beer is 6.5% ABV and is brewed with Pilsen barley malt and Goldings hops. It's top-fermenting and bottle-conditioned.
Brasserie Dupont brews several beers but Saison Dupont is by far its most well-known and, arguably, its best.
What is a Saison?
We've published an in-depth guide to the saison style.
But, saisons are traditional, pastoral ales that originated in the farmhouses of Wallonia, the French-speaking region of Belgium. The beer is typically very well carbonated and features an ester spice taste. Drinkers should expect low alcohol, a light body, and a dry finish.
Saisons are also well-regarded for their pairability. Saisons pair well with just about any food–fish, chicken, veggies, red meat, you name it!
Historically, saisons were brewed for farmers as a form of refreshment during the warmer months. Hence, the typical low ABVs. But, more modern saisons have seen the ABV creep up and even Saison Dupont is 6.5% ABV.
What Does Saison Dupont Taste Like?
Saison Dupont pours a cloudy copper with an eggshell creamy foam cap that lingers long after you've finished pouring. One of the first things you'll notice is the carbonation–audible fizzing and rapid bubble movement create a ballet in your glass.
You'll find scents of freshly baked lemon bread, touches of clove and nutmeg, and a bit of peppery spice. The flavor is a beautiful combination of ripened fruit (a little lemon, some berry, and orange peels), earthy bitterness, floral tartness, and black pepper spice.
The entire experience situates you in the rustic countryside. It's a beer that's easy to fawn over, but will play a supporting role alongside your meal. It doesn't get much better than this.
Where Can I Get Saison Dupont?
One of the best things about this beer is that it's nearly ubiquitous. You should be able to find Saison Dupont in most craft bottle shops and many large chain liquor stores and grocery stores stock Saison Dupont.
Accessibility (or lack thereof) doesn't necessarily mean a beer is good or bad. But, there's something remarkably reassuring that you can find Saison Dupont wherever you turn.
The Bottom Line
Saison Dupont has managed to be a mainstay for decades, and for good reason. It's a timeless beer that has inspired generations of brewers to attempt to replicate the saison style. And, while many modern saisons are good, and some are even great, Saison Dupont is perfect.
The Belgian beer manages to align perfectly in a Venn diagram of affordability, accessibility, flavor, cache, and historical significance. Picking out Saison Dupont at the bottle shop is like finding a great record and receiving a knowing nod and a "nice choice" from the record store owner.
If you're not a fan of the style, obviously steer clear. But, for those looking for an introduction to saison, or if you want to try the epitome of the style, seek out Saison Dupont.
Liked this article? Sign up for our newsletter to get the best craft beer writing on the web delivered straight to your inbox.