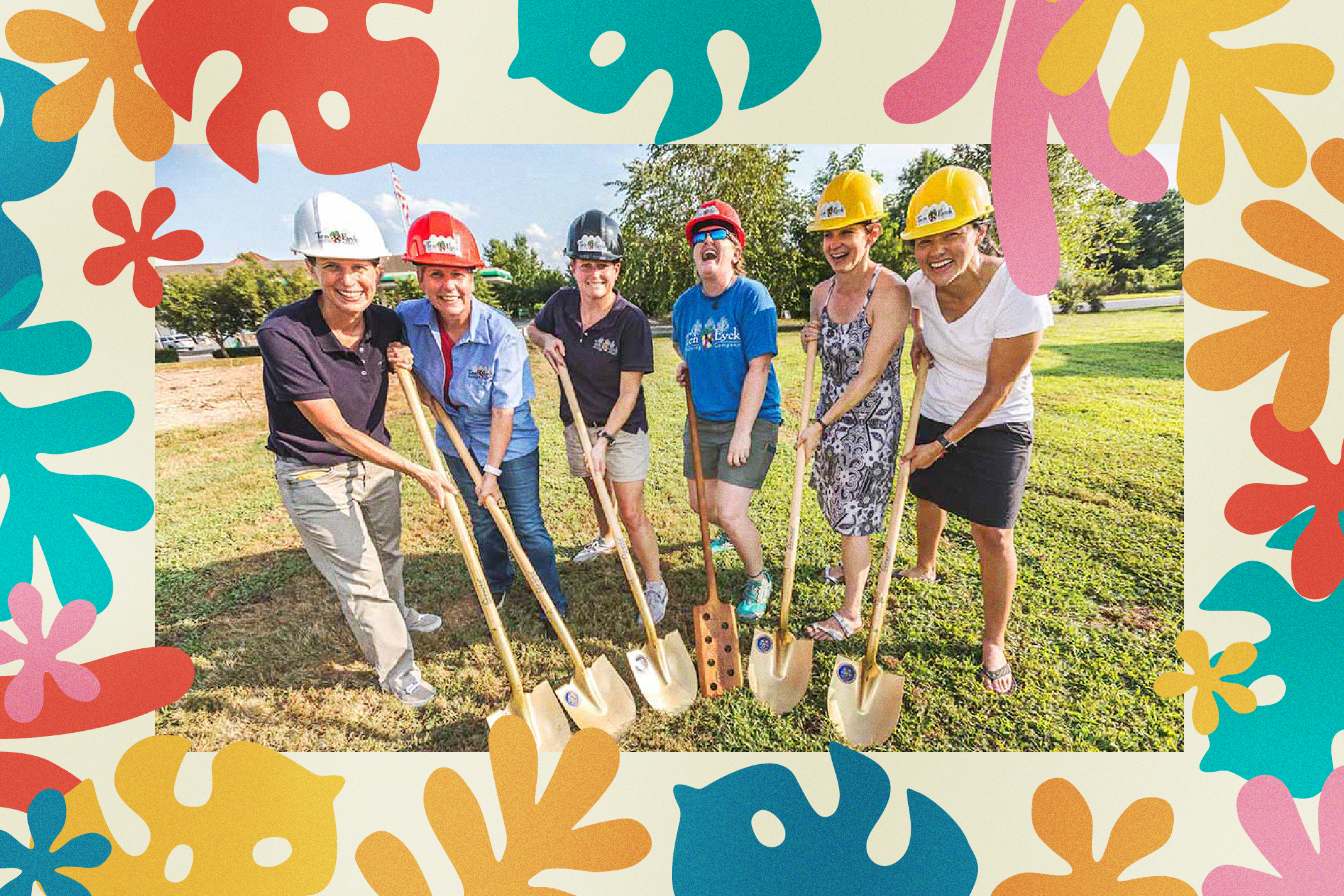 Photography courtesy of Ten Eyck Brewing Company
Editor's Note:
Find cans of Ten Eyck along with 11 other Queer-owned and Queer-led breweries in Hop Culture's newest 2023 Queer Beer Box!
Get your the box here!
Seven women—four Air Force veterans, two former rugby players (one a national team vet), and one law enforcement professional—start a brewery together.
Sound like a good story? That's because it is, and it's how Ten Eyck Brewing Company opened in Queenstown, MD.
If you had to boil it all down, Ten Eyck started because of one sport and many connections.
GET HOP CULTURE'S NEW BEER BOX
From Scrums to Beer Chums
Ten Eyck Co-Founder Nicki Sener credits her partner Dr. Renee Rucinsky, but in reality, rugby for bringing the women of the brewery together.
Let's see if you can follow here…
A former rugby player, Sener's wife met Dr. Jessica Hammond-Graf while coaching in the Navy (they're now best friends).
And Jessica's partner Yancy Hammond-Graf played for the women's national rugby team. "She was the fastest player on the field," says Sener. "She just hauled ass up the field!" An attitude she brought to getting Ten Eyck off the ground.
Most of Ten Eyck's founders have similar convictions.
Shayne Sewell, a former Air Force F15 Fighter Jet mechanic, connected to the group with her partner Sharon Horgan through rugby.
And the last two partners, Jennifer and Mo Barrett, both retired Air Force pilots, met Sewell and Horgan through rugby too. Mo played rugby at the Air Force Academy.
But Sener is the one that brought everyone together over beer.
"We all shared a love of craft beer but also entrepreneurship and creating something special," says Sener. "When they found out I wanted to open a brewery, they all came to me separately and said, gosh, we really want to be a part of this."
Sener herself wasn't always a craft beer drinker. With a background in law enforcement working as a street cop in Florida, Sener eventually took a job with the Federal government, traveling the world and drinking beer all along the way.
In the back of her mind, Sener knew she always wanted to open a business where she grew up on the Eastern Shore of Maryland, "but I never knew what that business would be," she said.
But when she heard the University of South Florida started a craft beer certification program, "that's where I want to go," she recalled. "And then, like every other craft beer lover sitting at the bar, I thought, 'Oh, I should open a brewery!'"
The six-month program took her through the ins and outs of the brewing business, including an internship at one of South Florida's best breweries—Green Bench Brewing Company. While Sener had a choice of a few other breweries, she said she chose Green Bench because head brewer and founder Khris Johnson led the way with his sour and mixed-culture fermentation program. "They had a Brett beer always on tap called Bench Beer that was probably one of the first Brett beers I'd ever had that was just like an everyday beer," says Sener. "I thought that was so cool."
Sener emerged from the brewing certification program invigorated and ready to open a brewery. But as with any foeder-fermented beer, these things take time.
Building a Brewery from the Ground Up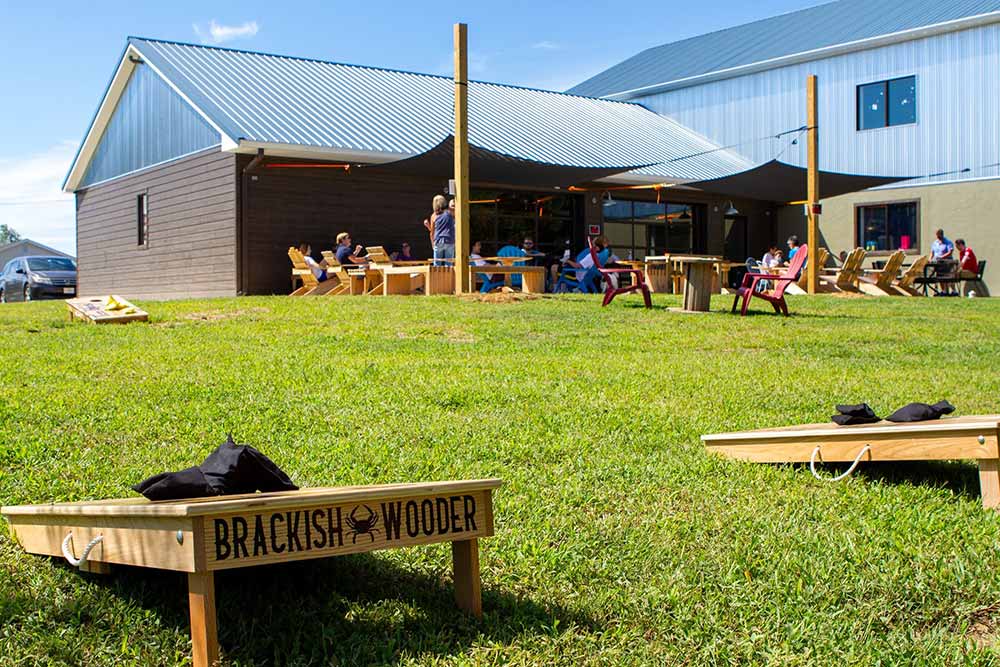 Since Ten Eyck took the complete do-it-yourself route, opening the doors officially took about three years.
The local county took a year just to approve the site plans before Sener could even submit building plans for approval. "It was two years before we could put the shovel in the ground," she says.
And they needed to work around some technicalities. "At the time, our county said that if you want to build anything bigger than 5,000 sq ft, you've got to put in a sprinkler system," says Sener. "That wasn't in our budget, so our building is literally 4990 sq ft!" But with lots of outdoor space.
The hassle was all worth it. Located on a major thoroughfare that heads to the beach and sees four million cars from all over the coast go past every year, Ten Eyck is in a prime location.
In the heart of Eastern Maryland, the brewery brings people together from all over the country. All in search of a few great beers.
FIND TEN EYCK IN HOP CULTURE'S NEW BEER BOX
Spread Out But Close Together, Bringing People Together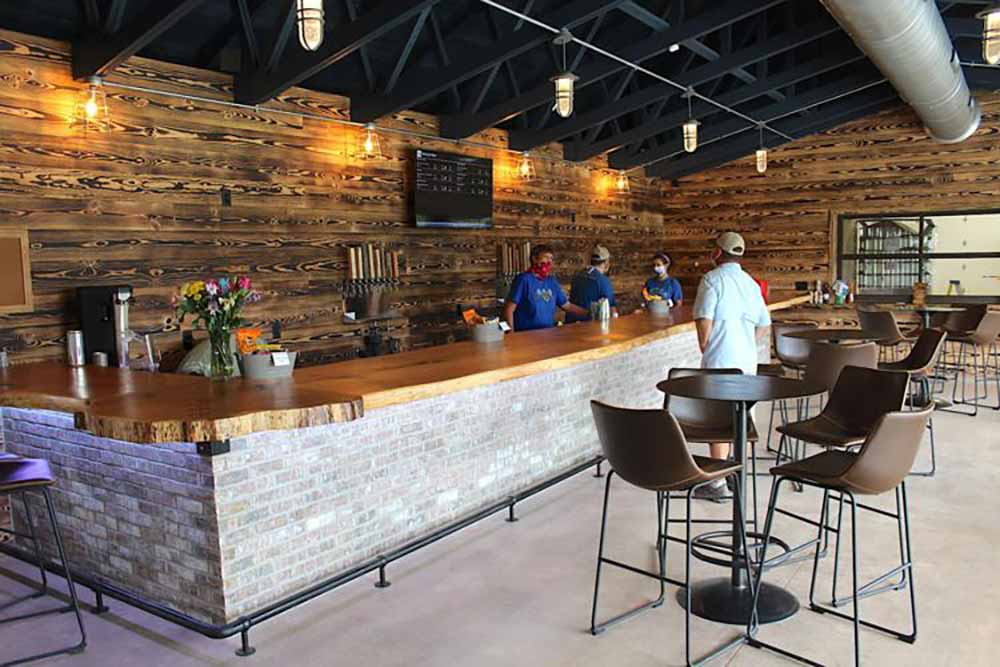 Technically, Sener is the only co-founder on site every day, handling the day-to-day operations (Jessica and Yancy live up in Vermont and Sharon and Shane are down in Asheville). But she says Ten Eyck opening a brewery has brought everyone closer together.
"Even though everyone is spread out across the East Coast, this [brewery] brings us together," she says. "This love of beer, this love of community, this love of wanting to create a space where everyone's welcome."
Building the brewery from the ground up on a piece of land next to her partner's preeminent two-doctor veterinary practice, Sener says you'll find that warm DIY spirit throughout the rest of the taproom.
"Sometimes breweries can be a little standoffish or snobby about beer," she says. "When I sat down to think about the space we wanted to create, I wanted everybody to be able to come here and enjoy themselves."
Ten Eyck translates from Dutch to "at the oak," so inside the brewery, you'll find a bar top made out of live oak tree slabs harvested from a camp Sener used to go to as a kid.
Local to the area, Sener says that she wanted the taproom to feel warm, cozy, and welcoming. "For people to be in here and feel like they're in a den or living room," she says. "What I did not want was to have a cold, concrete, bright, and sterile space."
Because in a warm and inviting space, people are more likely to feel safe to be themselves and drink whatever beer they want to, whether it's an award-winning Tmavé Pivo or a blueberry grisette.
Bringing New Beer Styles to the Eastern Shore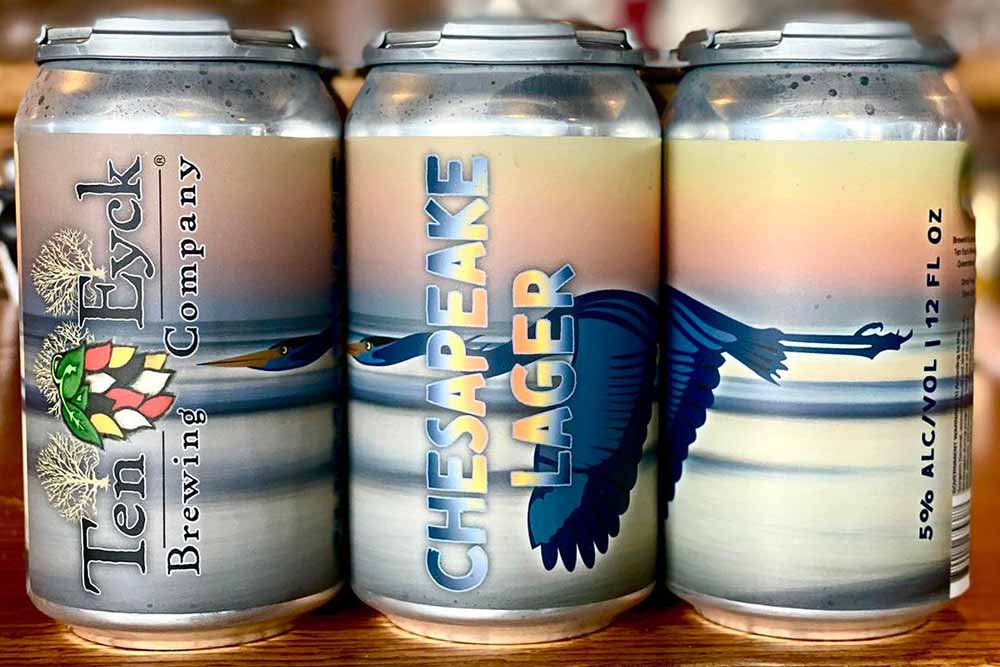 To understand Ten Eyck's impact on the area, a relatively rural, conservative part of Maryland, Sener shares this story.
Ten Eyck works with a local farmer who picks up their spent grain to feed his animals.
Sener describes him as a stereotypical Eastern Shore guy who had never enjoyed craft beer. But after drinking some of Ten Eyck's cider, one of the first beverages the brewery actually produced, he loved it so much "that he went home and told his wife we're buying a kegerator just so he could buy a keg of our cider," exclaims Sener. "The freaking Budweiser drinker for his whole life now has our Independence Berry Cider in a kegerator at his house!"
Ten Eyck just has something for everyone.
"Our approach is to try to offer as many different styles as possible and not have on eighteen IPAs and one lager," says Sener.
FIND TEN EYCK IN HOP CULTURE'S NEW BEER BOX
Meaning you'll find beers like Chesapeake Lager, an excellent Czech dark lager fermented in a foeder. "We thought we'd go through the hassle of fermenting that thing in a twenty-barrel foeder for a month before moving it over and finishing it in stainless steel," says Sener. "You can taste the difference in that beer; we cannot keep it in stock."
But Sener says, despite all the technical work that goes into that lager, "We don't put our noses in the air and go, 'Oh, we have a foeder-fermented lager,'" she says. "No! We are down to earth about it. We're like, 'This is a traditional beer, and we think everybody should try this.'"
In other words, take your pinkies down at Ten Eyck. Just relax. You can just drink a lager or IPA (like the brewery's flagship Taildragger IPA) in peace. Or you can be adventurous.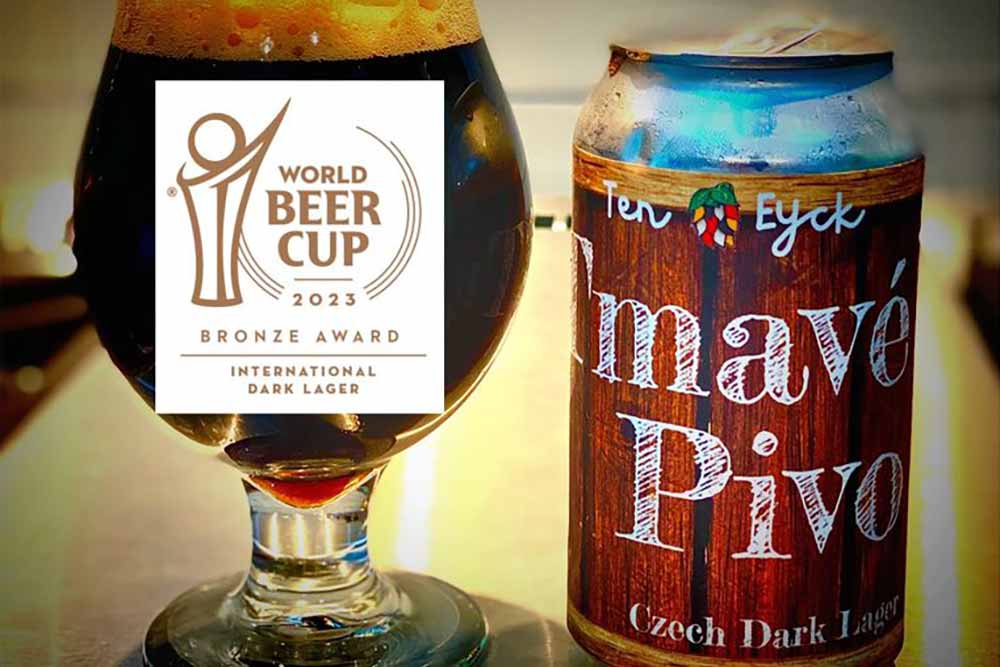 Like with Tmavé Pivo, a Czech dark lager that recently won a bronze at the World Beer Cup.
Sener says she always wanted to make lots of lagers but started with lighter ones first. Their first dark lager, Tmavé Pivo, isn't something people immediately turn to. But once people try it, "they would end up having a pint or two and going home with a six-pack," she says. "You get people to try it, and they realize, 'Oh my God, I love this beer; this is not the beer I was expecting; I've never had a beer like this before.'"
Sener says folks react similarly to Ten Eyck's Betsy, a blueberry grisette. A what? Exactly. "People don't even know what a grisette is; they're like, 'What's that?'" Sener says. But once she and her team start talking about it and get people to taste the beer, people become hooked. "They're like, 'This is the best beer I've ever had,'" says Sener.
Released in 750mL corked and caged bottles, Betsy sits for six months in a foeder while conditioning on fresh blueberries.
"It's so complex, and [people] don't realize that beer can be complex yet not out of reach, snobby, or 10% ABV."
A low-ABV beer, Betsy has excellent aromatics and flavor.
Sener says when they run out of this next batch, that'll be it. "We will never make that beer again," she says.
Just one of many reasons to visit Ten Eyck.
Creating a Welcoming Space in a Conservative Place
As much as Ten Eyck has become a beacon for the community, Sener admits there are challenges to being a Women- and Queer-owned brewery in a fairly conservative part of the state.
"It's been hard for me because we can't be as loud and proud as we want to," says Sener. "I have to make sure the staff and our customers feel safe."
Sener says that around town, her friends have told her that people refer to Ten Eyck as "the lesbian brewery."
"That doesn't make the beer taste different, though!" says Sener. "It's just absolutely ridiculous. Who cares … But if people don't want to drink our beer because of that, then they're obviously missing out, right!?"
They sure are.
And they won't stop Ten Eyck from continuing to grow.
Three years after officially opening the doors, Sener says she focused on making Ten Eyck a destination for everyone.
"All of us have served in various ways around the world," says Sener. "Now, we want to be here and do something for our community."
Find Ten Eyck's Taildragger IPA + 11 more beers in Hop Culture's 2023 Queer Beer Box.