Snallygaster:
D.C.'s biggest craft beer festival, Snallygaster, will serve no fewer than 350 unique craft beers.
Saturday, September 23, 2017 from 1:00 p.m. to 6:00 p.m., rain or shine.
First and N Streets SE, Washington, D.C., 20003 (across from Nationals Park).
$10 admission at the door. Once inside, Snallybucks are available for $1 per ticket.
Snallygaster, the largest beer festival in D.C., got its start in a parking lot across the Potomac. Back in 2007 it was known as the Rustico Oktoberfest, named after the Virginia restaurant Rustico, whose parking lot it inhabited. But it quickly outgrew this original location. "It got so popular that the city asked us not to do it anymore," said Greg Engert, the beer director and partner at Neighborhood Restaurant Group, which owns Rustico and runs Bluejacket, a local DC brewery, along with Snallygaster. "It was so big we had to move into the District. That's when we came up with the idea of Snallygaster in 2012."
Snallygaster, now on its 6th year, takes place each September in DC's Navy Yard, where it serves rare imports, like Cantillon, right alongside regional upstarts, like The Veil. The outdoor festival is one day only, and benefits Arcadia, a nonprofit organization focused on sustainable local food system around DC. In anticipation of the upcoming festival, Hop Culture sat down with Engert, who was pursuing his PhD in modernist fiction in DC at Georgetown University before switching gears and joining up with Michael Babin to open Rustico in 2006. He's since become a partner in the group and helped managed multiple beer programs in DC, along with brewing beer at Bluejacket.
J. Travis Smith: How have things changed since your first festival in 2007?
Greg Engert: Just like the craft beer, everything's evolved. It's funny thinking about what was available to pour on draft in 2007. The number of breweries available locally were widely different. And disposable kegs didn't exist, so getting smaller international brewers to send kegs was hard. We also had to focus on the season — wet hopped beer, pumpkin beer, Octoberfest beer. Because of the Octoberfest theme we were showcasing Germanic products. Nowadays, more availability of great beer has made the theme less seasonable or classic German Octoberfest, and more showcasing the most delicious and awesome rare beers that we could find.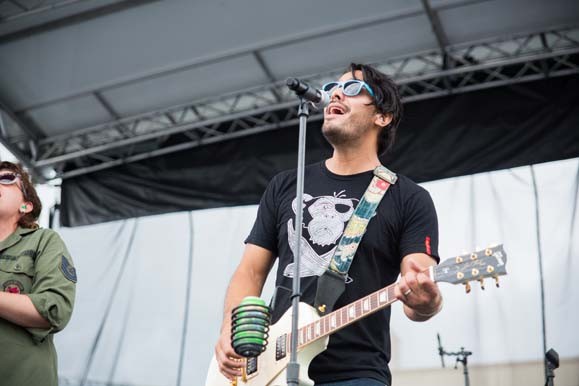 JTS: How do you explain the success of the festival?
GE: The big thing is that certainly, as with all of our restaurants, we are setting out to be a singular experience. While it's true that literally every given Saturday there's a beer festival going on in the city, I'd argue that those lists are pretty ho hum. They are pretty standard and in line with what you'd find in a NY bar or bottle shop. We look to do something special.
In 2007 we had a ton of rare beers on as well. It wasn't just basic craft beer. We always had a certain percentage on the list that would draw interest. But we've done a great job of growing it for all sorts of beer drinkers. It does draw thousands of people. So while there are the Hill Farmstead's, Casey's and Other Half's on the list, there are others not producing the rarest beer, but producing great beers. For example, for our casual drinker we have delicious lagers on tap and they can kick back and listen to music. We've got something for everyone.
This also speaks to why we like to do the two different sizes of cups. Instead of doing the small tiny tasting glasses, we have 7-ounce pours and 14-ounce pours for many of the beers. Some people don't want to walk around just taste beers, they want to walk around drinking. We do both. In some ways its fusing the geeky beer fest with the weekend outdoor music fest.
JTS: Who's your target audience?
GE: What makes Snallygaster unique is that it's many festivals for many people. Some people just come for the live bands: 3 on the main stage, 3 on the side stage, and DJs all day. All the chefs in our group — Nathan from Red Apron, Peter Smith from The Sovereign — they have their own stands where they sell their own food. Some people come to just drink lagers and hang outside. Other geeks want to come and drink from Arizona Wilderness and Casey and Other Half. So we can have this huge festival and drink the kind of rare beers that you only see at small intimate festivals that typically sell out in minutes. I like the broader range of our festival.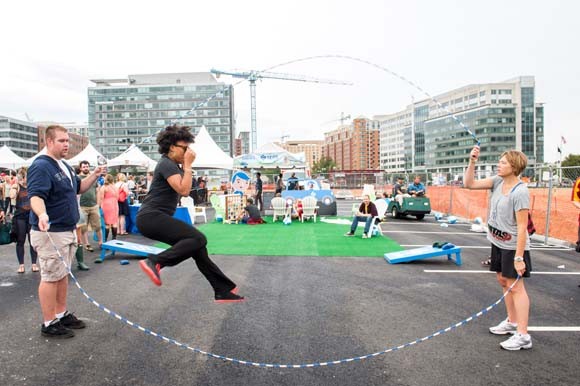 JTS: How big is the fest?
GE:
I'm nearly positive its the biggest beer festival that exists on the east coast. We have over 150 brewers for a total of nearly 400 beers. And that's spread over 10,000 people. And that's all spread over 3 lots in the Navy Yard. It's really spacious.
JTS: Some have argued that we're experiencing festival fatigue. How do you view beer festivals?
GE: First of all this ponderous of beer festivals is a very new thing, even just 3 years ago. We opened Bluejacket in 2013, and the fests were here and there. Now it's literally every weekend. And anyone that wants to open a craft beer space and sell a lot of beer, as long as you have credit or cash, they can get the beer. But it takes years to make a name for yourself as a festival. We've taken huge pains to make sure that the beer is chilled perfectly. We're committee to the best beer in the world and making sure that it tastes that way.
What is difficult is cleaning lines, taking care of beers, stocking properly, updating the menus, developing a training manual and method. I see a lot of guys will open these bars and after a few months the same mainstream craft beers will come online. It's not that complicated, but it takes a lot of effort to keep up the best selection.
JTS: Favorite local breweries?
GE: Honorable mention goes to Bluejacket obviously, but besides that I'd say Ocelot in DC, and RAR in Maryland. Let's see, I love the Answer, Triple Crossing and The Veil in Richmond. Burley Oak is making outstanding beer. And some of the stuff that Diamondback is making in Baltimore is really exciting…I always really liked the mixed fermentation from Right Proper in DC.