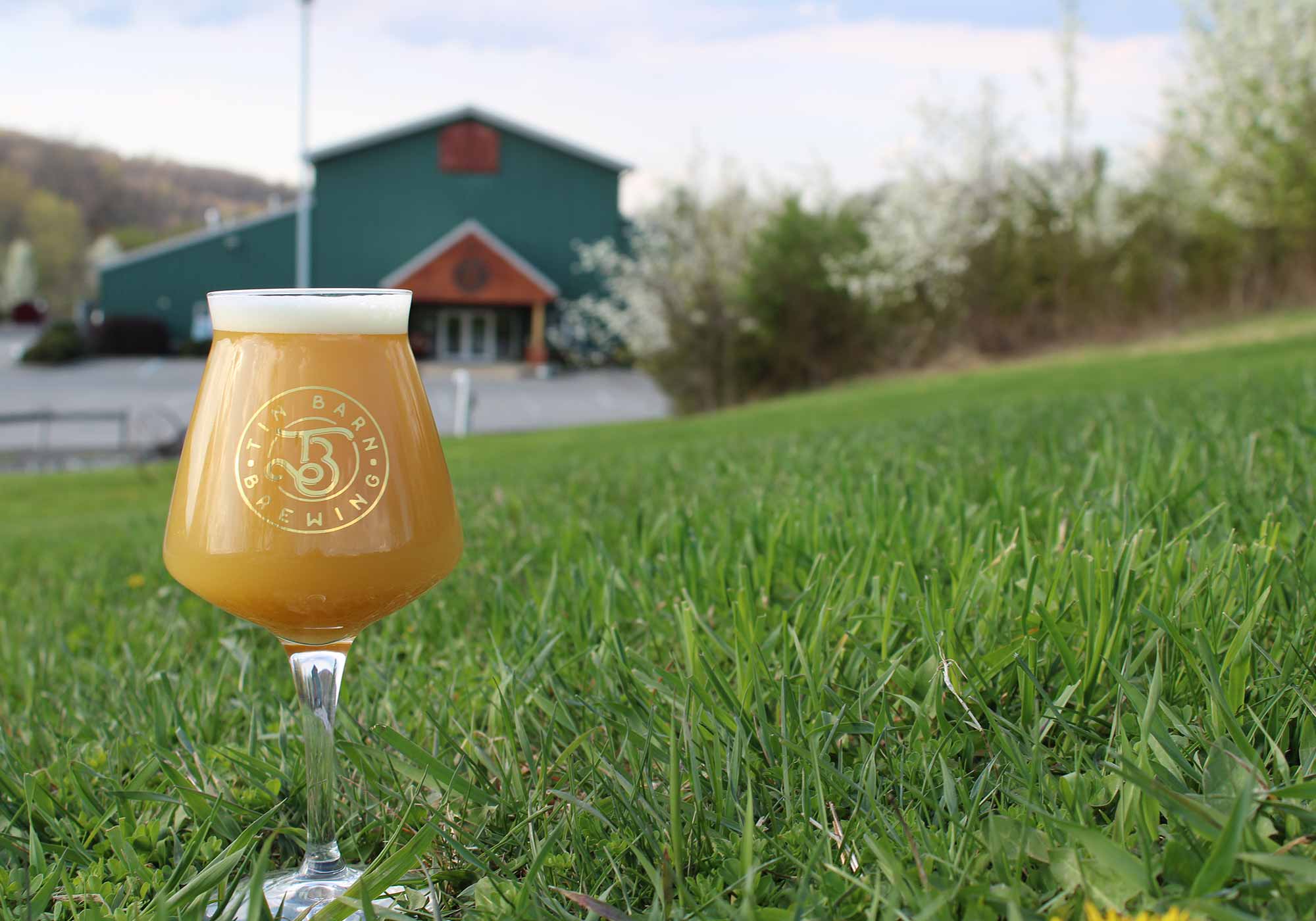 Photography courtesy of Tin Barn Brewing
Turn at the red tractor and drive down the hill. On your right, a sweeping grass lawn. On your left, wetlands and railroad tracks with an old cargo train. Go around the bend and in the middle of the idyllic Sugar Loaf artist community, you'll come across a tin barn. But this isn't just any old tin barn. This is Tin Barn Brewing, a one-year-old brewery in Upstate New York that makes some of our new favorite regular, double, and even triple New England-style hazy IPAs, heavily fruited sours, and the occasional Willy Wonka-esque pastry stout. With a touch of what co-owner Lauren Van Pamelen calls "farm shui," Tin Barn Brewing has made a name for itself as a destination brewery.
A family affair, Tin Barn Brewing celebrated its first anniversary this past Memorial Day. Behind the barn you'll find Van Pamelen, a self-proclaimed mad brewing scientist, concocting crazy beer recipes. Her dad, Dale, helms the kitchen. And while the journey for Van Pamelen and her co-owner and father hasn't been easy it's certainly been one heck of a barn raiser for the Hudson Valley community and beyond.
How Tin Barn Brewing Got Started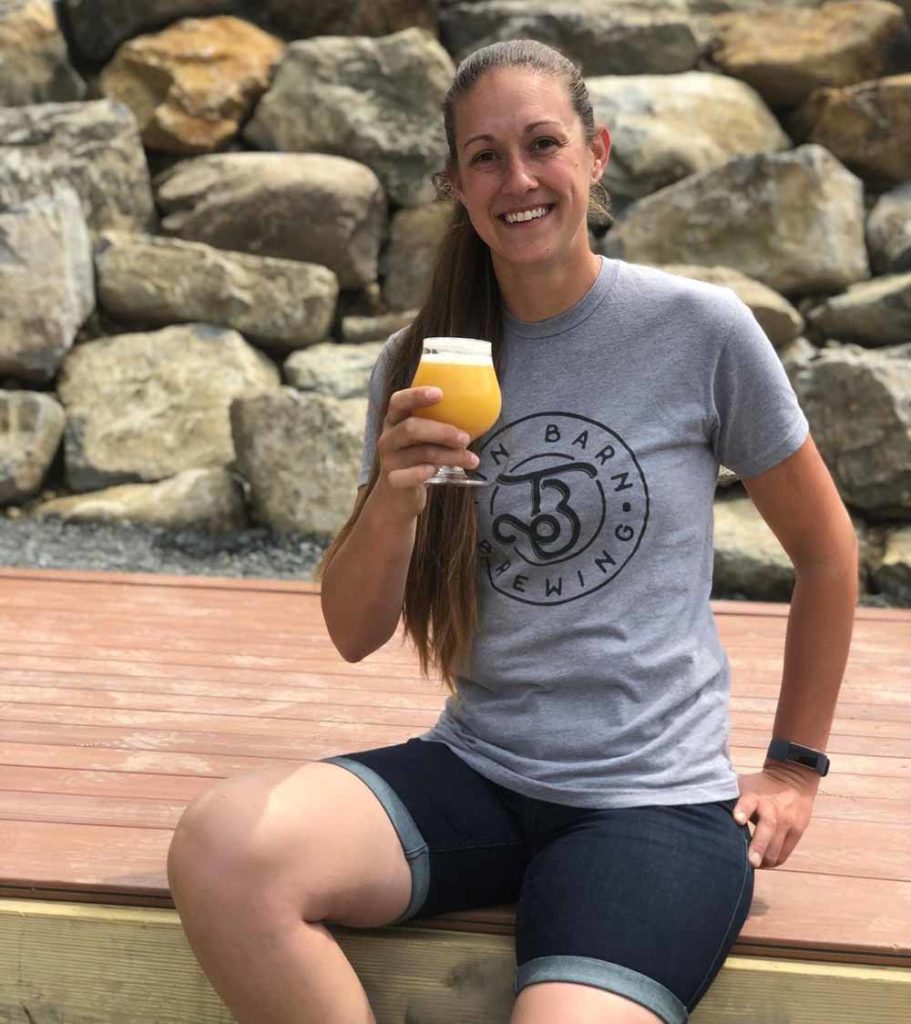 Like the origin story of so many breweries, Tin Barn started with a homebrew kit. In 2014 Van Pamelen brought home a one-gallon kit from Brooklyn Brew Shop and started home brewing out of her kitchen in Long Island, New York. At the time, Van Pamelen lived with her father and worked as a full-time optician.
"My dad made fun of me," Van Pamelen recalls. "He said, 'You won't make beer in the kitchen. It's a waste of time.'"
But that "waste of time" became a trip down the rabbit hole. Especially after Van Pamelen brewed her first beer.
"I've always loved cooking," she says. "I'm a weird mad scientist chef. I'll read 100 recipes and not follow a single step, but I did follow the instructions for this Brown Ale (which you'll never catch me making again) and that homebrew was the best out of my first five homebrews."
Her mad scientist skills carried over into brewing. And then addiction took over.
Pretty soon a one-gallon batch of beer turned into five gallons. Then, Van Pamelen enrolled in the intensive brewing science and engineering program through the American Brewers Guild in Vermont. Even while working a full-time job where she often got home at 11:00 PM, Van Pamelen popped in DVDs to watch brewing lessons.
Van Pamelen Becomes a Professional Brewer
After earning her certificate at the American Brewers Guild, Van Pamelen completed a stint at Oyster Bay Brewing Co. in Long Island, working for free as she shoveled out grain and scrubbed floors.
"It was the best transition I ever made," she says. "I remember one week after brewing, lugging grain around, aching and sweating, thinking this is what I'm supposed to be doing."
Cutting her teeth out in the real world, Van Pamelen knew all along she eventually wanted to open up her own place. And fate seemed to agree.
After moving to the Hudson Valley in Upstate New York in 2015, Van Pamelen settled upon the name Tin Barn Brewing. The original plan was to build the brewery on her own property, which includes an old farmhouse and a gorgeous grass hill overlooking a pond, as well as wetlands and forest. While Van Pamelen worked with the Department of Environmental Conversation for two years to try and find a plan that would allow her to build a brewery next to wetlands, the plans eventually fell through.
However, not long after, a tin barn down the street came on the market. By a stroke of luck, the prior business logo looked eerily similar to the one Van Pamelen designed for her then-dream brewery.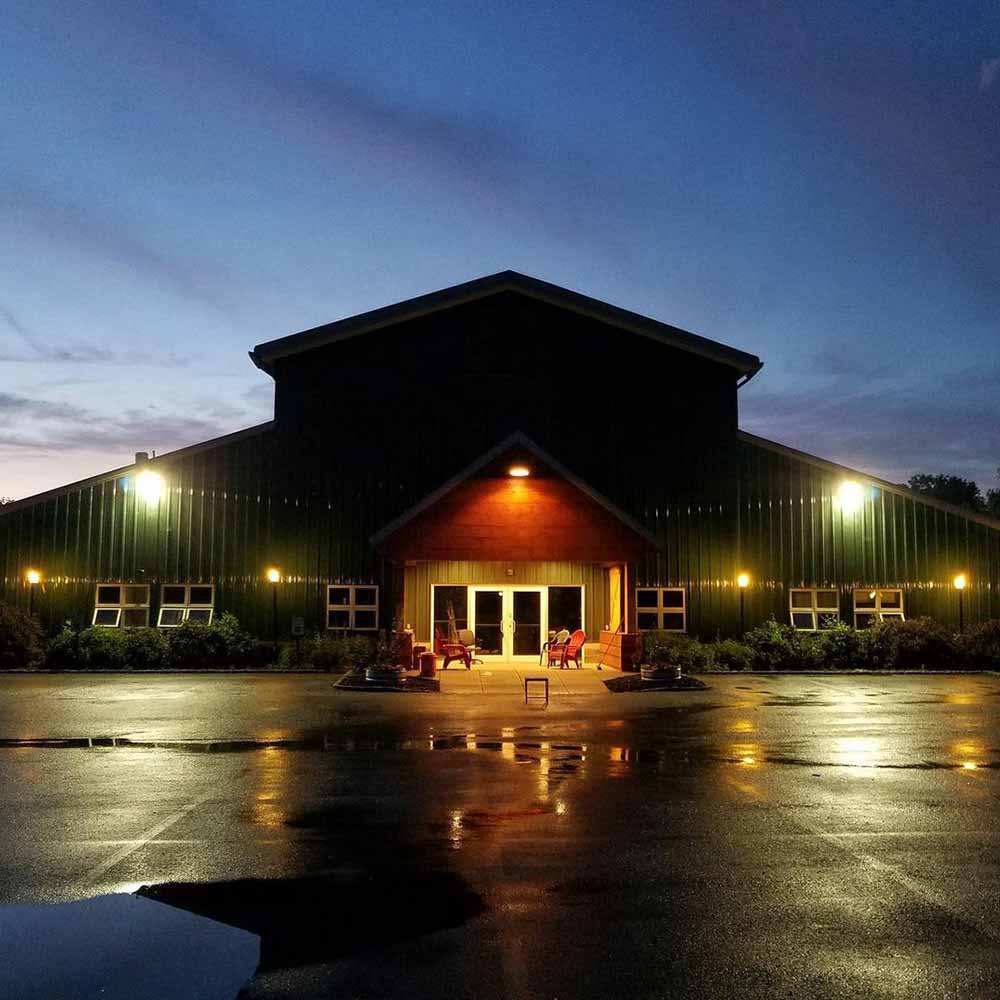 "It was just meant to be," says Van Pamelen. "So many things pushed us into this building."
Tin Barn Brewing Opens Their Doors
Tin Barn Brewing officially opened its doors on Memorial Day of 2020. The 12,000 square foot space at 62 Kings Highway Bypass embraces its farming roots. In all corners of the space, you'll find early 20th-century barn decor like equipment and saddles, including one belonging to Van Pamelen's boyfriend's family, as well as those from other customers. An obsession with tractors led Dale to buy a beautiful blue one that he put at the beginning of Tin Barn's driveway and a red one right inside the main entrance to the brewery. The father and daughter duo also retrofitted a 1952 Blue Ford farm truck that now sits inside the taproom to include seating for large groups. Yes, you can enjoy your Tin Barn beer right inside the bed of an actual old-school truck.
You can find other family touches inside Tin Barn including a fireplace that Van Pamelen, her boyfriend, and her dad built the arches around and stained themselves, boards that Van Pamelen's sister sanded and stained, and walls and beams that are cut with an on-site sawmill. And Van Pamelen's dad Dale handles all of the food operations. A former restaurant business owner, Dale cranks out 14-inch pizza pies with scratch-made dough from an onsite Italian pizza oven along with pretzels and a newly debuted Vermont-style poutine featuring fresh-cut fries, beautiful broth, and sharp cheddar cheese curds.
Tin Barn is friendly, authentic, and fun. And those details carry over into the beers.
Tin Barn Brewing Makes Some Of New York's Best Hazy IPAs
Appropriately operating as a farm brewery, Tin Barn leverages local ingredients as much as possible. Van Pamelen's obsession and quest to brew the perfect hazy IPA means the brewery primarily makes New England-style hazies and double IPAs.
"I'm a mad scientist so I love changing stuff up and I hate following a recipe," says Van Pamelen. "New England IPAs are supreme beings. I want a beautiful, hazy beer that's opaque and glorious."
This borderline compulsion means folks that venture to Tin Barn are treated to expertly crafted expressions of the style.
For example, take Tin Barn's most popular beer: Queen Citra NEIPA. Van Pamelen uses Citra hops in the whirlpool; the beer is also triple dry-hopped and bio-hopped, which is a technique that sees brewers adding hops mid-fermentation.
"You throw the hops into the fermenter and close it as fast as you can while praying because the yeast gets mad. When you put those hops in it literally explodes," says Van Pamelen. "But you get an interesting depth of flavor."
Likewise, a New England Triple IPA called Oh! How I've Dreamt of Taps expertly balances its bitterness from a triple dry-hop (Van Pamelen uses Citra, Simcoe, and Galaxy) with a cornucopia of oats for a smooth, rounded expression of the style.
Fruited Sours and Pastry Stouts at Tin Barn Brewing
While Van Pamelen is a queen of IPAs, she leaves room for experimentation and has been known to craft a variety of fruited sours and pastry stouts.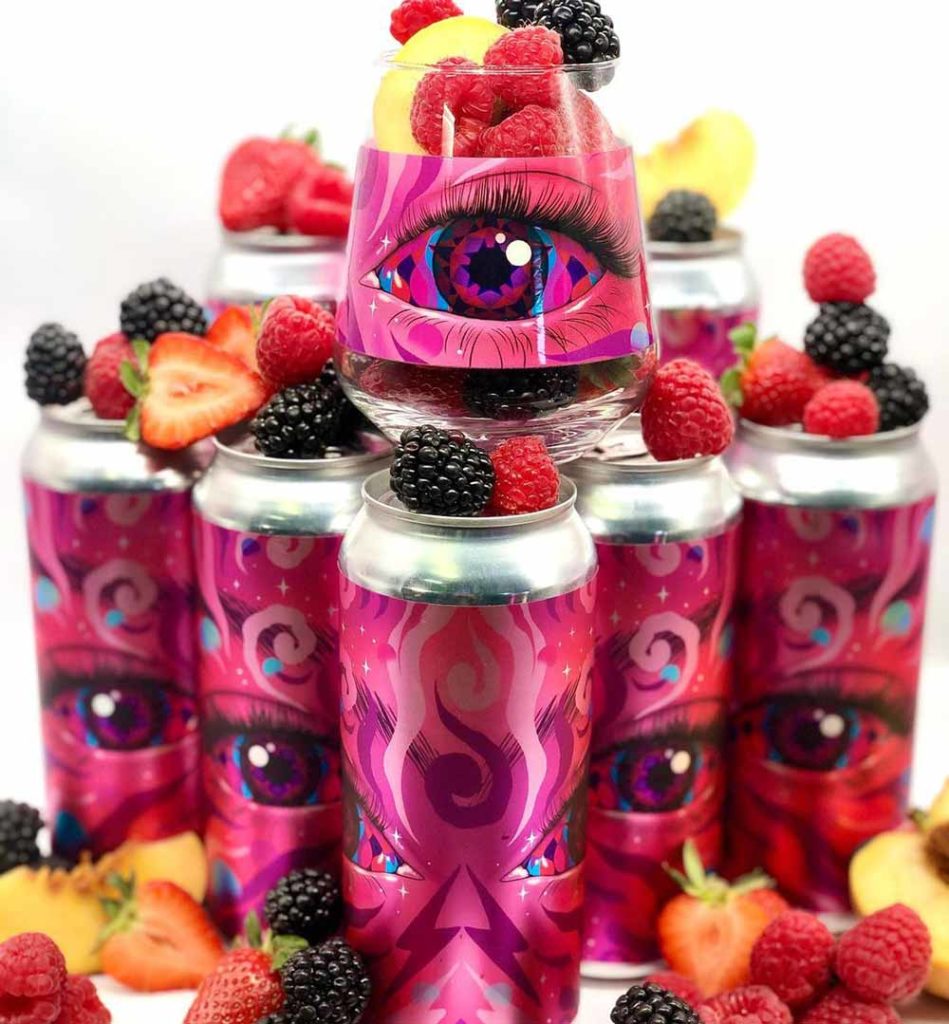 "My fruited sours don't make your face scrunch up," says Van Pamelen. "They're more like tart, fruited lemonade."
In fact, people have enjoyed her Kaleidoscope sour series so much that for the second release, people started lining up before the brewery even opened.
"I'm not used to having a can line, so that day we had the doors wide open because it was nice out. The first person that got there just stood at the threshold waiting for us to open," says Van Pamelen.
If everything goes according to plan, the third release in the Kaleidoscope series — Mango Raspberry Tangerine — will be released for the brewery's first-anniversary celebration on June 11th through June 13th, 2021, along with Badder Betty, a black cherry kettle sour ale, and Surfing on a Rocket, a new Double NEIPA.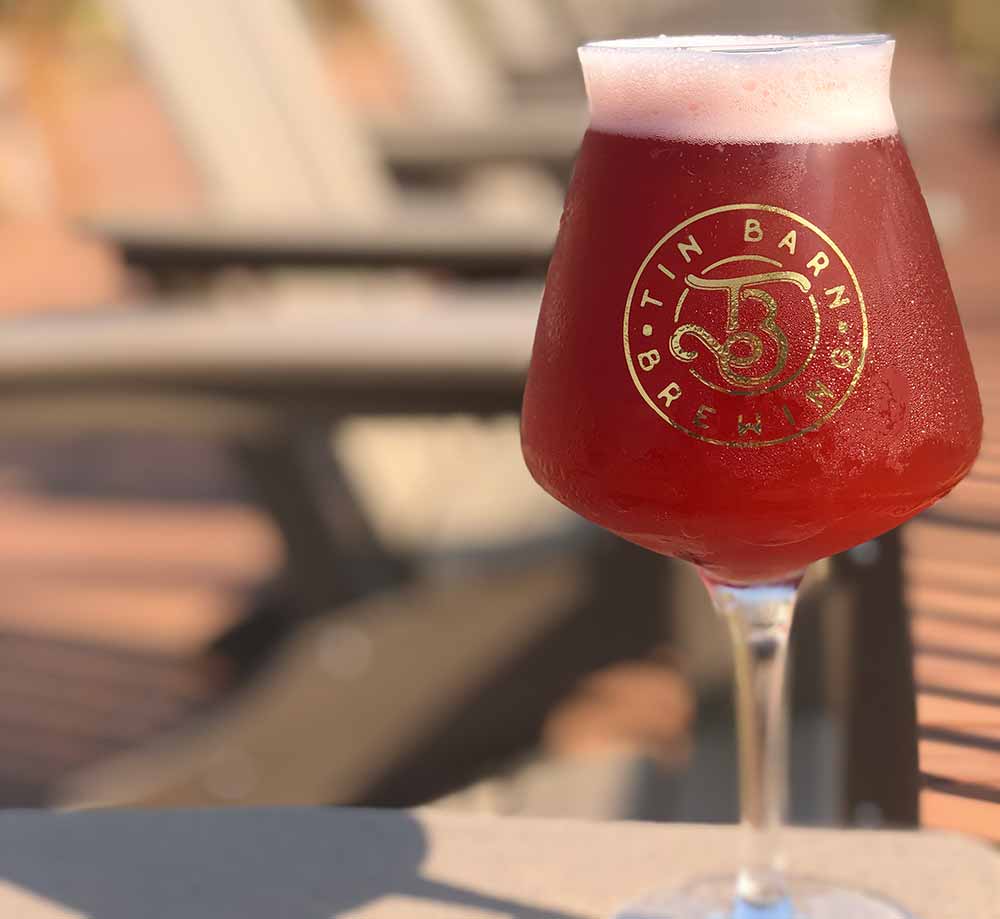 Van Pamelen also likes to throw in the occasional experimental stout. Most recently, she whipped up a Chocolate Chip Cookie Bourbon Banana Pudding Imperial Pastry Stout. The hearty stout was conditioned on layers of banana puree, crumbled chocolate chip cookies, bourbon tincture, cacao nibs, milk sugar, and vanilla.
"I popped into the kitchen randomly one week and asked if I could get two cases of Keebler cookies," says Van Pamelen, who then racked the beer on those cookies.
Similarly, for her first-ever pastry stout (Dolce Notte, based on tiramisu), Van Pamelen crushed up Lady Finger cookies.
"I thought I'd have so much fun but I had the cookies everywhere," says Van Pamelen. "I was beating them with my fist and it really hurt."
All these crazy concoctions are indicative of Van Pamelen's approach to brewing.
"I'm a big kid playing in the brewery," says Van Pamelen, who has been cranking out two new releases a week while only repeating a few recipes. "Essentially, I just want to make alcoholic OJ or hot chocolate stout or cranberry juice."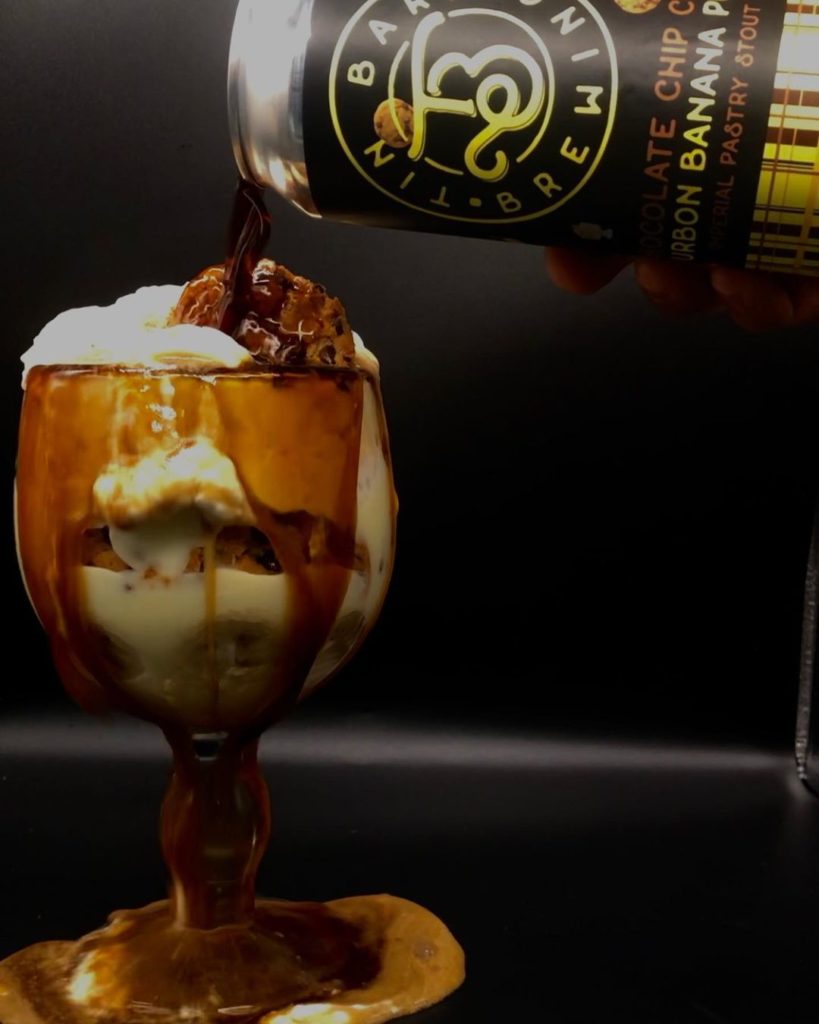 How Has Tin Barn Survived Its First Year During a Global Pandemic?
Opening during a global pandemic could have been a big challenge for a fledgling brewery in Upstate New York.
But Van Pamelen says she tried to take all the changes in stride. The COVID crisis certainly changed how Van Pamelen operated. Luckily, the brewery had its gas and brand new boiler installed to run the brewhouse a week before the shutdown. Without those two things, Van Pamelen wouldn't have been able to brew beer.
Targeting a late May launch, Van Pamelen says, "Come hell or high water I was putting beer out for the Memorial Day holiday weekend."
But two days before her first can sale, Van Pamelen didn't even have her canning line up and running yet. Since technicians weren't allowed to come to the building to train Van Pamelen on how to run everything she had to take classes through FaceTime with the Alpha Brewing operations team. The night before the release, she still wasn't sure if it would work.
"It was one of the worst, most terrifying nights of sleep of my life," says Van Pamelen.
Tin Barn Brewing launched on May 25th, 2020 with a triple can sale: Turn at the Tractor NEIPA, Behind the Barn NEDIPA, and First Harvest NEDIPA.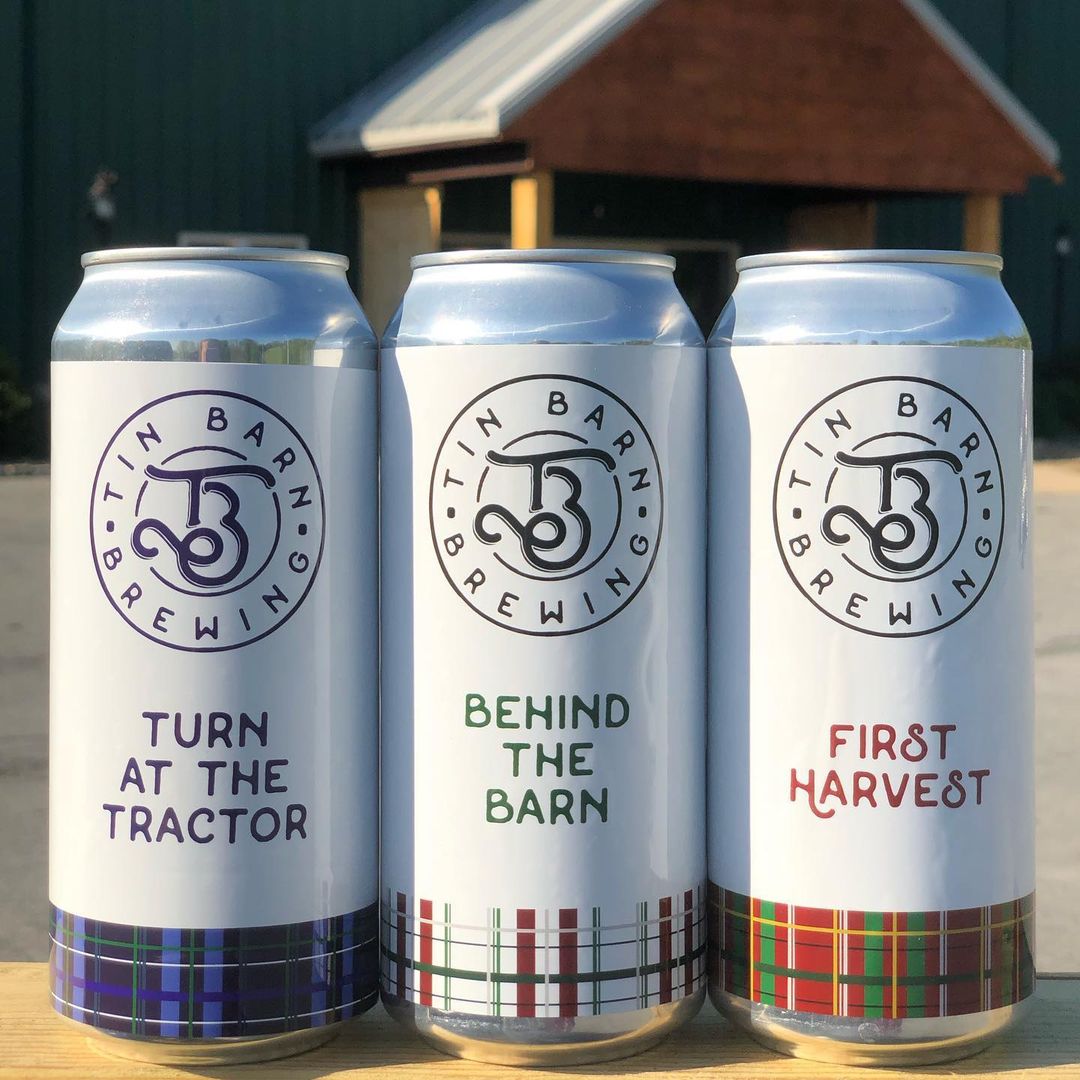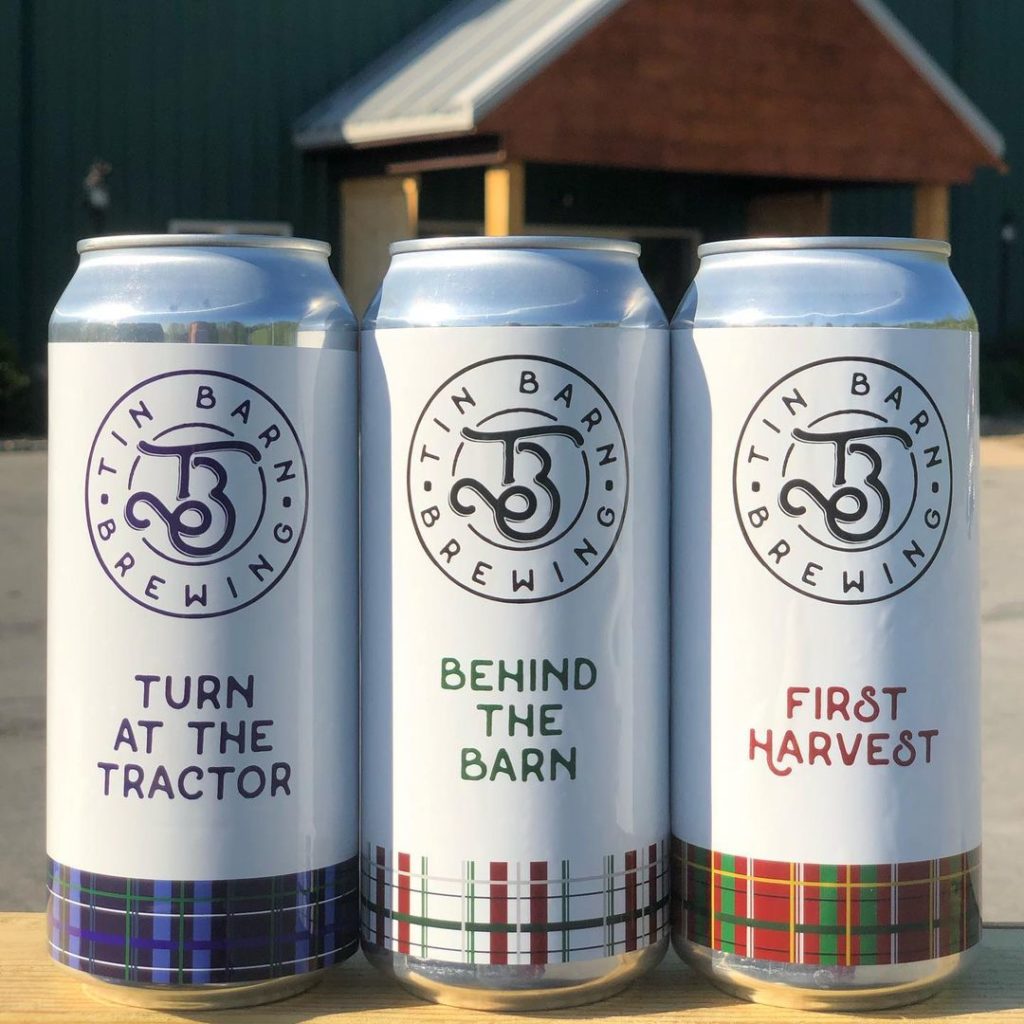 "You had to Turn at the Tractor and go Behind the Barn to get your First Harvest," says Van Pamelen, who noted that Tin Barn started with only those outdoor pickups.
However, despite all the challenges, the very first can sale was a huge success.
"It was insane. We had no following, no customers, and I gave people only two days' notice before the sale," Van Pamelen says. "We couldn't even run water through our canning line. However, we had a line out the front door."
Piece by piece, Van Pamelen and her dad continued to build out the brewery, eventually adding outdoor seating in June and officially opening their indoor taproom in October 2020. In the beginning, she set up just a table for can sales, followed by a 20 x 40 tent with picnic tables for outside only draft sales, but demand required her to set up two more 20 x 40 tents in the back. By the end of the summer, she had 220 chairs outside for folks to sit and enjoy beer.
"It's been a weird piecemeal process," says Van Pamelen. "COVID changed everything. Outdoor seating is usually at the bottom of most priority lists for opening a business. Usually, you want to get your indoor bar and seating running first."
Van Pamelen hopes the first-anniversary celebration will be a great time for the outdoor seating to shine. Additionally, Tin Barn Brewing is opening an outdoor bar with a beer slushy machine for the summer and adding an expanded menu.
The Future for Tin Barn Brewing
In the current building, Van Pamelen hopes to leverage the soaring 35-foot ceilings by building out a second floor and calling it, The Hay Loft, to help with all the requests for event space.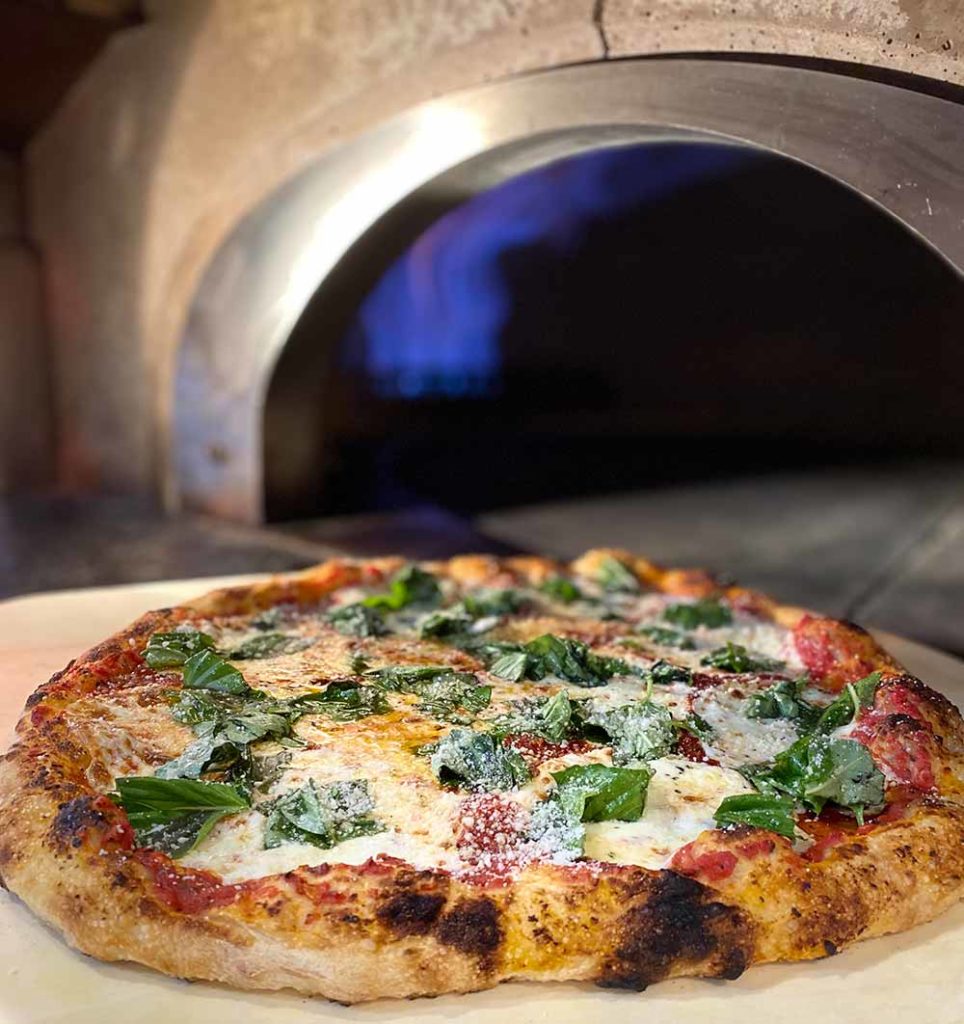 "I'm expanding the brewery while expanding the kitchen and the outside space, so come fall I don't think building a second story is too unrealistic," she says.
Eventually, she'd also like to open a satellite location somewhere else in Upstate New York. Her dad grew up in the Finger Lakes region, which features a "poppin' wine trail." And she hopes to open that second location near a waterfront.
"Anywhere my Golden Retriever and I can jump in," she says.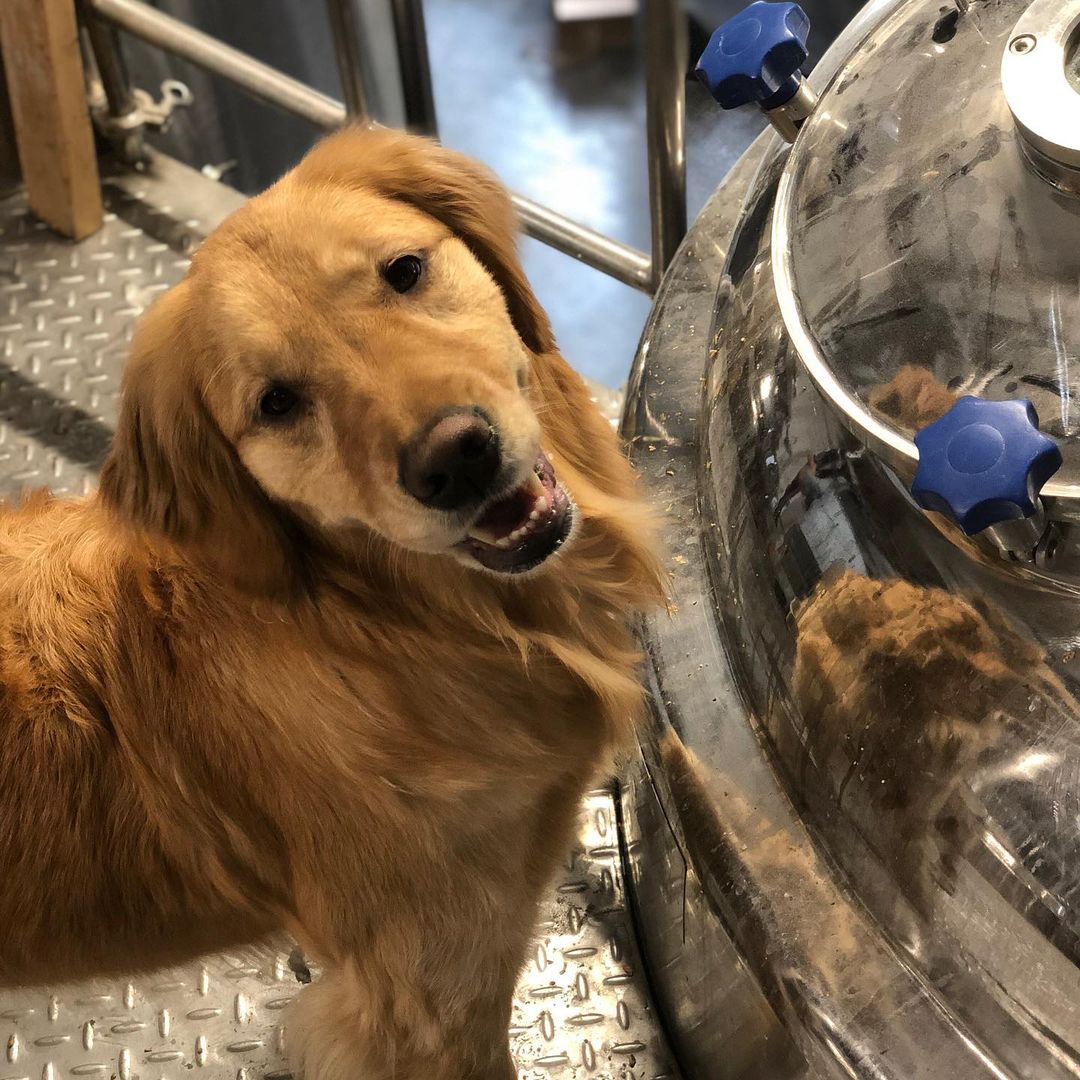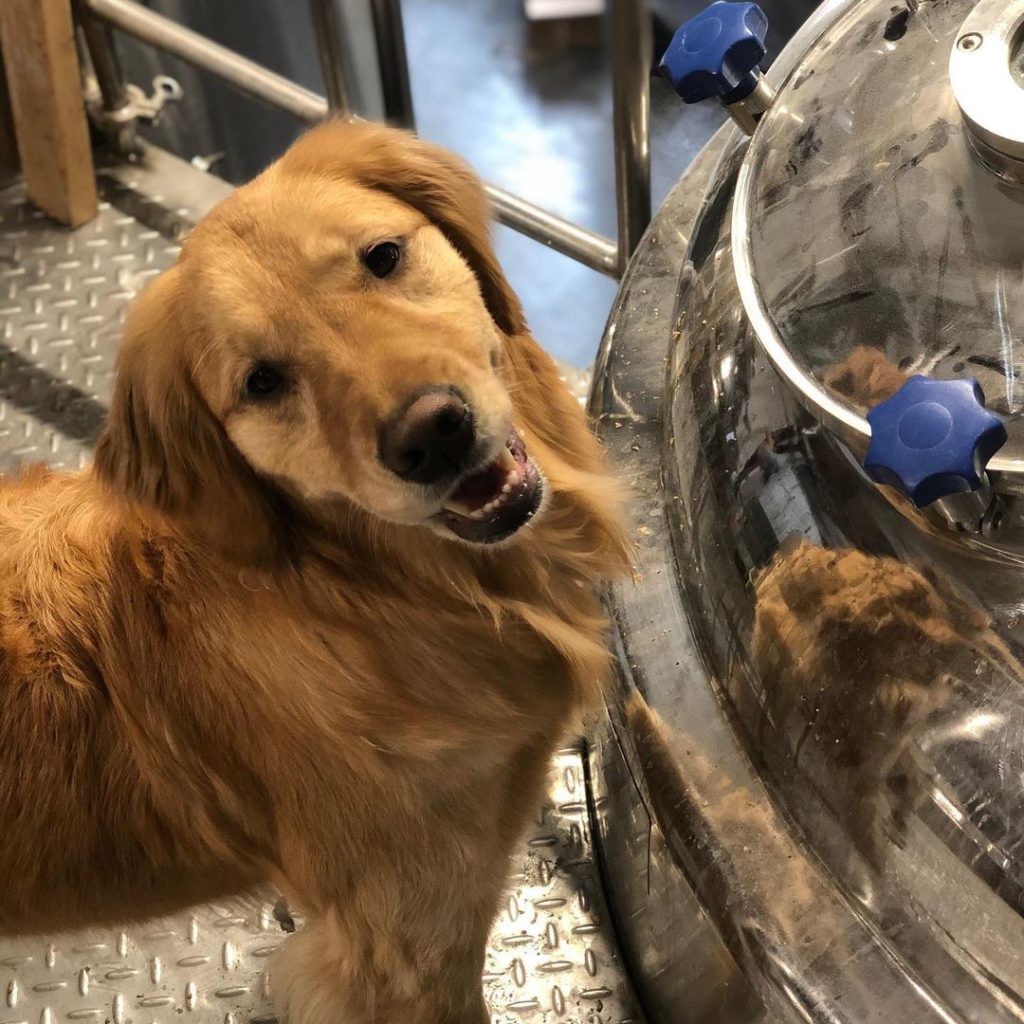 It's that spirit of "jumping in" that has helped Van Pamelen and her family-run business succeed. You can find those little familial touches permeating Tin Barn's space, giving the brewery a truly homegrown feel.
"So far this brewery has been a wild monster," says Van Pamelen. "But we're on it for the ride and it's beyond anything I could have dreamed."