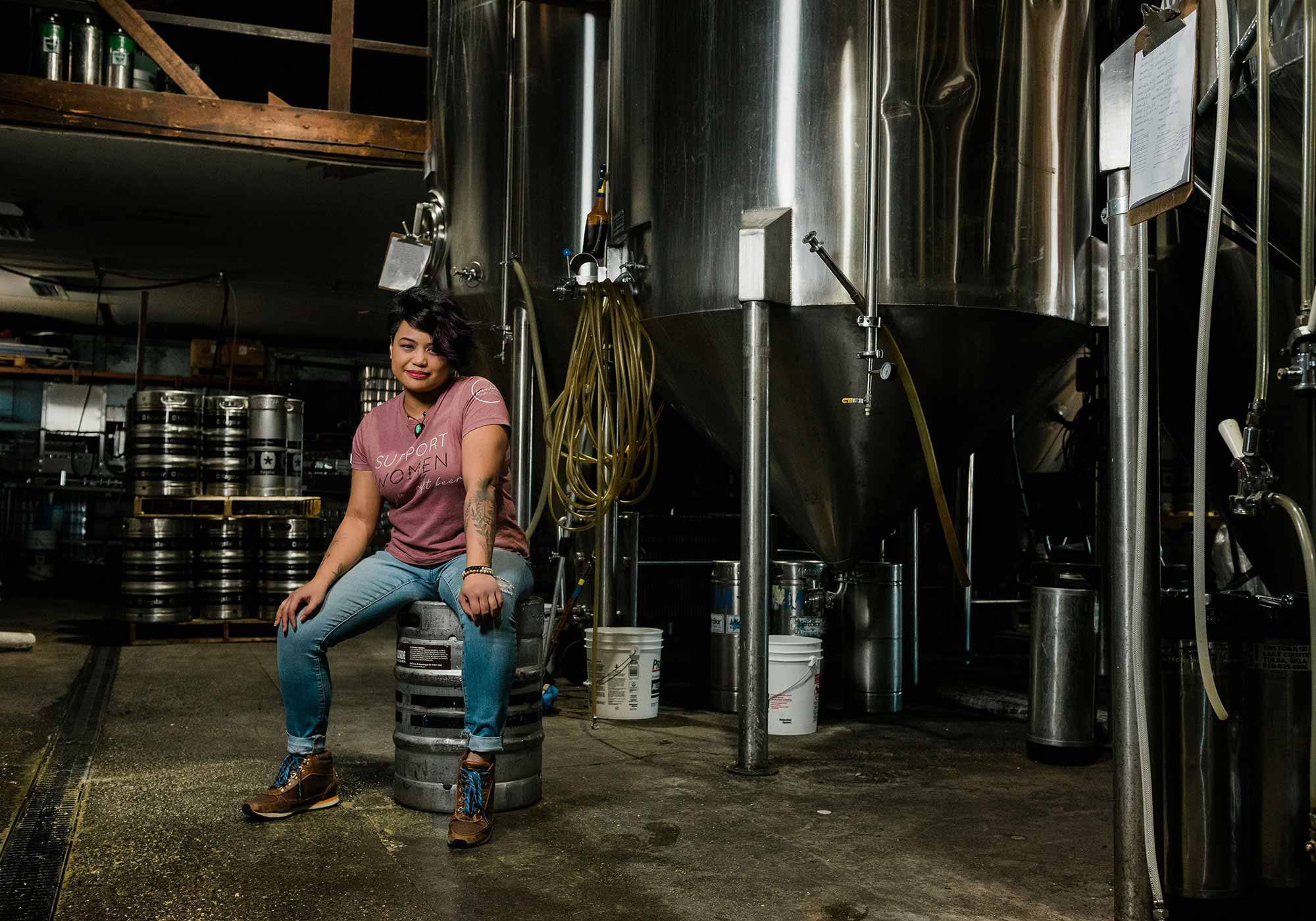 Photography courtesy of Connie Lynch Photography
Last month, Untappd announced open applications for a scholarship covering one student's full tuition to Appalachian State's Summer Brewing Short Course. Taught from July 25h to July 30th of this year, the program is designed for "those considering starting a business or intent on increasing their proficiency and understand of Fundamental Brewing Principles and Technologies."
After receiving many applications, Untappd awarded the scholarship to Michelle Demetillo, the current Hospitality & Community Manager at North Fork Brewing Company in Riverhead, New York.
We sat down with Michelle to find out about her desert island beer (and no, Long Island doesn't count as a desert island), how she's pioneering initiatives for female brewers on Long Island, and how she hopes the Appalachian State's Summer Brewing Short Course scholarship will help shape her future in the industry.
Grace Weitz: I always like to start by going all the way back to the beginning. What was the first craft beer you ever had?
MD: Does Blue Moon count? I'm joking!
GW: Honestly, I had a Blue Moon this past week, so I think it counts!
MD: Besides Blue Moon, I want to say I had a beer from one of the longest-running brewpubs on the Island, John Harvards. They were known for their pumpkin beer. That was one of my gateway beers. John Harvards doesn't even exist anymore, but they used to have some awesome craft beers.
But actually, I used to hate beer.
GW: Ah yes, here's the story! Why did you hate beer?
MD: I didn't even know craft beer existed. Maybe in my early 20s, someone handed me a Newcastle before Blue Moon and I was like, "Okay, I can get down with this." But at that time, I was only familiar with Bud and Bud Light at parties. I didn't even travel into the world of craft beer until I dated a brewer.
GW: How did your partner end up getting you into craft beer?
MD: I was dating a brewer, Rob Raffa, who worked for Moustache Brewing. Now, he owns his own brewery, übergeek Brewing Company on Long Island, not even a mile down from the brewery that I run. He started homebrewing and was obsessed with it. I thought, I guess I'll try some of these. We started frequenting a beer bar in a nearby town called Hoptron. The two women who owned it were amazing and really patient with me because I couldn't find certain beers I was into. They kept saying, "Here try this or this. Maybe you'll like this." They educated me on beer. That was my big introduction to the beer world.
GW: And then you took a job as the Director of Arts + Crafts at Moustache Brewing, right?
MD: Yes, that was a cute title. At the time, I'd just gone back to school for graphic design. I came on board at Moustache bartending once a week and managing their social media. I had no goals to stay in the beer world. It was just a "for now" type of job. Because my background was in non-profit and events marketing. I had worked in that for seven years and gravitated toward graphic design before deciding to go back to school for it. Then I left Moustache to work in corporate marketing. And I hated it!
Around that time, one of my former colleagues from Moustache started his own brewery down the road called North Fork. I had just left the corporate marketing agency not knowing what the hell I was doing with my life. I had no idea. I was really lost at the time and in such a depression. My former colleague said, "Come on board and open the brewery with me. You were great at Moustache, so let's see where this goes. Even if it's just for now, I'd love to have you on my team."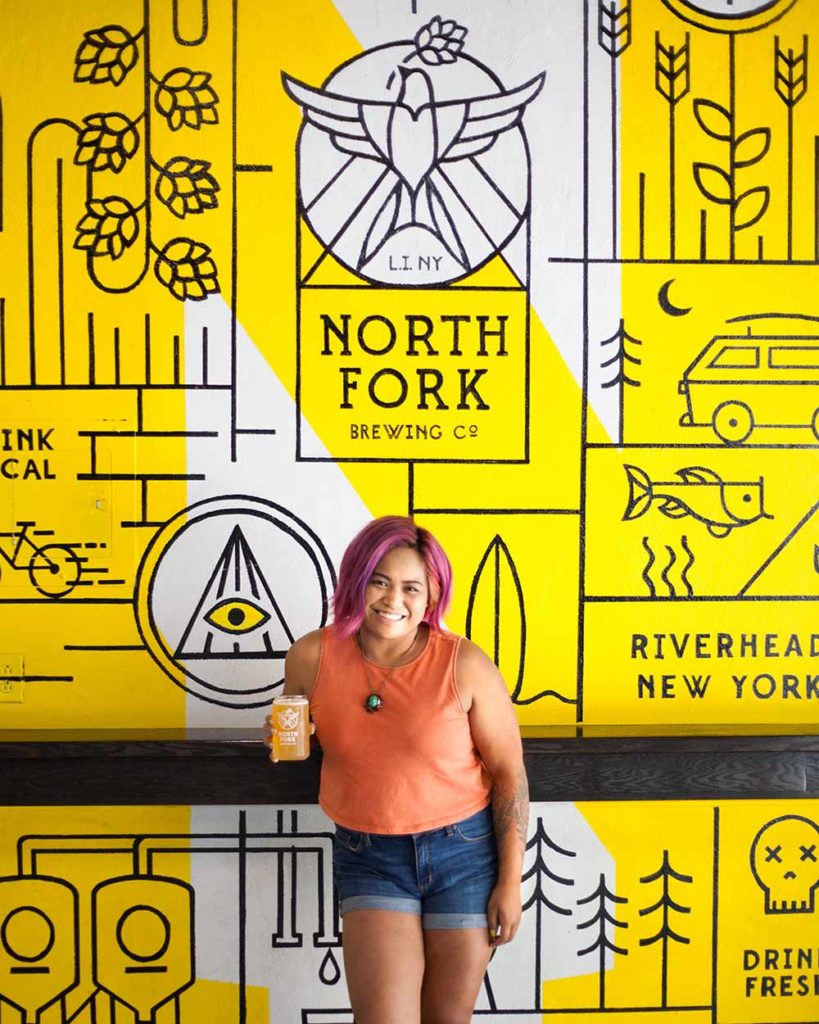 GW: And now you're the Hospitality and Community Manager at North Fork?
MD: Yes! But my title always changes. In my emails, I keep putting in the Director of Good Vibes because I'm always worrying about people's experiences at the brewery.
GW: I like that! Director of Good Vibes!
MD: I can't take credit. I stole it with permission from the Curator of Vibe at Finback Brewery. I saw it on his social media and said, "Hey can I change this a little bit?"
GW: So when did you realize that craft beer might be an industry you wanted to stick with?
MD: Peter [Barraud] brought me on [at North Fork] and I want to say within two months, the conversation became, "Do you want to be promoted to manager?" I was still thinking, I don't know. I have no idea what I'm doing. But three years later, here I am.
GW: You recently won Untappd's scholarship, which covers full tuition to Appalachian State's Summer Brewing Short Course. Why did you apply?
MD: There is definitely a curiosity and a desire to know more about craft beer. Styles are evolving, there's still so much to know, and there are still so few women in beer. I don't know what my future is in craft beer, but I know I'm staying in it for good. But I don't know whether I want to go on and own a brewery, or just brew. I'm trying to get my feet wet and figure out the best role for me.
GW: Aren't we all?
MD: I know! Everyone is trying to figure out their life, constantly!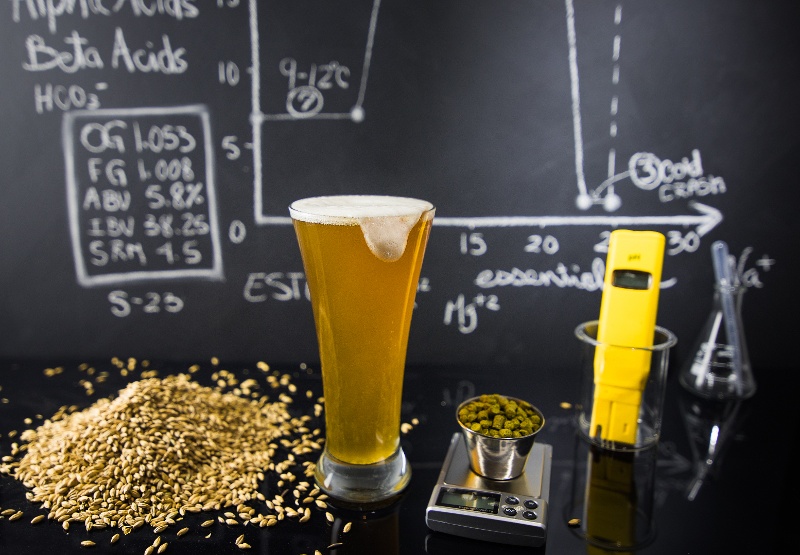 GW: This is a good first step. In that vein, what are you hoping to learn from Appalachian State's Summer Brewing Short Course? How are you hoping this scholarship will help you on that path?
MD: I have a goal to get the Cicerone Certification at some point. This course will be amazing. There is the sensory analysis and the lab portion and an introduction to brewing principles. All of that I'm really excited about. Even where I work at North Fork, Ian Van Bourgondien, one of the owners, was a chemist for Estée Lauder. Peter, the other owner, comes from a brewery background. There is such a respect for the product and I want to understand the science and be on top of that. And I'm not a science person by any means. I got through chemistry and that's about it. Physics I didn't even want to touch! So to understand cell counts, yeast, and fermentation — and to have a good grasp on that — would be amazing.
And unfortunately, women in the industry have to work harder to prove that they know craft beer. Especially when someone walks into a brewery or a bar with a sexist mentality. That's the world we live in. I want to combat that and make sure I'm on top of what I love so that I can educate other people and maybe surprise a person or two.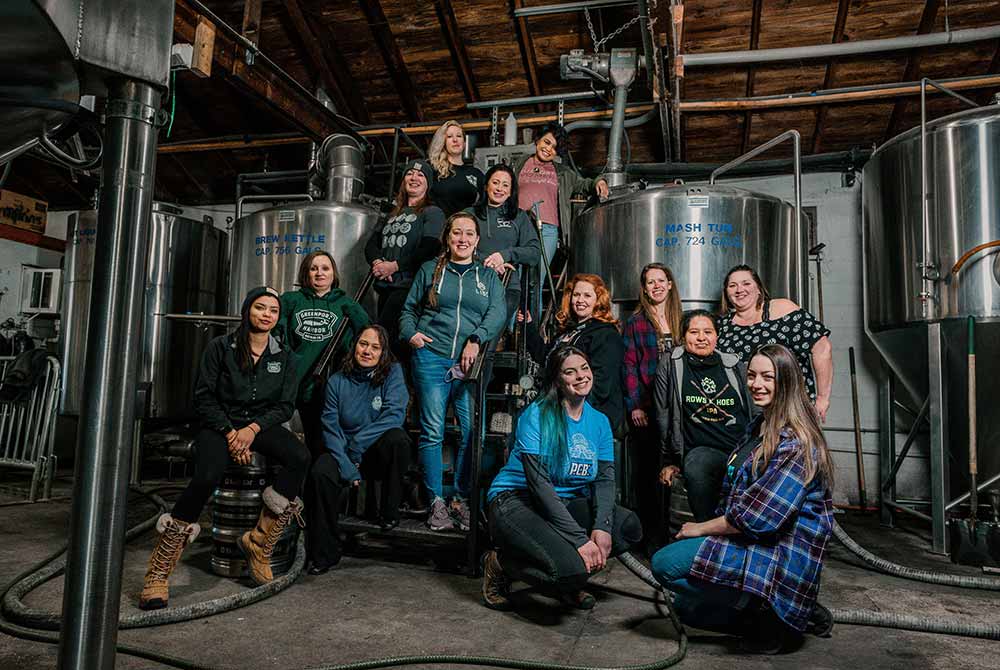 GW: I know you've been integral in creating the Lady Brewsters, women at local Riverhead breweries who come together around International Women's Day to brew a celebratory beer. Tell me more about what it means to you to be a woman in the industry.
MD: Lady Brewsters was started by a discussion with my bosses [at North Fork] around 2019. [But even] going back to when I worked at Moustache, I was really inspired by Matt and Lauri Spitz, the married couple that owned Moustache Brewing. I worked under Lauri and saw how hard she worked as a female brewer to earn respect.
Some people aren't aware there are women in the beer industry. And some people still think it's a man's world. So at North Fork, we talked about wanting to highlight women in the industry. My bosses said, "If you want to spearhead this and you want this to be your project, go ahead — we'll host the first year." I reached out to a bunch of breweries on the North Fork of Long Island. In 2020, seven breweries participated. And this year, eight breweries took part.
Any [woman] who has a management role, serves behind the bar, or works in administration or production can come on and be part of the project. We take a portion of the proceeds and have that go towards a charity for the year.
GW: What was the beer you all brewed this year? And where did the proceeds go this year?
MD: This year we brewed a beer called Fragile Like a Bomb. It was a guava-forward American IPA.
The nonprofit we went with is called the Empowerment Collaborative of Long Island. They serve different demographics, from victims of domestic abuse to people who have been incarcerated to local youth. One of my friends, Feride [Castillo] is one of the co-founders. It's a women-led organization that serves a huge population on the island. Actually, they just acquired a rape crisis center organization, so that was super big for them this year.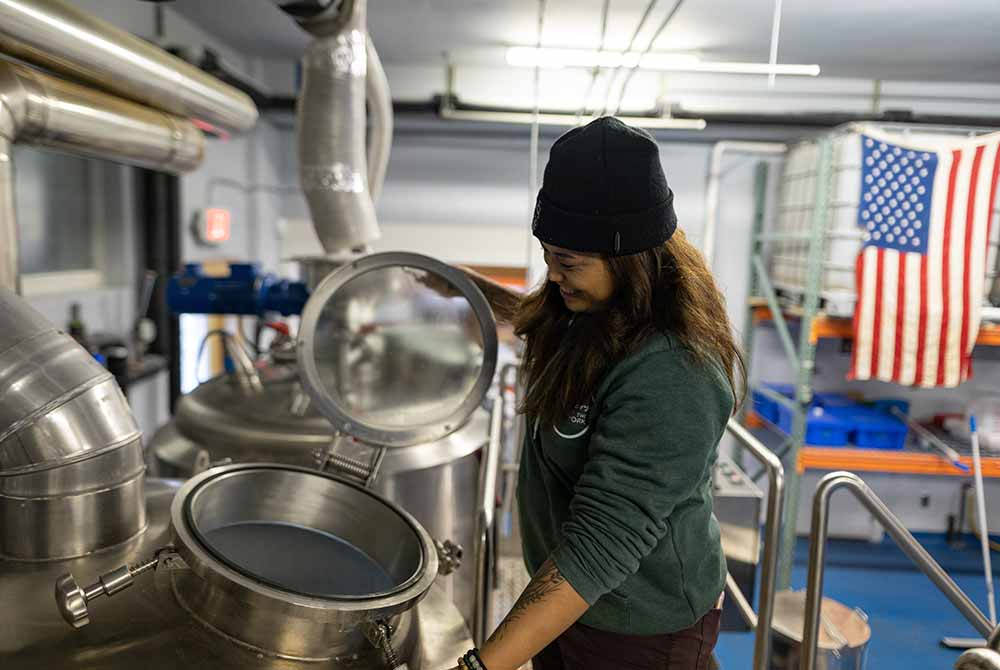 GW: I think it's time for a bit of a lightning round. I'm just going to fire off some questions and say the first thing that comes to mind. Can you name one desert island beer?
MD: One? Oh my god. Ahh!
GW: It can be Blue Moon if you want.
MD:Oh, god no. Absolutely not. If it's a desert island beer, it would probably be a West Coast IPA. It doesn't have to be any one in particular, but just a West Coast-style IPA.
GW: What is one beer in your fridge right now?
MD: This one I was really impressed by recently. It's actually non-alcoholic. Partake Brewing came out with a Peach Gose. It's absolutely amazing and non-alcoholic. I was super impressed.
GW: It's funny you say that because I have a bunch of non-alcoholic beers in my fridge now. I'm 32, so I just can't drink like I used to.
MD: I feel you. I can't consistently go through a million different beers and feel okay the next day. I get it. Especially after COVID, because I feel like a lot of people were drinking so much alcohol during the lockdown. I need a few non-alcoholic beers. I even have a non-alcoholic Rosé in my fridge right now.
GW: What is your favorite style of beer?
MD: Probably a Flanders Red. They're more complex than a lot of the sours. Most sours today are quick sours. But there's a complexity to a Flanders Red and Oud Bruins. I love old-school sours and lambics. There's nothing like them, especially with the new age sours. I feel like patience is a virtue. Waiting on some good beers to age is amazing.
GW: There's something to be said for letting nature take its course.
MD: Yes! I love lambics. I said "lambic" to a patron the other day. [And they replied], "That's a word I haven't heard in so long!" No one talks about them anymore.
GW: If you could take one dream beer trip, where would you go?
MD: That's hard. Do I want to go to Belgium? Or, I still haven't been to San Diego. That's definitely a spot I'd love to visit. I'm a beach person, so probably San Diego because it has West Coast vibes. That's totally me. Also, it's a shame I have a family in LA and I've never made it down to San Diego.
GW: Let's say we have this conversation again a year from now. Where do you hope you'll be on your craft beer journey?
MD: I'll be a lot more confident and more educated in what I know and what I can share with people. I'm really excited about this course. I'm also excited about going into the next year of Lady Brewsters with new ideas for the girls. Maybe next year we try our hands at a sour.
GW: A lambic!?
MD: I don't know about that. But we'll see!