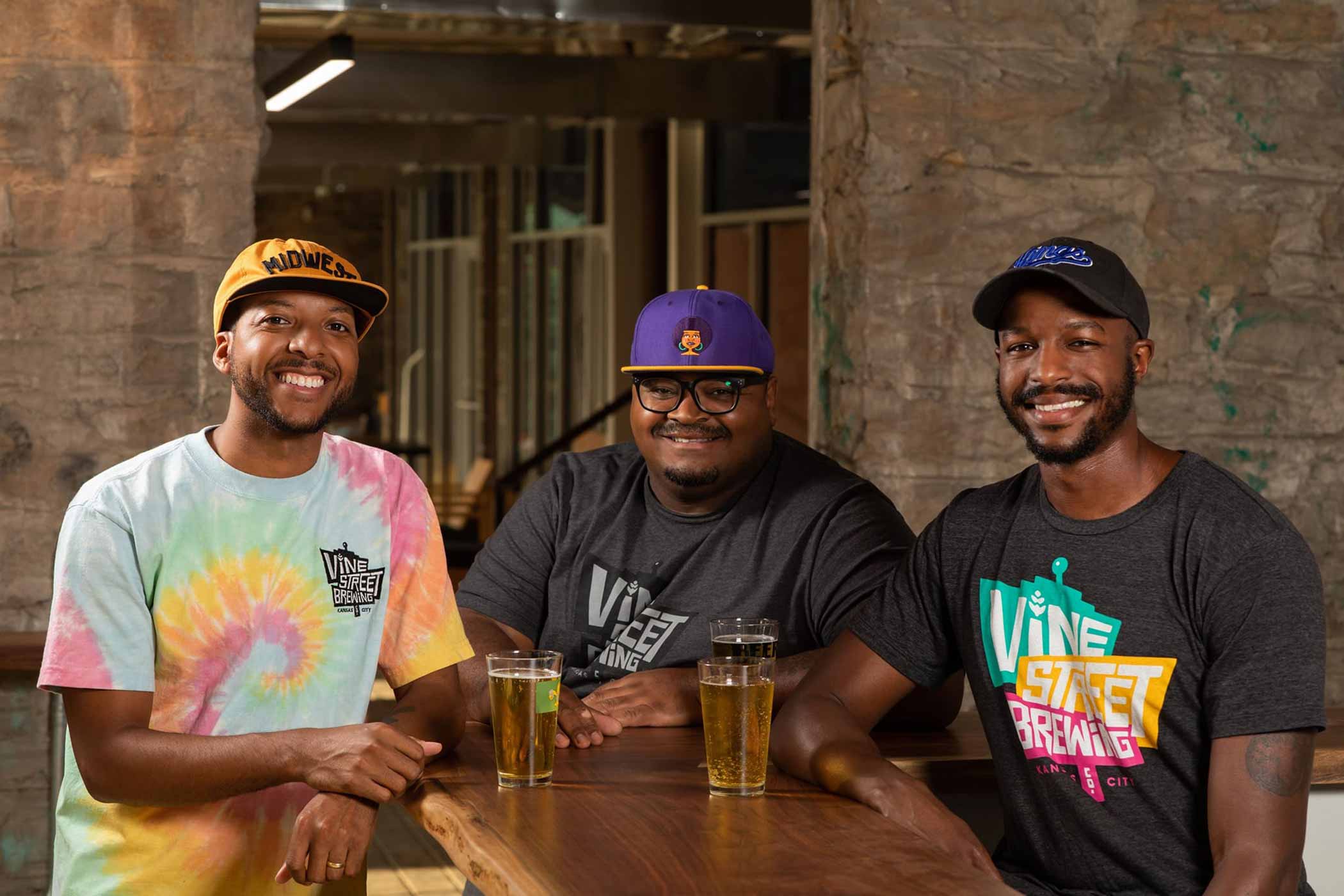 Photography courtesy of Vine Street Brewing
When Vine Street Brewing Co. celebrated its grand opening on June 30th, it became Missouri's first Black-owned brewery, bringing beer to Kansas City's famous jazz neighborhood.
Co-Founders Kemet Coleman, Elliott Ivory, and Woodie Bonds opened the new two-story taproom, brewhouse, and beer garden in the historic 18th & Vine Jazz District to be a place of community and inspiration.
Fusing the past with the present, Vine Street will honor Kansas City's musical heritage through one of America's most current pastimes—drinking a glass of beer.
From Making Music to Making Beer
Traditionally a musician, rapper, music producer, and performer, Vine Street Brewing Co-Founder Kemet Coleman got into craft beer to make a little more income on the side.
"I didn't want to work at a desk job, and I didn't want a boring job," he says. Making a short list of what he called "really cool places in Kansas City that I believe in as a brand," Coleman landed on Boulevard Brewing. Plus, it didn't hurt that it was one of the only places to call him back.
Starting at the craft brewery as a tour guide, he was "probably one of the first faces people would see when they visit," Coleman says, adding that, at the time, he drank primarily High Life and Red Stripe (which he still thinks is delicious).
But the beer space called to the creative side of his brain, primarily through marketing, which he termed his "bread and butter outside of music."
Somewhere between the countless tours, greeting guests, sharing the history of Boulevard, and learning about the brewing process, Coleman planted an idea: opening his own brewery.
Over the years, the seed sprouted. "My wife was like, why don't you just do it then!?" Coleman shares. Even while working through the pandemic as a marketing director at a nonprofit, "I kept seeing a brewery in my future," says Coleman. "Let me see if I can make this happen."
In love with beer but not a brewer himself, Coleman reached out to someone he'd met while working at Boulevard.
Hip Hop Beer Festival Creator and Former Fortune 100 Company Engineer Connect With Coleman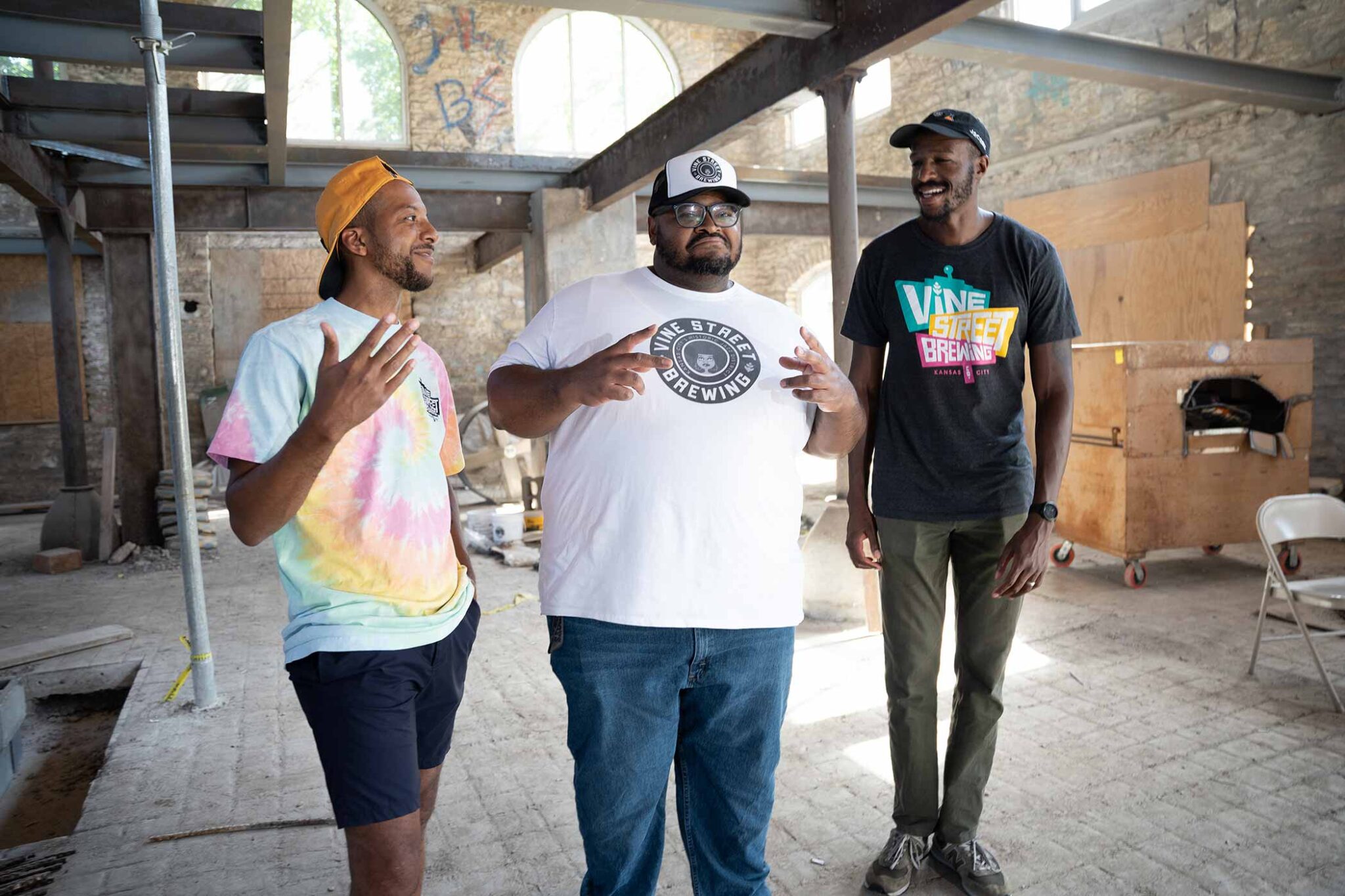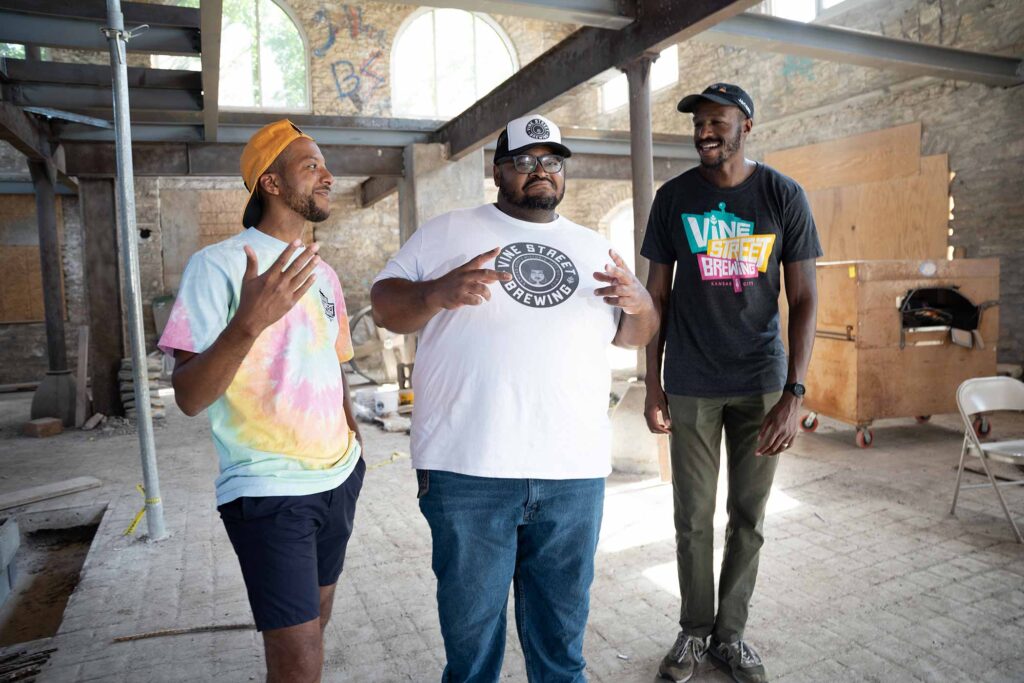 In 2017, Woodie Bonds started a hip-hop beer festival called Hip Hops Hooray.
"One of my favorite festivals I've ever gone to," says Coleman. "I realized if I ever start a brewery, I want to do it with Woodie."
When Coleman called, he told Woodie, "Look, man, I've been keeping you in mind for this idea for a while, and I think I'm at a place in my career where I want to open up a brewery. Would you do it with me?"
In high demand, Bonds told him he'd already had other offers. But eventually, Bonds got back with Coleman, telling him he'd do it as long as he could add a third co-founder to the project—Elliott Ivory.
When Ivory graduated college with a Plastics Engineering Technology degree, he immediately went to work for Honeywell, a large Fortune 100 company.
Three months into the job, one of his managers shared a theory with him. "You need to find a hobby so when you retire, you have something to do," laughs Ivory, who says retirement was the last thing on his mind.
But as luck would have it, one of Ivory's former fraternity brothers had started homebrewing.
Ivory joined him.
The two went to their local homebrew store and bought all the ingredients to make a porter on the stovetop in Ivory's townhome. "I got the kitchen all strung out and messed up," he says. "My wife was like, what is this!?"
And while the first batch turned out terribly—"easily one of the worst beers I've ever made," says Ivory—he didn't quit. "We just drank beer and made beer; it wasn't good, but it was a really fun time."
Eventually, Ivory's beers went from the worst to the best he made. Under a faux homebrew brand called Wiz Brewing, Ivory showcased his beers at festivals and competitions, eventually bumping into the award-winning homebrewer Bonds at Nano Brew Fest.
"I thought that was super cool because there was another Black brewer in the scene," says Ivory. "There were not many of us; I didn't know anybody until I met Woodie."
Bonds asked Ivory to join him in opening Vine Street Brewing with Coleman a few years later.
"I actually defaulted to no," says Ivory while getting ready to go back to graduate school; he had an excellent job at Honeywell and said he was making good career progression. "Why would I give that up to start a brewery?"
But Ivory, who says his wife actually convinced him, had a chance to turn his fantasy of opening a brewery into a reality. "She said this is a dream come true for you; you have to do it," Ivory recalls. "I asked her, hoping she would be like, 'C'mon, Elliot, why would you throw away all this good opportunity you have?' But she said the opposite!"
In the end, Ivory realized, "This is how I get in, right."
Craft Beer in the Cradle of Jazz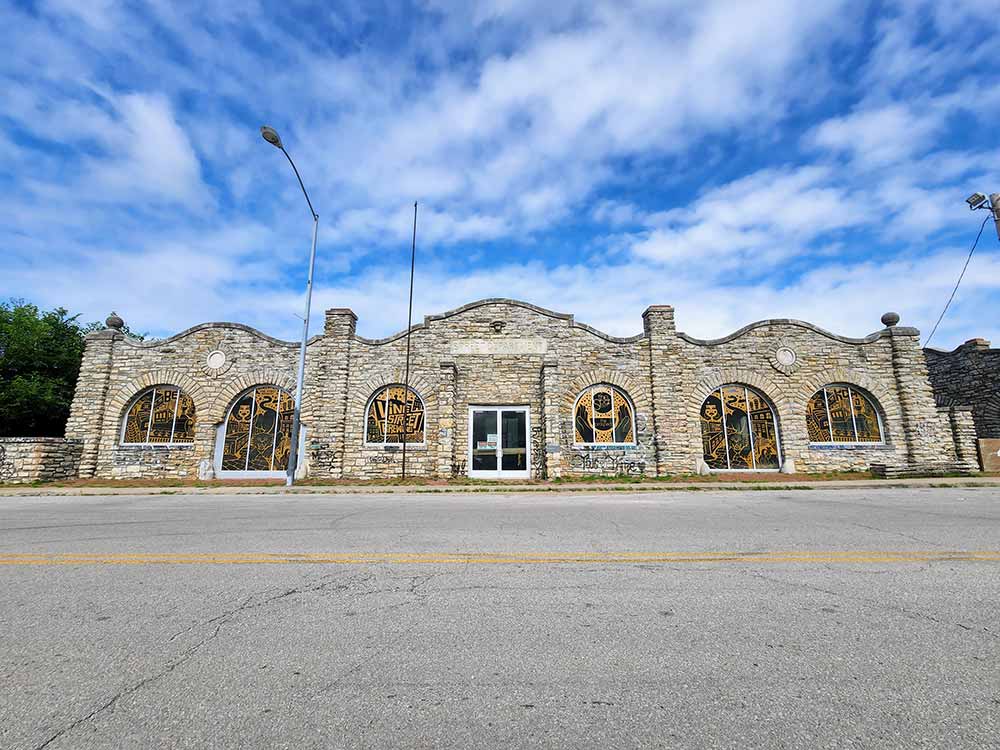 Much like we talk about wine or even some beers like wild ales as having terroir, getting its essence from the characteristics of a particular place, Vine Street reflects its neighborhood in more ways than one.
Located in the 18th & Vine Street Historic Jazz District, the brewery pays homage to one of the few global Jazz towns recognized by the United Nations, shares Coleman.
Through the 1920s, according to Coleman, this historically Black area essentially skipped Prohibition. All the Jazz musicians from New Orleans and other Jazz towns moved to Kansas City for work, bringing their culture and, of course, music.
According to the African American Heritage Trail of Kansas City, MO, "Jazz was born in New Orleans, lived in Chicago, but grew up in Kansas City."
At 18th & Vine, nightlife thrived. The legendary American Jazz pianist William "Count" Basie lived in the neighborhood, often performing at the historic Gem Theater along with other Jazz musicians such as Louis Armstrong and Ella Fitzgerald.
But through the '40s and beyond, the area declined due to suburbanization, expansion, and redlining.
Now, Vine Street Brewing seeks to reclaim and revitalize, bringing craft beer to the cradle of Jazz.
Housed in a 150-year-old building, Vine Street's taproom was abandoned for forty years before Coleman, Bonds, and Ivory decided to turn it into a brewery.
"It looks like an older European stone building with really interesting architecture, arch windows, and tons of natural light," says Coleman.
Split over two levels with the brewhouse downstairs and taproom upstairs, Vine Street also includes a beer garden, private event spaces, and plenty of outdoor areas.
You'll find nods to the area's musical heritage and the brewery owners' own culture throughout the venue.
For instance, upstairs, you'll find a custom piano wall made with reclaimed wood from the West Bottoms.
And the color palette—a mixture of red, black, green, purple, and gold—holds special significance.
According to Coleman, the red, black, and green represent Africa, the birthplace of beer, and a "nod to the Motherland," he says.
The purple, green, and gold depict New Orleans, the birthplace of Jazz and where many musicians migrated from to Kansas City during Prohibition for work, says Coleman, noting it's also where his mom's side of the family calls home.
Lastly, the spectrum of colors "represent the diversity of America and the beauty within this country," says Coleman. "When I put all that in a blender, that's the final [color] palette."
You'll find a similar mashup of cultures and courage in Vine Street's tap list.
Vine Street's Flagship Jazzman Dark Lager Rings All the Right Notes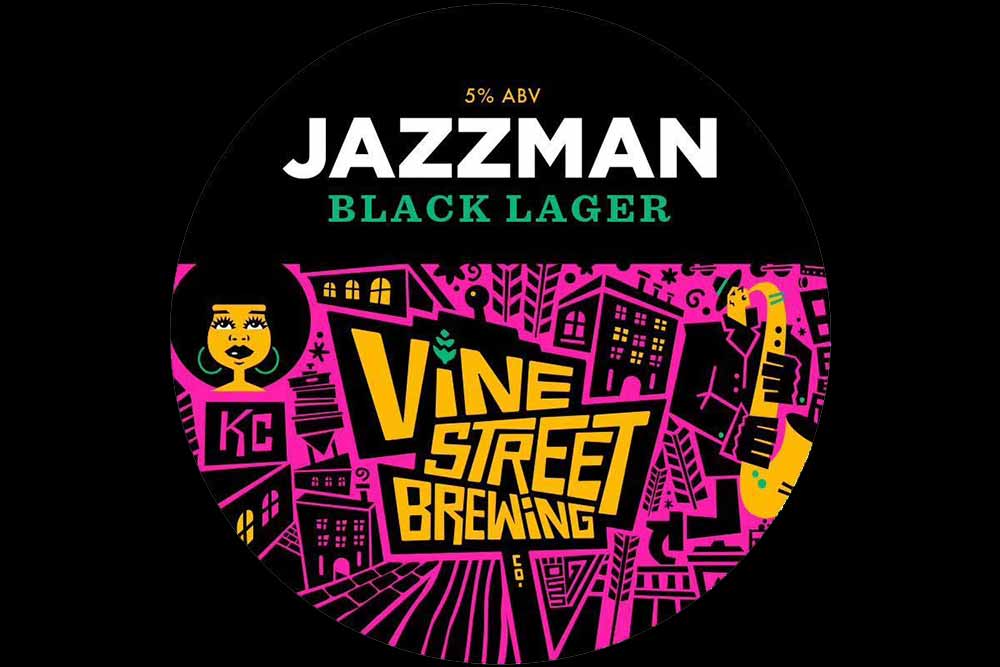 When most breweries launch with core beers, you'll find the lineup stacked with crowd-pleasing favorites—IPA, hazy, maybe a pale ale, and a pilsner or stout.
Rarely have we seen a brewery open with a flagship dark lager. But that's precisely what Vine Street did with Jazzman.
Looking to educate folks that dark beer is more than just Guinness and pastry stouts, Vine Street takes inspiration from Czech dark lagers but uses American ingredients for Jazzman.
Pouring a deep black with a tan foamy, frothy head, Jazzman erupts elegantly with aromas of dark chocolate and a bit of roast. That dark chocolate hums bravely on the sip with a bit of cola and toffee. Finishing crisp and clean thanks to a lager yeast and three-week cold fermentation, Jazzman has layers.
In many ways, this black lager acts in concert with its namesake.
Think about listening to jazz. "It's more about the experience, and the beer supplements … it doesn't take away from what you're doing, whether having a conversation with friends, hanging out on the patio, or at a Jazz house," says Ivory. "This beer fades into the background," but simultaneously makes a bold statement.
Smooth, refreshing, easygoing, and approachable yet complex, Jazzman rings all the right notes, which is essential and perhaps controversially more so for Missouri's first Black-owned brewery.
"It's one thing to have a brewery and just be making beer, but it's another thing to have a Black-owned brewery," says Coleman. "It's a whole completely different animal. … That's what's special about Jazzman."
Vine Street Brewing: Missouri's First Black-Owned Brewery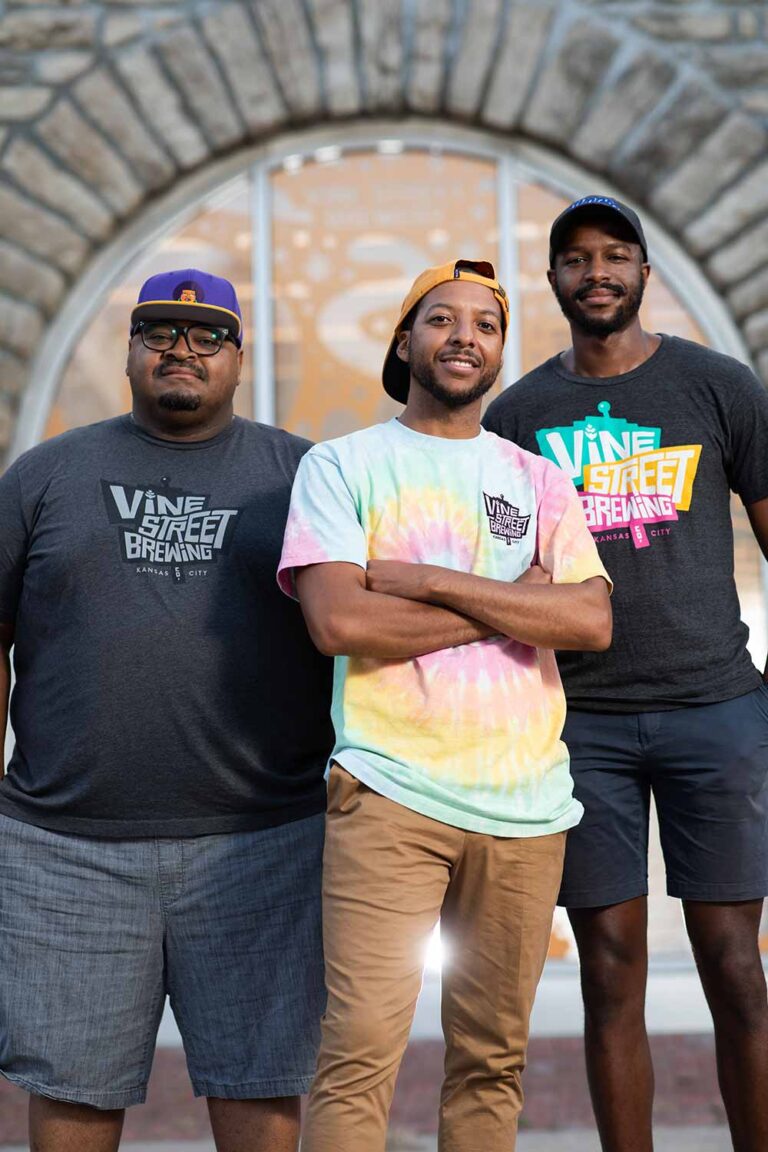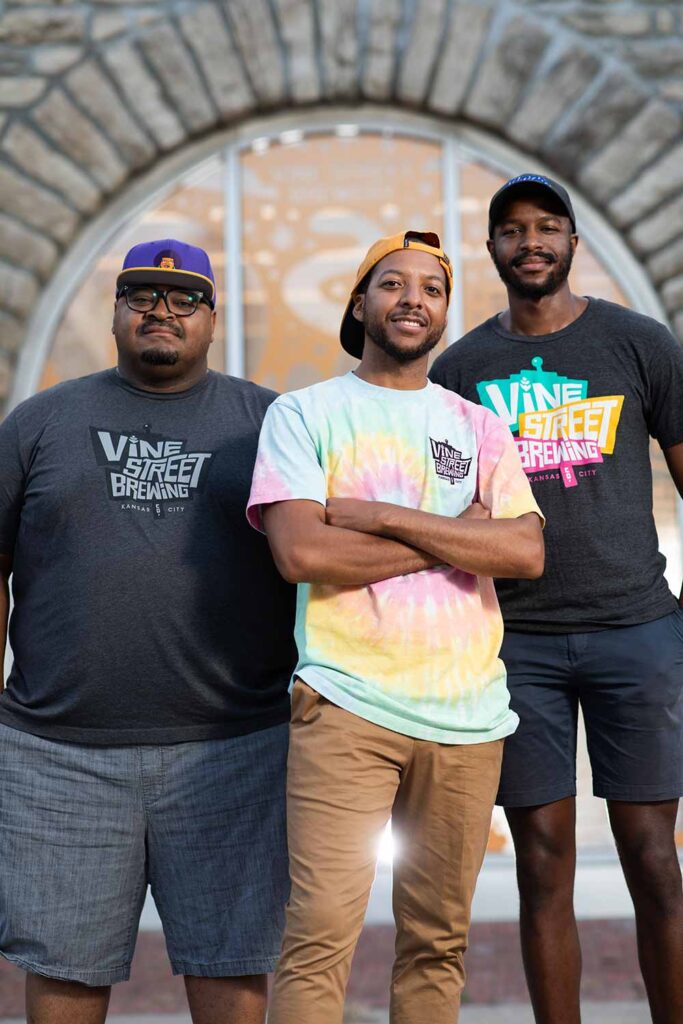 It's a little poetic that Coleman, Bonds, and Ivory opened Vine Street with a dark lager, a style often forced to hide in the shadows while its lighter-colored brethren thrive. Striving to educate and open people's minds with Jazzman, Vine Street itself makes a statement.
Now a part of the only one percent of Black-owned breweries in the country (Brewers Association) and the only one in Missouri, Vine Street joins a growing group of Black and Brown brewery owners seeking to balance the industry's scales.
But it's not an easy proposition.
"A lot of other Black or minority owners and traditionally disadvantaged groups face the reality that brewing equipment itself costs at least half a million dollars for a brewhouse worth opening," says Coleman. "Obviously, most people don't have half a million dollars lying around."
To fund the one-million-dollar project of opening Vine Street, Coleman says they leased all their brewing equipment, pooled their money, and applied for a Small Business Association loan.
And they've leaned into all of their backgrounds.
"When people mention we're the first Black-owned brewery, I do think that is a challenge we'll have to overcome in Missouri and Kansas City," says Coleman. "But it is also an opportunity for a whole new perspective to enter this arena that might be refreshing for everybody. I see it more as an opportunity than a challenge."
With that in mind, the trio has gone all in on Vine Street. "We're Black 365, all year," says Ivory. "We don't shy away from it, which is what I love."
But both Coleman and Ivory emphasized that they want Vine Street to be a taproom for all.
A Taproom for Everyone With Every Palate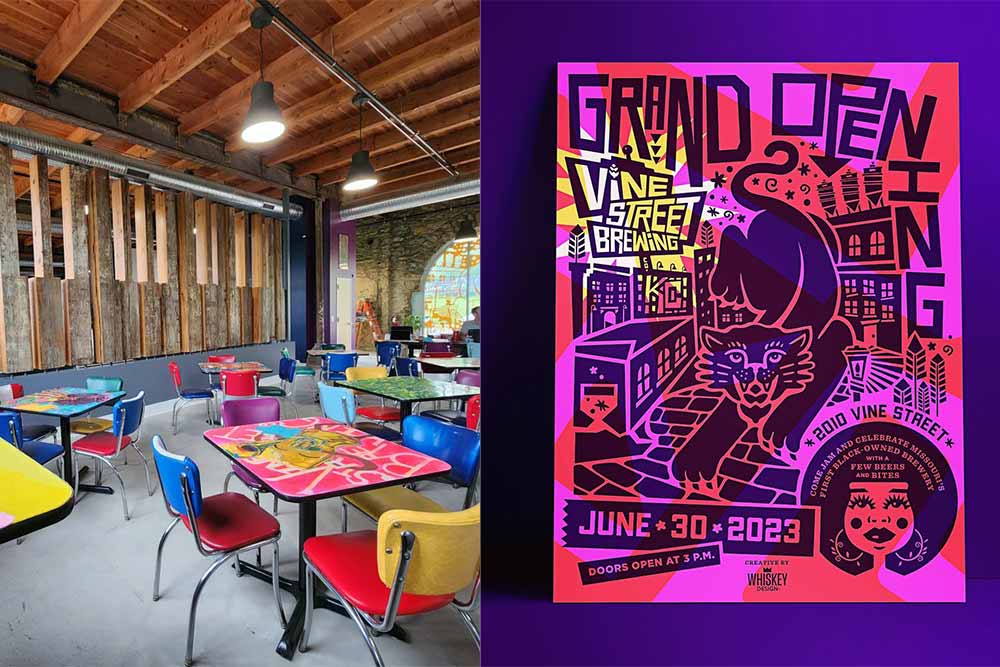 "We know what it's like to walk into a space and not feel like you belong," says Coleman.
To that end, Coleman shared with Hop Culture a policy they've been developing to ensure the brewery stays safe for all, regardless of race, gender identity, gender expression, sexual identity, ability, and more, that includes the following:
We have a zero-tolerance policy for harassment, discrimination, and violence
We have a diverse staff trained to create a welcoming environment for all
We offer a variety of events and activities that appeal to a wide range of people
We have a strong commitment to community involvement and support
We believe that everyone deserves to feel safe and welcome in our taproom; we are committed to creating a space where everyone can enjoy our beer and each other's company
We fill our taproom with natural light and color, designed to create a welcoming and inviting atmosphere
Additionally, the brewery plans to develop a code of conduct outlining expectations for behavior in the taproom and training its staff on identifying and responding to harassment, discrimination, and violence.
They'll also partner with local organizations to promote diversity and inclusion and hold community events fostering relationships with different groups in the community.
"We believe that by taking these steps, we can create a safe and welcoming space for everyone to enjoy our beer," says Coleman.
The Future of Vine Street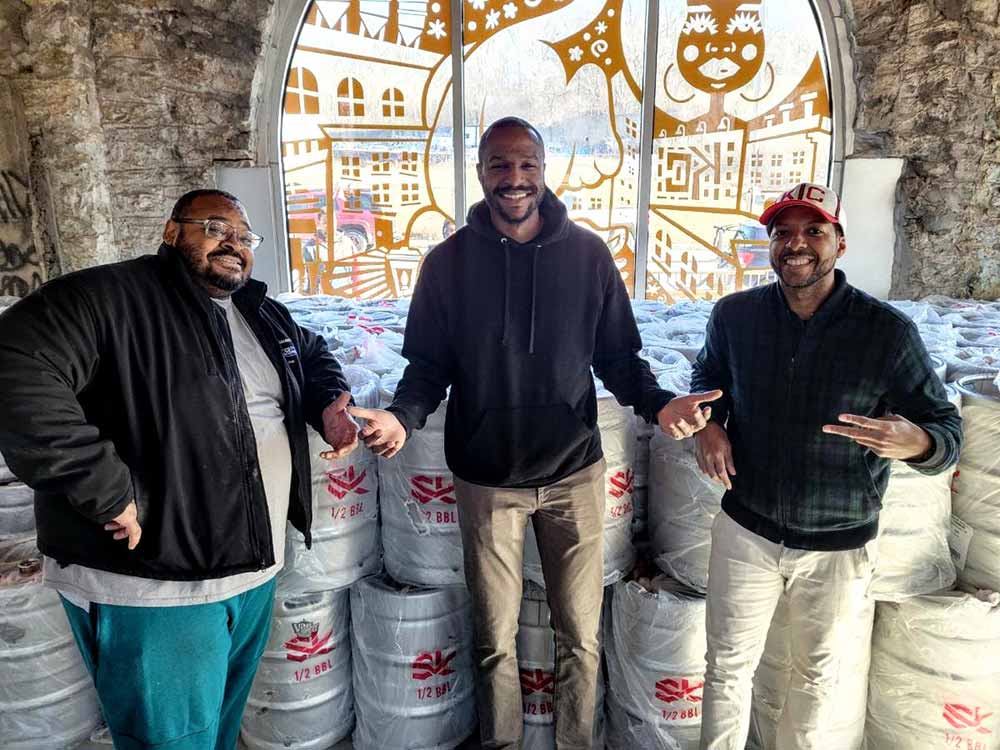 According to Ivory, with Jazzman at its core, Vine Street will also keep a rotating seven or eight taps with different brands. To start, you can expect beers like Maris Pale Ale, Snakes in the Wheat, Life of the Party fruited sour, Heart String West Coast IPA, and Paper Bag Thin Mexican-inspired lager.
Looking to serve a variety of styles, you'll find pale ales, IPAs, stouts, and hopefully, in the future, some historical styles, such as California common, Belgian ales, and German lagers. "We'll take inspiration from all facets of the beer world," says Ivory.
Officially opened at the end of June, Vine Street will look first to its Kansas City and Missouri community before expanding outward.
"We want this brand to be something the city is proud of and something that our neighborhood specifically can call home and hang their hat on as well," says Coleman. "We think our story is scalable, especially being in the neighborhood, the history of the Jazz district, and being a Black-owned brewery; I'm passionate about how we get our story out there."
Coleman hopes he can take the Vine Street brand as far as it will go. "This is already bigger than I thought it would be," he says. "We're all on the train and just going with it."