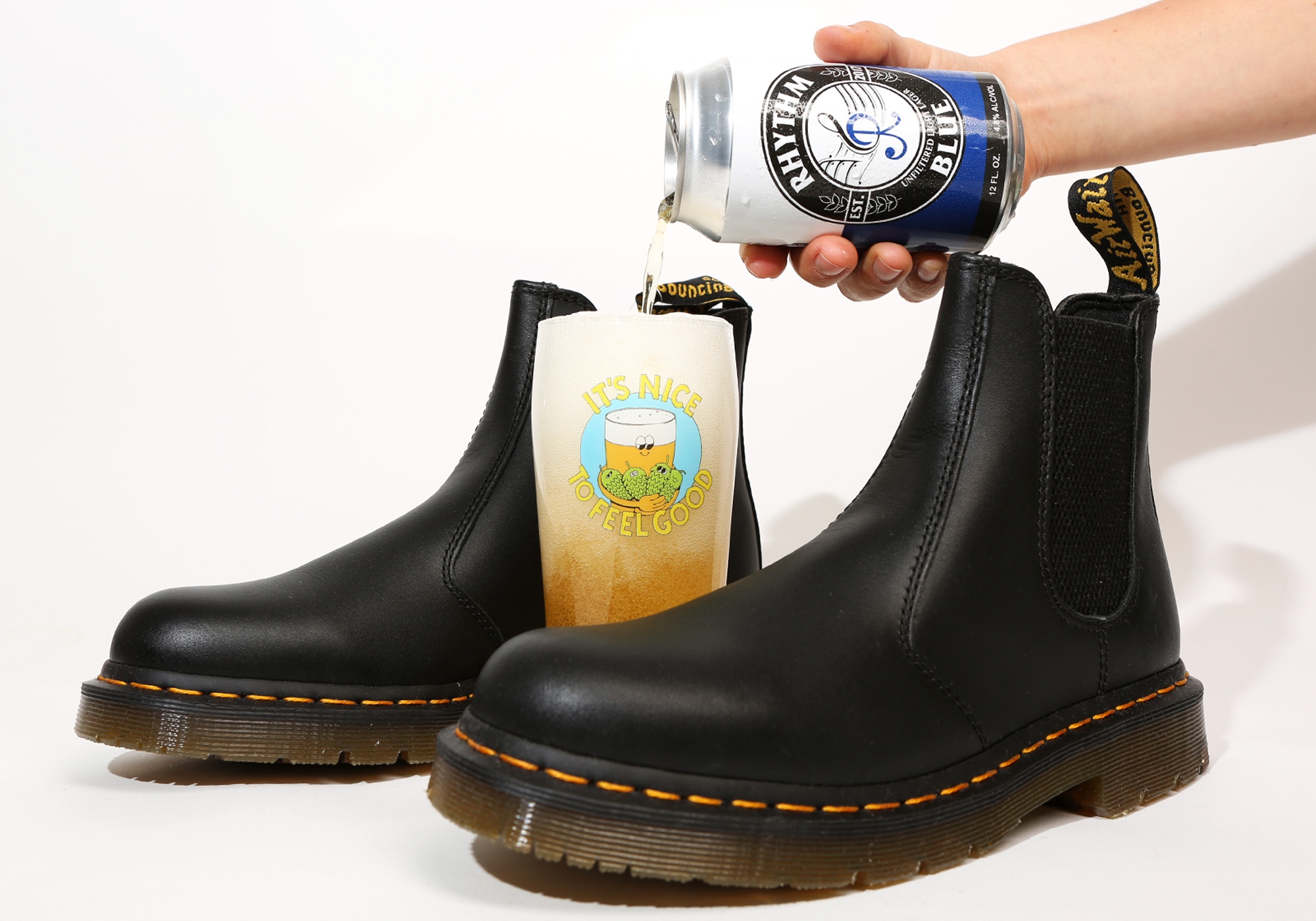 Editor's Note:
In Her Shoes is a series put together in collaboration with SR Max Slip Resistant Shoes and Dr. Martens to highlight the important, often unheard, stories of women in the brewing industry. "We hope to elevate the choices and voices of women in this industry and inspire other young women to follow their passions, no matter how uncharted the path may be," says Lindsay Cleghorn, Marketing Content and Strategy Specialist at SR Max Slip Resistant Shoes. Started in 2007 SR Max provides slip-resistant shoes to a growing number of restaurants, hospitality, healthcare, manufacturing companies, and now breweries. Their patented MaxTax®™ outsole technology channels away liquids like oil, grease and water, making them perfect for work on the brewery floor. As a part of this partnership, SR Max Slip Resistant Shoes and Dr. Martens are dedicated to sending boots to female brewers to try out across the industry. For our first piece the team sent Alisa Bowens-Mercado, the founder of Rhythm Brewing Co., a pair of Dr. Martens Original 8-Eye Boots to see what it's like to spend a day in the shoes of Connecticut's first women black-owned brewery. This is her journey.
Alisa Bowens-Mercado, founder of Rhythm Brewing Co., has always moved to the rhythm of her own feet.
A professional salsa dancer, Bowens-Mercado has owned her own dance studio, Alisa's House of Salsa, for over twenty years. In addition, she tours around with salsa bands as a backup dancer and teaches classes. Her goal is to create a space where people of all backgrounds, ethnicities, genders, and sexualities can come together to do one thing: dance.
But, what did Bowens-Mercado do on the weekends to unwind? She traveled to beer festivals.
A few years back while relaxing at the Cape Cod Brew Festival Bowens-Mercado took a look around. She noticed something. The scene looked very different from that of her dance studio.
First, she saw very few women. Second, she found hardly any people of color. And third, she had trouble finding beer that tasted like a classic lager.
Growing up in the 1970s, Bowens-Mercado noticed that both of her grandmothers were avid Miller High Life drinkers. It's something that's always stuck in her mind. And, came back to her that day on Cape Cod.
"After an hour trying everything I couldn't find anything that hit my palate," says Bowens-Mercado. "Where was that classic beer that my grandmothers used to drink? Where was that lager? At one point I looked over at my husband and asked if he thought they had any Budweiser around. He told me I couldn't say Budweiser at a craft beer festival." That's when the wheels started spinning.
On the way home, quiet and lost in thought, "that was when I knew I was going to make my own beer," reminisces Bowens-Mercado.
The Story of Rhythm Brewing Co.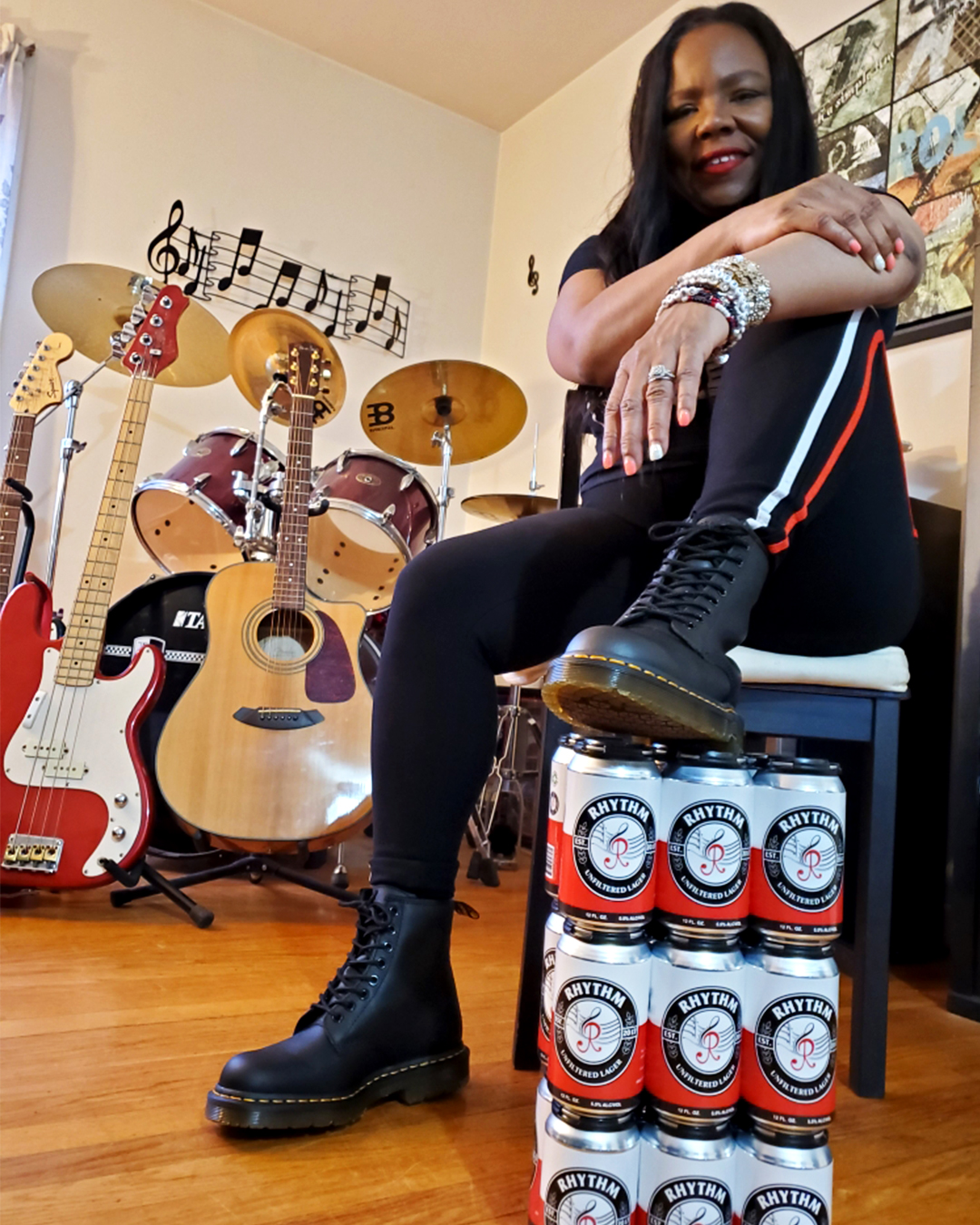 In March of 2018, Rhythm Brewing Co. launched in New Haven, CT as the first black-owned brewery in the entire state. Since the very beginning, the brewery has been humming along to the beat of its own drum.
Opening a brewery for Bowens-Mercado wasn't just about the beer. Yes, she knew she wanted to brew a full-flavored, craft lager, but more importantly, she wanted to get more women involved in the industry and she wanted to open up doors for more brewers and consumers of color to feel included in the craft beer space.
It's a mission that resonated deeply with SR Max and Dr. Martens who have made it a priority in 2021 to focus on highlighting the stories of women in a traditionally male-dominated brewing industry. "We felt that it is our duty to elevate [women's] voices and show other young women that they too can follow their passions and shatter glass ceilings," says Cleghorn.
As it stands the craft beer industry continues to be dominated by a predominantly white, male demographic. But, with brewers like Bowens-Mercado and companies like SR Max and Dr. Martens breaking boundaries, the tides are certainly shifting. Recently, Rabobank reported that in 2019 for the first year in American history more women than men were consumers of alcohol — 50.1% of drinkers younger than 25 were women. Additionally, the company reported that since 2004 the number of women of color regularly drinking alcoholic beverages has increased by 84 percent, representing 31 percent of alcohol consumers in 2019. Now, this encompasses all alcoholic beverages not necessarily just craft beer, but we're feeling the first tremors from potential seismic shifts.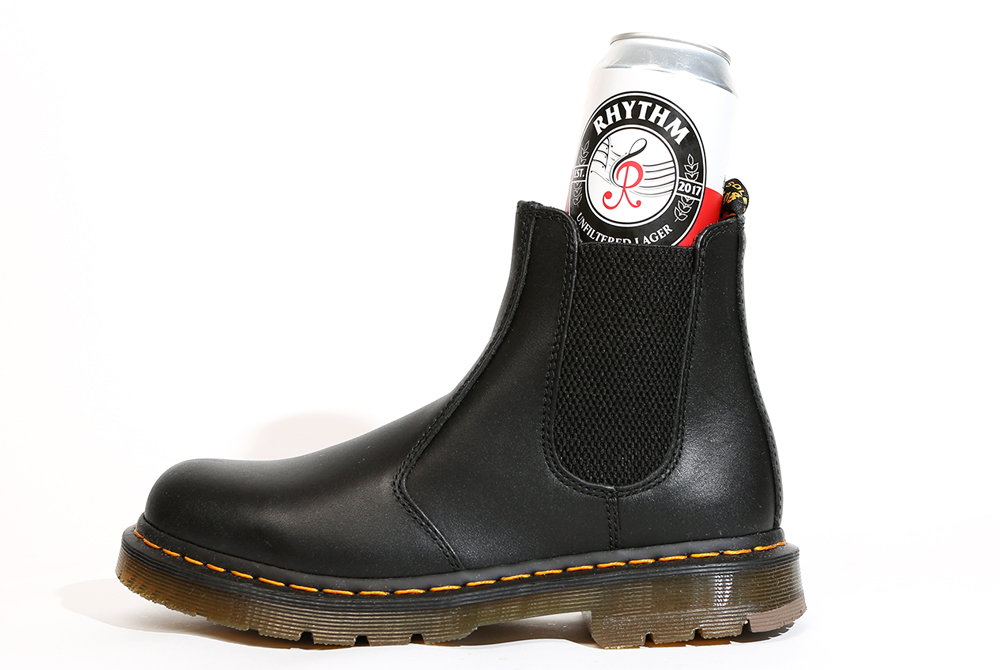 Still, according to the results of the Brewers Association's Brewery Operations Benchmarking Survey in 2019, only 22 percent of breweries in the country are owned by women and a meager one percent are owned by people of color.
As the first BIPOC brewery owner in her state, Bowens-Mercado holds a lot on her shoulders. But despite the weight, Bowens-Mercado hasn't ever stopped continuously twirling and moving. Because, in order for a movement to work you need to move. And, of course, it doesn't hurt to be wearing the right shoes while you're doing it.
Lady Lager: Dancing to Her Own Beat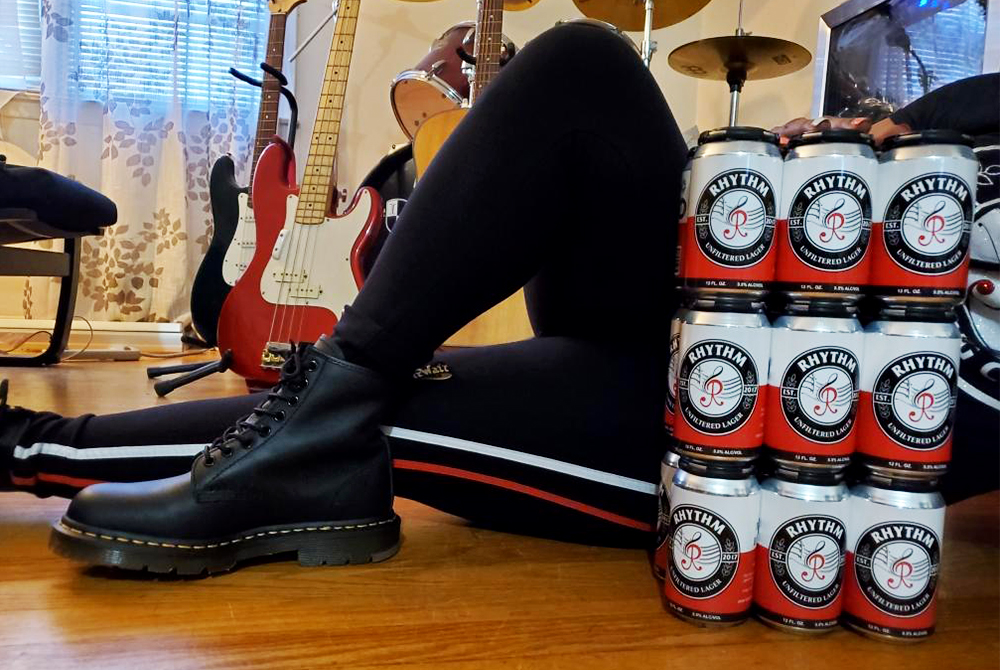 After the crazy idea to start a lager-centric brewery popped into her head at the Cape Cod Brew festival, Bowens-Mercado took the concept and danced with it. Bowens-Mercado doesn't share the typical craft brewery story. She didn't receive a homebrewing kit for Christmas that turned into a full-blown hobby in the garage or quit her day job in finance to pursue her true passion. She started fresh, researching the industry, brewing pilot batches, and developing recipes for a craft lager. Since the beginning her every step has been intentional.
Take for example the brewery's flagship beer, Rhythm Unfiltered Lager. Bowens-Mercado decided to add South African hops to the recipe in a nod to her African heritage. Although she currently doesn't know exactly where her family comes from, she's in the process of finding her roots on Ancestry.com. "If it comes back and my family is from that region I will pass out," laughs Bowens-Mercado. "We haven't pinpointed it, but we know our ancestors are from the Motherland." Coming in at 5.5% ABV, Rhythm is also unfiltered, meaning all the flavor of lager stays inside the can. "Our motto is we keep the goodness in," says Bowens-Mercado. "We don't strip out the flavor."
The brewery's second brand, an unfiltered light lager, Rhythm Blue, clocks in at 4.8% ABV for a beer that's light, crisp, and refreshing. "We said let's make a good ole fashion lager that's light in calories, but not light in flavor," says Bowens-Mercado.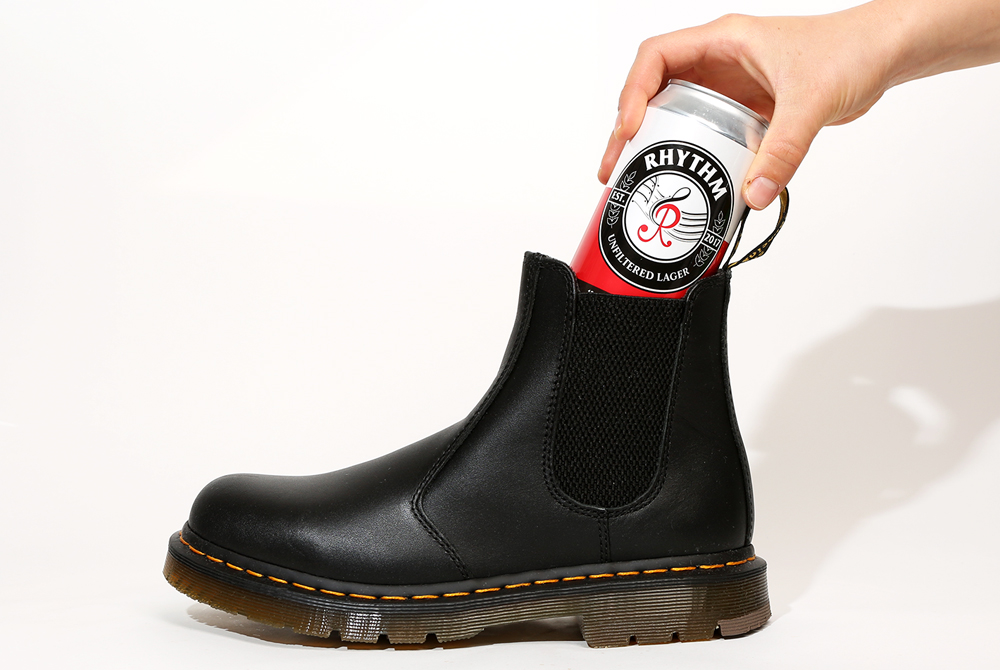 Making just simple, well-crafted lager has always been the focus of Rhythm and consequently earned Bowens-Mercado a unique nickname. As Bowens-Mercado began promoting her beer at festivals across the state it became quickly apparent that out of a sea of breweries offering New England and Hazy IPAs Bowens-Mercado had lager — and, only lager for people to try. "I would be running through these beer festivals and other brewers just started saying Lady Lager is here. The name stuck," says Bowens-Mercado.
While brewing high-quality craft lagers has been the goal since day one Lady Lager's purpose with Rhythm reaches way beyond what's simply in the can.
The Mission: Red, Black, and Blue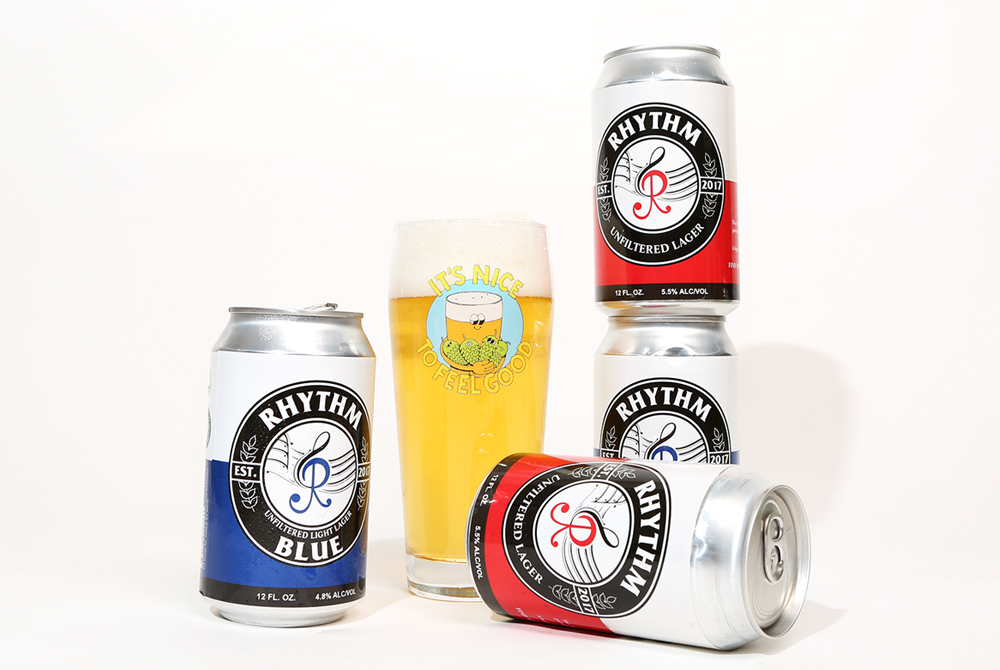 "My mission is bigger than just a can of beer," says Bowens-Mercado. "How can I use my platform and my voice to open doors? How can I bring more seats to the table? [Ultimately], I want more tables and I want more seats."
It's a constant mission that Bowens-Mercado reminds herself of daily from the moment she gets out of bed before hitting the brewery in her new Dr. Martens Original 8-Eye Boots.
"When my feet first hit the ground I pray for a productive, successful day," says Bowens-Mercado. On a brew day that can mean waking up pretty early to hit Black Hog Brewing, where Bowens-Mercado contract brews, by 7:00 AM to mash in. "When I get on that brew schedule everything is scheduled around brewing beer," says Bowens-Mercado, who notes that at the moment she's brewing 30bbl batches of each Rhythm Blue and Rhythm Red once a month. But, with the spring and summer months on the horizon that will double shortly.
"Brew days are hectic to say the least. In the morning we're prepping ingredients, milling, and coming together as a team," she explains. "People usually walk in with their coffee, doughnuts, croissants or whatever they need to get rocking and rolling."
Of course, this is Rhythm Brewing we're talking about so no brew day would be complete without the perfect set of tunes. "The music has to be right. We have to get into the rhythm of things," says Bowens-Mercado, who herself is still getting into the rhythm of being a professional brewer. Every time she learns a little bit more from the team at Black Hog, becoming more experienced in the process. Still, a typical brew day lasts six or seven hours even when things are moving smoothly.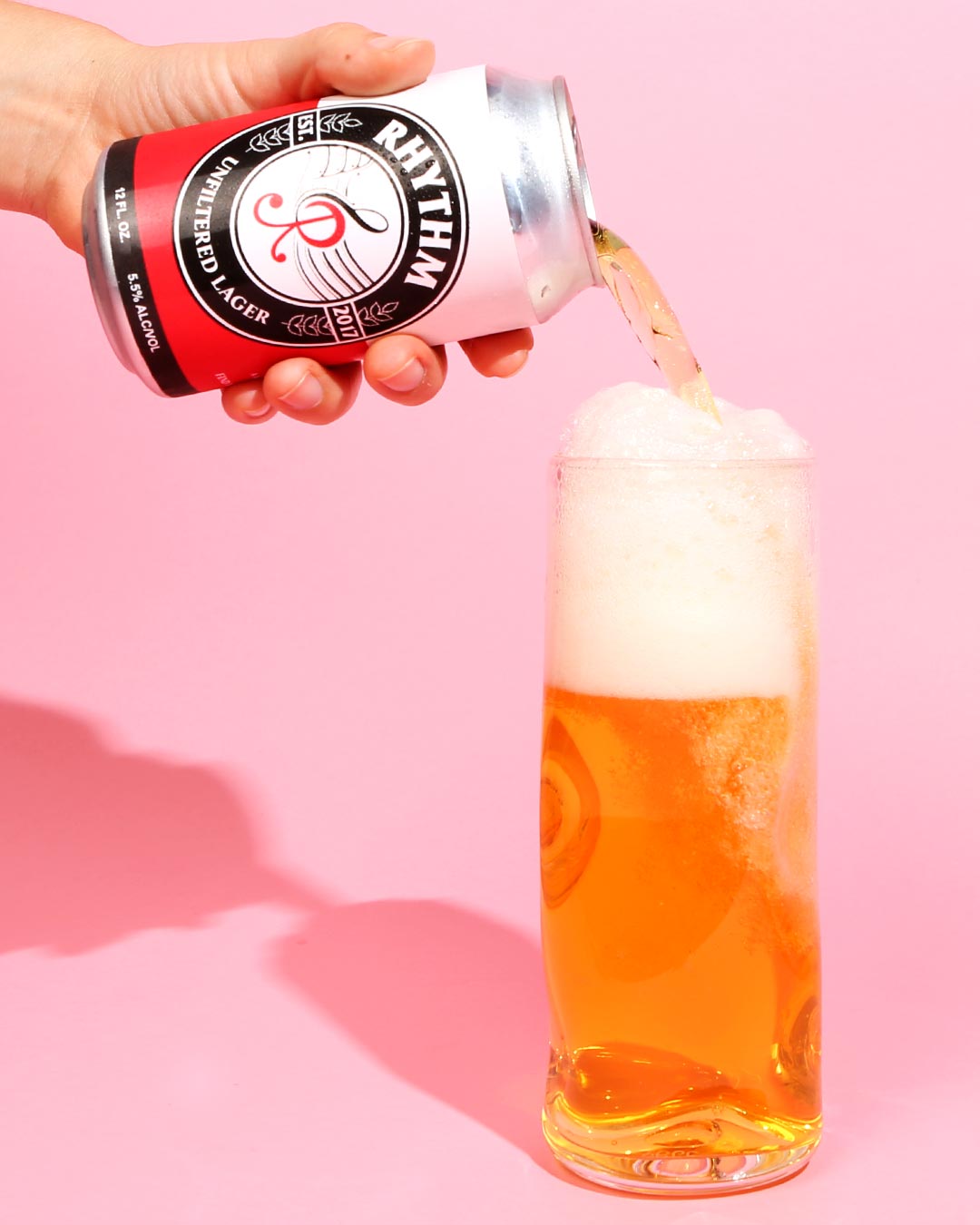 It's days like these when the Dr. Martens Original 8-Eye Boot really shines. Featuring safety properties such as Dr. Martens' GRIP TRAX™ slip-resistant technology, the boot is not only fashionable, but also meets the safety standards of these types of production environments.
"These boots combine personal style with the necessary safety features needed to stay safe and feel confident on the job," says Cleghorn. "This is especially true for those working in breweries as the slip-resistant outsole can help prevent slip and fall accidents on wet surfaces, and the steel toe safety feature helps to protect the wearer from falling or rolling objects."
It's amazing to have a line of boots supporting women in the beer industry. "This is my first pair of Dr. Martens and they're gorgeous," says Bowens-Mercado, who notes that, for her, fashion is just as important as functionality. "It's the salsa [dancer] in me, I'm always lights, camera, action."
In fact, even at the end of a long brew day, "I literally take off my brew boots and go throw on my high heels to teach a salsa class [at my studio]," says Bowens-Mercado.
Spending time in the studio reminds Bowens-Mercado why she's working so hard. "When I'm salsa dancing I look out on the dance floor and the diversity is insane…I see people connected through listening and dancing to one song. That's what I want to bring to the beer industry," says Bowens-Mercado. "You're sipping beer, but it's all under one rhythm."
It's that pitch and concept to constantly keep moving that Bowens-Mercado hopes people will continue to pick up on and join.
"When you are the first of something you are obligated to set a standard for the industry because people will come behind you and you want to lay that groundwork. You have to consciously make sure what you're doing is going to further the conversation," says Bowens-Mercado. "I'm giving a voice and a power to people that never had a voice before in the industry," says Bowens-Mercado.
And, people are starting to listen.
Bowens-Mercado shares that she receives countless emails from people all across the country – West Coast to East Coast – saying they read about the brewery and asking how they can try beer or support Rhythm.
Additionally, Whole Foods and Costco recently picked up Rhythm while Trader Joe's has been a fan of the brand for a long time.
The demand couldn't be higher. And, Bowens-Mercado's platform couldn't be bigger.
2021: The Time Is Now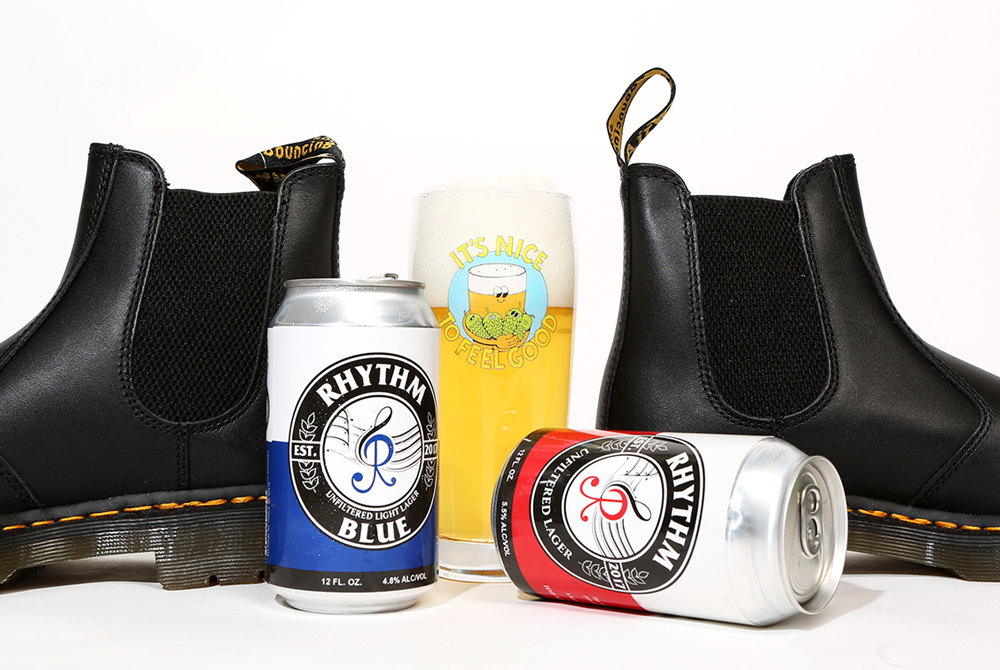 Last year, our country and subsequently our industry changed overnight as protests and social demonstrations erupted around the country in response to racial injustice and police brutality.
Now is the time. It's a phrase Bowen-Mercado has continually put out into the universe this year, "Eyes, ears, and palates are literally open to diversifying the industry," she notes. It's our job now to make sure that things keep moving because, "in order to have a movement, things have to move," says Bowens-Mercado, who as a professional dancer is no stranger to dips, shuffles, twists, and turns. "Things shifted last year….sometimes they were ugly shifts, but we had to take those ugly shifts and strategize how we can make these movements into healthy conversations in industries that we are underrepresented."
Now is the time to join Bowens-Mercado as she fights for more equality, diversity, and justice in the craft beer industry.
So, what does that mean?
Well, diversity and inclusion aren't just words, they're actual actions.
We need more diversified brands on the shelves. And, we need consumers to buy from those brands.
If consumers support diverse women, BIPOC, native, Latinx, LGBTQ+, and more -owned brands that allows those businesses to then employ someone from the LGBTQ+ community, employ a person who is BIPOC, or employ a person who might be handicapped.
For the consumers part, if you're looking for specific breweries you can support, check out our own guide to the Top 40 Women-Led Breweries or listen to The Most Important Important Voices in Craft Beer in 2020.
"When you're going to the family barbecue I hope you're carrying a 12 or 30-pack of Rhythm," laughs Bowens-Mercado before turning serious. "But, if it's not Rhythm then I hope it's someone in the industry that has shared their story, made a movement, shattered glass ceilings, and knocked down some darn doors."
Whether you lace up your Dr. Martens boots to go safely brew, slip on your shoes to go to the store to buy beer from a woman, BIPOC, queer, or minority-owned brewer, or even strap on your dancing shoes to take a salsa class, just make sure that whatever you're doing you're ready to keep the movement moving.
This is a paid, sponsored post presented by SR Max Slip Resistant Shoes.
Liked this article? Sign up for our newsletter to get the best craft beer writing on the web delivered straight to your inbox.