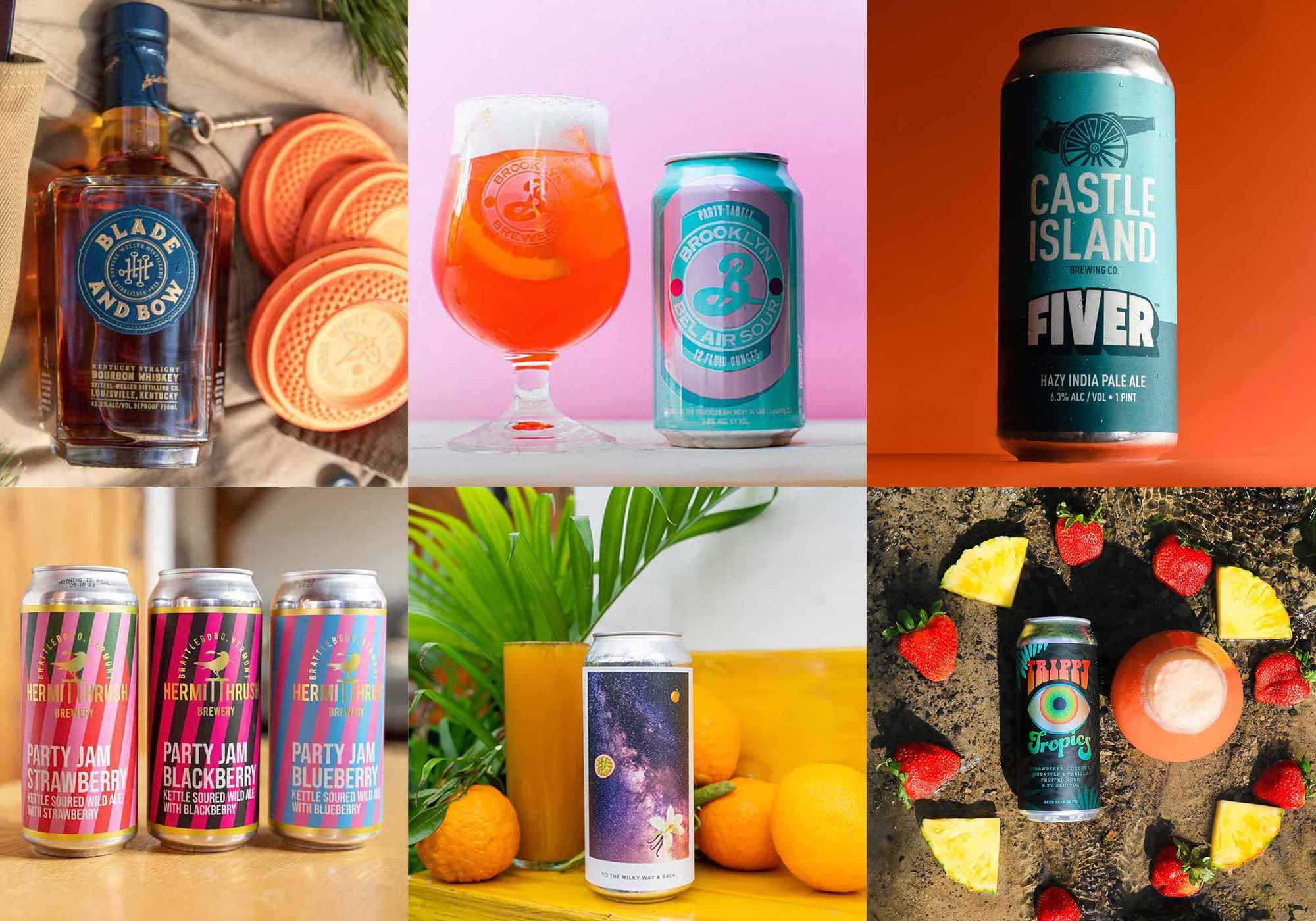 With summer in full swing, we've been crushing on fruited sours, light lagers, and even the occasional farmhouse ale or two. It's just an incredible time for fun in the sun, playing in the park, and boozing on the beach. And these are the best beers we want to take along with us.
Accordingly, at the beginning of the month, we celebrated our second annual Queer Beer fest featuring twenty-five of the top Queer-led and Queer-supporting breweries in the country, such as Beer Tree Brew, Ten Eyck Brewing Co, Denizens, and many more.
Plus, we stepped out of our comfort zone (and into our comfy plush chair and smoking jacket) by toasting National Bourbon Day with these six unique bourbons.
While most recently, we honored Juneteenth by speaking with several Black brewery owners and advocates on how to respectfully recognize the holiday.
Plus, since summer reminds us of the bounty of fruits at our fingertips, we tracked down "The 10 Best Sours Available in Most Stores Right Now."
And because we're also on the hunt for continuing trends, we pulled up a stool and dipped two straws into "What Exactly Is a Milkshake IPA?"
Overall, June left us a little sunburned and tired, but certainly not thirsty. July is already shaping up to be one of the hottest months in history, so now more than ever we could use these beers to cool us down.
10 Best Beers We Drank in June 2022
Trippy Tropics – Beer Tree Brew
Port Crane, NY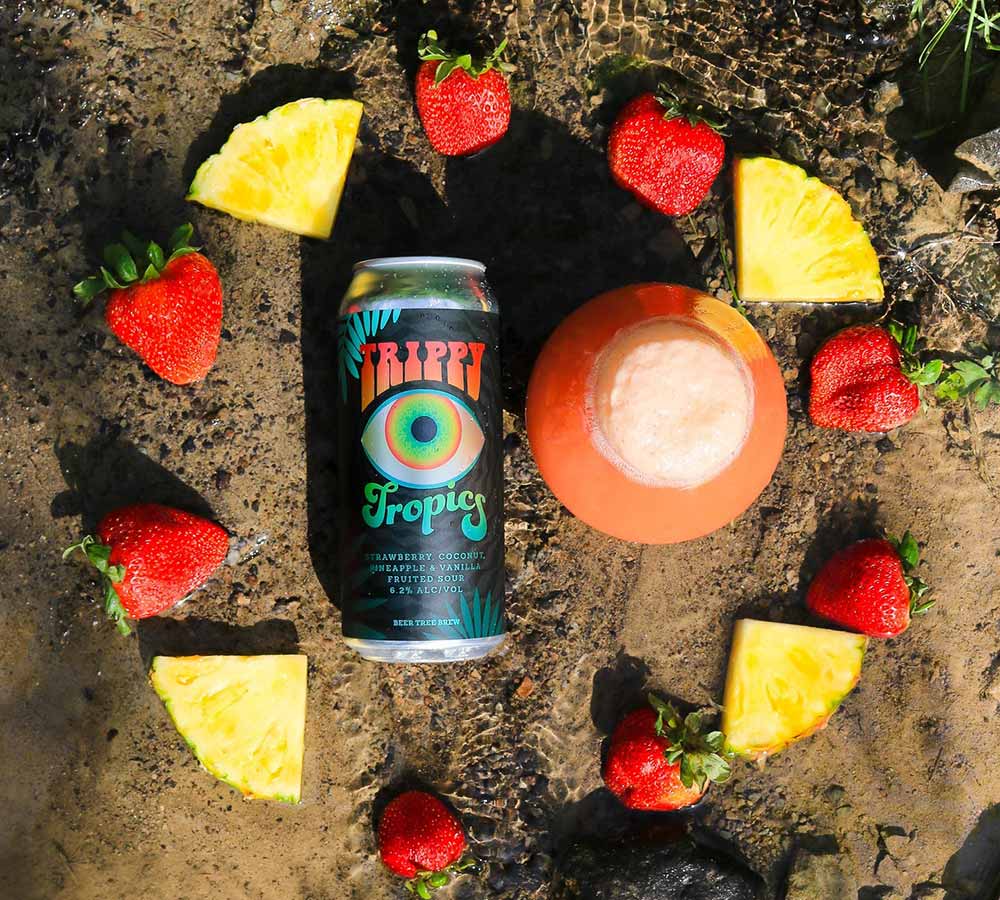 Fruited Sour – We met Beer Tree's Marketing Manager, Abigail Roe, who identifies as Queer, at Hop Culture's fifth annual women in craft beer festival Beers With(out) Beards. We were impressed when Abigail told us how Beer Tree has been supporting the Queer community in their tiny town of Port Crane, NY. Consequently, we named Beer Tree one of our "47 Queer-Led and Queer-Supporting Breweries to Champion Right Now." Plus, we were beyond excited that Beer Tree joined us for our second annual Queer Beer in Washington, D.C., this past June.
Beyond a shadow of a doubt, a consensus favorite of our fest goers (plus yours truly) was Trippy Tropics.
A fruited sour packed with strawberry, coconut, pineapple, and vanilla, Trippy Tropics just took me to a happy, magical place. One where I could hear the waves lapping against the sand and feel the sun shining down on my face.
To sum it up: Trippy Tropics was pure bliss.
Kentucky Straight Bourbon Whiskey – Blade and Bow
Louisville, KY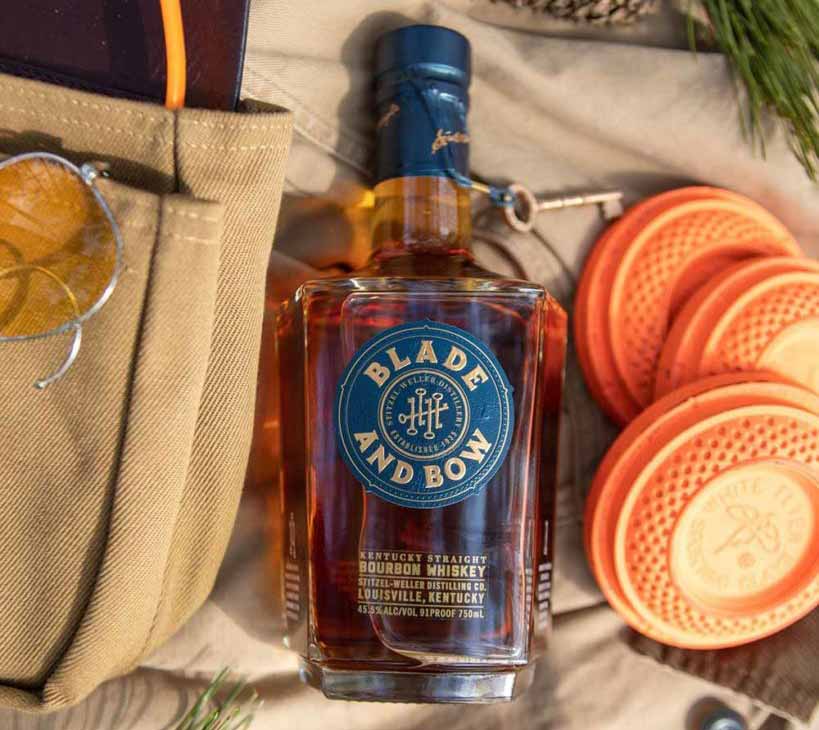 Bourbon – On June 14th we celebrated National Bourbon Day. To honor this taste of American history, we hand-selected the most unique bourbons that should be on your radar next time you're thirsty for a stiff drink.
The Blade and Bow Kentucky Straight Bourbon pays tribute to tradition and is infused with the essence of American hospitality.
A blend of sweet corn, robust rye, and spicy grains bring this bourbon's distinct flavor to life with notes of apricot, vanilla, and baking spices.
The distinctive bourbon draws inspiration from its namesake symbol that can be found throughout the Stitzel-Weller distillery—representing the three steps of crafting bourbon: grain fermentation, distillation, and aging.
Sure, we love craft beer. But every now and again we need to put down the cans and pick up the decanter.
Banana Painkiller J.R.E.A.M. – Burley Oak Brewing Company
Berlin, MD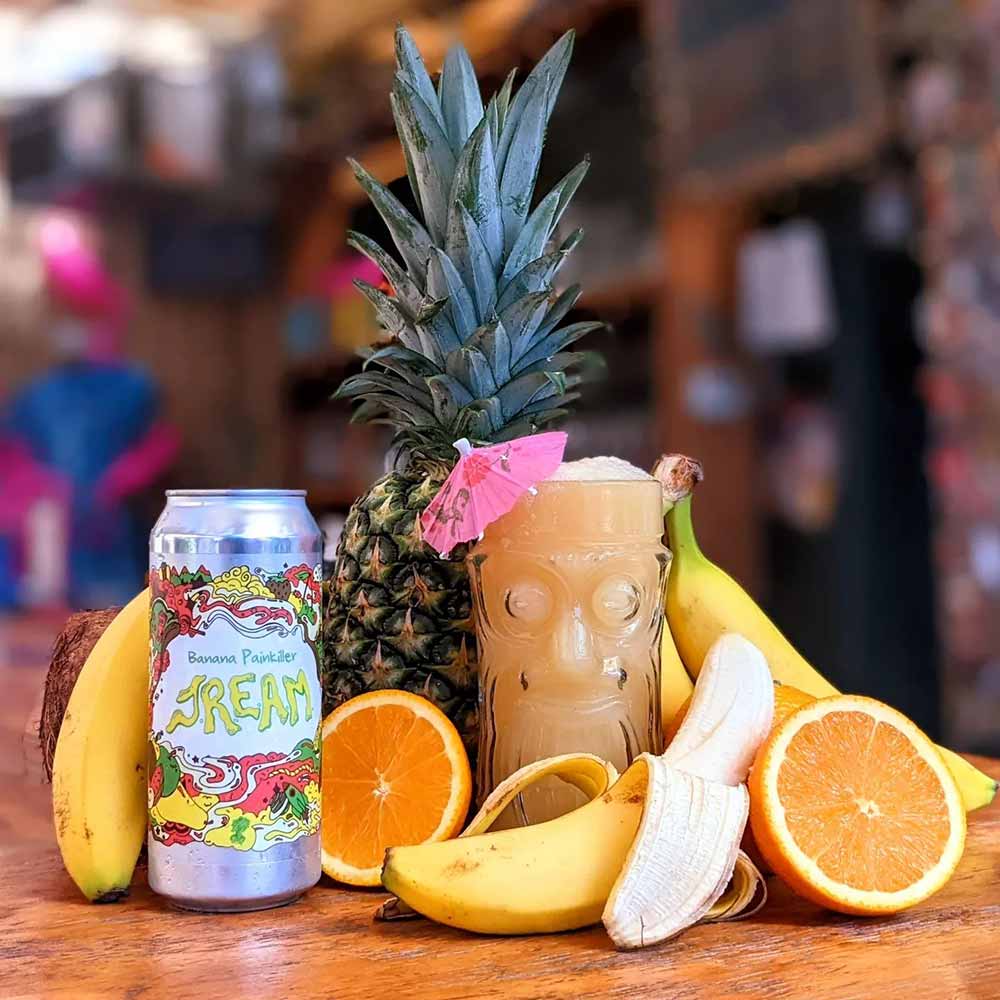 Fruited Sour – Recently, we've enjoyed putting together a series on some of the best style-specific beers you can find in a store near year.
So far in the winter, we covered "The 10 Best Stouts Available in Most Stores Right Now."
In spring, we wrote about "The 15 Best American IPAs Available in Most Stores Right Now."
And for any time of the year, we introduced "The 11 Best Hazy IPAs Available in Most Stores Right Now."
But for the summertime, we feel there is no better beer style to explore than a fruity, thirst-quenching, juicy sour.
And it would be hard for us to write a piece on sour beers without mentioning one of the most coveted sour series in the country to date. Burley Oak's J.R.E.A.M. beers have earned a place on a pedestal. These sours are up there with Other Half's IPAs and Jester King's own mixed-fermentation bottles. In other words, J.R.E.A.M. is synonymous with phenomenal fruit-infused sour beers.
And not just fruit, but all kinds of crazy creations, from a Miami Vice J.R.E.A.M. with a blend of the brewery's Strawberry Daiquiri and Double Pina Colada J.R.E.A.M to the most recent Banana Painkiller J.R.E.A.M.
Based on the delicious cocktail, this newest iteration takes you on a tropical vacation. One we could all use right now.
Burley Oak squeezed bananas, coconuts, pineapples, oranges, and nutmeg into one can for some serious beach island vibes.
Just another example that there are no limits in this sour galaxy for what Burley Oak Founder Bryan Brushmiller and his team can dream up and put in a can.
TO THE MILKY WAY & BACK IV – PEACH, CLEMENTINE, RASPBERRY, LIME, VANILLA – Evil Twin Brewing
Ridgewood, NY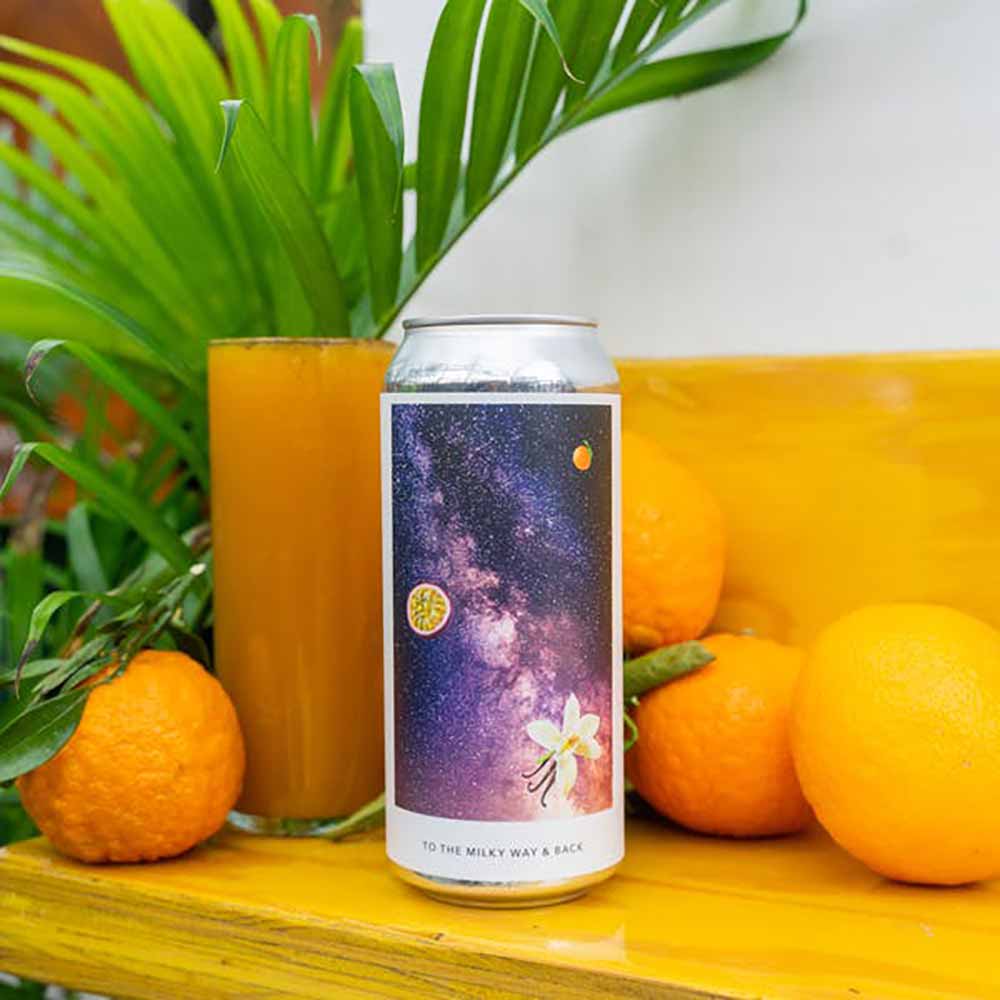 Milkshake IPA – While Cold IPAs, hard seltzers, and dessert-inspired sours have taken the industry by storm, undoubtedly one of the most trendy and talked-about beer styles of the past decade is the hazy IPA. And while that style comes in many forms, the milkshake IPA is perhaps the most intriguing.
What exactly is a milkshake IPA? Well, let us be the first to tell you.
The use of lactose (unfermentable milk sugar) and fruit defines the milkshake IPA. As a result of these ingredients, beers take on a smooth, delightful mouthfeel, similar to the sensation you'd expect in a milk stout.
Additionally, many brewers build that silky, creamy texture by adding fruit. The addition of fruit can also inject tartness, tropical flavor, or candied sweetness into a beer.
For example, at Evil Twin in New York.
Evil Twin has always been known for innovation, often pairing whimsical ingredients into hitherto-unforeseen flavor combinations. The New York-based brewery's milkshake IPA series, TO THE MILKY WAY & BACK, doesn't disappoint with huge blasts of various fruits that blast your tastebuds off to space.
This version includes peach, clementine, raspberry, lime, and vanilla for a jammy, juicy, jazzy milkshake IPA sure to quench your thirst during all the warmer months.
Rhythm Unfiltered Lager – Rhythm Brewing Co.
Connecticut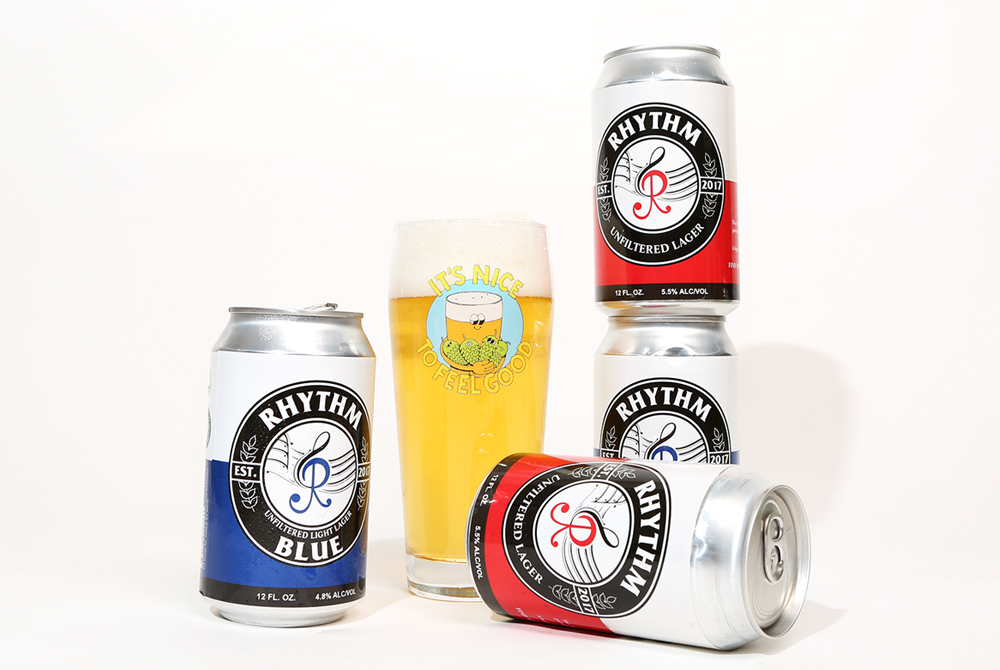 American Lager – On Saturday, June 19th, 2022, we celebrated Juneteenth, a federal holiday recognizing the day a group of enslaved people in Galveston, TX, learned they had been freed from slavery…two and a half years after President Abraham Lincoln had signed the Emancipation Proclamation.
In the beer industry with Juneteenth, brewery owners and consumers have a chance to make connections with the Black community, foster new partnerships, and offer their space to Black-owned businesses to create warm and meaningful connections to better our industry.
But like with any cultural observance—such as Pride—Juneteenth should be observed with intention, integrity, and respect.
To that end, Hop Culture sat down with Black brewery owners such as Alisa Bownes-Mercado, founder and owner of the only female Black-owned brewery in Connecticut—Rhythm Brewing—to share a few steps on how to observe Juneteenth in the beer industry.
Bowens-Mercado, aka "Lady Lager," has become known for brewing to the beat of her own drum.
A professional salsa dancer, Bowens-Mercado has owned her own dance studio, Alisa's House of Salsa, for over twenty years. But on the weekends she used to frequent beer festivals. Except she noticed a few things: First, she saw very few women. Second, she found hardly any People of cClor. And third, she had trouble finding beer that tasted like a classic lager.
So quite simply: She brewed her own.
Rhythm Unfiltered Lager includes South African hops, a nod to her African heritage. Coming in at 5.5% ABV, Rhythm is also unfiltered, meaning all the flavor of lager stays inside the can. "Our motto is we keep the goodness in," says Bowens-Mercado.
This is honest brewing at its best.
Betsy – Ten Eyck Brewing Company
Queenstown, MD
Grisette – Owned by a team of Queer women veterans and first responders, Ten Eyck Brewing Company makes it a mission to bring delicious craft beer to their Eastern Shore community. Ten Eyck features a standout crew of seven women making their mark in craft beer. We met many of them, including Yancy and her partner Jessica and Nicki, at our fifth annual women in craft beer festival Beers With(out) Beards and our second annual Queer Beer Fest.
So we can tell you unequivocally that this is a really incredible group of people dedicated to promoting inclusivity and equality in craft beer. Which is why we named Ten Eyck one of our "47 Best Queer-Led or Queer-Supporting Breweries to Champion Right Now."
At Queer Beer, we had the pleasure of trying Betsy, an aromatic grisette Ten Eyck conditioned in Missouri oak with hundreds of pounds of fresh blueberries for six months.
Easily one of the beers that impressed us the most at Queer Beer, Betsy brings out subtle jammy berry notes akin to the bottom of a blueberry pie. But it's so deftly subtle that it doesn't overwhelm the funkiness from a variety of yeast strains such as Brettanomyces. All together the clear, light purple grisette lights up those pleasure centers in our brain that we reserve only for the finest things in life.
Bel Air Sour – Brooklyn Brewery
Brooklyn, NY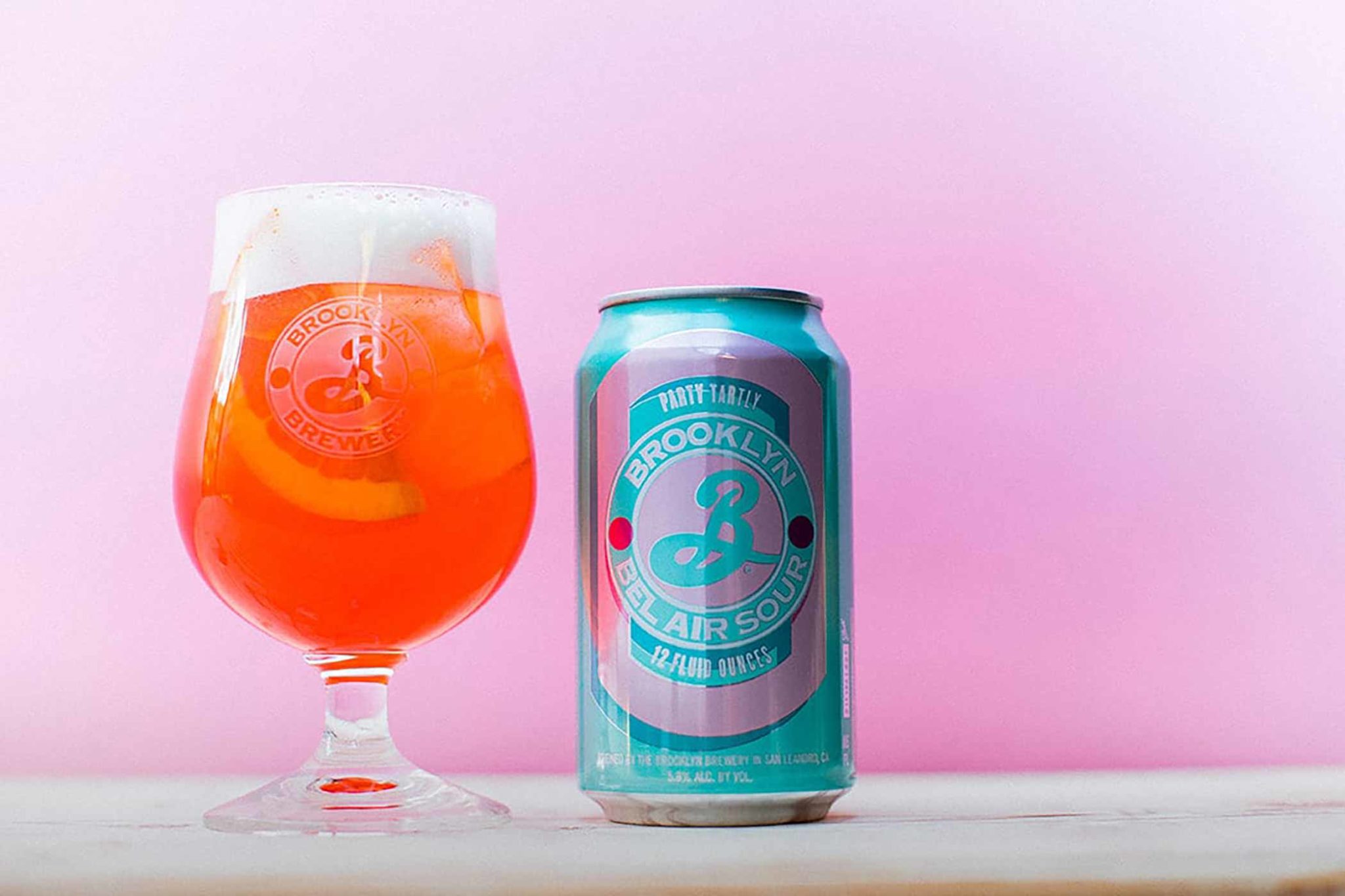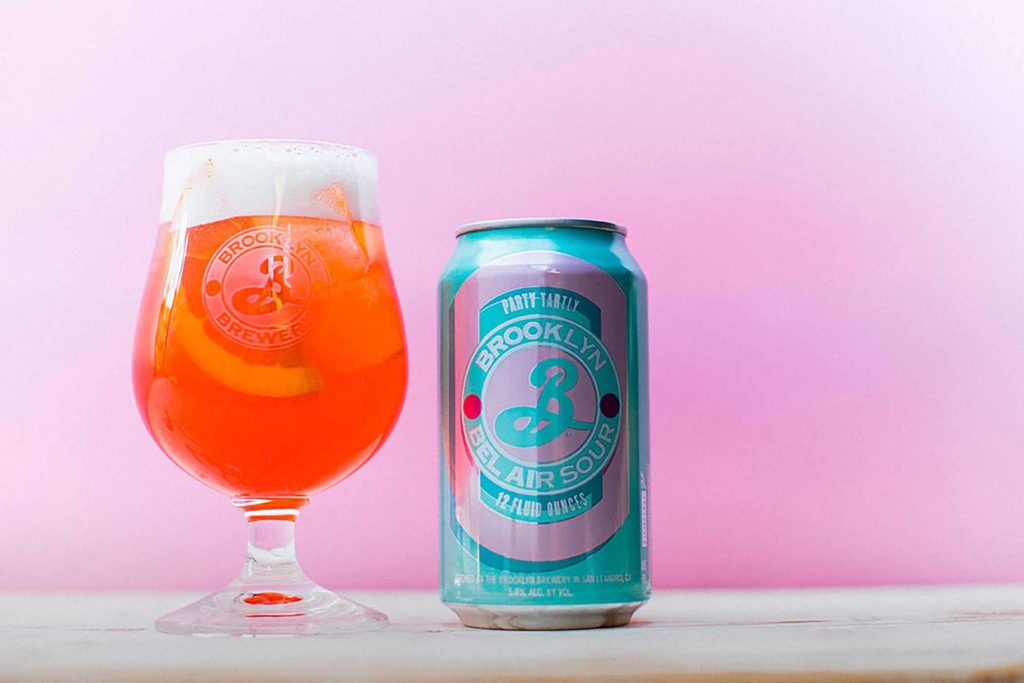 Sour – In 2017, Brooklyn Brewery released Bel Air Sour as a super limited-edition SKU. But surprise, surprise, the tart, effervescent California-inspired sour made huge waves. So much so that Brooklyn Brewery decided to make Bel Air Sour a part of their permanent portfolio. And that's not something the brewery does often. The last time? Almost ten years ago, when Brooklyn Brewery turned Sorachi Ace from a limited-run beer into a regular staple.
But good thing they made Bel Air Sour a regular because this beer embodies everything we want in a summer beer—crisp, citrusy, and thirst-quenching. Plus, at only 5.8% ABV, you can knock back a few around the pool and still make it to the barbecue at night.
Read More
Fiver – Castle Island Brewing Company
Norwood, MA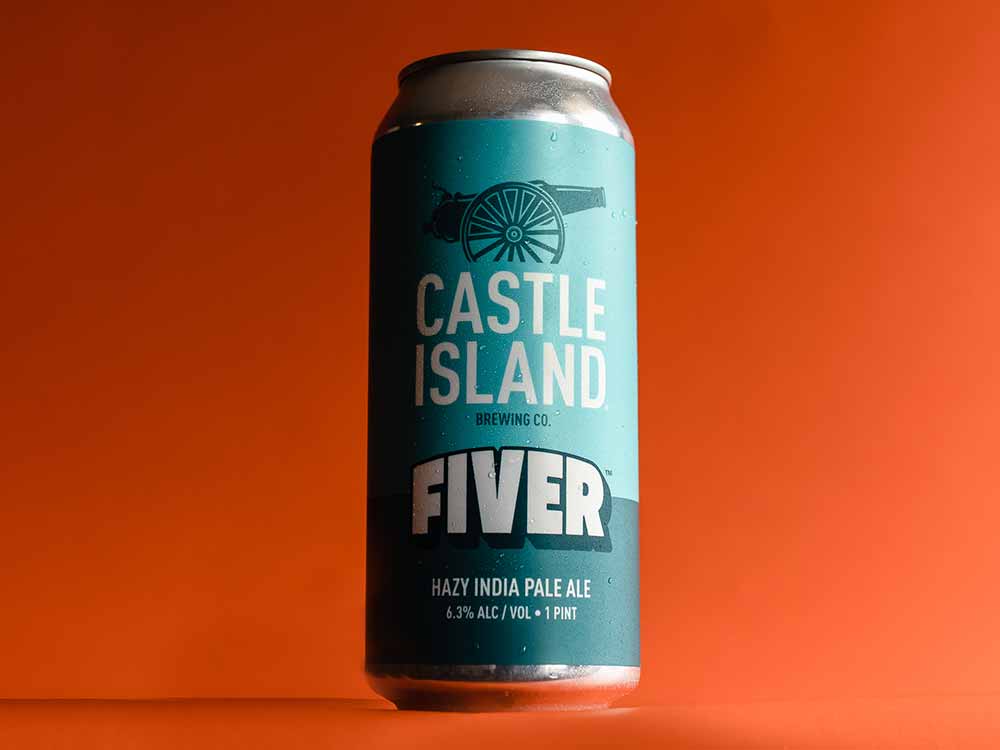 New England IPA – One beer. Five organizations. One year of giving. When the COVID-19 global pandemic forced Castle Island to close its Norwood taproom, the team reflected. They realized they could do more.
"We really wanted to be able to build more long-lasting relationships…and focus on giving back more to the community around us," says Lauren Horgan, director of regulatory affairs and operational effectiveness and Fiver committee chair at Castle Island.
So last year, Castle Island launched its inaugural Fiver Initiative, a charitable giving program supported by global sales of Fiver, a year-round hazy IPA.
For every giving year—the period from December 1st through November 30th—the program donates five percent from all sales of Fiver to five different local organizations.
After raising over $20k for the program in 2021, Castle Island hopes to make this year's Fiver Initiative bigger and better than ever.
And the initiative is all based on the brewery's uber popular hazy IPA—Fiver.
Officially launched on Friday, August 21st, 2020, Fiver is a juicy tropical IPA with Citra, Simcoe, and El Dorado hops.
Unsurprisingly, in the land of New England-style IPAs, this new hazy from Castle Island resonated like a cannon shot. According to Horgan, Fiver consistently lands in the brewery's top three best-selling beers, especially at the brewery's new South Boston taproom.
Making it perfect for the core beer representing the all important Fiver Initiative.
Party Jam Strawberry – Hermit Thrush Brewery
Brattleboro, VT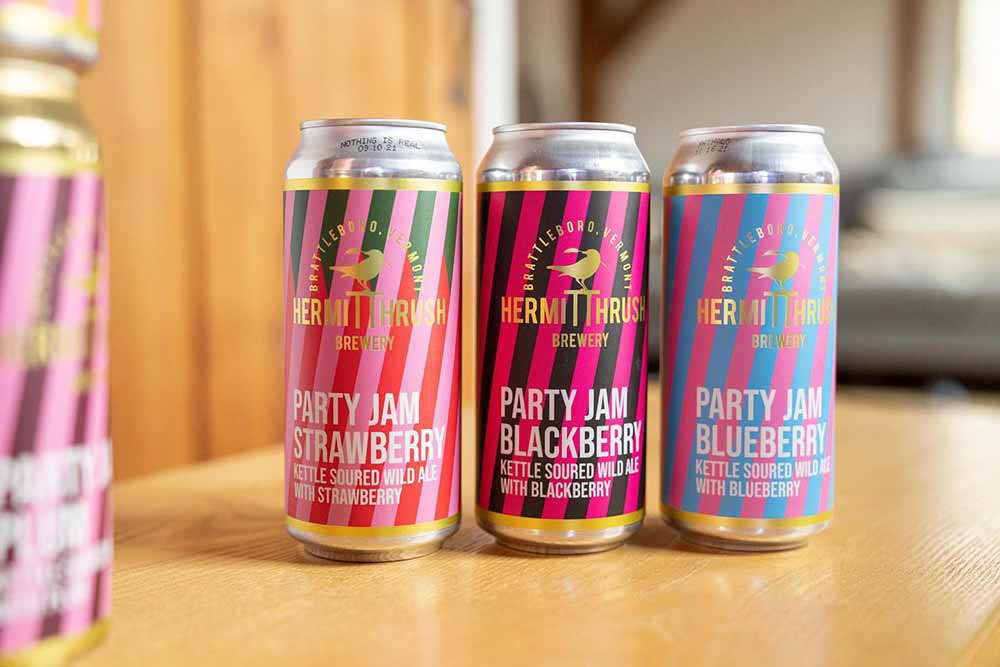 Kettle Soured Wild Ale – "New American Sours | 100% Wild Yeast." Those are the first words you encounter when visiting Hermit Thrush's homepage. How often do you find a brewery proudly proclaiming to brew sour beer? In the literal land of New England IPAs, Hermit Thrush stands out like…well, its eponymous hermit thrush, a North American songbird.
Poetic, considering all of Hermit Thrush's sours literally and figuratively represent a time and a place. Since 2014, the Brattleboro-based brewery has brewed beer with only wild Brattleboro mixed culture yeast.
As the brewery likes to say, theirs is a "brewhouse fueled by wood, not fossils." And it reflects across their portfolio.
Beers like Brattlebeer, a sour golden ale aged in an oak foudre for 18 months with Dutton Farm raspberries and apples. Or one of our favorite dessert-inspired sour series called Party Jam.
Strawberry, the newest release in this line, brings an entire season's worth of these fresh picked berries to your lips. It's tart, refreshing, jammy, and just summer perfection.
These are beers with terroir. Sours with a sense of place and memory that you'd be hard pressed to find anywhere else.
Which is why we named Hermit Thrush one of our "11 Best Breweries in Vermont."
Oskar's Lager – Oskar Blues Brewery
Longmont, CO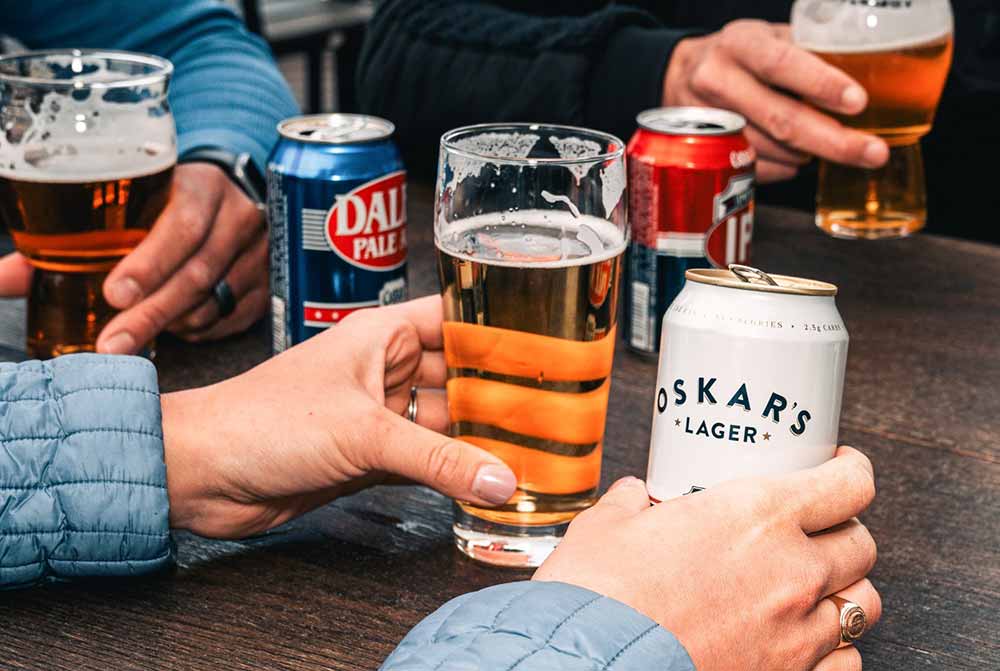 American Pale Lager – Oskar Blues has never been a brewery to go with the grain. Twenty years ago, Oskar Blues Brewery Founder Dale Katechis bucked convention by releasing the original craft beer in a can. And over the course of the last two decades, Oskar Blues has continued to innovate. For instance, brewing its own Scotch ale, Old Chub. Or the boundary-breaking Ten FIDY imperial stout (FIDY stands for "Fuck the Industry, Do it Yourself.")
Now, the brewery has struck gold again in the most unassuming way, brewing its revolutionary take on a craft American pale lager called Oskar's Lager.
A lawnmower beer. An everyday beer. Or a beer after a bike ride or following a long shift. Oskar's Lager has been described as many things. But at its core, the American pale lager boils down to one simple solution…
This is the beer Oskar Blues' brewers always wanted to drink but couldn't regularly find in cans on shelves or on draft in taprooms.
So quite simply, they brewed their own, releasing Oskar's Lager in 2021.
And we're so happy they did.
Oskar's Lager is truly a beer for any situation whether you're hanging out after work or hitting the trail.
Do we hear echos of "Fuck the Industry, Do It Yourself" ringing true here too?