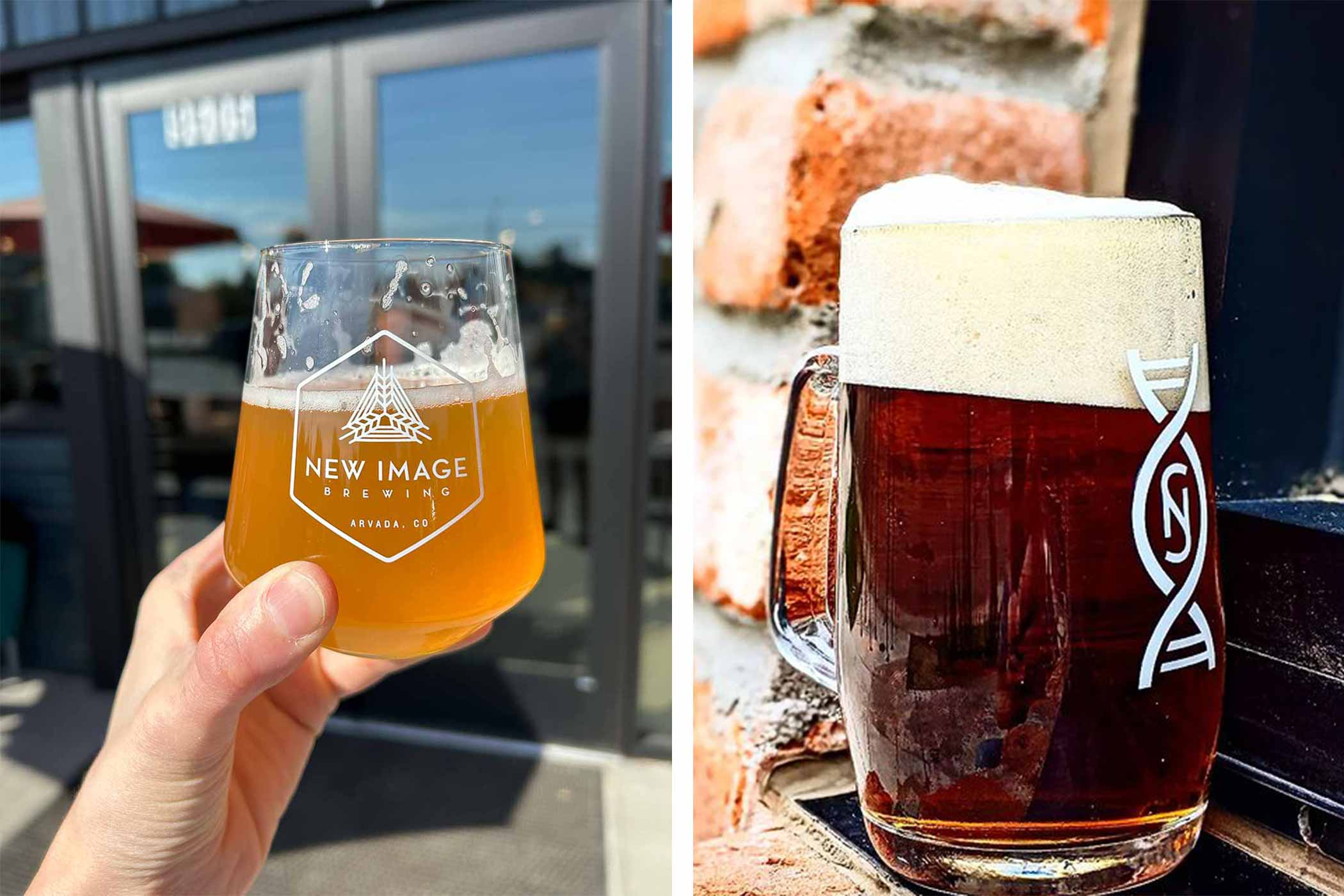 Photography courtesy of Grace Weitz (on the left) and @novelstrandbrewingco (on the right)
If the beers we drank throughout October were Halloween costumes, they might go a little something like this:
Micheal Phelps, aka a perennial gold-medal winner.
A slice of pizza and a can of beer—a couple's costume!
The mighty T-Rex.
A skeleton.
We're having too much fun here.
Let's just get into the best beers we drank this month.
10 Best Beers We Drank in October 2022
More Dodge Less RAM – Comrade Brewing Co.
Denver, CO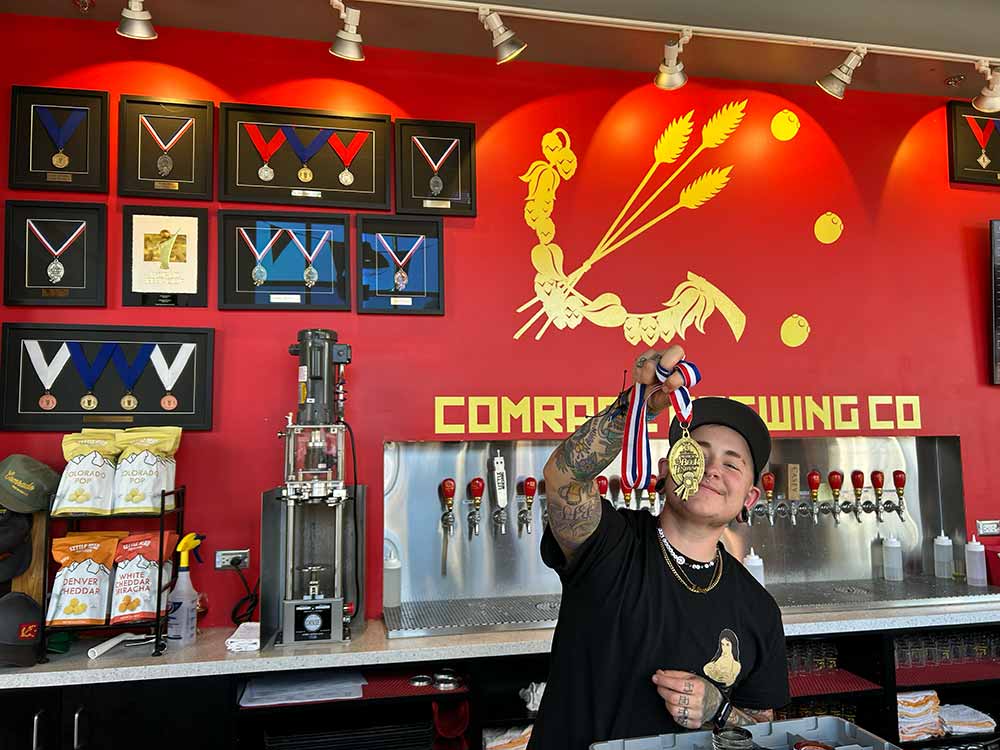 American IPA – When we got back from the Great American Beer Festival in Denver a couple weekends ago, we could truly say that it was an epic event. Forty thousand people returned to the Colorado Convention Center for the first in-person GABF in two years.
But perhaps our favorite part was saying hello to old brewery friends and meeting some completely new ones.
For instance, Comrade Brewing. The tongue-in-cheek brewery blew us away with its dedication to brewing almost exclusively American-style IPAs.
This year, Comrade's More Dodge Less RAM nabbed a gold in the American-Style India Pale Ale category—the most competitive at the 2022 GABF Awards ceremony with 423 entries.
Although fairly high in bitterness, More Dodge Less RAM feels smooth to drink and finishes completely balanced. We can totally see why it won gold this year.
READ THE ENTIRE LIST OF WINNERS HERE
Alt School Like That – Novel Strand Brewing Company
Denver, CO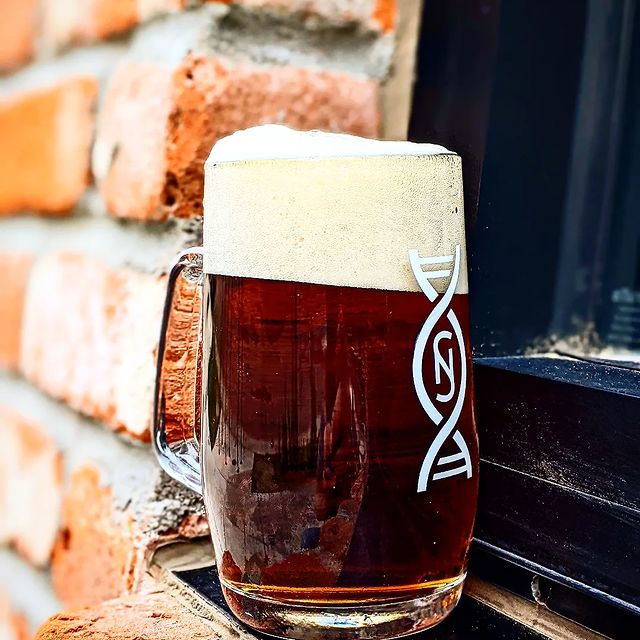 Altbier – Novel Strand's take on an altbier was the first beer we drank when we touched down in Denver for the Great American Beer Festival two weeks ago….
And we are still thinking about that beer.
A style barely found outside of Dusseldorf Germany, altbier actually translates to "old beer" in English. It's a malty, roasty ale that's made with more of a lager-like fermentation at cooler temperatures.
Novel Strand's interpretation, one of the only ones we've seen in our travels, pours out a beautiful amber and knocks back so smooth with malty greatness and a bit of noble hop character.
Want to know where else we ate and drank that weekend?
We spent a pretty epic four days in Denver. Here's where we drank and ate for ninety-six hours in the Mile High City.
Solace & Virtue – Fieldwork Brewing
San Leandro, CA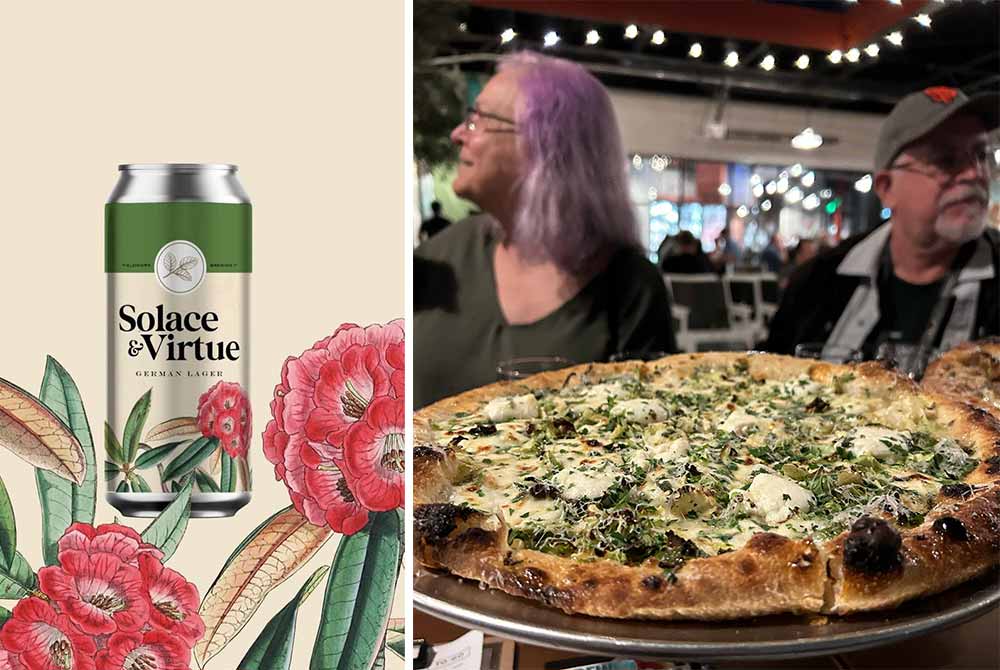 Pale Lager – Seriously, who doesn't love pizza and beer? Is there a better pairing in the history of all humanity?
We asked experts around the industry for their favorite beer and pizza combinations.
Whether that's a NY-style foldable cheese slice and lager.
A Detroit-style pepperoni slab with a West Coast IPA.
Or a Neapolitan-style floppy Margherita pie with a blonde ale.
Whatever combination of dough, cheese, and sauce you love best alongside a full glass of beer, we've got a few recommendations from self-proclaimed beer and pizza aficionados!
Fieldwork Brewing CEO and Co-Founder Barry Braden suggested pairing the brewery's Solace & Virtue German Lager with their cheese pizza.
So we did!
The beer's smooth, crisp lightness provided the perfect foil to rich cheese.
With the maltiness of a helles but a distinct floralness of a German pilsner, Solace & Virtue was the kind of deceivingly complex beer we could find ourselves reaching for again and again.
Especially while eating pizza.
Deth's Tar – Revolution Brewing Co.
Chicago, IL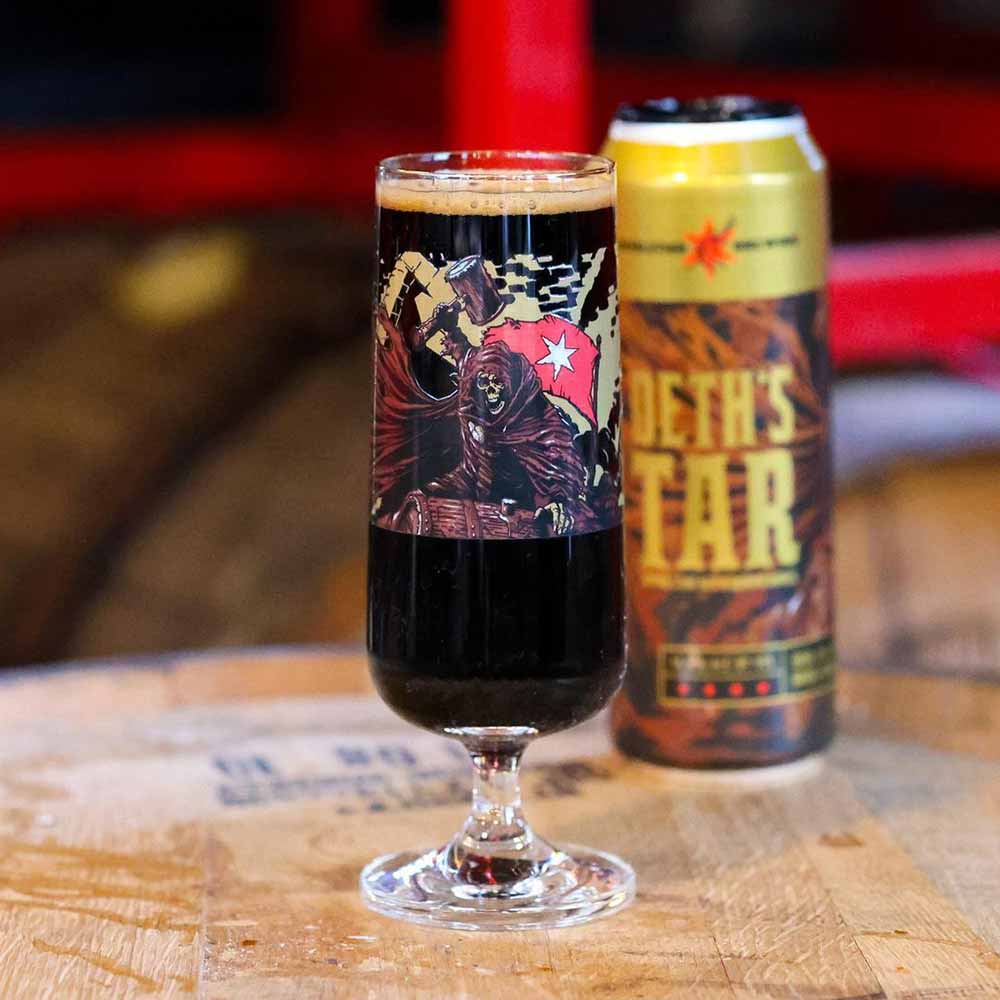 Oatmeal Stout – Revolution Brewing Head Brewer Jim Cibak developed this standard-setting oatmeal stout to actually build out Revolution's barrel-aging program.
Accordingly, this barrel-aged or imperial oatmeal stout does pick up additional character from napping in barrels for a minimum of eight months, but up to two or three years.
The first thing you'll notice when pouring out Deth's Tar is a striking dark hue from the roasted barley and black malt. "There is very little astringency from the dark malt, just a jet black color with a tan head that's nice and creamy from the oat malt," says Cibak.
When you go to smell the beer, Cibak says you'll "pick up those deep notes of roast and the barrel character, vanilla, caramel, almost toasted marshmallow."
Carrying through to the sip, Deth's Tar hits these complex roasted, almost coffee-like notes. All combine for a beer that's wise beyond its years. "We're trying to create a very smooth, velvety texture with a beer clocking in the 14-14.5% ABV range but that drinks like it's 10-11.5% ABV beer," says Cibak. "You'll know strong beer, no question there, but wanted a smooth, pleasant drinking experience."
For one of the most iconic variations of an American oatmeal stout, Revolution's Deth's Tar is a must-try.
Dunkelsaurus – Mobtown Brewing Company
Baltimore, MD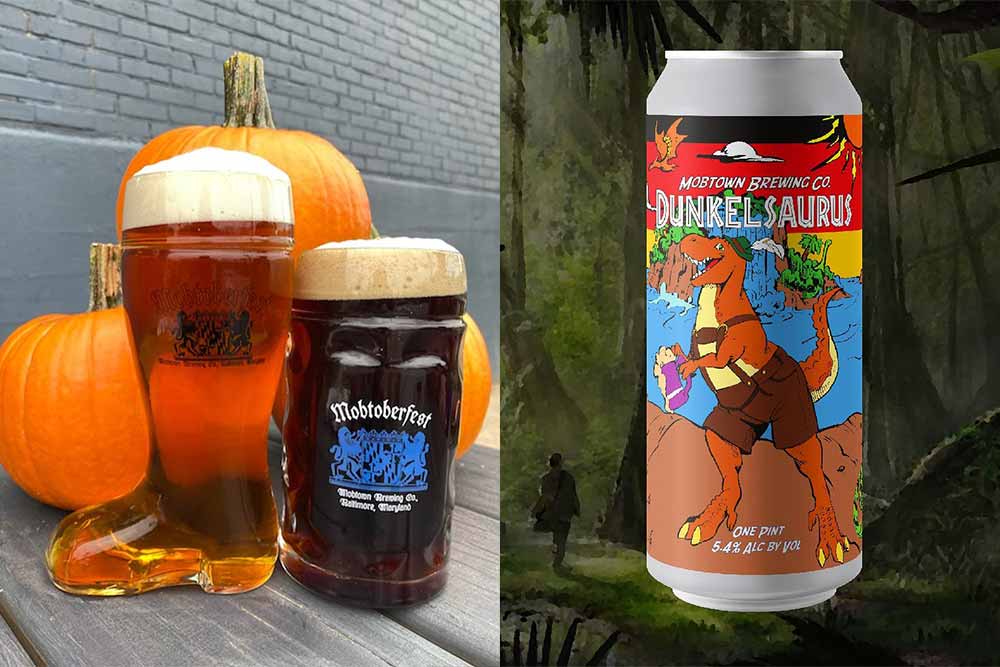 Munich Dunkel – One of our four "4 Hidden-Gem Breweries That Surprised Us in Season One of Next Exit", Mobtown Brewing Company is the first brewery to open in the historic Brewers Hill neighborhood in forty-one years. (Check them out 👇👇👇)
Dunkelsaurus is their take on a traditional German dunkel leveraging the finest heritage German malts, hops, and yeast for the Oktoberfest season.
This is just another example of solid beer from a brewery putting Baltimore on the proverbial craft beer map.
Classic to the core, Dunkelsaurus harkens back to the time of dinosaurs (okay, not that far), but you get the point. This is a beer that travels back in time. Thick with caramelized malt and a hint of Baker's chocolate, this beer just screams fall, making us reach for our anorak and run for the campfire.
Danger Beach IPA – New Belgium Brewing
Fort Collins, CO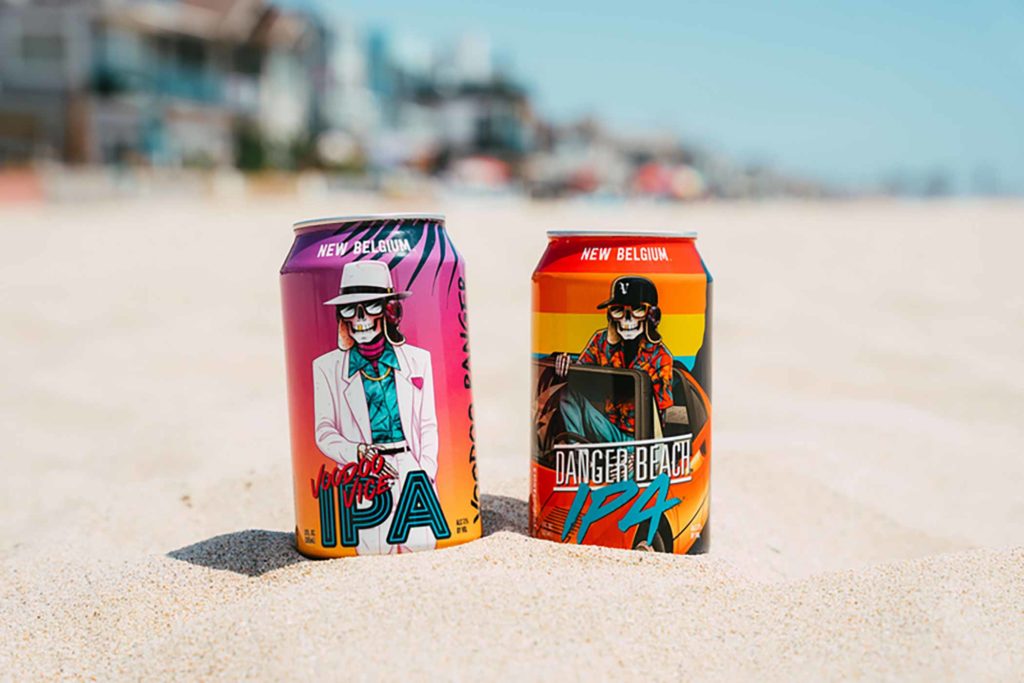 American IPA – New Belgium recently announced the launch of this year's Vote Voodoo, a contest pitting two new Voodoo Ranger beers against each other to battle for Sorcerer Supreme.
It's Voodoo Vice IPA vs. Danger Beach IPA!
Who will win?
Well, it's actually up to consumers to decide who emerges victorious and earns a coveted spot on the shelves.
And for the first time ever…you actually get to taste both beers before casting your ballot.
Not to sway your vote at all, but our money is on…
Danger Beach.
This beer just smacks your tongue like a coconut falling on your head. It's a bit bolder and more adventurous than Voodoo Vice, washing over your tongue with a tropical creaminess.
Danger Beach pulses with tropical flavor like the heart of a surfer, but is beguilingly plush like a teddy bear.
But you don't have to take our word for it.
Go out and grab the Voodoo Ranger Hoppy Pack and choose for yourself.
After all, this is a Voodoo-mocracy.
Really Really Ridiculously Phantastic – New Image Brewing
Wheat Ridge, CO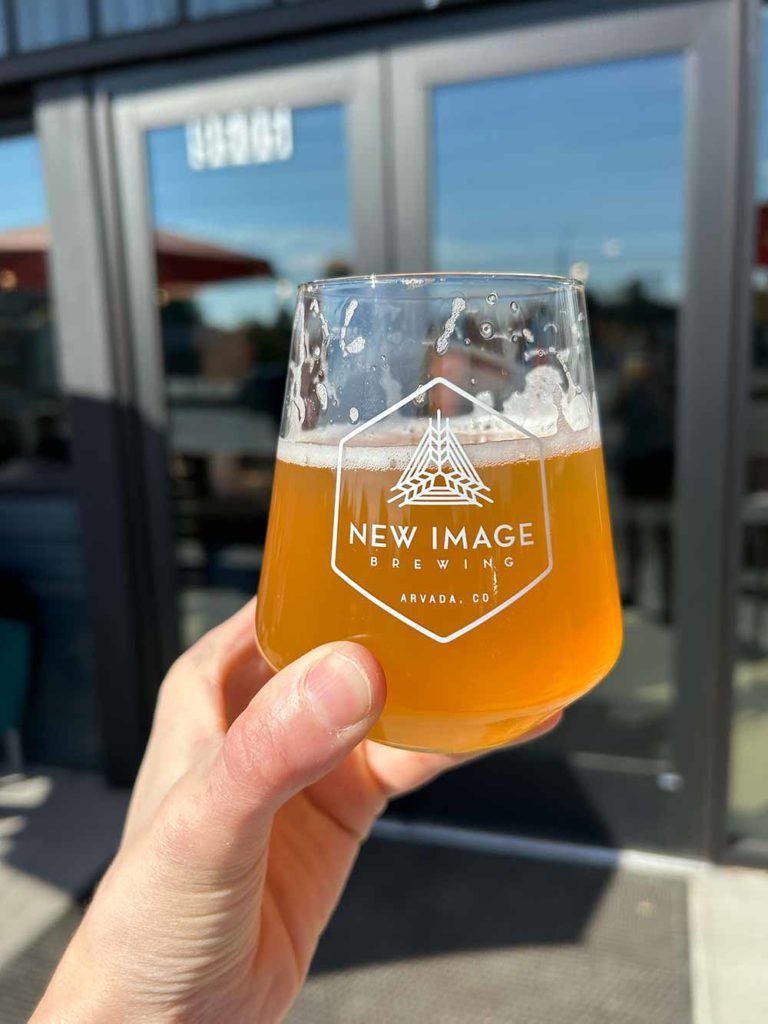 New Zealand IPA – Add New Image to that list of breweries saying IDGAF. They're just brewing the way they want to brew!
Here, New Image Founder Brandon Capps, taproom manager and now minority partner Gavin Estes, and entrepreneur, writer, brewer, and marketer-extraordinaire Ryan Pachemeyer push the beer envelope in every direction possible. An intellectual, a savant, and an encyclopedic fount of beer knowledge, Capps approaches beer with a mind we just really haven't seen anywhere else.
For example, finding the perfect way to add Phantasm, a freeze-dried sauvignon blanc grape powder that makes hazy IPAs even juicier, into beers.
"As a brewery, we've always been trying to create beers that are different but still sitting within a style," says Estes. "We're going to test this a little bit…then put a little more into it in the next round and continually do that over and over again." Which means New Image has pumped out on average 125 beers a year for the last four years.
"We're experimental, but we're not reckless about it," says Pachemeyer.
For example, beers like Really Really Ridiculously Phantastic. Packed with Mosaic Cryo and Phantasm, this beer just really really ridiculously pops.
Pops with aroma, flavor, and charisma.
It's a beer that truly encapsulates New Image—avant garde and experimental yet with an incredible amount of intention.
German Pilsner – Shred Monk Brewery and Coffeehouse
Bozeman, MT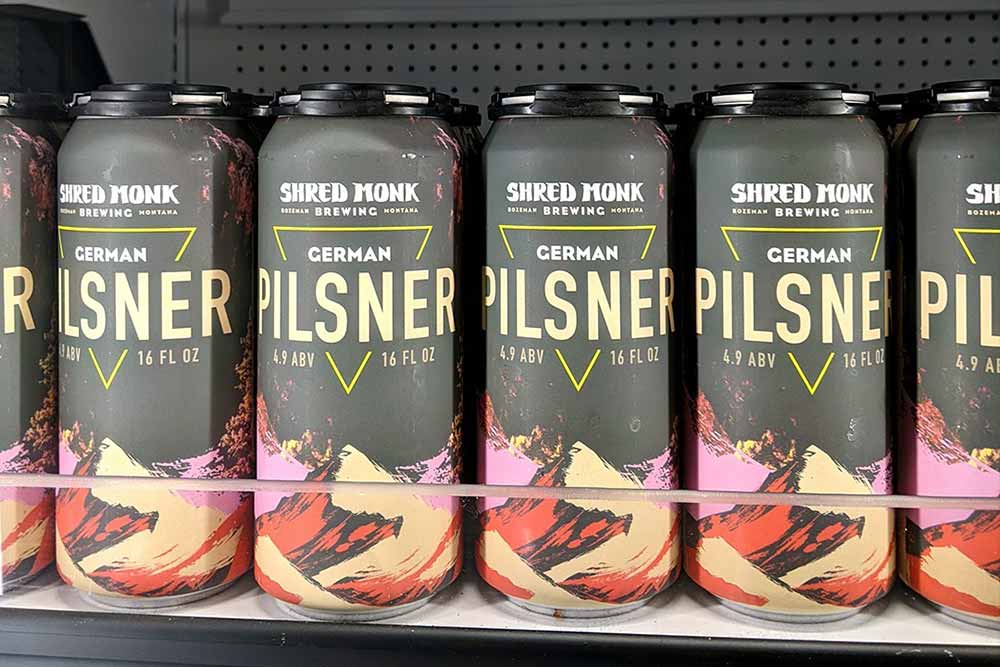 German Pilsner – I recently joined my parents on a car trip from Minnesota to California. A fortuitous stop in Bozeman, MT, had me searching out Shred Monk Brewery and Coffeehouse.
Why?
Because I noticed that their German pilsner—aptly named German Pilsner—earned a bronze medal at the 2022 Great American Beer Festival (GABF) Awards Ceremony. I'd seen their name pop up when I attended GABF a couple weeks ago and made a mental note to stop by while in town.
The beer definitely lives up to the hype. Crisp, clean, with a pleasant minerality, Shred Monk's German Pilsner certainly gains high accolades from me.
But again, they don't need to take my word for it. They have a medal to prove it.
Dyckman Brew Pilsner – Dyckman Beer Co.
New York, NY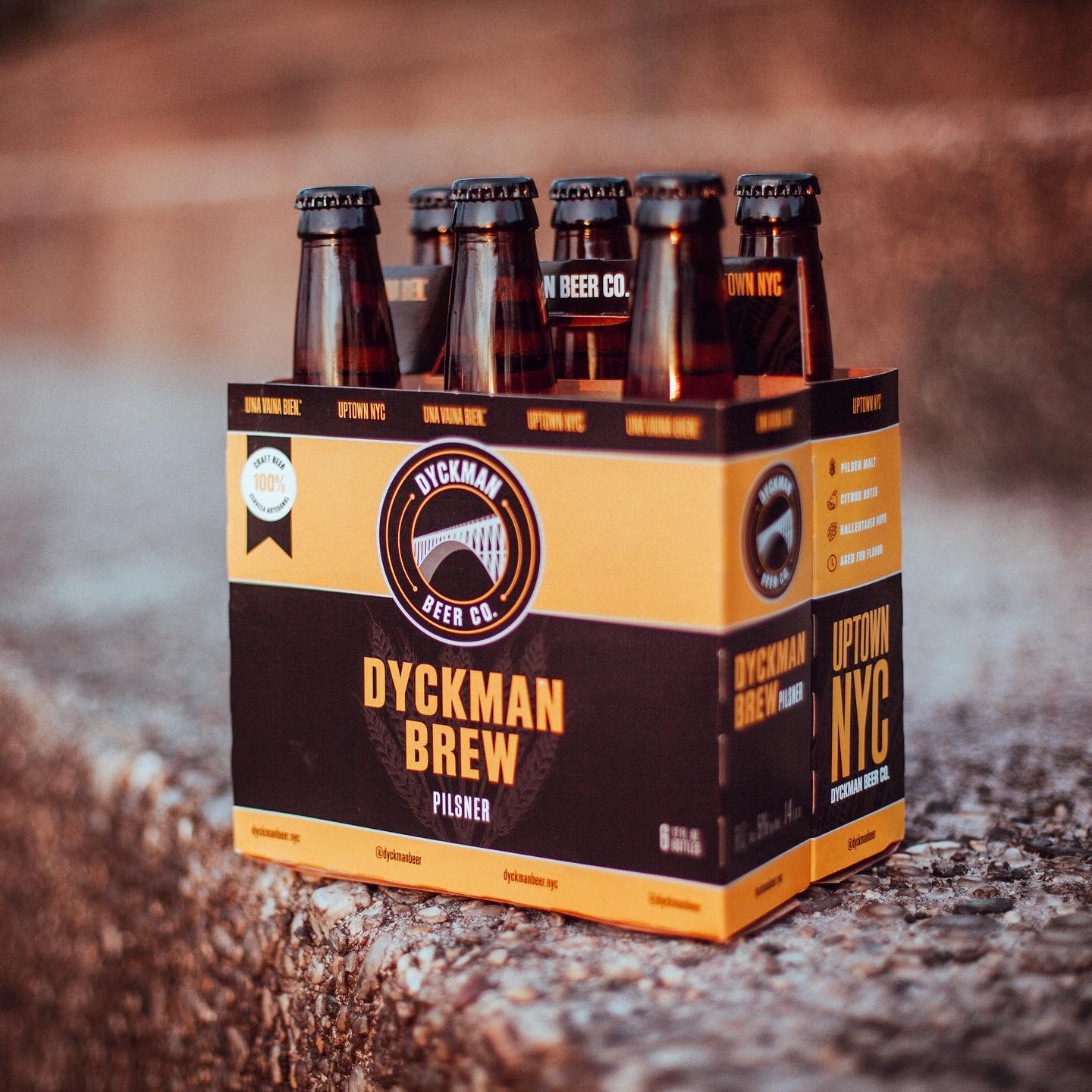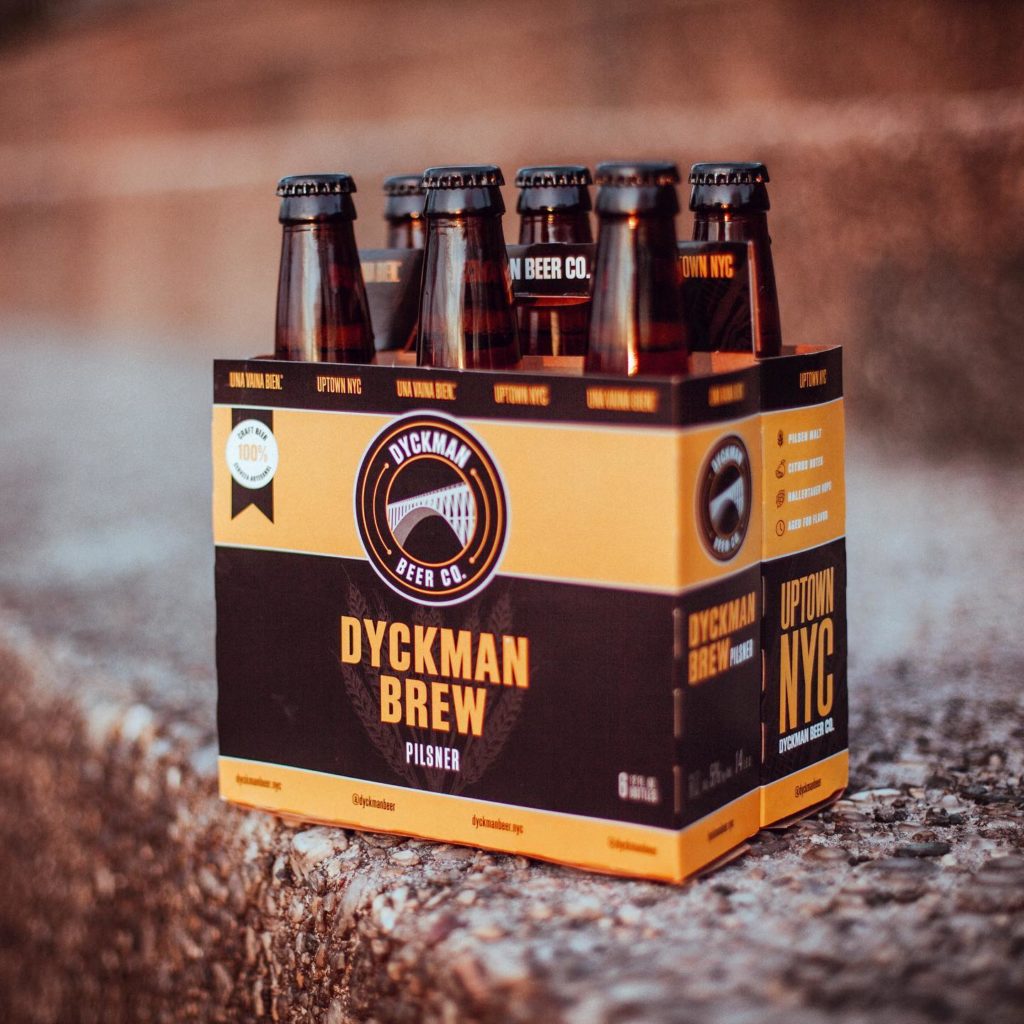 Pilsner – At the beginning of the year we featured Dyckman Beer Co. Founder Juan Carillo in our piece on Latinx-owned breweries. He impressed us back then with his tenacity and grit in getting Dyckman Beer Co. off the ground. Recently, he sent us a package of beers and we can whole-heartedly see Carillo's passion and verve come through in everything he offers.
Inspired by the flavors, people, and culture of Uptown NYC, Dyckman Beer Co. has a distinct point of view.
In his pilsner, Carillo hit a home run farther than Aaron Judge at Yankee Stadium. Pouring a deep gold, Dyckman Brew Pilsner immediately hit us with subtle citrus notes. But on the sip we found a nice pale malt backbone for a pilsner that's both pleasantly malty and pleasantly spicy.
Smooth, substantial, and solid, this beer runs deep, hitting us to the core. This is just a damn good pilsner. And if you live in New York, you should definitely seek out any Dyckman beers right now!
Oktoberfest – Wallenpaupack Brewing Company
Hawley, PA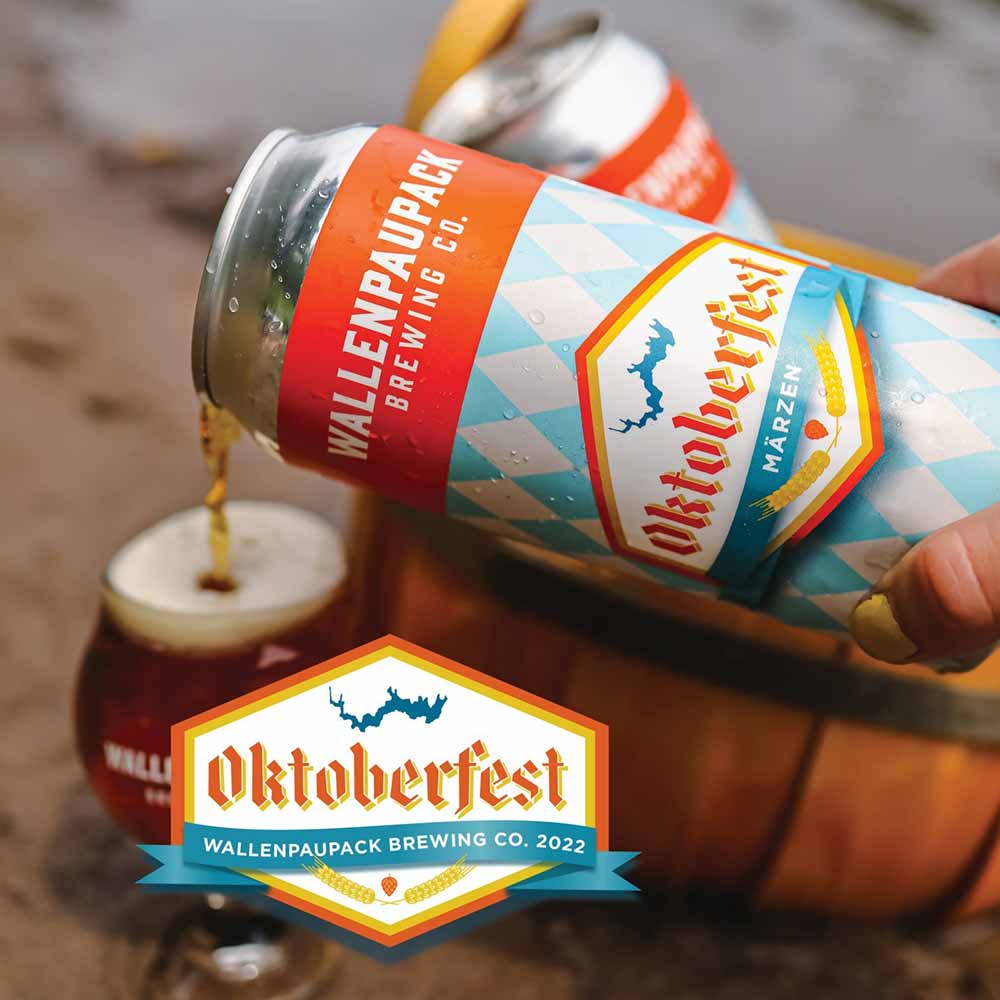 Märzen – We're big fans of Wallenpaupack's Paupack Cream Ale, naming it one of the best beers we drank last November. So we weren't too surprised when they sent us an Oktoberfest lager and it knocked our socks off.
And if you don't believe us, we're not the only ones!
Wallenpaupack's Oktoberfest won a gold medal from the Brewski Awards in 2021 and VinePair named it one of the "Six Best American Oktoberfest Beers We've Tasted This Year (2020)."
We liked it for its fizzy aroma of cream soda of all things. On the sip, it's much toastier and less sweet. Kind of like the charred ends of buttered toast. We actually like that this one is a bit more bitter than some of the other versions on this list. There is a complex depth to the bitterness that rounds out the whole beer, giving it a robust mouthfeel and body.
This is a grown-up Oktoberfest deserving of all its awards and recognitions.