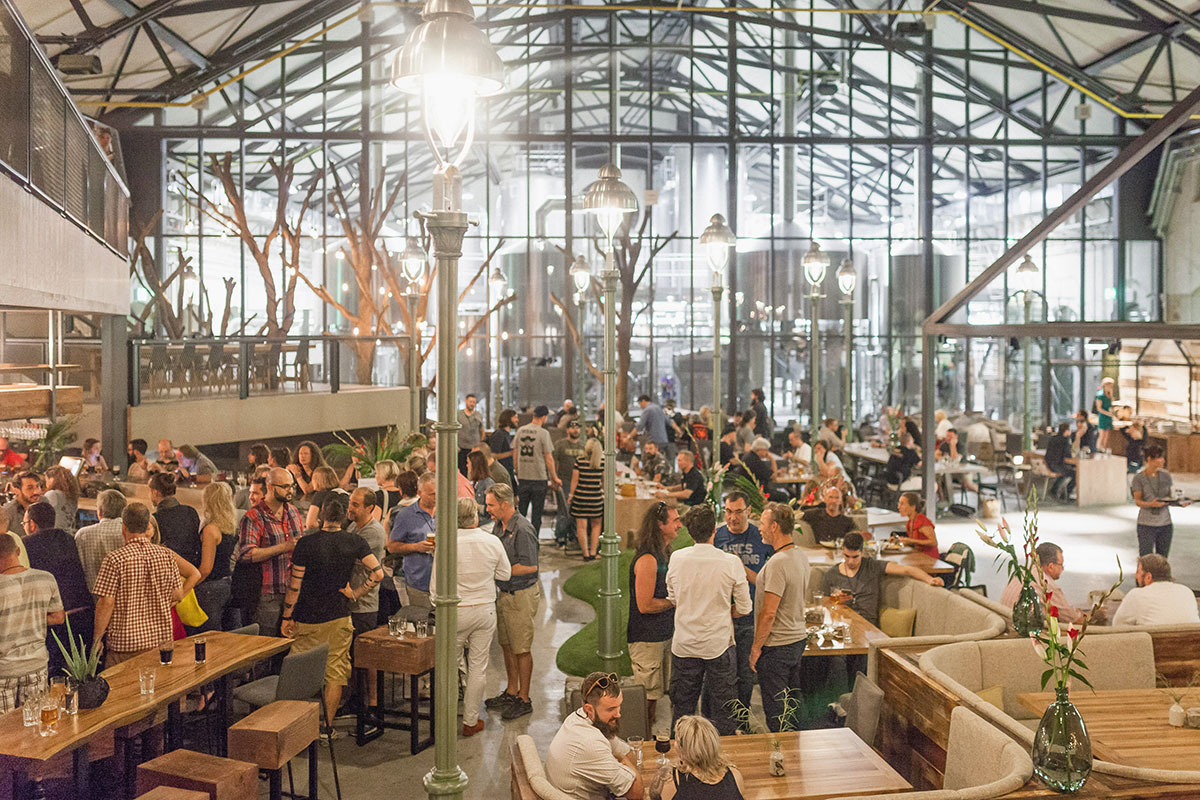 Photo courtesy of Stone Berlin
Since first opening its doors in 1996, Stone Brewing has worked hard to become one of the largest and most successful craft breweries in the U.S. Once they had become a household name in America, they set their sights on the rest of the world. In 2016 Stone opened a 100 HL brewery in southern Berlin, a controversial move at the time, knowing how proud Germany is of its rich beer heritage. Would the market be receptive to mega hoppy beers in a can while the rest of the country sells traditional German styles in bottles? Would the local craft scene in Berlin welcome Stone, an American craft giant, with open arms?
A 20-minute cab ride away from Stone, BRLO Brwhouse is one of the favorites in the city, known for its flagship Helles Lager and a recent CBD infused beer collaboration with Run The Jewels. The owner of BRLO Brwhouse, Katharina Kurz, is extremely happy that Stone had come to Berlin. She even admitted being starstruck in the beginning when Koch would ride his bike around Berlin and check out the local scene. "I feel Stone helped put Berlin on the craft beer lover's map and helped the beer tourism scene," said Kurz.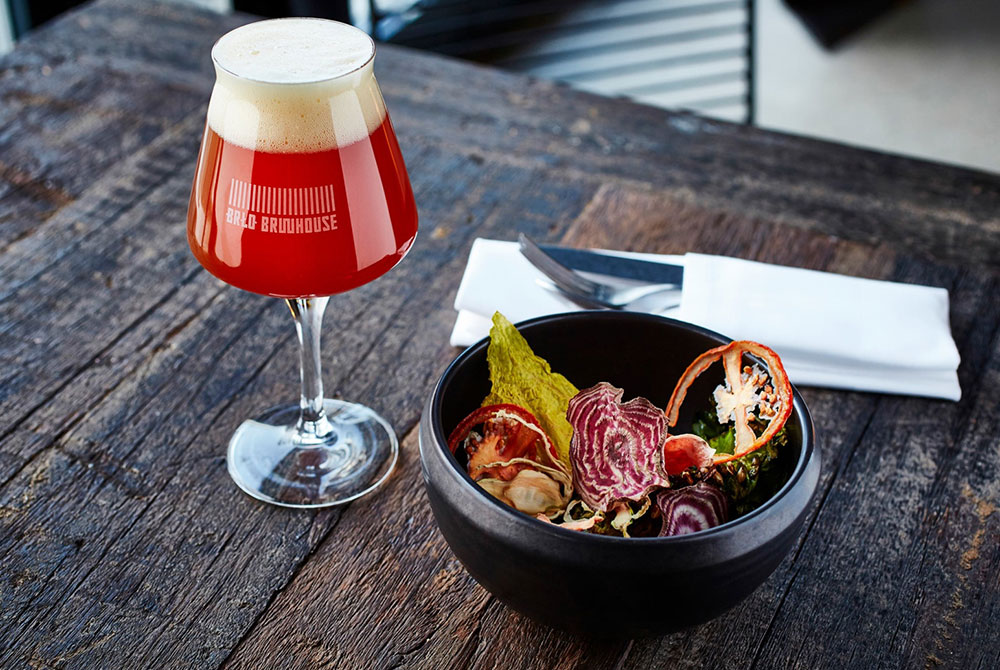 A quick look at BRLO's tap list and you see a healthy mix of their own beers as well as those from nearby breweries, including Stone. As soon as you step foot into the massive, well-lit and thoughtfully decorated beer garden, you can tell BRLO has a strong love for craft beer and a sense of pride in its city, which has aided their growth from a gypsy brewery to a powerhouse within the Berlin scene. For someone like BRLO to accept Stone with open arms and truly feel that the brewery is a good thing for Berlin demonstrates that Stone has entered this market with ego aside and continued the mindset of craft beer. Stone was moving into Berlin with or without the other breweries having a say, but instead of creating competition within the city, Kurz believes the San Diego transplant brewery has fostered community growth.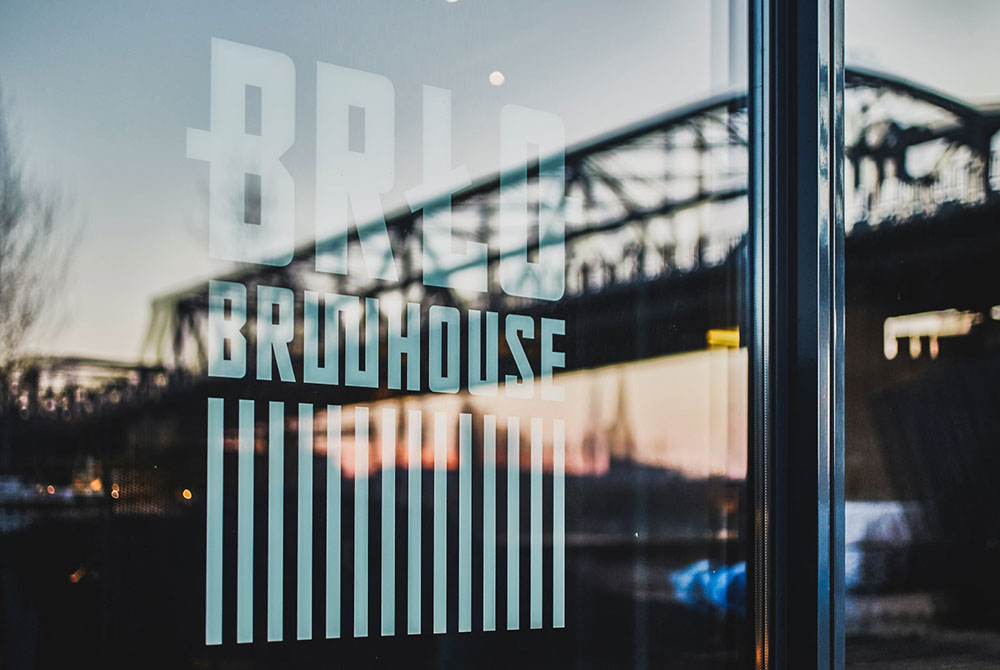 After sampling some amazing beer at BRLO, one can take a quick Uber ride to Stone Brewing World Bistro & Gardens Berlin. Upon walking the grounds of what looks more like a cathedral than a brewery, you'll be welcomed at the main door by a receptionist and a gift shop with the Stone logo from floor to ceiling. In the brewhouse, you'll find a man working hard to constantly monitor quality: Brewmaster Thomas Tyrell. Tyrell has been with Stone Berlin since day one; he was involved with every aspect of getting Stone Berlin off the ground–from the build-out to setting up the brewhouse to overseeing daily brewing operations. He is also the brain behind one of Stone's newest canned beers: White Ghost Berliner Weisse.
The first question for Tyrell must be, Why Berlin? What about the city enticed Koch and Co. to establish Stone's first international headquarters here? Greg Koch initially fell in love with the building Stone moved into before feeling like a local in the city; Berlin is a lively city that is in the process of reshaping itself with a prolific art scene and a busy nightlife. The building was an old factory that maintained its historic charm even after a complete renovation. The grounds give them the space to house brewing, canning, storage, and the bistro and gardens restaurant.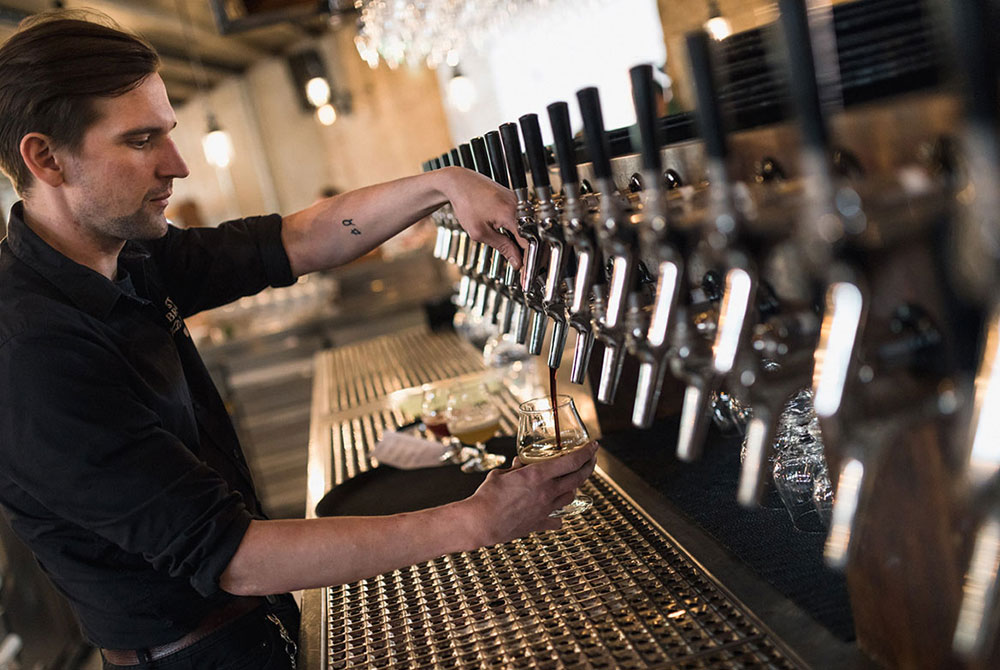 The goal for Stone was to show the German scene that they make beer for a modern American palate that can also entice the more traditional German beer lovers. "The media attention has increased, and if the media is increased because of Stone's arrival, the other local breweries will be in the light as well and be more fruitful," Tyrell states.
Another brewery in the heart of Berlin is Berliner Berg, which opened its doors in 2015. The Managing Director, Michele Hengst, has been with Berliner Berg since 2016 and has seen Stone enter the Berlin scene and make a name for itself. "We were excited to see a relatively big player (in our terms) coming to the city and building this wonderful brewery in the south of Berlin," shared Hengst. "Some of their beers are quite legendary, like Arrogant Bastard, and its great to see them being brewed in Berlin for the ability to drink local." Although Michele seems happy to see Stone come to Berlin, she is skeptical on how they will fit in with German beer drinkers. "Their decision to fill cans for the Berlin/German market is an interesting path I am excited to observe further," Hengst noted. "We decided on 0,3l and 0,75l Champagne bottles for our sour beers, which works very well for us. But I think its an interesting attempt to offer high-quality beer in cans to the German beer drinker who previously only thought that the cheapest of all beers would come in a can."
Recently, Stone Berlin hosted "Can-toberfest," which featured a list of about 50 cans that included up and coming US breweries like Pure Project and Burgeon, as well as fellow European breweries. There are also plans to brew collaboration beers with local breweries in the future. Obviously, Stone is always brainstorming new ideas on how to maximize revenue but they are also keeping other breweries in mind during the planning process. Greg Koch and Steve Wagner know that the craft beer scene is still a business but their approach in Berlin suggests they are considering how business decisions impact the local community.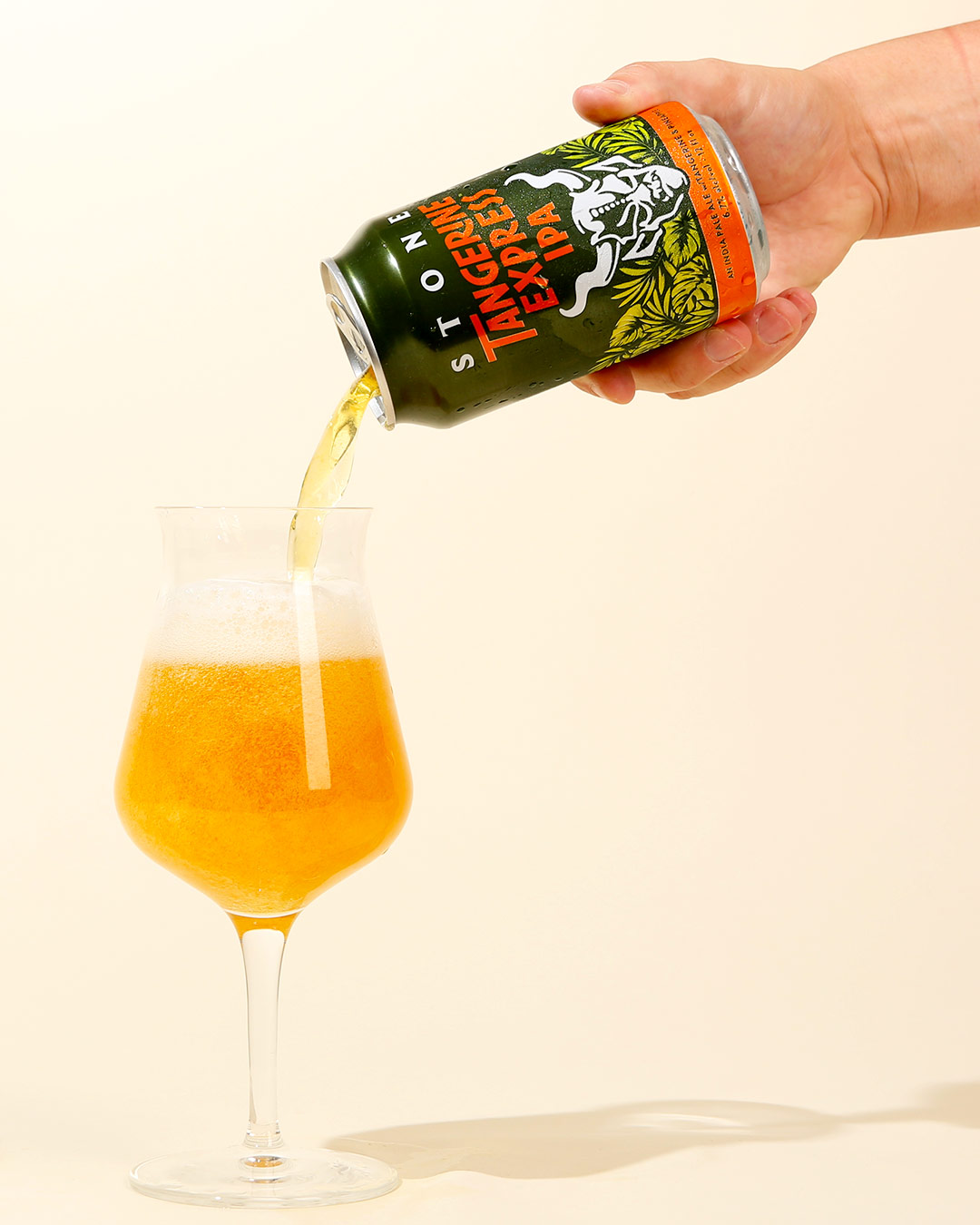 Stone's public approach to setting up shop in Berlin has been a rising tide one; the assumption being that as Stone grows, Berlin breweries will grow. After an initially rocky transition met with skepticism by some of the German beer purists, Stone has become an integral part of the community and is even opening a second, more central taproom bar. It also became clear that Stone was seeking a better business opportunity abroad. The LA Times reported that Stone "laid off roughly 5% of its 1,200-employee workforce last October," despite hitting more than $200 million in sales. The market is becoming increasingly competitive in the U.S., particularly for the biggest American craft breweries. Stone felt that in order to continue their growth, they would need to investigate new markets for that white space. The move to Berlin was certainly motivated by business decisions but has led to the establishment of a unique craft beer scene in the city, one where neighborhood joints like BRLO and multi-million dollar corporations become good friends.
If they've shown anything since 1996, it's that Stone is not content sitting still; to grow means pushing new trends and setting the bar higher wherever they are. In this case, the where is Berlin. It wouldn't be surprising if Stone's next big idea was born here.
Liked this article? Sign up for our newsletter to get the best craft beer writing on the web delivered straight to your inbox.