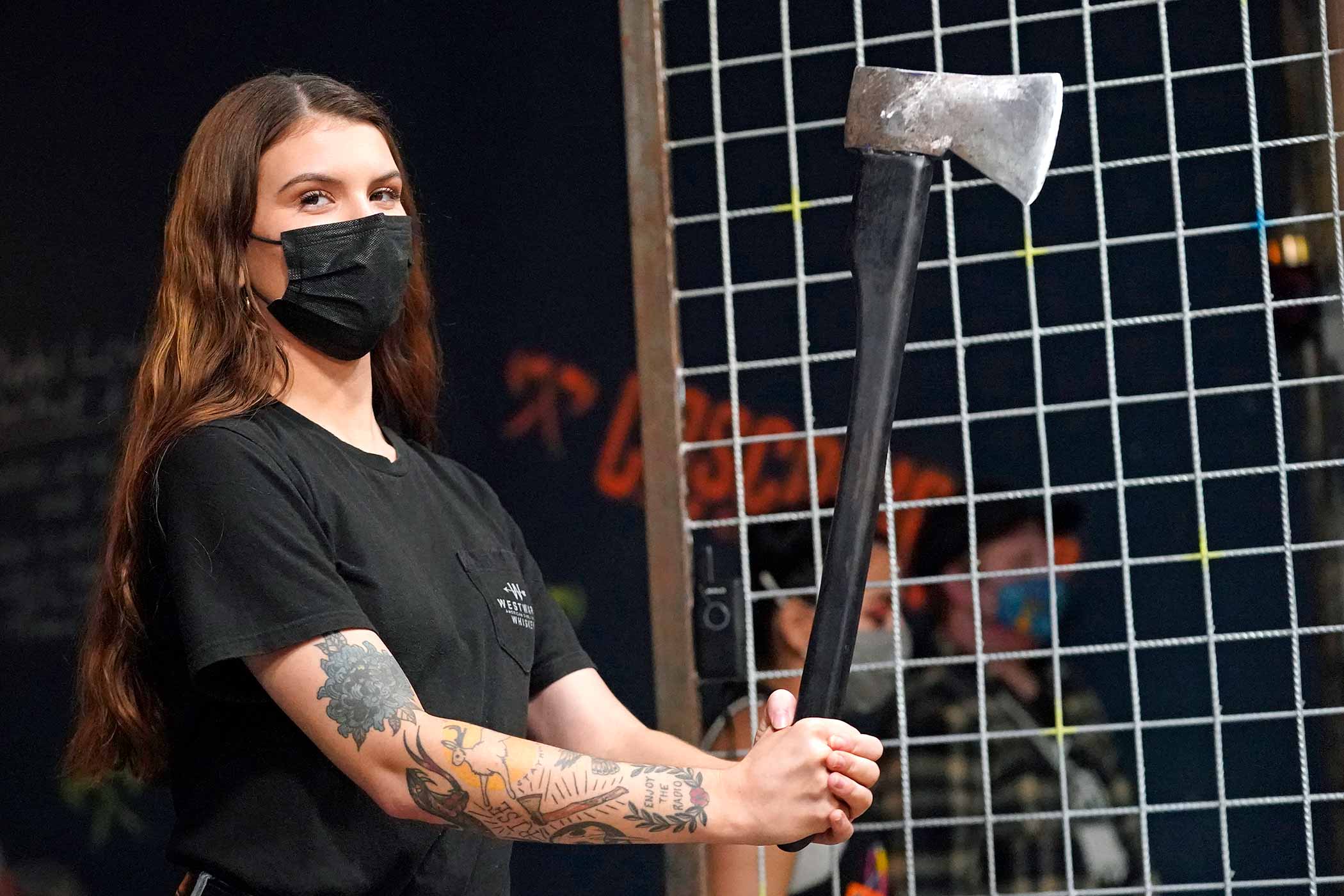 Photography courtesy of Jesse Levi Hummel of Throvv
At a Christmas party a few years ago, Mike Morton walked into Bad Axe Throwing, a local axe throwing venue in Burlington, Ontario, in Canada. He walked out an intrigued fan. One could say axes had sunk their blades into him.
"Once you hit that first bullseye, you get this adrenaline rush," says Morton. "Even just landing on the board for the first time, it was like, 'Wow, I can do this.'"
Morton's intrigue turned into a passion and then a full-blown addiction.
After joining a league and continuing to build up his axe throwing cred, Morton and his two friends Tristan Ledbury and Gavin Cassie started an initiative called the Quarantine Axe Throwing League (QATL). The entirely virtual league allowed axe throwers from all around the globe to connect during a difficult time and hone their skills even while venues were closed.
Morton's exploits caught the attention of the World Axe Throwing League (WATL), the official organization that turned urban axe throwing into a competitive sport.
So much so that last year Morton became the official commissioner of WATL.
And over the last couple years, Morton has seen the wild, wacky world of axe throwing grow into a wonderful community. One built on friendship, camaraderie, acceptance, and inclusion.
"It's a group that is so accepting of everybody no matter where they're from, no matter who they are, no matter their gender, race, religious or political beliefs," says Morton. "Ultimately, what it all comes down to is everyone is an axe thrower."
The magic of tossing a blade through the air has managed to transcend boundaries, cutting through barriers and proving that passion for one thing can unite everyone. Even if that passion includes hurling hatches at a board.
Now, Morton hopes that everyone, no matter where you come from or who you are, picks up an axe and throws for that bullseye.
A Short History of Axe Throwing in North America
According to legend, in North America, the origins of axe throwing can be traced back all the way to Native Americans.
"Axe throwing has been around as long as people could make stone axes and throw them at things," jokes Morton.
But the explosive growth of the sport of urban axe throwing started less than a decade ago when Mario Zelaya founded the World Axe Throwing League. In 2015, the founder of Bad Axe Throwing, one of the largest urban axe throwing companies in North America, decided he wanted to take axe throwing to a competitive level.
Zelaya created WATL to formalize rules around axe throwing and start a league where players could compete globally.
What Exactly Is Axe Throwing?
Let's back up for a second.
Perhaps an axe throwing location such as Bad Axe or Kick Axe has opened in your city. Maybe you've even ventured into a venue before to give it a whirl. But for many, axe throwing is still a bit of a mystery.
The concept of the sport itself though is fairly simple: Throw a hatchet towards a target and attempt to hit the board.
Depending on where the axe lands, you receive a certain number of points. Similar to the game of darts or archery.
Beyond the board though, axe throwing has become an activity that inspires camaraderie for those that truly jump down the rabbit hole.
"Axe throwing is something everyone should experience at one time," says Morton. "It's a combination of fun, family, and community all together. With maybe a bit of competition thrown in there for spice at times."
How Do You Play? What Are the Competitive Rules?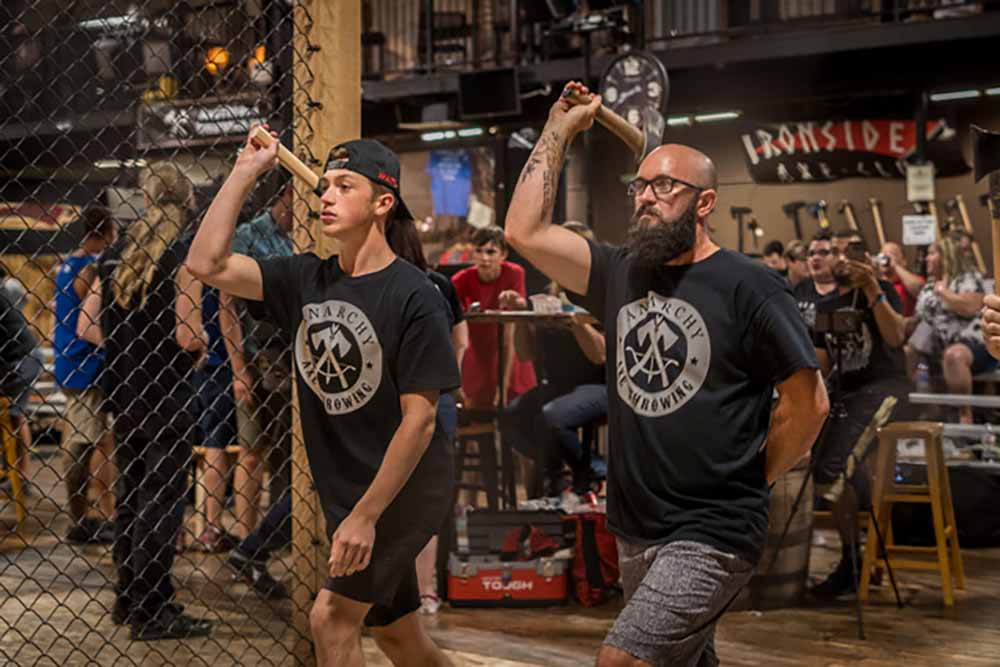 Whether you're playing for fun or as a part of the competitive circuit, the official urban sport of axe throwing has a few rules.
In competitive axe throwing, there are three disciplines: Standard Hatchet, Big Axe, and Duals. Each with their own nuances.
For Standard Hatchet, players use a seventeen-inch-long axe with a four-inch blade that's thrown from twelve feet towards a target. A player has ten attempts to score on target.
In Big Axe, the size of the hatchet increases to a minimum of twenty-three to thirty inches with a bit of a larger blade. And players throw this axe from a minimum of fifteen feet away. In this category, a competitor only has five attempts to throw.
Duals is Morton's favorite. In this discipline, competitors battle in pairs. Two partners in a lane throw at the same target, attempting to get the highest score versus another team of two. Each person has five throws.
"This one involved a lot of carnage on the axes," laughs Morton.
How Do You Score?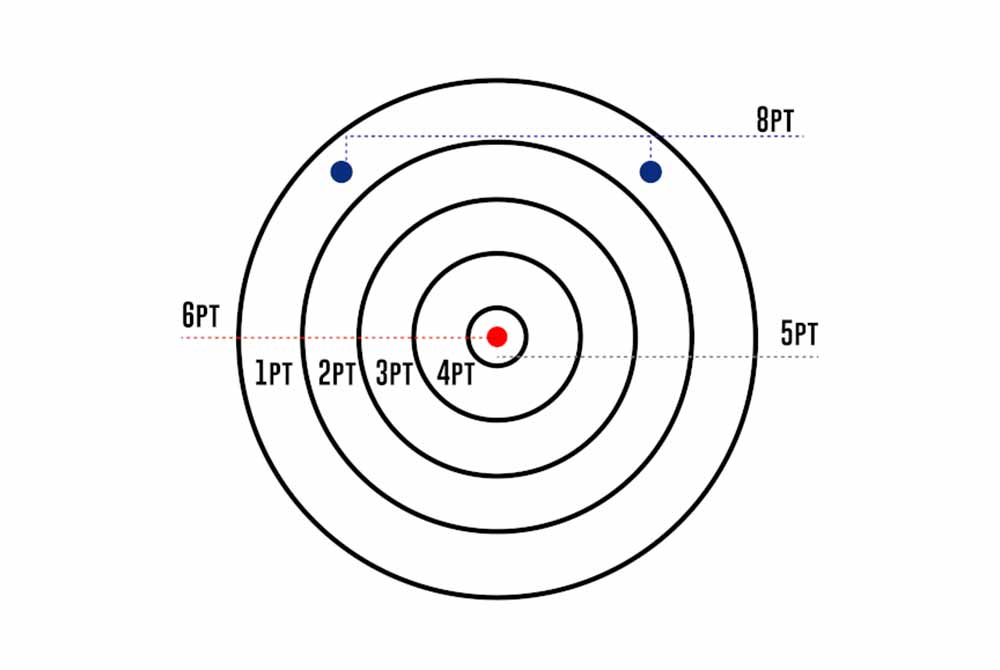 Regardless of the discipline, the scoring stays the same. The target includes five rings with a bullseye in the center and two "kill shots" in the upper right and left corners (think of these like those tiny 100 point holes on a Skeeball track). Hitting a bullseye nets you six points while the black ring outside the bullseye equals five points. Each subsequent ring gets larger as you move toward the outside of the target but also goes down in points from four to one. The kill shots will score you eight points each; you can only register two kill shots per game (one on each side).
Keeping this in mind, a perfect game in Standard Hatchet and Duals nets you sixty-four points, meaning you hit a bullseye eight times and both of your kill shots.
While in Big Axe, thirty-two equals a perfect score (four bullseyes and one kill shot).
It's a pretty tricky endeavor.
"To my knowledge, nobody has hit a perfect game in Duals," says Morton. "You have to be quite good to get those perfect scores. What we tell people who are starting axe throwing is you will be able to hit a bullseye and you will be able to hit a kill shot, but what differentiates a new thrower from our world champions is the consistency in which you can hit those."
But whether you're a newbie or a pro, axe throwing has appealed to everyone.
Axe Throwing Carves Out a Niche
Over the past two years, the casual and competitive sport of axe throwing has grown exponentially, especially through the COVID-19 global pandemic. "We had this massive spike in the first few years and we are not seeing a slowdown," says Morton.
WATL itself now has over 400 individual venues and 350 companies and organizations that are members. In the course of one year, the organization will host three major competitions including The Canadian Open (on pause due to COVID), the U.S. Open, and the World Axe Throwing Championships.
And most recently, the league recorded 5,600 throwers in their latest season. A couple years ago, WATL only counted between 1,000-2,000 members. "The level of competition and the amount of competitors is just demanding that we grow," says Morton.
This year for the first time, WATL will expand its World Championship from 128 throwers to 256 throwers. And during the U.S. Open in Minneapolis, MN, from July 14th-July 17th, 2022, ESPN will broadcast the finals around the world.
Morton credits the renowned sports network's attention (which started back in 2018) as one of the reasons the sport has grown.
"We had a number of top-level throwers tell us they had never heard about axe throwing before, but they saw it on ESPN, went out and tried it, and, lo and behold, they actually got good at it."
It's that passion that has driven axe throwing to incredible heights.
A Passionate Community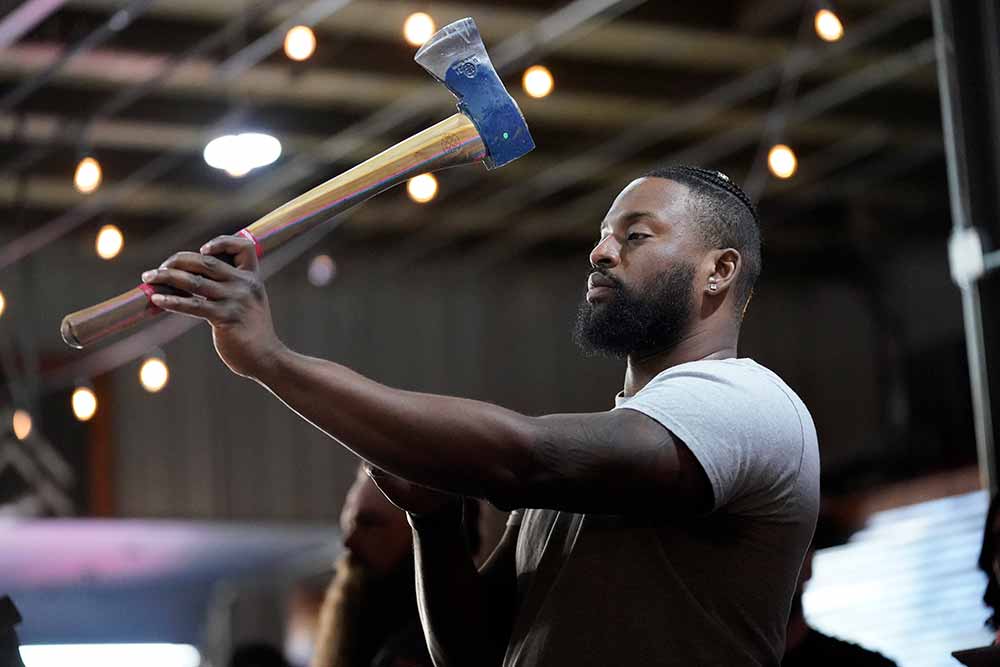 "What we share is a passion for a sport," says Morton. "Just like with beer drinkers, they share a passion for their drink of choice. We connect over the sport that we share."
Morton says lifelong friendships have been formed over hurtling hatchets. He can personally attest, meeting his duals partner Tristan Ledbury through the sport. Together the duo founded QATL, a group hosting virtual axe throwing sessions during the global pandemic around the world, and a non-profit called Throwing It Forward.
"He has become unequivocally my best friend," says Morton. "I never would have met him without axe throwing."
Whereas with most competitive leagues, you engender enemies, in axe throwing you find friends.
"It's all high fives and hugs," says Morton. "Someone beats a competitor and rather than getting disappointed and angry, it's big hugs and congratulations."
And that camaraderie extends beyond the board too.
"People give you the shirts off their back without a second question, and that speaks to just how good, how giving, and how accepting the people are," says Morton. According to Morton, it's not uncommon for axe throwing venues to host a fundraiser for one of its members who recently lost someone or an axe thrower that has fallen on hard times.
From the outside, a group of axe throwers may seem strange. But dig deeper and you'll find folks from all across the spectrum.
And that's on full display with WATL's initiatives for International Axe Throwing Day.
International Axe Throwing Day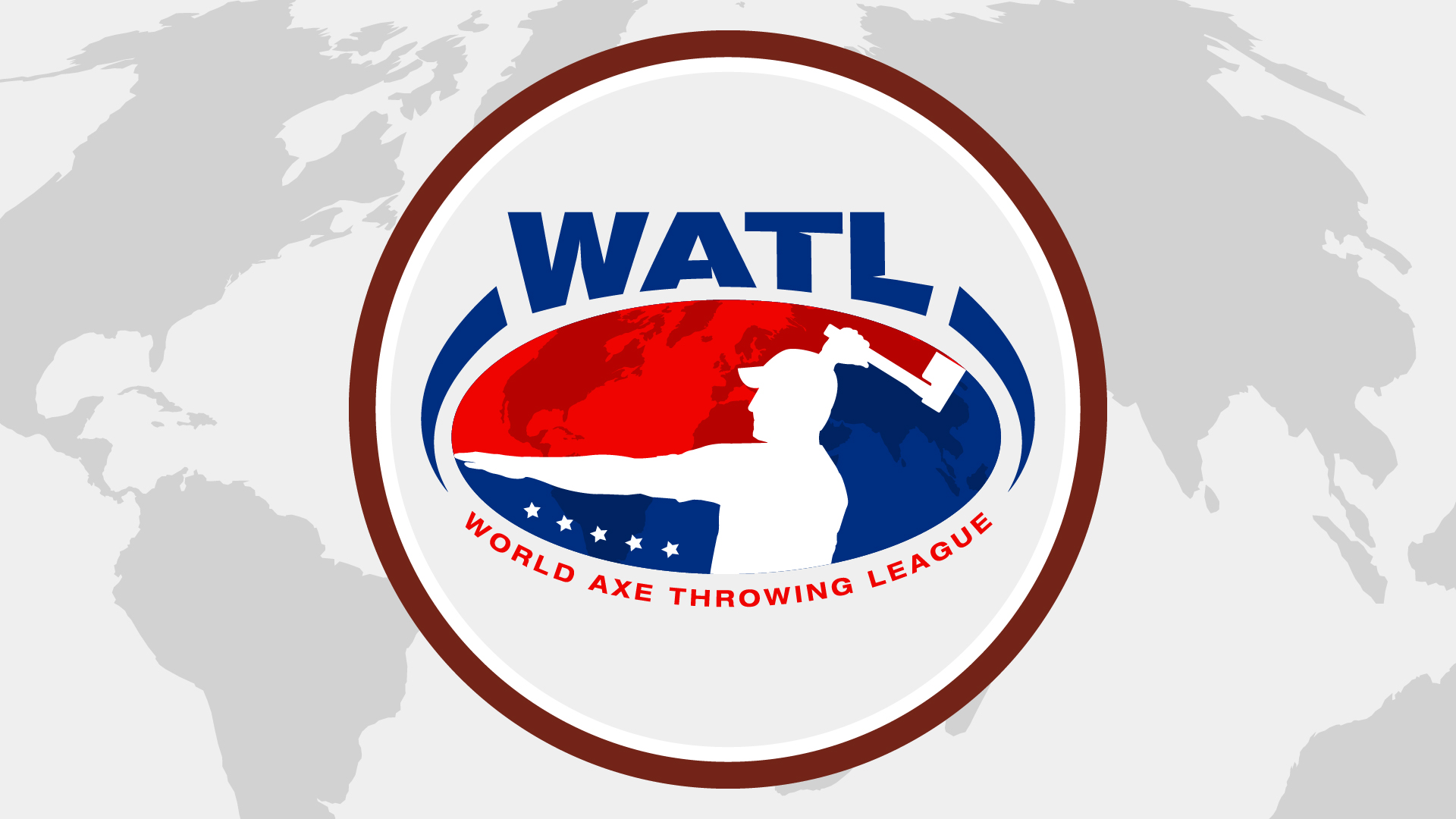 Taking place this year on June 13th, 2022, International Axe Throwing Day celebrates all aspects of the sport.
In years past, WATL has attempted to break world records. For example, in 2020, WATL set a World Record for the Most Axes Thrown Simultaneously at a Target with over 400 throwers contributing to the monumental event.
But this year, WATL took a different tact.
"[We wanted to] communicate to the world that we're not all big beer-drinking, bearded men," says Morton.
To that end, WATL will be hosting a series of one-on-one interviews over the course of the day featuring three axe throwers from the Women's Axe Council.
Women in Axe Throwing Work to Slash Through Barriers
Katelyn Garrow began axe throwing after finishing a practical nurse program. While waiting for her registration to kick in, she took a job at Zelaya's Bad Axe Throwing in Burlington, Ontario. For three years she coached and ran logistics for the business. When the pandemic hit, Morton and Ledbury took Garrow under their wing, encouraging her to join QATL and enter into tournaments.
As a woman and Person of Color in axe throwing, Garrow oftentimes found a lack of representation in contests.
"There is a level of fear in any competition when you're going up against a dude who is 6' 5"," says Garrow.
So when she had the opportunity to join a new group of empowering women in the industry, she jumped head first.
Started by Rachel Rowell, who also owns an axe throwing venue called Blades and Boards, the Women's Axe Council includes nine women working in axe throwing to identify barriers and provide recommendations on how to overcome any potential hurdles in the industry.
Top of mind will be empowering women at axe throwing venues and competitions.
"We want a safe space, not a room filled with testosterone," says Garrow. "All these ladies want to get together and talk about our problems in our community and [explore] how we can build up our own base of women in each venue. We all come from around the world, so how do we bring this home?"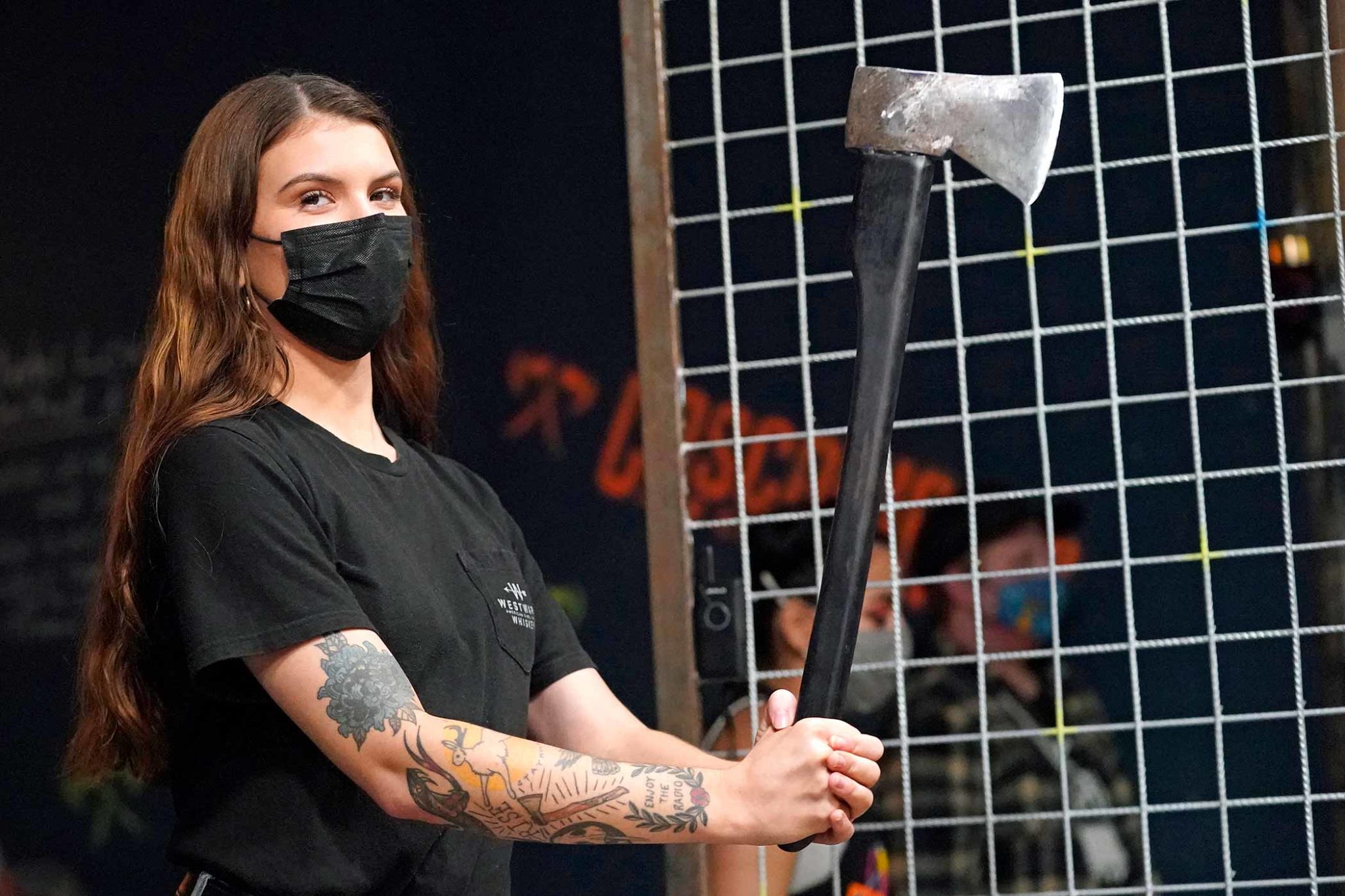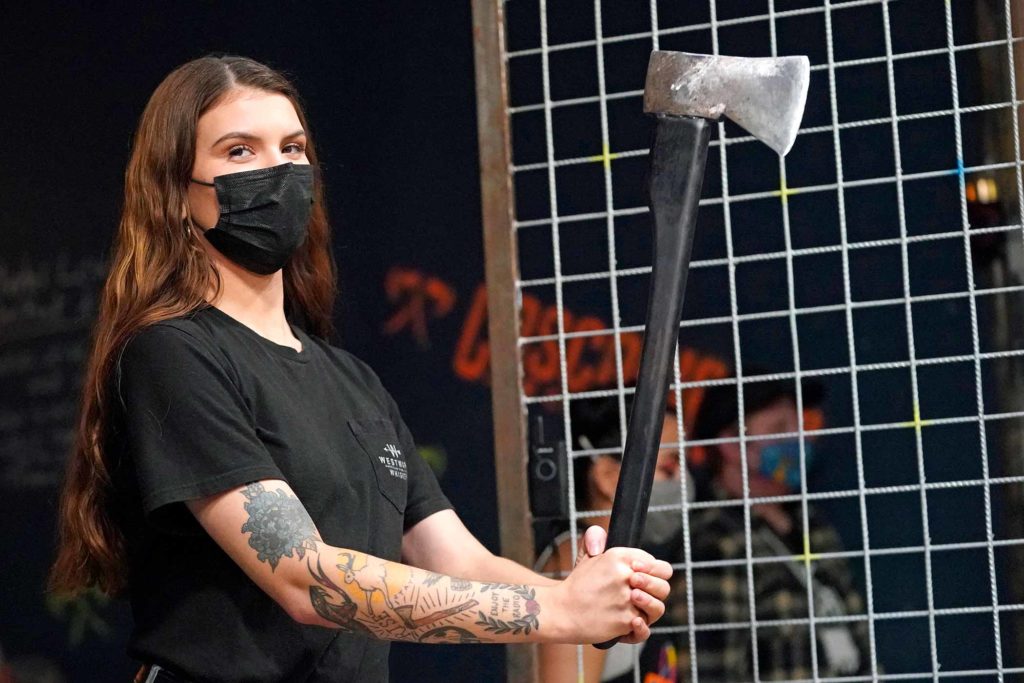 Women's Axe Council Wants More Women to Pick Up an Axe
To that end, the Women's Axe Council will be starting a variety of initiatives this year to create more inclusive environments in axe throwing. Such as hosting tournaments that will raise money to give back to the community and running clinics hosted by big name axe throwers (both men and women) that encourage women to come out and try picking up an axe no matter their skill level.
"We are encouraging women to bring other women and men to bring their wives, daughters, and sisters into the sport, so we can take them under our wing and say, 'You're, going to love it here,'" says Garrow.
She continues, "We all want a lot more women in the sport, we want to grow the women already in the sport, and we want to bring in new women who want to make sure it's an inclusive environment," says Garrow. "We can't do this alone…the men in this sport are all wonderful about it; they're on our team."
The Future of Axe Throwing Looks Sharp
At the moment, Morton doesn't see any limits to the sport.
His biggest goal?
To see axe throwing recognized as an official sport for all.
"I really don't see a cap on the future, but where I'd like to see the sport down the line is as an officially recognized sport…and recognition that [axe throwers] are athletes," says Morton. "It really is so diverse, and being recognized as a sport and our athletes recognized as athletes will be a major milestone for us going forward to become a sport that is accessible to everybody."
What If I Want to Pick Up an Axe for the First Time?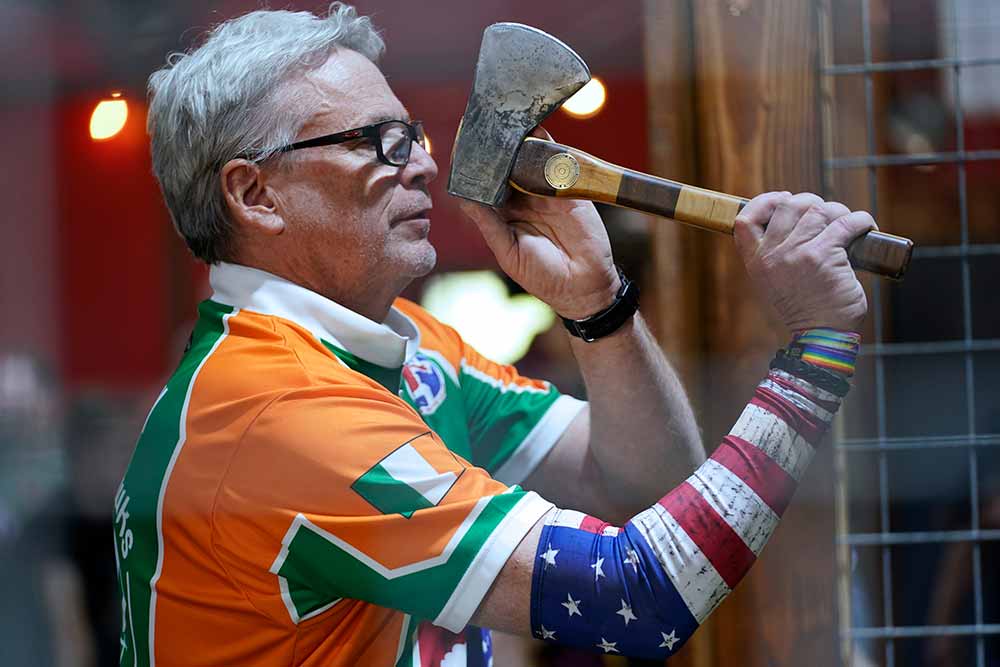 If you're curious about becoming an axe thrower, the best thing to do is find a venue where you can go throw.
A great place to start will be WATL's website, where you can find an entire interactive map of axe throwing locations.
"All it takes is checking out a venue, finding out when they're open, walking in, and saying, 'Hey, I want to learn how to be an axe thrower,'" says Morton. "They're going to take you in, they'll teach you how to throw safely, and they'll teach you how to rotate the axe so you hit the board and you get that rush of amazement when you hit the bullseye and your kill shot."