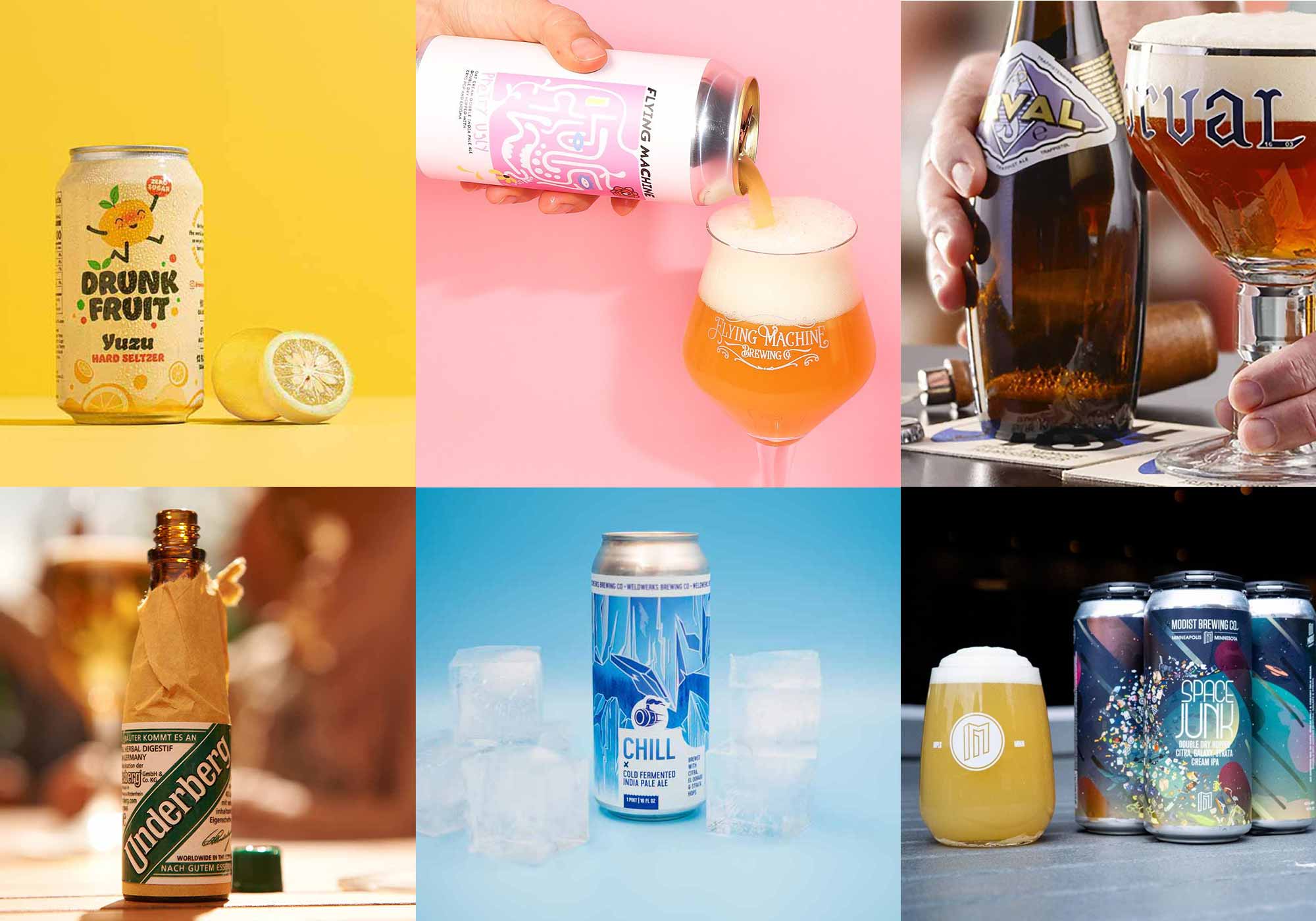 All the best beers we drank this month.
Spring has certainly sprung in May with an abundance of beer coming our way. So much so that we couldn't decide on just the ten best beers we drank this month. Instead, we're naming eleven of our favorites.
Looking ahead, we're so excited to celebrate our second annual Hop Culture x New Belgium presents Queer Beer in-person at The Wharf in Washington, D.C., from Friday, June 3rd, to Saturday, June 4th, 2022!
The festival features beer from twenty-five of the top Queer-led and Queer-supporting breweries in the country, such as Other Half D.C., Red Bear Brewing, Night Shift, Marz Community Brewing, New Belgium, and many more.
GET YOUR TICKETS TO QUEER BEER
But looking back, on May 4th, aka May the Schwarz be with You, by asking "What Is a Schwarzbier?" While most recently, we celebrated Orval Day with none other than the world-renowned Belgian Pale Ale.
During all of May, we celebrated National Asian American and Pacific Islander month by supporting "20+ AAPI-Owned Breweries and Brands to Support Right Now (And Forever)."
Plus, we uncovered the secrets of one of the world's most mysterious liquids inside of a tiny amber bottle in "The Cult of Underberg." While not technically a beer, per se, this is one of the most interesting drinks we've ever put in our mouths.
So are Cold IPAs, a hot new branch of IPAs popping up at breweries across the country including, WeldWerks, Necromancer, Alvarado Street, Great Notion, and more.
Speaking of cold, we took a deep dive into the "Four Hottest (and Coolest) Hop Trends" of the last few years.
All in all, summer is just around the corner, but until then here are the best beers that bloomed in May.
Here Are the 11 Best Beers We Drank in May 2022
Pride Pils – DC Brau
Washington, D.C.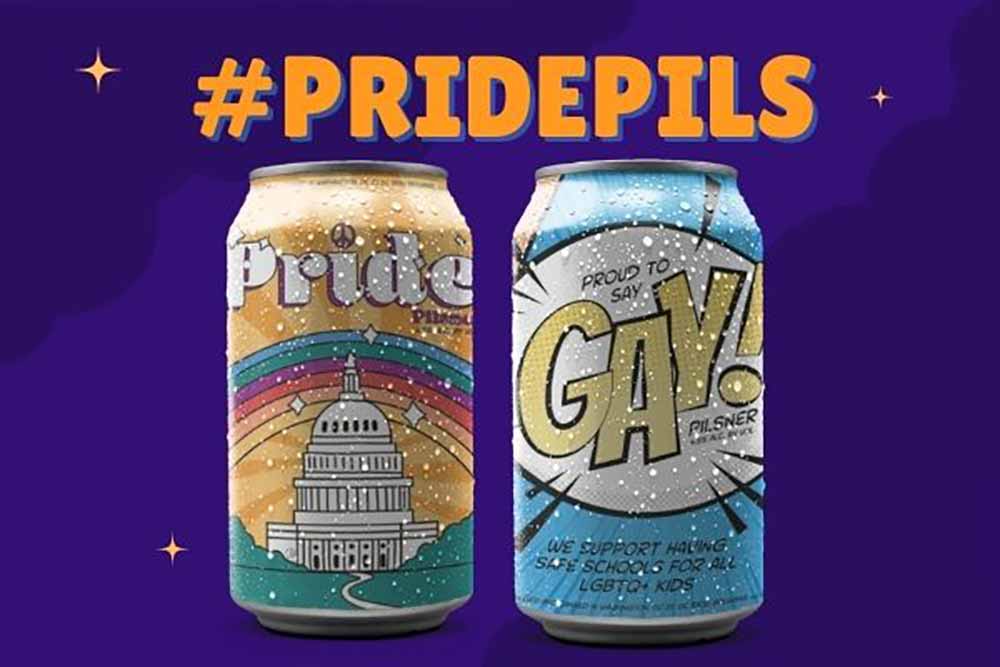 Pilsner – The country's capital has become a powerhouse for Queer-owned and Queer-allied breweries. Every June, DC Brau rebrands its flagship Brau Pils to Pride Pils, collaborating with the Washington Blade, America's oldest LGBTQ newspaper that originated just a few months after the infamous Stonewall riots in 1969. All proceeds from the sale of the limited-edition beer benefit SMYAL, the Sexual Minority Youth Assistance League and The Blade Foundation that funds enterprise journalism projects focused on LGBTQ+ and other underrepresented communities. Since 2017, the Pride Pils Project has sold over 81k cans and raised over $42,000 for these organizations.
This year, DC Brau held a contest, asking fans to decide the winning can design. Although voting has closed, the winning artwork will be announced in early June with cans of 2022's Pride Pils available through DC Pride.
For all these reasons, we named DC Brau one of our "47 Queer-Led and Queer-Supporting Breweries to Champion Right Now."
Note: DC Brau will be joining us for the Hop Culture x New Belgium presents Queer Beer Fest. Get your tickets here.
GET YOUR TICKETS TO QUEER BEER
Underberg – Underberg
Rhineberg, Germany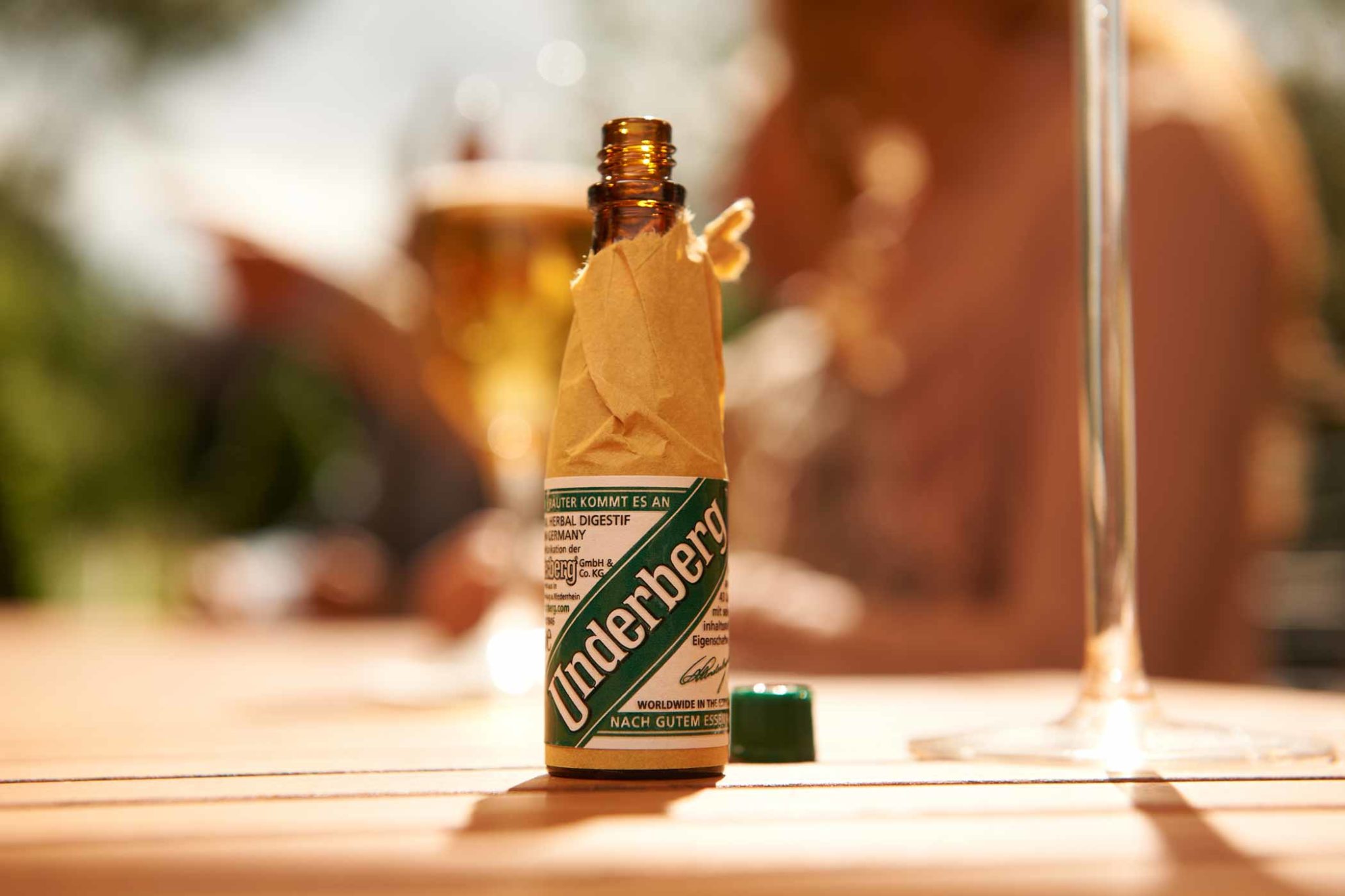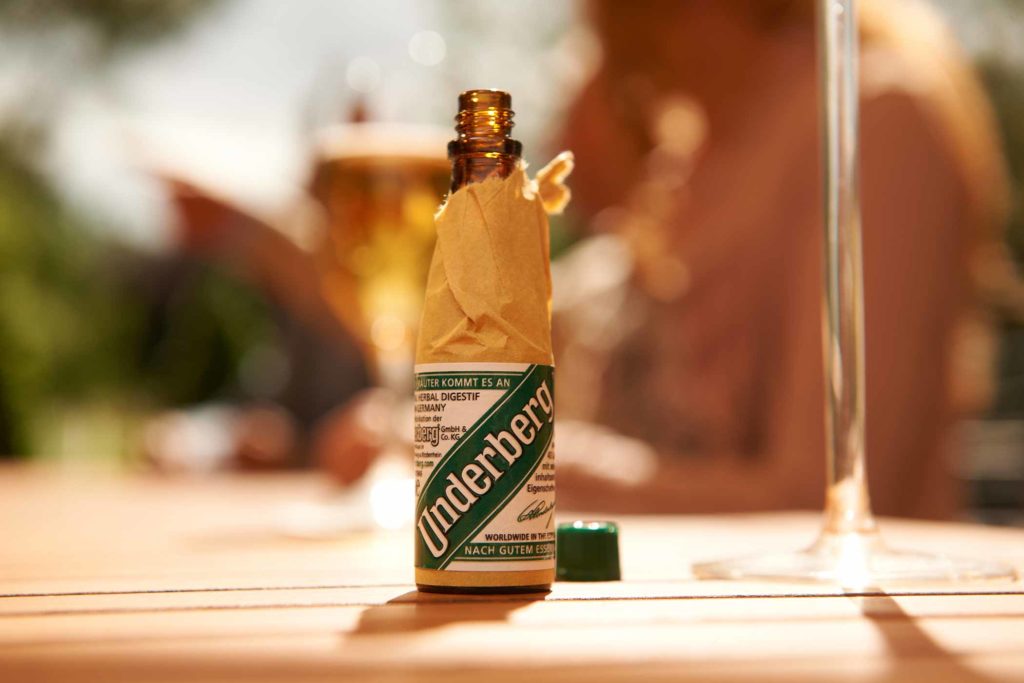 German Digestif – Unwrap the brown paper, unscrew the plastic green cap, slap the little amber bottle down on the table, pick it up with your mouth, and let the collection of bitters and herbs in this digestif drip down your throat. You've just drunk an Underberg.
But what exactly is this mysterious liquid? For years now it seems these ubiquitous bottles have graced tables at beer bars, stood ready at attention like a line of infantry soldiers behind the bar, and captivated drinkers around the world.
So what is it about Underberg that has inspired a generation of fervent fans and 'Berg believers?
We have all the answers. Well, at least some of them. Prost!
Chill – WeldWerks Brewing Company
Greeley, CO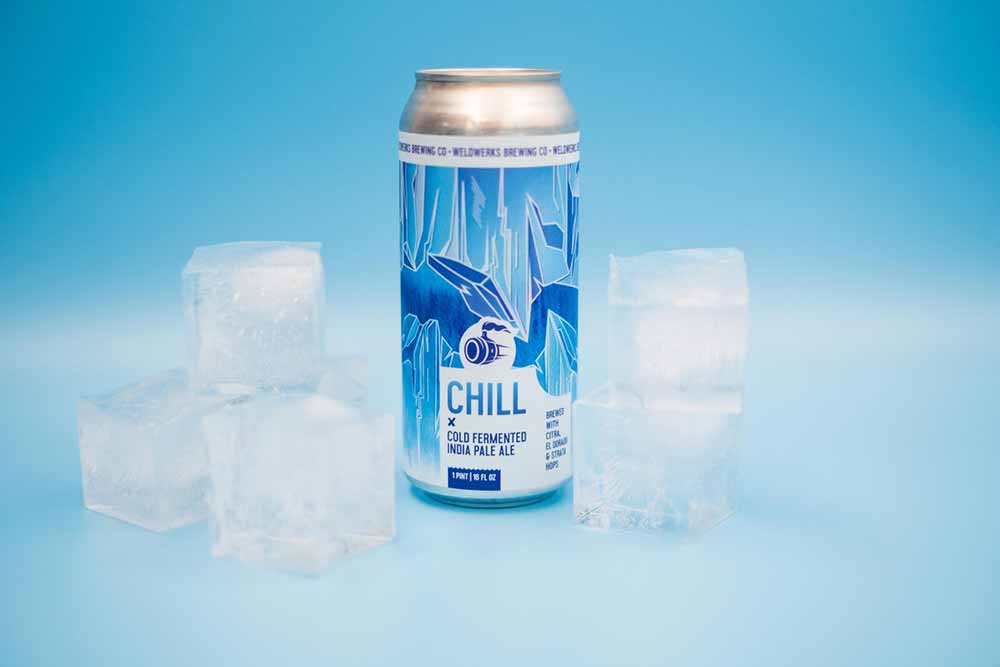 Cold IPA – This has been a hot year for hops. Who are we kidding? Hops have been hot for decades now. This year in particular we've already covered "The 5 Hottest Hops of 2022, According to an Expert" and "The Four Hottest Hop Trends." So maybe it's time to cool things down. One of the newer trends in the hop-forward IPA category is Cold IPAs.
First pioneered by Wayfinder Beer in Portland, OR, Cold IPAs have popped up in the portfolios of revered breweries all across the country. For instance, WeldWerks, Necromancer, Reuben's Brews, Alvarado Street, Great Notion, and so many more.
Citra, El Dorado, and Strata hops shine through in WeldWerks' version of a Cold IPA.
Interestingly enough with Chill, WeldWerks ended up blending three different batches of beer to make their Cold IPA recipe. One fermented with lager yeast, one with the brewery's hazy IPA yeast, and one with their Kölsch yeast.
"Each was delicious and unique on its own, but we ended up blending all three batches together to create something truly special," writes WeldWerk's in the beer's Untappd description. "It is clean and light like our lagers, yet also soft and super hoppy like our hazy IPAs."
But what exactly is a Cold IPA? And why are brewers so hot on them?
Yuzu Hard Seltzer – Drunk Fruit
Los Angeles, CA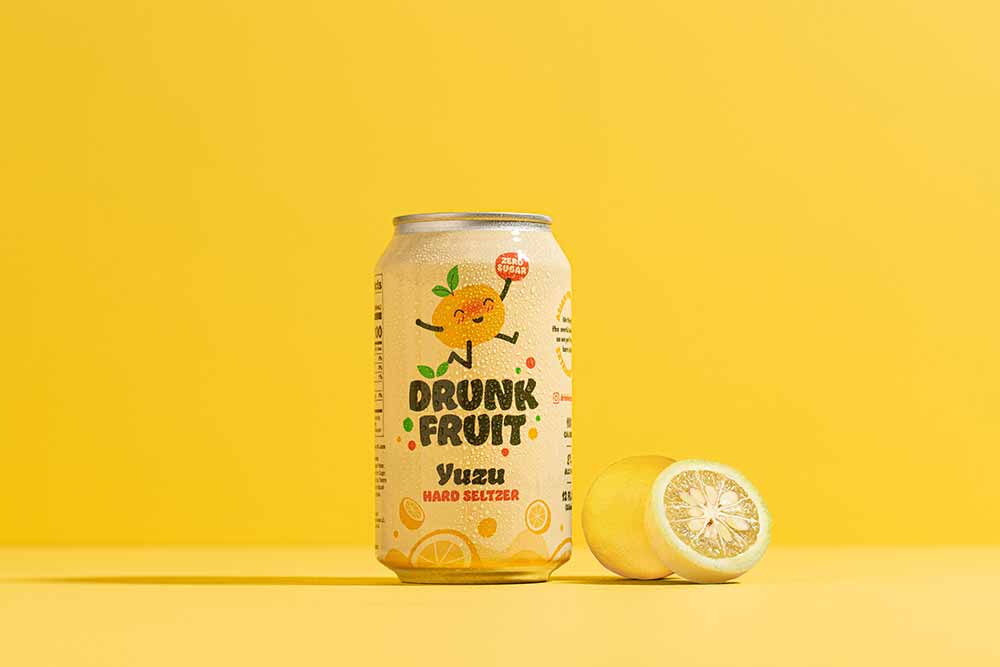 Hard Seltzer – During all of May we celebrate Asian American and Pacific Islander Heritage month.
And now more than ever the AAPI community needs our support.
The Center for the Study of Hate and Extremism reported that anti-Asian hate crime increased by 339 percent last year compared to the year before.
Which begs the question: What more can we do as consumers?
For one, we can support AAPI-owned businesses and breweries such as Drunk Fruit in Los Angeles, CA, co-founded by Kenn Miller, Steven Tang, William Zeng, and John Zhang.
The hard seltzer brand focuses exclusively on bringing Asian ingredients into American drinking culture.
"There was a lack of representative flavor profiles in the alcohol segment here in the U.S.," says Miller, who actually came up with the idea for Drunk Fruit while on his honeymoon in Japan. "We started Drunk Fruit as a means to help showcase these flavors, and hard seltzer was our way to introduce this as a cross-culture experience with a twist."
The brand's first three flavors—Lychee, Yuzu, and Melon—all represent classic Asian fruits.
We love the Yuzu in particular for its bright, bold citrus notes.
"We based this one on a Japanese drink called Ramune, which is similar to Japanese Sprite," says Miller. "Think orange mixed with lime, an earthy undertone, and a citrus flavor profile."
Orval – Brasserie d'Orval
Villers-devant-Orval, Luxembourg, Belgium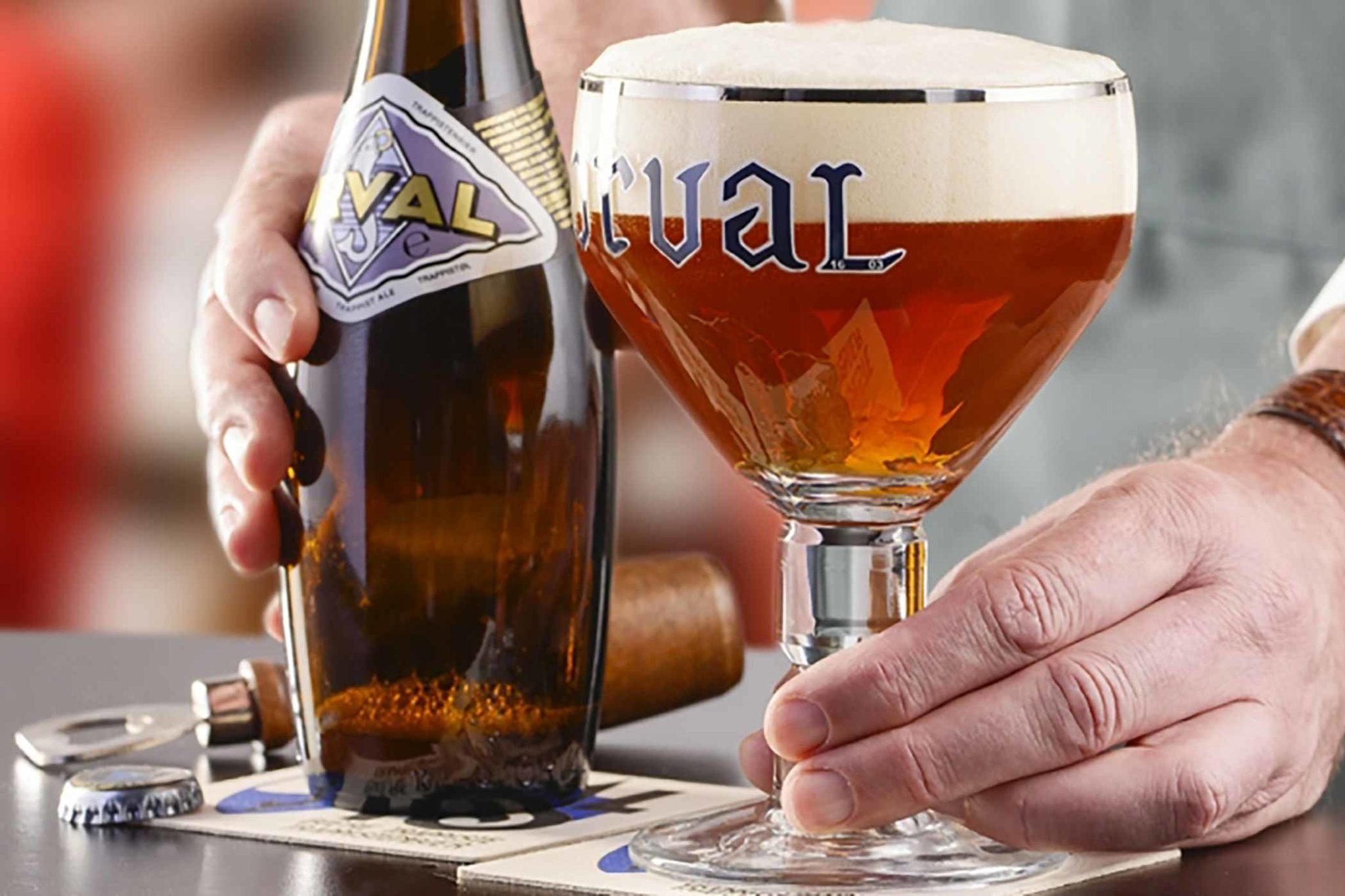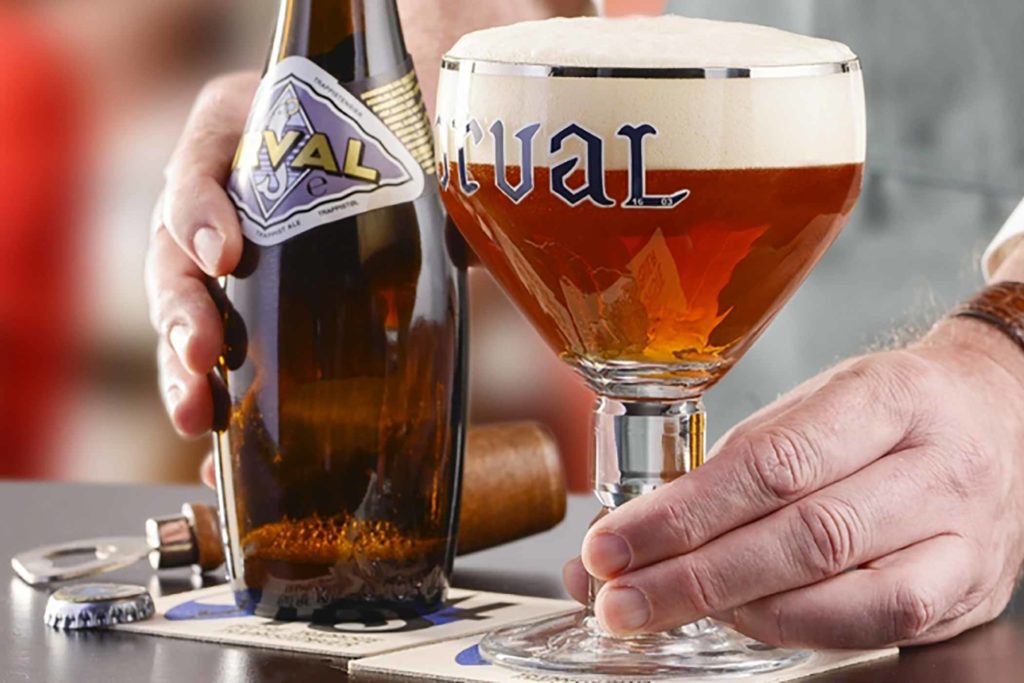 Belgian Pale Ale – Beer holidays have become like coveted traditions.
In the fall, we wait with bated breath for International Zwanze Day for a chance to taste the limited Zwanze release from Cantillon.
Similarly in the spring, we celebrate Orval Day (which took place this year on Saturday, May 21st, 2022), a holiday dedicated to the one and only Orval.
A Trappist Belgian pale ale produced at the Brasserie d'Orval within the walls of the Abbaye Notre-Dame d'Orval in the Gaume region of Belgium, Orval has become one of the most renowned beers in the world.
But what makes this one Trappist beer special enough to deserve a holiday all to itself?
We have the answers.
Friends of Dorothy – The Virginia Beer Company
Williamsburg, VA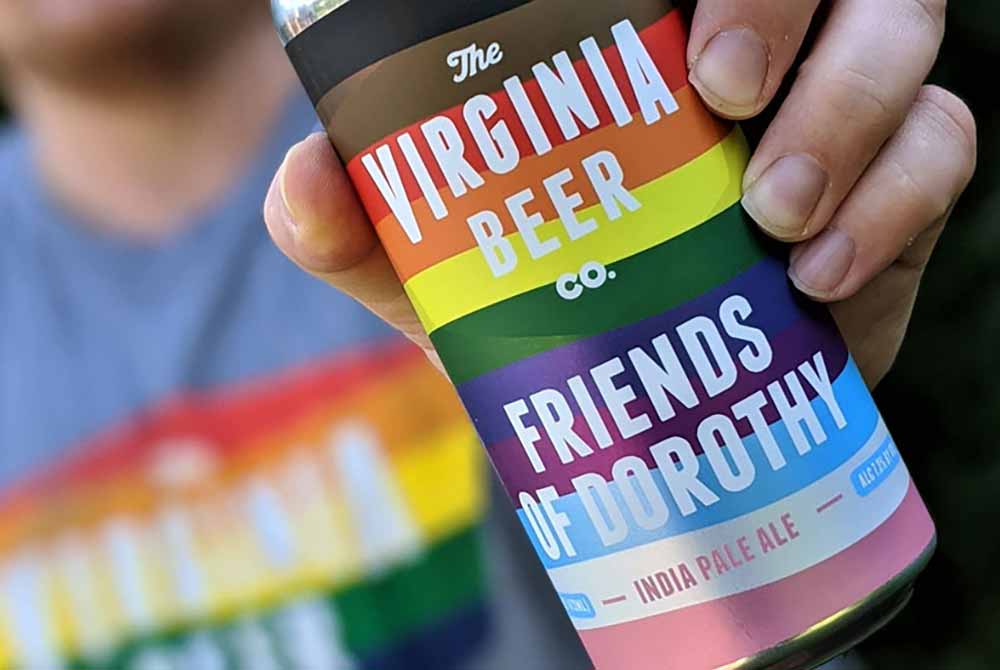 IPA – Chris Smith and Robby Wiley started The Virginia Beer Company with a goal: to change Williamsburg and to be a place that's comfortable for anyone. For Smith and Wiley that means supporting the LGTBQIA+ community.
The brewery's Friends of Dorothy is one of the more well-known Queer-supporting beers in the country. The beer is named after a phrase—"a friend of Dorothy"—used as a secret signal between gay men dating back to at least World War II when being Queer was illegal. Saying you were "a friend of Dorothy" signified your orientation in code.
The beer respectfully nods to a very tough time for the Queer community. One where we persevered and survived.
This may be a Pride IPA, but the beer's meaning really hits us and proves to us that Virginia Beer Co. embodies equality all year long.
For all these reasons, we named The Virginia Beer Company one of our "47 Queer-Led and Queer-Supporting Breweries to Champion Right Now."
Note: The Virginia Beer Co. will be joining us for the Hop Culture x New Belgium presents Queer Beer Fest. Get your tickets here.
GET YOUR TICKETS TO QUEER BEER
Space Junk – Modist Brewing Co.
Minneapolis, MN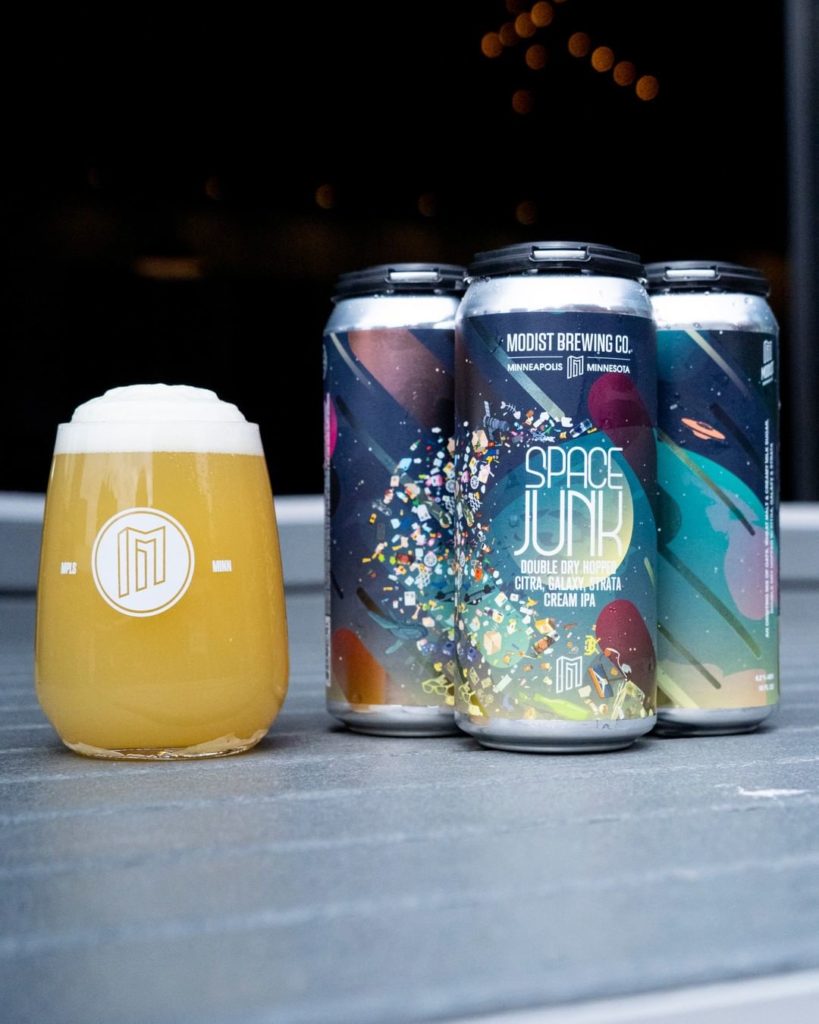 New England / Hazy IPA – One of Minnesota's most innovative breweries, Modist wants to buck the trend. Both with its beers and its taproom. Here you'll find bold beers with intriguing ingredients.
"We make alternative beers," Modist boldly claims on its website.
Such as Space Junk, a double dry-hopped cream IPA orbiting a galaxy of oats, wheat, malt, creamy milk sugar, and Citra, Galaxy, and Strata hops.
All in a space that makes the impossible possible. Focused on creativity and experimentation, Modist doesn't follow traditional style guidelines, but rather looks to hit a specific flavor or experience with each of its beers.
That means Modist literally built a custom brewhouse to make the beers they wanted. For example, the brewhouse includes the region's first mash filter, a piece of equipment that allows Modist Head Brewer and Co-Founder Keigan Knee to use any grain he wants in any percentage with only a fraction of the water used in a traditional brewery.
This is just an übercool brewery at the vanguard of the craft beer scene. And Space Junk is a beer that fully embraces this ethos. We expect big things from Modist in the future.
Midnight Hour – Eventide Brewing
Atlanta, GA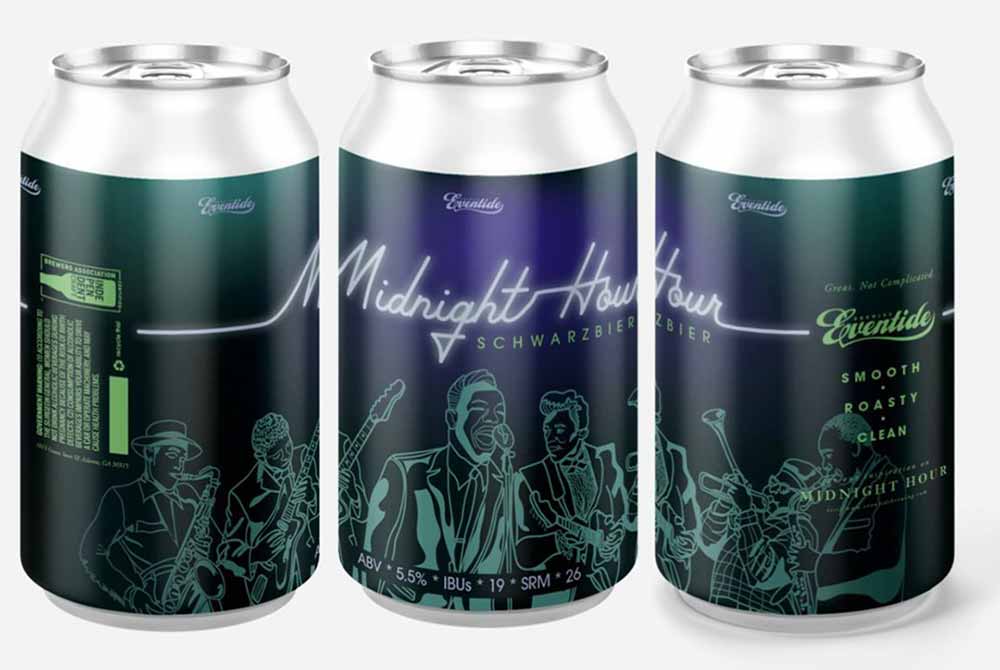 Schwarzbier – Wondering what the hell is a schwarzbier? You're not alone! Literally a German word that translates to black lager, schwarzbier is reminiscent of a German-style dunkel, but drier, darker, roastier, and lighter. It's a style that has a rich history in Germany but only recently started to pop up in the United States.
For instance, at Eventide Brewing in Atlanta, GA, where head brewer Adam Lukey makes an excellent schwarzbier called Midnight Hour.
In this beer, Lukey uses dark Munich malt, roasted black barley, and a touch of chocolate wheat, which "gives the beer a softer and slightly sweet taste on the palette," says Lukey. "Immediately you get a full maltiness, not so bready, but there is sweetness to it. The roast is what comes out immediately after, and you do get that chocolate coffee note, but not bitter at all."
Midnight Hour hits just 5.5% ABV, so it's a clean, crisp black lager you can have one, two, or maybe even three of either on a hot summer afternoon or a cold winter night.
If American craft brewers have anything to say about it, schwarzbiers are a style that we'll all be drinking year round soon.
Black Bear – Highland Brewing
Asheville, NC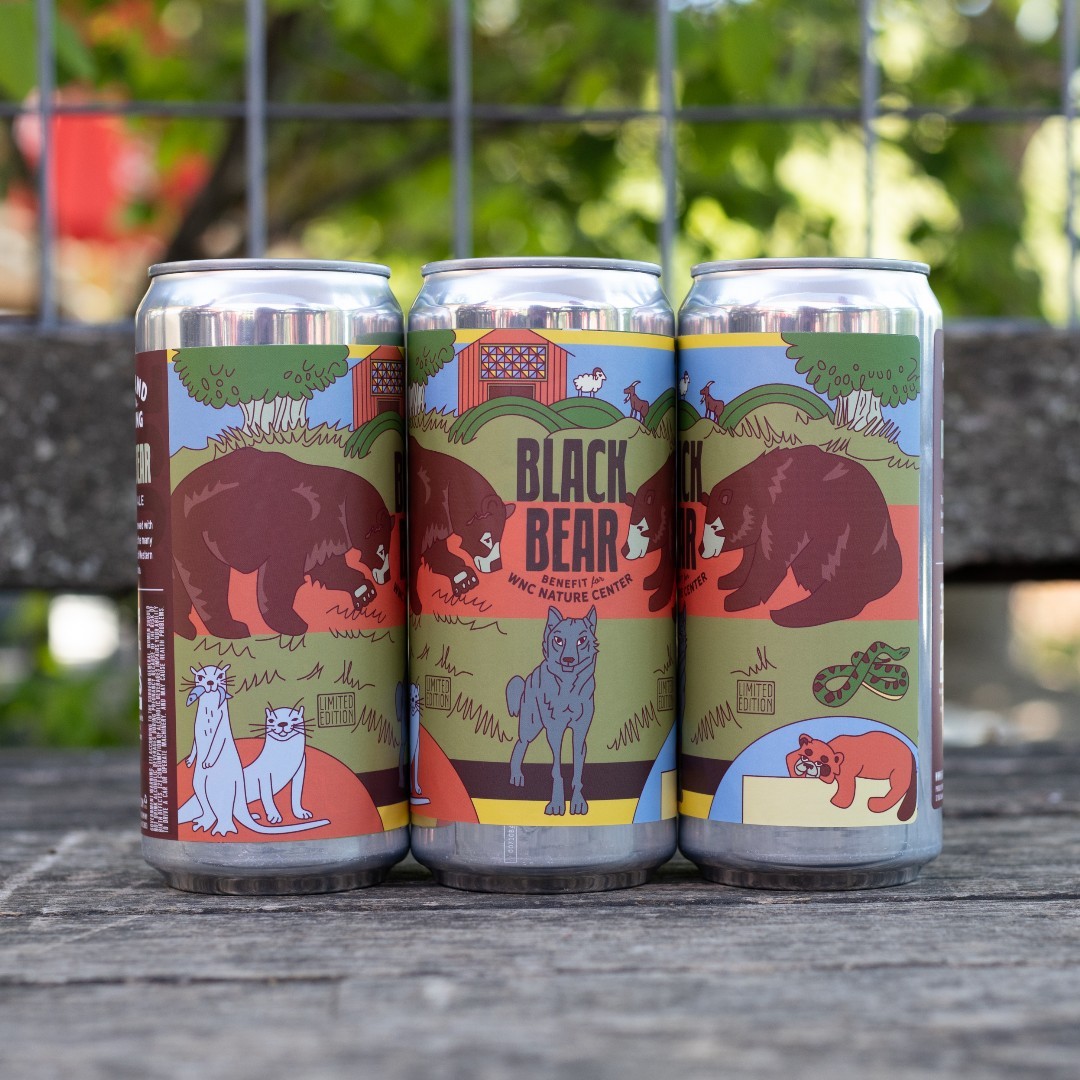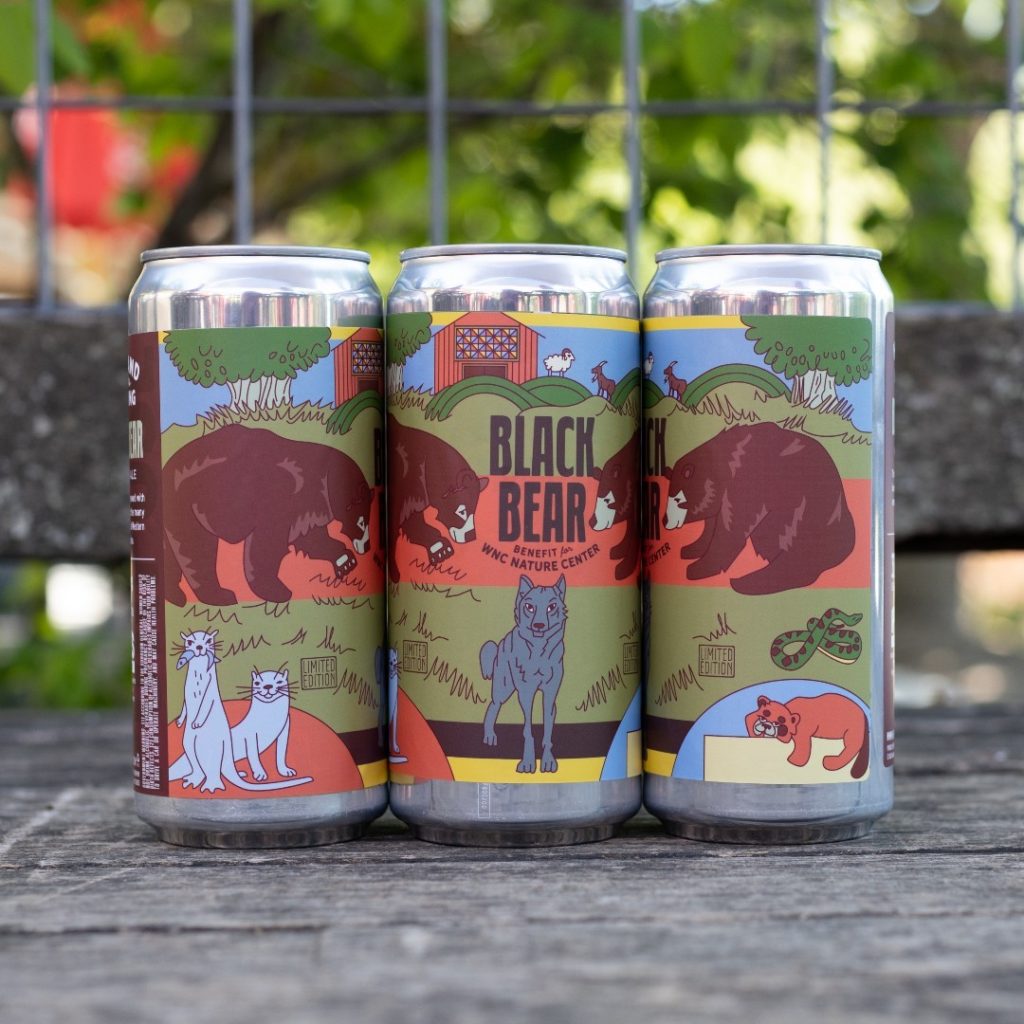 Kölsch – AAPI-owned Highland Brewing was actually one of the first-ever breweries to open in Asheville, NC, after Prohibition. Which is one of the many reasons we named the brewery one of our "9 Best Breweries in Asheville, North Carolina."
Simply put: The brewery is a groundbreaking institution.
And twenty-eight years later, Founder Oscar Wong and his daughter Leah Wong Ashburn (now CEO and president of Highland Brewing) continue to break barriers.
Most recently with Black Bear, a kölsch made in collaboration with the WNC Nature Center.
This beer is a part of the brewery's "Pints with a Purpose" series that features beers inspired by the missions of five different non-profit partners. Each includes an original crowler label illustration by local artist and owner of Sound Mind Creative, Jenny Fares.
For example, on Black Bear you'll find an incredible illustration showcasing a variety of the Nature Center's furry friends.
This is a revered brewery, brewing a beer for an extraordinary cause.
Pretty Ugly – Flying Machine Brewing Company
Wilmington, NC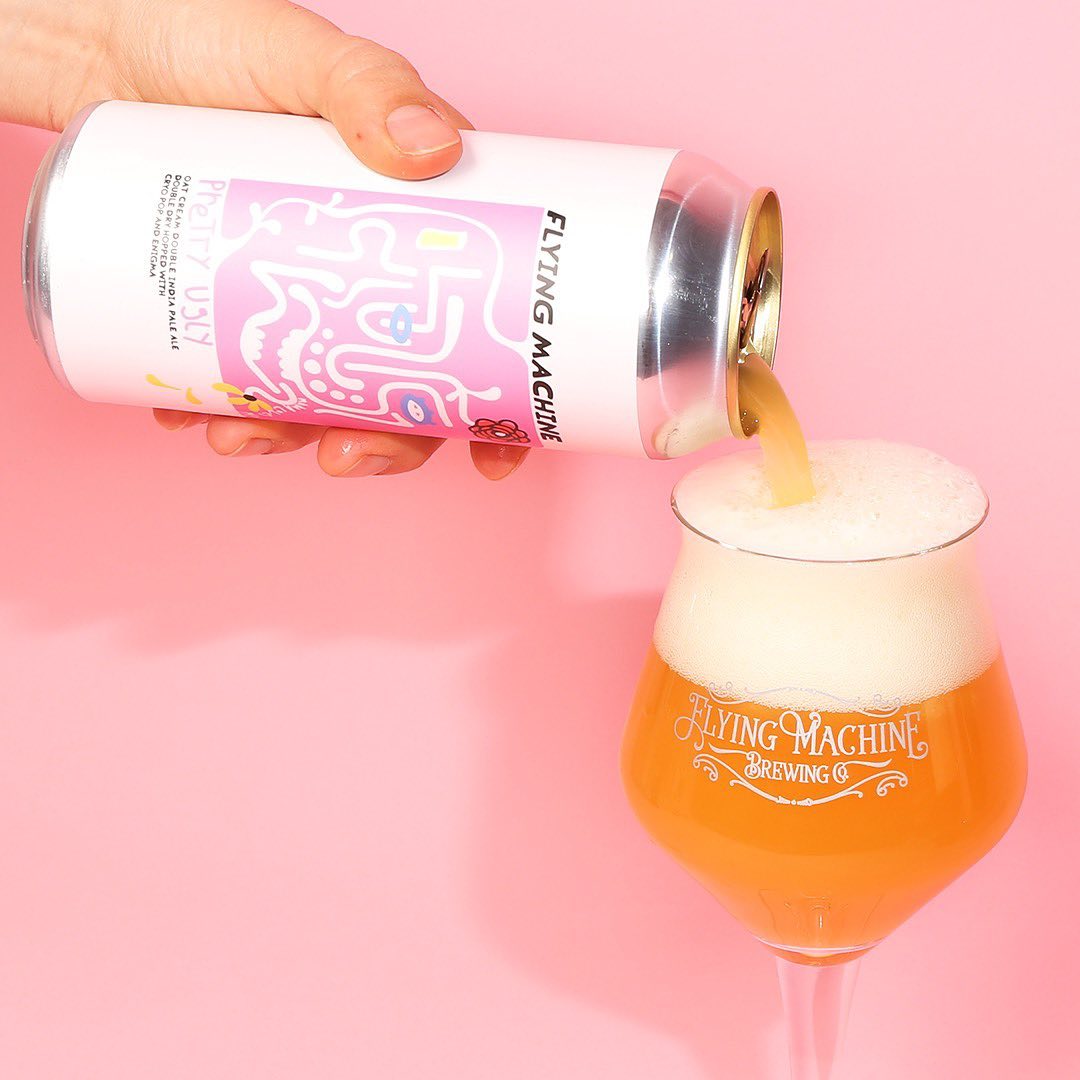 Imperial / Double New England / Hazy IPA –
It's ironic that Flying Machine's "Pretty Ugly" IPA makes us feel beautiful inside, even from the first sip.
Their house-made Oat Cream has copious amounts of Enigma that make this beer beautifully hazy with tropical, citrus, and berry high notes along with a crisp hop bite.
But what really makes this beer pop is…Cryo Hops. One of our "Four Coolest Hop Trends of 2022," Cryo Hops are engineered using sub-zero temperatures to specifically target and package up the lupulin goodies within a hop. Lupulin is the yellow powder you might see clinging to the green leaves of a hop cone that have all the essential acids and oils contributing directly to flavor and aroma. So in other words, Cryo Hops are just these little golden nuggets of goodness.
And they're elegantly on display in Flying Machine's Double NEIPA, a full-bodied and fully hoppy flavor bomb. And yet, Pretty Ugly carries that 8.1% ABV like a sack full of feathers.
Sesiones Del Migrante Mango IPA – Bale Breaker Brewing Company
Yakima, WA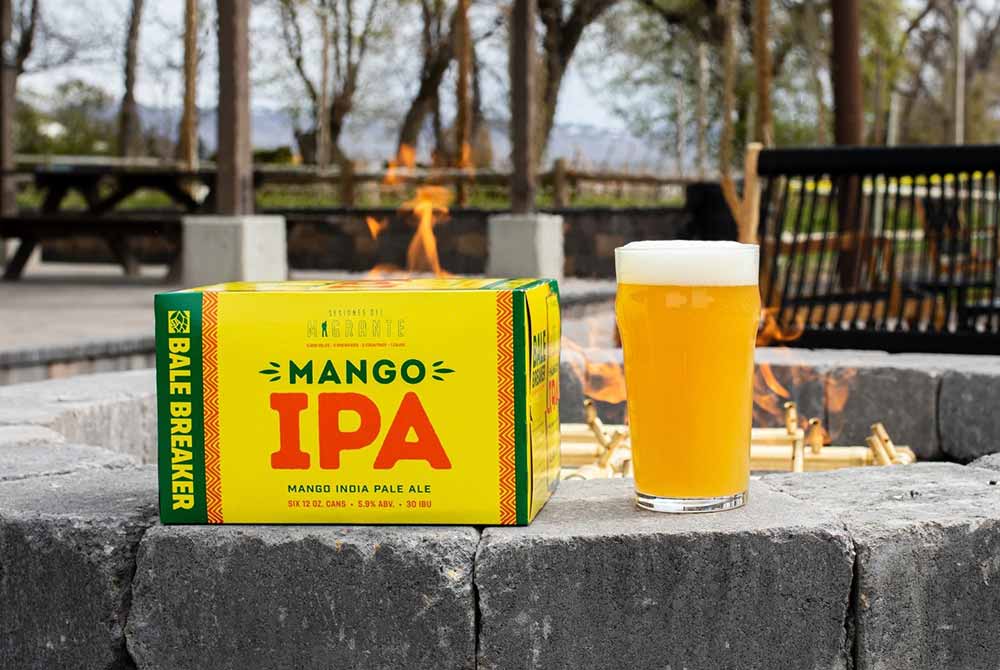 American IPA – Victoria Garza, daughter of a Mexican-migrant mother who worked in hop fields when she first came to America, now leads the Latin America division of hop sales for Yakima Chief Hops. Recently, Garza helped spearhead a project in support of the farm workers that make up the heart of hop growing in the Yakima region of the Pacific Northwest. "Without the farm workers, there would be no American hops for global consumption," writes Garza in an email to Hop Culture. "A recent project of mine is highlighting those that often are overlooked in craft beer."
To start creating important conversations and celebrations of the Mexican migrant farm workers, Garza teamed up with Bale Breaker Brewing Co. to create a beer called Sesiones Del Migrante Mango IPA.
Released this past month, Sesiones Del Migrante Mango IPA "celebrates migrant workers who travel to Yakima every year to harvest hops for breweries across the globe," writes Garza.
Perhaps most importantly, a portion of the proceeds from the sales of this beer will benefit Nuestra Casa, a non-profit that serves adult immigrants in the Yakima Valley, removing immediate barriers and providing services to that vital part of the community.