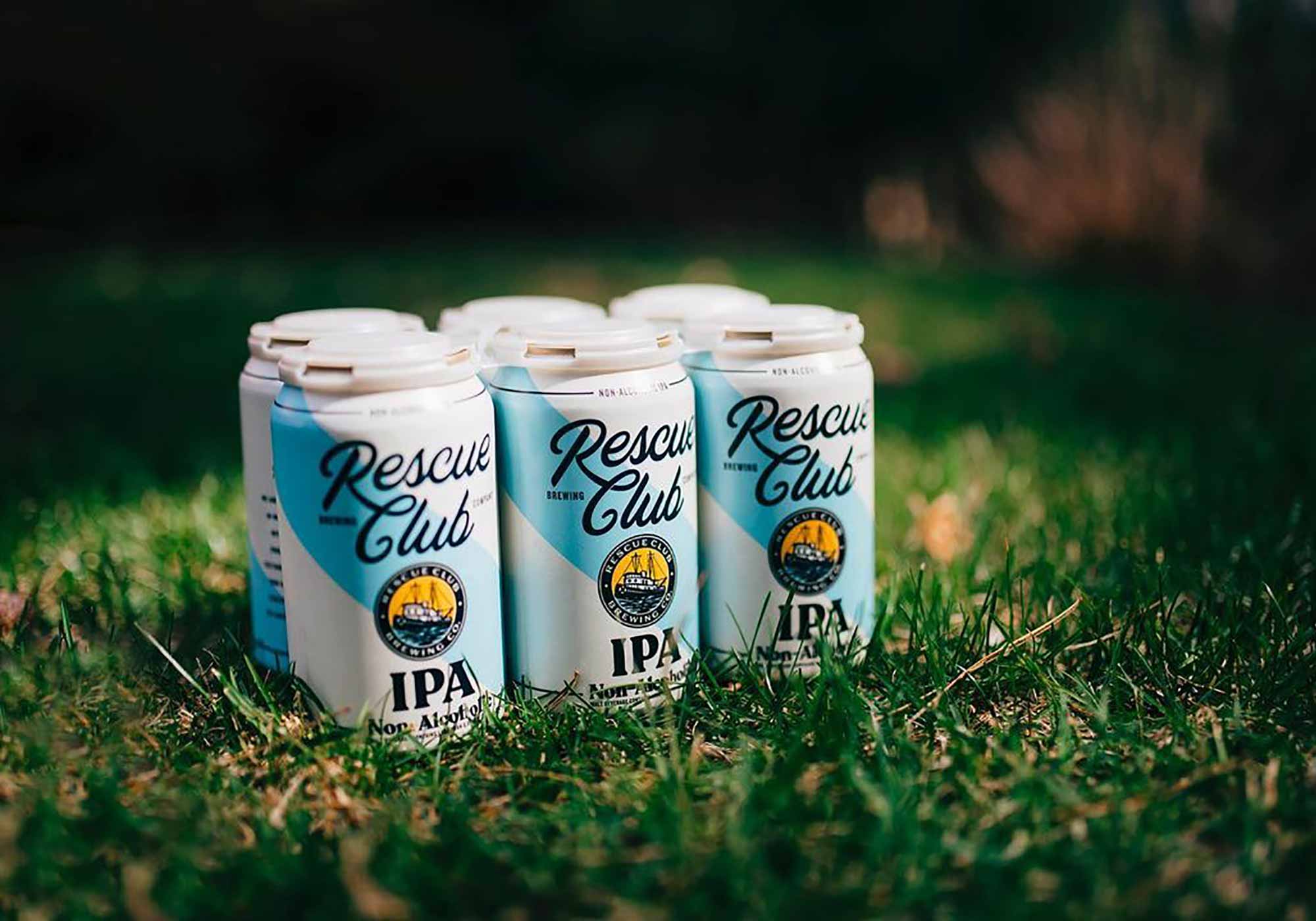 Photography courtesy of Rescue Club
It's not the alcohol that makes the party, but the people. That's the mantra Vermont-based Zero Gravity Craft Brewery wants to emphasize with its newest venture. Known for New England classics like Conehead IPA and Little Wolf Pale Ale (and one of our favorite can labels of the past couple years), the brewery recently launched Rescue Club, a non-alcoholic (NA) beer brand.
According to the market research company IRI, sales of NA beer rose 38 percent in 2020, with $188 million in sales. And although NA beer sales only account for less than a percentage point of the entire craft beer market, breweries across the country have been exploring the trend.
With Rescue Club, Zero Gravity developed its own proprietary technology to craft a beer that's fun, approachable, and delicious.
Just without the booze.
What Is Rescue Club?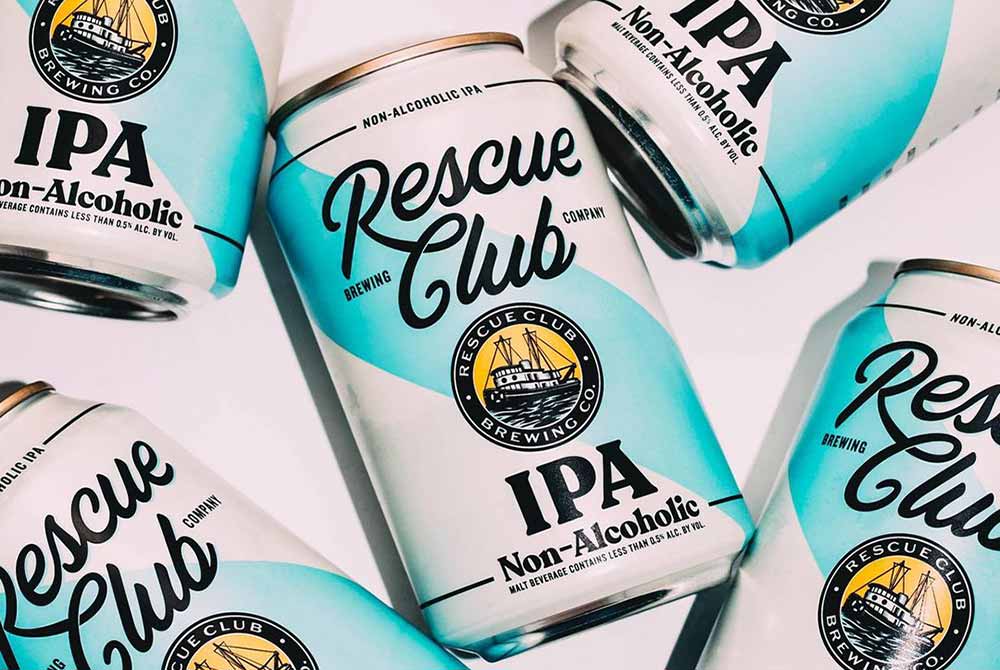 A partnership between Vermont-based Zero Gravity Craft Brewery and Kris Nelson, former Co-Founder of Citizen Cider, Rescue Club makes a high-quality, craft non-alcoholic beer.
Launching with a flagship Non-Alcoholic IPA, Rescue Club was "founded with the intention of changing the conversation about non-alcoholic beer."
"We want to chart our own course," says Kris Nelson, current Co-Founder and Director of Sales for Rescue Club. "When people think of the best quality NA IPA, we want to be a part of that conversation."
Nelson is no stranger to entrepreneurship. As the former founder of Citizen Cider, Nelson built an entire cider company from the ground up in 2011. At a time when cider barely registered as a blip on anyone's radar, Nelson grew the business into one of the largest cideries in the country.
"I love paddling into that wave and developing conversation around something that isn't in people's lives yet," says Nelson.
So, when Zero Gravity Co-Founders Paul Sayler, Rob Downey, and Matt Wilson approached Nelson with the idea for a new venture in the non-alcoholic beer space, Nelson was excited to get involved.
Why Did Rescue Club Make a Non-Alcoholic Beer?
As a brand, Zero Gravity prides itself on making beer for everyone.
"Our philosophy is, we want everyone to have a reason to come and have a good time with us," says Katie Palatucci, Director of Marketing at Zero Gravity.
With that in mind, the brewery realized they were excluding a part of their community that didn't consume alcohol. But instead of remedying the problem with a single NA SKU, the team decided to create an entirely new brand.
"We're promoting a different agenda and lifestyle, so it made sense to separate [the two]," says Palatucci. "It unlocks opportunities for both brands to lift each other up as we continue to grow."
Nelson continues, "We want to have our own emphasis and trajectory, but also capitalize on the fact that Zero Gravity makes unbelievable beer."
Leveraging Zero Gravity's established reputation took some of the pressure off of building a brand from scratch. It also allowed the brewing team time to experiment.

How Does Rescue Club Brew a Non-Alcoholic Beer?
Crafting a non-alcoholic beer poses its own unique challenges. According to Palatucci, it took a major investment to develop the non-alcoholic IPA.
"Our brewers worked so hard on this as a side project while juggling everything else for Zero Gravity," she says. "We're so grateful and in awe, because we love drinking this beer."
To nail the recipe, Zero Gravity developed its own proprietary technology. This is actually something required by most NA breweries, simply because the category is so new. While Zero Gravity keeps the technical details under wraps, Nelson said that while traditional forms of vacuum distillation heat the beer and boil the alcohol out in a pressurized environment, RCBC's proprietary method treats the beer with dignity by using a gentler process yielding a much finer end product.
"There was no 'phone-a-friend' here," says Nelson. However, despite the laborious development process, the time and effort behind Rescue Club's Non-Alcoholic IPA paid off in spades.
What's The Verdict on Rescue Club's Non-Alcoholic IPA?
The magic of Rescue Club's flagship beer is that you can drink one, two, or even three anywhere, at any time of the day, without getting a buzz.
"I call it my Sunday beer," says Palatucci. "I love drinking beer, but I don't like partying on Sundays. With Rescue Club, I can crack one to watch the game, have a couple outdoors with the sun shining in beautiful Vermont, or drink after a workout."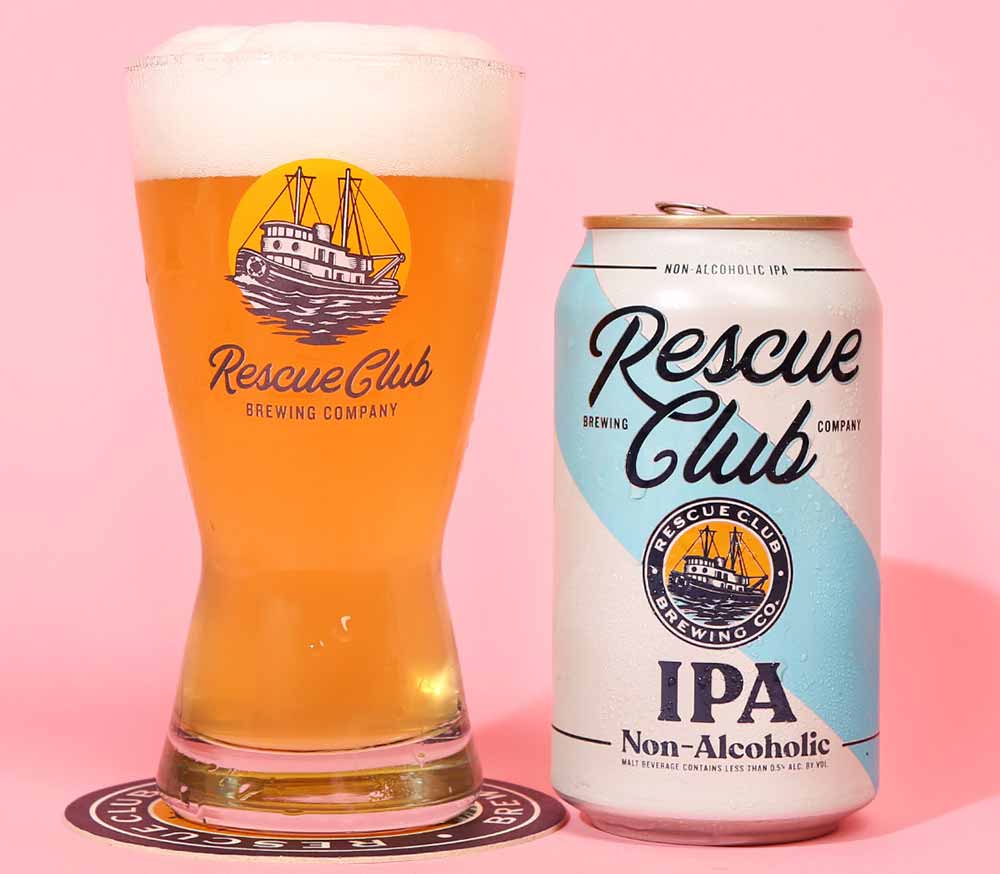 In our opinion, Rescue Club's Non-Alcoholic IPA hits all the right notes without sacrificing flavor. Pouring with a nice, approachable haze, the Non-Alcoholic IPA has a structure and weight just north of a pale ale, but with the bitterness and hop characteristics of an IPA. The beer features Motueka and Citra hops and exudes big, beautiful citrus and tropical fruit notes without tipping the scales on sweetness.
"Being in New England, if you can make that quality IPA without alcohol, that's a beautiful place to be," says Nelson. "It was important we nail this one first and have this be our flagship."
What's Next For Rescue Club?
While Rescue Club will focus on its core Non-Alcoholic IPA for now, Nelson notes that the brand is leaving the door open for new styles in the future.
"All I can say is we here at Rescue Club and Zero Gravity love a perfect lager," says Nelson, who indicated that the brand will be working on a non-alcoholic lager over the course of the summer. In the meantime, Rescue Club's Non-Alcoholic IPA will lead the way.
While hitting 'go' during a global pandemic created a few barriers, Nelson believes Rescue Club will benefit from the opportunity to connect with customers face-to-face. Although he hasn't had a good chance yet to interact with consumers, he hopes to take advantage of new moments to, "go out and have a million little conversations with as many people as possible."
As part of that conversation, Palatucci wants to use Rescue Club as an opportunity to create a more inclusive environment.
"There is a stigma that you have to be drinking to be a part of this culture," she says. "We're here to change that conversation."
Rescue Club wants to prove that you don't necessarily need alcohol to have a good time. You can still make memories and have fun even with a non-alcoholic beer.
"Imagine you're hanging out with your friends drinking beers. The night is perfect," says Palatucci. "You're around the campfire drinking, the conversation is just flowing, everything is perfect, and you don't want to go to bed. You drink one more beer, wake up the next morning, and realize you probably shouldn't have had that last beer. In comes Rescue Club. It's just another bow in your quiver to support you when you need it."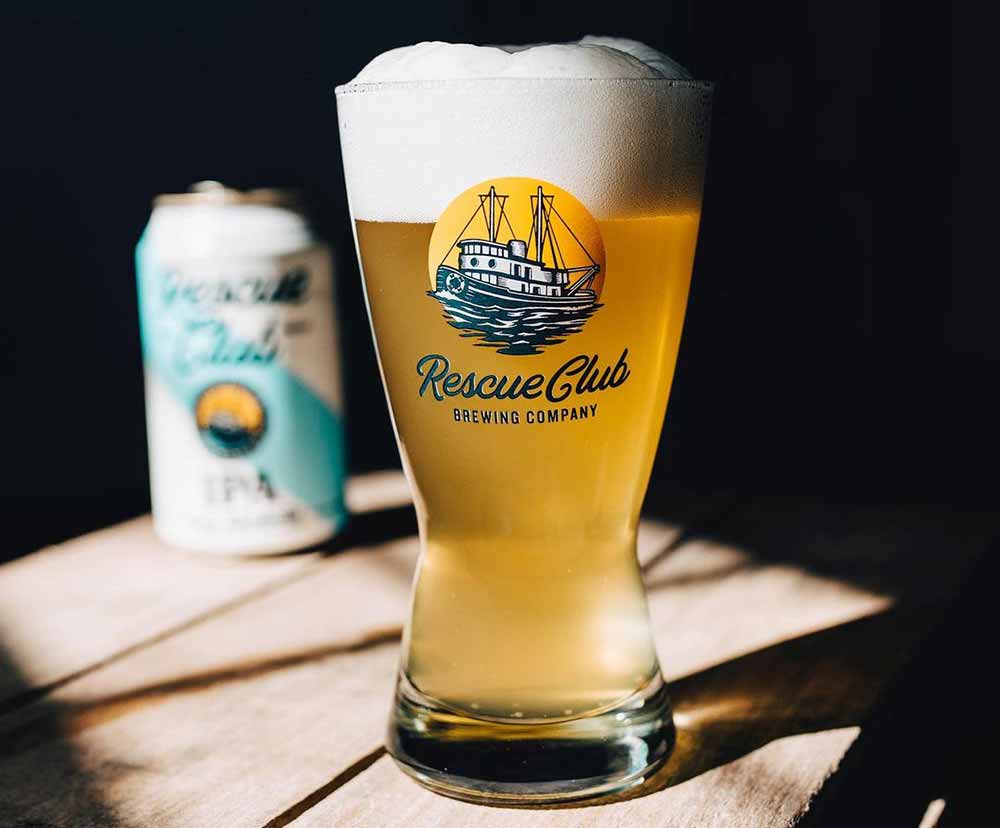 Where Can I Buy Rescue Club Non-Alcholic Beer?
If you're looking to get your hands on some of this non-alcoholic beer, Rescue Club is currently available for distribution in Maine, Massachusetts, Vermont, and Rhode Island. The company plans to expand to New York, New Jersey, and New Hampshire within the month.
Additionally, since it's a non-alcoholic product, the beer is available through Rescue Club's online shop. Six packs cost $12.99 and can be shipped direct-to-consumer in 42 states. Unfortunately, due to shipping laws, the beer is unavailable to ship directly to Alaska, Georgia, Hawaii, Idaho, Kansas, Michigan, Mississippi, and Nebraska.
This is a paid, sponsored post presented by Rescue Club Brewing Company.
Liked this article? Sign up for our newsletter to get the best craft beer writing on the web delivered straight to your inbox.