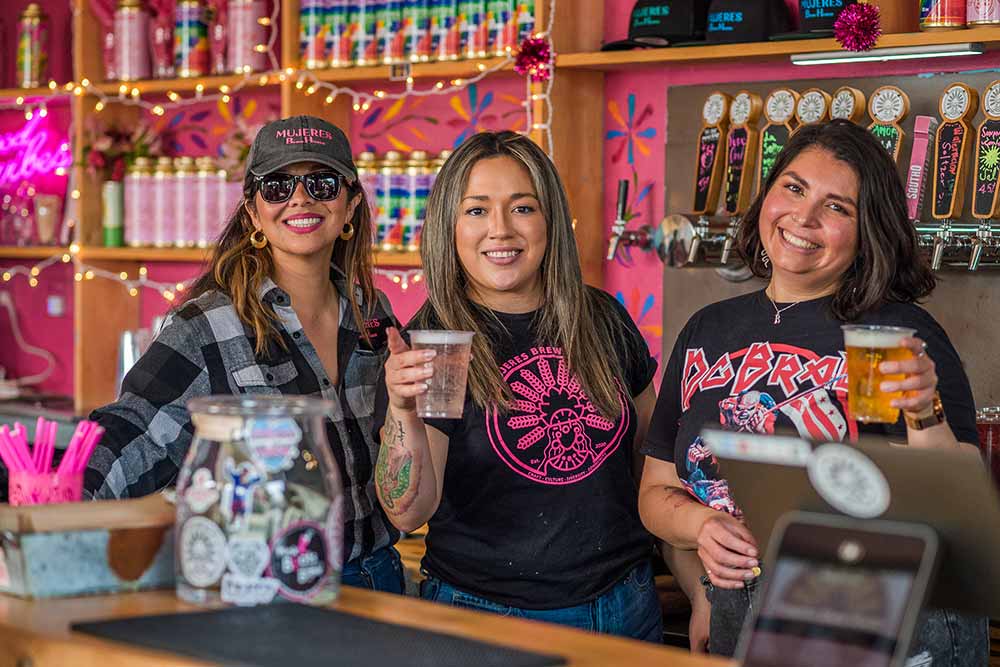 Photography courtesy of Mujeres Brew House
Did you know that women were the OG brewers? Dating as far back as 4000 B.C., Sumerian women were found on Mesopotamian cuneiform tablets brewing beer. Of course, the landscape looks very different today. Last year, a demographic audit of brewery owners performed by the Brewers Association reported that only 23.7% of brewery owners identify as female.
But one brewery in Southern California is bringing women back into the brewhouse and into the front for that matter. At Mujeres Brew House, they're reclaiming that title of women as the original brewers.
The brainchild of Carmen Velasco-Favela, the all female-run and Latina-owned brewhouse opened its doors on July 1st, 2020. Since then, the brewery has been reimagining the stereotypical gender and race of the craft beer industry.
"No one controls the definition of craft beer," says David Favela, co-founder of Border X Brewing and Velasco-Favela's partner in business and life, who points out that in fact if anyone has rights to characterizing craft beer it's women because of their history with brewing. At Mujeres Brew House, "They're not conforming to the industry," says Favela. "They're writing their own rules."
The Mujeres Brew House blueprint is something we should all read.
Re-writing the Narrative: The Origins of Mujeres Brew House as a Women's Beer Club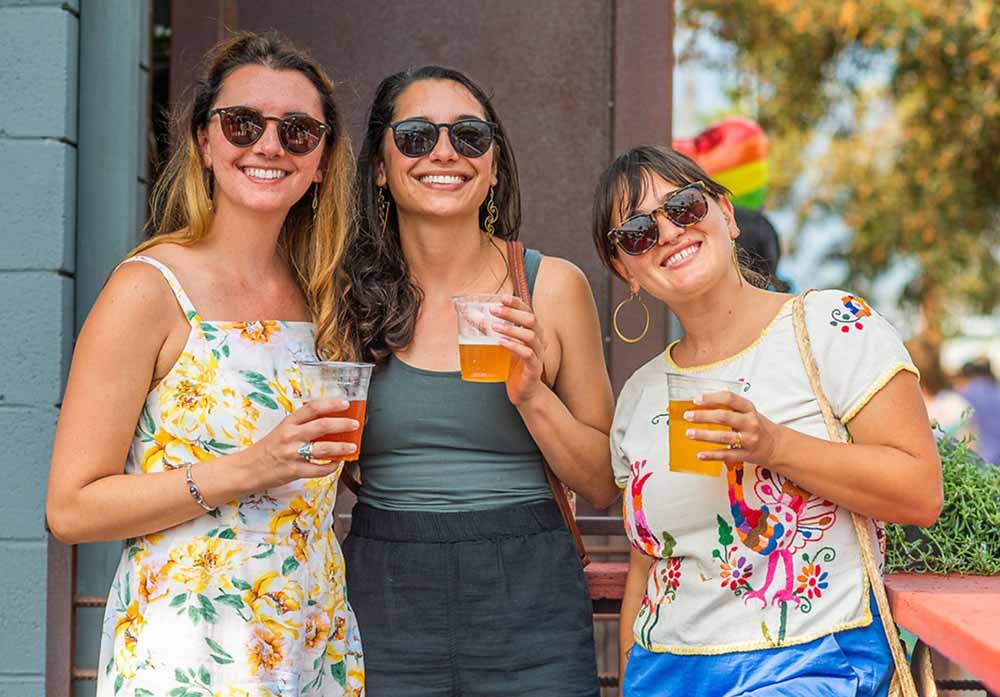 Mujeres Brew House started simply as a craft beer club at Border X, a Latinx-owned brewery in San Diego, CA, that taps into Velasco-Favela and Favela's Hispanic roots.
"We are part of that movement of people who aren't content to just reflect on the colonial history of Latinos," says Favela. "We're trying to reinterpret what it means be Latino/Mexican American/Chicano today. In that sense, we're cultural transformers."
But Border X Brewing has broken more than just a cultural boundary. In 2019, the brewery gathered data on their customers, discovering that women made up sixty percent of their clientele. "We were like, what?" says Velasco-Favela. "We knew there were a lot of women that came in, but when you're working you don't even realize it."
The study proved a pivotal moment.
The brewery's marketing director back in 2019, Velasco-Favela came up with an idea to start a women's brew club. "Our goal was to celebrate our customers," says Velasco-Favela.
Velasco-Favela started Mujeres Brew Club as an educational series, bringing in speakers to talk on everything from the history of craft beer to how to make beer.
What started as one event on Eventbrite, with about ten tickets, morphed into a six-month series that sold out at fifty tickets nearly every time.
"It was wonderful to see women come by themselves, come with their mothers, come with their sisters," says Velasco-Favela. "It was so beautiful and powerful."
Whether they knew it or not, Velasco-Favela had planted the seeds for an idea that would grow beyond their wildest dreams.
From Club to Brew House: Creating an All-Female Brewery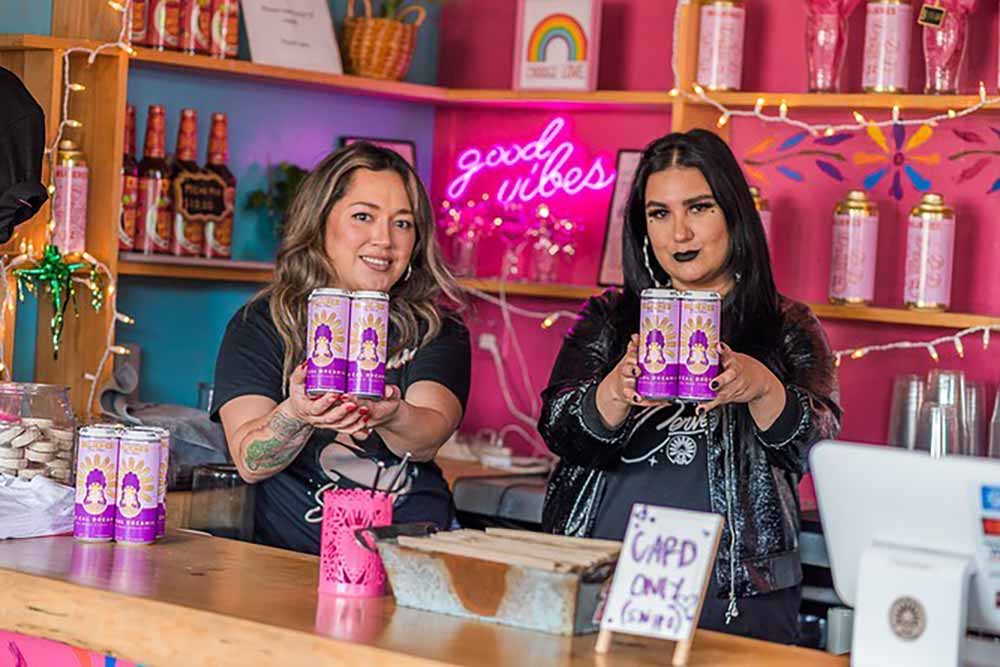 When the COVID-19 pandemic hit the United States in March of 2020, the Mujeres Brew Club could no longer safely meet in person.
But Zoom events just didn't seem like a great option. "These women needed to come out and be with other women drinking beer and have a moment of time out from their lives," says Velasco-Favela. "I didn't want to let the girls down and end something so beautiful because of the pandemic."
As luck would have it, a vacant brewery building came on the market. And while Velasco-Favela never planned to open a women's brewhouse, the opportunity seemed too perfect.
Velasco-Favela scheduled a walk-through with the current owner of the property, Jim Brown, who owns the popular San Diego art space Bread and Salt. Almost immediately Isabel Dutra (Brown's wife) handed over the reins. According to Velasco-Favela, she told them she would love nothing more than to see women using the space. "We hadn't even signed the contract yet, but within twenty-four hours we had the keys," says Velasco-Favela. "Our lives changed that day. I kept thinking about the women and how happy and excited they were for this club and how much it meant to them."
It's a mantra Velasco-Favela comes back to often. Especially while facing the challenges of opening a Latina- and women-owned brewery during a global pandemic.
"I could have backed out at any point, says Velasco-Favela. "But I swore to all the women in the industry supporting us that we were going to dedicate our time and energy to empowering women in craft beer and creating diversity in the beer industry because that is what is needed."
Bringing the Birthright of an All-Female, Latina Brewery to Life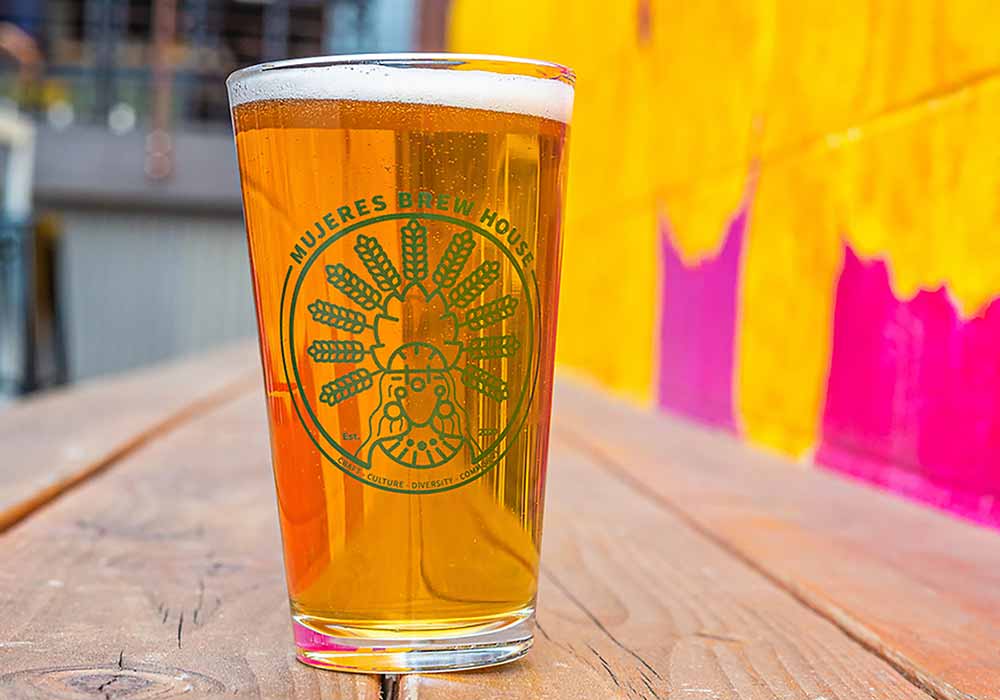 From the very beginning, Mujeres Brew House has been a brewery made by women with beers brewed for women.
It's a point Favela told his wife to drive home right from the beginning. "I told them don't conform to the industry, ask the industry to conform to you," says Favela. "The industry has been a bit of a boys club and women have been allowed in as long as they play by the rules of the game… I told her to throw out the rulebook and explore the unique palettes, tastes, and profiles of women."
For Velasco-Favela that meant brewing beers with the ingredients, fruits, and flavors of their Mexican culture.
"But making those flavors with a Latino twist or for a Latino palette can be tricky," says Velasco-Favela.
Which meant they had to find a brewer that would be up to the challenge of running this unique 5-bbl brewhouse.
Velasco-Favela hired Samantha Olson because of her expertise and background in recipe development.
A graduate with a chemical engineering degree from NC State and from the UC Davis Brewing program, Olson worked her way up in the beer industry, from an intern cleaning kegs at ChuckAlek Independent Brewers (since closed) to head brewer at Fourpenny House (since closed), 13 Point Brewing Co., and Bivouac Ciderworks.
And although Olson is not Hispanic, "She has embraced this challenge and done an amazing job," says Velasco-Favela. "She's a badass."
"[Velasco-Favela] knew I'd be a good fit because of my career working at smaller breweries doing R&D with specialty recipes," add Olson. "We do crazy beers with adjuncts, fruit additions, and flavor combinations that you don't see anywhere else."
The Unique Beers of Mujeres Brew House
For Velasco-Favela and Olson, that recipe development process included going to different Hispanic restaurants to try classic drinks. "We'd get five different examples and decide which is the most traditional or had the best flavor," says Olson. "I'd try to recreate that inside of the beer."
For example, beers like Hola Saladito!, based on a traditional Mexican dried plum that has chili and salt on it. Traditionally, you stuff the saladito in an orange where the juice rehydrates the fruit.
To recreate this recipe, Olson made a gose, a traditional salty wheat beer, that tastes like orange juice. When Mujeres Brew House serves the beer in the taproom, they drop an actual saladito into the glass. "It tastes good on its own, but with the saladito added and the chili on the outside, it enhances the beer tenfold," says Olson. "It's crazy because we are recreating this memory… People say it was a really good soccer snack for them as a kid. The beer brings back that memory."
According to Velasco-Favela, it's her favorite beer right now.
Other examples include Buenas Vibras Toronja Blonde Ale, the brewery's first beer that gets a squeeze of grapefruit to make it easy-to-drink, smooth, light, and crisp.
Similarly, La Jefita Tamarindo Hefeweizen includes fresh tamarind pulp from Mexico that Velasco-Favela says comes in these huge buckets. "It's very subtle," says Velasco-Favela. "Only a Latino palette could probably pick up on it."
Or Cafe De Olla. The stout, whose name translates to "coffee of the pot," celebrates the traditional Mexican morning beverage brewed with cinnamon sticks and piloncillo sugar. "It's my favorite beer at Mujeres right now, especially with the colder weather," says Olson.
Brewing Beyond Beer, Setting the Standard for the Future of the Industry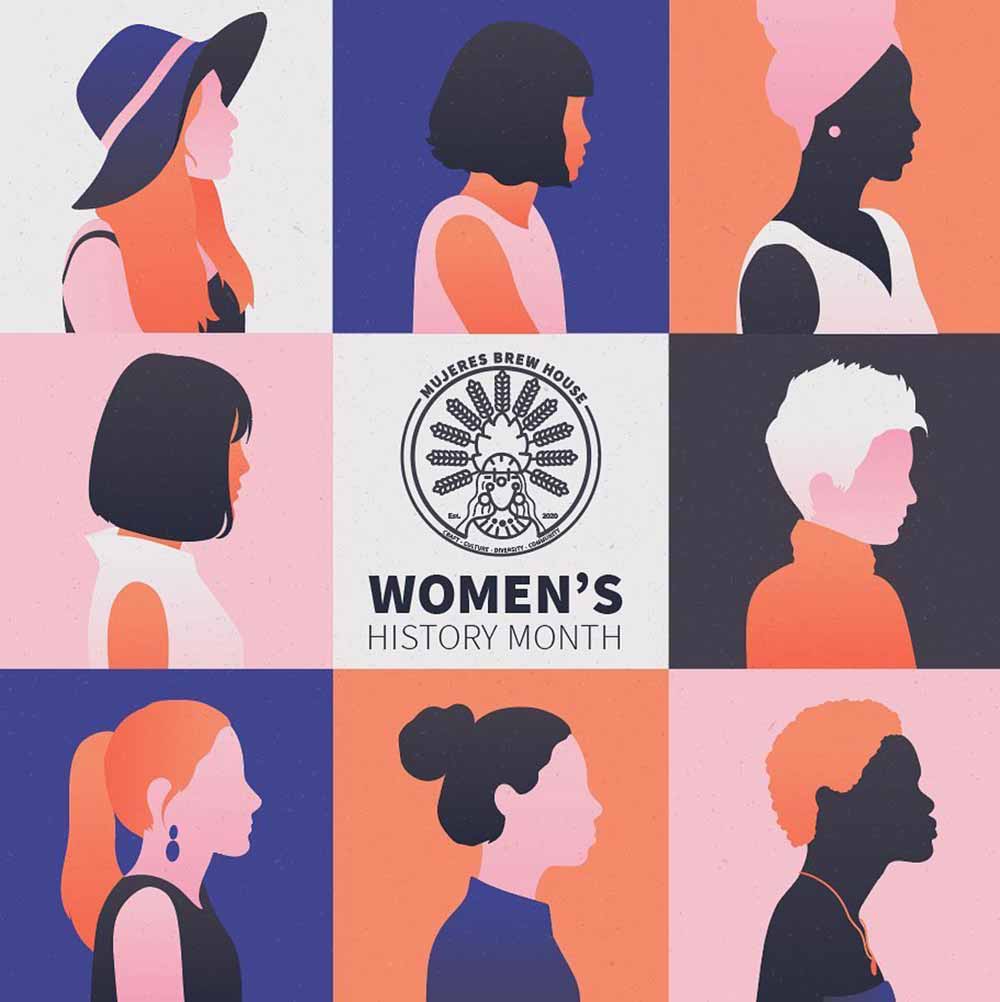 At the end of the day Mujeres Brew House always returns to its roots: its origins as a club for women interested in craft beer.
That ethos means Olson makes a point to teach front-of-house employees how things work in the back of house.
"Yesterday, we brewed Casa Verde, our core IPA, and I didn't touch a single valve," says Olson. "Yes, I created the recipe, but our employees went through all the steps of brewing on their own."
The idea is that after making beer with Olson enough times, each of these women will be able to go and work at another brewery all on their own. "The goal is to get more women involved and to build their confidence," says Olson. "Brewing seems complicated, but when you break everything down step by step and you are in a safe environment, it's fun."
Olson continues, "If our women learn the terminology with me, they can feel confident going out and talking about beer with other people."
It's a beautiful ecosystem that will have ripple effects for years to come. How many brewers in San Diego started their careers at major breweries like Ballast Point before going on to open their own places or work at well-known breweries?
Hopefully, the practices at Mujeres Brew House will create a similar culture of success for Latinas and women across the industry.
"Everyone has realized in the industry there are women here," says Velasco-Favela. "Now, let's give them positions that we weren't giving them because we didn't feel comfortable, let's celebrate them, and let's empower them."