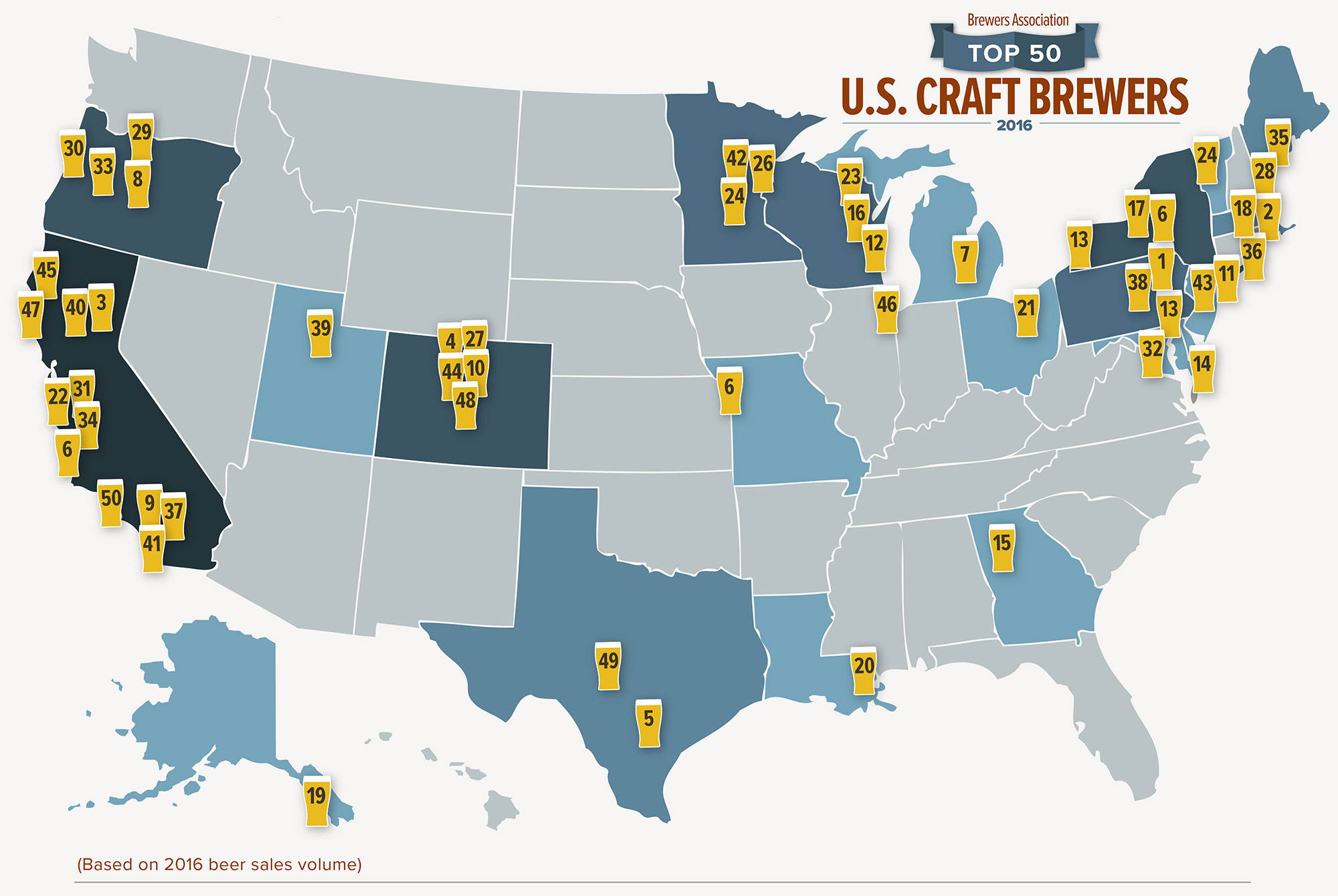 Photography by Brewers Association
Every year around this time, the Brewers Association — craft beer's not-for-profit trade group — releases a retrospective of the year prior in the form the largest 50 craft breweries by sales volume. While the list doesn't touch on the smaller, hyper-local, hobbled-together operations that beer fanatics tend to pine over, it does serve as a barometer for change among those breweries that are distributing nationally. And for much of the country, these are the only breweries they can get their hands on anyway.
Here are the five biggest take-aways we gained from the list. Call it a review of 2016 in beer headline news.
1. Lagunitas Brewing has gone corporate.
On September 8th, 2015, Heineken announced that it was acquiring a 50 percent stake in Lagunitas, the California-based brewery known for distinctly non-corporate antics. For some die-hards, this means they'll never purchase another Lagunitas pint in their lives. But in the words of one Massachusetts brewer, "You do want to make money, right?"
2. Duvel Moortgat acquired Firestone Walker.
In volume sales, Duvel Moortgat (previously Duvel USA) shot up from 15th to 6th between 2015 and 2016, largely due to their "investment" in Firestone Walker. Firestone joined New York-based Ommegang and Missouri-based Boulevard Brewing in Duvel's rockstar domestic portfolio. Fans of all three breweries can expect production to continue to ramp up, though if the company passes the 6 million barrel mark, they will no longer be considered craft.
3. Ballast Point went the way of Lagunitas.
On November 16th, 2015, just after Lagunitas sold, Ballast Point was aquired by Constellation Brands — maker of Corona, Modelo, and Pacifico — for roughly $1 billion.
4. 2016 was a massive year for Oskar Blues Brewing.
The NC-based brewery, which jumped past Brooklyn Brewery and Minhas Craft Brewery in terms of sales, expanded production in its large Brevard, NC plant and opened a new brewery in Austin, TX. The brewery managed to finish 2016 as the nation's top-selling, canned craft six pack.
5. The midwest is up for grabs.
Minhas Craft Brewery, based in Wisconsin, slid from 9th to 12th as their in-state rivals, New Glarus Brewing and Stevens Point Brewery, jumped from 20th to 16th and 25th to 23rd, respectively. And new to the 2016 list is Surly Brewing, the legendary outfit based in Minneapolis. Despite parting with their star brewer, their popularity had led them to expand their brewery earlier than anticipated.