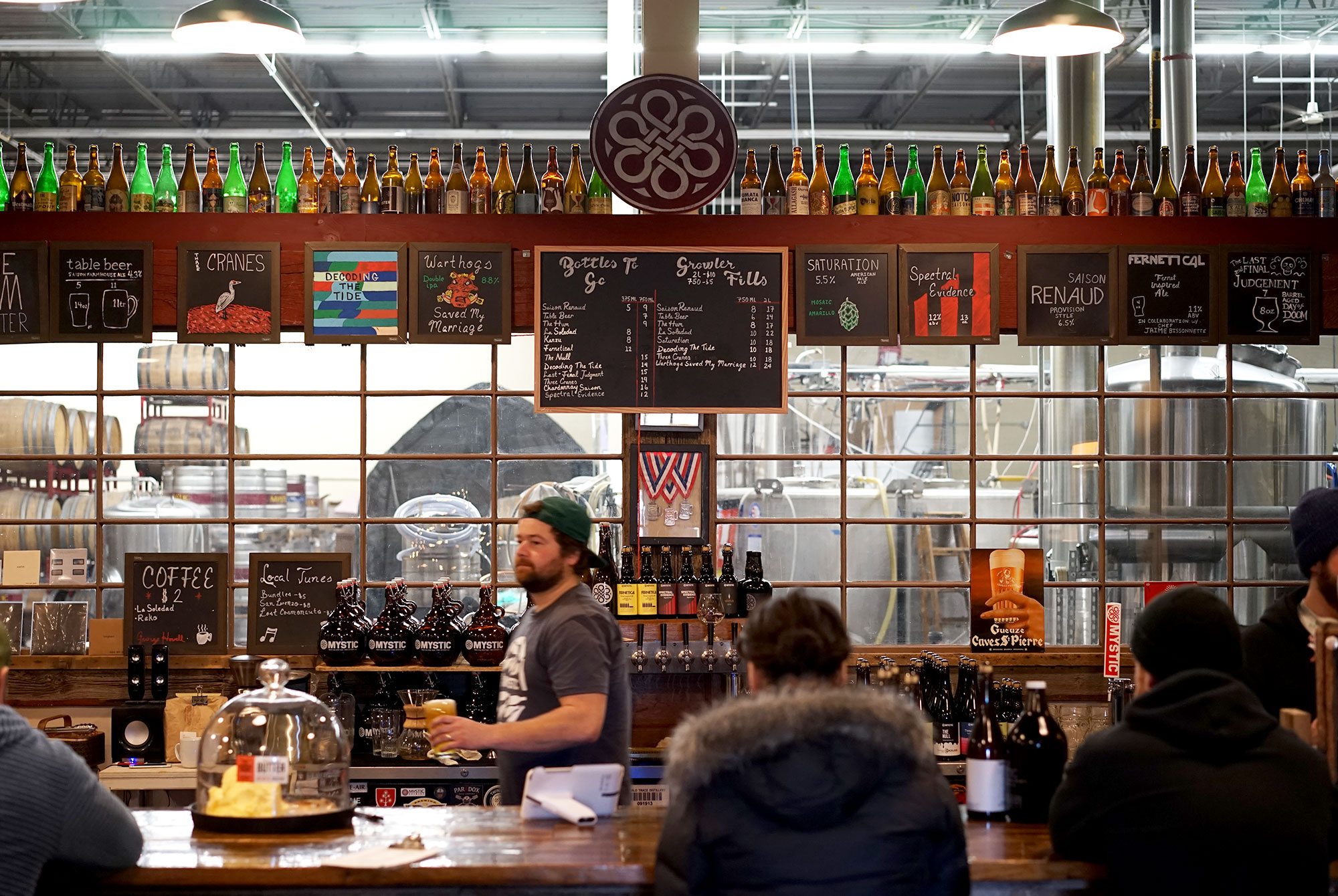 Taproom traffic has doubled since Mystic Brewery in Chelsea, MA started offering IPAs.
Photography by J. Travis Smith
I attended an event last year that featured Jim Koch, the founder of the Boston Beer Company (maker of Sam Adams), as the keynote speaker. He's become famous for these types of talks, offering candid soundbites and off-the-cuff words of wisdom while a team of PR handlers sits nervously nearby.
This one was no different; a little ways into the talk he expounded on his theory that marketing is much like masturbation. But what stood out more happened near the end, during the Q&A, when he fielded a question from an investor in a small New England craft brewery.
The investor asked for a tangible piece of advice he could bring back to the brewery, something that would have a positive impact on the brand and its sales.
Koch didn't flinch. For any brewery to compete in today's market, he said, it must have a taproom serving fresh beer to its local community. It was an answer that, even in a state with a thriving craft beer fan base, illustrated the tension between success and compromise.
For any brewery to compete in today's market, he said, it must have a taproom serving fresh beer to its local community.
Given his position, this was a ballsy answer — Sam Adams' brewery in the Jamaica Plain neighborhood of Boston doesn't actually have a taproom, instead offering samples to the largely tourist-heavy groups that file through for a tour — but it wasn't a surprising one.
Koch has built his brand into a billion dollar business, a far cry from the early aughts of hawking Boston Lager from his briefcase. But sales are slipping, forcing changes like overhauling the recipe of his flagship Rebel IPA. Though they might not have their own glitzy taproom in the heart of Boston — it's been argued that they should — it's telling that Koch values brick and mortar so highly in a business based in liquids.
For four Massachusetts breweries, the power of the taproom has proven to be a double-edged sword. The appeal is obvious and undeniable: on-premise sales go through the roof; quality control comes in-house as products are sold fresh and at the source; word of mouth works in their favor, over time increasing off-premise sales in liquor stores, bars and restaurants.
But pack a taproom full of thirsty patrons and one thing becomes clear very quickly: A majority of them, at some point, will ask about one style in particular. If you build a taproom, the people will come. And the people will demand IPAs.
"I didn't want to believe that you had to brew an IPA to be successful," said Chris Tkach of Idle Hands Craft Ales in Malden, MA. "Fast forward to 2016 when we opened a much more visitor-friendly location with a taproom and I knew we had to start producing those type of beers for the IPA drinker who would inevitably come through the door."
Idle Hands was founded in 2011 in Everett, MA, before relocating to its current location this year. The original concept was a Belgian-inspired nanobrewery. Visitors to the taproom would be met by about a dozen beers on draft that aren't IPAs, from mixed fermented farmhouse ales to classic German lagers.
"I think because we are so late to the game it's been a bit of an uphill battle to grab attention from the IPA drinker who wrote us off a long time ago," said Tkach. "And of course, now that we're brewing an IPA, people expect more of them." The balancing act now is keeping visitors happy without letting hops "take over the brewery."
Focusing on Saisons
The traditional, flagship Saison Renaud (left) and the experimental, collaborative Fernetical showcase what Mystic wants, but not necessarily what the average patron orders.
The story is much the same for Chelsea's Mystic Brewery, founded in 2011 with a mission of increasing people's awareness and appreciation of saisons.
"The demand for us to do IPAs in our taproom was overwhelming," said founder and brewer Bryan Greenhagen. "The challenge at this point is to not allow the IPAs to take over, and to continue to develop our saison-directed mission. We figured we wouldn't just make IPAs cynically to appease people, but rather make the best ones we could and make ones that we genuinely liked, as we do with all our beers."
So far it seems to be working: Taproom traffic has doubled since Mystic started offering IPAs.
For breweries that never intended to feature hop-forward beers in the first place, the taproom dilemma — that is, exposing yourself to the desires of foot traffic — can actually help increase awareness of the beers they hung their hats on in the first place.
Jack's Abby Craft Lagers, the celebrated lager-only outfit out of Framingham, debuted a spinoff brewery this January called Springdale Barrel Room, focusing on barrel-aged beers, IPAs and other ales. By doing so, marketing coordinator Arley Donovan told me, the brand has been "able to keep the Jack's Abby Craft Lager's mission of creating truly distinctive lagers intact." The bifurcation between Jack's Abby and Springdale, that is, has provided a timely and effective platform for their staff to educate consumers on the differences between ales and lagers.
"In many ways it actually helps us focus our goals and objectives at Jack's Abby because it gives us another place to experiment with ale yeasts, and these other styles of beers in a way that doesn't interfere with the production of our lagers over at Jack's Abby," she added.
"Is that 'selling out'? As a brewer friend asked me, 'You do want to make money, right?'"
Breweries like Idle Hands, Jack's Abby and Mystic aren't wading into the IPA game with a chip on their shoulders, but they are doing so on their own terms. They now offer a few IPAs each, and several — like Idle Hands' New England IPA called Four Seam and Mystic's Gravity IPA — now have year-round flagships of the style.
"I worked very hard on Left of the Dial and it's exactly what I want in a lower strength hoppy ale. The fact that we called it IPA is secondary," said Chris Loring of Notch Brewing, now in Salem, founded on the mantra of all session beer, all the time. "There is a growing group of consumers who have adopted a mono-culture in their beer consumption — 'What do you have for IPA's?' or 'I'm an IPA guy.' At some point you need to address shifts in consumer preferences, and at Notch we do that in a manner that is all our own. Is that 'selling out'? As a brewer friend asked me, 'You do want to make money, right?'"
If the not-so-new American obsession with IPAs has taken over liquor stores, bar tap lines and your local taproom, it's also provided an opportunity for the people who brew and champion other types of beer to spread the gospel to a captive audience.
Belly up to the bar at Idle Hands, Mystic Brewery, Jack's Abby or Notch, for example, and a friendly bartender might suggest a pilsner, lager or sour rather than your ubiquitous IPA.
Not that they don't have those too. And exceptionally tasty ones at that. But you might be challenged to expand your palate a bit and try something out of your norm.
"You're really missing out on a lot of other interesting beers that brewers are really proud to have made," said Tkach, at Idle Hands. "Put down the IPA and give something different a try — you might find that there is something else out there that is just as good."