Photography by J. Travis Smith
House of Fermentology at a glance:
House of Fermentology (HOF) is a beer blendery based in Burlington, Vermont, that was started by Todd Haire and Bill Mares.
Haire is also one of the co-founders of Foam Brewers; there are plans to fold HOF into Foam by the end of 2018.
House Dot is a 5.8% ABV wild ale aged in oak barrels.
Dot Dot Dot is an 8% ABV golden wild ale aged in oak barrels with plum and black pepper.
All HOF bottles are released monthly at Foam's waterfront taproom.
Why you should care:

During his time at Switchback and before helping to open Foam Brewers, Todd Haire homebrewed wild ales under the House of Fermentology brand. Soon afterward, he went all in on HOF, renting out space in Burlington with friend, beer author, and collaborator Bill Mares. Together, Haire and Mares brewed wort offsite and aged the beer in barrels at the House of Fermentology facility.
But let's not overlook Foam so quickly. Haire helped found the brewery in late 2015 with partners Dani Casey, Jon Farmer, Sam Keane, and Robert Grim; the brewery quickly became one of the most respected in the country, even earning a nod as one of RateBeer's Best New Breweries of 2017.
"Since the beginning, House of Fermentology has been a weekend project when I was not busy with Foam," Haire explained.
All of HOF's wort is fermented with their mixed culture of Saccharomyces and Brettanomyces yeasts in oak barrels, often with a fruit addition.
"We've done what we set out to do: brewing experimental, interesting beer," Haire said. "That's what keeps me going."
The beers are bright, tart, and delicious, and because they're alive and bottle conditioned, they take on new characteristics over time.
Each House of Fermentology release features "Dot" in the title. "All great art starts with a single dot," said Haire.
What House Dot tastes like:
Pours a beautiful gold and has a farmhouse smell.
Soft and fluffy foam sticks around.
Bright, ripe pineapple with a lingering sweetness.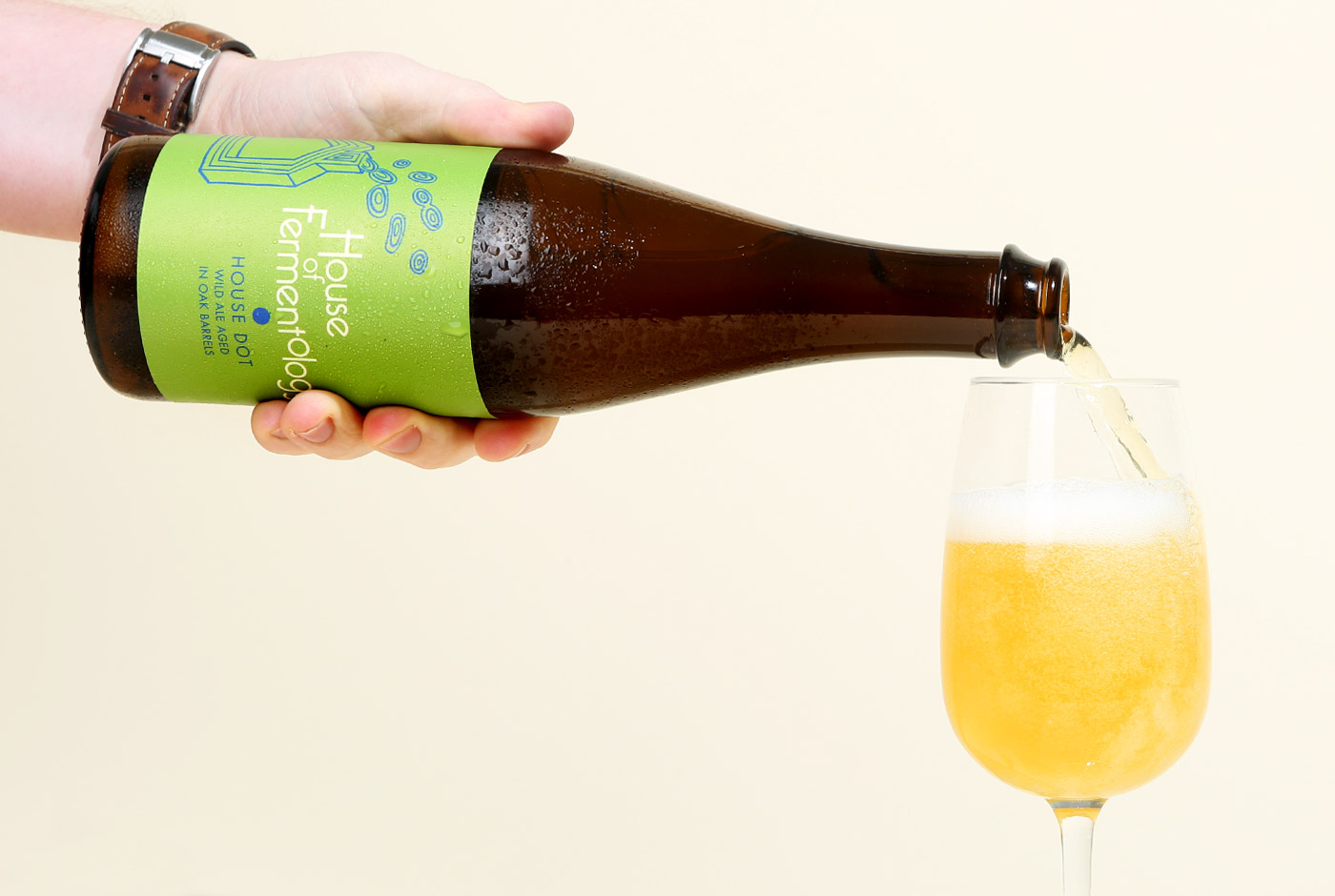 What Dot Dot Dot tastes like:
Rich plum and subtle pepper plus a lot of tartness.
Slight sweet taste, like toffee or raisins, when it warms up. The higher ABV also starts to come through the more you sip.
Effervescent pour with a head that dissipated quickly.
Where to get it:
House of Fermentology only releases its bottles at Foam's taproom in Burlington, Vermont. Haire said they typically release 300 to 500 500ml bottles per month. If a beer isn't up to snuff, they'll skip the release.
Bottom line:
Securing House of Fermentology bottles are tough, but I'd recommend going out of your way for their stellar, pedigreed beer. The House Dot is a perfect beer for sunny days in the park or splitting with friends at a BBQ. Dot Dot Dot is rich, complex, and an excellent choice for winding down an evening. We're waiting to see if — and how — the brand changes once it's officially a part of Foam Brewers, but with Haire and Mares at the helm, I'm sure we'll continue to get incredible wild ales from Burlington.
Catch Foam Brewers at the Juicy Brews Summer Invitational in Richmond, VA on June 10