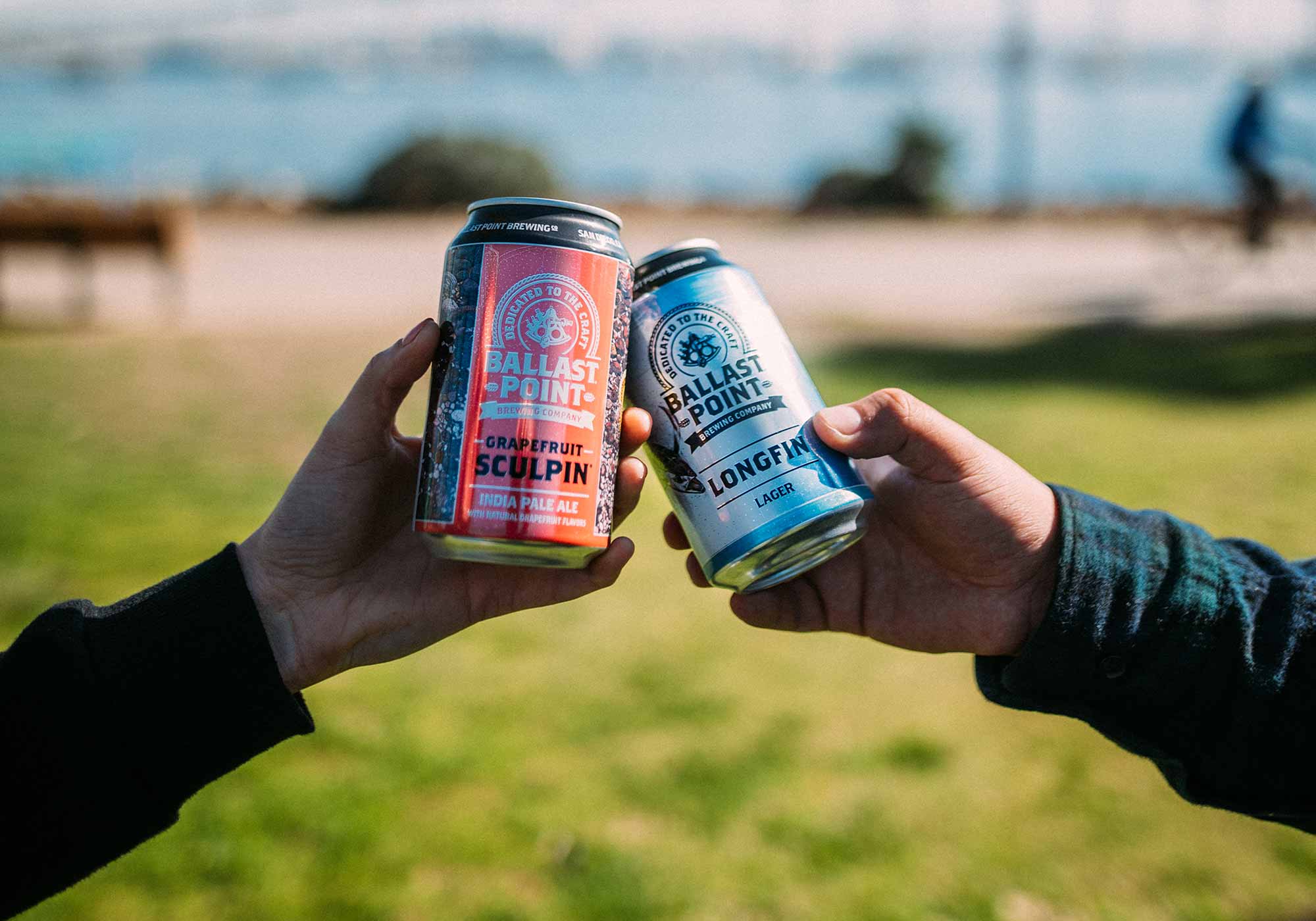 Photography courtesy of Ballast Point
During the late 1990s the craft beer scene in San Diego had just started to bloom. A strong homebrewing community had taken root and would begin to sprout, driving the landscape for the Southern California craft beer scene for the next thirty years. At the vanguard of San Diego's growing craft beer movement was Jack White, founder of an all-grain homebrewing store called Home Brew Mart. Together with co-founders Pete A'Hearn and Yuseff Cherney, White would eventually start Ballast Point Brewing.
Now, as Ballast Point celebrates its 25th anniversary, we look back at the brewery's journey from a simple homebrew store to a craft brewing behemoth. From iconic brands such as its Sculpin IPA to its two newest offerings – Big Gus and Wee Gus – over the last quarter of a century Ballast Point has continued to push craft forward. Much like a ship at sea, the Ballast Point journey has been filled with calm seas and choppy waters. But through the last couple decades, the brewery has stayed afloat, dedicated to brewing consistent, high-quality, innovative beer.
Home Brew Mart: The Beginning of the Ballast Point Story
Jack White started Home Brew Mart out of necessity. A bagger at Southwest Airlines during the day, but avid homebrewer in his free time, White often drove 30 to 45 minutes just to find the nearest homebrew store.
Even then, most of the stores he visited focused only on extract brewing, a type of homebrewing that favors concentrated processed malt over whole grain extraction. While easier to brew, extracts remove much of the complexity and flavor that comes from mashing in.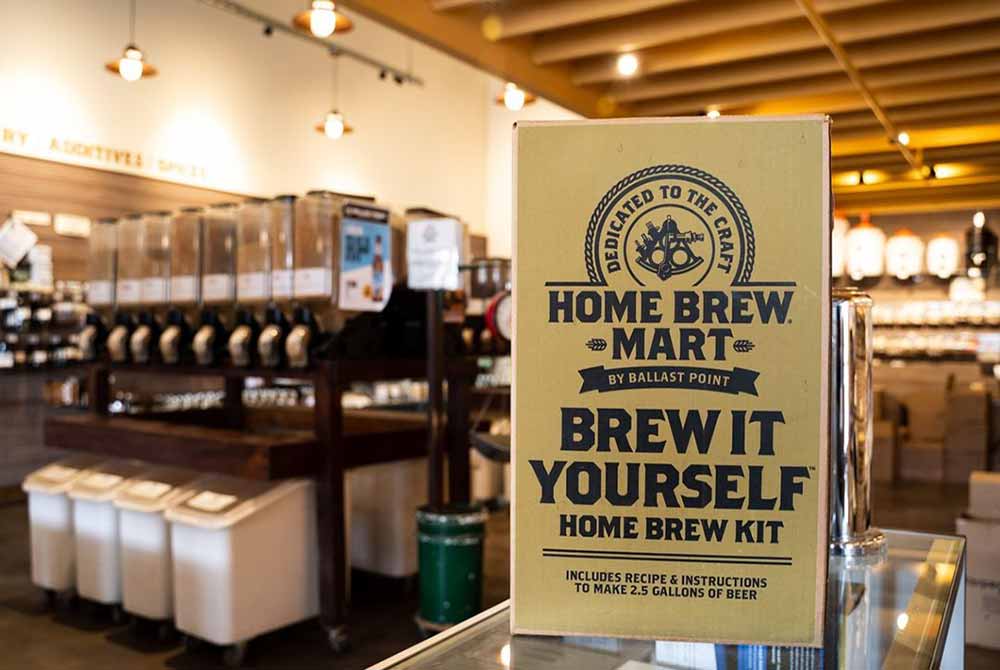 In the late 80s and early 90s, San Diego hadn't yet grown into the craft beer capital it is today. But Home Brew Mart supported the burgeoning homebrewing community.
"It pushed a lot of local homebrewers to make better beer," says Colby Chandler, a 25-year Ballast Point veteran. A long-time brewer, he now serves as ambassador and historian for the brewery. Chandler actually started working as a clerk at Home Brew Mart in 1997, managing two 4-hour shifts a week teaching people how to homebrew.
As the craft beer scene in San Diego grew, more people relied on Home Brew Mart for education and materials. But White always knew he wanted to open a brewery.
How Home Brew Mart Became A Brewery
While White opened his own homebrew store, his college roommate Pete A'Hearn began the Masters Brewing program at UC Davis, interning at Früh Kölsch, Brauerei Früh am Dom in Cologne, Germany. When he returned to the States, he decided to start investing in a brewery with White and Yuseff Cherney, an award-winning home brewer and Home Brew Mart's first employee.
In 1996, White, A'Hearn, and Cherney, started Ballast Point in the backroom of Home Brew Mart.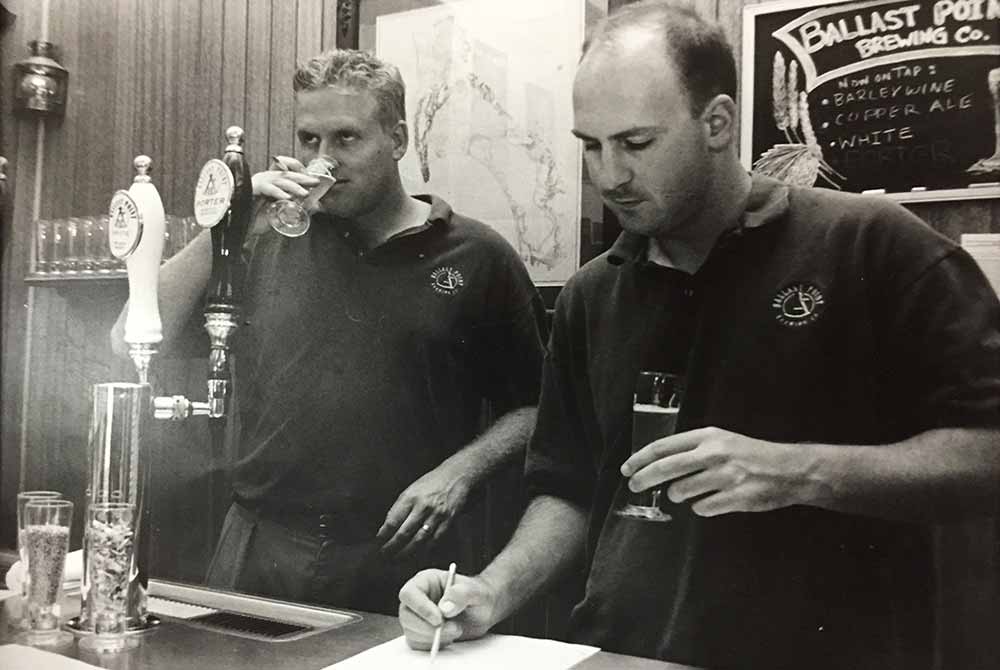 Originally the trio wanted to name the business Sequoia Brewing, but realized that no Sequoia trees actually grew in San Diego. With the intention of starting a brewery that truly represented their city, the team took a research trip to The San Diego History Center in Balboa Park.
The Birth of the Ballast Point Name
Historically, Ballast Point is the area on Point Loma in the San Diego Bay where Iberian navigator Juan Rodríguez Cabrillo brought his three ships for the first European landing on the coast of California. With Ballast Point as its anchor, San Diego grew into a nautical town where ships stopped to empty their cargo and take on ballast — or weight — before sailing back to the East Coast.
White thought the name "Ballast Point" captured San Diego as a strong military and fishing town. Eventually, the fishing theme stuck, spilling over into all of the beer names. According to Chandler, White first started naming all the beers after colors: i.e., white ale, copper ale, etc. But when White teamed up with local artist Paul Elder, known for his life like paintings of local game fish, each new beer came with a name and artwork portraying a local fish.
Building the Foundation: Ballast Point's First 10 Years
The 90s were a strange time for the craft beer industry. Wavering half way between flash in the pan and a legitimate trend, craft beer still hadn't defined itself as a thriving industry. Toward the end of the 1990s, a lot of breweries were closing and people claimed that the craft beer fad might be over. But in San Diego, the scene that started with a strong homebrewing community continued to thrive and grow.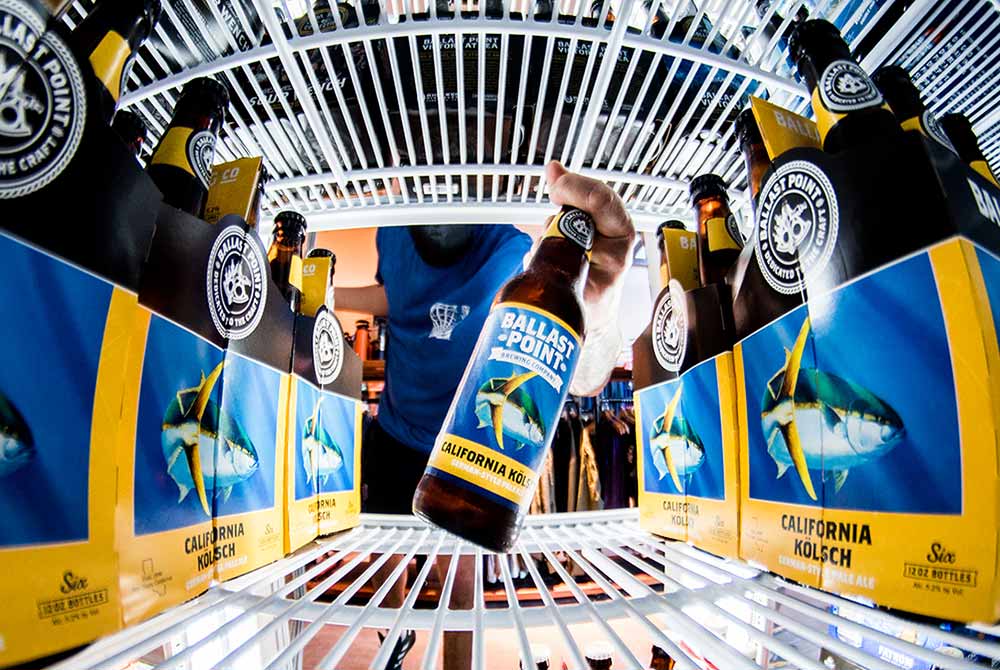 The first beer that "started playing the bills," for Ballast Point was a completely unflashy, blue collar style: Kölsch. Although, at the time, the brewery branded the beer as a "Pale Ale" since Kölsch was a relatively unknown style in America.
Inspired by his time interning in Cologne, A'Hearn developed a Pale Ale, eventually rebranded as California Kölsch in 2016, as a nod to his love of the German style.
"We've always been able to make every style pretty balanced," said Chandler. "I always joke that you can't have balance without ballast. We weren't always big and bold, but we were super consistent."
Named after a native, iconic sports fish, it tied together everything Ballast Point stood for: high-quality, consistent, local craft beer that evoked the ethos of San Diego.
In 1998, the brewery released another forward-thinking beer: Dorado. Today, the beer would today be considered a double IPA, but at the time Ballast Point named the beer a "strong hoppy ale." Brewed to be big, dry-hopped, and bitter without a lot of residual sweetness, Dorado established a style that essentially didn't even have a name at the time. This example of Ballast Point's willingness to innovate Dorado was just the beginning of Ballast Point's exploration of hoppy beers.
Sculpin IPA: The Beer The Gave Ballast Point Its Bite
Ten years after Dorado, Ballast Point released its most recognizable beer, the one that created buzz not only in San Diego, but also the rest of the country: Sculpin IPA.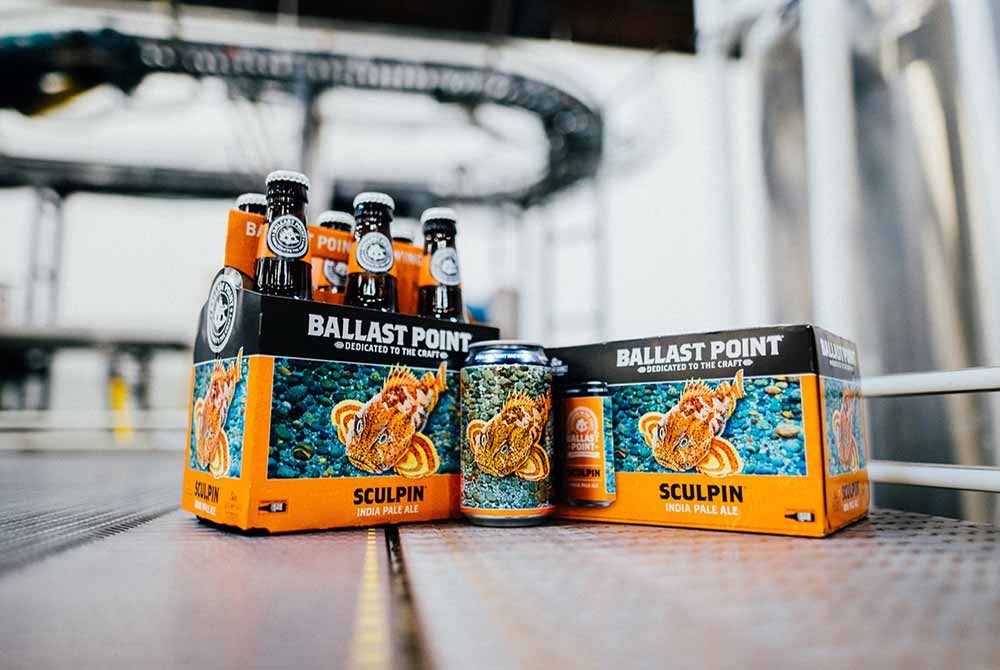 Today, when most people think of Ballast Point, they think of Sculpin. But humorously enough, A'Hearn didn't enjoy bitter beers, preferring the German styles he drank while interning in Germany.
Because of that, Ballast Point didn't technically brew its first IPA until 2000, when they made Big Eye (remember, they considered Dorado a "strong hoppy ale"). And, it wasn't until five years later that they caught the big one.
Perhaps poetically, the recipe for Sculpin came from a couple of homebrewers, a direct nod to Ballast Point's homebrewing heritage. George Cautalin and Doug Duffield had been consistently winning homebrewing awards for their IPA recipes around San Diego. When they compared methods, they found a hop bill with very similar ingredients. Combined with Chandler's own IPA formula, the three brewed a six barrel batch of beer with Amarillo and Simcoe hops they planned to debut at a local watering hole called O'Brien's.
"We were going to brew a one-off never to be brewed again, but the hook stuck," said Chandler.
With hops that added a ton of bright tropical fruit and aromas of pine and orange, "The brightness of Sculpin matched the sun in San Diego." It became an instant hit. At the time, most West Coast breweries focused on making highly bitter beers, especially IPAs, but Ballast Point stuck to its well-balanced roots.
Adding More Ballast: Winning Champion Small Brewing Company
With Sculpin solidifying Ballast Point as the local San Diego brewery of choice, the brewery continued to flourish. By 2005, the tiny brewery in the back of Home Brew Mart was producing 6,000 barrels of beer per year. That same year, they opened a second location, a production facility in Scripps Ranch, a community in the northeastern part of San Diego.
Between 2005 and 2007, Ballast Point launched a slew of new beers that would form the brewery's backbone: Sculpin IPA, Even Keel Session IPA, Fathom IPA, and Victory at Sea Imperial Porter, among others.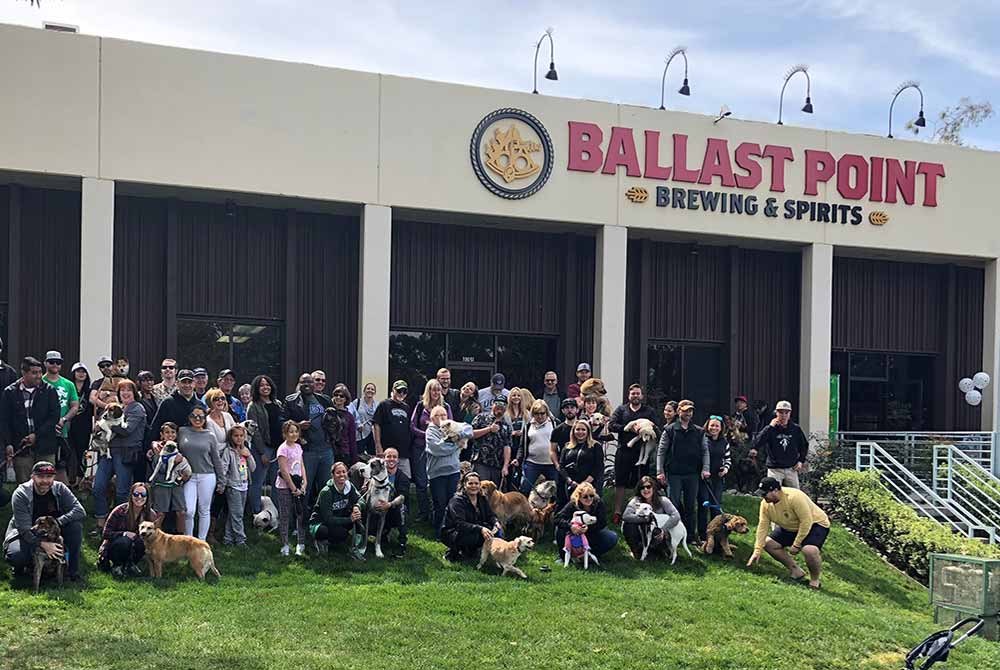 In 2010, Ballast Point went from hometown hero to national sensation when they won Champion Small Brewing Company at the World Beer Cup.
"That was a big moment for us," said Chandler. "That put us on the map. And the timing couldn't have been better to put the spotlight on us. It woke up distributors around the country."
For the next five years Ballast Point expanded the availability of its beer outside of California, opening up new locations and continuing to brew more beer.
Ballast Point Reaches Mainstream Success
After 2010, the Ballast Point brand skyrocketed, expanding across the country and eventually opening up seven more locations: a research and development facility in the Little Italy neighborhood of San Diego, a Miramar location, a Temecula location (now shuttered), a Long Beach taproom, a Daleville Virginia production facility (now owned by Constellation Brands), a Downtown Disney Anaheim taproom, and a Chicago location (now shuttered). In 2015, the brewery reached 400,000 barrels per year.
The growth of the brewery caught the eye of Constellation Brands, which started a partnership with Ballast Point in 2015. But Constellation wanted to drive sales and innovation through Ballast Point's packaging and marketing, as opposed to what had made the brewery so special to begin with: quality and innovation in beer.
Most recently, Ballast Point announced that Chicago's little known Kings & Convicts Brewery had purchased Ballast Point from Constellation Brands. And this time, it's a mutually beneficial partnership, driven by experienced craft professionals who want to let the brewers drive the spirit of innovation.
"Their initial decision to pursue Ballast was over a casual golf game," said Chandler. "They were big fans and jumped at the opportunity to become not only associated with Ballast Point, but owners. Their enthusiasm for craft beer is infectious and inspiring."
Under the leadership of Kings & Convicts Ballast Point is returning to its roots as a local independent brand and forging ahead with new innovations from the "art inside the can" to the "art outside the can".
A Fresh Look: Ballast Point's Newest Packaging
As part of its 25th anniversary celebration and its return to an independently-owned brand Ballast Point planned a Complete Art initiative including a fresh new look across its cans, bottles, and overall packaging.
Art has always been a huge part of Ballast Point's soul. Resident artist Paul Elder has been crafting beautiful renderings of iconic, local California fish for Ballast Point's labels for the last 25 years. An avid fisherman, Elder often catches the fish he's asked to depict before hand-drawing two-dimensional sketches of them that become full watercolor works of art for the final label. "We put as much art onto the outside of the can as we do to the inside," says Chandler.
Elder's designs have become as much a part of Ballast Point's DNA as the innovative liquid going into the can.
"What we're doing now is really putting the art front and center. We have this crazy talented, natural-world obsessed artist in Paul Elder who dives into what our brewers dream up. It just works," says Brendan Watters, co-founder of Kings & Convicts Brewing Co. and CEO of Ballast Point in a press release. "I've admired Ballast Point for a long time, and I wouldn't change what's made it unique for the past 25 years. In our anniversary year, let's celebrate it."
The launch of Complete Art started with a new look for Ballast Point's gold medal-winner Longfin Lager, moved to familiar favorites in the Sculpin IPA family, and included two of Ballast Point's newest releases – Big Gus and Wee Gus.
The new packaging continues to integrate Elder's hand-drawn designs to bring the story and beer to life while simultaneously marking its quarter-century anniversary with a fresh, innovative new look to match the new, innovative beer inside the can.
The Spirit of Innovation — Ballast Point Releases Big Gus and Wee Gus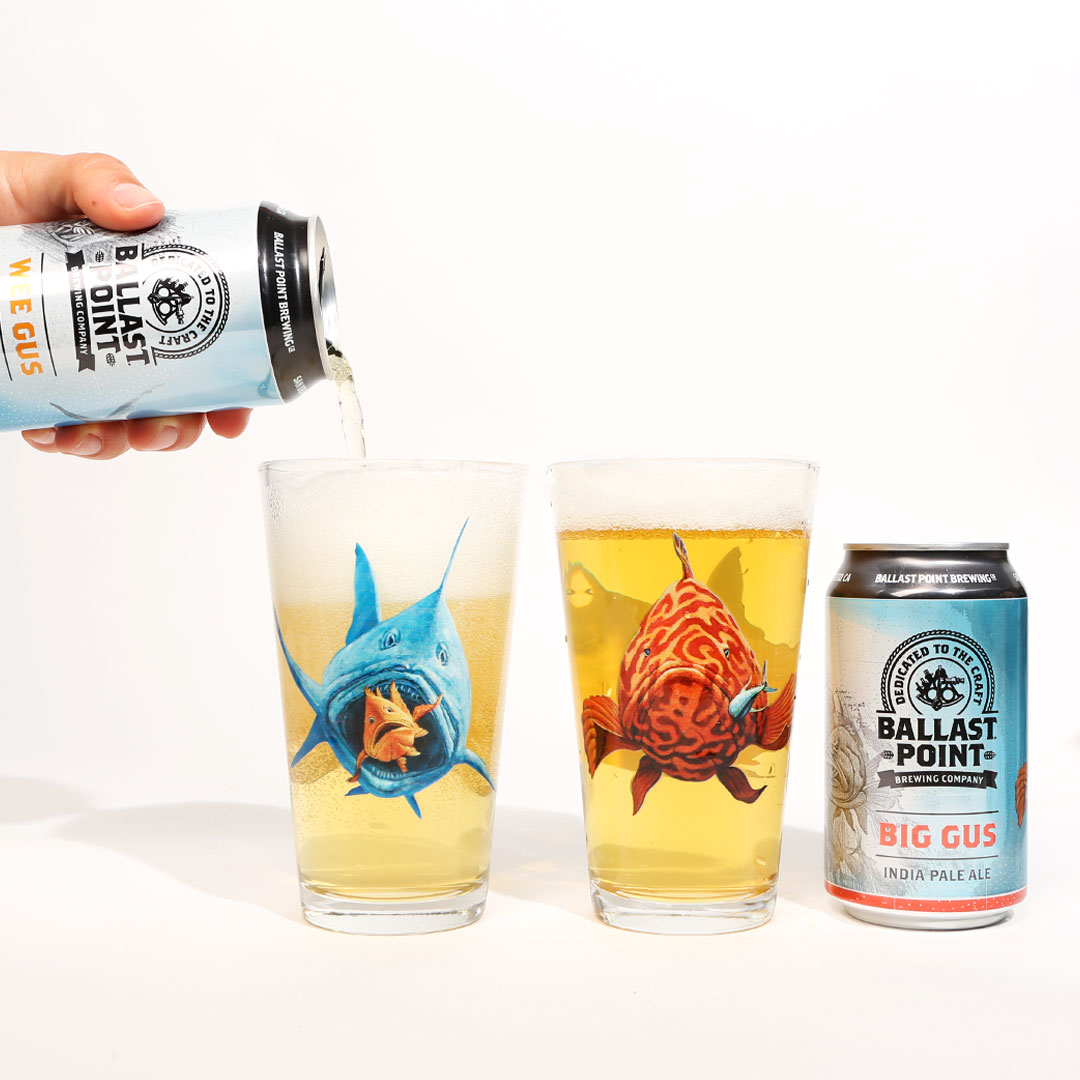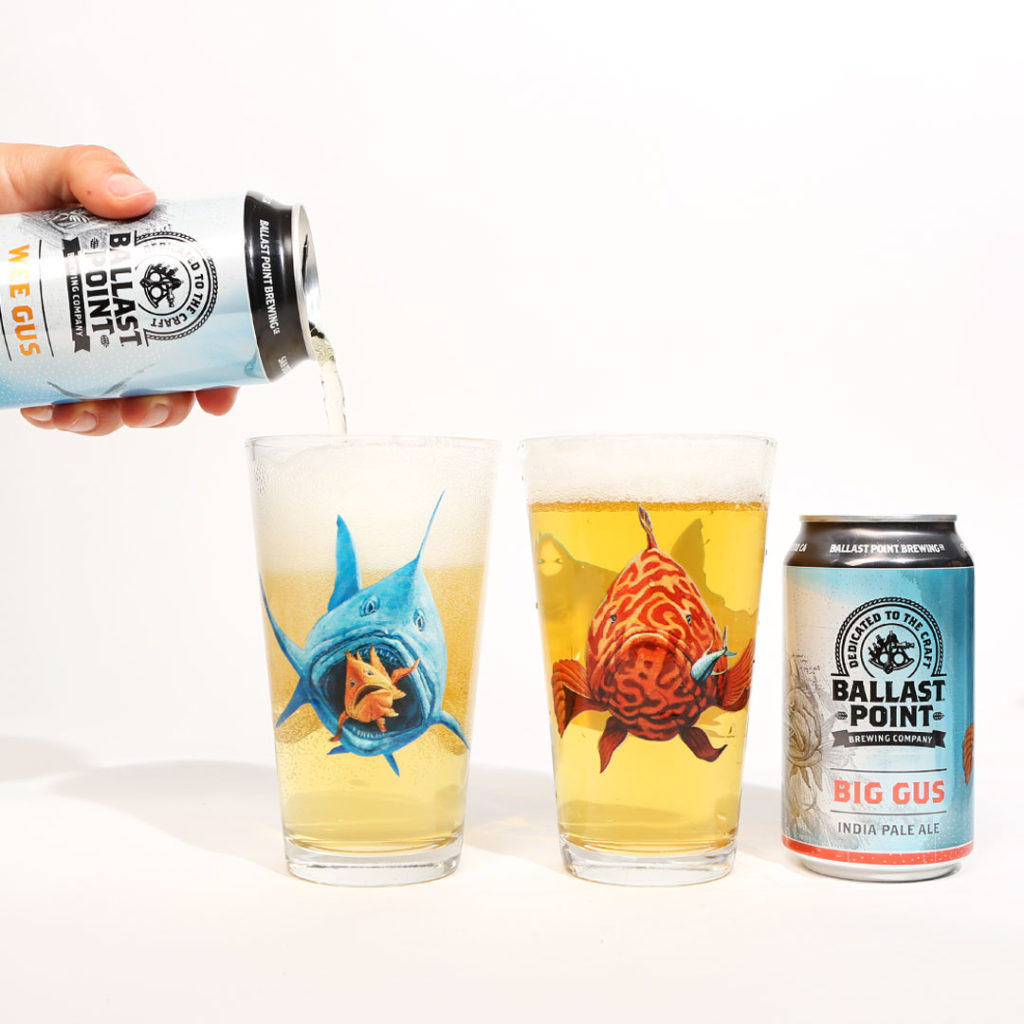 Over the past 25 years, Ballast Point has become known for delivering consistent, high quality beer in a variety of styles. Simultaneously, they've earned acclaim for innovation: brewing Kölsch when no one knew what it was, bucking the trend of bitter IPAs (Sculpin), releasing an adjunct porter when stouts were more popular (Victory at Sea).
To accommodate Ballast Point's spirit of innovation, the brewery opened its own research and development brewpub in the Little Italy neighborhood of San Diego in 2013.
"What we get to do down here is a professional scale level of homebrewing," said Chris Takeuchi, an R&D Brewer at Ballast Point. "We're able to tinker with raw materials and process, really explore different ways to approach making beers… really dive into innovation and exploring. People talk about innovation all the time, but we actually have the flexibility and the resources to do it in a way that I imagine a lot of craft brewers don't have the ability to do."
From the get go, Takeuchi points out that the Little Italy facility has been geared to let employees and brewers test different recipes. In fact, the Little Italy brewery actually started with the idea of a program called Roots to Boots, an employee initiative that encouraged employees to come to the location to work with brewers to formulate their own recipe for a beer. While COVID has tabled that program, the spirit of community innovation and homebrewing lives on at the R&D location.
According to Chris Hotz, another R&D brewer at Ballast Point, the Little Italy location cycles through about 120 different beer recipes a year.
This past February, two of those experiments led to Ballast Point's first new releases in over two years: Big Gus and Wee Gus.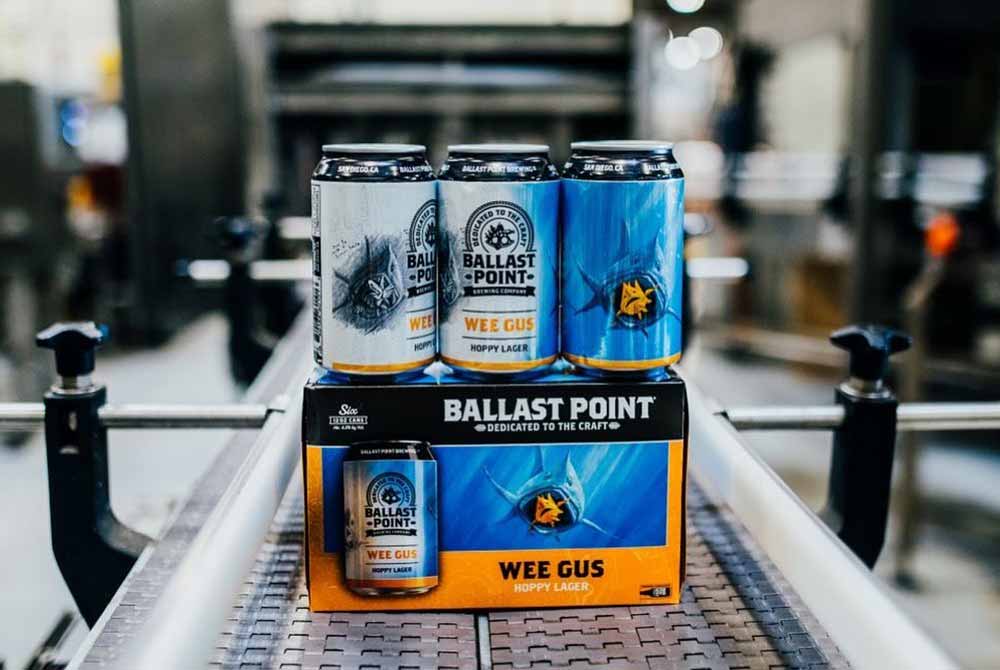 Originally brewed as one beer called Hop Soda, the Brothers Gus (as they're affectionately known at the brewery) are Ballast Point's answer to the seltzer and hazy IPA crazes. Since the first R&D versions of Hop Soda bounced between 4.2% and 5.7% ABV, the brewery decided to release the Gus' simultaneously as two different beers, at 4.2% and 6.5% ABV, respectively.
To help develop the final products, Takeuchi and Hotz split Hop Soda into two batches, created four different versions of each (eight in total), and then dry hopped each of these eight versions differently. They sent those iterations to the tasting rooms and surveyed employees to find out which they preferred. The winners officially became Big Gus and Wee Gus.
Clocking in at 4.2% ABV and 95 calories, Wee Gus finishes crisp and bone dry.
"Wee Gus is definitely a lawnmower beer," said Hotz. "You can drink a lot of it on a hot summer day."
But, while the beer is light in body and appearance, it's not light on flavor.
"We tricked the eye a little bit," said Takeuchi. "This beer looks one way… but ends up being totally different. We tried to make a beer that looked like an American Light Lager — pale and clear — but still blasts you with hop aroma when it's put in front of you."
Big Gus also tricks the eye. A clear hazy IPA, Big Gus comes out vivid and extremely dry with fruit aromas and a soft bitterness from its incredibly juicy Amarillo, Mosaic, and Cashmere hops.
"We played around with the same profile you see in hazy beers, but did it with a really light malt profile," said Hotz. "In fact, we tried to rid of as much of the malt as we possibly could. We got a beer that was very hop forward, but still had the clarity you see in a West Coast IPA."
Throughout all the crests and breaks, Ballast Point has continued to innovate, pushing forward unique beers like Big Gus and Wee Gus. And according to Takeuchi, "There's no end in sight."
"Every brewer in the entire country makes an IPA at this point, but there's still wiggle room for expression of a style that doesn't exist yet," he said.
As Ballast Point welcomes new beers to its lineup during it's 25th anniversary year they're also saying hello to a new location in 2021.
Ballast Point to Open New Brewpub in San Francisco
This past March Ballast Point announced that it would be moving forward with a retail expansion into the Bay Area. Expected to open by the end of the year, the new San Francisco brewpub will be the brewery's first foray into Northern California, joining Ballast Point's five other Southern California locations in San Diego, Anaheim, and Long Beach.
The 12,000 sq ft taproom and kitchen will include 1,500 sq ft of outdoor patio space in San Francisco's Mission Bay District and be within walking distance of the SF Giants' AT&T Park and the new Chase Area, home of the Golden State Warriors.
"The ability to highlight our products in a tasting room across from a world-class entertainment facility and as part of an incredible development in San Francisco aligns well with our vision for Ballast Point," said Watters in a press release.
Positioned perfectly in a growing neighborhood, Ballast Point's newest location will provide space for consumers to enjoy Ballast Point's classics such as Sculpin IPA along with new releases like Big Gus and Wee Gus, and more.
Equipped with a 3-bbl research and development brewhouse with four, 3-bbl fermenters and two, 3-bbl brite tanks, the brewpub will also feature exclusive R&D taproom-only releases just for the San Francisco market.
With two new year-round beers, a new brewpub location, and a new package redesign Ballast Point is certainly making the most of its 25-year anniversary.
A Rising Tide Lifts All Boats
At its core, Ballast Point is a brewery buoyed by the art of brewing. Founded by homebrewers in the back room of a homebrew store that, at the time, helped pioneer a burgeoning homebrewing community, Ballast Point was built by people who love the craft.
This ethos has lasted for over two decades. And look at how many brewery owners and brewers have been inspired by Ballast Point: Eppig Brewing, Latchkey Brewing, Nickel Beer Company, East Village Brewing Company, Ataraxia Aleworks, and many more. Brewers at Ballast Point have also graduated to work at iconic places such as Athletic Brewing Co., Coronado, Kairoa Brewing, OB Brewery, Pacific Beach Ale House, and Little Miss Brewing, among others.
And, the ripples that Ballast Point started have even extended beyond the borders of the country. While in Japan, Chandler visited Yokohama Bay Brewing Co, where he shared a beer with owner and brewer Shinya Suzuki. Suzuki told Chandler that Ballast Point's Tongue Buckler Imperial Red Ale inspired him to brew that beer.
"The joke now of course is if you made good beer you must be from Ballast Point," said Chandler.
But it's not a joke anymore. Ballast Point has buoyed the craft brewing industry at its heart in San Diego, throughout the United States, and even across the Pacific and around the world.
This is a paid, sponsored post presented by Ballast Point.
Liked this article? Sign up for our newsletter to get the best craft beer writing on the web delivered straight to your inbox.