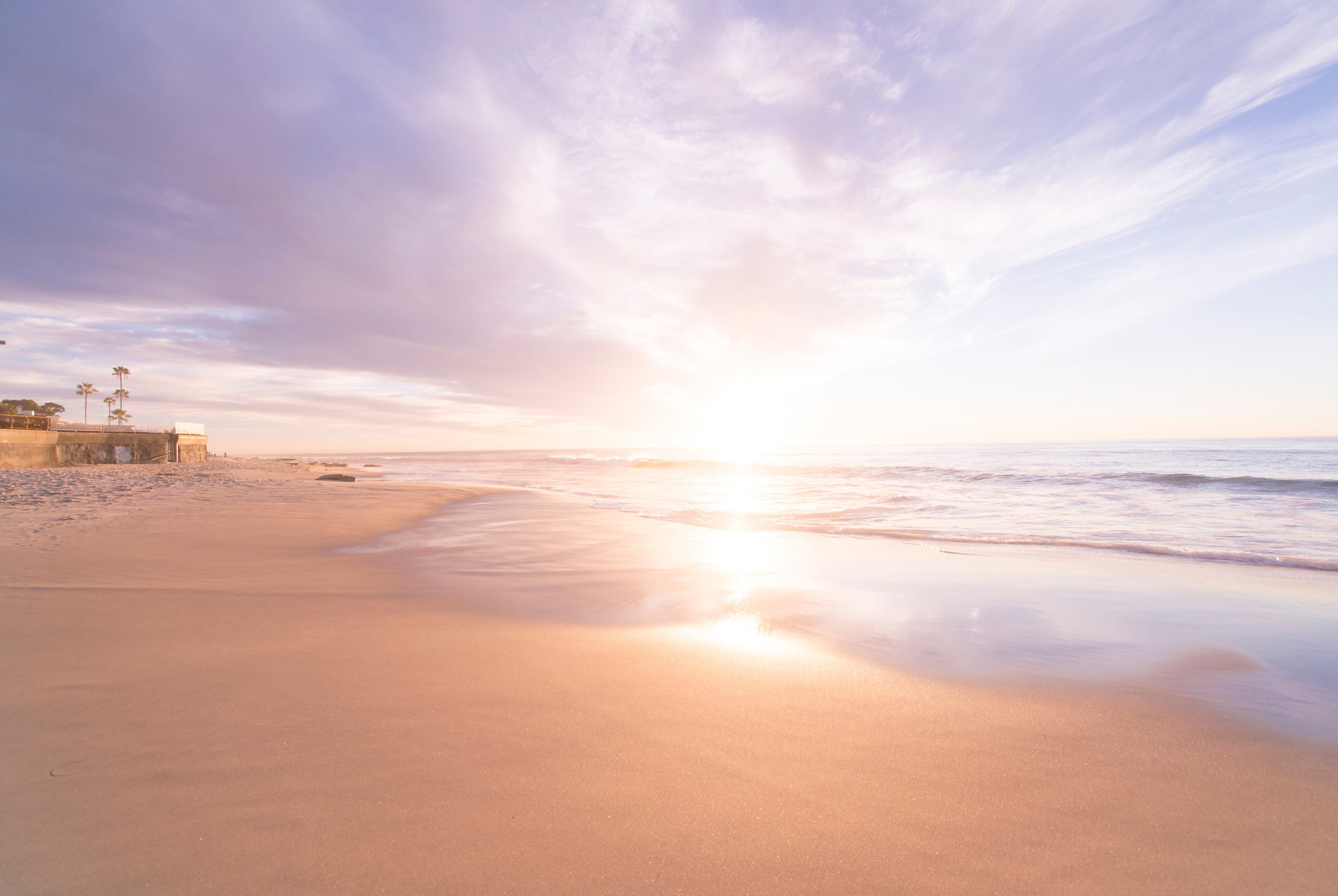 When my wife and I were invited to Los Angeles for a three-day bar mitzvah followed by an extended family Thanksgiving, we booked a few days in San Diego to decompress between family events. With just under 200 breweries in the county, there was no way we could see everything—but we were determined to make a dent in the city's brew scene in between seeing the sights.
We decided to divide and conquer, splitting up metro San Diego's brew regions by neighborhood, then splitting pints and flights so we could try a little beer from a lot of breweries. A car is helpful, but not necessary. You can walk within many of the city's beer neighborhoods or take a ride share.
Friday
There are several breweries scattered around the Ocean Beach neighborhood, but the real attraction is the sun, surf, and street culture. Soak it up on outdoor patios or in taprooms that open wide to let in the salt breeze. We opted for a beer crawl at three local breweries followed by time on the beach–the perfect way to destress after the drive from L.A.
Kilowatt Brewing
1875 Cable St. | (619) 255-9775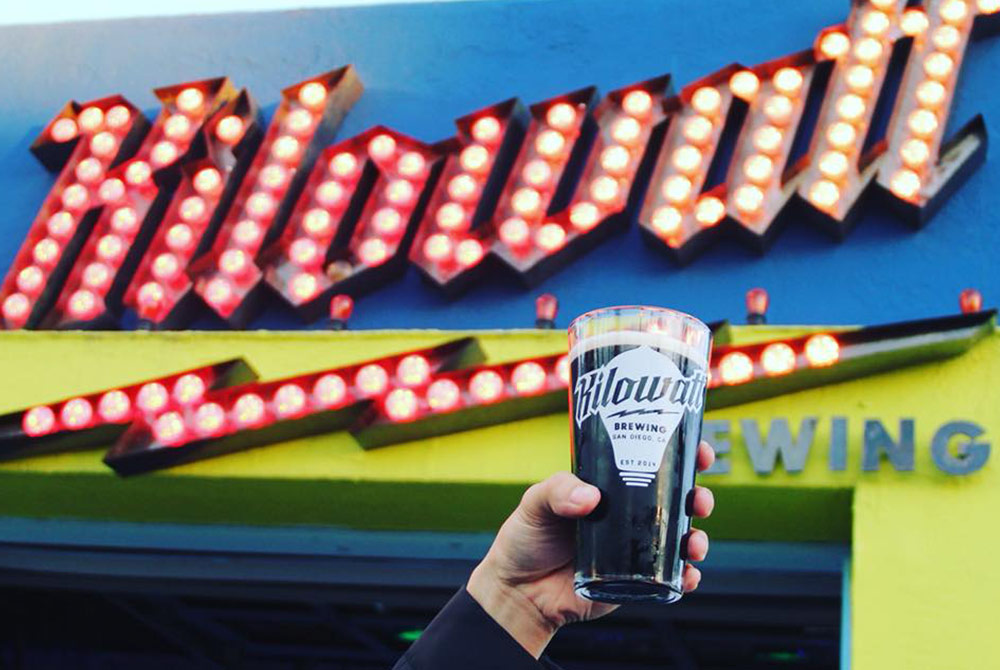 The sidewalk patio of Kilowatt's Ocean Beach taproom offers an ideal place to sit and sip. The interior of the brewery is stoner lounge—blacklight art and board games—and the crowd here skews young.
We kept our brew picks light and summery, selecting a flight of the Lime Shandy, Ginger Pale Ale, 150 kWh Session IPA, Guava 250 kWh IPA, and Obliquity DIPA. They've got an impressive list of sours and dark beer styles, too, so there's something for everyone at this low-key crowd-pleaser.
Helm's Brewery
4896 Newport Ave. | (619) 795-1991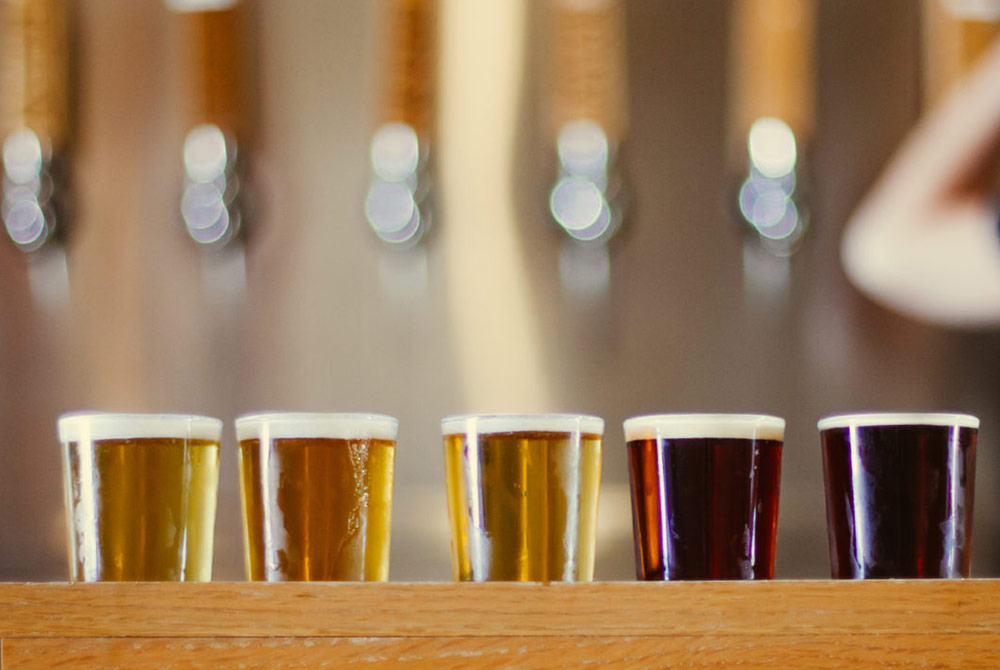 A block away from Kilowatt is Helm's Brewery, a nautical-themed hipster favorite. We tasted our way down the lineup and shared a pint of the Rye IPA. While their beer wasn't particularly stellar, we did enjoy getting insider recommendations from the bartender, a North Park native who dished a half-dozen places to dine and drink right around our guesthouse, and chatting with friendly locals who stopped in for a pint with their rescue dogs.
Mike Hess
4893 Voltaire St. | (619) 795-1095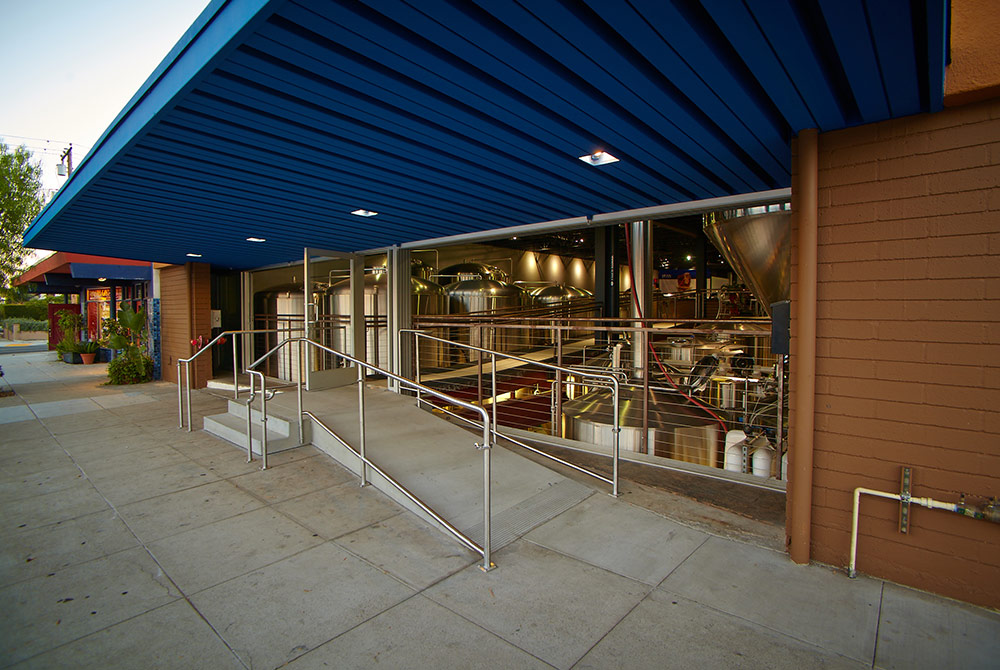 After a break for the beach sunset, we headed to Mike Hess where an after-work crowd had gathered. We sampled the 8 West Orange Honey Wheat—made with 2 pounds of orange blossom honey per barrel—and the Blood Orange Hoptuitus, which went down easy after a long day.
Second Chance Beer Lounge
4045 30th St. | (619) 487-1470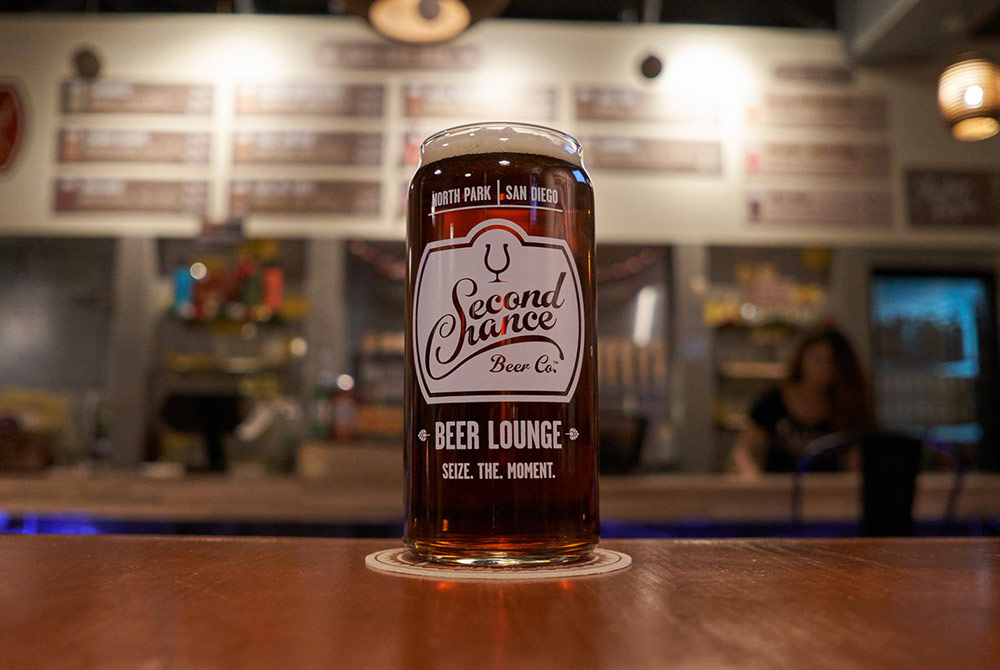 This was one of the spots recommended by the Helm's bartender. We scooped up the Extra Pale Ale (hoppy pale ale) and Coconut Chocolate Porter. The crowd here was mellow and they've got a bunch of board games, perfect for winding down the day.
Saturday
We walked off all that booze at the San Diego Zoo, as one does. That night we hit the Gaslamp Quarter and Little Italy to check out big boys Ballast Point and Stone. While some may complain that these breweries have gotten too big, they've had a huge impact on the craft industry and I wanted to experience their taprooms firsthand. The neighborhood had developed over the past few years—startups and skyscrapers lined the streets—and parking was tricky, but the density of breweries meant we could try out several taprooms and make the most of our night.
Half Door Brewing Co.
903 Island Ave. | (619) 232-9845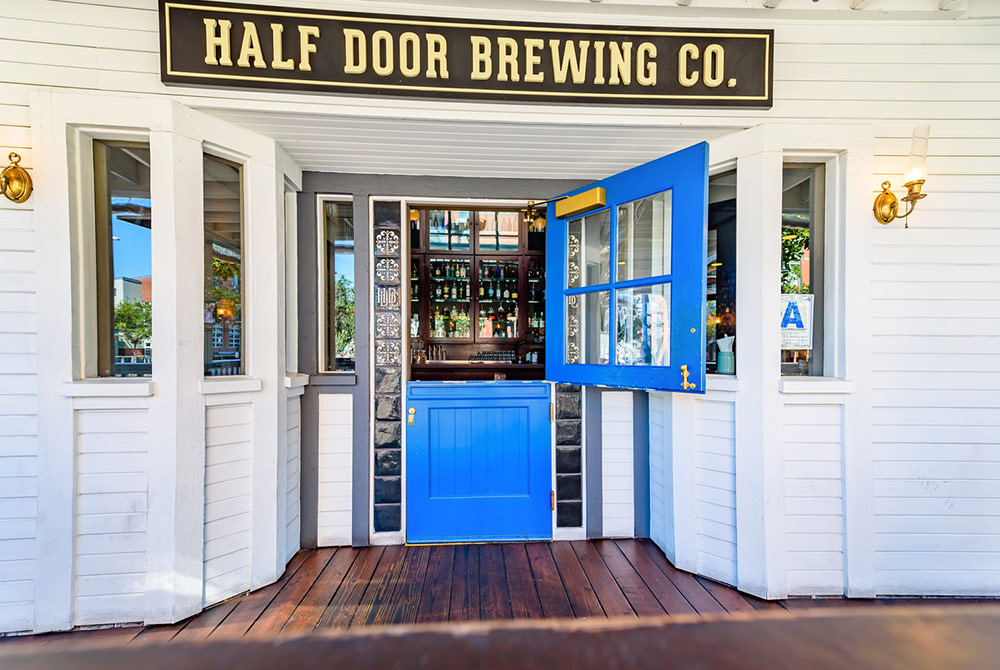 We snagged a second-floor balcony table in what looked like a colonial house, where we tried two kinds of IPAs (House of Hops and Northeast IPA) and a pretzel snack. (Lesson learned the night before: Eat as you go.) The place had a true Irish pub ambiance and happy hour menu, and it felt like a locals' after-work pint kind of place. Crowded, noisy, and easygoing—a nice way to ease into our second night of brewery-hopping.
Stone Brewing
795 J St. | (619) 727-4452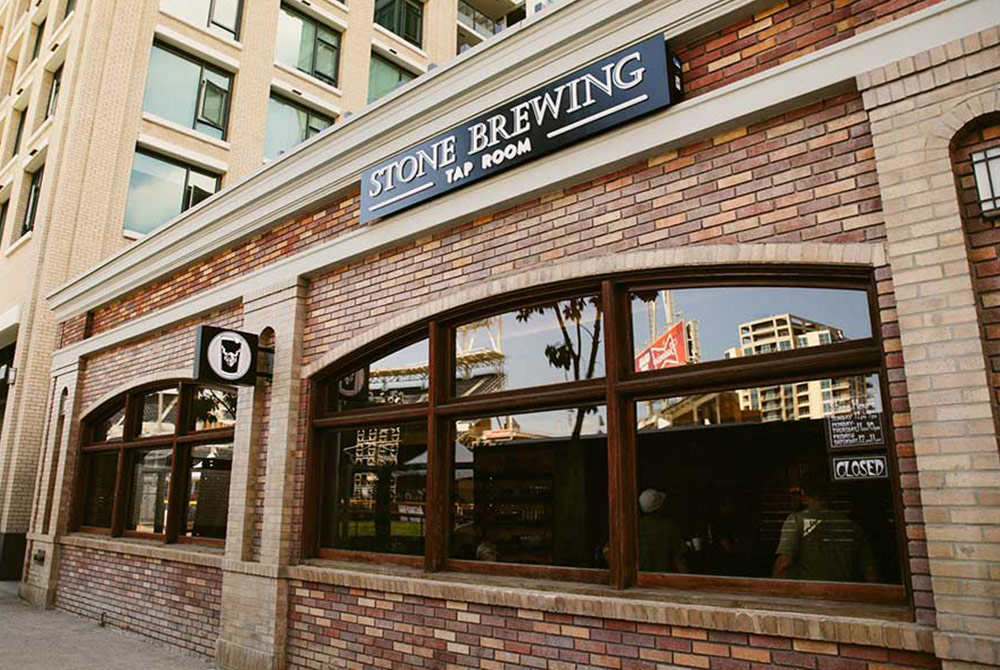 Between the brick exterior and the brusque demeanor, this place felt a bit more East Coast than West Coast. It was also strangely empty, in contrast to the bar crush at the other places we went. Still, we fell in love with the limited-edition Haze Grey & Underway, a hazy Earl Grey DIPA brewed in honor of Veterans Day. Stone's got a ton of options and they offer free samples of any beer. There's a larger, nicer location near the airport with food and a great outdoor space, but you'll have to battle the planes overhead to be heard.
Ballast Point
2215 India St. | (619) 255-7213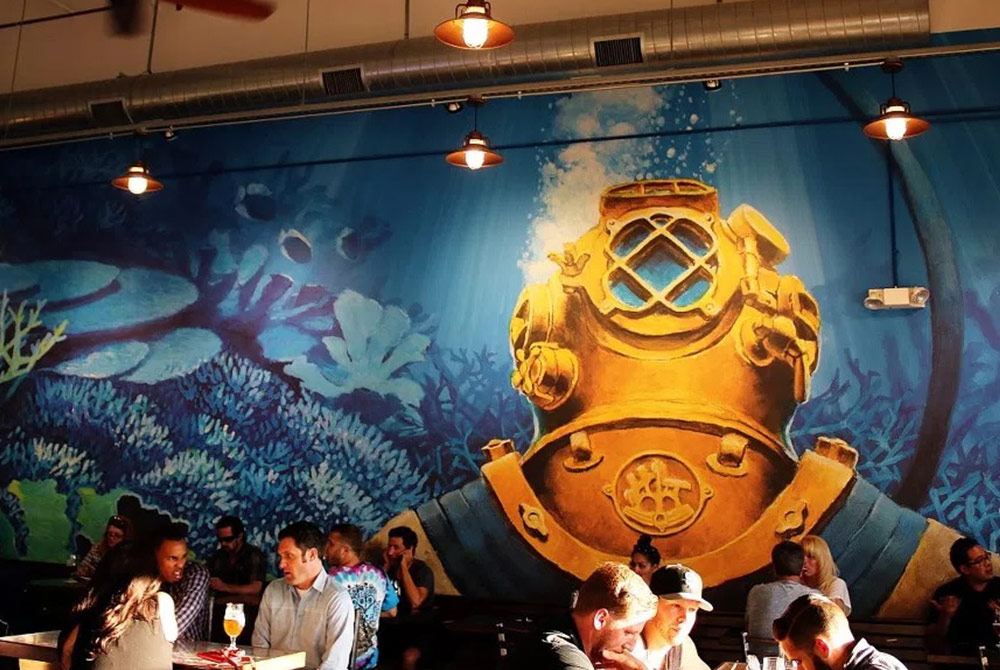 It was time to soak up all the beers with fish tacos from Ballast Point. The brewery was packed; we got the last bar stools. Standouts from our beer flight were the Victory at Sea peanut butter stout and Ninja Lantern Sorachi Ace-hopped Japanese rice lager. There were dozens of beers on tap—again, something for everyone—and a bottle shop for easy self-service of their more popular styles.
Editor's note: Ballast Point was acquired by Constellation Brands in 2015 and is no longer considered "craft" by the Brewers Association.
Fall Brewing Company
4542 30th St. | (619) 501-0903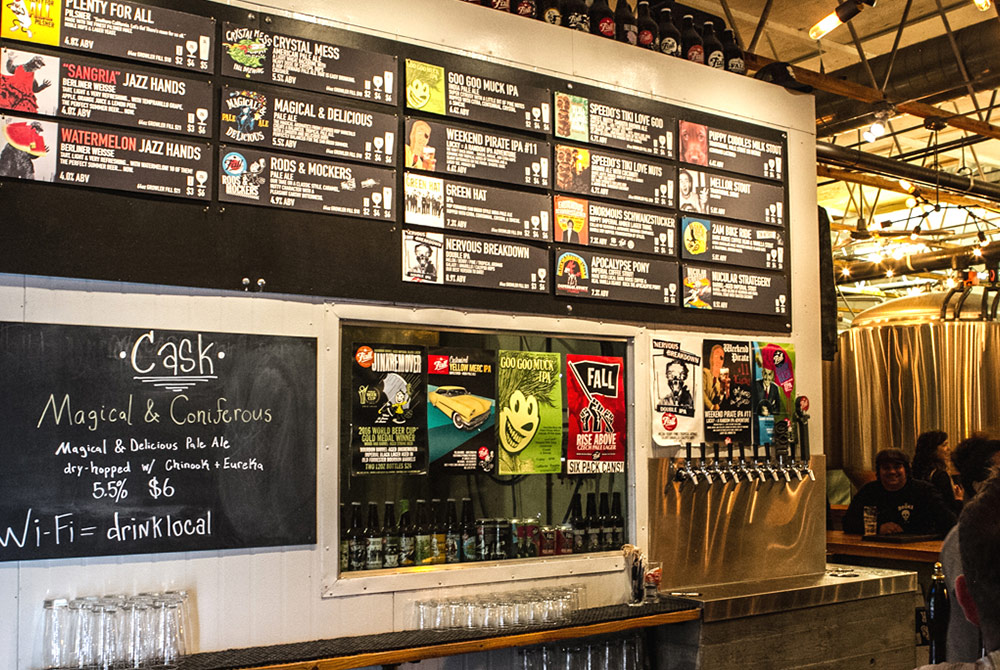 Before calling it quits for the night we checked out North Park's Fall Brewing, a neighborhood spot recommended by the Helm's bartender. The local art and xeroxed punk music posters were a definite change of pace from the big outposts in the Gaslamp Quarter and something that seemed to fit the artsy, vibrant neighborhood. We had a tiny taster of Crystal Mess, a pale ale, then walked to our guesthouse.
Sunday
The densely packed Miramar, or Beeramar, is home to dozens of breweries huddled in industrial parks. It made for a strange night of brew-hopping, driving from one office park to the next.
White Labs
9495 Candida St. | (858) 693-3441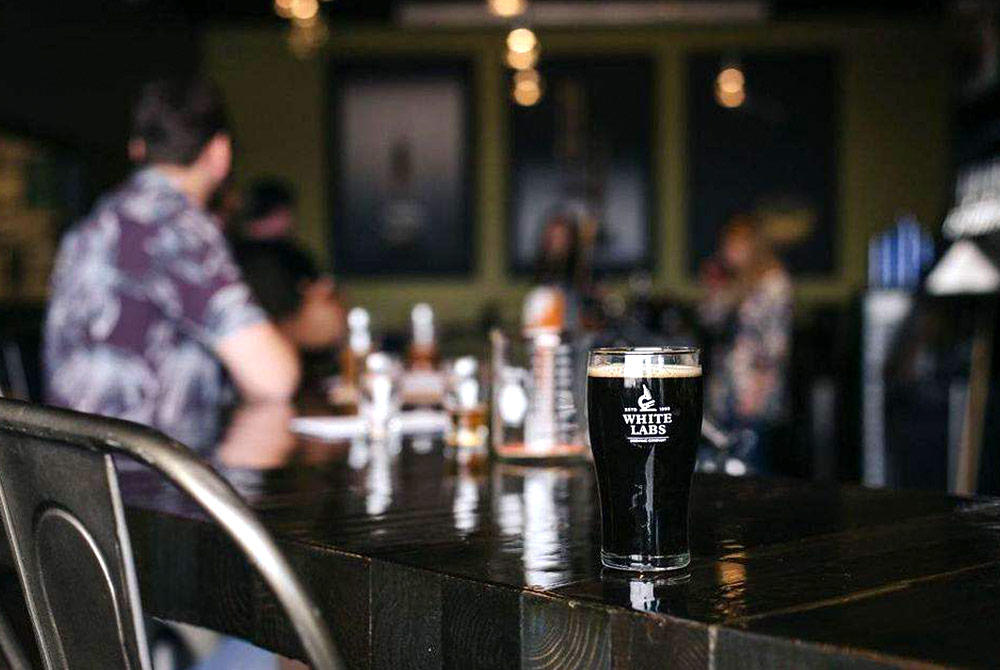 Disclaimer: This place is not known for their beer; they're a yeast shop. You order up a beer style, then drink your way through four incantations of the beer to see how the yeast strain affects the brew. I'd go back for their tour because I'm into that sort of thing, but if you're after purely the best beer in San Diego, you can skip this one.
Mikkeller SD
9366 Cabot Dr. | (858) 381-3500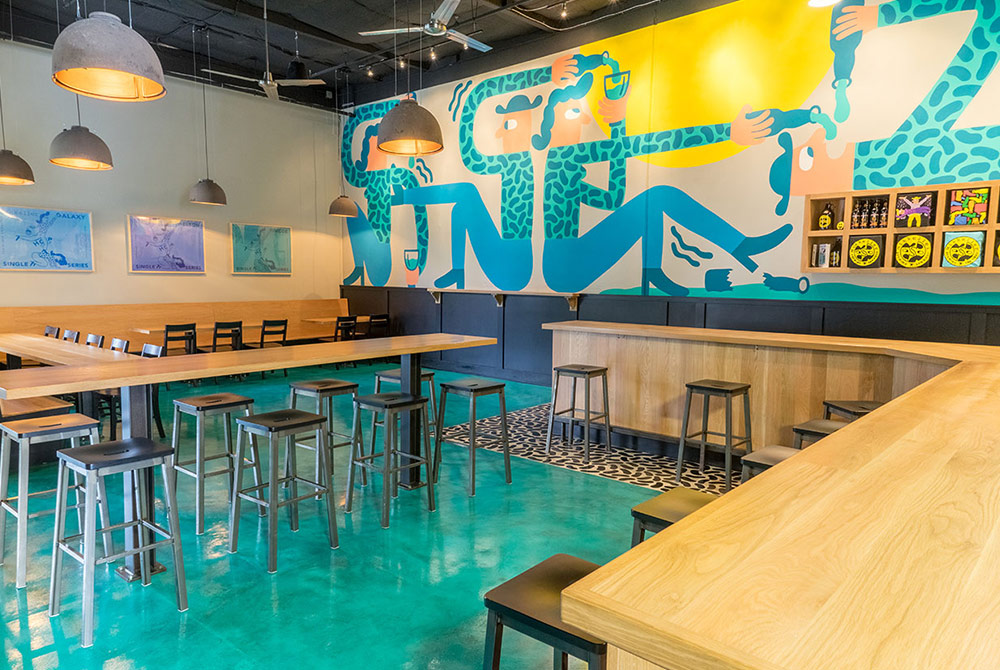 Danish gypsy brewer Mikkeller partnered with AleSmith, a veteran San Diego brewery, on this Miramar brewery and while they make a full range of beer styles their rotation was heavy on dark beers—which aren't my thing in 80-degree weather—and sours. The Imperial Maple Stout was almost as good as Harpoon's Maple Imperial Porter I had once and can't get out of my head, and their California Dreaming Hoppy Pilsner was a satisfying summery brew.
Thorn Street
3176 Thorn St. | 619-501-2739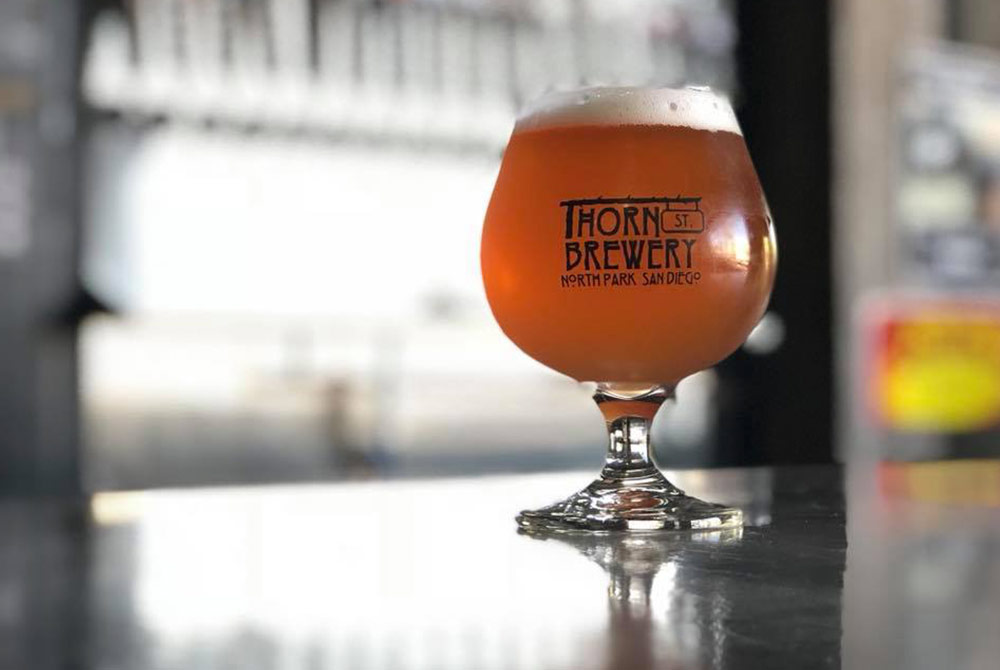 One for the road! We picked up some cans to take to back to L.A. with us since we couldn't make it to this often-recommended small-batch North Park spot. We bought The Rock Pale Ale intending to share it with friends, but that didn't exactly happen. Can you blame us?