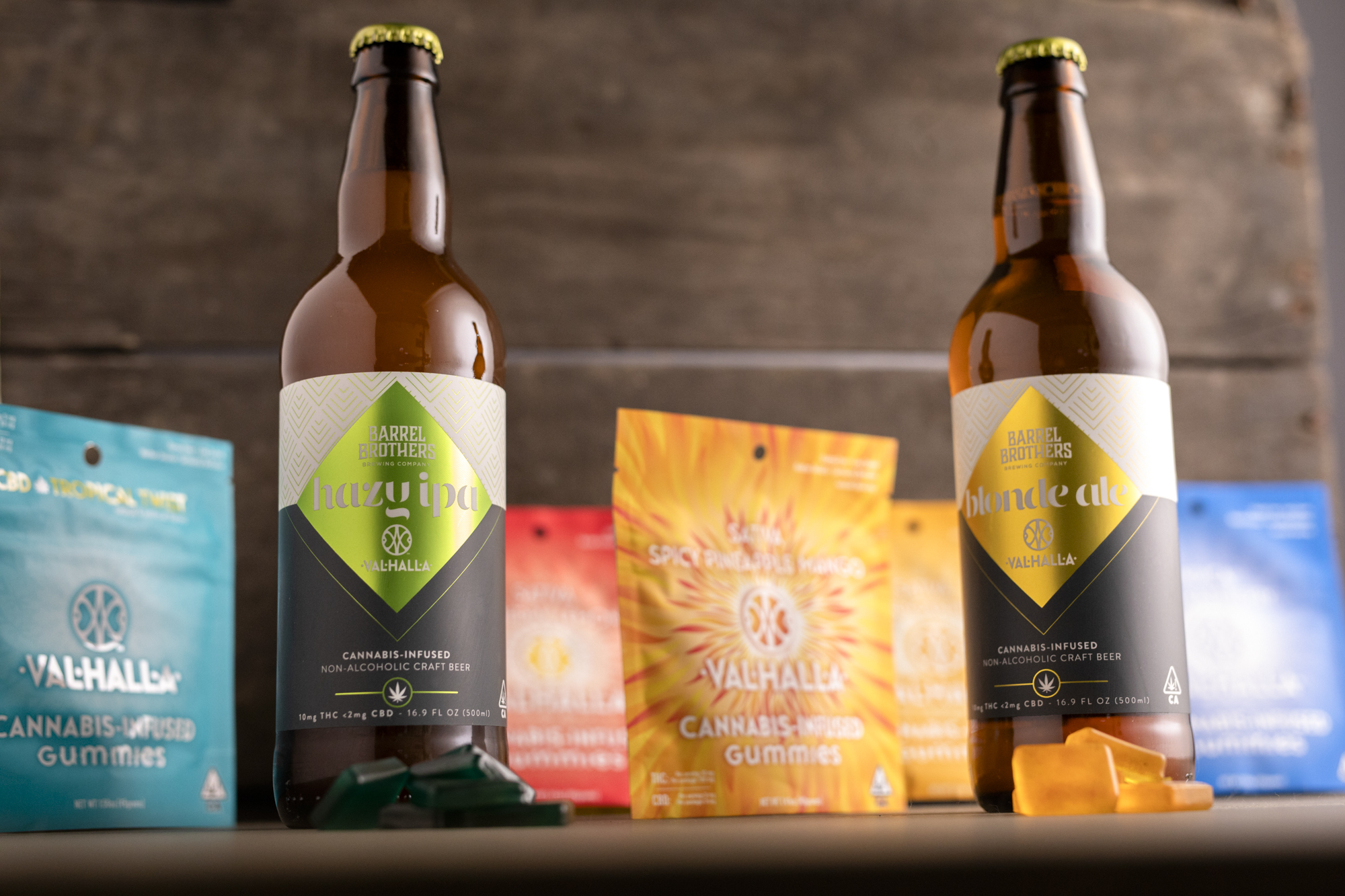 Photography courtesy of Valhalla Confections
We recently delved into the world of non-alcoholic craft beer. It's a style that is growing in popularity, especially during the health movement of Dry January. We noted that Barrel Brothers Brewing Co. has produced some top quality non-alcoholic beers but they're also paving the way for a wholly unique concept: THC-infused non-alcoholic beer.
This revolutionary new drink comes from a sense of experimentation while also falling in line with the upward trend of cannabis. As more folks try recreational cannabis, thoughtful innovations in the space will gain traction. And, a THC-infused hazy IPA might be the crossover that craft beer and cannabis has been waiting for.
We spoke with the Barrel Brothers team, as well as their collaborators Valhalla Confections, about the new releases, future collaborations, and areas where cannabis and craft beer might continue to grow together.
The Story Behind Barrel Brothers Brewing Co.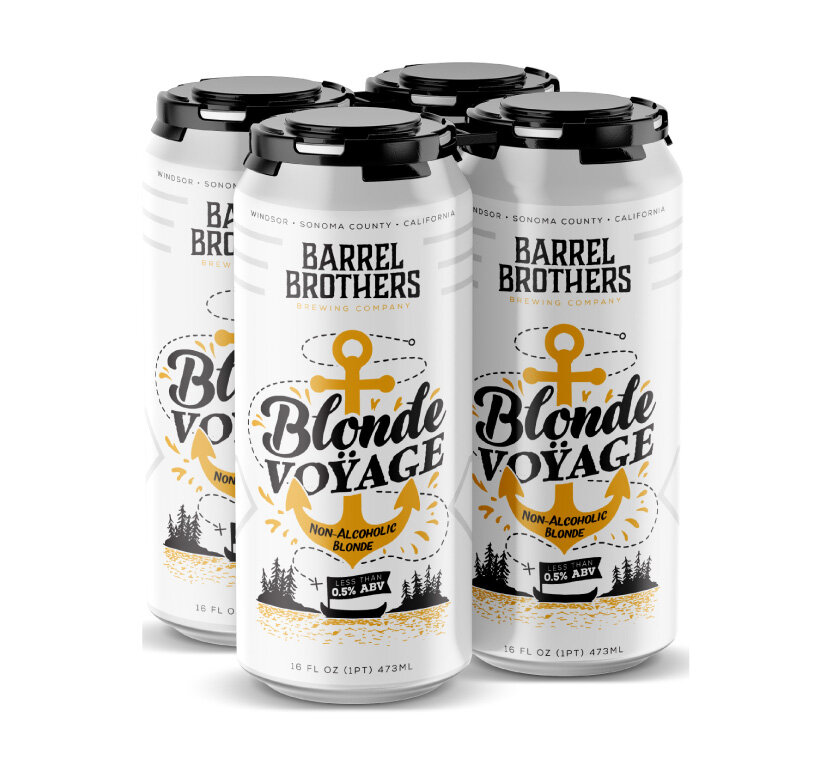 Barrel Brothers Brewing Co. opened in 2015 in Windsor, CA — the heart of wine country. Since 2015, the brewery, which was founded by brothers-in-law, Wesley Deal and Daniel Weber — as well as their father-in-law, Tom Sather — has gone on to produce acclaimed beers across a variety of styles. From robust barrel-aged sours to new-age hazy IPAs, Barrel Brothers has something for everyone.
Founders Weber and Deal have taken their love for experimentation even further with the launch of a line of non-alcoholic beers. In fact, while other breweries might start a separate brand for non-alcoholic offerings, Barrel Brothers decided to produce de-alcoholized versions of their own existing beers. The result is a NA beer that tastes like the "real thing," minus the alcohol, of course.
With the success of their non-alcoholic beers, Barrel Brothers has furthered its quest for innovation by releasing a series of collaborations with Valhalla Confections.
What is Valhalla Confections?
Founded in 2014 in California, Valhalla Confections is a cannabis company specializing in edible cannabis products. Their dosed gummies quickly became the companies calling card and their chocolates and gummies are currently available at high-quality dispensaries throughout California and Nevada. You could consider Valhalla the cannabis equivalent of a craft brewery.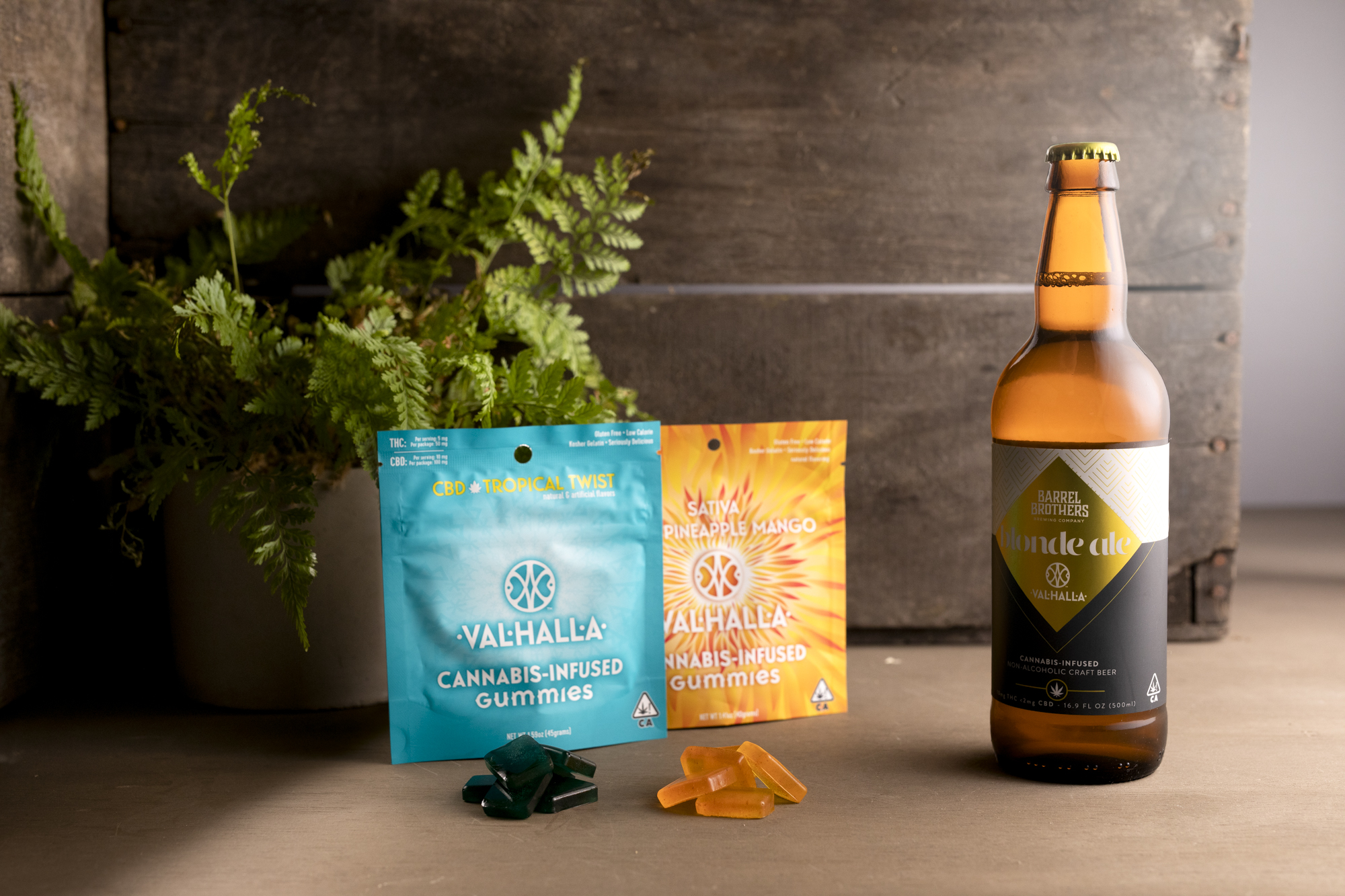 In addition to gummies and chocolates, Valhalla began experimenting with drinkable THC products. It was an unexplored category with Lagunitas' Hi-Fi Hops being an early THC-infused hoppy beverage.
So, it made sense that they would partner with Barrel Brothers, an innovative craft brewery with employees that were already close friends with the Valhalla Confections team.
"We had all the tools around us," shares Co-Founder Wesley Deal. "We just went about putting them together."
The Story Behind Barrel Brothers x Valhalla THC Beer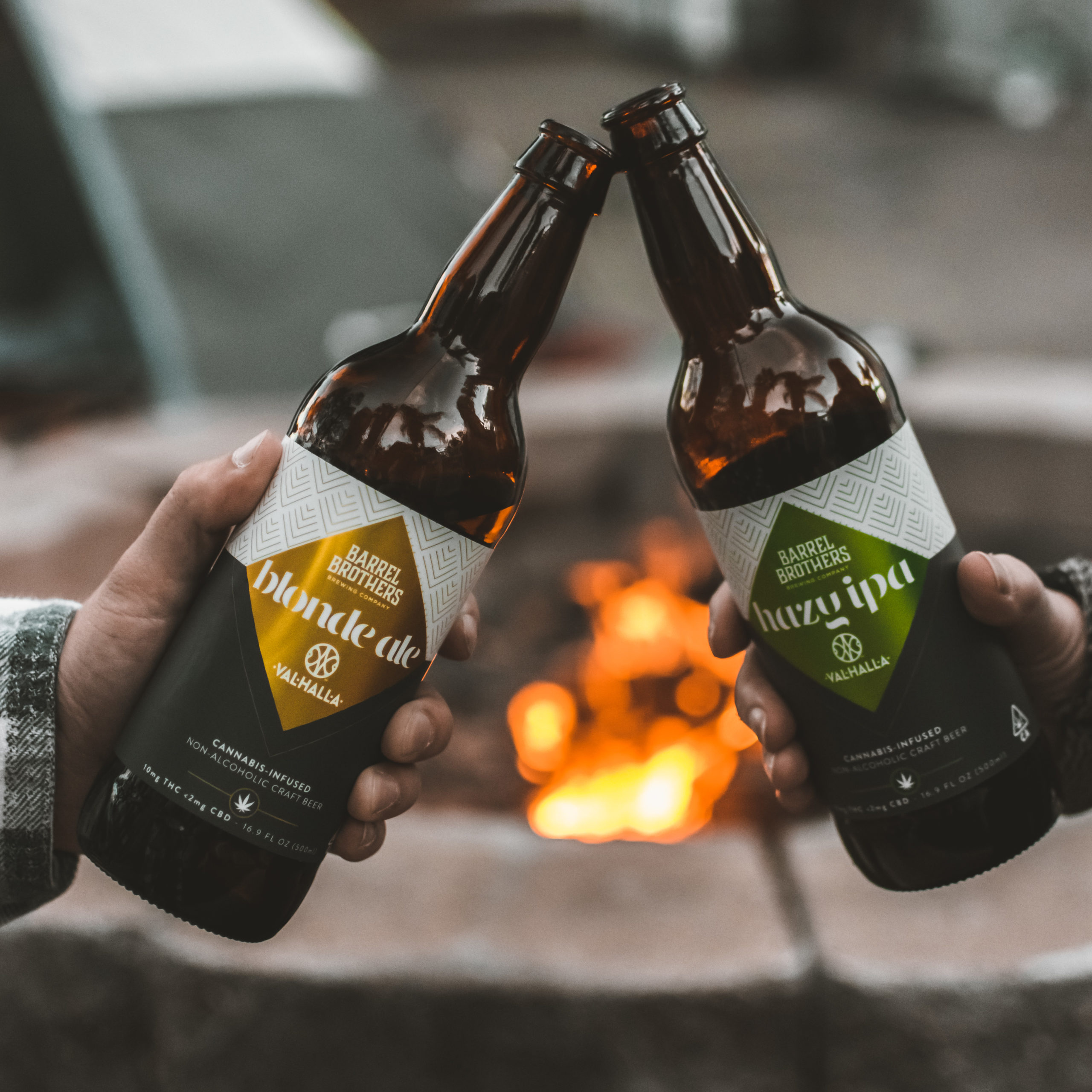 Barrel Brothers Brewing Co. had already established a tried-and-true dealcoholization process that perfectly fit in line with Valhalla's goal for a THC-dosed beer. Unlike other cannabis beverages that use sparkling water, this collaboration could maintain the high-quality flavors of a great beer minus the alcohol.
"[For this collaboration,] we make a product that is no different from any other beer we make," says Deal. "We use a vacuum distillation process, where you gently remove the alcohol from the beer, and then you end up with a beer base that is less than half a percent alcohol."
Barrel Brothers and Valhalla launched out of the gates with two collaborative releases: a classic Blonde ale and a tropical fruit-forward hazy IPA. Both of these non-alcoholic beers were dosed with 10 mg of THC and packaged in 16.9 oz bottles.
What's the History of Cannabis and Beer?
But, wait, cannabis and beer? Is that even legal? Let's back up a little bit.
In a previous article, we outlined the murky and complicated history between cannabis and beer. Most folks are quick to tell you that hops are a not-so-distant relation of the cannabis plant. But, the story typically stops there.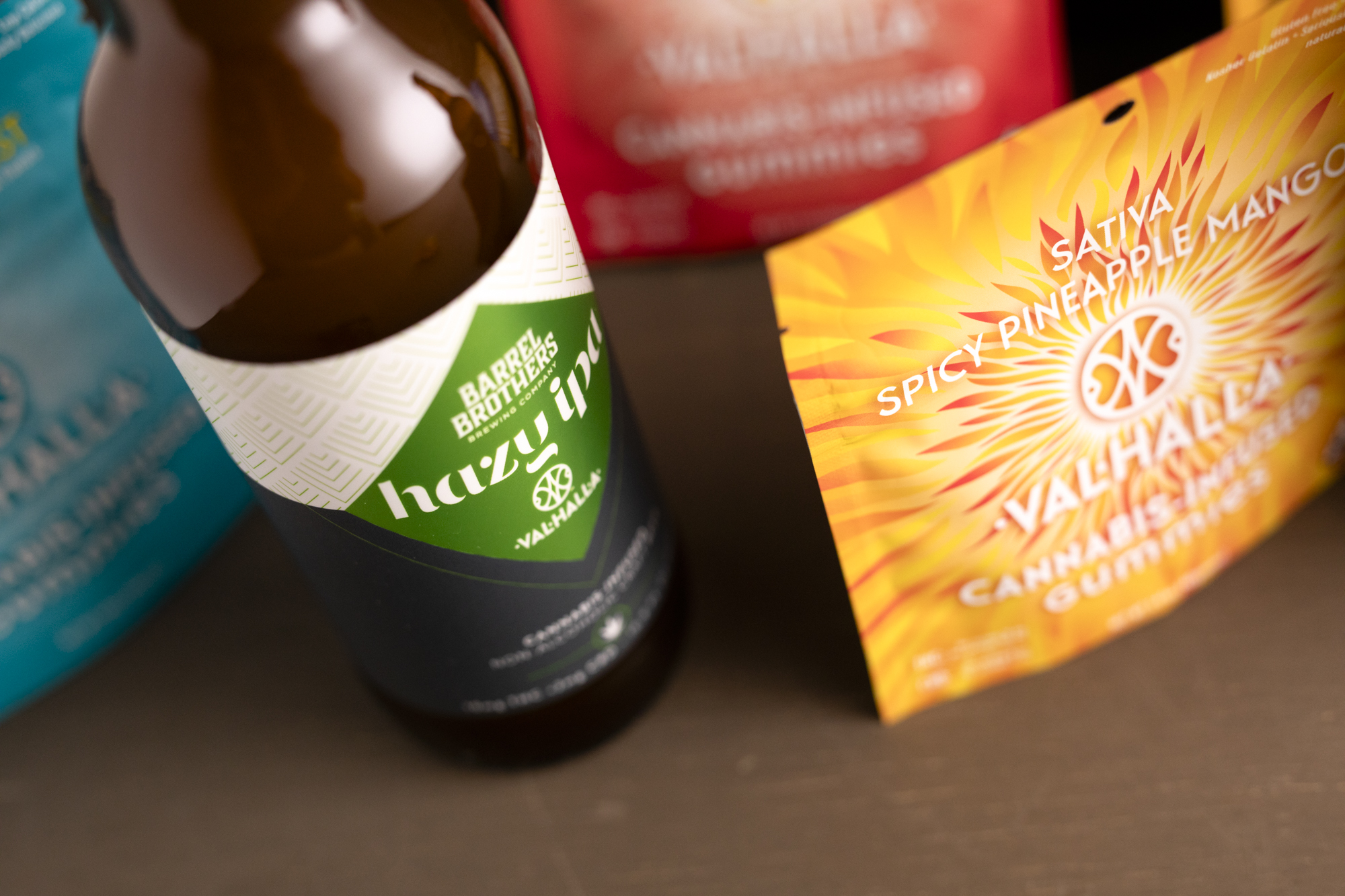 In reality, many breweries over the years have tried their hands at blending beer and weed in a variety of ways. Because beer is a federally regulated product, things never got very far. Even the production of CBD-infused beers has been halted despite the fact that CBD has been legalized at the federal level. The hangup? Alcohol.
"The infused-beverage market has definitely taken off in the last six or eight months with multiple types of infused-drinks," shares Valhalla Confections Co-Founder Brian Scott. "Infused-sodas, seltzers, juices…we're leading the path with an infused-beer."
"Obviously a lot of people are trying different cannabis products and a beer is a pretty familiar start for most–a lot of people have tried a beer," says Deal. "So it could serve as an entry point."
So, Barrel Brothers' approach through non-alcoholic beers is genuinely a revolutionary one. It opens up the potential for further experimentation in the category. And, has the potential of reaching broader audiences of beer fans interested in cannabis, and vice versa.
What Does Barrel Brothers x Valhalla Hazy IPA Taste Like?
But, how does it taste?
Well, drinkers should expect these collaborations to taste…like beer!
As mentioned above, thanks to Barrel Brothers' dealcoholization process, the final product retains the complexity of the malt profile and the full breadth of hop flavors. Now with a cannabis twist, of course.
The 10 mg dosing is–by design–relatively light for the beer. And Valhalla used a nano-emulsion rather than a pure distillate, which, as they suggest, should have a faster response time, unlike some edibles where the effects take place over a longer stretch of time. The goal was to make a THC-infused beer that could be enjoyed casually and socially. "So it won't overwhelm the consumers," Marc Philobos, Valhalla's Director of Distribution & Partnerships, notes.
In fact, seasoned beer drinkers should expect a similar "chilled out" experience that they'd get from any other Barrel Brothers beer.
Where Can I Get Barrel Brothers x Valhalla Hazy IPA?
Understandably, the collaboration is only available where cannabis is legal. And, due to the scope of production, the THC Hybrid Beers will only be available in select dispensaries in California.
Folks interested in trying the THC-infused non-alcoholic beers should consult Valhalla's shop to find a local dispensary that stocks the beer.
The Bottom Line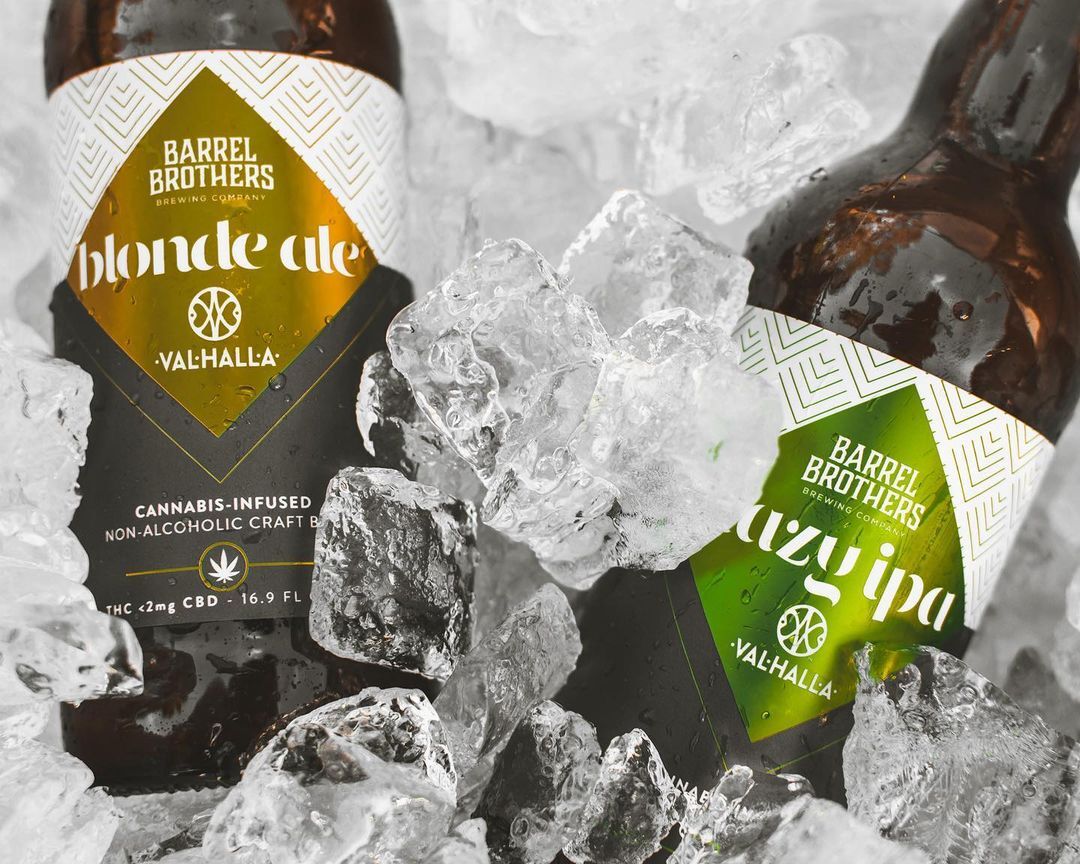 As we intimated above, this is a completely new frontier in craft beer. And that significance shouldn't be understated.
Craft beer and cannabis have a complicated history, but this innovative collaboration from Barrel Brothers Brewing Co. and Valhalla Confections opens the door to new possibilities in THC-infused non-alcoholic beer.
At the time of publication, Barrel Brothers and Valhalla have two offerings available: the Blonde Ale and the Hazy IPA. But, the two teams suggested that there are more iterations on the way with the Barrel Brothers brew staff experimenting with non-alcoholic stouts or fruited kettle sours in the near future.
"This new wave started with [cannabis-infused] beverages," shares Philobos. "And it'll just continue to grow. Not just here but as other states across the country legalize cannabis."
It may be a long time before folks on the East Coast have a chance to fully enjoy the possibility of this collaboration but the future is bright for fans of cannabis and craft beer.
This is a paid, sponsored post presented by Barrel Brothers Brewing Co.
Liked this article? Sign up for our newsletter to get the best craft beer writing on the web delivered straight to your inbox.