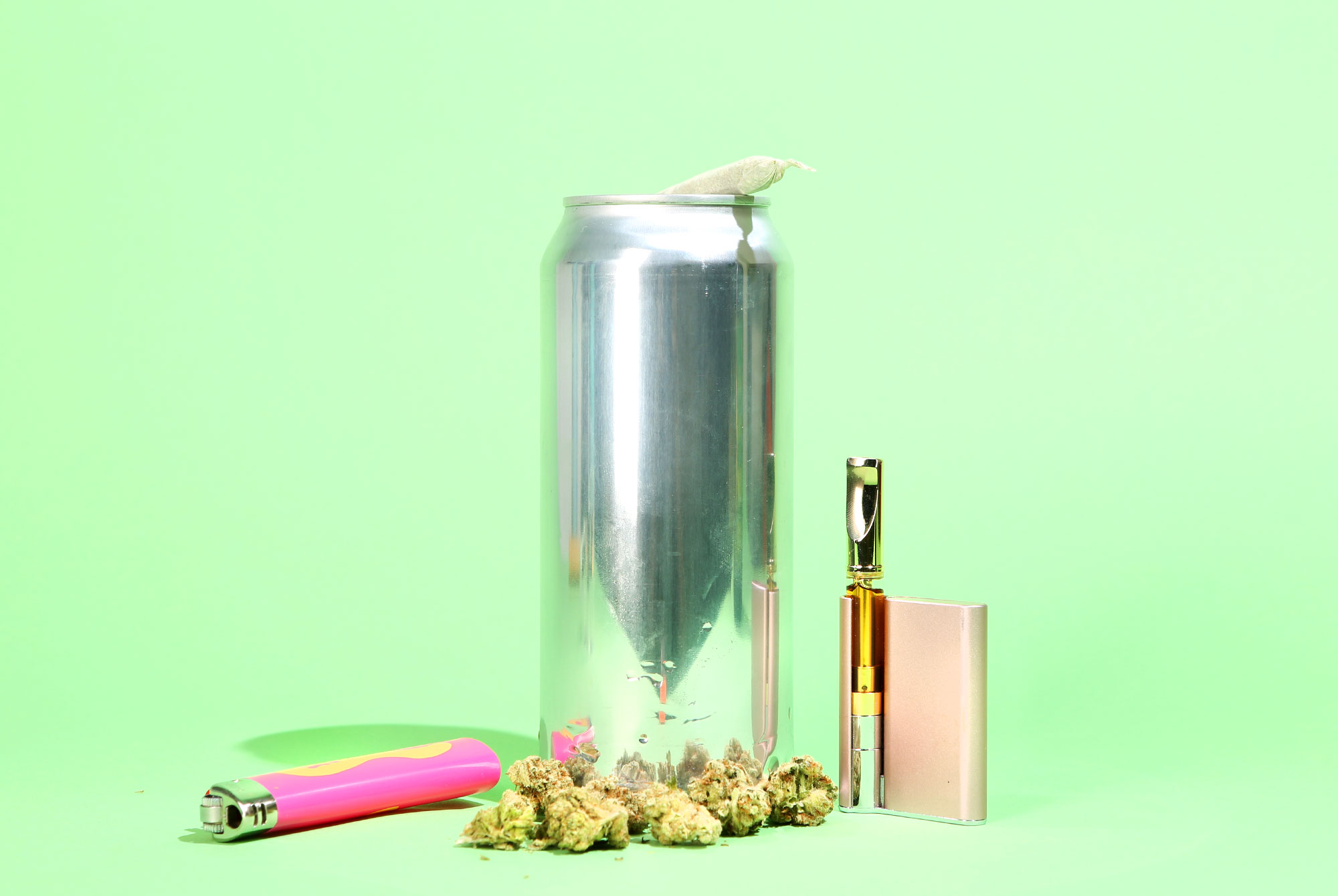 It's estimated that some 27 million years ago, Humulus lupulus (hops) and Cannabis Sativa (cannabis) were the same plant. Now the two are distinct species, with different connotations, different commercial uses, and, most obviously, different laws regulating their use. But if you've been paying attention to what's going in the alcohol industry lately, you've probably noticed that the two plants are coming together again. Only this time, it's in a beer can.
In light of all the hype, there's no better time than now to take a brief look back at the rise of weed beer.

March 2005
Lagunitas is raided by California's Alcohol Beverage Control
It's hard to know where to start a timeline of the relationship between cannabis and beer. People have been putting non-traditional ingredients into beer since the dawn of beer. Hell, what's classified as "non-traditional" wasn't even really set in stone until the Germans popularized their beer purity act in the 1500s. There are plenty of reasons to believe that homebrewers were putting cannabis in their beer for decades. There's a good chance they still are. But serious conversations about commercial weed beer generally start with the famously weed-friendly Lagunitas and a St. Patrick's Day party.
In 2005, California's Alcohol Beverage Control agency raided the brewery. More than a few people were smoking joints on the premises—including Ron Lindenbusch, one of the brewery's first employees. As Ron lit one of those said joints, an ABC agent slapped him in cuffs and a horde of police shut the party down. No one went to jail, but the brewery was forced to close its doors for 20 days due to operating a "Disorderly House." To commemorate the sting, Lagunitas released Undercover Investigation Shut-Down Ale. It wasn't a weed beer per se, but it was definitely inspired by marijuana.
That was only the start of the brewery's cannabis connection. Lagunitas tried to release a beer named Kronik that was denied by the TTB and renamed Censored. Then in 2017, Lagunitas got serious and partnered with the cannabis-extract company CannaCraft (which also has a police raid in its company history) to make SuperCritical Ale. The beer used essential oils from the marijuana strains Blue Dream and Girl Scout Cookie, however, there was no THC or CBD in it. But spoiler alert: Lagunitas comes in later in the timeline with an even bigger weed beer release.
September 2015
Dad & Dude's Breweria releases the first commercial beer brewed with CBD
Where other breweries winked and nodded, Dad & Dude's Breweria boldly stepped. In 2015, the Aurora, Colorado, brewery publicly debuted the first two commercial CBD beers: Sativa IPA and Indica Double IPA. Both had a short run at the brewery, but the real splash came in September at the Great American Beer Festival.
Dad & Dude's previously made a beer without any cannabis product called Dank. Sativa and Indica were more direct and the start of a planned Canna-Beer Series.
"I think beer and cannabis should be treated equally," co-founder Mason Hembree told Westword. "Alcohol has also gone through its fair share of prohibition and misunderstanding."
Releasing a couple CBD beers doesn't necessarily mean there's general public understanding, though. On December 14, 2016, Dad & Dude's was told to stop brewing Sativa and Indica IPAs. The brewers argued it was legal, and joined forces with the hemp industry in what they call on the brewery's CBD beer focused website "an epic battle to legalize cannabis."
Today, Dad & Dude's calls its CBD beer General Washington's Secret Stash, named after the U.S.'s first hemp-growing president (and, you know, the first president in general).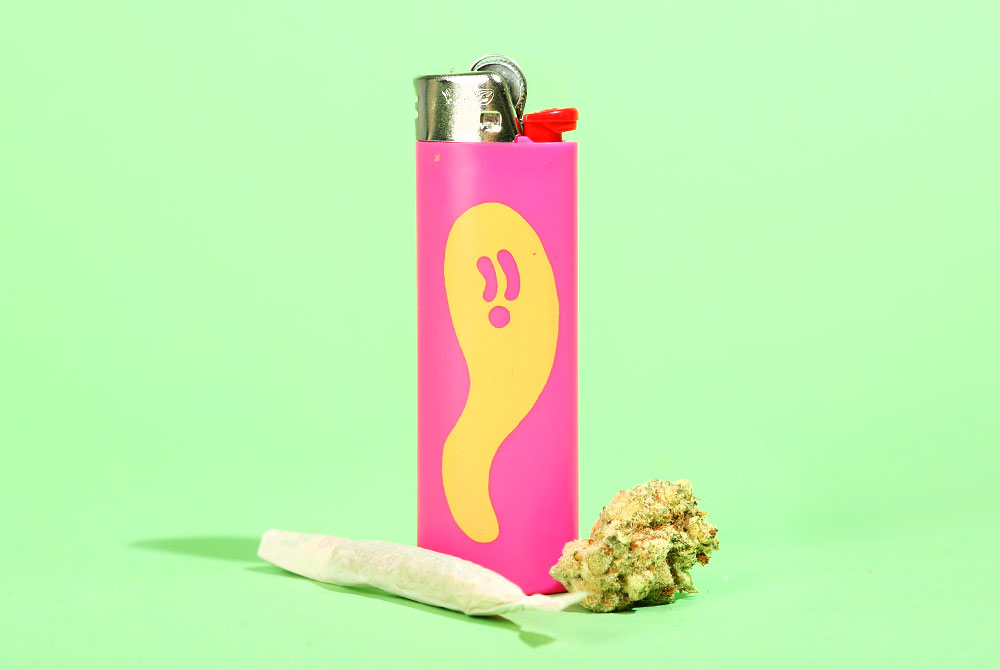 April 2016
Wiz Khalifa files a cannabis beer patent
It's hard to imagine a more apt celebrity to join the cannabis beer movement. On April 6, 2016, Wiz Khalifa said he was working on a line of cannabis-infused beers. Rumors had been going around after observant internet creeps found trademark papers under his name. The trademark protects weed-themed CBD beer, juice, carbonated drinks, and non-alcoholic cocktails under the Khalifa Kush brand name.
As of publication, Wiz has yet to release a beer.
November 2016
Coalition Brewing announces Oregon's first commercial CBD beer
Coalition Brewing took a look at hops, then took a look at cannabis, and, according to a 2016 press release, decided to make a beer "to showcase a true collaboration and the union of these 'kissing cousins,' hops and cannabis." The beer release was timed to be a part of Portland's Weed Week. It was also long before you could find CBD in everything from your coffee to your muffin.
The following year, Coalition turned its CBD beers into a full-on series. The following beers, Two Flowers IPA and Herbs of a Feather, were limited releases. Limited, but inspired. Coalition's regional beer ambassador Phil Boyle told The Ringer that the inspiration came from a party in September 2016 after a THC-infused dinner where they ate "something like 2,500 milligrams of THC."
April 2017
San Francisco's Black Hammer Brewing releases a CBD-infused IPA called Toke Back Mountain
At 4:20 p.m. on 4/20, Black Hammer Brewing released its first CBD beer (no one has every accused weed beer brewers of subtlety). It was the first cannabis beer commercially released in California, and had 5 mg of CBD and a non-THC distillate of Red Hindu Kush per 10-ounce beer. The cannabis distillate added flavor without making the beer illegal—of course, that didn't stop regulators from stepping in.
In May, the TTB ordered Black Hammer to stop making Toke Back Mountain because CBD isn't approved as a non-standard beer ingredient.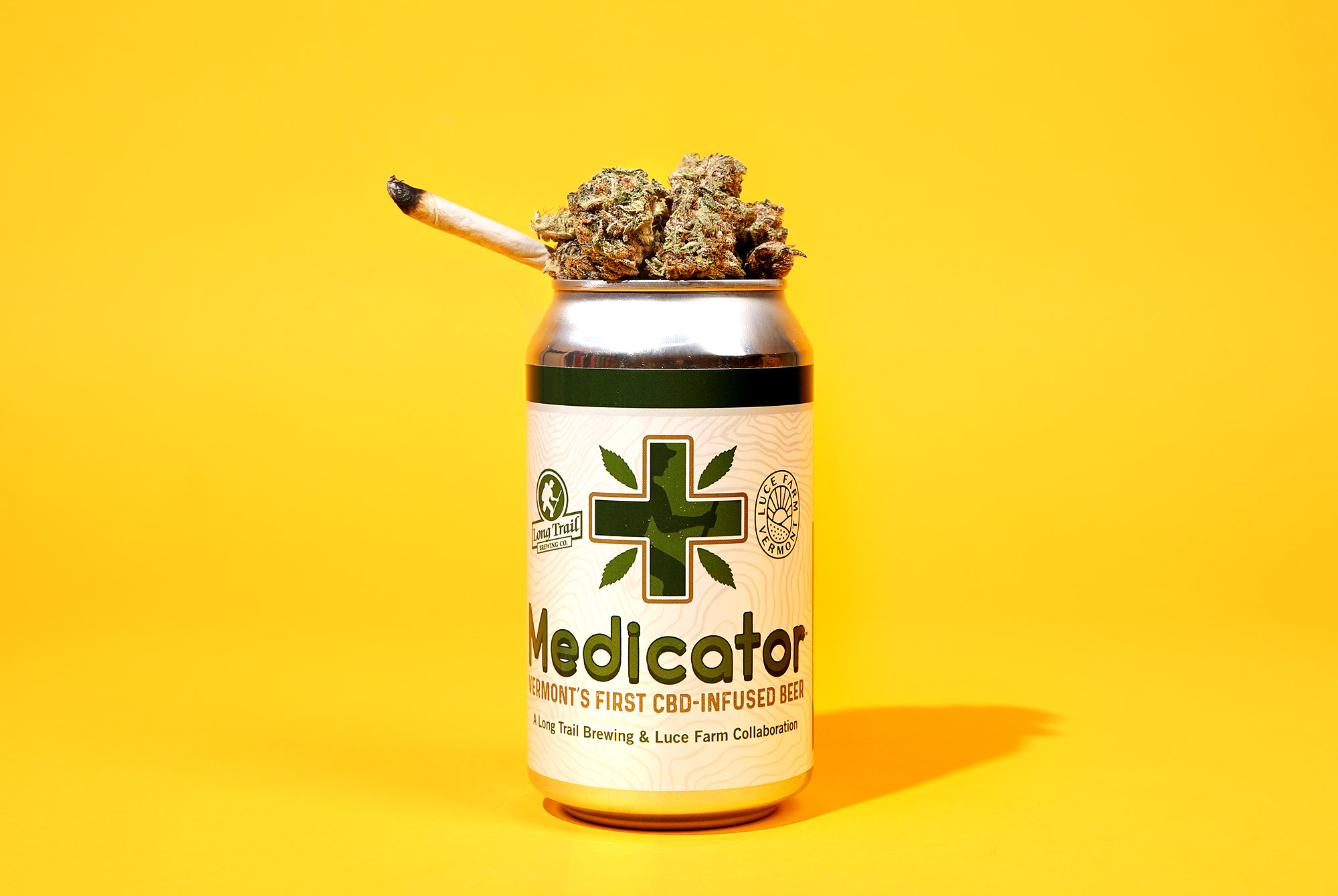 August 2017
Long Trail Brewing announces Vermont's first CBD beer
Long Trail's CBD beer has already had a lot of ups and downs in its short history. In August 2017, the brewery announced it was working on a yet-to-be-named beer with Citra and Mosaic hops as well as 20-30 mg of CBD from organic hemp. It was eventually dubbed Medicator, and hit the public in September 2017.
Cans with a hemp-focused design came to market in Vermont in early 2018. Then, in March, Long Trail hit a snag. The TTB put a hold on distribution because it flagged a "special ingredient" listed on the packaging. That kept the beer out of the 2018 Vermont Brewers Festival. Which is a bummer, because it appeared to be a real hit. In August at a small batch can release at the brewery, Long Trail sold 300 cases of $20 four-packs of Medicator in three days.
March 2018
Down The Road Beer Co. asks to brew first CBD beer in Mass., is promptly denied
Alex Weaver of Down The Road Beer Co. wanted to do things right when he planned to make Goopmassta Session IPA with CBD in March of 2018. Recreational weed was legalized the year before, and CBD from hemp is technically legal in every state (although some conservative states are starting to reconsider). Weaver asked the Massachusetts Alcohol Beverages Control Commission if the brewery could create the first legal CBD beer. A general statement was put out by the state just days later clarifying that putting any cannabis extracts would be considered "adulteration of alcohol" and is illegal.
"They never said it was a direct response to us, but I can say the timing was very, very likely not a coincidence," Weaver told The Ringer.
Blue Moon founder Keith Villa announces a new cannabis beer company
Keith Villa retired from MillerCoors on January 5, 2018. The Blue Moon inventor had been with the company for 32 years, but there was something different on his mind, apparently. Three months after his "retirement," he announced a new company called Ceria Beverages. Villa's new business has headquarters near Denver and will focus on non-alcoholic, cannabis-infused craft beer. The kicker: all the beers will contain THC.
"CBD is not the component that most consumers look for," Villa told BrewBound. "It certainly has its merits… But the THC is what gives people that buzz, which is similar to the alcohol buzz that people get from beer, spirits, and wine. A lot of consumers of cannabis look for that buzz."
A bold stance for a man who admits to being against recreational pot legalization in 2012. Once the product is ready, Ceria Beverages will sell three beers in Colorado: a light beer with 6 mg of THC, a regular beer with 10 mg of THC, and a full-bodied beer with 15 mg of THC.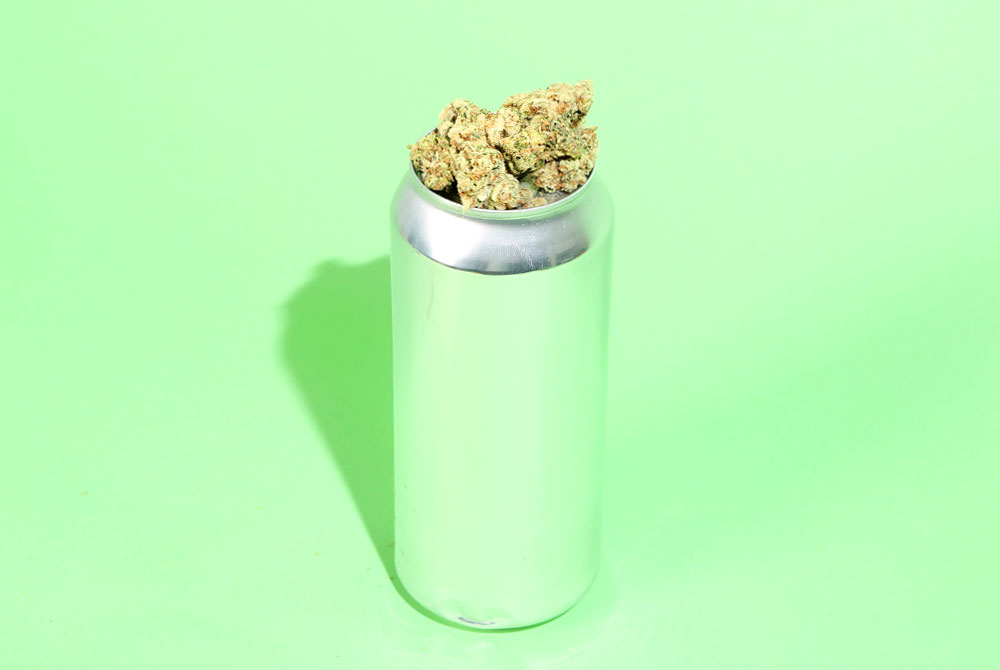 April 2018
Florida breweries are forced to stop selling beer with any cannabis terpenes
Two days before 4/20, the TTB sent letters to two Florida breweries, Invasive Species Brewing and Devour Brewing, blocking beer with any sort of cannabis oil—even oil without THC and/or CBD.
Both breweries were using oils with cannabis terpenes to give the beer a pot aroma and flavor. The federal government stopped sales on the premise that anything using those oils had to be tested just to make sure they were THC free. It was a minor setback for brewers, but showed the TTB wasn't going to take a closer look at those using cannabis oils without federal tests.
May 2018
New Belgium releases its first hemp beer: The Hemperor
Until recently, most beers made with hemp came from small- to mid-sized regional breweries. That changed when New Belgium entered the market. Hemperor is, as the name hints, brewed with hemp—almost then entire plant, in fact. But, thanks to New Belgium's wide distribution, it decided against making a beer that contains THC or CBD. The beer took three years to make it to market. Hemp-hating Kansas regulators still refused to allow the beer to be sold across state lines, despite having none of the compounds that make hemp and cannabis beers attractive in the first place (CBD and THC).
June 2018
The U.S. gets its first THC- and CBD-infused craft beer
Cannabiniers, a California based edibles company, announced in June 2018 that it was expanding into the weed beer space with a line of THC and CBD (but non-alcoholic) brews called Two Roots Brewing Co. The company became the first THC and CBD filled beers on the market with a lager, stout, West Coast IPA, blonde ale, and wheat beer.
The beers allegedly function like the best form of microdosing, with an onset of around 10 minutes and a high that wears off in around two hours. It's sold in California and Nevada.
"After two years of research and development, we are thrilled to see our creations on product shelves in July," Kevin Love, director of product development at Cannabiniers, said in a statement. "Our portfolio is continuing to expand and we are proud to be providing the highest quality products made in the USA and changing the perception of consuming cannabis and the entire industry."
Also of note: this is the moment Blue Moon creator Keith Villa loses his chance at releasing the first THC beer. Competition is really starting to pick up.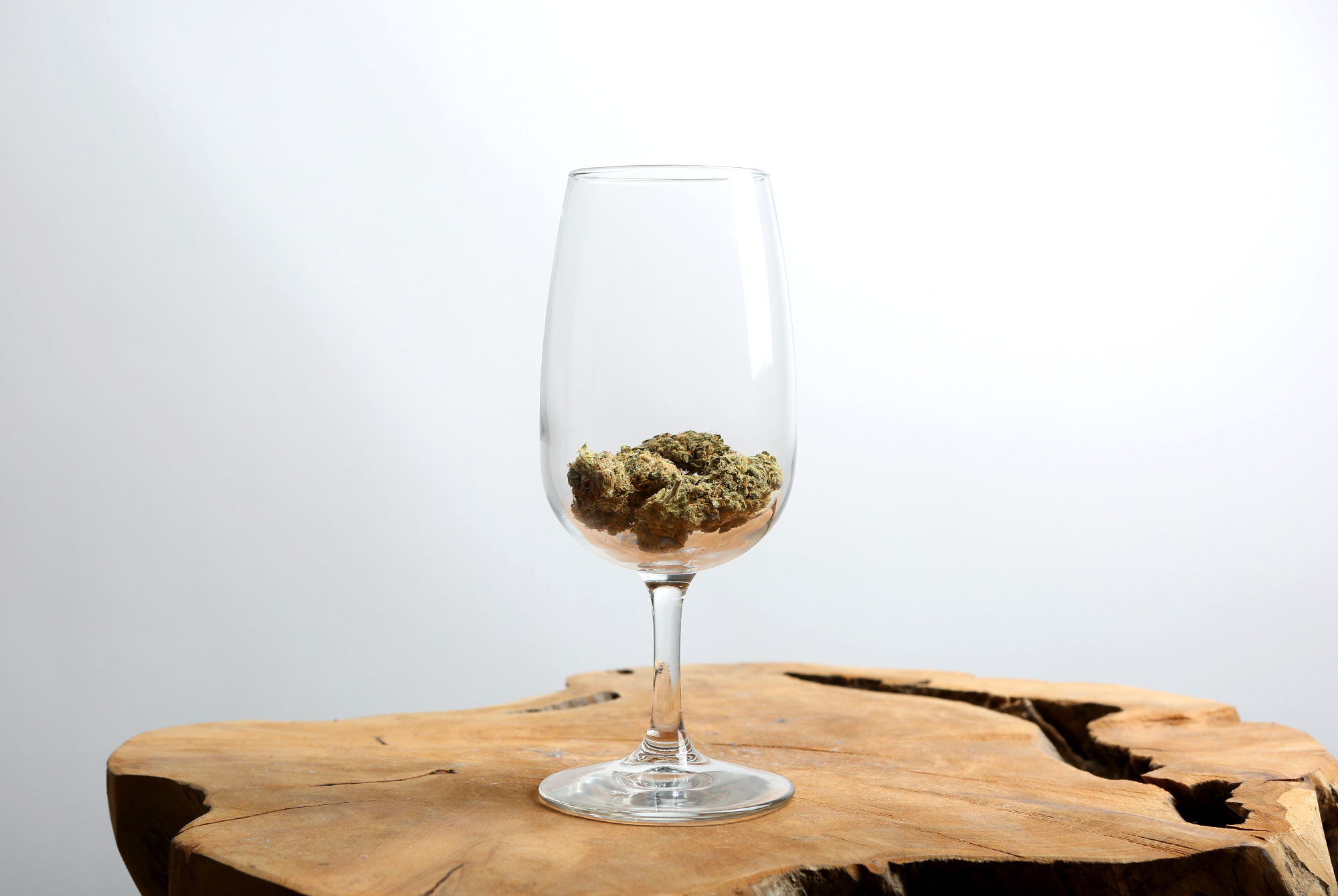 Lagunitas announces non-alcoholic THC "beer"
Lagunitas didn't do it first, but it was a close second. The company, which is owned by Heineken, released two non-alcoholic THC "beers" called Hi-Fi Hops. Beers is put in quotes because unlike Cannabiniers or what Keith Villa is working on, Lagunitas made THC-filled "hoppy sparkling water" rather than a true non-alcoholic beer.
Hi-Fi comes in a version with 5 mg of THC and 5 mg of CBD, and a version with 10 mg of THC and no CBD. It essentially capitalizes on two hot topics right now: hard sparkling water (Lagunitas also has a line of non-THC "Hoppy Water") and weed beer.
Heineken is based in the weed-friendly Netherlands, so maybe it shouldn't come as surprise it was the first major beer company to release a cannabis product. Calling it the first weed beer from a large beer company would be a little too lenient, but Hi-Fi is the first major step in that direction.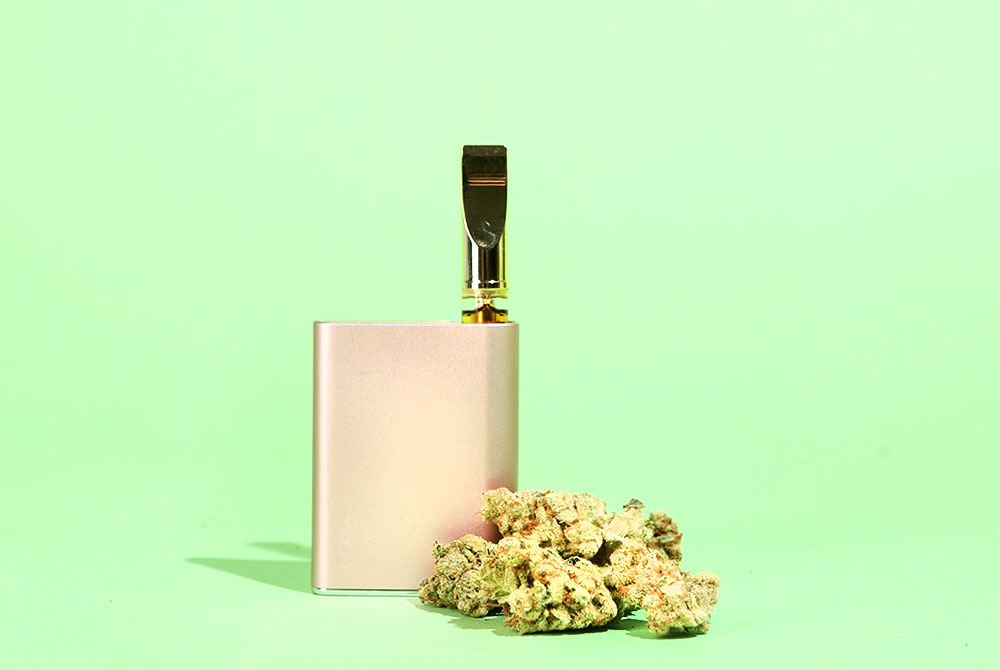 July 2018
A Canada brewery announces the country's first THC beer
In 2018, Canada became the second country in the world to legalize recreational cannabis. In 2019, the country will legalize edibles. Province Brands in Toronto is ready. The brand has been working on a beer with 6.5 mg of THC, and thinks it's nailed a recipe after the first iterations tasted like "rotten broccoli."
"The beer hits you very quickly, which is not common for a marijuana edible," Dooma Wendschuh of Province Brands told The Guardian.
The yet-to-be-named beer is non-alcoholic and gluten-free. Province Brands plans to expand with a $50 million cannabis brewery that makes beers with different marijuana strains.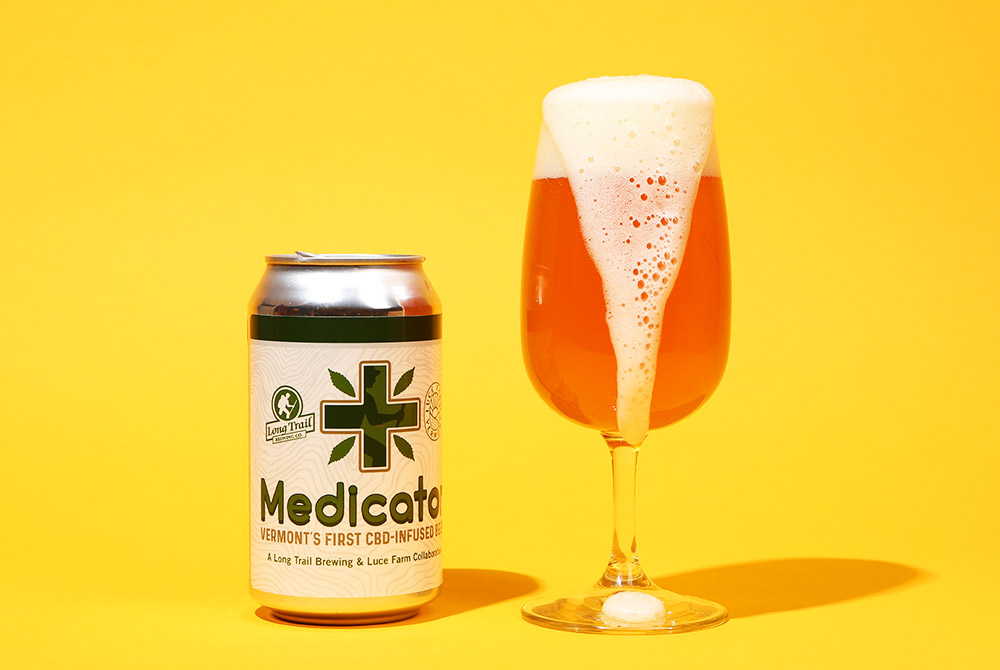 August 2018
MolsonCoors announces a joint venture with Canadian cannabis company The Hydropothecary Corporation
The big boys finally get into the cannabis beer game. While craft brewers led the way, America's largest beer companies like AB InBev and Constellation Brands shied away from straight up putting cannabis in beer (Constellation invested $191 million in a marijuana company in 2017, but didn't go so far as to combine its beer interests and its cannabis interests). The world's largest brewers admit that cannabis sales will increase in the future, but refused to make money moves on THC or CBD beer. Then came MolsonCoors.
MolsonCoors and The Hydropothecary Corporation agreed to make non-alcoholic weed beer that's yet to have an official release date. It will be a standalone venture, but the beer company will keep controlling interest.
October 2018
Predictions of a weed beer takeover solidify
According to news reports, Millennials kill a lot of things. Beer is one of those things, partly because of fears that weed-friendly youth will trade alcohol for marijuana products. The stories about cannabis taking the place of alcohol are everywhere. Seriously, they're everywhere. Naturally, that means more and more places will make cannabis beer according to marijuana-hungry business leaders.
The Canadian cannabis company that Constellation Brands invested in, Canopy Growth Corp., seems especially optimistic.
"I think I would quit if I was the CEO of a beer or spirits company and I was not allowed to move on [investing in cannabis]," Canopy CEO Bruce Linton told Bloomberg. "I would quit because you know you're going to get fired in the future because you didn't catch it."
Things can only get higher from here.
Liked this article? Sign up for our newsletter to get the best craft beer writing on the web delivered straight to your inbox.