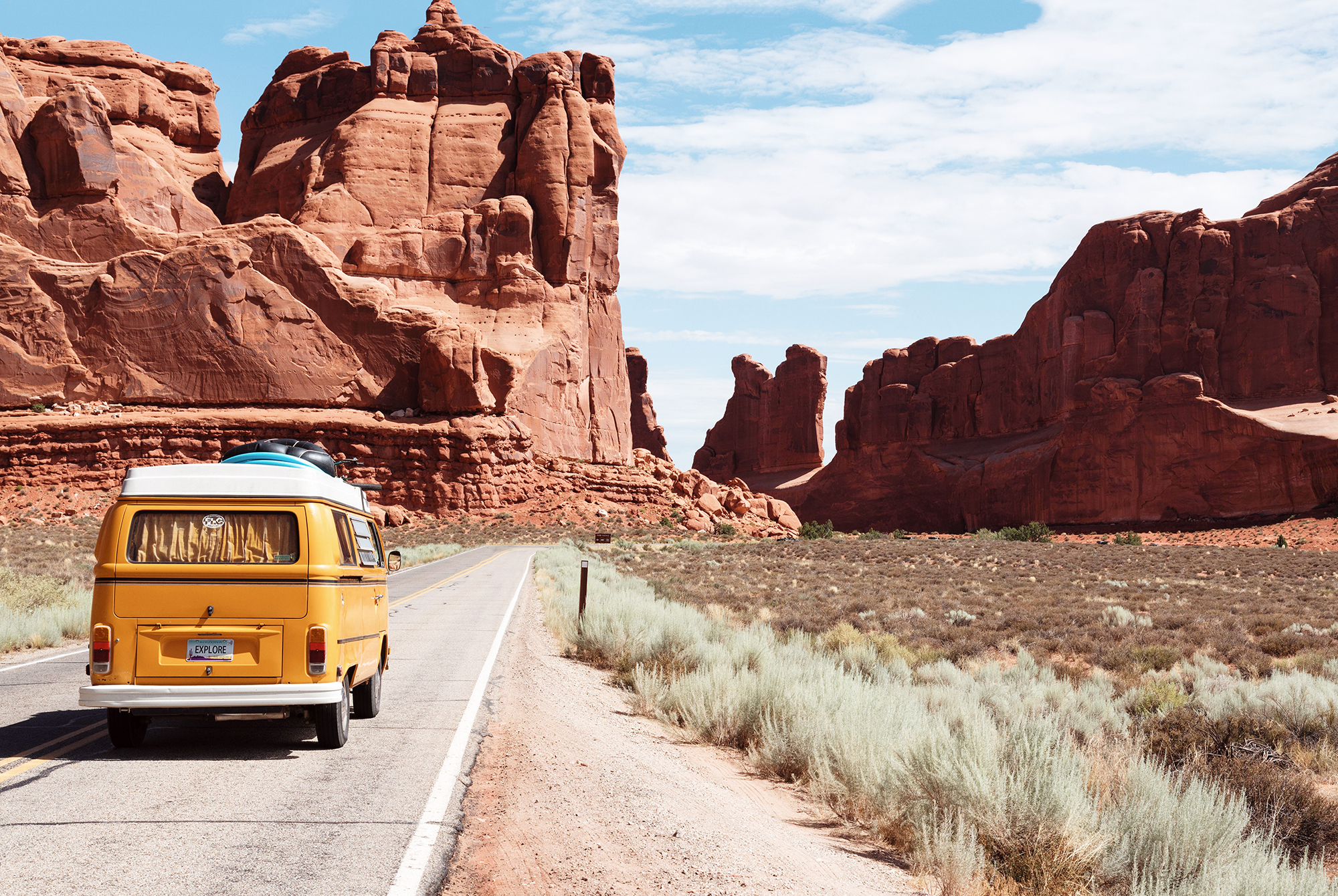 Editor's Note:
This is a paid, sponsored post presented by Tavour.
There's nothing quite like slamming your laptop shut knowing the only thing between you and a long, much-needed vacation is… packing. Whether you're about to hit the road for a three-day weekend full of scenic drives and brewery visits or you're hopping on a plane to GTFO and see something new, there are a few choice items that will make your trip even better.
You'll need a clever way to carry all your stuff, a safe choice to transport all your beer purchases, an easy way to remember everything you've seen, or even a way to enjoy beer from across the country from the comfort of your home. We've pulled together some of our fave gifts for the beer drinker who loves to travel and explore, which means you can splurge on solo items for yourself or help plan the most epic trip ever with your buddies. The choice is yours, so here's to you and your excellent soon-to-be adventures.

Tavour Craft Beer Gift Boxes
Rack up the Skymiles and take flight on the greatest exploration of craft beer! Like the ultimate passport of beer, Tavour, a Seattle-based company with direct relationships with breweries all across the United States, brings beer from over 650 independent breweries right to your doorstep. Around the holidays they've made gift-giving to your traveling beer lover even easier by delivering the very best craft beer from the East Coast to the West Coast and everywhere in-between with their custom curated gift boxes.
To capture the festivities of the holidays Tavour created its 12 Days of Beermas box, featuring 12 seasonal brews from the finest breweries. Packed in its own festival box with an included limited-edition Beermas mug, this gift pack seems like 12 presents in one. While the entire lineup is a surprise Tavour dropped us a few hints. You can expect brews from Prairie, Hoppin' Frog, pFriem, and more. This box is so popular that it's already flying around the county at Mach one speeds, so grab this Beermas set while you can!
If you're looking to turn your craft beer aficionado's fridge into the best craft beer bar around choose Tavour's Mixed Beer Gift Box Set. With 8 bottles or up to 16 cans of a little bit of everything, you can expect IPAs, Saisons, Wild Ales, Imperial Stouts and more from Tavour's highest-rated breweries. Gifting this box is like being upgraded to first class.
Whichever box you choose, your craft beer loving friend or significant other will feel like they've just become a Million Miler.
Personalized Insulated Waxed Canvas 6-Bottle Beer Carrier
Gifting your pal with a six-pack is nice and all, but hand them over in an insulated carrier that's a major upgrade from a cardboard holder or plastic bag. This case is not only classy, but it also comes with an adjustable strap and a bottle opener. It doesn't cost extra to personalize it with your friend's initials either, so you'll definitely win the holidays.
L.L. Bean Rolling Adventure Duffle
Weekenders are perfect for short trips because they're easy to lug around and stuff just enough to make you feel like you didn't overpack (you totally did). We'll do you one better than that go-to variety with this duffle, because this baby comes on wheels, like it's full-on luggage. From the courts to the concourse, my friend!
Swag Brewery Hoppy IPA Beer Soap
You've got to clean up while you're traveling, so why not do it smelling like sweet, sweet hops? Bonus if you suds up while drinking a shower beer.
Beer Pong Travel Table Set
Don't leave your table sitch up to chance. You can play beer pong (or beirut, if you're that guy) to your heart's content and not risk that Airbnb deposit. (Just recycle your cans, please!)
Herschel Amenity Kit
Even the most discerning, well-intentioned traveler knows that it's very easy to leave something behind. That's why this kit is so wonderful for the plane-weary wanderer in your life. One compact bag comes with a sleeping mask, inflatable neck pillow, ear plugs, and slippers. That crying baby wailing for three hours straight? You won't even notice.
Polare Men's Leather Passport Holder/Wallet
Keep all of your important documents safe while traveling abroad, and look stylish while doing it. Made of sumptuous leather, this RFID-safe bi-fold wallet is large enough to hold multiple cards and passports but forgoes unnecessary bulk. It even comes with a gift box.
Camp. Adventure. Beer. Hoodie
When you want to stay warm and cozy on your travels but also need everyone to know what your priorities in life are.
Field Notes: National Parks Series
Even with the best intentions to remember every awesome minute of your trip, some of the smaller moments can slip away over time. Rather than relying on your iPhone photos and spotty memory, go old school and detail your trip in a travel journal. Field Notes has some of our favorite journals to take on the road and these special edition ones with illustrations of the National Parks.
Paww WaveSound 3 Headphones
Don't sacrifice sound and comfort just because you're traveling. These headphones have a comfortable cushion and impressive audio quality while still blocking out that obnoxious noise around you. They're also bluetooth compatible and fold up nicely, making them perfect for a plane trip or walk around a new neighborhood.
ModSock Sasquatch Loves Beer Men's Crew Socks
Keep your toes warm while also proclaiming to the world while you took this trip in the first place: to try all the craft beer you can get your hands on and be the one to find Sasquatch.
Timex Expedition Scout Chronograph 42mm Leather Strap Watch
Let's be honest: it'll look way cooler if you whip this watch out to figure out what time it is than your phone. This light-up Timex features major outdoorsy vibes, upgraded chronograph functionality, and can be taken into the water — just don't go deep-sea diving.
USA Beer Cap Map
You've tried beers from all over the country, and now you can see all of your hard work in one place by popping those caps into this wall map.
StowCo Portable Cooler
We know you don't need to be discreet about your love of beer, but sometimes it's nice to store your drinks in a slim case that looks like it can go from a business meeting to the beach. This carrying case keeps cans cool for five hours and can be lugged around like a lunch bag or tucked away in a suitcase.
Anker PowerCore 10000 Power Bank
Don't get overheated about a dead battery. Tote around this portable charger instead; it quickly powers up various phone styles and holds at least two times the charge of your phone.
Liked this article? Sign up for our newsletter to get the best craft beer writing on the web delivered straight to your inbox.