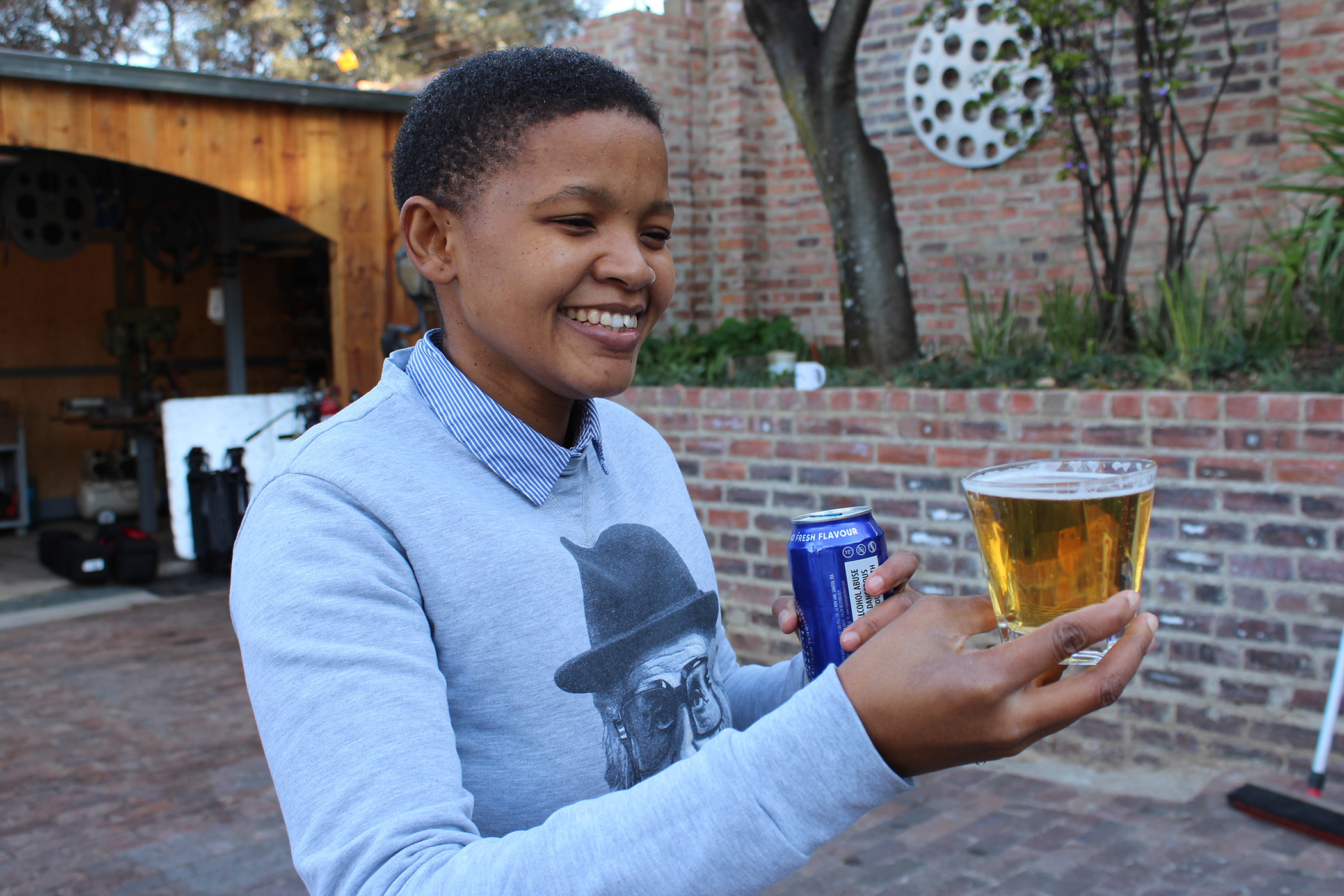 Photography courtesy of Obakeng Malope
Beer is a science. In the very simplest terms, combine water and grains in hot water, boil with hops, pitch in some yeast, and Mother Nature will make beer. But beer is also an art, a poetic and harmonious representation of magical ingredients coming together in one glass to create something delicious.
A new initiative called Beer is Art seeks to teach unemployed youth in South Africa not only the science but also the art behind beer. All in hopes that they can provide the necessary tools to those in underserved communities to help jump start new careers in beer.
Founded by filmmaker Obakeng Malope, Beer is Art is a passion project. One she started after first discovering the wondrous world of craft beer herself.
From Filmmaking to Beermaking
In a story that probably sounds pretty familiar, Malope's journey into craft beer has been circuitous.
Malope originally wanted to be an actress and singer, but she couldn't sing. Studying to be a filmmaker instead, Malope excelled in school, earning the nickname "Busy Bee;" she always booked the camera to film some project. Her hard work paid off with one of her films, "Fighting Homophobia," eventually winning the M-Net Special Mention Best Sound award in 2012.
Hired by a film production company after graduating, Malope worked her way up from making coffee to working as the assistant camera person and eventually becoming a production coordinator. All along the way, she continued writing her own scripts (even starting her own production company Maalkop Trading and Projects) and traveling to international film festivals to screen her documentaries.
During these trips she had a chance to sample local beer and food cultures. For instance, at the Sheffield DocFest in the United Kingdom, "I remember seeing breweries everywhere…and female college students drinking beer," says Malope.
The experience sparked (or perhaps re-ignited) a passion inside her. She started to turn her creative and attentive eye to the world of beer—both present and past.
A Legacy of Beer in Africa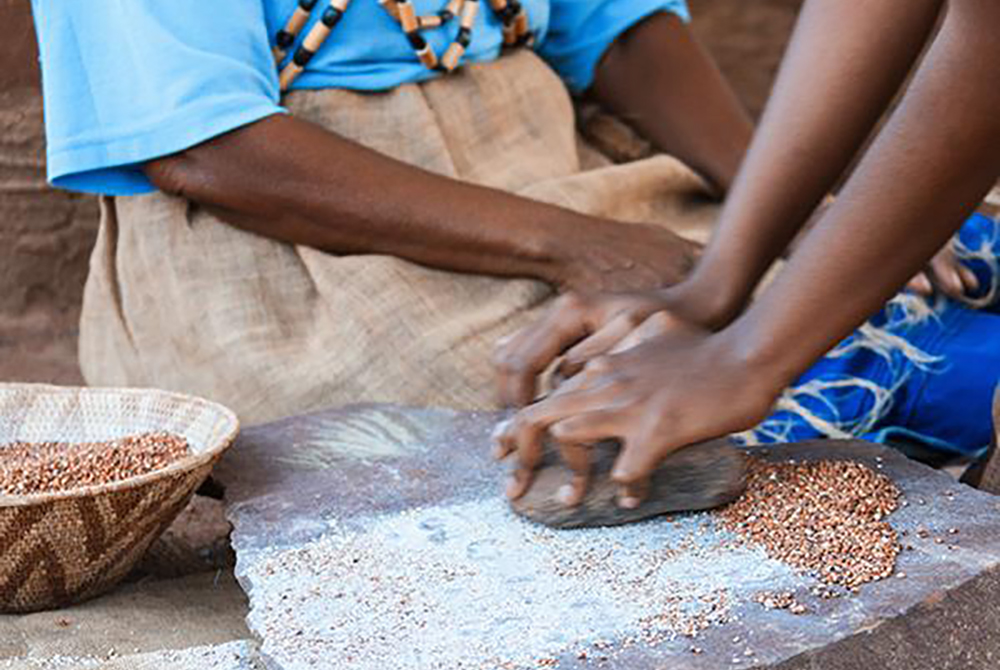 Beer has strong roots in Africa. "Beer is deep, beer is spiritual, beer is our DNA," says Malope, referring to a history that stretches all the way back to the ancient Egyptians.
"Beer tells a story," says Malope. "The beer that we make now is not the beer they will make in the next 200 years. The people who will be living in those times will be using beer that we are making as history…they will read the stories we have left for them and learn what kind of people we were."
For Malope, who grew up in a rural village in the Northwest province of South Africa called Jericho, beer had always been something made in the home. And only for special occasions such as a party or funeral.
Called Bojalwa jwa Setswana (or sometimes Umqombothi), this beer made of malted sorghum, maize, and water was actually the domain of the matriarchs of the family.
"I remember seeing my grandmother sieving out the brown liquid to leave out the brown grain after it had fermented," says Malope. "That process fascinated me. It looked playful, like she was hand washing the clothes."
But as Malope grew older she realized, "Who will carry on this legacy?" Because most young people in South Africa do not know how to brew beer or even that craft beer exists.
So, Malope made it her mission to write her own story.
Malope Crosses Time Zones for Craft Beer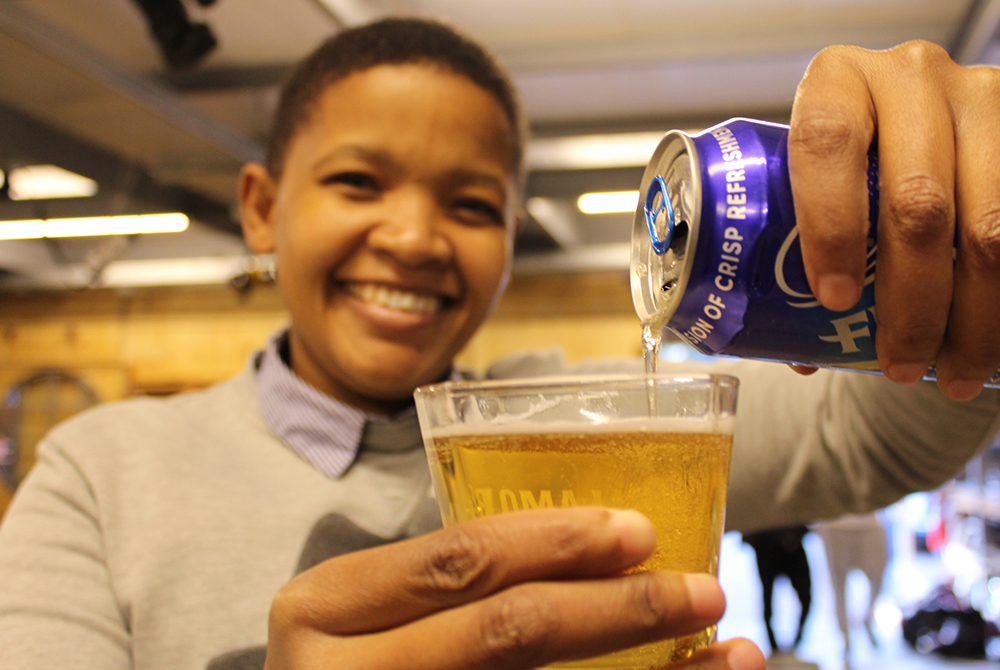 She began to educate herself, watching videos on how to make beer on YouTube. "I was fascinated seeing these big German guys with big beards drinking," says Malope.
One day she noticed a post on Facebook advertising a course for Cicerone certification. Started by Eugenia Brown, founder of the Black Beer Chick (@blackbeerchick), the "Road to 100" provided education to 100 women of color working towards their Cicerone certification.
Accepted into the program, Malope began taking courses online. Although she often joined many of her classmates at 2:30am in South Africa because of the time difference, Malope loved her experience.
"Being a part of the program was incredible," says Malope. "It was women of color who understood beer. It was a moving and inspiring experience for me because they were so advanced in beer—they would bring beer and talk about all the flavor profiles and aroma—I wanted to catch up."
Because even though the craft beer scene in South Africa has steadily grown over the past few years, it's still just starting to gain steam.
The Pulse of Craft Beer in South Africa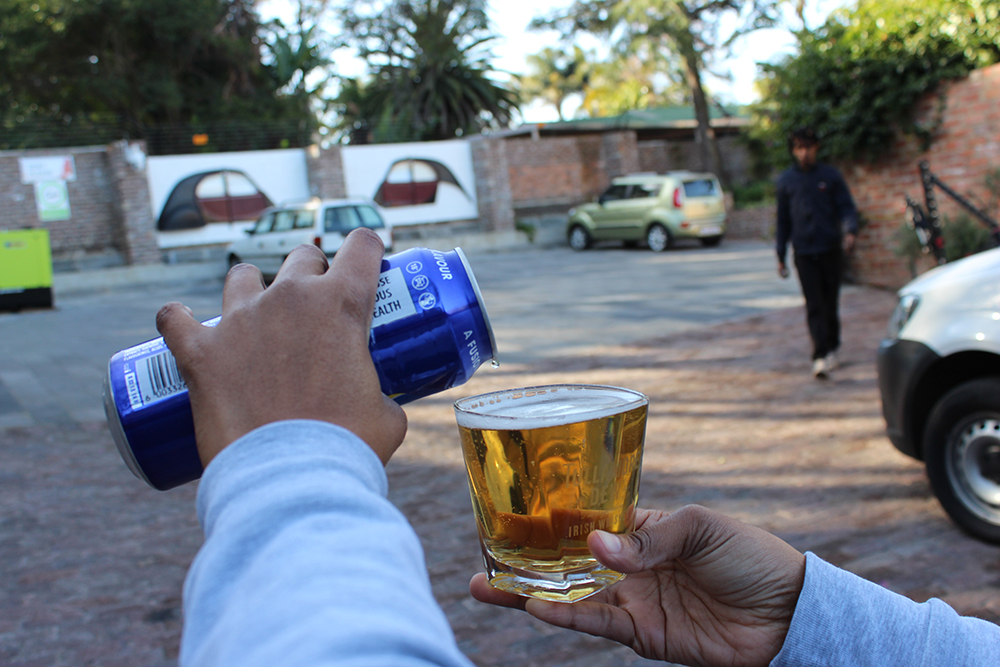 Malope believes that the craft beer industry in South Africa is currently at a similar point to the American movement in the 1970s. In other words, craft beer in South Africa is just starting to become popular.
"South Africa is experiencing a massive wave of craft beer in the country," says Malope. "Many people taste craft beer and say, 'Wow, I have never tasted something like this; I have been robbed all my life.'"
And Malope would know. She has literally gone around her own community giving people a taste of beer from local craft breweries.
"I became known as the lady carrying beer," laughs Malope.
She recounts a time she took a high-ABV Belgian Triple to a local car wash, letting people outside look at, smell, and learn about the beer. "We did a smell test, explained the aromas, the head of the beer, how long it stays, and the bubbles," says Malope. "That is when I saw interest from people circling me wanting to learn, listen, and ask questions on how it is made."
Word spread.
All of a sudden, everyone wanted to see and try this 10% ABV high-voltage beer. "Every time they saw me they were like, hey ten percent?" says Malope. "It was this moment where a man looked me straight in the eye and gave me respect."
It all began to click for Malope, who has simultaneously noticed a disproportionately high amount of unemployed youth in South Africa. According to Statistics South Africa, of the over 10 million people aged 15-24 years old in the country, only 2.5 million are in the labor force, leaving around 7.7 million unemployed.
Specifically, it's at this intersection that Malope sees an opportunity. One to simultaneously advance craft beer in South Africa while providing jobs for the country's unemployed youngsters.
Accordingly, she has made it her aim to bring that education around beer and brewing to South Africa.
Bringing Beer Is Art to Life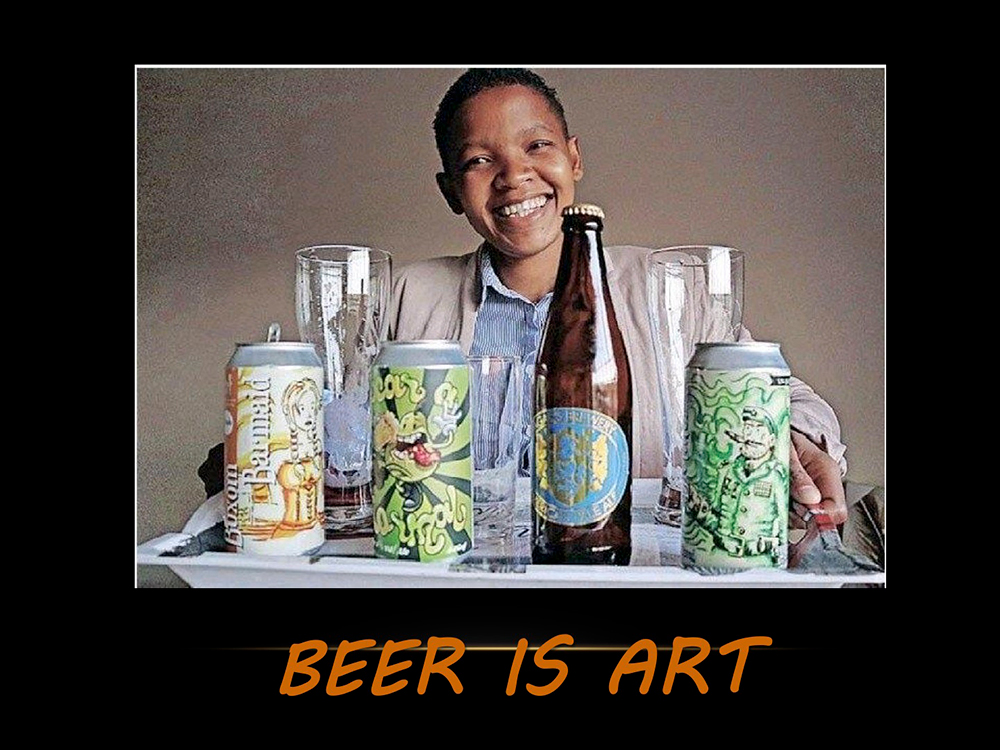 Consider Beer is Art the culmination of Malope's journey as a South African filmmaker and beer connoisseur.
Inspired by seeing beer in other cultures from the United Kingdom to the U.S. and empowered to help those in her own country, Malope started an initiative called Beer is Art.
"The campaign teaches about beer, that beer is not something that you drink and get drunk off," says Malope. "We show them that they can turn beer into a career."
Currently, South Africa has the 33rd highest rate of alcoholism of combined men and women in countries around the world, according to World Population Review (it should be noted that the United States is the seventh highest with a rate of 13.90 percent).
In fact, during the global pandemic, South Africa actually went through a series of bans on alcohol sales and the transport of alcohol in order to free up hospital beds typically used for trauma patients caused by alcohol use and abuse as reported by Wine Enthusiast Magazine.
"In a situation where people are poor, beer is used as an escape method and abused," says Malope. "I want beer to go to those same communities and empower them through entrepreneurship; it might change those people's lives for the better."
Through courses on everything from beer and food pairing to brewing and licensing to how to start your own beer podcast or beer brand, Beer is Art aims to give unemployed youth in South Africa a chance to create a career in beer.
"I want people to explain the flavors they get from beer like the Masterchef judges describe the food they are tasting in the Masterchef competition, 'I love the buttery biscuit base, it is summery and it is fruity,'" says Malope. "It should be normal that people would say 'the tangy, green perfume of hops' or 'the light nuttiness and hints of raisin fruit' when describing a beer. That shows you understand brewing and what you're drinking."
To that end, Malope has begun partnering with experts in beer and brewing across the world.
Beer Is Art Partners with Chatty Girija in India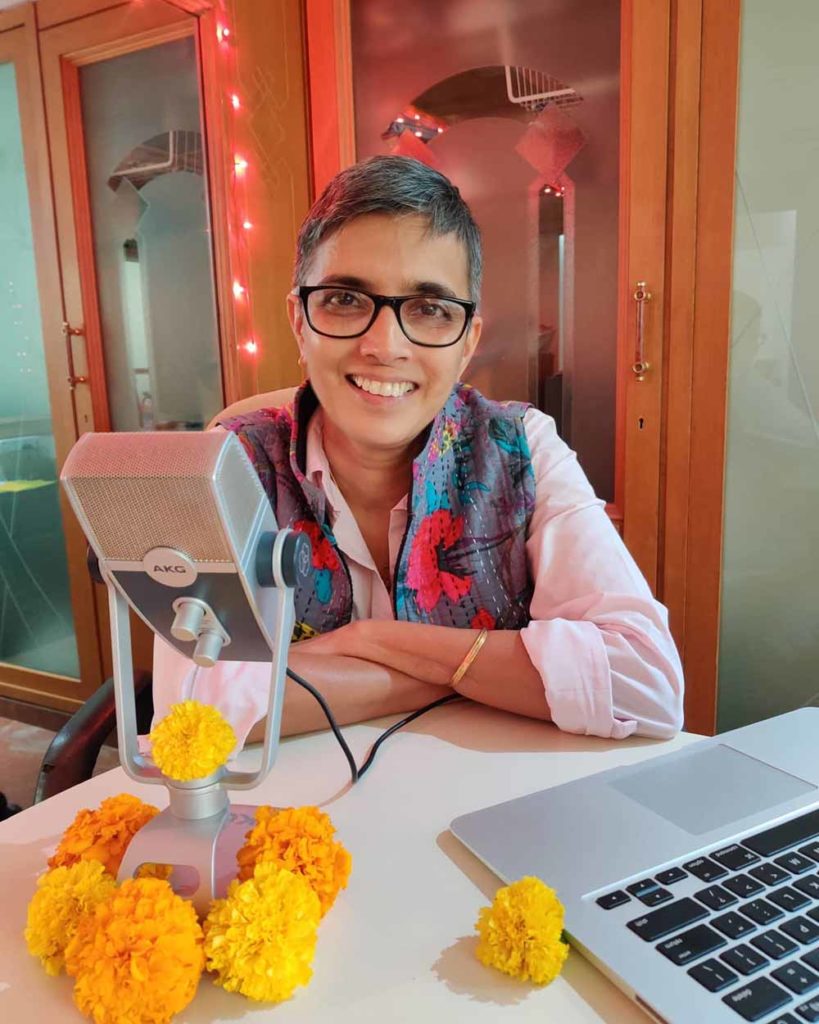 Inspired by seeing beer culture across the world, Malope wants to bring those lessons back to South Africa.
Partnering with India's first beer podcaster Chatty Girija, who hosts the Cheers Chatty Podcast, Malope will bring a series of Zoom courses to her students on brewing in India.
Malope and Girija share a passion for beer and perseverance. Much like Malope in South Africa, Girija worked hard to make a name for herself in the craft beer industry in India.
"I was on a mission to somehow play a part in beer," wrote Girija in an email to Hop Culture, who started frequenting as many breweries as she could across Mumbai, Pune, Delhi, and Gurugram. "I didn't find a place for myself for a long time, yet my passion for beer never went flat."
Eventually, her reputation for drinking beer grew (much like Malope's). An ex-colleague called her years later with an opportunity. "He told me, 'Chatty, there is only one person I know on this planet who swears by beer,'" wrote Girija. Years later Girija would go on to produce Cheers Chatty Podcast, India's first and only beer podcast.
Malope found Cheers Chatty on Instagram (@cheerschatty), and knew she needed to reach out.
"Our mutual passion for beer connected us," wrote Girija. "Beer Is Art is aimed to make a difference with a positive change and we are aligned with the same thought whether in India, South Africa or any part of the globe…Passion and purpose is the foundation of Beer Is Art and Cheers Chatty is willing to support it whatever way it can."
With her collaboration with Beer Is Art, Girija will open up Malope's Beer Is Art students to her country's unique, indigenous ingredients.
Accordingly, the Cheers Chatty team will create a customized curriculum to teach various aspects of beer with a special focus on Indian spices and ingredients.
"Historically and culturally, Indians love their spices and use them in everything," wrote Girija. "Just like food, even beer is brewed with select spices, herbs, and fruits to craft unique flavors and compliment the taste in food pairing."
Malope agrees that India is notorious for its spices, curry, chili, and chutney. "I thought to myself, 'What does their beer taste like? What spices do they use?'" says Malope.
The answer?
Everything from Nilgiri Tea sourced from local women farmers to Anantmool, a sort of Indian Sarsaparilla known as the Endless root that when steeped in water gives a unique creamy texture and mild sweetness to beer.
Malope wants to help her students to think creatively about ingredients indigenous to them. "We want to inspire the youth who live in villages to go pick wild berries and other herbs to infuse in their beer," says Malope.
It's a poetic but also practical idea to use what's around you. And just one of the many ways Beer is Art will teach its cohort.
"Michael Jackson said, 'Make it a better place for you and for me and the entire human race…" I say, 'Beer makes the world a cheerful place to live in for you and for me and the entire universe,'" write Girija.
In addition to Girija in India, Malope also hopes to partner with people from Japan, Turkey, Ireland, Belgium, and of course the United States.
Beer Is Art Collaborates with Montclair Brewery in New Jersey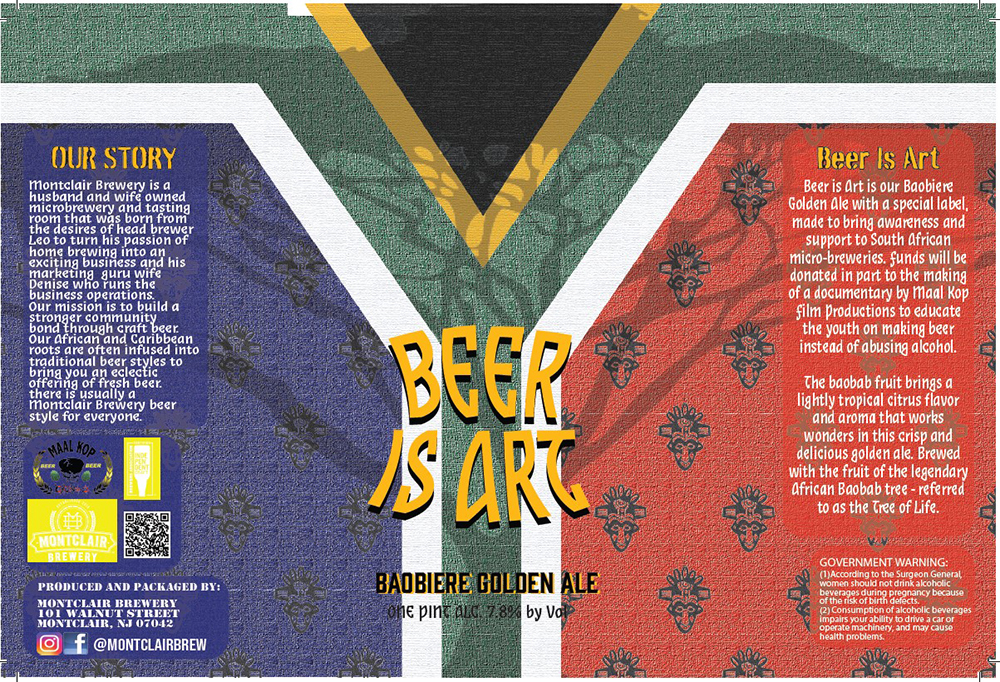 Currently, Malope is fundraising to help pay for her Beer is Art initiative, using her own documentaries and funds to sustain the project.
That, and the contributions of others.
Malope recently partnered with BIPOC-owned Montclair Brewery in Montclair, NJ.
For a limited time, Montclair will transform its flagship Baobiere golden ale into "Beer Is Art" with a specially designed label telling Malope's story.
Founders Denise Ford Sawadogo and Leo Sawadogo choose their Baobiere to represent the project because that one is brewed with African ingredients, including the Baobab fruit from West Africa. "We thought that would be a great tie-in and quicker way to get a beer out because I know she's been working on this for a while and hoping to get more traction soon," says Ford Sawadogo.
For Ford Sawadogo the partnership just made sense. "We're based in New Jersey and the U.S., but we do still have ties to Africa," says Ford Sawadogo, whose husband is from Burkina Faso in West Africa. "I have always been tied to Africa being a part of the diaspore, so when she came to me about this potential project…I knew I wanted to do whatever we could to help out."
To that end, Montclair Brewery has agreed to donate a portion of the beer's sales directly to Malope's Beer is Art campaign.
"I consider myself very lucky to have met Denise and Leo," says Malope. "Me and Leo could not stop talking about African politics and traditional brewing in Africa; I felt like I knew them for a decade…they are brilliant."
According to Ford Sawadogo, the beer should be released in mid to late August.
Keep an eye on Montclair Brewery's Instagram page (@montclairbrew) to see when this one makes it to the shelf!
Beer is Art: Changing Lives One Beer at a Time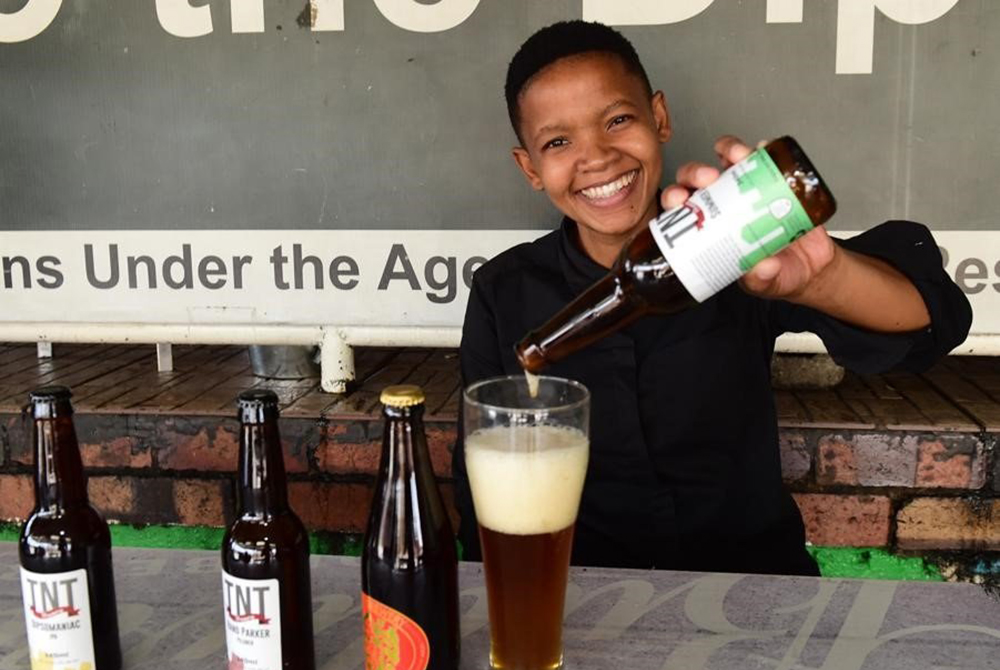 "We see beer as revolutionary because…it has no boundaries—black or white—it knows no discrimination or racism," says Malope. "With beer we are one, we are united, we are friends."
See, beer is a science. But beer is also very much an art. With Malope's new initiative she is tackling both with gusto and a grand vision.
"I want beer to be as revolutionary as Black Lives Matter," says Malope. "I want it to be practiced all over the world, I want them to know that we invented it, and I want the youth in every poor community to be empowered by beer."
If you're interested in getting involved, check out Obakeng Malope's Instagram (@obakeng.malope) and DM her if you'd like to do a collab beer to help raise awareness and funds for Beer is Art.
You can also donate to Beer is Art here.