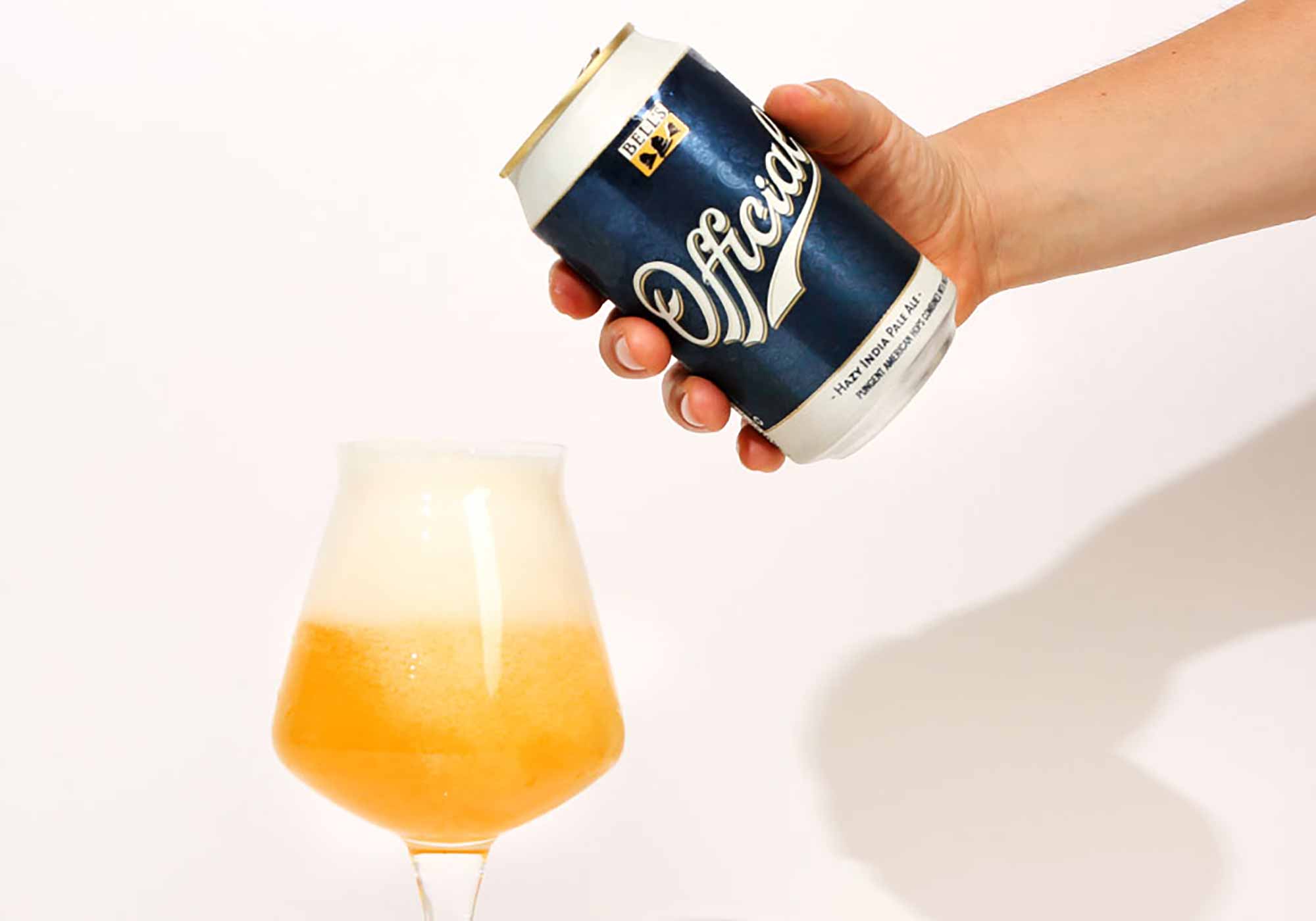 Photography courtesy of John A. Paradiso
Bell's hasn't always followed a straight line. Like the namesake Two Hearted River of its iconic Two Hearted Ale, the brewery has twisted and turned around the norm. However, even as the brewery developed, one thing remained the same: for over thirty years, the brewery has specialized in brewing unfiltered, hazy beers. Strange, then, that until two years ago, the brewery had never made a hazy IPA. That all changed when Bell's launched its Official Hazy IPA.
First popularized by breweries in New England, the trendy, turbid hazy IPA has captured the hearts of American craft beer drinkers. In fact, according to Drizly's BevAlc Insights' 2021 IPA Forecast, New England/hazy IPAs grew an incredible 761 percent year-over-year on the alcohol e-commerce platform in 2020.
The growth of the haze craze has been so vast that pretty much everyone — from innovators like The Alchemist and Tree House — all the way up to the industry icons — such as Bell's — have brewed a hazy IPA.
But it's Bell's wealth of knowledge with hazy, unfiltered beers that makes its Official IPA especially unique.
Why Did Bell's Make a Hazy IPA?
Perhaps surprisingly, making a hazy IPA wasn't always a part of Bell's plans. But the trend became hard to ignore.
"Two Hearted plays such an important role for us as a brewery," says Scott Powell, Director of Marketing at Bell's Brewery. "We had an IPA, a really good one. Did we need another one?"
But as those juicy, slightly more delicate East Coast IPAs became more popular, the Bell's team started asking questions.
"We were looking at if we came out with a beer with a softer bitterness to contrast Two Hearted what would that look like," says Powell. As the brewing team put together a few test trials, "The sound bite that kept coming back to us was, 'Oh, this is a hazy IPA or a juicy IPA.'"
The team hadn't even given the beer a style descriptor yet. But they realized maybe they should just call it what it is.
"Let's not overthink this," says Powell. "People want hazy IPAs. That's how our internal team is describing the early prototypes, so let's give them a good one and call it a hazy IPA."
The Origin of Official Hazy IPA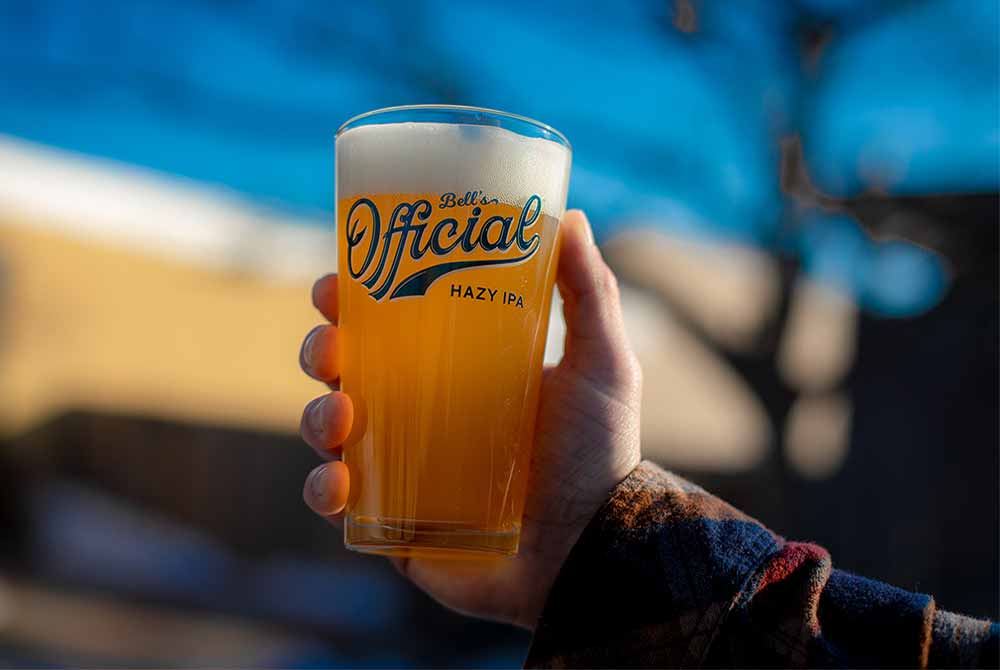 As we said, Bell's has never taken the straight road. And it wasn't any different with Official.
The first trial for Official started when the brewing team mistakenly added the wrong hops to a batch of Oberon. Instead of dumping the beer down the drain, they decided to dry hop it with a new hop blend. And found the hopped wheat beer to be pretty tasty.
Adding it as a test line at Bell's Eccentric Cafe & General Store in downtown Kalamazoo, the brewery gauged responses.
"The feedback was really good," says Powell. "Shocker — people really like a softer bitterness, hop-forward beer from Bell's."
Official ended up being a much different beer, but the unique new hop blend trial kickstarted Bell's exploration of hazy IPAs.
How 30 Years of Brewing Hazy, Unfiltered Beers Helps Bell's Brew a Hazy IPA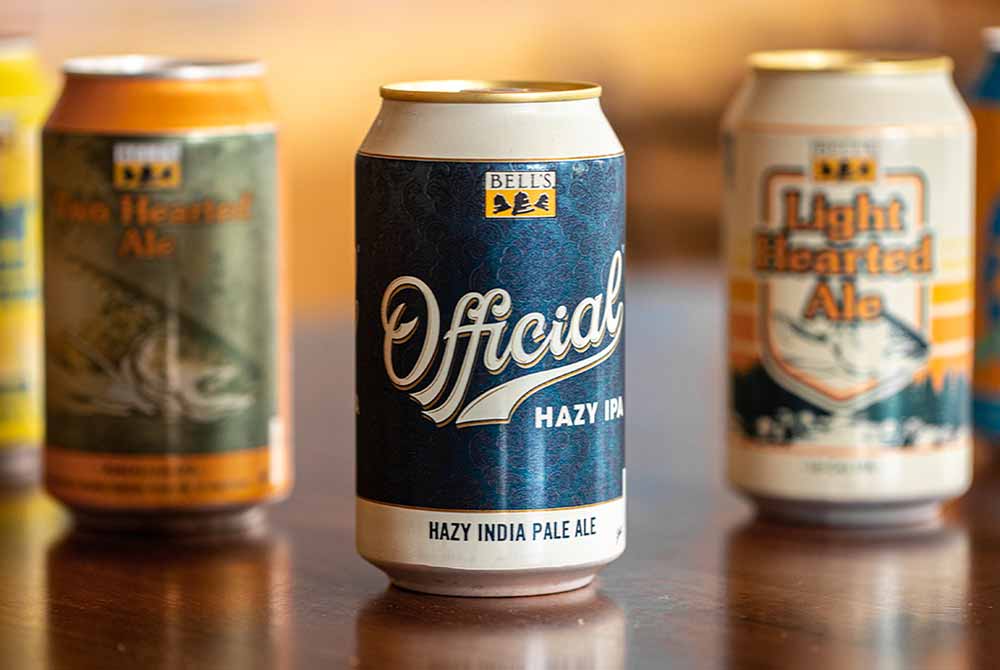 Official stands alone as its own unique beer. From a brewers and recipe standpoint the beer actually has very little in common with Two Hearted and Oberon
But riffing off that initial mis-hopped Oberon, the Bell's brewing team approached the recipe for Official based on what they knew. This included years of brewing unfiltered American wheat beers like Oberon as well IPAs like Two Hearted, often called one of the best IPAs in America.
"We get complaints sometimes that Oberon is too hazy," says Powell. "So we knew the proteins in the wheat would help generate haze because of what we've seen through the years [brewing] Oberon."
The grain bill for Official features wheat, oats, and Pilsen malt. The wheat and oats help with the haze and the Pilsen malt drives that lighter color profile. While it's not super complicated, it does exactly what it needs to — it delivers a slightly creamy, turbid beer.
Hop Selection and Bell's Beers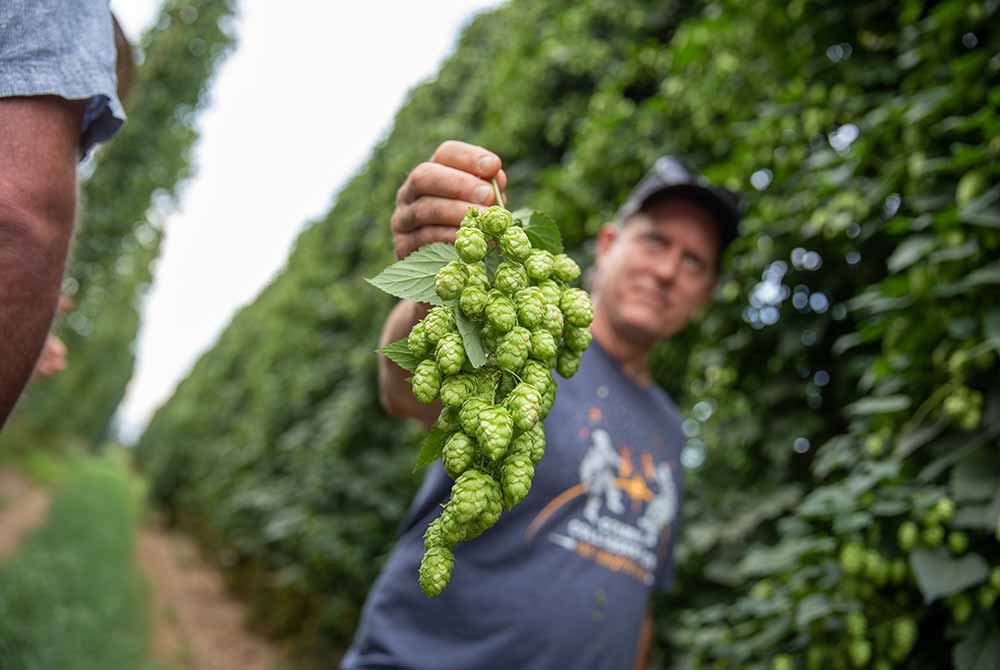 If you've followed Bell's over the last three decades, you know that hops play a very important role in their beers. In fact, for its revered Two Hearted Ale, Bell's has become the single largest user of Centennial hops in the world.
"I truly believe great beer starts in a field," says John Mallett, Bell's Brewmaster, in a previous article for Hop Culture. "A hop is not a hop is not a hop."
According to Mallett, Bell's annually buys north of half a million pounds of Centennial for Two Hearted. Paul Bashaw, who's in charge of hop procurement and raw materials inventory control at Bell's, says that this year, Bell's purchase of Centennial hops accounted for just a shade over 1/8th of the world's entire crop.
However, whereas Two Hearted is an all Centennial IPA, Official features more of a variety. Its hop bill includes Mosaic, El Dorado, Citra, Azacca, and Amarillo.
While all the hops play their part, "Mosaic and El Dorado are the drivers to this beer," says Powell. Those two Pacific Northwest hops contribute to the aroma, but also some of the danker notes. The addition of Citra lends the beer those characteristic juicy notes to the beer.
According to Powell, the brewing team brewed around six initial trials with different hop bills before landing on the current combination.
Try, Try, and Try Again: Tweaking Official's Recipe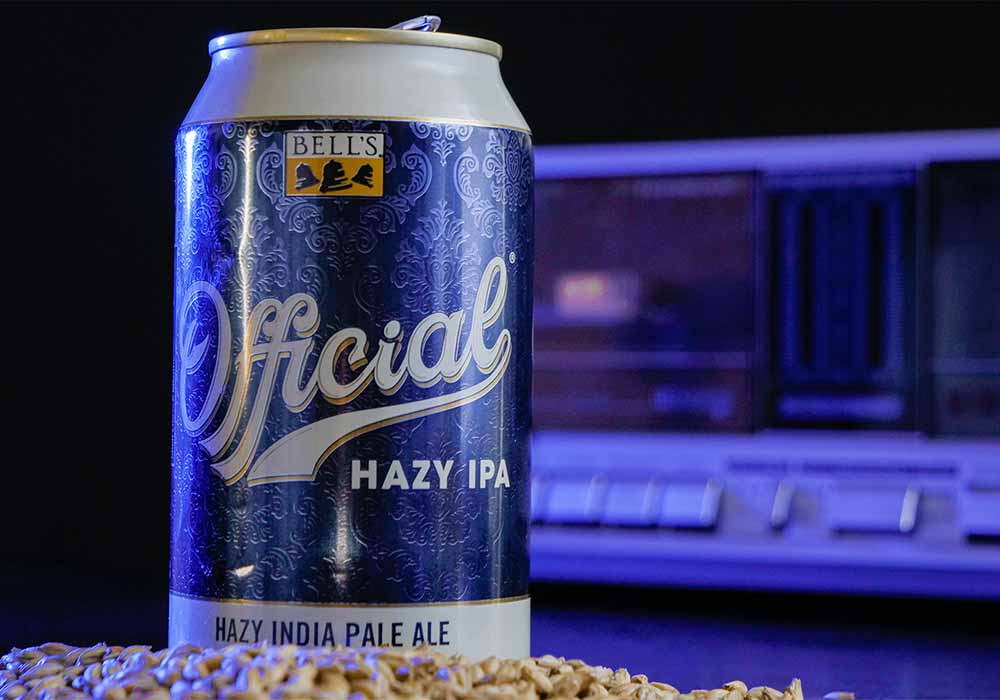 After excessive internal testing, Bell's wanted consumer feedback. Once again, they devoted a line at the Eccentric Cafe & General Store to a test batch of Official, garnering feedback and monitoring Untappd for critiques and comments.
"This is the first [beer] we did that many new trials, took that much internal feedback, and leveraged feedback from our Cafe & General Store before ultimately getting the recipe ready for launch on a broader scale," says Powell.
The time and attention to detail with Official have made for an excellent hazy IPA.
Bell's Official: A New Fan and Brewer Favorite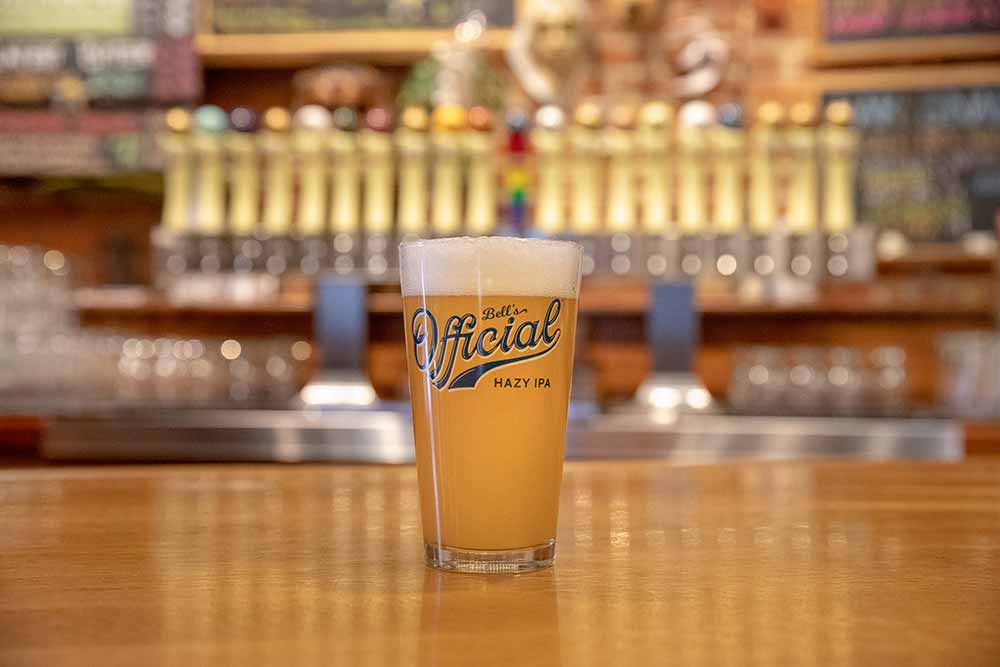 The name "Official" really says it all.
"It's our official hazy IPA," says Powell. "We're not saying it's the official beer. We say it's our official beer."
But what does that mean?
"Looking back, we're really proud of the history we have with IPAs, wheat beers, and all things unfiltered," says Powell. "We've been making hazy, unfiltered beers for thirty years… if any brewery can make a hazy, hop-forward beer and call it their official version, there's a piece of pride there."
It's the beer's soft, delicate bitterness combined with the creaminess from an unfiltered, wheat base and intense tropical notes from the hops that make Official a new fan and brewer favorite.
"[Official] has moved into the forefront of Scott Powell's favorite Bell's beer," says Powell.
And Powell isn't the only one. According to Powell, Official has become the number one selling hazy IPA in the Great Lakes region and in the top ten of hazies nationally. Outside of Two Hearted and Oberon, Officially is Bell's third best-selling beer nationally and locally.
What Does Bell's Official Hazy IPA Taste Like?
Cracking a can of Official and pouring it into a glass, you'll notice an immediate opaque golden straw color. Initial notes of pineapple, mango, and stone fruit carry through into the first sip.
"The number one descriptor we get is tropical," says Powell. "Those pineapple accents push to the forefront alongside a bit of peach and perhaps a little nectarine."
A dankness rounds out the palette with a fairly dry, bitter finish. Powell calls this Official's biggest differentiator.
"It's creamy, but New England-style IPAs tend to have more body and a little sweeter finish," he says. "[Official] is a little bit more dry and bitter than your typical New England-style IPA."
What's Next for Bell's Brewery?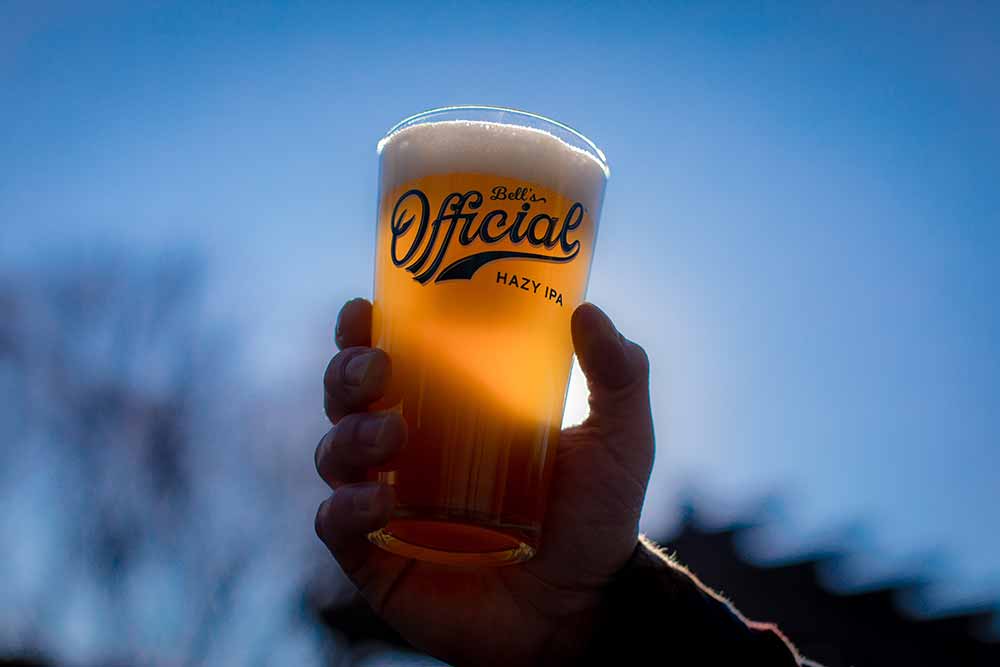 With its first official hazy IPA added to the portfolio, where does Bell's go from here?
At the time of publication, Powell couldn't share too many details, but he hinted that the brewery will continue looking at the IPA space, suggesting that a more sessionable hazy juicy beer might be up next.
"Official comes in at 6.4% ABV, so knowing there are some people out there looking for more sessionable options, but still want hazy, juicy, softer bitterness characteristics of an IPA… that's definitely something we're exploring and people should look out for from Bell's in 2022."
Where Can You Find Bell's Official Hazy IPA?
Currently, you can find Bell's Official hazy IPA distributed in all forty-three states they distribute to in addition to Puerto Rico and Washington D.C.
Powell recommends using Bell's beer finder to see where you can find 6- or 12-packs of 12oz cans, 4-pack of 16oz cans, or draft options near you.
"Official is a beer the people have gotten behind and Bell's has gotten behind," says Powell. "We couldn't be more excited about what's in store for the future of Official."