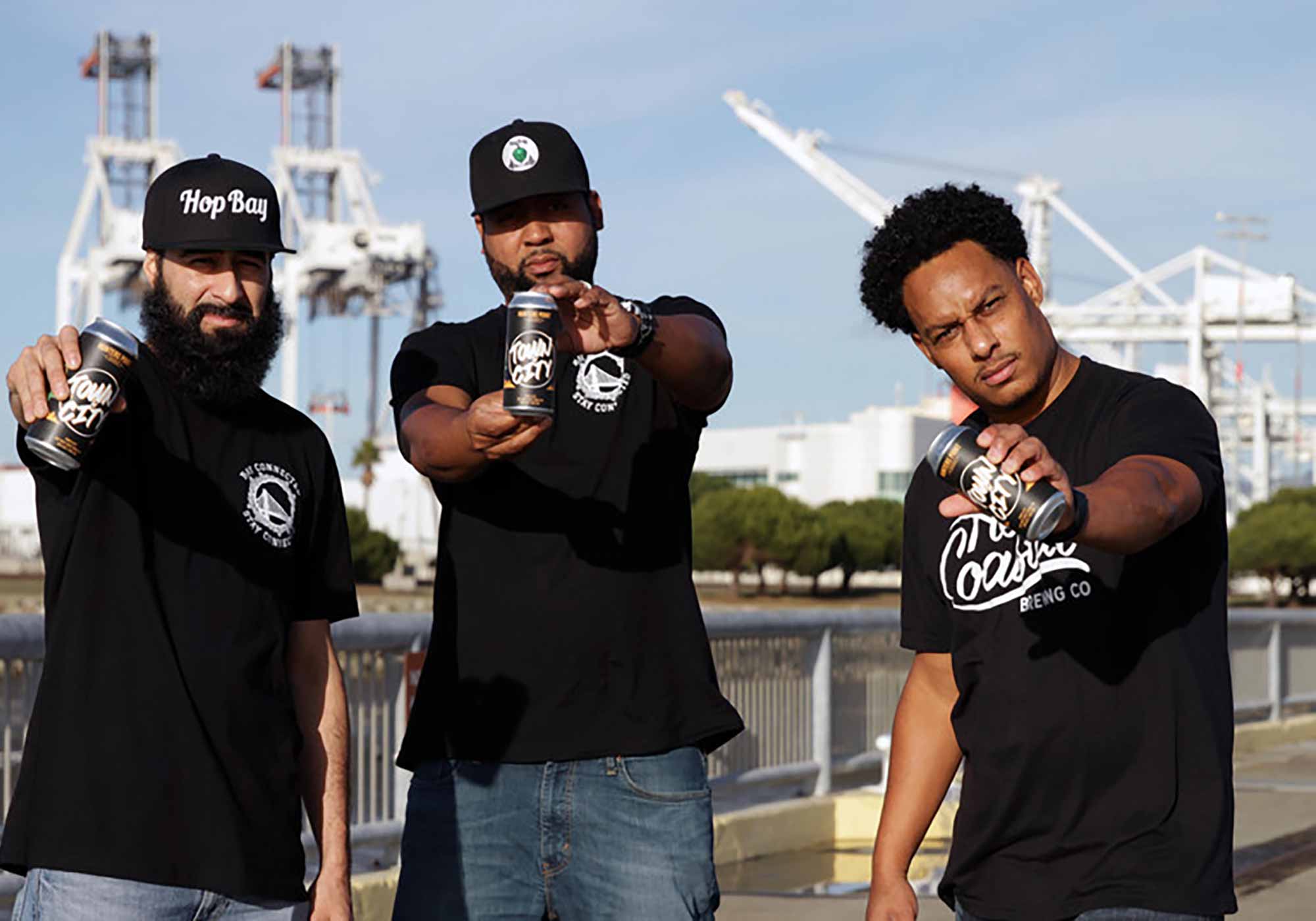 Photography courtesy of Hella Coastal
During another crazy year, we take our hats off to all of the almost 9,000 breweries that continued to serve beer. However, we're giving an extra tip of the cap to those spots that opened their doors for the first time.
Last year, we wrote our "Best New Breweries" list from the safety of our home offices. While we're still feeling the effects of a global pandemic, this year let us emerge from hibernation. In 2021, we ventured to taprooms — albeit in masks. And we parked ourselves outside and ordered beers by scanning QR codes.
You could argue that semi-isolation made hearing about a new brewery even more special. These new spots gave us the chance to celebrate in a year where bright spots might have been few and far between.
Below, you'll find a list of the top new breweries we found in 2021. These could be places that have been producing beer for a while, but just opened a fresh taproom. Or it could be a new brand that just started brewing, but doesn't have a brick and mortar yet. It could also be both!
We've presented the best newly-opened craft breweries in no particular order except for Hella Coastal, which we're happily naming the best new brewery of 2021. Here are our twelve picks for the best new breweries of 2021.
The 12 Best New Breweries of 2021
Hella Coastal
Oakland, CA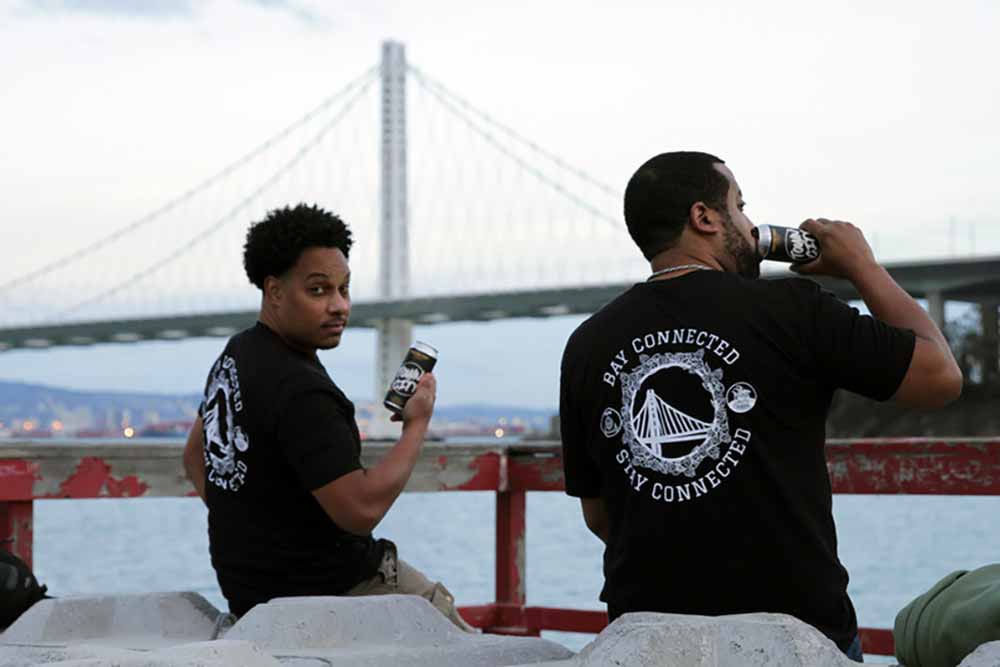 As Oakland's only Black-owned brewery, Hella Coastal has been making waves in the Bay Area.
Which is pretty incredible considering The Black Panther Party started in Oakland. And even more recently the 2020 U.S. Census recorded Oakland as the fastest-growing region in California with Blacks or African Americans composing 23.75% of the population.
However, until Founders Mario Benjamin and Chaz Hubbard turned their homebrewing hobby pro last December, there were zero Black-owned breweries in Oakland.
Benjamin and Hubbard want Hella Coastal to represent the history of the Bay Area and support BIPOC producers and drinkers in the industry.
Of course, they want to make good beer, too. Most of their beers either make a statement, connect with a local organization, or donate to a cause.
For instance, in their very early days, Benjamin and Hubbard participated in the Breathing Conversations Project with The Rare Barrel.
They also make Scraper Season Saison, a collab with The Original Scraper Bike Team, an organization working with local youth to promote empowerment and entrepreneurship, and Federation Brewing in Oakland.
And Bomba Nights, a collab stout with Federation inspired by a Puerto Rican holiday drink called coquito. Hella Coastal donated a part of the proceeds from the sales of the beer to the Maria Fund, an organization that gives funds to initiatives building a more equitable Puerto Rico.
And Hella Sea, a dark Mexican lager collab with Humble Sea we named one of our top beers to drink in fall 2021.
The list goes on and on.
Most recently, Hubbard let us know that they're planning a collab with Imperiale Beer Project out of Brentwood, CA. The two teams will brew a beer for the Inclusion Beer Project, an initiative promoting diversity, equity, and inclusion (DE&I) in the industry. Anyone who brews as a part of the project must commit to creating a DE&I committee.
At the moment, Hella Coastal doesn't have a brick-and-mortar. Instead, they have an alternating proprietorship agreement with Federation, which means they're essentially a tenant that rents space and equipment from Federation.
For now, Benjamin and Hubbard are happy to contract brew. For them, temporarily leveraging tank space has more appeal than purchasing expensive stainless steel tanks on their own. This way, they can save and plan for a future space while still creating a name for their brand.
All in all, Hella Coastal made a huge splash in 2021. Someday, we're excited to see them open a space of their own.
Rincon Reservation Road Brewery
Valley Center and Ocean Beach, CA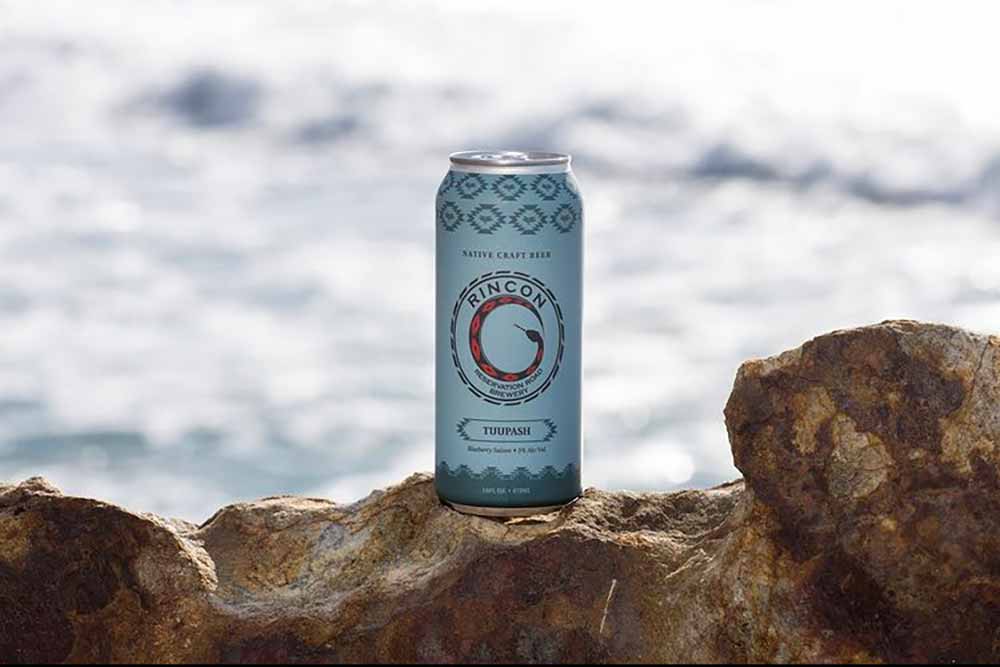 Southern California's first tribally-owned and operated brewery, we recently featured Rincon Reservation Road Brewery (3R Brewery) on our list of Native-Owned Breweries. The brewery makes beer right on the tribe's reservation in Valley Center, CA.
One of sixteen California Mission Tribes, the Rincon Band of Luiseño Indians represent over 14,000 years of documented history of Natives in California.
"We're the original Californians here in San Diego," says Ruth-Ann Thorn, Chairperson of the Rincon Economic Development Corporation. "With the brewery, we want to… create a space where people can come and have dialogue with us in our brewery."
The brewery originally opened in 2016 under the name SR76 (State Route 76) Beerworks, which referred to the route the Luiseños traveled along the San Luis Rey River.
However, the story didn't quite connect with consumers.
As a result, the tribe recently overhauled the brewery's branding, choosing the name Rincon Reservation Road. The name references the main road that runs through their tribal lands.
To complete the re-brand, 3R Brewery will also be opening its first satellite location in Ocean Beach, CA. With plans for an early 2022 launch, 3R Brewery is a soon-to-open spot we're excited to try.
Outside the new satellite location, the brewery will feature a mural painted by Indigenous artist Joseph Hopkins, aka Sock Monkey. And inside, alongside beers inspired by the tribes' traditions and heritage, you'll find some of the the Rincon Band of Luiseño Indians' stories written on the backs of coasters.
For example, "Rez Dog Hefeweizen" refers to the wild dogs that cruise around reservations. Additionally, it's a term of endearment among Native people.
"One thing about beer is that it's a really cool place to tell a story," says Thorn. "We want you to come and enjoy having a beer with us and hear our stories… We want to let people know the true story of who we are [and] what it means to be a Native person."
Step inside Rincon Reservation Road's new taproom to drink a beer and learn about the incredible history of an Indigenous tribe.
Necromancer Brewing
Pittsburgh, PA
Last year, we named Necromancer Brewing one of the 10 Best Breweries to Watch in 2021. We had a good feeling about the new spot founded by Ben Butler, who also owns the design agency Top Hat.
We love it when we're right.
You'll be hard pressed to find another brewery out there like Necromancer, which focuses on resurrecting bygone beer styles (hence the name Necromancer… get it?).
Helmed by Lauren Hughes, the second-ever female head brewer in Pittsburgh, Necromancer's brewing program focuses on this "Resurrection Series" In just the last year Hughes has brewed a Kentucky common ale, a grisette, a purl (a strong English pale ale brewed with the tops of the wormwood plant), a Belgian IPA, an Adambier (a strong, dark, hoppy, sour ale extensively aged in wood barrels), a grodziskie, and biere de garde.
Most recently, we had a chance to try Farmer's Tan, the eighth release in the aforementioned series. We enjoyed the Breslau-style dark Schoeps — wheat-forward, malty beer style dating back to 1550. In fact, we liked it so much that we named it one of the best beers we drank in November.
Lest modern styles feel neglected, Necromancer makes those, too. Expect a lineup of hazy IPAs, pastry stouts, DIPAs, and more.
However, it's a love of oft-forgotten styles that puts Necromancer on our best new brewery list in 2021.
Radiant Beer Co.
Anaheim, CA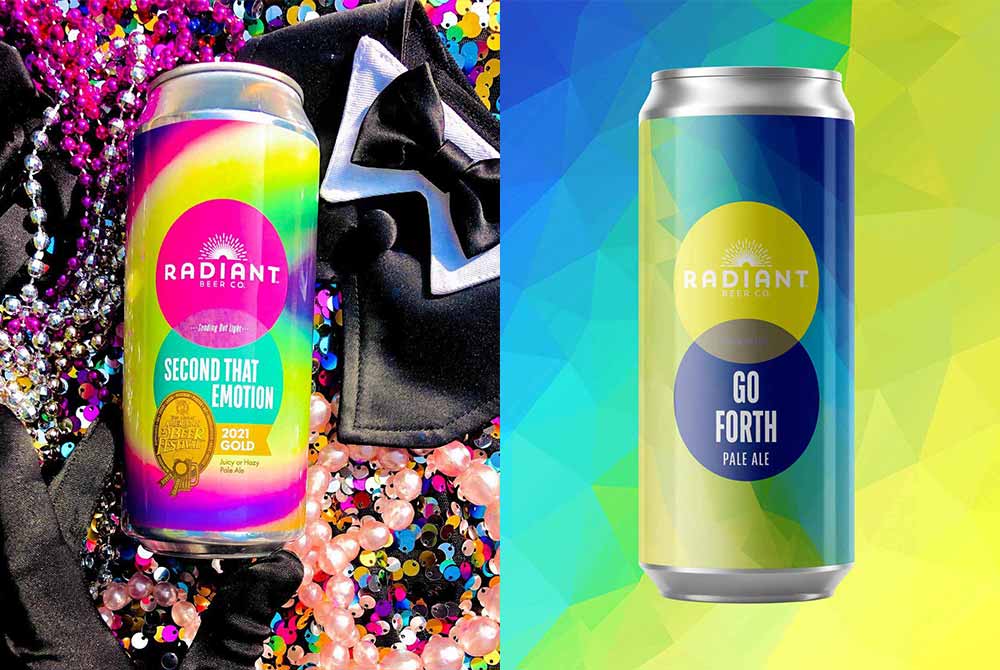 At the close of 2020, Radiant Beer Co. softly and quietly opened in Southern California. But after winning Brewery and Brewer of the Year (0-250bbls) at the Great American Beer Festival this past September, we can't see Radiant Beer Co. staying a secret much longer.
It takes a certain craziness to open a brewery amidst a global pandemic. But the Radiant team — which includes President Jonas Nemura, Director of Brewing Andrew Bell, and Director of Marketing Cambira Griffith — have brought Radiant into the light…
Literally.
Radiant strives to create "bright" beers, aka those that are balanced and crushable. We love Go Forth, a new pale ale and crowd pleaser for the holiday season, as well as Second That Emotion, a 2021 GABF gold medal winner.
We also love how the "radiant" theme translates to the artwork. Go ahead and Google them — you'd never miss these cans on the shelf.
Trace Brewing
Pittsburgh, PA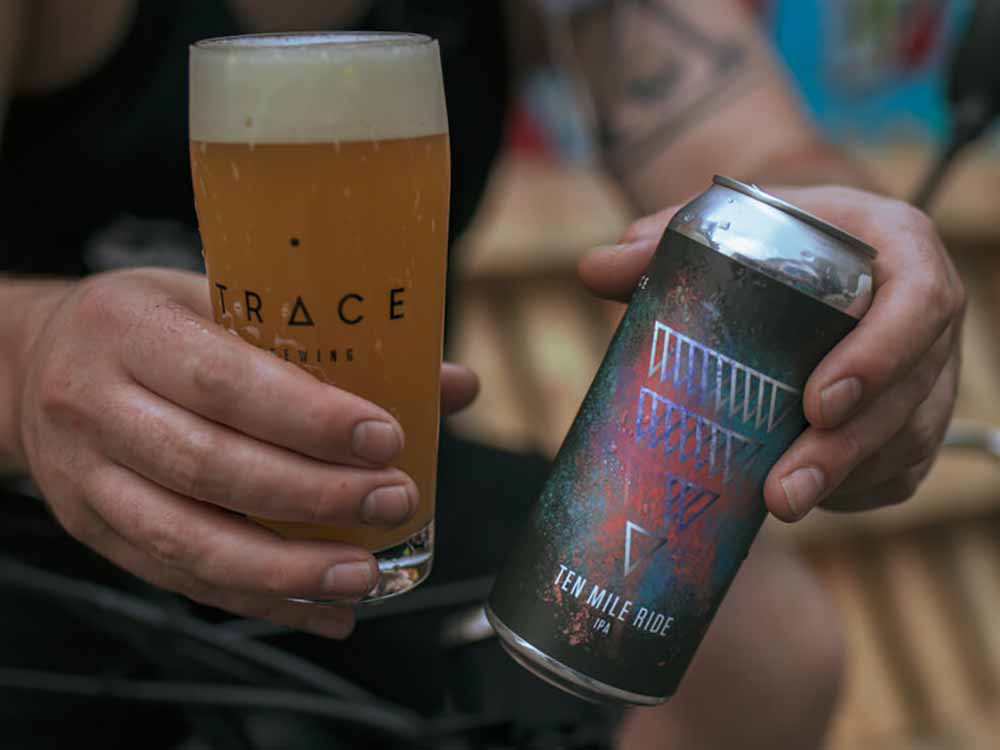 It's not lost on us that Pittsburgh has two selections on this list, but big things are happening in the Steel City.
Trace Brewing is the brainchild of Remnant Brewing Co-Founder Dave Kushner. Although the brewery technically opened for carryout sales on Dec. 17th, 2020, it wouldn't be until March 2021 that one of our hottest breweries in Pittsburgh could officially open its gorgeous beer garden to the public.
Today, Trace Brewing focuses on three things: coffee, beer, and events. And it does all three extremely well.
Joe Burns, formerly of Convive Coffee, runs the coffee program. And Head Brewer Zach Colton, who previously worked at industry giants like Trillium and Dancing Gnome, keeps the lagers and ales flowing.
If you do happen to find yourself in the 'Burgh anytime soon, stop at Trace for its house Kellerbier.
"It's an excellent lager that we can comfortably sip during a bartending shift, with meals, with friends, really anytime," says Aadam Soorma, Head of Marketing and Guest Experience at Trace. "It's the one Trace beer that has gone through my body more than anything else we've brewed."
Perhaps most importantly, Trace has made a name for itself on unique programming that celebrates diversity in the Pittsburgh community. Soorma, who identifies as Burmese-Indian, and Katie Rado, General Manager at Trace who comes with twenty-plus years of hospitality experience, have teamed up to make it a priority that the brewery feels welcome to new communities outside of craft beer. To that end, Trace throws bi-monthly drag brunches, trap and hip hop parties, live paintings from artists of color, sets from transgender stand up comedians, knitting nights, and other beer adjacent themed nights.
Brockton Beer Co.
Brockton, MA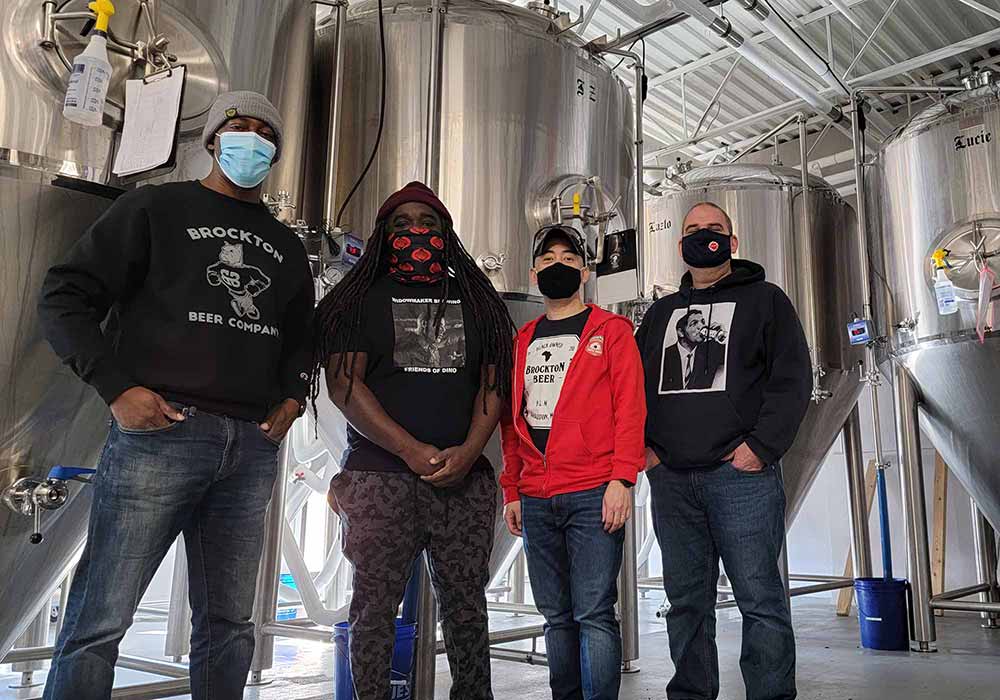 Brockton Beer Co.'s four founders have roots around the world. Together, the friends and business partners are striving to turn Brockton into a beer destination.
Like the owners of the brewery, Brockton is diverse. In fact, as of 2020, the town has a majority Black population with representation from white, Asian, Cape Verdean, and Hispanic or Latinx residents, among others.
While Brockton Beer Co. technically began brewing beer in 2018, they've been working on a physical taproom space for some time. Estimated to open by the end of the year, the crew is hopeful to cut the ribbon soon.
In a piece that he wrote earlier this year, Hop Culture freelancer Andy Krump notes that Brockton Beer Company likes to use beer to drive conversations.
For example, On Martin Luther King Day in 2021, the brewery collaborated on Soul Maker with Widowmaker in Braintree, MA. The DIPA eventually released during Black History Month.
Similarly, in July of 2020, the brewery made a blackberry fruited sour with Vitamin Sea in Weymouth, MA as part of Weathered Souls' Black is Beautiful campaign.
According to Krump, to spend time with Brockton Beer's founders is to feel welcomed. That's a big part of the experience the owner's want customers to have once their taproom is up and running.
"Brockton Beer Co. is a place where you can meet new people, try new beer styles, or taste new foods," writes Krump. "And the brewery reflects its owners heritage through its beer… Brockton Beer Company shows best that 'new' means new perspectives coupled with a with a classic definition of what beer can be: Community."
Wondrous Brewing Company
Emeryville, CA
When we first heard the name "Wondrous Brewing Company," we wondered how it hadn't been taken. It's such a good name for a brewery that we're surprised someone didn't pick it up years ago.
But no! Although Wondrous applied for permitting in 2019, it only opened this year. Launching with a focus on lagered, barrel-aged, and hoppy beers, Wondrous Founder and Head Brewery Wynn Whisenhunt has done justice to his brewery's name.
An East Bay native, Whisenhunt studied Brewing Technology in Chicago and Munich and then worked at Lagunitas and Sante Adairius before setting off on his own. The past few months have seen wondrous put out some incredible canned lagers, like the crispy Wondrous Hell Lagerbier and Wondrous Pils.
On a past visit, Hop Culture Managing Editor Grace Weitz was impressed that Wisenhunt devoted a majority of the taps to lagers. On draft: a Czech-style pilsner, a couple dark lagers, a German-style bock, a helles, and a pilsner. Plus, a bevy of IPAs, too. But it was a porter that ended up grabbing Weitz's attention, landing on one of the twelve best beers we drank last month.
Expect wondrous things to continue into 2022.
Skydance Brewing Company
Oklahoma City, OK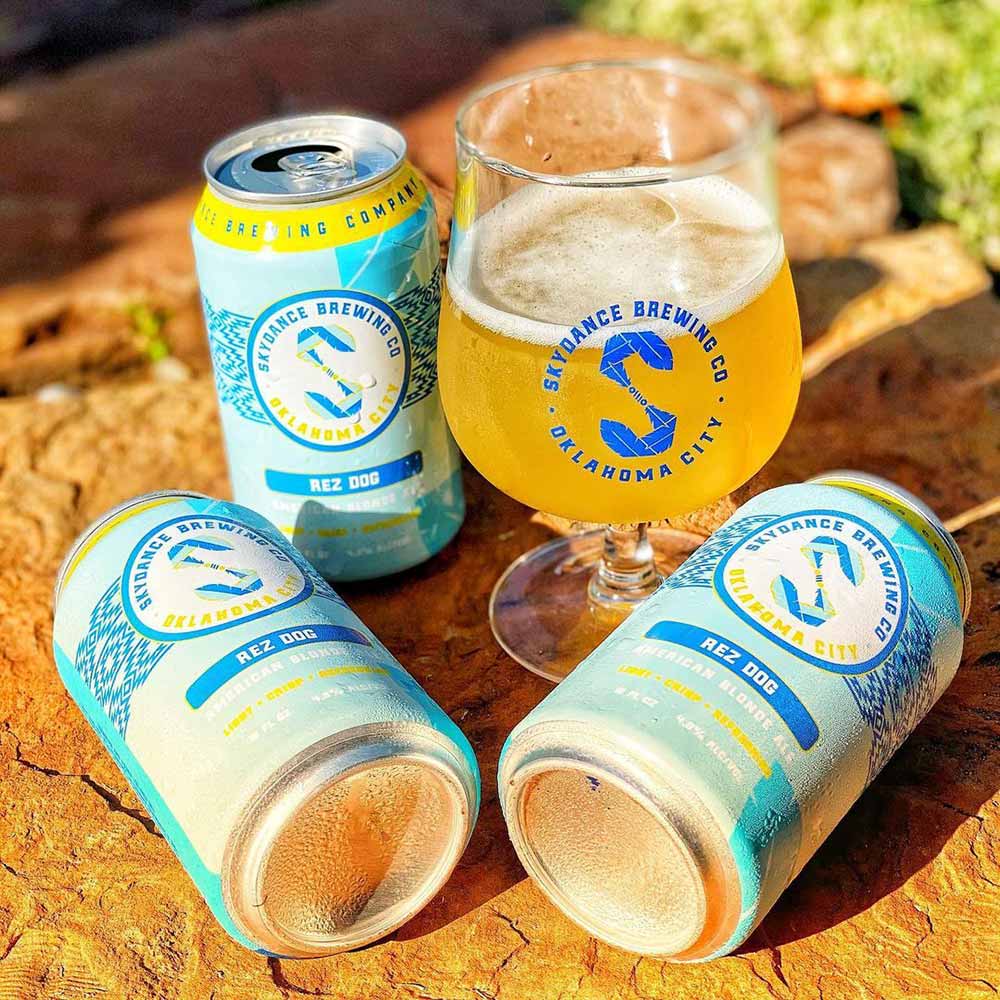 Founded by Jake Keyes, Skydance Brewing in Oklahoma City, OK, strives to be a voice for the Ioway (or Iowa) tribe.
"If we want an accurate story told, we have to be the ones to tell the story," says Keyes. "We're trying to educate non-Natives more about who we are and what we're capable of through the brewery, our beer names, and our branding."
Similar to a few other breweries on this list, Skydance actually started brewing beer a couple years ago. But just this past year, Keyes opened a brand new space.
Prior to 2021, Keyes ran Skydance out of a cooperative space. But with the brand new taproom opening its doors this past October, Keyes truly had the chance to outfit the brewery to represent his Indigenous heritage.
Touches in the taproom include Native American art and a wall with the word "hello" written in the Native languages of many different tribes in the area.
"It'll bring up questions and more chances to tell a story," says Keyes. "We just want non-Natives to be surrounded by the culture when they come in. People will ask questions in the taproom and that gives us an opportunity to tell a story."
Much like Rincon Reservation Road Brewery — which also made this list — Skydance strives to be more than just a brewery. Keyes wants his business to be a place of inspiration for the next generation of Native Americans in his community.
The White Lion Brewing Company
Springfield, MA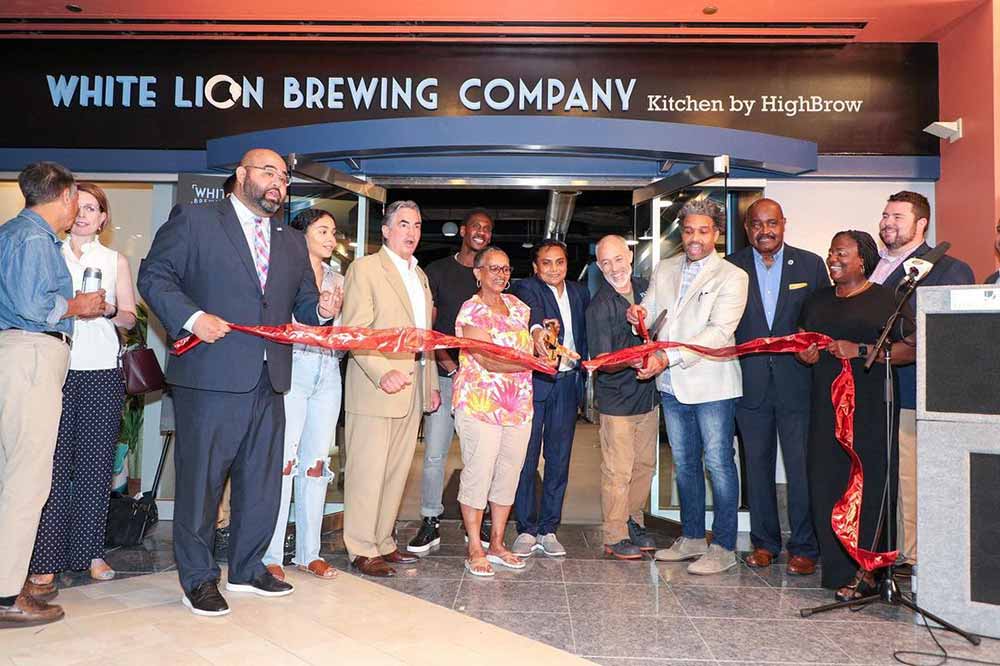 This past June, after eighteen months of challenges caused by the global pandemic, White Lion Brewing Company launched a brick-and-mortar location in downtown Springfield, MA.
Owner Raymond Berry Jr. actually founded the brewery in 2014 to fill a void he saw in the community for craft beer. But it wasn't until seven years later that the BIPOC-owned business could cut the ribbon on a spot to call home.
One of only five Black-owned breweries in Massachusetts, White Lion celebrates Black entrepreneurship and success. Now with physical roots in Springfield, White Lion hopes to continue educating its community.
Woven Water Brewing Company
Tampa, FL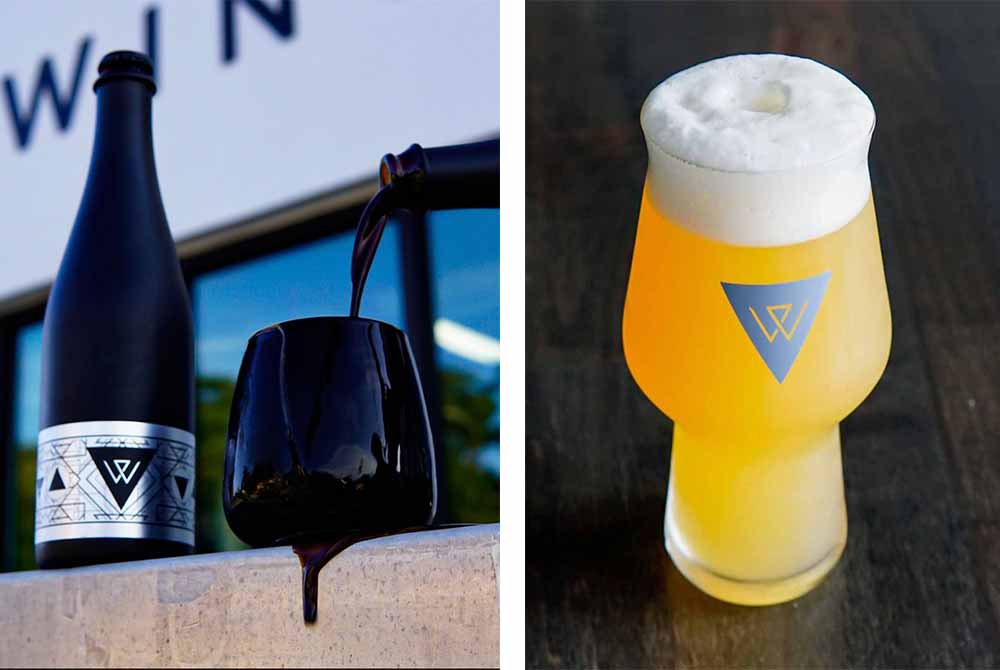 In the past few years, Florida has become a hot spot for breweries. In fact, in 2019 we called Tripping Animals the hottest craft brewery of the year. And last year, Corporate Ladder in Palmetto, FL, made our list of the best breweries to watch in 2021. These breweries joined the ranks of already established taprooms like Odd Breed, Unseen Creatures, Calusa, Civil Society, Hidden Spring, Aardwolf, J. Wakefield, 3 Sons, Angry Chair, and Cycle.
Now a new brewery in Tampa Heights has joined this impressive list.
Born in the pandemic, Woven Water Brewing Company opened in Tampa Heights on Oct. 17th, 2020.
Started by Ciara Jones and her husband Jay Jones and Niki and Eric Childs, Woven Water focuses on creating a third space — i.e., a place outside of home and work where the community can come together.
From a brewing perspective, Woven Water specializes in what they call "blurry" IPAs. There's Photonic, a "blurry" IPA dry hopped with Strata, Mosaic, and HBC 586. And Lost Current, a Vitamin Sea collab and "blurry" IPA dry hopped with Vic Secret, Nelson Sauvin, Kohatu, and Rakau hops.
You'll also find a few crazy dessert-inspired fruited sours such as Banana Split Fusion, a sour conditioned on bananas and strawberries with vanilla, chocolate, and strawberry soft serve (but no lactose!). And Blue Hawaiian Fusion, a sour condition on pineapple, cream of coconut, and lime (this one does have lactose).
Go for the vibes. Stay for the sours and blurry IPAs. And above all, have an amazing time in one of the hottest beer states in the country.
Bale Breaker Brewing Co. x Yonder Cider
Seattle, WA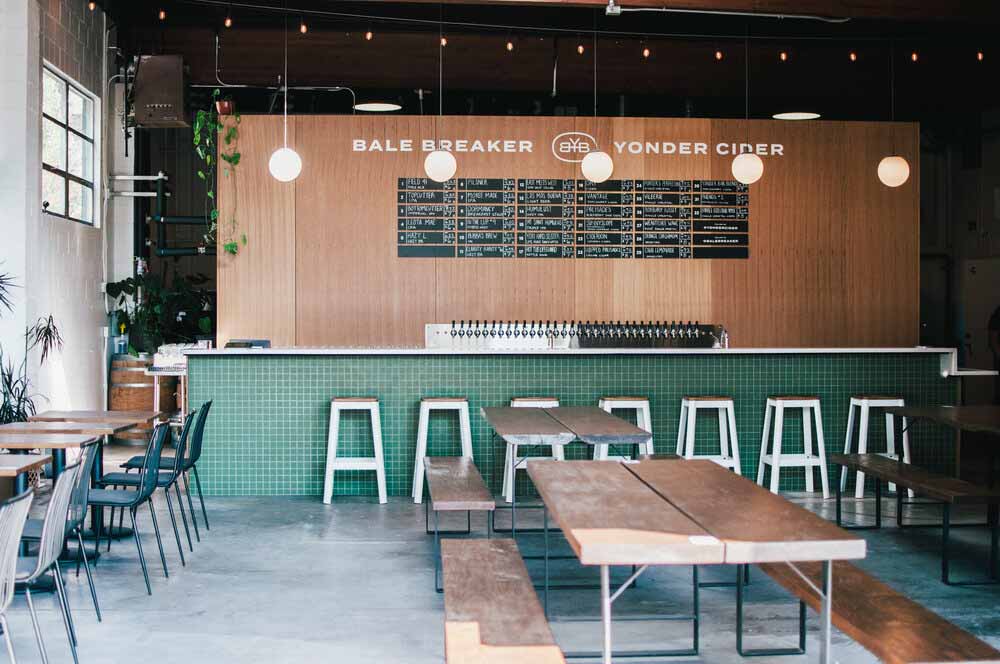 Located in Seattle's trendy Ballard Distillery District, this Bale Breaker Brewing Co. satellite taproom is actually a joint venture with Yonder Cider.
"Sharing this taproom between our two brands means we are able to showcase nearly the entire breadth of beverages made in Washington State," said Co-Founder Meghan Quinn in a press release. "From beer and cider to hard seltzer and eventually wine, craft beverage enthusiasts will be able to experience and explore it all in one space!"
The first-of-its-kind brewery/cidery looks phenomenal, with over 6,200 sq ft of outdoor and indoor spaces complete with fire pits, a mural form local artist Jennifer Ament, and fantastic beer and cider on tap.
Expect each brand to craft its own creations, but don't be surprised if you see beer and cider collaborations. For example, at the launch in August you could find East Out West, a raspberry pink grapefruit kettle sour that blended Porter's Perfection apples along with a hopped version of Palisades, Yonder's popular blackberry cider.
Rescue Club Brewing
Burlington, VT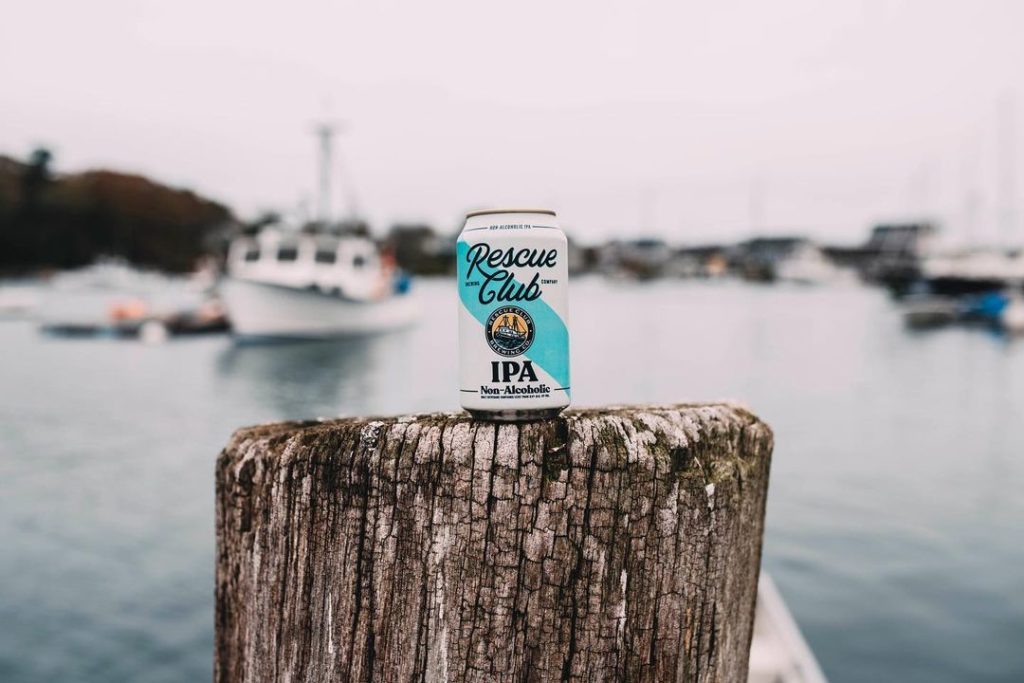 In an already crowded industry, non-alcoholic beer has slowly and quietly grabbed shelf space.
According to the market research company IRI, sales of NA beer rose 38 percent in 2020, with $188 million in sales. And although non-alcoholic beer sales only account for less than a percentage point of the entire craft beer market, breweries across the country have been exploring the trend.
It's not the alcohol that makes the party, but the people. That's the mantra Zero Gravity wants to emphasize with its newest venture. Known for New England classics like Conehead IPA and Little Wolf Pale Ale (and one of our favorite can labels of the past couple years), the brewery recently launched Rescue Club, a non-alcoholic (NA) beer brand.
With Rescue Club, Zero Gravity and Citizen Cider Co-Founder Kris Nelson developed its own proprietary technology to craft a beer that's fun, approachable, and delicious.
The magic of Rescue Club's flagship beer is that you can drink one or two anywhere, at any time of the day, without getting a buzz.
"I call it my Sunday beer," says Katie Palatucci, Director of Marketing at Zero Gravity. "I love drinking beer, but I don't like partying on Sundays. With Rescue Club, I can crack one to watch the game, have a couple outdoors with the sun shining in beautiful Vermont, or drink after a workout."
In our opinion, Rescue Club's Non-Alcoholic IPA hits all the right notes without sacrificing flavor. Pouring with a nice, approachable haze, the Non-Alcoholic IPA has a structure just north of a pale ale, but with the bitterness and hop characteristics of an IPA. The beer features Motueka and Citra hops and exudes big, beautiful citrus and tropical fruit notes without tipping the scales on sweetness.
"Being in New England, if you can make that quality IPA without alcohol, that's a beautiful place to be," says Nelson. "It was important we nail this one first and have this be our flagship."
Rescue Club wants to prove that you don't necessarily need alcohol to have a good time. You can still make memories and have fun even with a non-alcoholic beer.
Honorable Mentions
The following are breweries we've followed for a long time, so we were thrilled to see each open up a second location this year!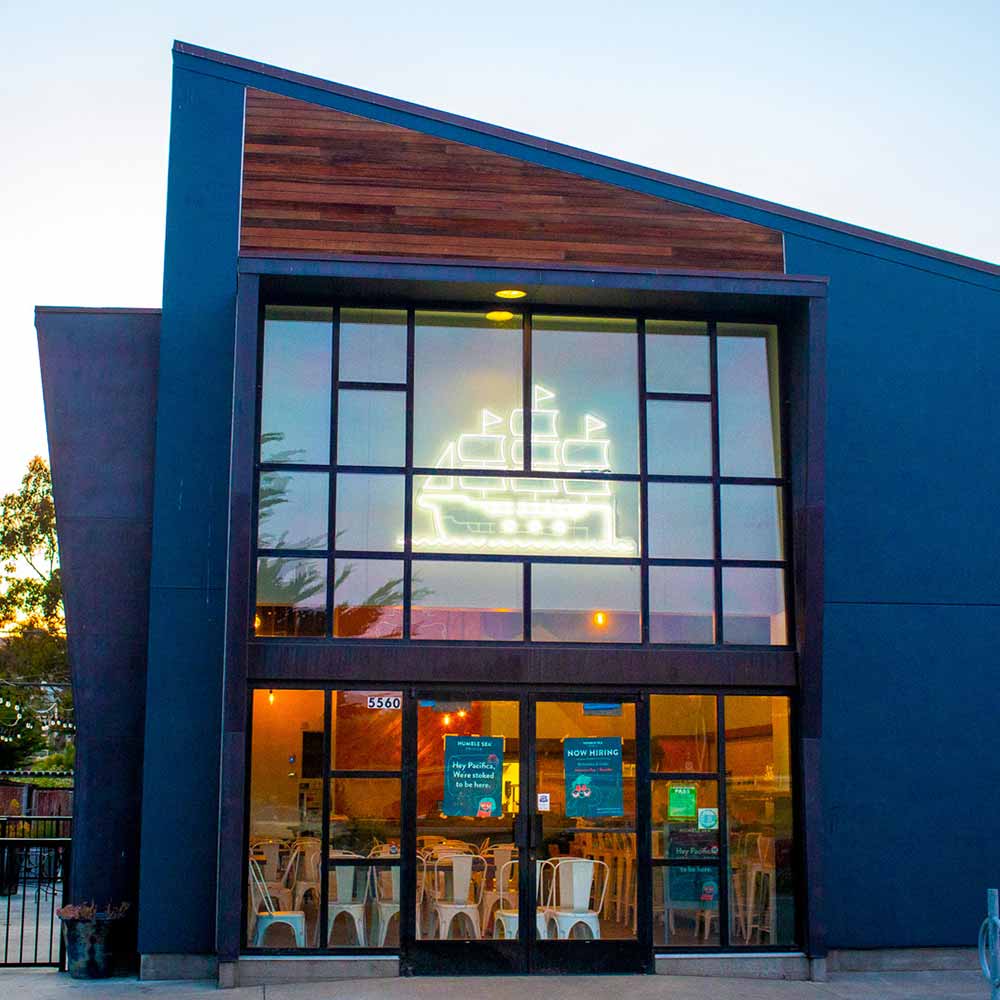 Humble Sea Brewing Co.
Pacifica, CA
For the last six years, if you wanted one of Humble Sea's latest can releases, you had to make a trek. Maybe you needed to catch a plane, fly to California, hop in the car, and drive to Santa Cruz. But this past July, Humble Sea opened their newest location in Pacifica, CA, sixty miles up Highway 1 from Santa Cruz and about a thirty to forty-five-minute drive from San Francisco and the East Bay.
It's a strategic move for a brewery that has made a name for itself as a hidden gem on the California coast.
About fifty paces from the ocean, the new location is stunning and fun. Plus, with damn good beer and Humble Sea's classic laid-back vibes, you can go full-on hella beach style, brah.
Flying Machine Brewing Co.
Wrightsville Beach, NC
Beers from this North Carolina-based brewery are a consistent hit with the Hop Culture team. So we were thrilled to see Co-Founders David Sweigart and Grant Steadman open a new location right on the water in Wrightsville Beach.
The new taproom and kitchen, which opened over the summer, serves Flying Machine's inventive IPAs alongside a thoughtful cocktail program and menu of coastal cuisine.
Castle Island Brewing Co.
South Boston, MA
Castle Island Co-Founder Adam Romanow always wanted to open a taproom in South Boston. It just didn't work out the first time around.
In 2014, Romanow settled into a production space in Norwood, MA. Six years later, he finally found the perfect place for a new taproom. However, another wrinkle emerged — the COVID-19 pandemic. An original construction timeline of four to five months extended to ten months. But Romanow persevered.
This past fall, Romanow threw open the doors to a gorgeous taproom in a neighborhood he loves.
Dogfish Head Miami
Miami, FL
Off-centered ales have found a home in Miami. Opening on May 21st, 2021, Dogfish Head Miami offers the same unique experiences and beers as the brand's other taprooms, but with a definitively tropical flair.