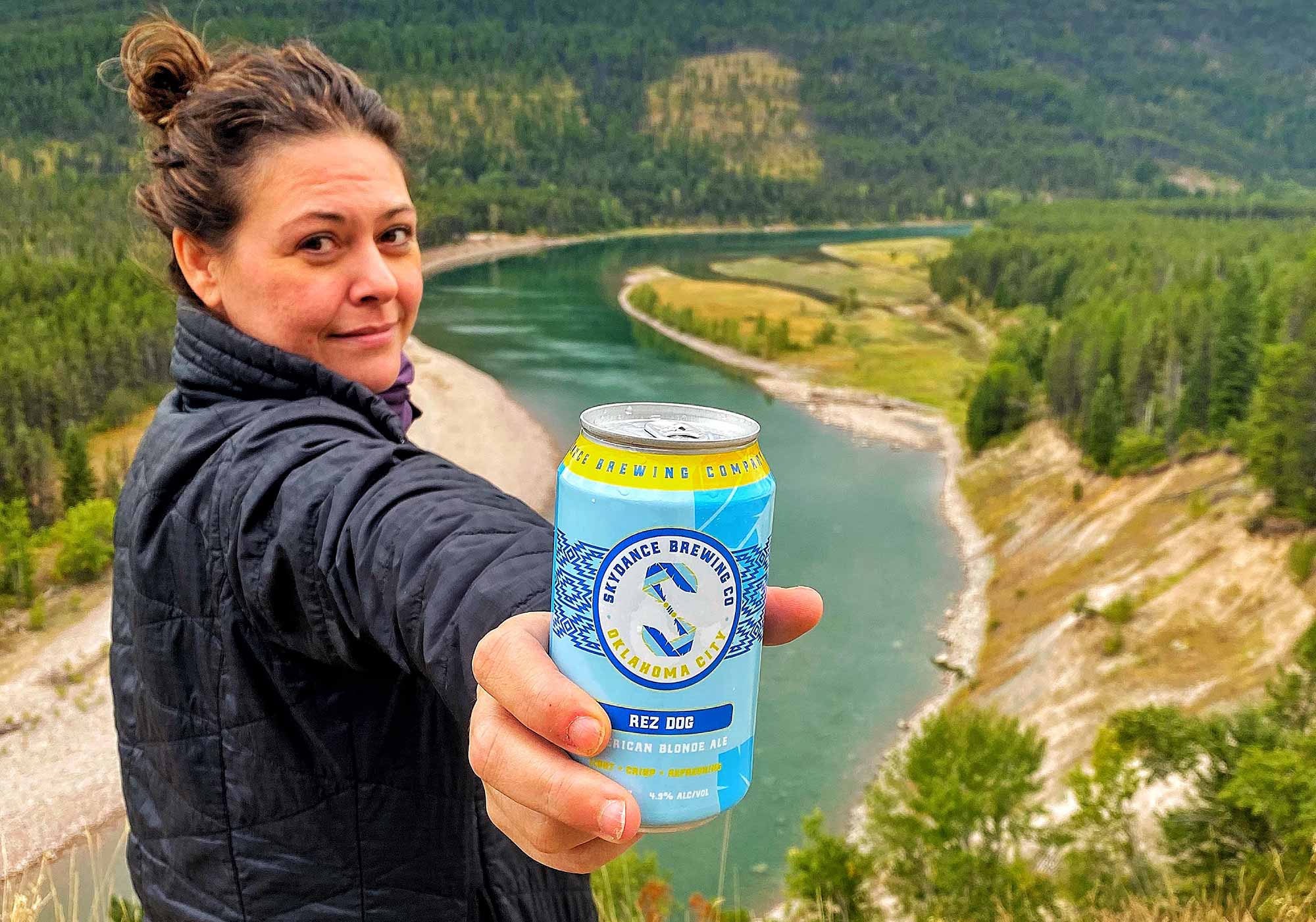 Photography courtesy of Skydance Brewing
Over the past few years, we've seen craft beer used as a tool to promote opportunities in the beer industry, provide gateways for minority- and women-owned breweries, and even decrease gun violence. As a tool, craft beer can creatively enact change. And now more than ever, we're seeing this idea expressed by the small but growing number of Native American-owned breweries, many of which are using craft beer to share the stories, traditions, and customs of their tribes.
Founded by Jake Keyes in 2018, Skydance Brewing in Oklahoma City, OK, strives to be a voice for the Ioway (or Iowa) tribe.
"If we want an accurate story told, we have to be the ones to tell the story," says Keyes. "We're trying to educate non-Natives more about who we are and what we're capable of through the brewery, our beer names, and our branding."
Similarly, 7 Clans Brewing, founded by Morgan Crisp, uses powerful imagery and beer names to represent her Eastern Band of Cherokee tribe in North Carolina. And in Southern California, Rincon Reservation Road Brewery (3R Brewery) recently rebranded to better speak to their mission of sharing the culture of the Rincon Band of Luiseño Indians.
Although each Native-owned brewery represents a different tribe, they stand for something more than good beer. Through their use of ingredients to the art on their cans, Native American-owned breweries are writing their own narratives and reclaiming their Indigenous identity.
Re-writing the History of Native Americans and Alcohol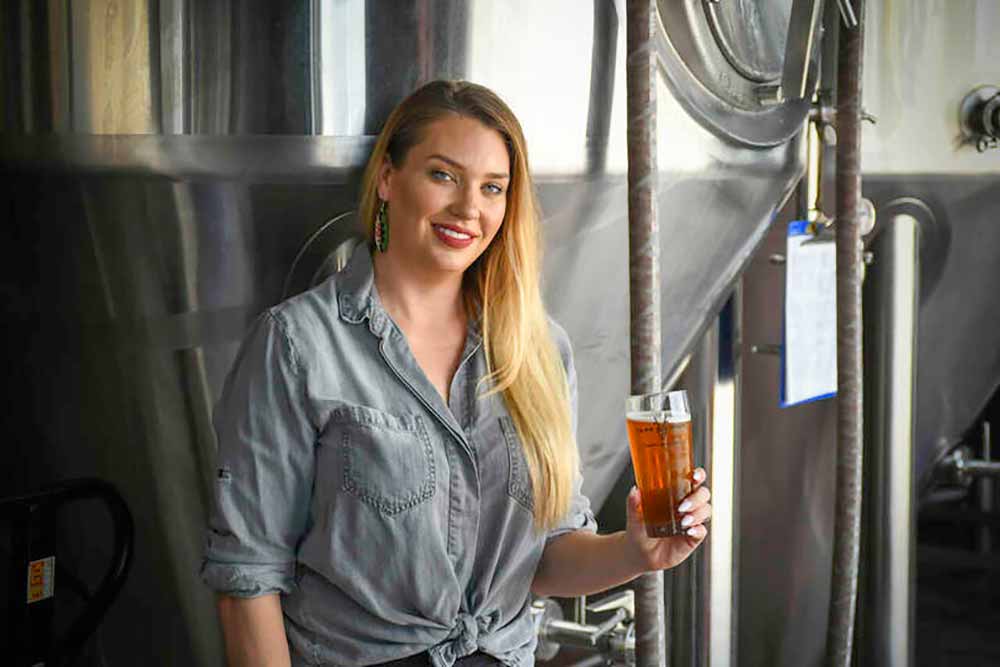 It's hard to pinpoint exactly when Native Americans discovered beer. Morgan Crisp, Founder of 7 Clans Brewing, says she has found references to the women of her Eastern Band of Cherokee tribe making beer using corn. However, she also acknowledged that this chilled sweet corn drink isn't often recognized in their history.
"We don't really talk about it… because alcohol has been pushed under the rug as this terrible thing," says Crisp.
This has become a common trope throughout Native American history.
Through the sixteenth and seventeenth centuries, white invaders stole Indigenous lands, forced tribes onto reservations, sent children to far-away boarding schools, and generally enacted policies that took away Native American autonomy, rights, and traditions. This included the right to possess or purchase alcohol.
In 1832, legislation passed in tandem with the creation of the Commission of Indian Affairs said, "No ardent spirits shall be hereafter introduced, under any pretense, into the Indian country." At that point, it became illegal for Indigenous peoples to sell or trade any intoxicating liquids on tribal lands.
At the same time, colonizers introduced the racist stereotype that Native Americans were inclined to alcoholism. And the U.S. government enforced this discrimination through years of policies.
Even after the 21st Amendment repealed Prohibition in 1933, Native Americans weren't legally allowed to purchase alcohol. That woudn't change for twenty years. In 1953, Congress finally ended the discriminatory law, stating that if Indigenous people could serve in our Armed Forces as U.S. Citizens, they should be allowed to drink alcohol as well.
Over the years, these injustices shaped how Native American communities approached alcohol.
"The whole idea was to make you feel really bad about being a Native American," says Ruth-Ann Thorn, Chairperson of the Rincon Economic Development Corporation. "And then give you a Christian name and cut your hair. I always challenge people to name a group of people who have gone through all of that and don't have substance abuse problems. If you have no hope, you'll try to escape."
Growing up, Crisp says she only saw alcohol as something to be abused.
"It's not something I ever watched people do socially," she says. "Like, having one drink somewhere. It was going to get as much of whatever we can."
Re-Claiming Craft Beer for Indigenous People: Skydance Brewing
Today, Native views around alcohol are changing, led by Native-owned craft breweries like Skydance, 7 Clans, and 3R.
"A lot of people think the word 'alcohol' means somebody drunk walking the street or at some frat party somewhere," says Keyes, Founder of Skydance Brewing. "But I think of craft beer more like wine. Something to be responsibly enjoyed in quality over quantity."
Keyes discovered beer when he was twelve, when he found a carboy in his kitchen. His dad homebrewed, often leaving beer to ferment around the house. Intrigued by the liquid Keyes wandered over, opened it up, and took a peek.
"I obviously infected the batch," he says. "But it smelled so good!" At that point, his dad explained to him that exposing the beer to the air ruined it. And began teaching him the tricks of the trade. "At twelve years old, the idea of grain and hops turning into liquid in a glass two weeks later was magical," says Keyes.
While in college, Keyes started working at a brewery. Often, his dad would sit at the bar. After work, they'd talk about opening their own place.
"It became a dream that we would do something like that," says Keyes.
In 2013, Keyes's dad moved into a nursing home. As Keyes started clearing out his dad's home, he found a shopping list for an old homebrew recipe from Charlie Papazian. Keyes brewed the recipe (an oatmeal stout) and took it to his dad to share.
"I actually got kicked out of the nursing home," says Keyes. But he entered the leftover beer into the Bluebonnet Brew-Off homebrew competition in Dallas, Texas, where it won a medal.
Unfortunately, Keyes's dad passed away before he could show him the award. But that was the moment Keyes decided to open a brewery.
"My dad was famous for always saying 'One of these days. One of these days I'm going to do this or that,'" says Keyes. "I told myself, I'm going to have to do what my dad didn't do, which is give myself a deadline. I wrote down on a little napkin that I was going to have a brewery by the time I turned forty."
Keyes turned forty in October of 2018. And three weeks later, Skydance brewed its first batch of beer.
Re-Claiming Craft Beer for Indigenous People: 7 Clans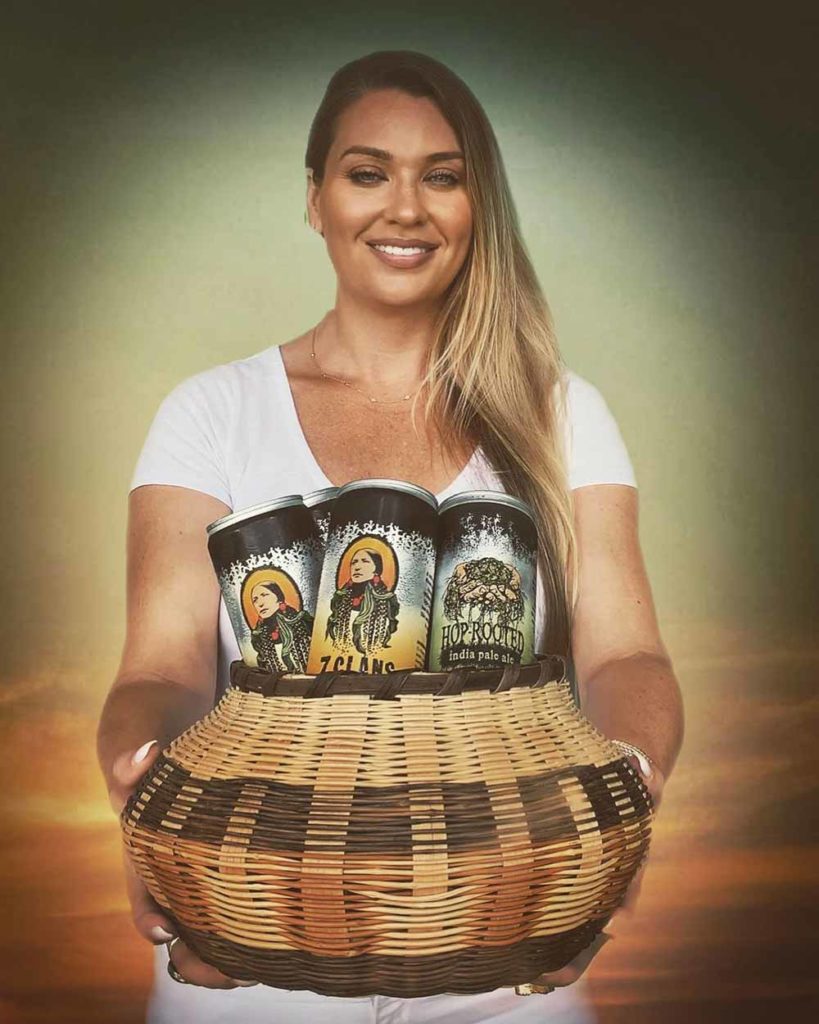 It took Morgan Crisp of 7 Clans Brewing a little longer than Keyes to discover craft beer. While she worked at a restaurant in Canton, NC, she got exposed to many breweries in and around nearby Asheville, as friends from local breweries would come in and share their wares.
"We would sit on the porch and drink beer," says Crisp. "They would tell us about how they made it and their story. I fell in love."
One of those friends worked at nearby BearWaters Brewing and encouraged Crisp to tell the story of her tribe by brewing her own beer. They offered up their brewing equipment and knowledge.
What started as a single draft line in BearWaters taproom quickly took off. Especially after the local casino on the Eastern Band of Cherokee Indians tribal lands (known as the Qualla Boundary) picked up some of Crisp's beer.
Demand for the beer grew so big that Crisp knew she needed to find her own place. A year and a half ago, she bought Frog Level Brewing in Waynesville, NC, where she currently brews both 7 Clans and Frog Level beer.
Crafting Native American Culture Through a Brewery Name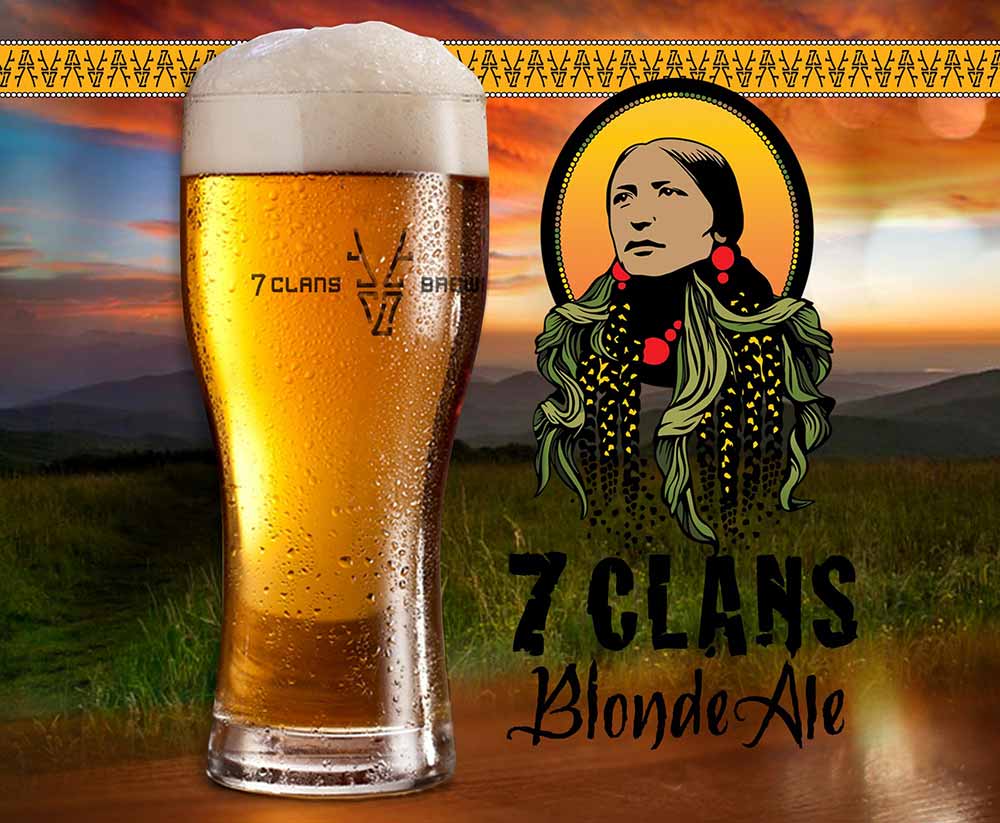 For many Native American-owned breweries, telling their story starts with the right name and logo.
Crisp specifically chose the name "7 Clans" to represent the importance of clanship.
"I decided to use the [name] '7 Clans' instead of the name 'Cherokee' because a lot of people use the name Cherokee and have nothing to do with it," says Crisp.
Additionally, the number seven has great significance in the tribe's culture. During times when members of Crisp's tribe were restricted from speaking their Native language and honoring their traditional customs, they often secretly included the number seven into everything from beadwork to pottery. It became a way of keeping their culture alive.
Southern California's first tribally-owned and operated brewery, Rincon Reservation Road Brewery (3R Brewery), makes beer right on the reservation in Valley Center, CA. One of sixteen California Mission Tribes, the Rincon Band of Luiseño Indians represent over 14,000 years of documented history of Natives in California.
"We're the original Californians here in San Diego," says Thorn. "With the brewery, we want to… create a space where people can come and have dialogue with us in our brewery."
But the education starts before anyone even sets foot in the brewery. In fact, it starts with the name.
In 2016, when the brewery first opened, the Rincon Band of Luiseño Indians hired an agency to help with the branding. The outside organization came up with the original name SR76 (State Route 76) Beerworks, which referred to the route the Luiseños traveled along the San Luis Rey River. However, the story didn't quite connect.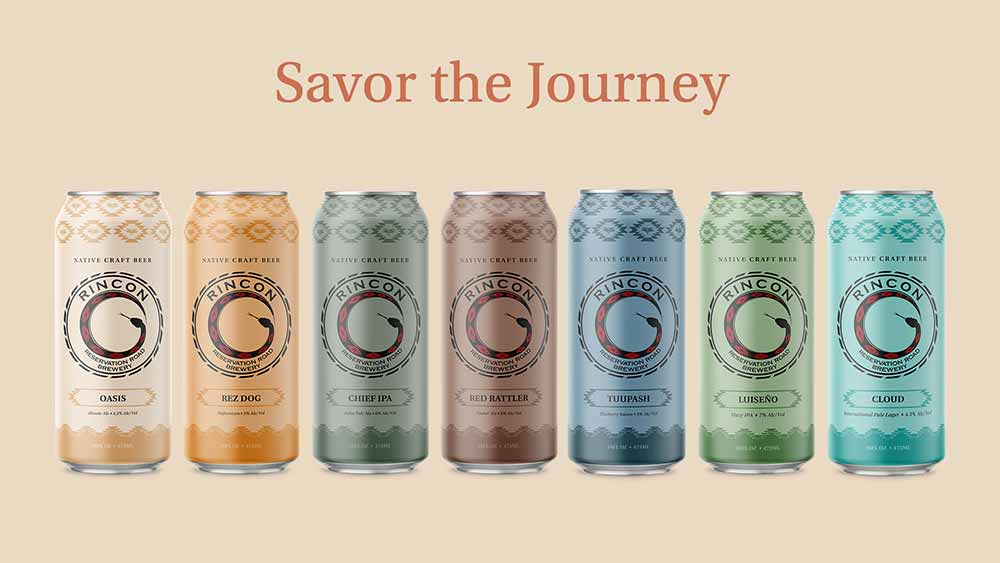 Recently, the tribe overhauled the brewery, choosing the name Rincon Reservation Road. It's the main road that runs through their tribal lands. Additionally, they picked the rattlesnake as their new logo. The emblem represents the sacred Rattlesnake Mountain on the reservation.
"The rattlesnake is a badass," says Thorn, referring to an animal that can live through everything from extreme temperatures to drought and famine. The logo stands for survival.
Crafting Native American Culture Through Beer Names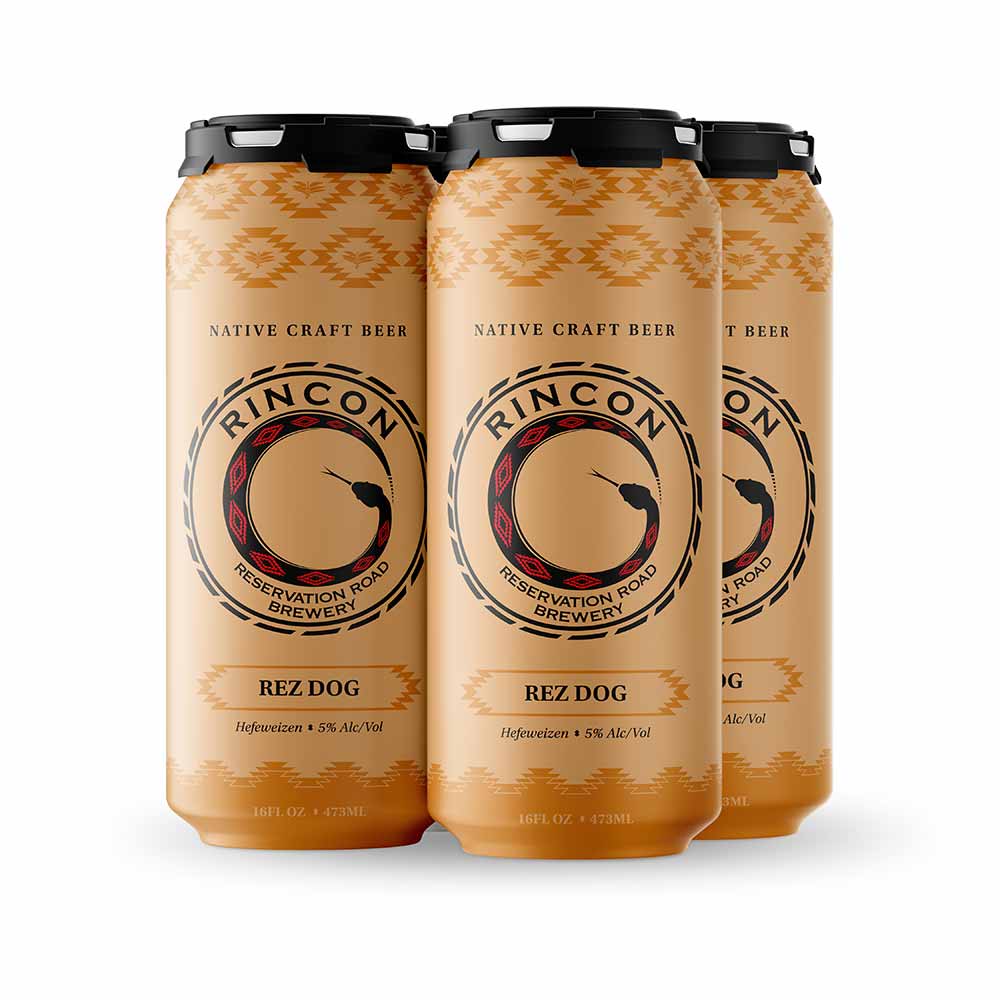 At 3R Brewery, beers like Rez Dog, Tuupash, Chief IPA, and Red Rattler each represent a different element of the Rincon Band of Luiseño Indians.
For example, the name "Rez Dog" is a double entendre, referring to the wild dogs that cruise around reservations, but also the term of endearment among Native people.
"It's like, 'hey homie. Hey, rez dog,'" says Thorn. "It's a sign of resilience when you call someone a rez dog. It means you're a survivor. You're still here."
Similarly, Tuupash, 3R's blueberry saison, takes inspiration from the Luiseño word for "sky" and the famous blue skies of California.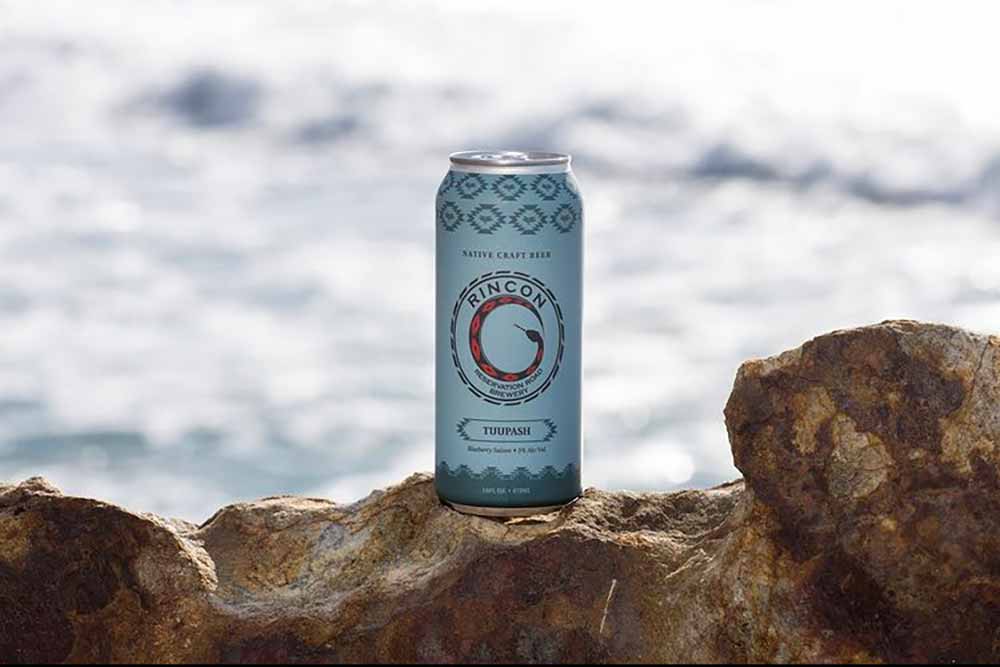 "Every beer is named after something that is a part of our reservation," says Thorn. "We're telling our history, but we're also telling it in a fun way. We're sharing our Luiseño language with other people and we're also sharing it with ourselves because a lot of our culture has been lost."
At 7 Clans, beer names and art also hold special significance.
The can for 7 Clans Blonde Ale features Selu, the legendary first woman of the Eastern Band of Cherokee Tribe.
"She represents to me that matriarchy, that strong woman that will do anything for her family. And just survival," says Crisp.
Other beers like Hop-Rooted IPA are a nod to Crisp's childhood spent with her dad and grandfather, where she combed the mountains and dug into the earth looking for ginseng and bloodroot.
"That was about my own personal connection with how much I appreciate the land we're on," says Crisp.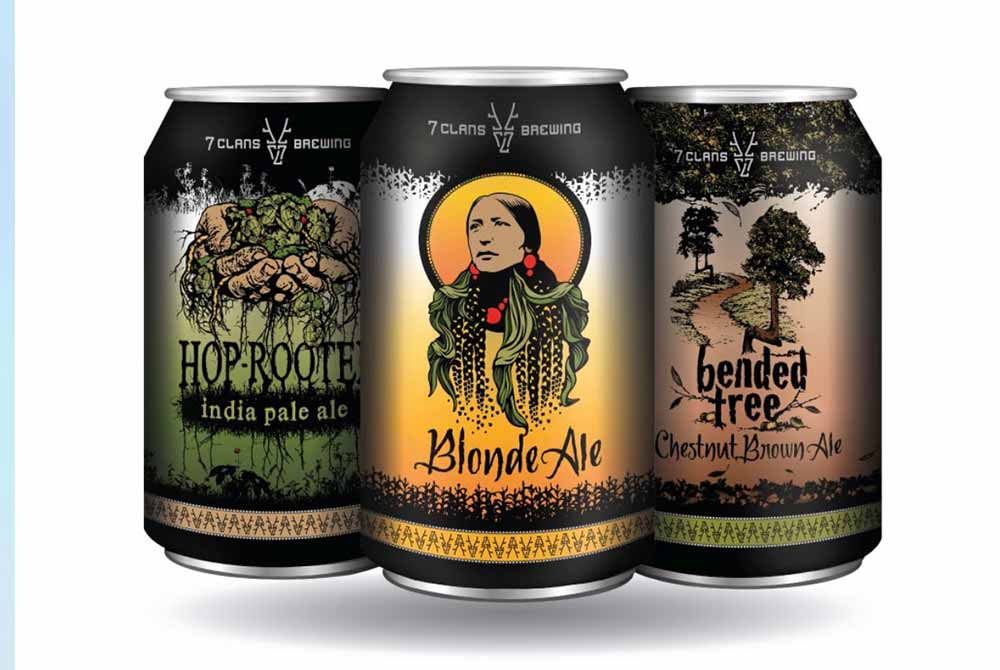 In that same vein, her Bended Tree Chestnut Brown Ale honors chestnuts, an ingredient once prevalent in her tribe's culture. The tribe recounts stories of how there used to be so many chestnut trees that in order to harvest them, they would set them on fire, come back later when the fire had died down, and pick them off the ground.
"For me, it was important to think about those ingredients that you don't really see much in use [anymore]," says Crisp.
This includes ingredients like sochan, a spring green that, at the moment, only ten people from the tribe can sign up to go to the park and gather. Crisp would love to use the plant in a beer someday.
"When I saw people could tell stories about who they were and where they came from through beer, it resonated with me," says Crisp. "People will look at the can, they're going to hopefully read something about our tribe, learn a little bit about us, and realize that Native people actually exist. We're still here, you know?"
Similarly, Keyes wants to leave his mark with Skydance beers, naming many after important cultural traditions. This includes Fancy Dance, a hazy IPA that refers to the most difficult dance at a powwow.
"Everybody knows what a powwow is right?" says Keyes. "At a powwow they have a lot of dance competitions in several different categories. When non-Natives think of a powwow, they usually see in their heads a fancy dancer — real extravagant dress, colorful colors, and feathers. They're super athletic and have a lot of motion."
Crafting Native American Culture in Taprooms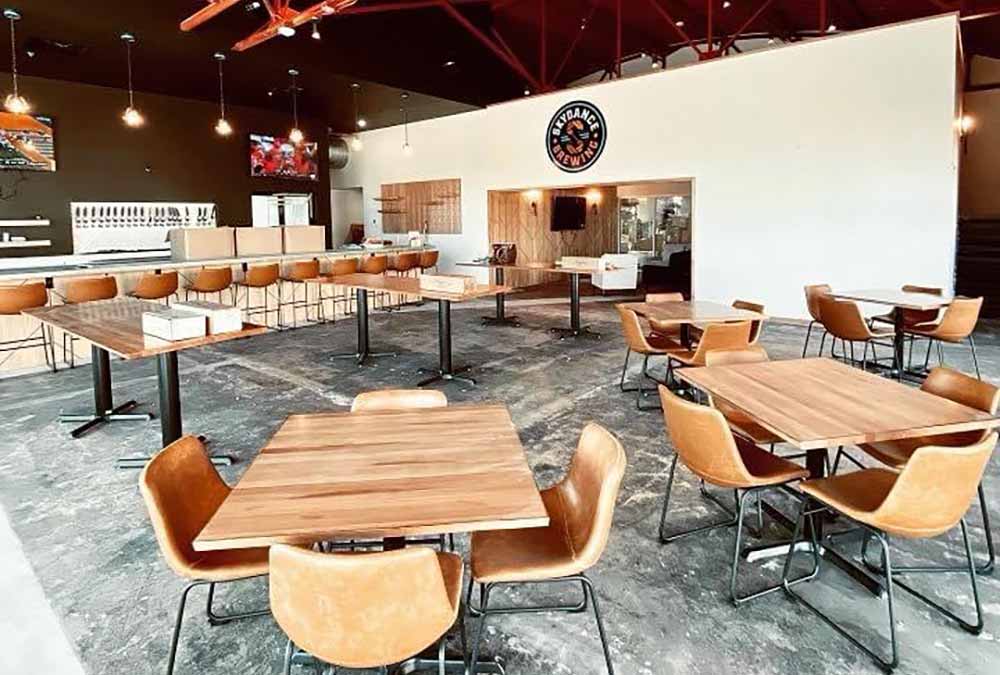 For the last three years, Skydance ran out of a cooperative space. But last month, the brewery officially opened the doors to its brand new taproom.
Keyes has included many features that reference his heritage, including a Native American art and a wall with the word hello written in the Native language of many different tribes in the area.
"It'll bring up questions and more chances to tell a story," says Keyes. "We just want non-Natives to be surrounded by the culture when they come in. People will ask questions in the taproom and that gives us an opportunity to tell a story."
Subsequently, 3R Brewery is aiming to open its first satellite location in San Diego sometime in early 2022. Outside will be a mural painted by an Indigenous artist — Joseph Hopkins, aka Sock Monkey.

Inside the new 3R satellite location, you'll find stories written on the back of coasters. There will also be a menu that includes fry bread, a donut-like dish often a staple on many Native American reservations. While not a Native dish, fry bread became popular on reservations courtesy of the U.S. government's rations of flour, sugar, lard, and salt. A healthier fry bread menu is 3R Brewery's way of reclaiming this part of Indigenous people's history.
"One thing about beer is that it's a really cool place to tell a story," says Thorn. "We want you to come and enjoy having a beer with us and hear our stories. Find out who we are as people because we're here now and we want to contribute and be part of the community. We want to let people know the true story of who we are… [and] what it means to be a Native person."
Last month, Crisp closed on a seventeen-acre piece of land in Hayward County. When she opens her taproom, she hopes to incorporate Indigenous foods into the menu and Indigenous ingredients in the beer, and she also wants to share Native artwork and stories.
"We've always been told as we grow up we represent our tribe, but when it came to alcohol it was always, 'Nope, don't represent us anymore,'" says Crisp. "For me, it's my own personal journey of who I am today and taking these aspects of the past and figuring out where I fit in the world now. How do I continue to carry those values and perspectives into a new world?"
The Next Generation of Native Brewers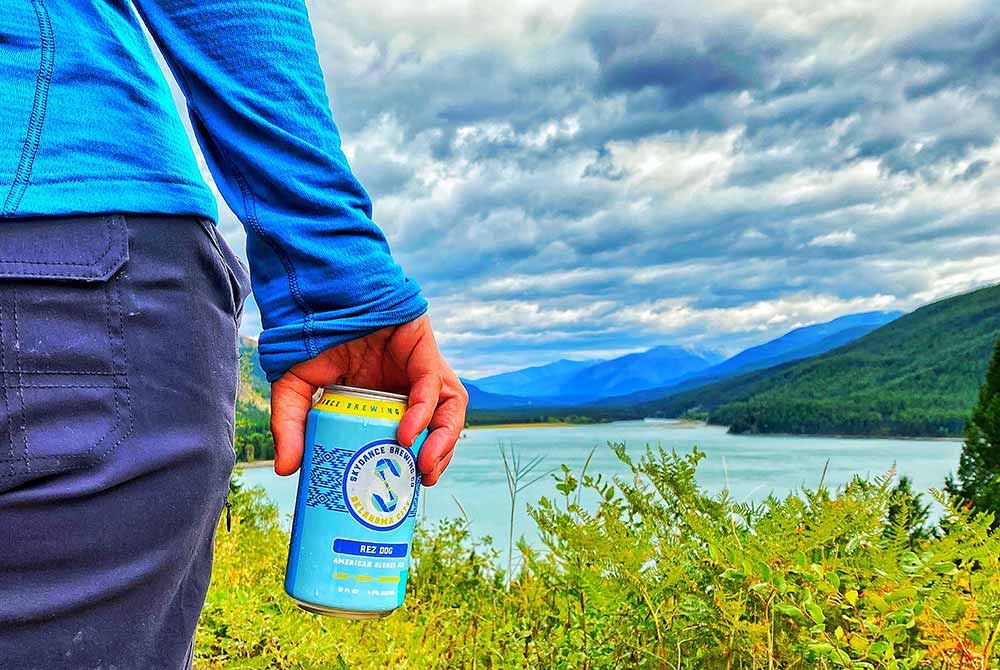 Across the country, each of these Native American-owned breweries mentions the importance of the next generation.
"The next generation coming around the corner needs to heal from all this trauma," says Thorn. "We can remember it, but we also have to look forward to the future… That's what all Native people want. They want the truth to be told and then the healing can begin… if it happens through beer or anything else, it's welcomed."
According to Thorn, 3R hopes to launch an apprenticeship program that teaches young adult tribal members to brew.
Similarly, Keyes wants Skydance to be more than just a physical brewery. He wants it to be a place of inspiration for the next generation of Native Americans in his community.
Since Keyes has such a humble background, he hopes his story of success can reach others.
"I grew up super poor," he says. "My remote control when I was a kid was a pair of pliers."
But despite the hurdles, Keyes built a thriving business.
"If you really want someone to have sovereignty in their life, entrepreneurship is the best way to create independence for yourself," he says. "In my mind, we're just opening up another avenue for Native Americans when it comes to entrepreneurship. Even though it's alcohol, this is also an opportunity for you as a young Native."
It's a powerful statement. For many years, Native Americans were stripped of their language, customs, and culture. Now, they're reclaiming their stories and traditions and sharing them with the world.
A List of Native American-Owned Breweries in the United States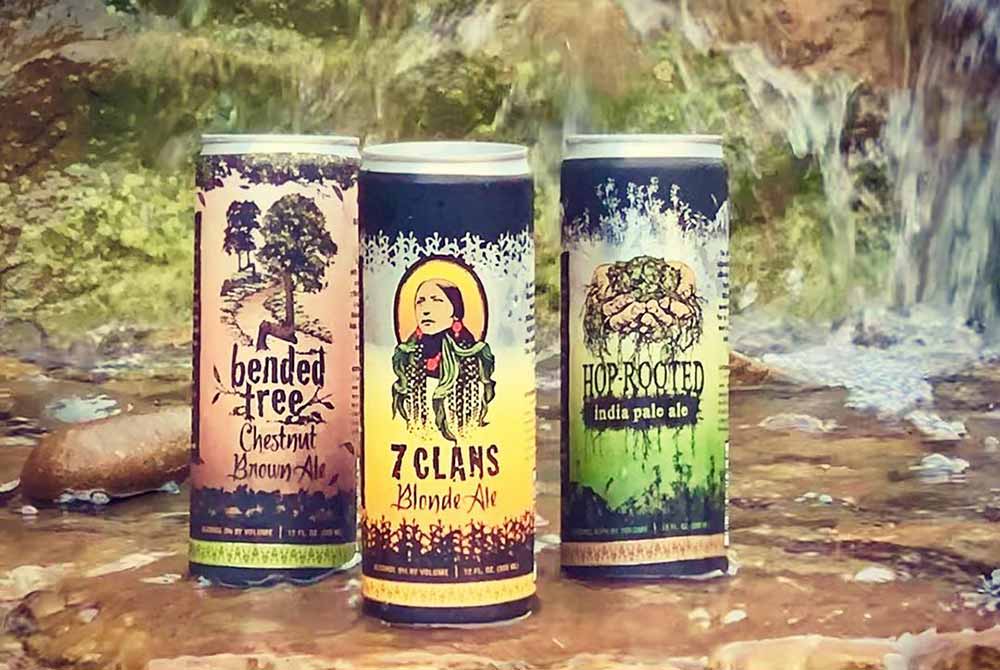 While there aren't any statistics on the exact number of Native-owned breweries in the United States, here's a list of seven Native-owned breweries to support. If you know of others, please reach out to us at hello@hopculture.com!
210 Brewing Co.
Arlington, WA
7 Clans Brewing
Cherokee, NC
Bow & Arrow Brewing Co.
Albuquerque, NM
Mad River Brewing Company
Blue Lake, CA
Rincon Reservation Road Brewery
Valley Center and Ocean Beach, CA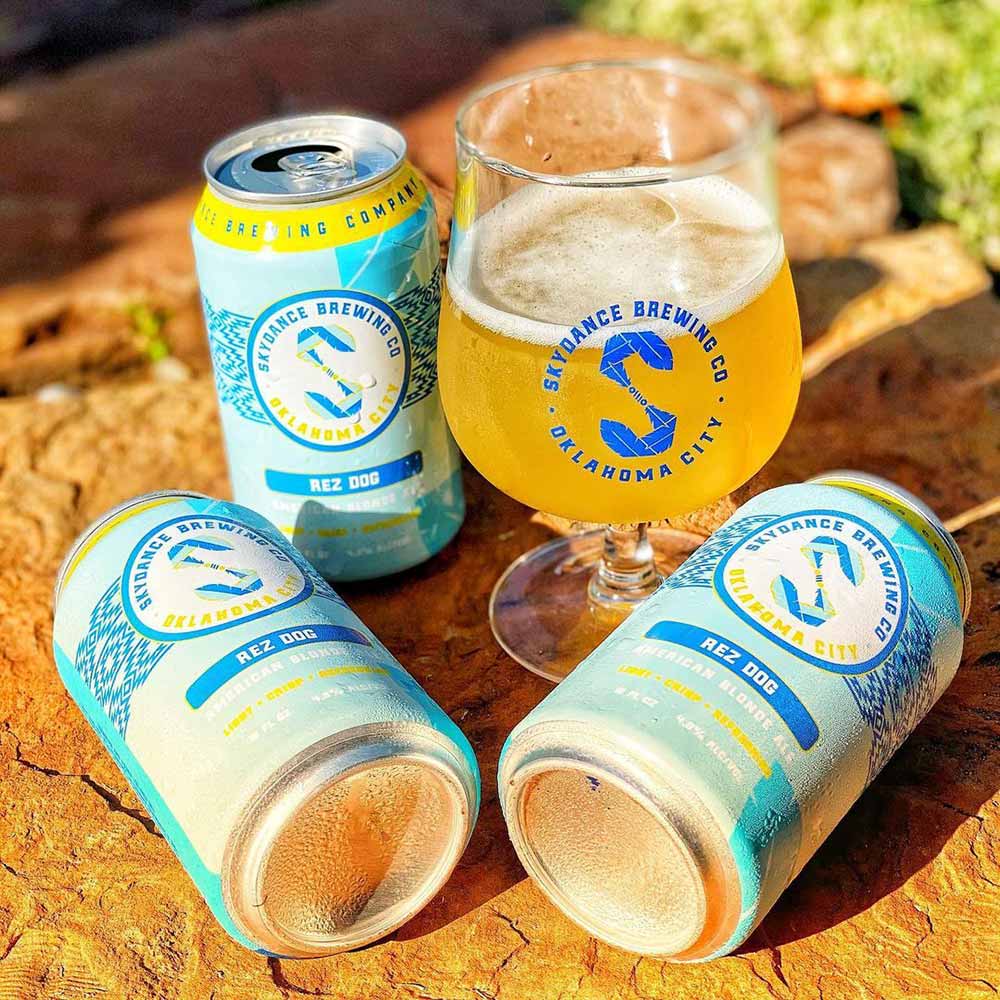 Skydance Brewing Company
Oklahoma City, OK
Talking Cedar Brewery
Rochester, WA