For a long time, wine was the only suitable option to pair with food. But within the last decade or so, talented chefs, beverage directors, brewers, and winemakers have opened up the door to an array of food and beverage pairing opportunities. For instance, at your next dinner party, a lightly floral mixed-culture saison could pair nicely with a roast chicken or maybe even some white fish. Why not enjoy a juicy and effervescent pet-nat with a slice of salsiccia pizza? Or why not offer a beer and cheese pairing?
So while wine has traditionally been the go-to cheese pairing, there's a strong case to be made that beer is just as viable of a pairing partner. The palate-cleansing effervescence of a well-carbonated beer can match the rich, fatty quality of a wide variety of cheeses.
To this end, we asked our friend John Trogner, co-founder of Tröegs Independent Brewing, and writer / cheese expert Tenaya Darlington (AKA Madame Fromage), for some help narrowing down the basics of beer and cheese pairing. In fact, Tröegs recently led a virtual beer and cheese tasting featuring their Perpetual Beer Cheese, a collaboration between The GIANT Company, Caputo Brothers Creamery, and Tröegs.
Why Pair Beer And Cheese?
Why not simply eat and drink whatever you like? As John Trogner explains, a well-paired meal can leave a lasting impression.
"I love the idea of beer not being pretentious and being a part of an everyday activity," says Trogener. "But it can give you a food memory. If I can pair a beer with food, it digs deeper into my mind."
Darlington agrees. "You really remember a pairing when it goes well together," she says. "Beer is so social. Cheese is so social. And when you have a combination that goes well, you want to repeat it and share it with others."
The Guide to Beer and Cheese Pairing
Try An Aged Sheep Milk Cheese
If you're looking to build your cheese and beer portfolio, the simplest cheese to include is an aged sheep milk cheese. While many of us may be more accustomed to cow milk cheeses, sheep milk cheeses provide a bit more customization when pairing.
Mild and high in fat, cheeses like manchego or pecorino stagionato will deliver beautiful flavors that will yield to just about any beer. According to Trogner, this variability makes it a compelling pairing cheese.
Steer Clear From Young Acidic Goat Cheese
On the flip side, young acidic goat cheese will prove a challenging pairing partner. The acidity and sharpness in cheese like chevre will be a bit strong on the palate, so finding a beer to balance it out might be tough.
Still, if you want to go down this route, a bright and effervescent beer will help wash out some of the stronger flavors. Though Darlington recommends meeting a more accessible goat cheese like aged goat gouda with a malt-forward beer.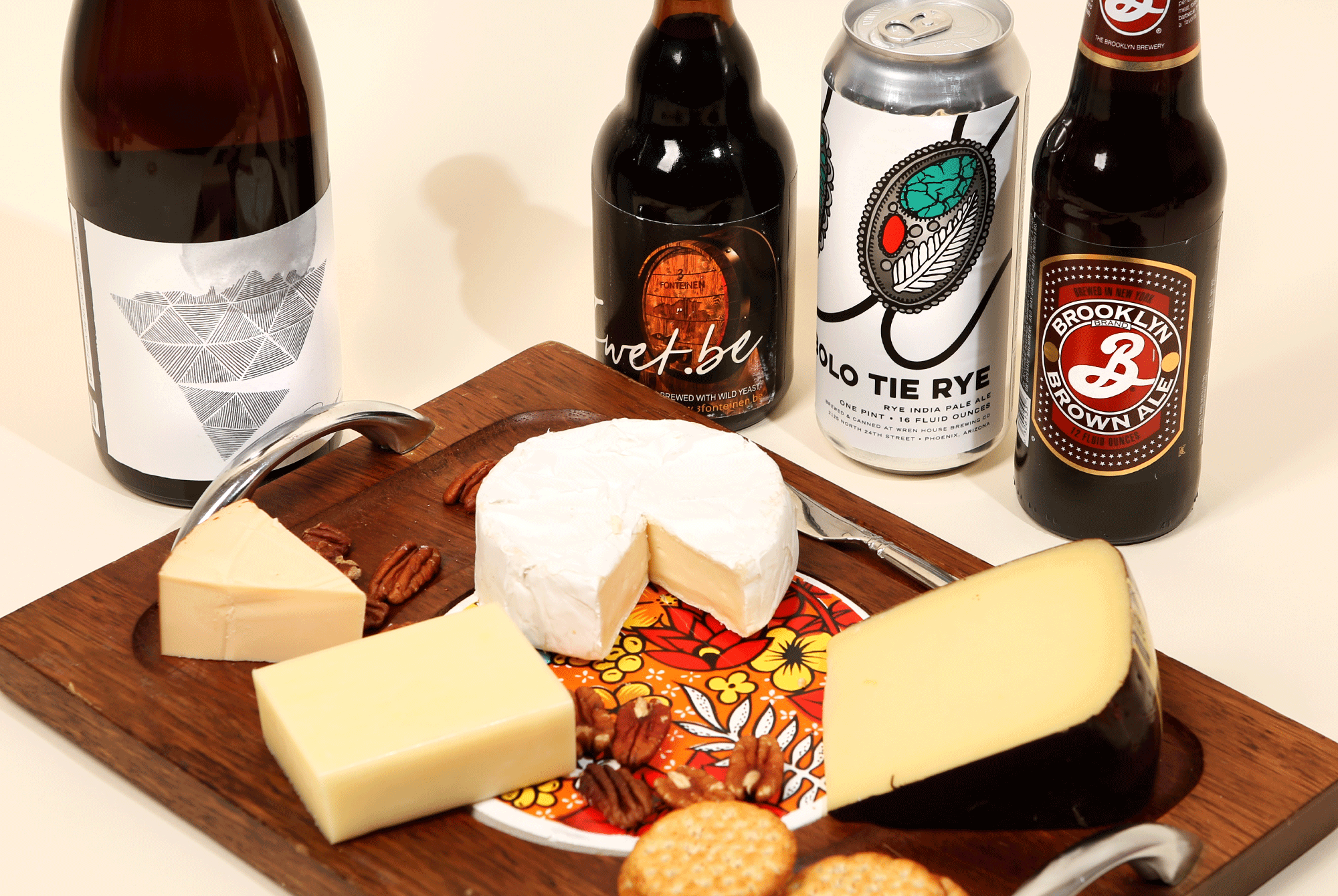 The Richer The Cheese, The Higher The ABV
Both Trogner and Darlington offered up this useful piece of advice: As your dive into richer, fattier, and funkier cheeses (blue, taleggio, 
epoisses), pair them with high ABV beers.
IPAs, Trappist ales, robust winter ales, and barrel-aged sours pair well with these lush cheeses.
Need a quick reminder? Darlington provides a helpful aphorism: "Funky cheese, monk-y beer." In other words, pair your stinky cheeses with a Belgian — or "monk-y" — beer.
Pay Attention To Seasonality
Traditionally, pairings were seasonal. So when you're shopping for cheese and beer for your next dinner party, consider what's in season.
"What is growing and brewing right now?" Darlington asks. That's what you want to find. While you can certainly drink stouts all year round, they're typically a winter beer. And refreshing, complex saisons are summer beers. Pair them with cheeses that belong in those seasons.
The Bottom Line For Beer And Cheese Pairing
While anyone can develop "rules" for beer and cheese pairings, it's important to follow your gut. Literally! Ultimately, you're the final arbiter of a good beer and cheese pairing. If you aren't a fan of a certain beer or cheese, don't bring it into the mix.
In the same vein, the only way to find out what you like is to experiment.
"Get one or two cheeses you love, get some different beer, and play around," says Darlington.
The only reason I can wholeheartedly recommend a potent, funky blue cheese with a refreshingly bitter West Coast IPA is because I've tried it.
Liked this article? Sign up for our newsletter to get the best craft beer writing on the web delivered straight to your inbox.