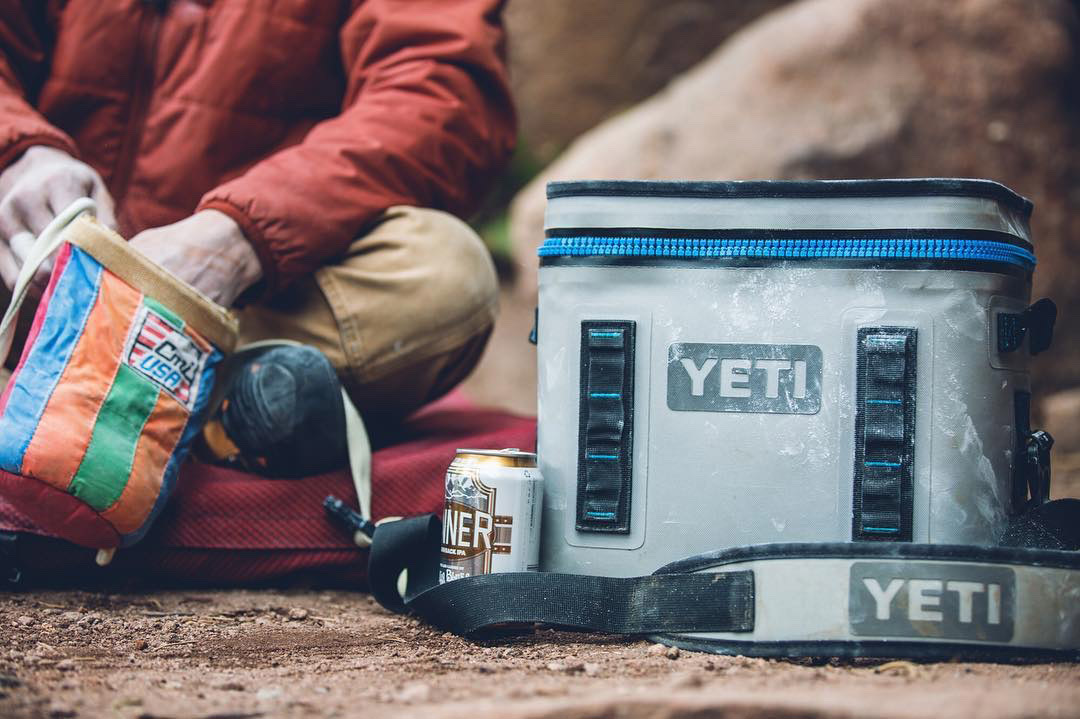 Updated January 7, 2021.
Packing a cooler full of beer seems almost like a rite of passage. Expertly dividing cans and bottles amongst a perfectly measured amount of ice should be considered a rare art form.
Of course, having one of the best coolers helps, and that's why we've updated our list for 2021. Because whether you're hiking into the wilderness or simply hitching a ride to the game, none of that preparation will matter if you store your six packs in leaky styrofoam.
Luckily, we have your solution. From the simple and durable to the small and easy-to-carry to the tricked out, loaded up, bells-and-whistles best, we've selected the 14 best coolers for your cold ones in 2021.
YETI Tank 45 Bucket Cooler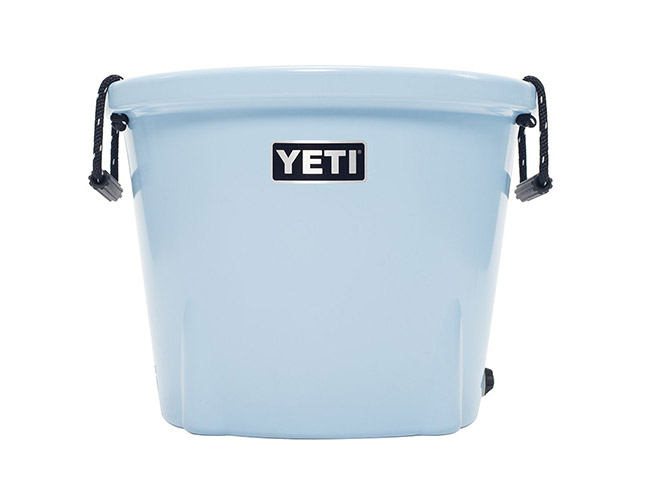 This sits out on the office terrace. It's indestructible and sleek. And while it might not be the best cooler for transporting beer, it's the best for our office parties. The Tank is always open and inviting, keeps beer cold for hours, and comes with a lid that doubles as a lime cutting station and an impromptu seat. If you host any type of BBQ regularly, this is our number 1 pick.
Dimensions: 21" x 21" x 16.25"
Weight: 13 lbs
Capacity: 52 cans
Otterbox Venture 45 Cooler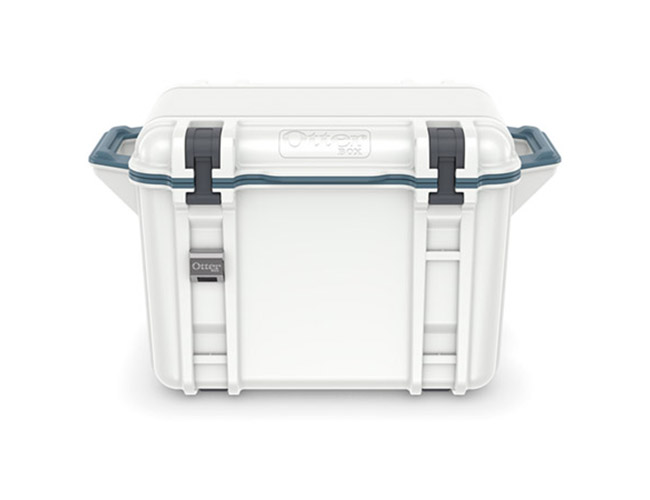 While the YETI Tundra normally steals the spotlight for hardsided coolers, the Otterbox's Venture is a newcomer that's specifically designed for beer drinkers. With a dry storage tray for snacks and a built-in bottle opener, this is the perfect tailgating cooler that can also be hauled out into the field at a moment's notice.
Dimensions: 31.4″ x 18.7″ x 18.8″
Weight: 26 lbs
Capacity: 45 quarts
Coleman Xtreme Series Wheeled Cooler 50 Quart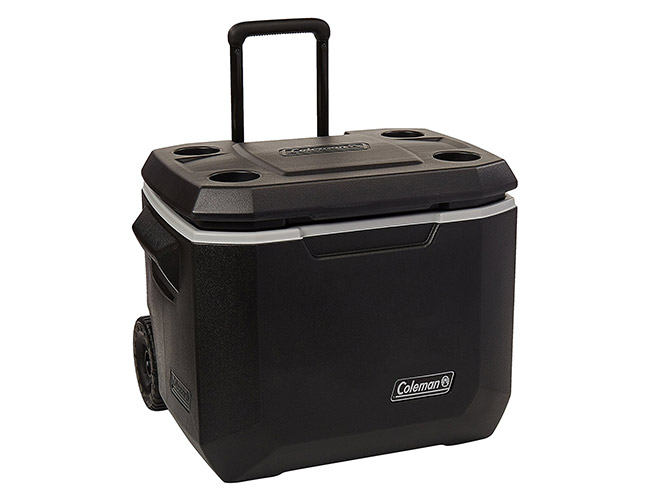 You can wax poetic about investing in a durable, expensive cooler. But for the everyday can-release line, you need something cheap, wheeled, and that you can sit on in a pinch. For that, this Coleman is all you need.
Dimensions: 18″ x 18″ x 23″
Weight: 11 lbs
Capacity: 84 cans
The Mountainsmith Cooler Tube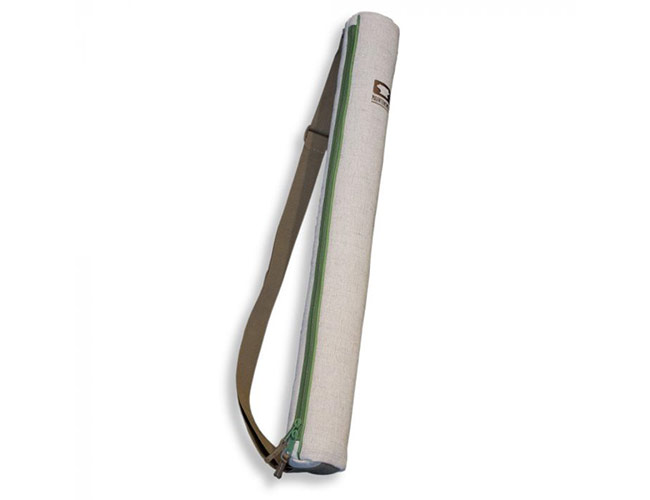 Disguised as a bag to carry your yoga mat or mini golf clubs, this sleek and thin carrying case stealthy stores six of your most essential beer cans. Fully insulated with PE foam to lock in the cold, this sneaky cooler can be slung over your shoulder for a backpacking adventure, a picnic in the park, or a fishing trip.
Dimensions: 28" x 3.25" x 3.25"
Weight: 9 ounces
Capacity: 6 cans
Caddy Daddy Golf 6 Pack Cooler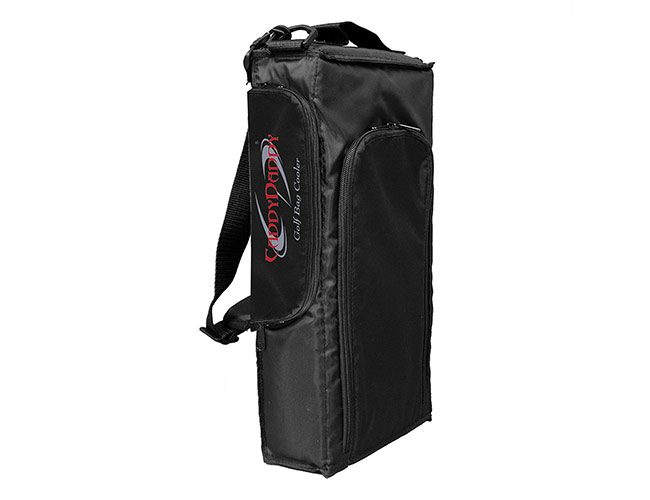 Yell fore for this cleverly disguised tote, which is also one of the best coolers on the market. This discreet cooler fits perfectly into the side pocket of any golf carrier. With Caddy Daddy, easily hide up to six cans of beer while avoiding thirst on the back nine. Never overpay for beer at the club again — because drinking while golfing should be par for the course.
Dimensions: 16.1″ x 6.3″ x 2.4″
Weight: 13.4 oz.
Capacity: 6 cans
Coleman Oversized Quad Chair with Cooler
When tailgating which comes first: the cooler or the chair? With Coleman's Quad Chair with Cooler, you never have to decide. Posing as both, this hybrid sit-and-sip, easy-to-carry chair features a cup holder, a cooler for four additional cans, and a pocket for whatever else you might need. Plus, it's oversized for those of us who love beer, calories be damned. Perfect for your next football game or day at the beach.
Dimensions: (folded) 6″ x 6″ x 37.5″
Weight: 8 pounds (Holds up to 325 lbs)
Capacity: 4 cans
Cold Creek Brewing Wooden Beer Cooler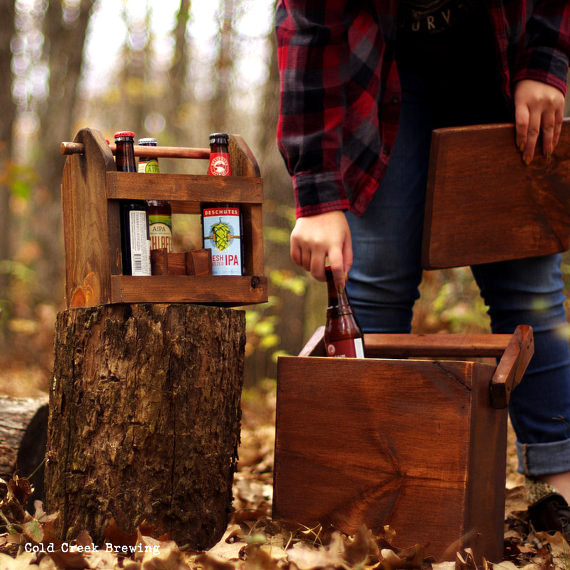 Upgrade your obsolete Styrofoam or red and white soccer mom cooler with a touch of class. Cold Creek Brewing's wooden beer cooler brings the nice to ice. Handmade from rustic pine this igloo keeps up to six bottles or cans cold as a winter day for your trek into the woods, house party, or halftime refreshment. Pro tip: Shell out an extra $3 to engrave a bottle opener into the handle. We would hate for you to hike up a mountain only to sit around a bonfire brewless because you forgot your pocket knife.
Dimensions: 13" x 11.5" x 8.5"
Capacity: 6 bottles/cans
Merry Garden Cooler Picnic Table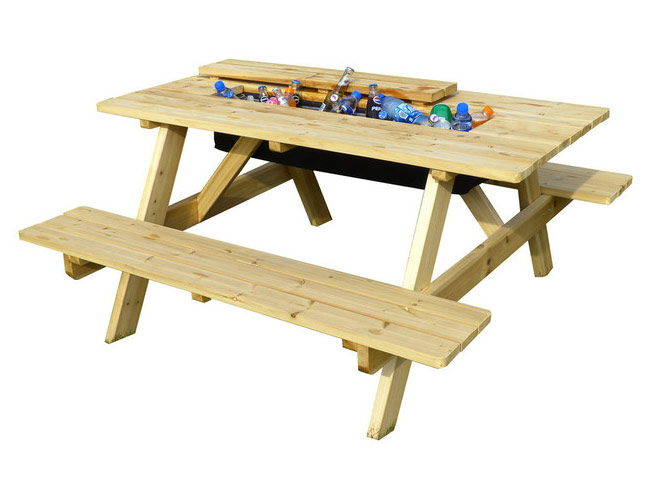 You'll never have to leave the backyard to grab a beer again. Actually, you'll never even have to leave the table. Combining two of your favorite summer pastimes – drinking and barbecuing – the Merry Garden Cooler Picnic Table converts your common patio furniture into a functioning fridge. Made from durable Canadian Hemlock, this outdoor ensemble can rough the harshest, hottest climate while keeping your beer cozy and cool. Carved out in the middle of the table this cooler centerpiece features a drain plug to empty your inset igloo at the end of the day without hassle. Fire up the grill, cool down the beer and invite all your friends to gather around this genius hybrid invention all summer long.
Dimensions: 60.04" x 60/04" x 28.74"
Weight: 70.55lbs
Capacity: 24 beverages
Ryobi Air Conditioning Cooler
What do beer and people have in common? In the heat we both sweat. Ryobi doesn't want you or your beer to lose a drop. Help keep your beers arctic in a cooler that takes its name all the way to the North Pole. Featuring Ryobi's top-of-the-line technology, this air-conditioned 50qt cooler uses ONE+ batteries to literally cool itself. Not only icy enough for your beer, but also for your buddies this beer carrier includes an additional vent for human cool downs.
Dimensions: 18" x 30" x 20"
Weight: 35lbs
Capacity: 50qt
Igloo Trailmate Journey Cooler
Consider this the armored tank of all beer coolers. Reliable, dependable, and reinforced, Igloo built this traveling cooler to endure all of your wildest adventures. Created for all terrain the Igloo Trailmate Journey can help your cans survive from sandy beaches and snowy forests to dirt trails and asphalt parking lots. The Ultratherm® Technology seals in the cold for 112 – 12oz beverage cans while the oversized wheels welcome rough roads ahead. An additional butler tray with cupholders can be used for storing and serving while bottle openers on both sides ensure you'll never worry about a sealed beer.
Dimensions: 34.59" x 19.7" x 23.61"
Weight: 34.7lbs
Capacity: 112 12oz cans
YETI Hopper TWO Portable Cooler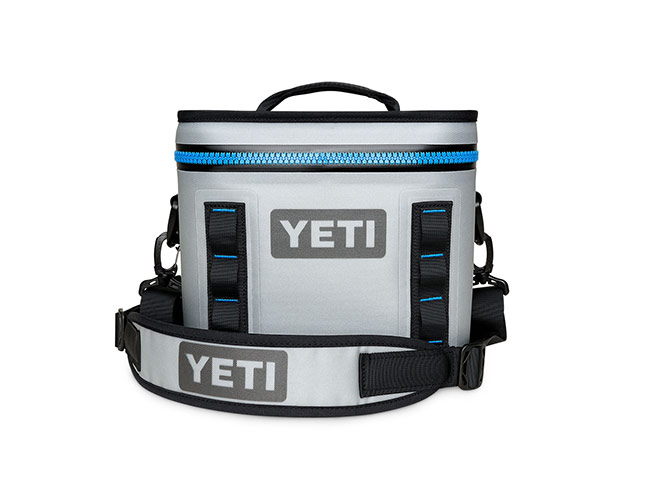 An authority on beer coolers, YETI proves once again that their iceboxes lead the pack. One of our writers spent 6 weeks trying to hate the Hopper and couldn't do it. Well-built and easy-to-carry, YETI's new Hopper TWO employs a leakproof HydroLok Zipper, ColdCell insulation and puncture-proof DryHide Shell. You can tote and showboat up to 20 cans of frosty beer without a drip or a drop. Using the same material found in HazMat suits and whitewater rafts, this beverage container earns its stripes as soft yet rugged. It's like a grizzly bear… or a yeti.
Dimensions: Starts at 16.5″ x 24.5″ x 12.5″
Weight: Starts at 6 lbs
Capacity: 20 quarts and up
ICEMULE Boss Backpack Cooler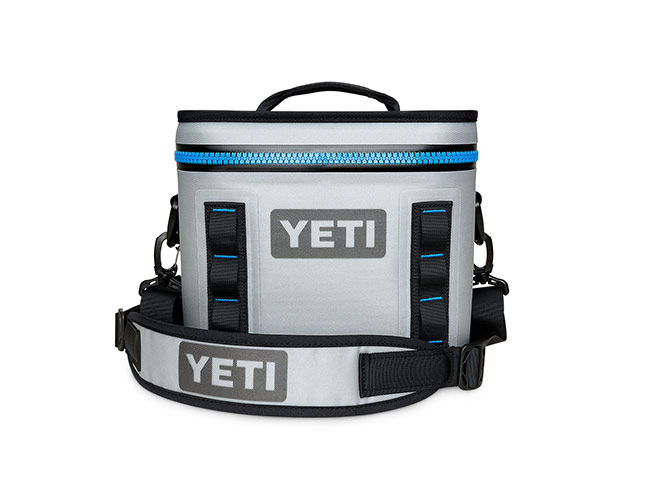 The ultimate in beer backpacking, ICEMULE carries your cold ones into any types of wilderness. Whether you hike 20 or 100 miles, your brews won't lose an ounce of frostiness. Also one of our best gifts for the adventurous beer drinker, this cooler is waterproof, sinkproof, and hassleproof.
The BOSS uses a suspension system that includes ventilated airmesh back pads and carrying straps for easy loading and carrying, easily making it one of the best beer coolers. To achieve peak polar temps ICEMULE surrounds your cans with closed-cell PolayLayer XT™ Insulation for multi-day fridge-like conditions on your back. So go ahead: traverse any trail, paddle any river, or bike down any mountain. The ICEMULE Boss Backpack Cooler will keep your beer icy.
Dimensions: 11" x 24" x 17"
Weight: 5lbs
Capacity: 24 cans + ice
eCool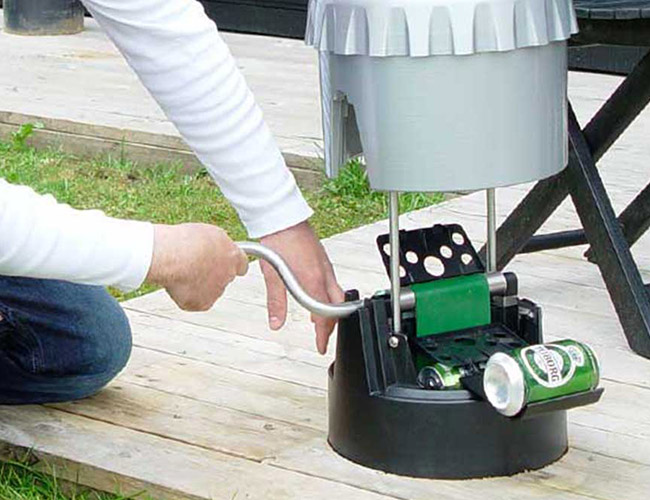 Take cooling beer down to the next level. This proprietary subterranean "earth cooler" uses the naturally chilled conditions underground to store your brews. No ice, no outlets, no energy lost. To retrieve from your environmentally-friendly fridge simply pop the top and twist the crank to raise the cylinder. Created by four guys from Mors, a small island in northern Denmark, this revolutionary cooler uses cavemen technology to as they say on their website, "save the world, one earth cooled beer at a time." Join the refrigerator revolution!
Dimensions: 3.7'H x .72-.98'W
Weight: 26.5lbs
Capacity: 24 12oz cans
Sobro Cooler Coffee Table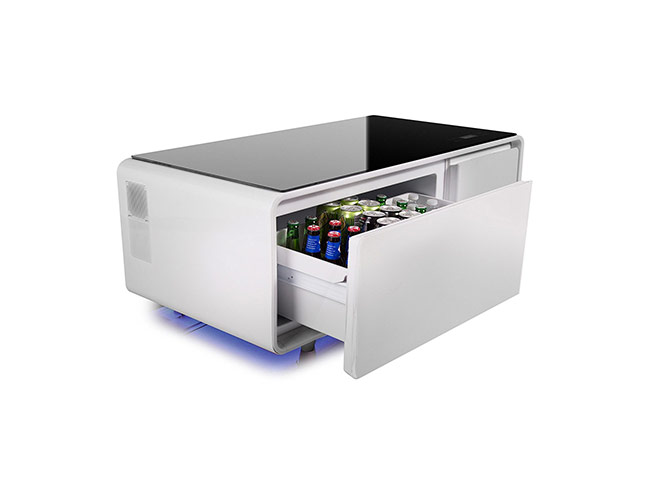 If Captain Kirk on the Starship Enterprise had an office we imagine he might use goods like this one. Part spaceship, part cockpit console, part cooler, and all kickass, the Sobro Cooler Coffee Table has everything. Charge your portables, play music out of the Bluetooth speakers, connect to your TV, and insulate 64 of your gameday, Game of Thrones bingeing, or game night ales. With a pull out fridge drawer, your tucked in tinctures stay as glacial as a night in Winterfell. Never miss a touchdown or a main character dying again. Beam me up Sobro!
Dimensions: 23" x 43" x 17.5"
Weight: Unavailable
Capacity: Approximately 64 bottles