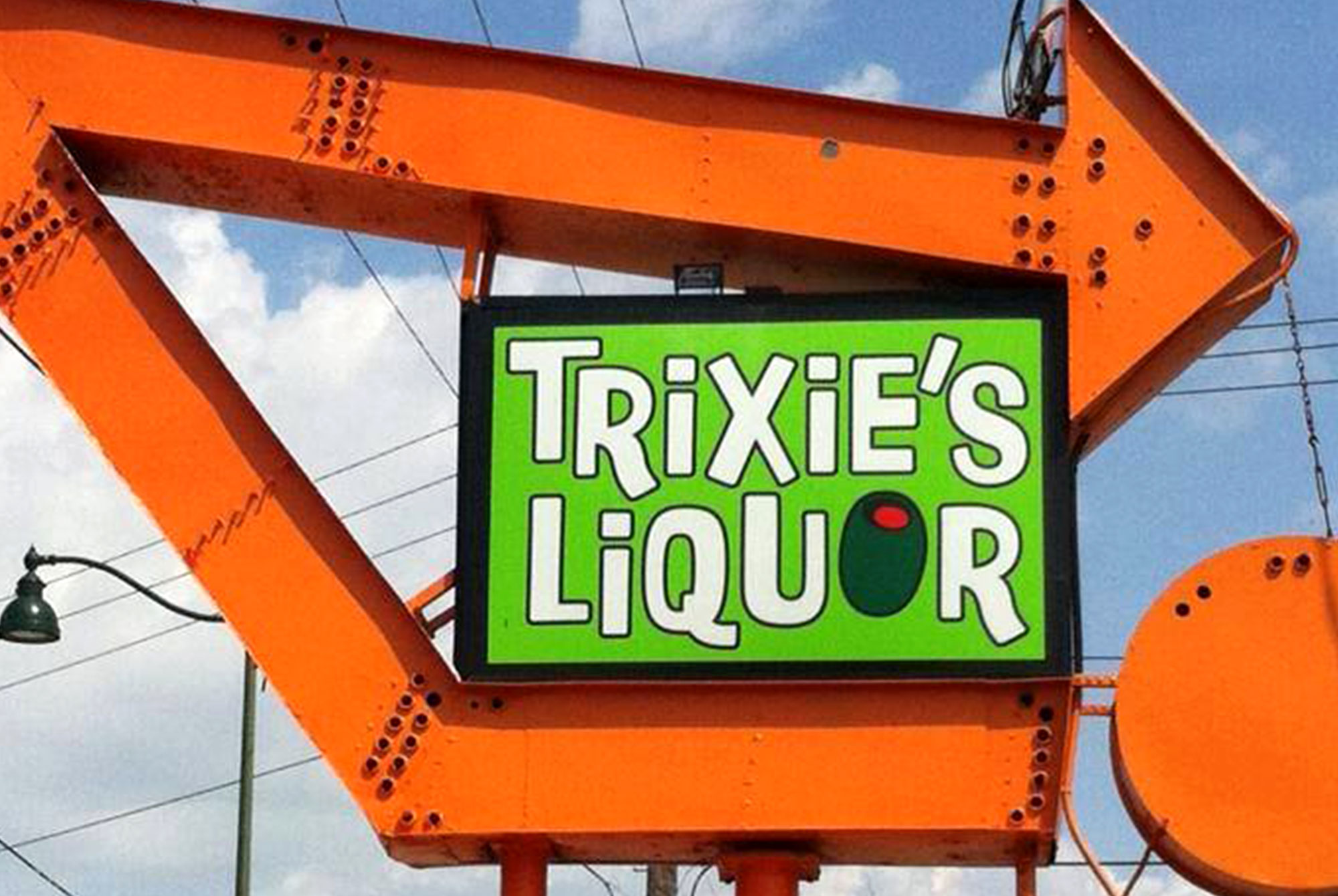 In the last 5 years, Madison's liquor store and bottle shop scene has vastly improved. Our favorite aspect of the metamorphosis? The arrival of bottle shops where you can not only buy the latest releases, but get a great pour, too.
A couple of the city's best spots offer this, so we give them a shout out. But we'd be remiss if we didn't give some credit to the classic places that still pull in the best beers in town.
Trixie's Liquor
2929 E Washington Ave | (608) 442-5347
Their logo and signage is pretty off the wall. So is their beer selection.
The beer has been top notch for some time, but Trixie's kicked it up a notch when they opened their growler bar — the very first in Madison — a couple years back.
This means you can stop in, grab what you need (beer, wine, or liquor), and then sit at the bar and drink a beer. This, of course, harkens back to a deep (and, if you ask us, longed for) Wisconsin tradition: the tandem bar/liquor store combination.
Steve's University Avenue
3618 University Ave | (608) 233-6193
There are a couple Steve's locations in Madison, but the most convenient one for beer lovers is on University Avenue, not too far from the dive-y Blue Moon Bar and Grill.
Steve's always carries a top notch selection of what is now "run-of-the-mill" beer — for example, bottles of double dry hopped Pseudo Sue are always around these days, something for which many Madisonians would've killed a man only three years ago.
Additionally, Steve's has a way of unearthing gems from the cellar without warning (e.g. some old-ish Central Waters Bourbon Barrel Stout). That variable reward keeps us coming back.
BarleyPop Tap & Shop
2045 Atwood Ave #107 | (608) 422-5433
A new spot in the heart of the hip Atwood neighborhood. One thing you can definitely say about it: it's austerely pretty. Beautiful new refrigerators, perfectly-ordered cement shelving, a brand new bar, and sleek TVS above the stainless steel tap handles. The place is new, and obviously so.
Still, it more than holds its own. Those refrigerators and shelves always display great beer, recently serving up as much Half Acre Double Daisy Cutter and Vallejo as you could carry.
One final bonus: like Trixie's, Barleypop also has a bar, meaning you can grab the beers you want from the cooler then drink a beer before taking off.
Jenifer Street Market
2038 Jenifer St | (608) 244-6646
Jenifer Street Market is an anomaly.
Though it's a grocery store that's been around for decades, it only started accepting credit card payments last year. And while large grocery chains open more new locations around town, this small spot continues to thrive.
It's beer selection probably has something to do with that. It reliably gets all the top releases — Barrel Aged Darkness, Abraxas, etc. — but the folks at Jenny Street also make sure to take care of the simpler man. When you walk through those beer cooler doors (don't worry — they've got a windbreaker you can borrow while browsing), you can always walk straight to the southeast corner and grab a 12-pack of Leinenkugel's Original.
Woodman's East
3817 Milwaukee St | (608) 244-6630
The previous entry — Jenifer Street Market — is a small, quaint local grocery store.
Woodman's is enormous. To put it in perspective, the last time I visited Woodman's, I needed butter. I found the butter section and, to my shock, the two ends of the butter section were further apart than any two items in Jenifer Street Market.
So, you won't enjoy the quaint feel of a local grocery store while you're inside Woodman's. But you will benefit from a massive amount of beer, a good portion of which is excellent and not easy to find. You'll probably save a few bucks, too.