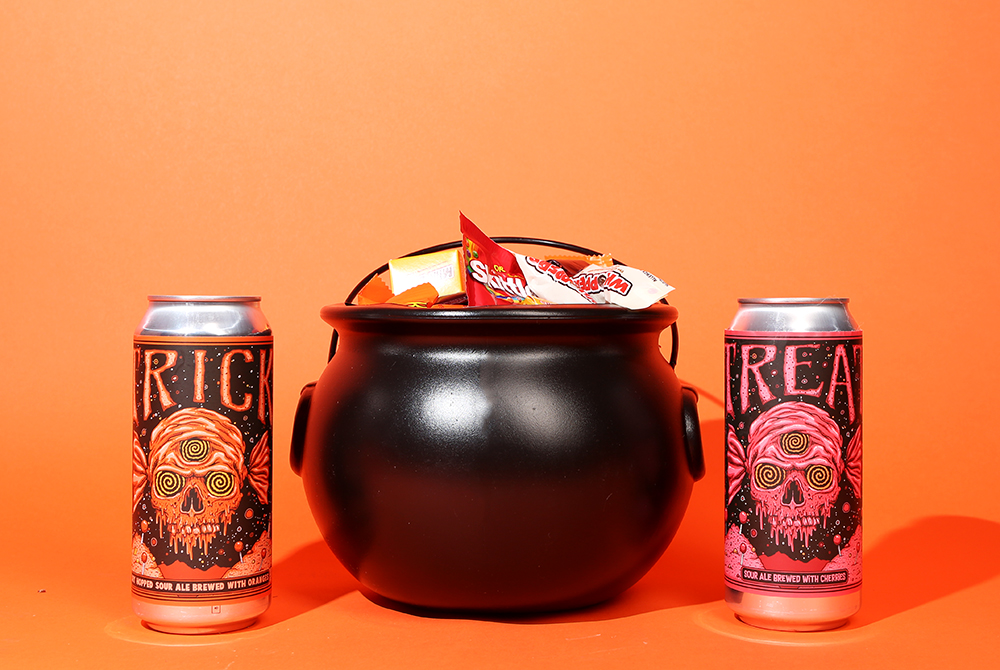 Editor's Note:
Every week we round up the five best beers we tried that week. Have a recommendation? A beer we absolutely need to try? Email us at hello@hopculture.com with your pick.
Happy belated Halloween! We hope you all enjoyed your spooky time with more treats than tricks. We celebrated Halloween with another edition of our Spooky Brews craft beer festival. We had a blast partying in Boston with great beer and some fantastic costumes. (Props to a few of our favorites: "Between Two Ferns," Fred My Leg, and Divine Barrel's own Fat Thor.)
In addition to all the amazing beers we had at Spooky Brews (The Universe is a Donut and Jagged Little Pils were a couple of standouts), we enjoyed some other beers at Hop Culture HQ leading up to the fest. These are five of the best beers we drank from October 28th to November 4th.
Colossus Awakes
TrimTab Brewing Co. — Birmingham, AL
Triple New England IPA — With a name that sounded straight out of a Tolkien book, I knew I was in for something special. Colossus Awakes was a hefty triple IPA at 10% but at no point did it feel overwhelming. The passionfruit added a tropical punch on top of the Citra and Mosaic hops. It definitely had a summertime vibe but I had no problem enjoying a glass of this at the end of October.
Treat
Heavy Seas Beer — Baltimore, MD
Fruited Sour — The Trick or Treat pair from Heavy Seas was a fun, spooky surprise from the Baltimore-based brewery. Both beers were tasty homages to sweet Halloween fruit snacks, but I happened to enjoy Treat more. Treat had a healthy sour cherry pop as well as a slight candy sweetness to recall nostalgic sweet and sour Halloween treats.
Good Good
Separatist Beer Project — Easton, PA
Double IPA — I mean, it says it in the name. This beer is good, good. I was blown away by Lifestyle, Separatist's crispy, crushable Kolsch, and this double IPA was no different. Good Good isn't particularly hazy, but it captures the citrus fruit notes found in well-regarded New England IPAs. Plus, you'll find a healthy amount of West Coast piney dankness that plays perfectly with the peach and orange East Coast flavors.
Rue'd Attitude
The Bruery — Placentia, CA
Imperial Porter — This was an explosive beer. Rue'd Attitude is a tart imperial porter from The Bruery featuring vanilla, sour cherries, and coffee. In worse hands, that combination could result in a near undrinkable concoction, but The Bruery managed to meld all the flavors together in a delicious–if not extreme–flavor experience. You'll find rich caramel, chocolate, and coffee notes as well as a tart fruit note. This is the kind of beer you'd bring to a huge, hearty meal around the holidays.
Schofferhofer Grapefruit
Radeberger Gruppe — Hessen, Germany
Radler — Our last pick is perhaps a controversial one. Schofferhofer might not be the most hyped brand in beer and radlers certainly aren't sexy, but I couldn't help drinking this beer. To be fair, it's more of a beer/juice hybrid with 50% Hefeweizen and 50% grapefruit juice, but I don't care. It was delicious and spritzy and something that I could enjoy all afternoon long. Drink on its own or get freaky with it and experiment with some radler cocktails. Amaro + Schofferhofer Grapefruit, anyone?
Liked this article? Sign up for our newsletter to get the best craft beer writing on the web delivered straight to your inbox.