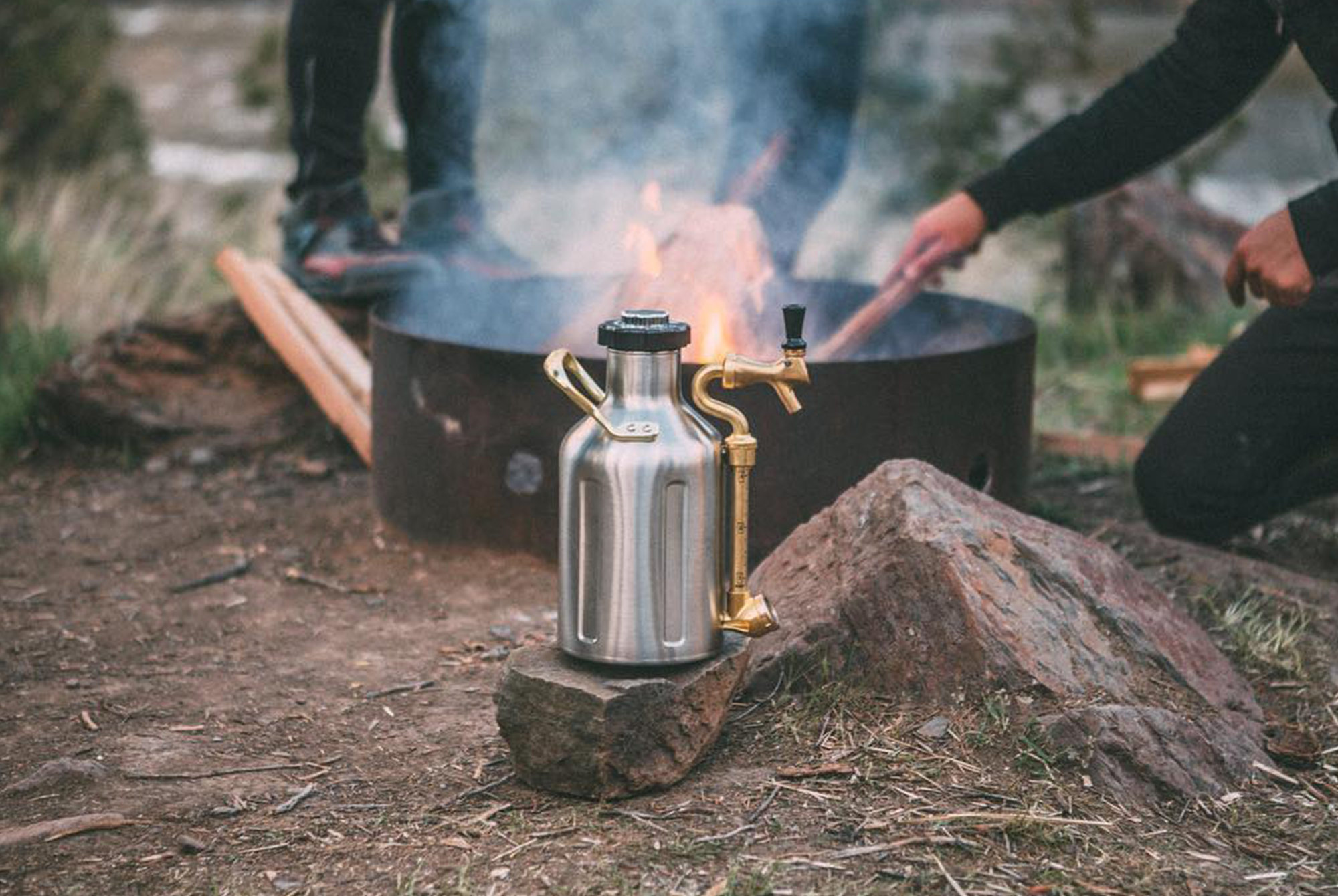 Summer is upon us, ladies and gentlemen. Proof? I'm writing this from the great state of Minnesota and it's 96 degrees. Good thing there are more than 10,000 lakes I can jump in.
Up in this neck of the woods, summer means getting outside and enjoying the great outdoors. Whether you're fishing, hiking, canoeing, trail running, or otherwise, the days are long, the weather good, and, after the long, dreary winter doldrums, you're finally free to let nature do what it does best: fill you back up.
So pack up a cooler full of beer, fill your uKeg with a fresh brew, grab a few friends, and hit the trail! Here's how I pair up beer with my favorite summertime activity: fishing.

The Best Beer for Pontoon Fishing
KCBC Intruders Attack
Brooklyn, NY
Leisure watercraft? I'm in.
My pontoon experience of choice comes on Sylvan Lake, a clear-as-heck body of water outside the humble hamlet of Pillager, MN. The pontoon that awaits me there is dubbed The Northwoods. It's a 31-year-old number, scarlet and white, that both looks and sounds its age. Still, she starts like a charm every time, and her 25 horsepower engine chugs along at a crisp 5 miles per hour.
That's just right for the pontoon lifestyle, which is all about leisure: cushy seating, a cooler full of beer, and some summer buds. You move fast enough to keep the bugs away but slow enough to consider the eagles and ospreys soaring above.
So, what to pair with this experience? I like to keep things interesting, so I chose a beer whose name feels the opposite of leisure, and this season there was nothing that beat KCBC's Intruders Attack. A loud name and a loud can, this NEIPA definitely does the job when you're taking your time reeling in your latest northern pike.
The Best Beer for the Fishing Boat
Fifth Hammer Llama Drama
Queens, NY
While there's a time and place for the pontoon when it's lunker time you need something that can get you in and out of tight spaces. Reeds, lily pads, and fallen trees are where the largemouth bass like to loiter, and you need something to get you within striking distance. Enter the more nimble fishing boat.
While you're casting your top water baits (my favorite is the Hula Popper), you need something to sip, and for me that something is Llama Drama from Fifth Hammer Brewing in Queens.
7.25% gives you more bang for your buck, which is key in a smaller boat (don't want a huge cooler).
The Best Beer for Fly Fishing
Karben 4 Fantasy Factory and Untitled Art Juicy IPA
Madison, WI + Waunakee, WI
The gentleman's fishing, fly fishing is a fantastic way to track down solitude. Casting a fly is a little more involved than casting with a typical spinning rod, so your mind stays shockingly trained on the matter at hand. You force yourself to unplug, and you also pull in some trout if you play your cards right.
When I go fly fishing, I'm often out for awhile, and that means I bring more than just one beer. When I'm on my home turf of south-central Wisconsin, the beers I choose are clear: Karben 4's Fantasy Factory and Untitled Art's Juicy IPA. They're fantastic local options, and what I like most about them is that they somehow remain tasty even after warming above the temperature where other IPAs start tasting foul.
The Best Beer for the Camp Fire
Central Waters Bourbon Barrel Stout
Amherst, WI
The largemouth bass you're going after are diurnal, so they're most active at dawn and dusk. That means that if you're doing things right, you've stayed out on the water until just about darkness, leaving no time to clean your fish. You dock the boat, shovel in some dinner, and head back outside for a campfire.
And when you're around the campfire you want a dark, rich, complex beer, and the right move is a Central Waters Bourbon Barrel Stout. It's deep and decadent, with just the right amount of bourbon notes–drink this one while you talk about the day's fishing.
The Best Beer for a Morning Pick-me-up
Fair State Brewing Mirror Universe
Minneapolis, MN
After an afternoon on the pontoon, an evening on the boat, and a night around the campfire, you might need a little help getting some morning momentum.
The cure for that is a Beermosa featuring Fair State Brewing Cooperative's Mirror Universe, the Twin Cities' best NEIPA. You're mixing cloudy juice with cloudy juice, so your head will wax clear as you're packing up the tackle box for your morning fishing outing.
The Best Beer for Fileting Your Fish
Leinenkugel's Original
Chippewa Falls, WI
This is a messy business. You've done your job reeling 'em in, and now you've got to perform the messiest of the four steps from lake to table: you've got to clean your fish.
I'll spare you fine readers the graphic details, but with the many strange scents you encounter while doing this, the last thing you want is a beer you've gotta think about.
That means your perfect beer is something simple. One of my favorites is Leinenkugel's Original. A basic lager, a throwback can, and an homage to my adopted home state of Wisconsin.
Editor's note: Leinenkugel's is owned by Molson Coors Brewing Company.
The Best Beer for Pairing with Fish
Grain Belt Premium
New Ulm, MN
In Minneapolis, they just flipped back on the historic riverside Grain Belt sign. Combine that with my father's proclivity for what he calls "Brain Melt," and the pairing makes perfect sense.
Cook your catch the way you like—fried, baked, or grilled—and dig in, taking swigs whenever you need. Because that's another positive thing about these classic domestics: you can drink 'em almost like water.
Liked this article? Sign up for our newsletter to get the best craft beer writing on the web delivered straight to your inbox.