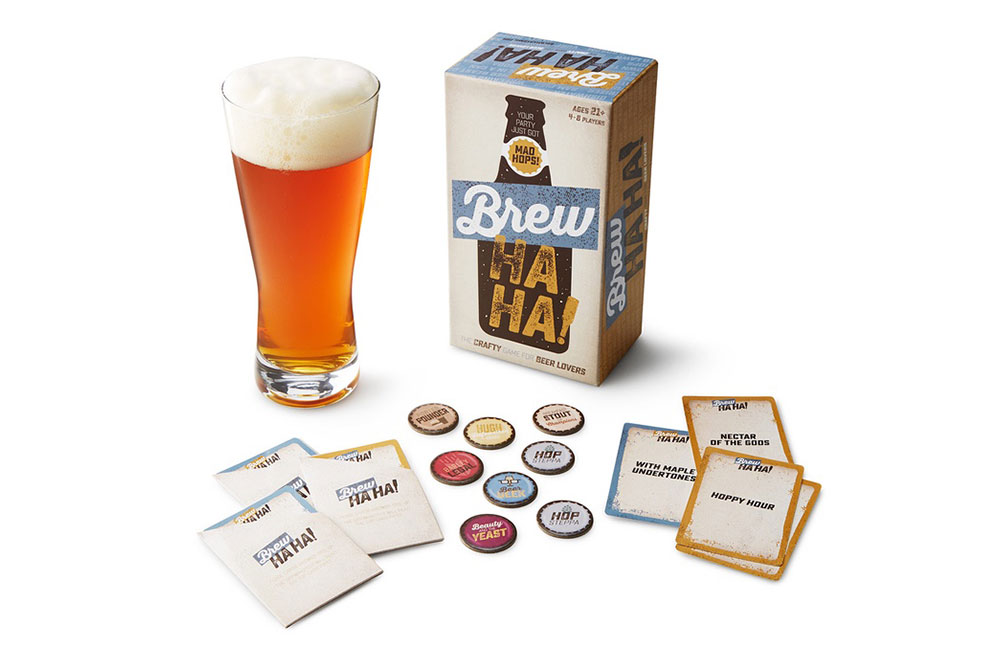 Let's face it: Most of the country is playing the admittedly adorable Sushi Go! and the devilishly fun Exploding Kittens while drinking a beer on the side. We're craft beer nerds, so we're passing our time with a little more drinking in mind. We found the five most insanely fun beer-themed board games that combine the best of both worlds, killing your boredom with two parts strategy and a heavy dose of alcohol. So order some beer from Tavour, stock up on our favorite beer snacks, and get ready to laugh and drink away your stay-at-home weekend.
Brew Ha Ha!
Number of Players: 4-8
Play time: 30-45 Minutes
What it's about: If Cards Against Humanity social-distanced with Mad Libs while ordering a tasting flight of beer you'd find yourself in a night of Brew Ha Ha! Players draw 8 cards, sample a beer, then use the cards to create a unique description of what they taste. During each round, the Brewmaster awards points for their favorite and most accurate descriptions.
Why we love it: This is a game that makes you try a ton of different beers. Our recommendation: Get your friends together, each order a box of 12 different beers from Tavour, and find time for a virtual Brew Ha Ha! You can see a few of our favorite beers available online right now.
Unlabeled: The Blind Beer Tasting Game
Number of Players: 2+
Play time: 30-90 Minutes
What it's about: Unlabeled is the name of the game. Each player brings one or two unlabeled beers to the virtual table. During each round players taste the hidden beer and attempt to identify the beer's characteristics and specific beer type. Points are awarded based on how accurately you can identify the "unlabeled" beer.
Why we love it: Testing your craft beer nerd IQ is key in this game. Do you have the chops to determine between an ale vs. a lager, a pale ale vs. an IPA, a hazy IPA vs a double IPA, and even the exact name of the beer and brewery? Order a six-pack of beers from Drizly (use code DRIZLYDEAL for $5 off your first order) and start testing yourself and your friends. We can't think of a better way to spend your time indoors.
Brew-Opoly
Number of Players: 2-6
Play time: 30-60 Minutes
What it's about: Imagine a Monopoly board that replaced Pennsylvania Railroad, New York Avenue, and Water Works with taprooms, bars, and brewpubs. While playing Brew-Opoly you buy or trade your favorite beers and increase property value by purchasing Brewpubs and Microbreweries for your monopolies.
Why we love it: Monopoly is a classic game, so a version geared to our craft beer affinities tickles our fancy. You'll need to exercise a ton of strategy to outwit your friends and family, so if tactics and game-plans are top-of-mind for you then Brew-Opoly is the one to play.
Bottlecap Darts
Number of Players: 2+
Play time: As long as you'd like
What it's about: Dartboards are staples in bars across the country. Since most bars are currently closed, Bottlecap Darts brings this classic game into your living room. And, of course, it takes everything one step further. Playing for drinks instead of points, you'll use the bottle cap shooter to aim for actions such as "Take a Drink", "Give a Drink", "Dare", and "Rule".
Why we love it: This is just pure fun. For this game, we're thinking of ordering a six pack of our favorite lager such as Upland Champagne Velvet or Revolution Rev Pils and setting up a little competition with our significant other or roommates. This is the game to buy once you're all puzzled out and just need a night of light-hearted enjoyment.
Nintendo Switch
Number of Players: 2+
Play time: Endless
What it's about: Gaming, gaming, and more gaming!
Why we love it: We know we're cheating here, but this is the ultimate home gaming system. Plus, it can connect you with your friends or other players around the country. It's like three systems in one, connecting to your TV, standing as its one in tabletop mode, and even morphing into handheld mode when we return to taking our games on the go. Battle it out online with classics like Mario Kart, Mario Tennis, and Super Smash Bros. Or, spend hours exploring the worlds of Breath of the Wild or Animal Crossing. We're looking forward to whiling away endless hours in our new virtual gaming world.
Liked this article? Sign up for our newsletter to get the best craft beer writing on the web delivered straight to your inbox.