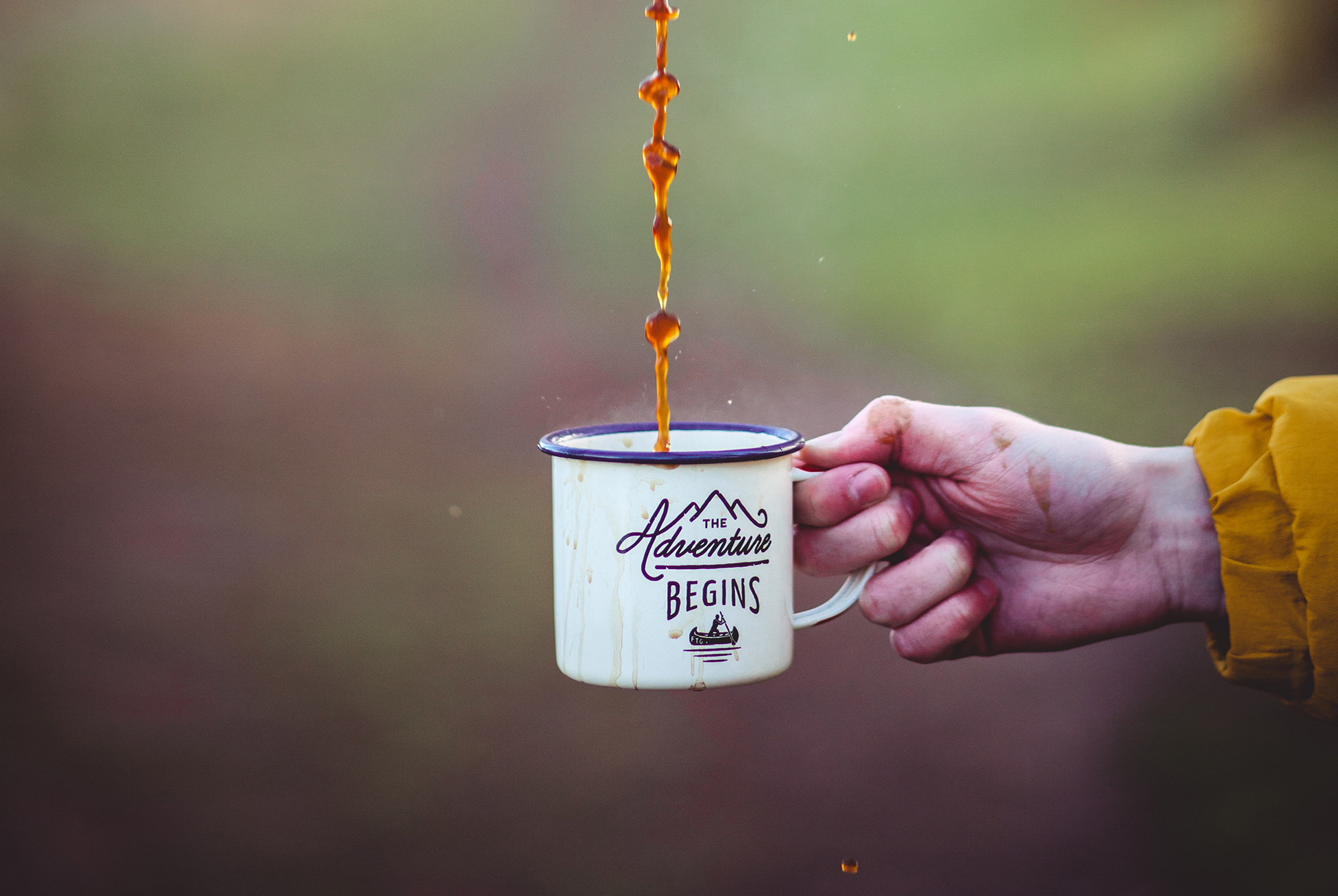 When you embark on a camping trip, you sacrifice quite a bit. Warmth, WiFi, the comfort of four walls. But while being outside certainly comes with advantages, it's not necessary to give up everything. Invest in a quality tent and sleeping bag and you'll sleep like a baby. A good backpack makes your adventure much more pleasant. Staying hydrated is a must. And if you have to pee in the middle of the night, why not make the job a little easier? (I'm talking about headlamps, people.)
In our opinion, perhaps the most important things to bring while camping are the drinks. Whether you're by yourself or with a group, lightweight, easy-to-store beverages make everything more fun. If you're looking for great beer to take on your outdoor adventure, hiking trip, we've got you covered. But when we say beverages, we're not just talking about beer. We're strong believers that every good camping trip needs good coffee.
Today, as part of our ongoing week of coffee (check out our other pieces here and here), we're here to help you brew a solid batch of camp coffee regardless of how far away you are from that Chemex. Below is a list of the best gear you'll need to make coffee while camping.
The Essential Coffee Camping Gear:
Aeropress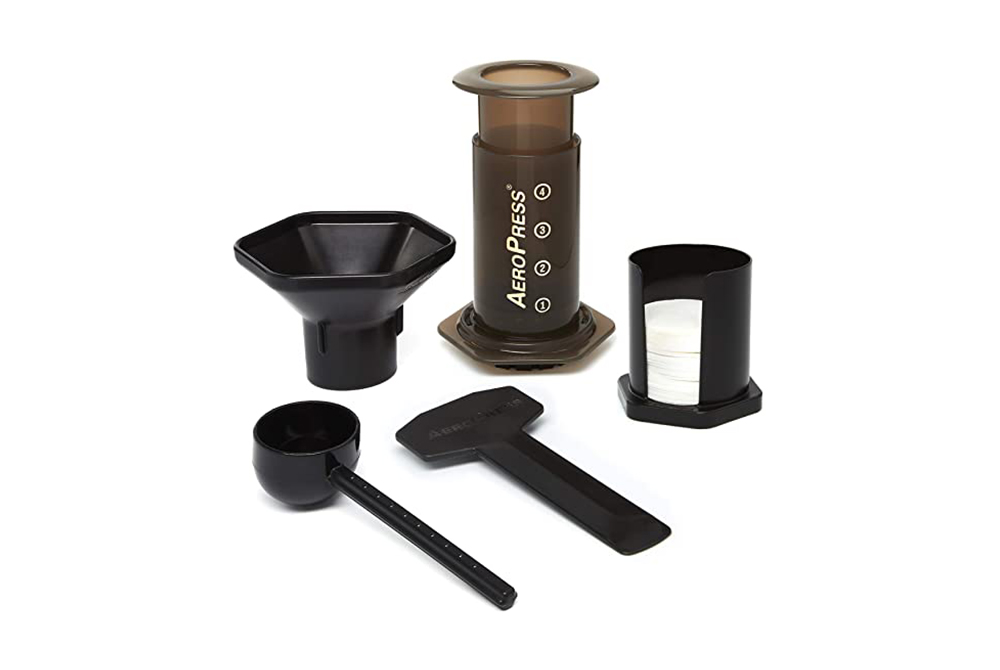 Experience the pleasure of French Press with you wherever you go. When it was introduced several years ago, the Aeropress quickly took the coffee world by storm. Lightweight and portable, this coffee maker is as functional in your kitchen as it is around a campfire. In order to make it work, you'll need a kettle (opt for the collapsible Sea-to-Summit kettle for backpacking or the aluminum GSI kettle for car camping) and either pre-ground coffee or a manual grinder and field drip. But the end result is a perfect cup of campfire coffee in under two minutes.
Faberware Classic Yosemite Percolator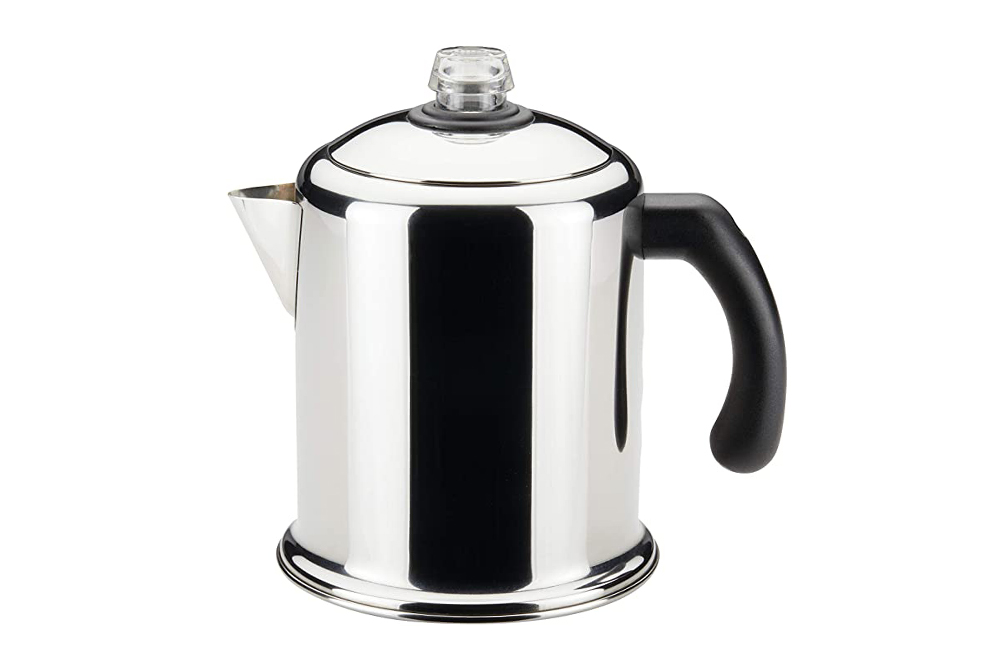 Faberware's stainless steel percolator is a classic for a reason. It's durable and convenient, and you won't need a separate kettle or pot for heating up your water. Camping with a group? The percolator makes an eight cup batch rather than a single mug's worth like the Aeropress. Still, it might deliver a cup of coffee that's just as precise and delicious. If you're camping on a budget, or with a large group, this old standby is worth bringing along.
Mount Hagen Instant Coffee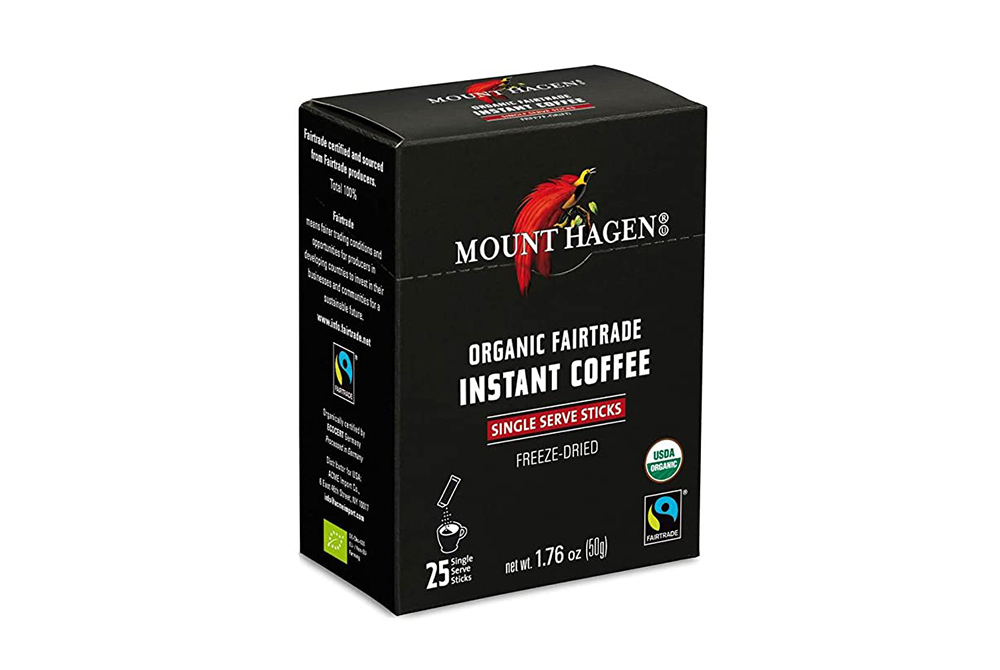 There's no shame in the wilderness. If all else fails, grab yourself some instant coffee. While it might feel like a downgrade, the minimal packaging and no leftover grains or filters makes instant coffee the preferred morning beverage for many a camper. For a bargain option, we'd recommend Kuju's Coffee Pocket PourOver ($6 for 5 cups of coffee) or Mount Hagen's organic coffees ($14 for 25 cups). But, if you're willing to splurge, opt for the Treeline GEO Pour Over or Voila, which has some downright fantastic branding. Add some instant coffee to your mug, pour in hot water, and sip. Regardless, of which coffee you choose pair it with these energy-packed Stroopwafels for the perfect start to your hike.
Buy Kuju's Coffee Pocket Now: $6 for 5 cups
Buy Mount Hagen Now: $14 for 25 cups
Snow Peak LiteMax Stove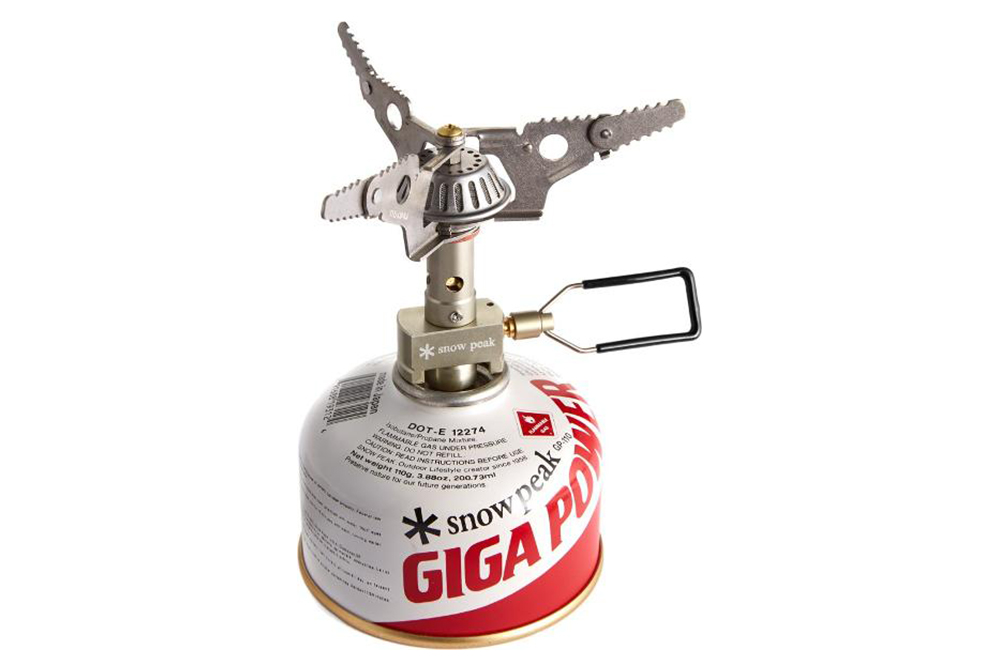 No matter the kind of coffee you're making, you'll need a heating source. Boost your wilderness cred by boiling your water over a roaring fire. Or, if you're like me, opt for a quality burner. This Snow Peak stove is light and portable, making it perfect for both backpacking and car camping trips. Plus, it's durable and will withstand whatever you happen to be cooking, as well as many trips into the wild.
REI Co-op Forest Camp Mug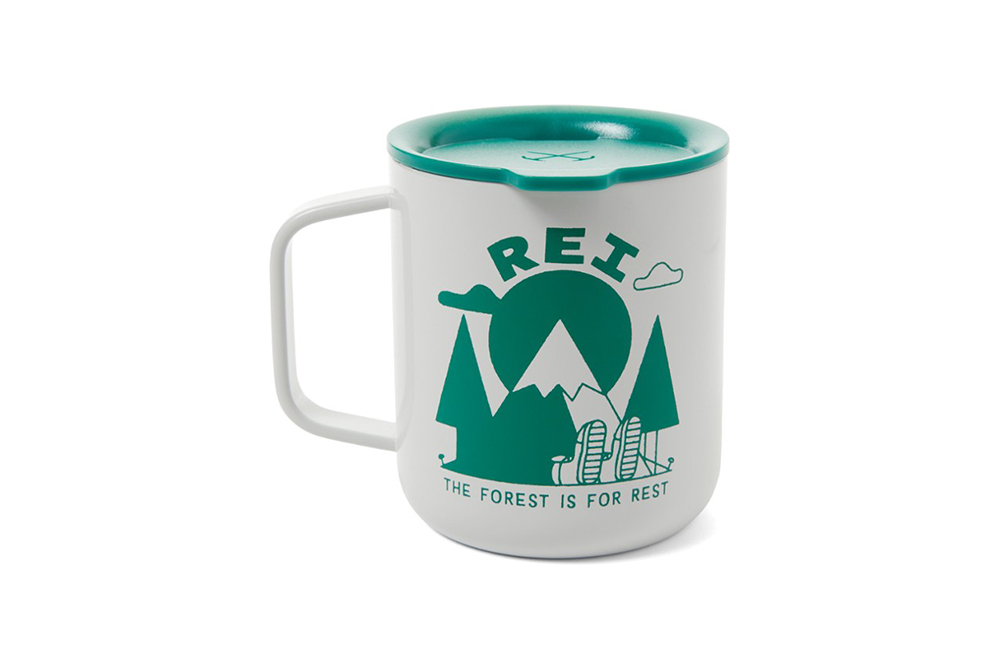 The camp mug is a timeless piece of drinkware. The enamel/steel, wide-mouthed, insulated mugs have taken on a life of their own and are easily identifiable. The Forest Camp Mug from the REI Co-op is among the most stylish and practical mugs we've seen. With any luck, you'll catch us sipping a freshly brewed cup of coffee in this mug in the Blue Ridge mountains this summer. Plus, at only 8 ounces, it shouldn't make a significant dent in your packing list. If you're looking to store a little bit more coffee for your upcoming hike try MiiR's Coffee Canister. The durable design and will take your coffee consumption to new heights.
Buy MiiR Coffee Canister Now: $30
Looking To Buy Coffee for Your Next Camping Trip?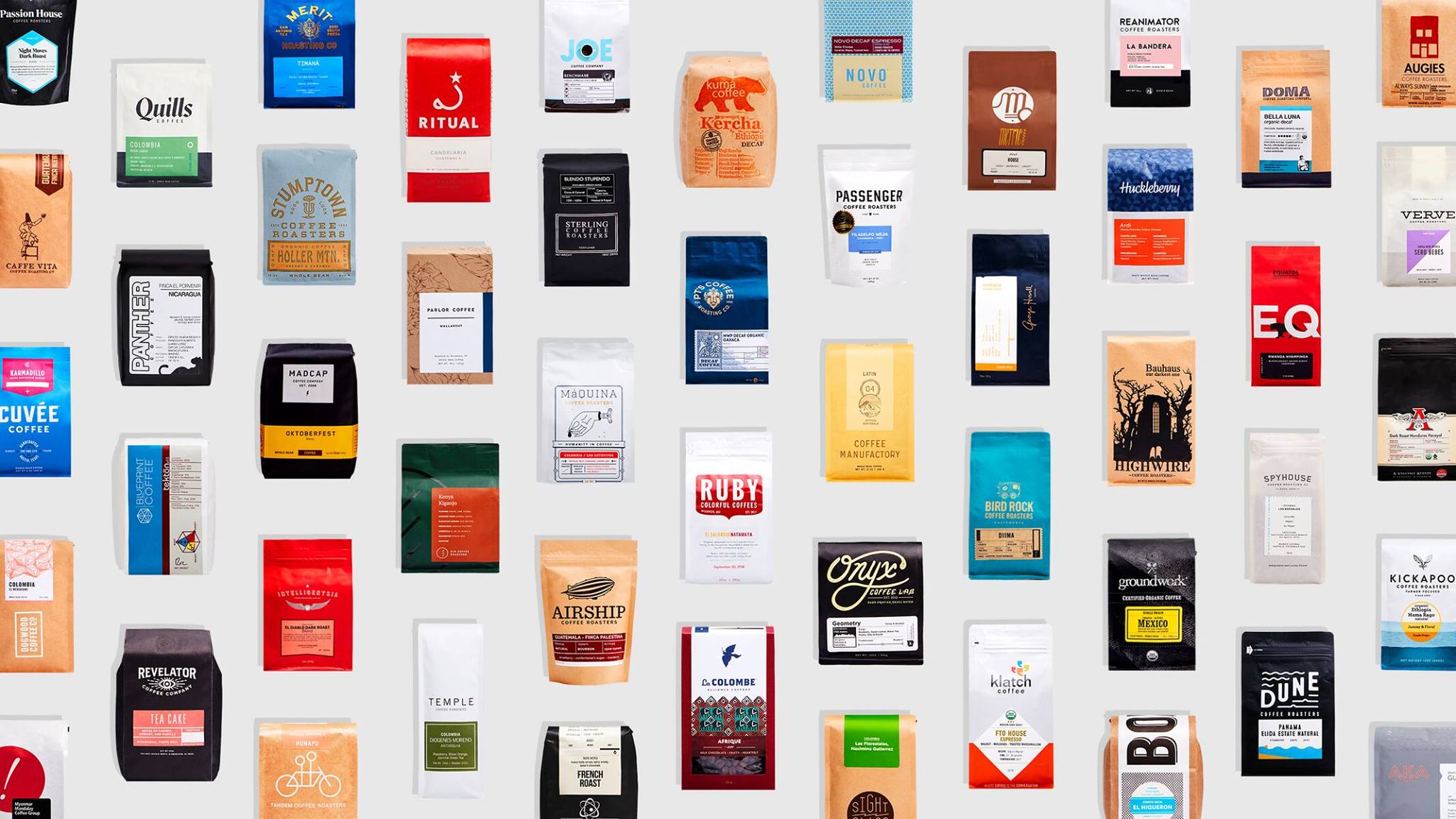 Our 6 Favorite Places to Buy Coffee Online
Unless otherwise noted, all of the products featured on Hop Culture are independently chosen by our editorial team. However, Hop Culture may earn a commission from purchases made through affiliate links on the site.
Liked this article? Sign up for our newsletter to get the best craft beer writing on the web delivered straight to your inbox.