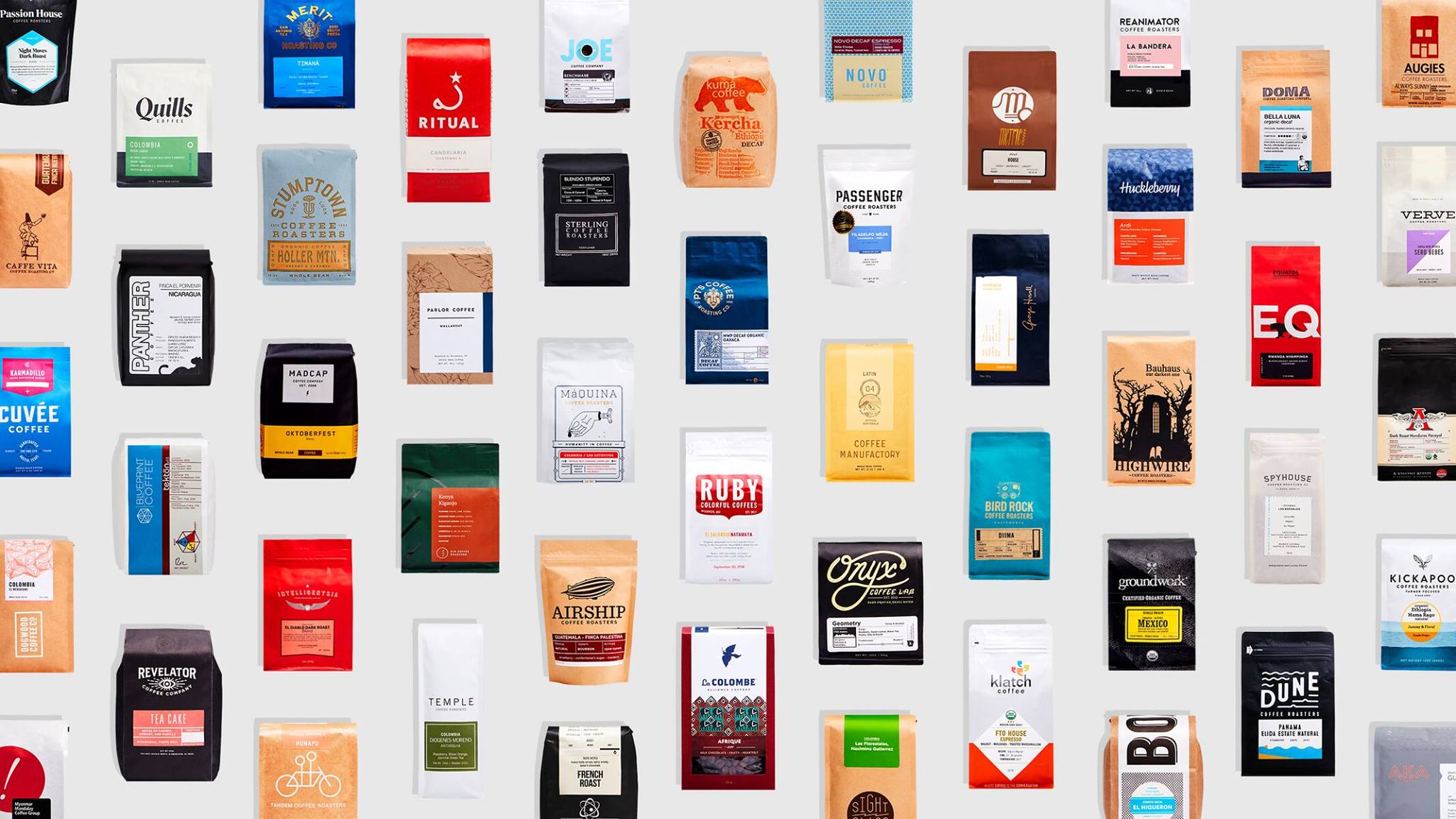 Image courtesy of Trade Coffee
Editor's Note:
We recently announced the launch of the Hop Culture Coffee Club, a monthly subscription service with coffee from six of our favorite breweries roasting coffee. Join the club here.
If we haven't made it abundantly clear, the Hop Culture team loves coffee. We have our preferred gear and our favorite roasters, and everyone on the team brews at least a cup every morning.
In an ideal world, we could walk down the street to our stellar local coffee roaster, pick up a big ol' bag of beans, and be set for a couple of weeks. But even when we're not in the midst of a global pandemic that keeps everyone indoors, great-tasting, ethically-sourced, locally-roasted coffee isn't always available a block away. Enter: the internet. With the power of the web and a little help from USPS, many of our favorite roasters offer coffee subscriptions that ship fresh coffee right to our door.
Several online vendors offer a diverse selection of fantastic coffee available for by-the-bag or as part of a rotating coffee subscription. Below, we've outlined seven of our favorite online coffee subscription services, plus a quick note on our own in-house coffee club.
The Best Places to Buy Coffee Online:
Phil & Sebastian Coffee Roasters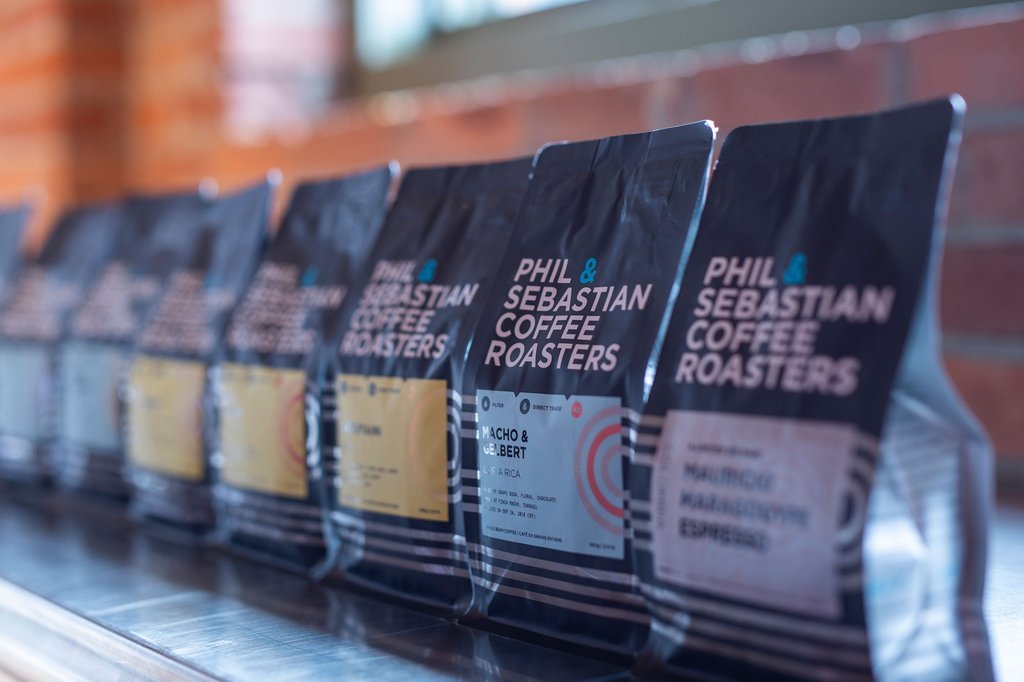 Phil & Sebastian is a boutique coffee roaster based in Calgary, Canada. Started by a couple of friends that met in a digital circuits class at the University of Calgary, Phil & Sebastian is probably one of the most craft coffee roasters on our list. 100% of their coffee is Direct Trade and their expert team relentlessly pursues the goal of growing, sourcing, and roasting the best coffee in the world. The company has been featured in the New York Times, the CBC, and the Lonely Planet's Global Coffee Guide. Despite being in Canada shipping is always free to the USA and they have an incredible deal going on that offers 50% off your first order with code SAVE50!
50% Off First Order with Code SAVE50
Trade Coffee
Trade is likely the most stylish and glossy pick on this list. The site offers a personalized quiz with questions that get into how you brew your coffee or whether you'd prefer something standard or unconventional. Then, it pairs you with an ideal bag that you can order on a recurring basis. The reason we implicitly trust their system is that Trade partners with a fantastic and diverse range of roasters from across the country like ReAnimator, Onyx, Tandem, and Merit. Additionally, for those wanting to shop around before settling on one bag of beans, you can select individual coffees in the Trade store.
Bean Box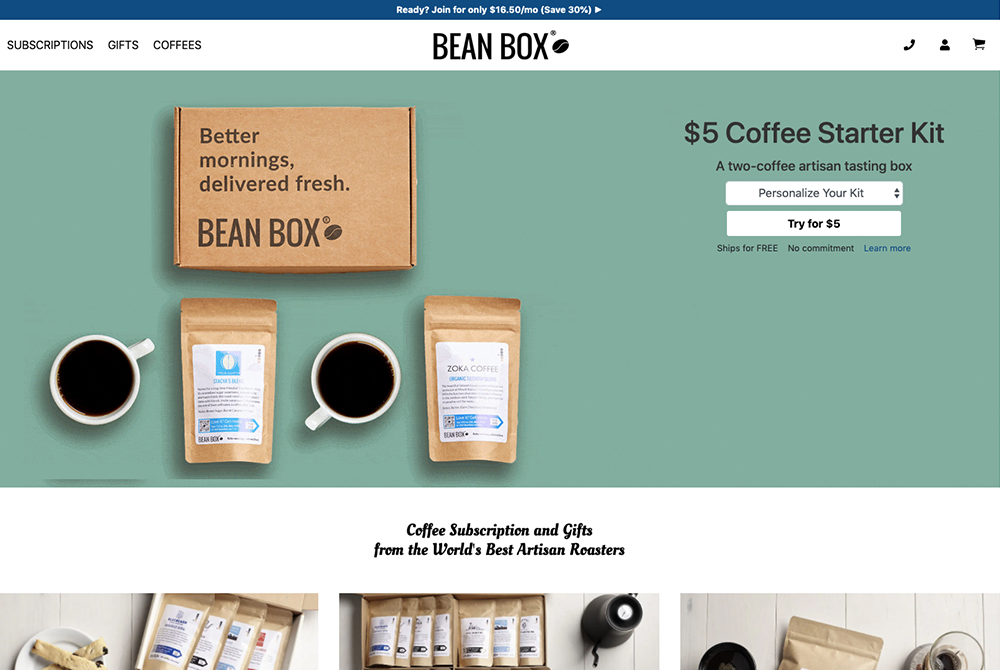 If you're looking for a more specific selection of craft coffee, check out Bean Box. At this Seattle-based coffee subscription service, you'll exclusively find the best Pacific Northwest roasteries like Stamp Act, Kuma, and Caffe Vita. There's not a ton of variability with their coffee subscription — you can choose either a "Coffee of the Month" or "Bean Box Sampler" — and you can't pick which coffee you'll be receiving. However, the Bean Box team are experts and will curate a delightful box to your specifications. Want whole beans? Ground beans? Decaf? Bean Box can help. If you're looking for more variety check out Bean Box's Deluxe Boxes such as the Hawaiian Coffee Tasting Box or World Coffee Tour Box.
Yonder Coffee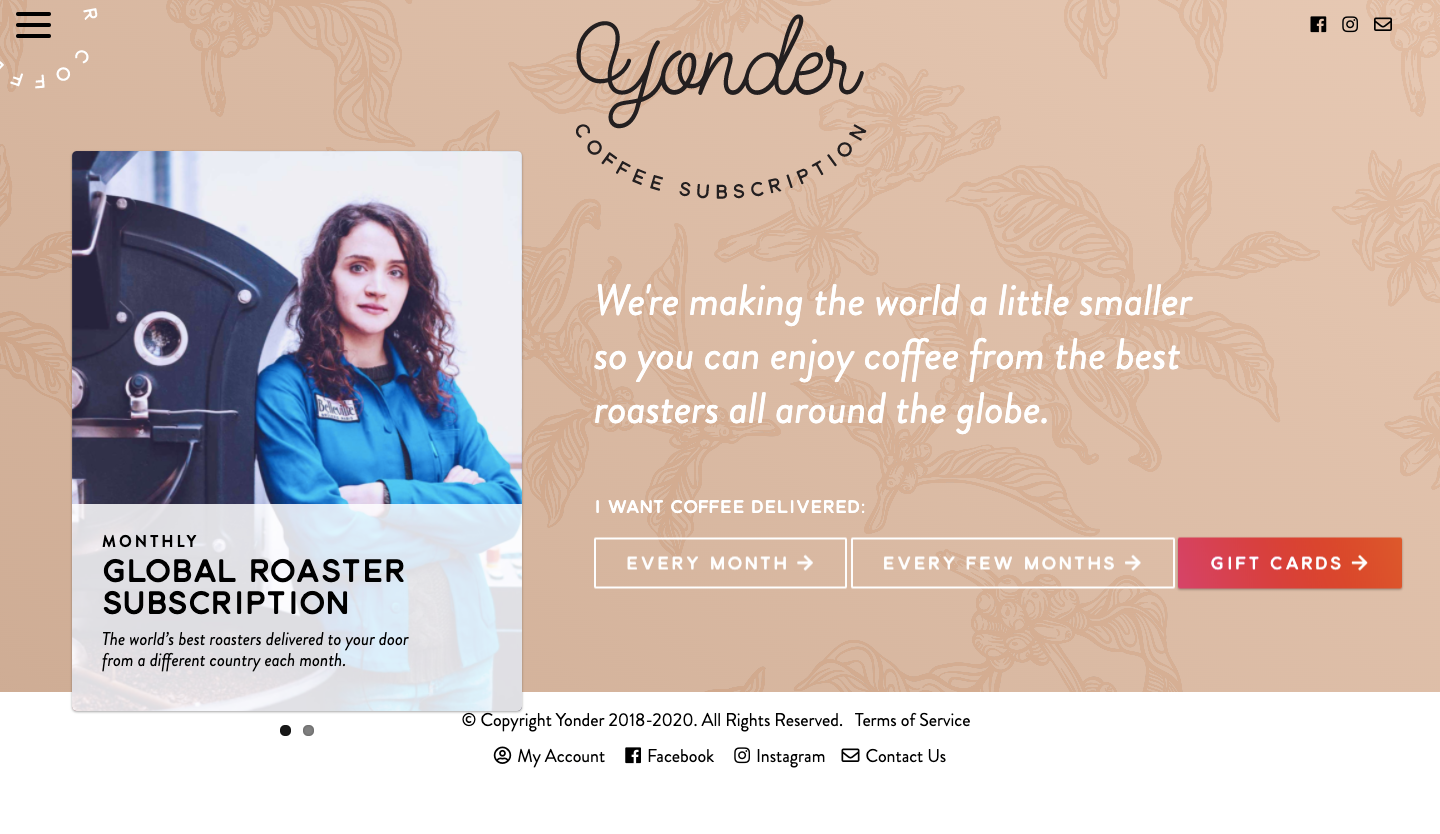 While our other picks focus on American roasteries, Yonder Coffee solely offers coffee from international roasteries. Yonder, founded by coffee aficionado (and friend of Hop Culture) Caleb Durham, gives attention to the global coffee community and brings the world's best beans right to your door. You can opt for a monthly subscription with up to four bags of coffee from new international roasters each month. Or, pick the quarterly "Producing Country" subscription which features roasteries in countries like Indonesia, Peru, and Honduras. We're hooking you up with an exclusive promo. Use the code HOPCULTURE when you sign up for 50% off your first month's order!
Sign Up With Code HOPCULTURE Now for 50% Off!
Cooper's Cask Coffee
What's so unique about Cooper's Cask Coffee is their dedication to pairing amazing coffee beans with award winning whiskey, rum, and even wine barrels. Cooper's barrel-ages all of their perfectly roasted beans. You can choose to sign up for a subscription or try one of their curated boxes such as the Bourbon Barrel Aged Coffee Box Set or Single Origin Coffee Box Set. Use coupon code HOP10 for 10% off your first order! Cooper's is a small batch New England coffee roaster producing big, bold barrel-aged beans.
Use coupon code HOP10 for 10% off!
MistoBox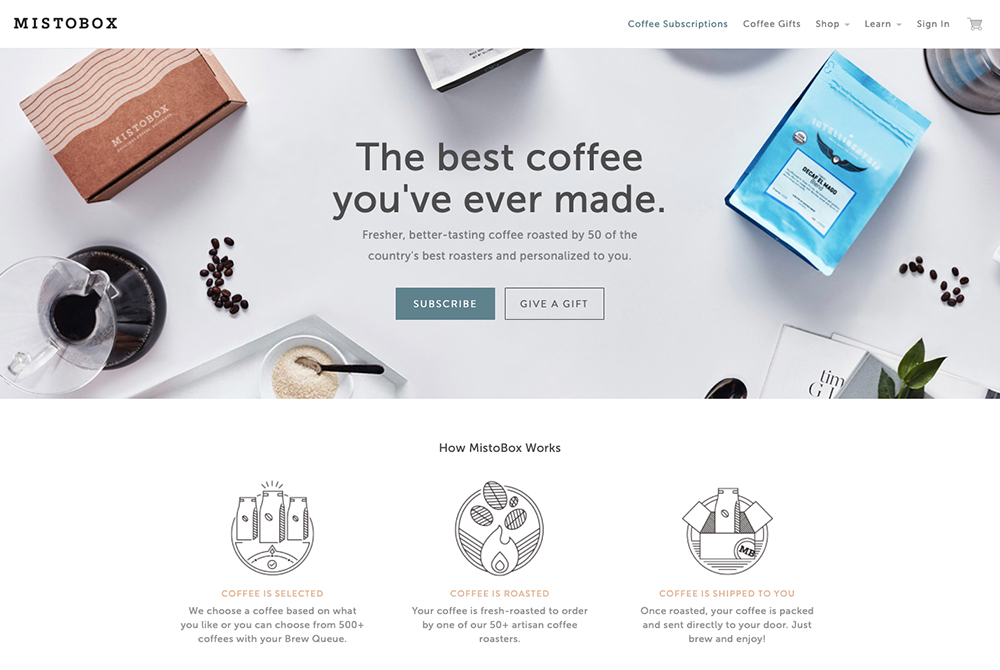 Similar to Trade coffee, a MistoBox subscription starts with a personalized quiz that matches you with your ideal coffee. But, MistoBox also offers the flexibility of choosing "Basic" or "Deluxe" tiers and paying as you go. They also offer discounts on bulk orders, and they pair with Alexa for a tech-friendly, voice-controlled coffee experience. While that might not be a game-changing feature, imagine being able to try your cup of coffee and simply say "Alexa, reorder." Is this the future? We're not sure. But, it's a lot of fun.
Press House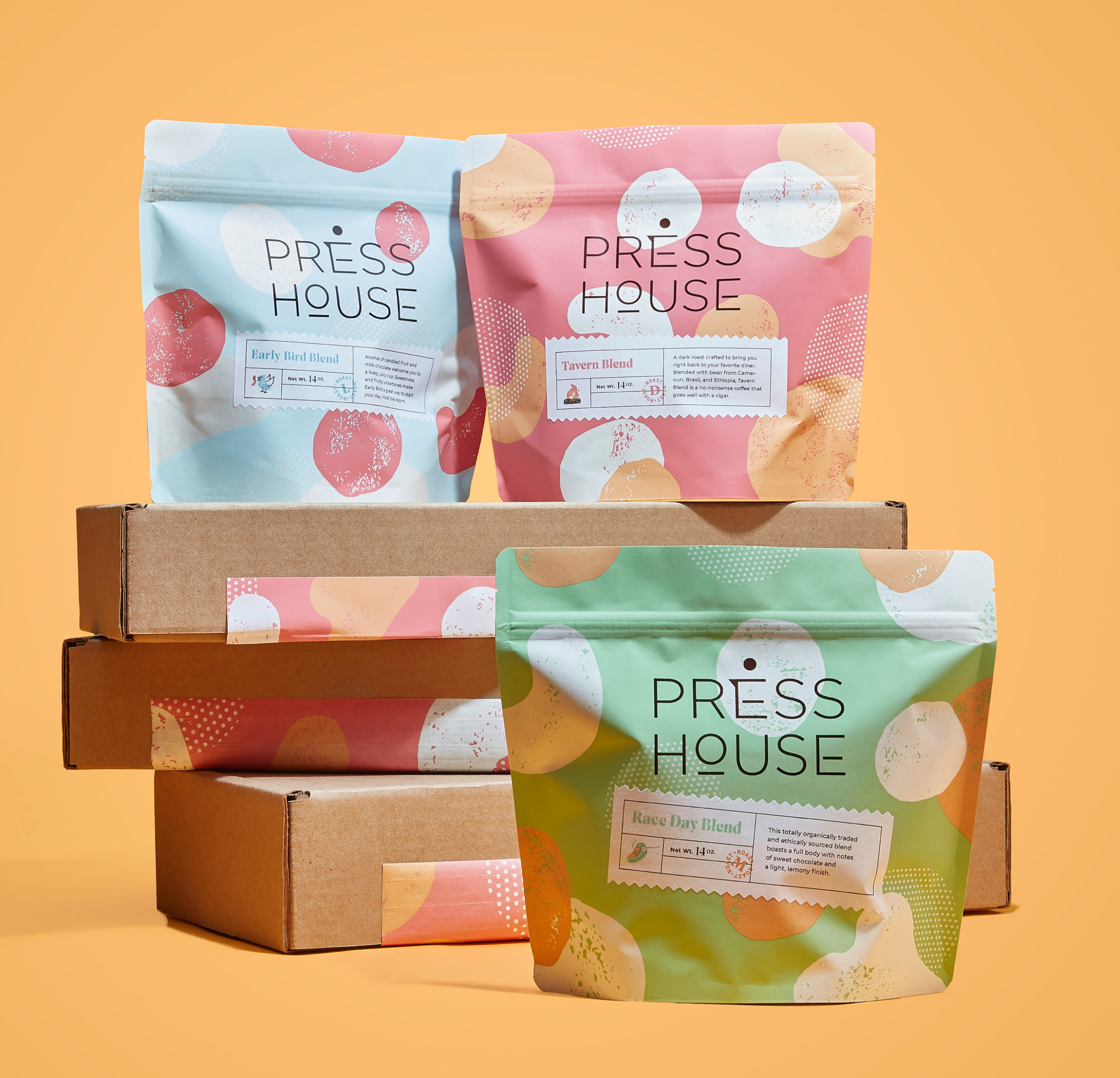 This is the craft coffee subscription for French Press fiends. The folks behind Press House, a Pittsburgh-based coffee roaster, are experts when it comes to the tried and true French Press method of brewing. Although you can opt for subscriptions with whole bean, espresso (ground), pour-over (ground), or french press (ground), their signature is the "Daily Grind," which includes 10 mini packets optimized for French Press. Although we were tantalized by Press House's stunning branding, it's the variety and customization that truly reeled us in.
Any of Press House's beautifully packaged coffees can be turned into a subscription, whether you'd like the Chillwave cold-brew coffee once a month or the Dream Spot espresso weekly. Not sure what to get? Let the roaster decide with the "Roaster's Choice." Or, go for the "One Bean, Three Ways," which is Press House's thesis on variability and how there isn't one "right" way to roast a coffee bean. Press House's coffee subscription is customization at its finest.
Crema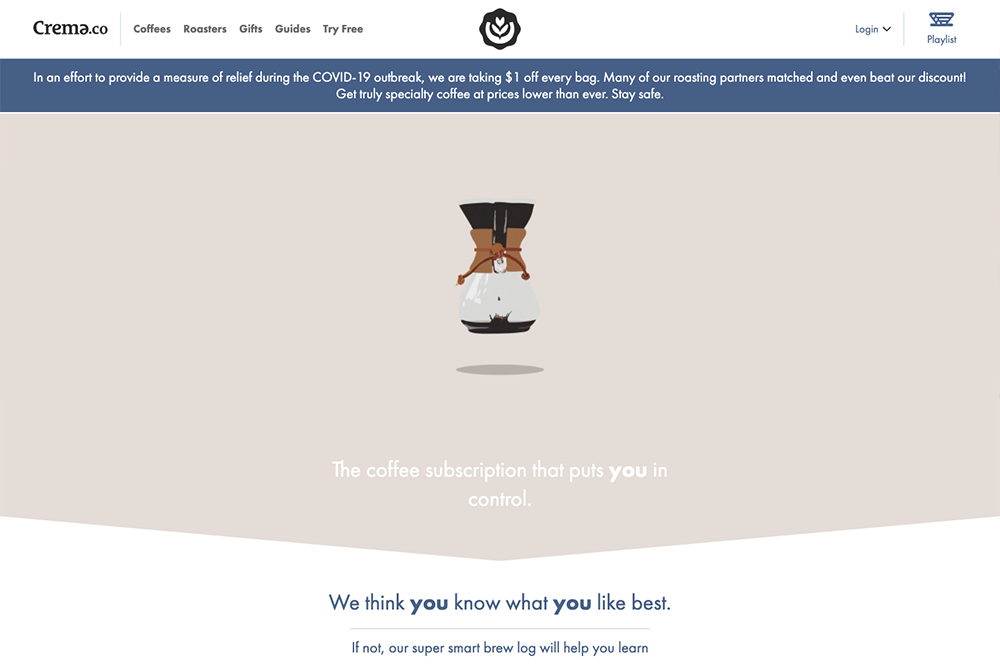 Like the other retailers on this list, Crema partners with the best of the best to offer premium coffee. We love the site's playlist feature, which allows you to pick the coffees you'd like to receive and then customize your delivery schedule. Think beer delivery service Tavour, but for coffee. You can have a single origin whole bean arriving every five days, a dark roast blend every two weeks, and an espresso once a month. And, when you're tired of one order but still want the others, press pause. It's easily the most customizable service of the bunch. Plus, sign up right now and Hop Culture fans get $5 off their first order!
Hop Culture Coffee Club
All right, a little self-promo. Starting today, Hop Culture is offering a subscription service shipping coffee from six of our favorite breweries that also roast coffee. Members of the Hop Culture Coffee Club will receive two freshly roasted 12 oz. bags every month for six months. Hit the link below to sign up.
Unless otherwise noted, all of the products featured on Hop Culture are independently chosen by our editorial team. However, Hop Culture may earn a commission from purchases made through affiliate links on the site.
Liked this article? Sign up for our newsletter to get the best craft beer writing on the web delivered straight to your inbox.