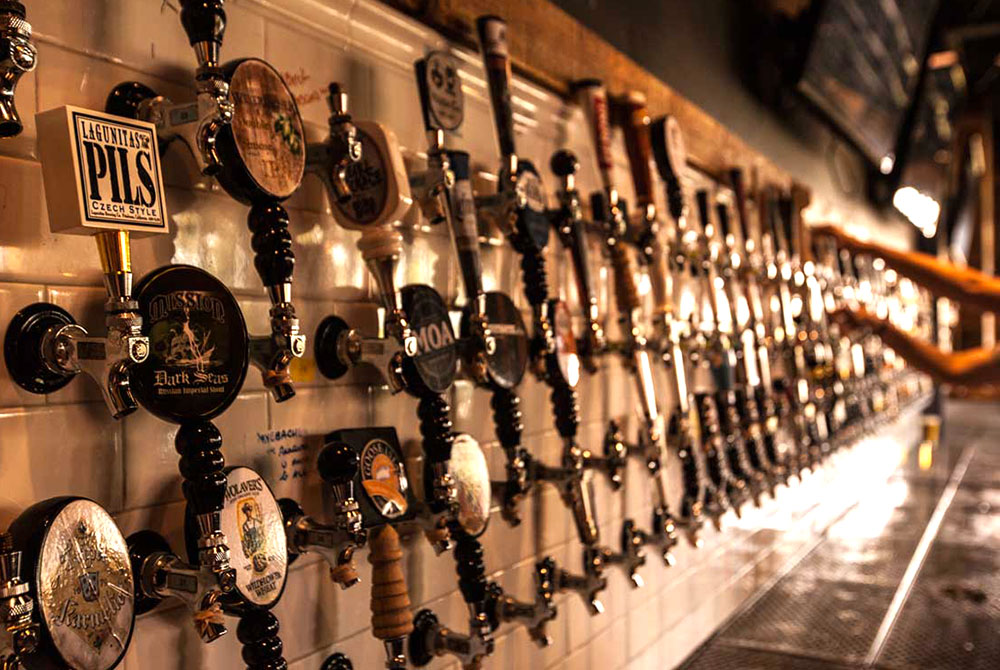 Editor's Note:
Want to drink some great beer in North Carolina? We're throwing a beer fest in Charlotte, NC on March 23rd. Get your tickets now!
North Carolina's Triangle of academic collaboration and research is more than just a conglomeration of the state's top universities—it's also a great place to drink beer! With beer bars that embrace any atmosphere you could imagine (as well as one bar which holds the world record for the largest number of taps), beer lovers of all backgrounds can always find a place in the Triangle to enjoy a pint with good company.
Raleigh Beer Garden
614 Glenwood Ave, Raleigh | (919) 324-3415
The beer selection here is just as impressive as the massive tree that rises through all three stories of this monster establishment housing 366 taps. Yes, you read that correctly. In fact, this is the largest selection of taps in the world! That title alone is enough reason to visit. Featuring local craft beers, a whole floor of the building dedicated to imports, and a separate bar entirely to enjoy your favorite spirits, there's no such thing as finding nothing you like here. Grab some eats, while you're at it, because you might want to stay awhile.
Milltown
307 East Main St, Carrboro | (919) 968-2460
Milltown, located in the funky and fun Carrboro, leans Belgian in its food and drink. Stop by for some frites and a beer or settle in for the evening with a burger and a bottle of something special from Belgium. On a warm day, we'd recommend sitting on the outdoor patio, but if you visit in the winter, warm up indoors.
Kotuku Surf Club
703 Rigsbee Ave, Durham | (919) 294-9661
Kotuku Surf Club, or simply "Surf Club," is an unassuming dive bar. There are only 12 taps, and Budweiser is always pouring through one of them, but you'll often find a great selection of craft beers from near and far. Plus, the Durham bar keeps an extensive stock of impressive large format bottles. It doesn't take frills to make a great beer bar–just intentionality. Surf Club is authentically itself.
Flying Saucer
328 W Morgan St, Raleigh | (919) 821-7401
The Flying Saucer is where beer-drinking legends come to impress, to socialize, and to thrive. Metal plates litter the ceiling from corner to corner, the collection itself just as dizzying as the number of beers you have to log at the venue in order to get your own name engraved on one of these cherished "saucers."
If you're playing a numbers game here, you'll be happy to know that the Flying Saucer boasts one of the largest numbers of taps in the area (81, if you're counting). Maybe it's not so hard to get your name on one of those coveted saucers after all.
Tyler's Tap Room
102 E Main St, Carrboro | (919) 929-6881
Fondly known as the "speakeasy" to locals, Tyler's is often where Carrboro beer lovers end up by the conclusion of their night's folly. I fondly remember spending a few days here during one winter season when I had lost power for the weekend—it really does feel that much like home! With some delicious eats on one side of the building and a lounge full of televisions, couches, chairs, board games, and great beer on the other side, Tyler's allows you the freedom to enjoy some quality beers in whatever environment you prefer.
Liked this article? Sign up for our newsletter to get the best craft beer writing on the web delivered straight to your inbox.