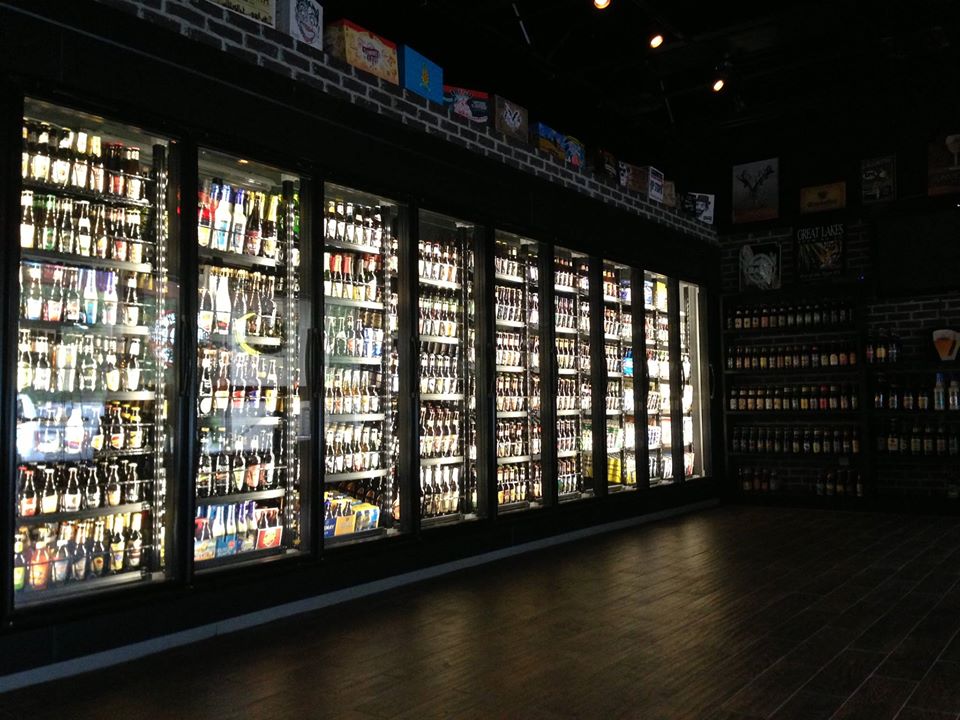 Photography courtesy of Hal's Bottle Shop
As the number of craft breweries in Allegheny County has risen, the traditional bottleshop has become obsolete. When you want a great craft beer, you can get something right from the source. And when you want something light and fizzy, you can pop over to any of Pittsburgh's beer distributors.
In order to stand out in 2020, a bottleshop needs to serve a different purpose. That's why Hal's Bottle Shop at 3225 Babcock Boulevard in Pittsburgh, Pennsylvania, gets Hop Culture's nod as the best bottleshop in Pittsburgh right now.
Craft Beer Education at Hal's Bottle Shop
If you're looking to begin your beer education, or even just find a specialty item, look no further than Hal's. When it comes to beer, Manager Danny Castriota is one of the city's great resources, exhibiting passion, knowledge, and patience in equal measures.
On Thursday nights, visit Hal's for free tastings. Typically, each event features up to five samplings from the same brewery, poured by someone with extensive knowledge of the product. And if you really want to take your education to the next level, join The Rare Beer Club.
The Rare Beer Club at Hal's Bottle Shop
Although the name makes the group sound exclusive, it's actually open to everyone. Think of a social club for people who enjoy really good beer. Members not only get to try the best of what Hal's has to offer, but the group often plans field trips to local and regional breweries. When something special comes in, club members can expect personal texts. And the fun continues online with a dedicated Facebook group.
The best part? Hal's Bottle Shop has a point system, with every rare beer you purchase equaling a point. As you make it up the ranks, you get gift cards and increasingly exclusive status. It's like Chuck E. Cheese, but for adults and minus the scary animatronics.
Although The Rare Beer Club typically gets first crack at specialty items, anything that the group doesn't drink gets put on the shelves, or on tap next door.
The Selection at Hal's Bottle Shop
DAMN. (That's all we need to say about that.)
Hal's clearly has a great relationship with Steel City Distribution, which gives them access to products not frequently found in Pittsburgh. Think Aslin, Fat Orange Cat, Ever Grain, Pizza Boy, Stillwater Artisanal, Horus. The bottleshop is also a great place to find products from local favorites like Shubrew, Four Points, Eleventh Hour, and Hitchhiker, among others. Their bottle list is a stamp of approval from some of the premier breweries in the country.
The Tap List at Hal's Bottle Shop
With over 600 bottles, there's little need for a draft system. However, Hal's Bottle Shop maintains six lines. Thursday is the aforementioned "Event Night," with samplings and rare draft tappings, as well as $3 off growlers and $2 off Imperials. It's a great place to gather with friends and try a variety of specialty products.
The draft list at Hal's Bottle Shop changes frequently, and you should expect plenty of variety with regards to style. As of writing, only one tap is pouring the near-ubiquitous Double IPA — they also have a white stout, a pale ale, a red ale, an IPA, and a porter.
The Food at Hal's Bottle Shop
Even if you're at the Bottle Shop, you can order food from the adjacent Hal's Bar and Grill. In addition to your standard Pittsburgh bar fare like pierogies and fried pickles, the grill offers sandwiches, pizzas, and wings. But trust us — you want the wings.
Does the grill have your mild-medium-hot sauces? Of course. But the creativity shown in the beer sourcing extends to the wings, meaning you can also order Fiery Raspberry, Garlic Herb, or even a Cinnamon Chipotle Dry Rub.
Bottom Line
While many bottleshops are going the way of the fax machine, Hal's provides a quintessential example of how a business can take advantage of quality, selection, personalization, and community to offer a wholly unique experience. We wholeheartedly endorse Hal's Bottle Shop as the Best Bottleshop in Pittsburgh, Pennsylvania right now.
Liked this article? Sign up for our newsletter to get the best craft beer writing on the web delivered straight to your inbox.