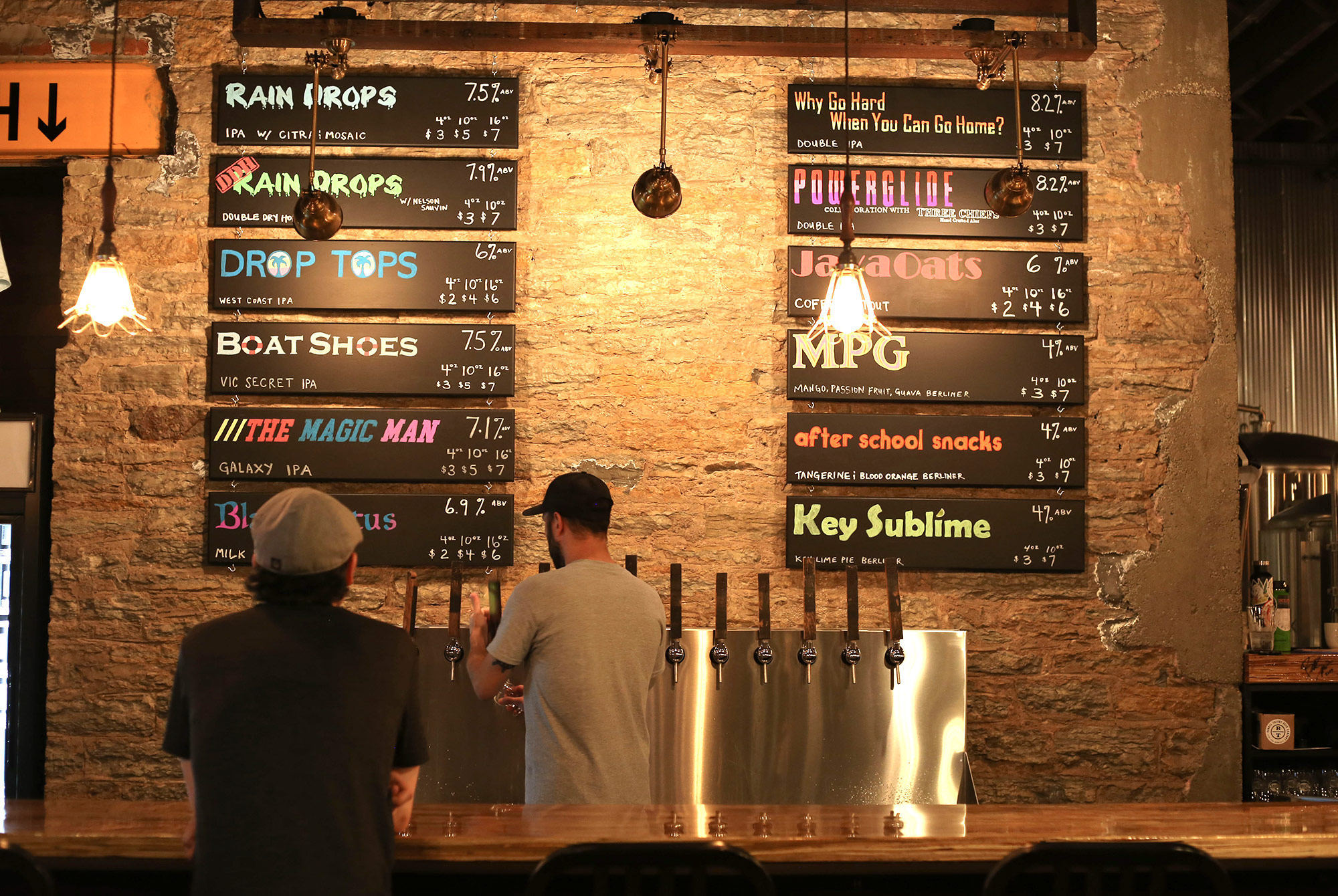 The state of Minnesota has a storied beer history. Schell's Brewing Co. is the second-oldest family-owned brewery in the nation, surviving the horror that was Prohibition. And Summit in St. Paul has been serving up damn fine lagers and ales since 1986, with its popular Extra Pale Ale winning six medals at the Great American Beer Festival in the last decade.
But it wasn't until the Surly Bill was signed into law in 2011 that Minnesota's beer scene really took off. Breweries in the Land of 10,000 Lakes could finally sell their own pints in their own taproom. And just like the numerous lakes Minnesotans pontoon on each summer, breweries and brewpubs have become ubiquitous.
The Twin Cities has earned a reputation as one of the best beer destinations in the country. Check below for our attempt at narrowing down the five best breweries in Minneapolis and St. Paul.
Barrel Theory Beer Co.
248 7th St E, St. Paul | 651-600-3422
Located in the Lowertown neighborhood of St. Paul, Barrel Theory does three things well: kettle soured Berliner Weiss-style ales with loads of fruit, adjunct stouts, and east-coast IPAs. The brewery has won some accolades recently, even being recognized as one of BeerAdvocate's 50 best new breweries in May. And it opened one year ago in June.
While the lineup leans heavily on the haze, Barrel Theory will eventually start releasing barrel-aged beers more consistently. Though many Twin Cities locals are quick to claim that Minneapolis is far cooler than St. Paul, Barrel Theory might prove them wrong. The brewery is also right by the St. Paul Saints baseball stadium, where fans have a chance to run into Saints co-owner Bill Murray (yes, that Bill Murray).
Fair State Brewing Cooperative
2506 Central Ave NE, Minneapolis | 612-444-3209
You won't often find a brewery that can make an immaculate flagship pilsner along with highly-lauded sour beers and hazy IPAs. Fair State not only does that, but it also jumps at the chance to be bold and brew beers like Lichtenhainer, a barrel-fermented smoked-malt sour wheat.
Head brewer Niko Tonks may poke fun at the haze craze on social media, but Fair State's Spirit Foul collaboration with Modern Times Beer is one of the most highly regarded hazy IPAs in the Cities.
Wild Mind Artisan Ales
6031 Pillsbury Ave S, Minneapolis | 612-345-4514
Located in a former car wash, Wild Mind took a while to release the beer it wanted to be known for – wild, sour, funky, barrel-aged, and blended beers. And the wait was worth it. Maintaining a local vibe, Wild Mind cultivates wild yeast found around the state for its slate of sour beers. It also plays around with its coolship often, and rests beers for months, even years, in its gigantic foeders, seen as soon as you step in the front door.
The brewery has a steady stable of farmhouse ales, hazy beers, and even barrel-aged cider on tap most weeks. The head brewer still uses a wild yeast he discovered years ago on a raspberry bush in his yard as a homebrewer. It also doesn't hurt that the brewery is dog-friendly and has a steady rotation of food trucks parked out front.
BlackStack Brewing
755 Prior Ave. North, St. Paul | 612-369-2932
BlackStack has been serving up some very clean and very good traditional styles for about a year. Offerings like the cream ale or a white ale flow just as quickly as the taproom's juicy IPAs. Located in a gigantic space where cans were made for Schmidt's back in the day, Blackstack pumps out a steady stream of east-coast IPAs to the local market in 16-ounce cans.
To add to the fun is Can Can Wonderland, located underneath the brewery. Featuring a mini-golf course designed by local artists, arcade games, craft beer, boozy milkshakes, music, and more, the spot is one of the busiest in the Twin Cities. And one more note: BlackStack is the taproom to visit if you're itching to watch soccer or Rick and Morty on a 190-inch projector screen.
Surly Brewing Co.
520 Malcolm Ave SE, Minneapolis | 763-999-4040
You've got to hand it to Surly. The brewery that brought Minnesota's brewery scene into the modern age still manages to stay relevant. The beer hall is a two-story cathedral to beer, full of 23 rotating taps and a pizza place upstairs. Its backyard patio is a sprawling green space full of fire pits and usually echoing with a cacophony of live music and eager chatter.
In addition to stalwarts like Furious, the brewery has been releasing small batches of 16-ounce cans like Inside the Upside Down, a collaboration with J. Wakefield Brewing. In the showcase taproom, the end of the week means new small batches of beer like East Coast IPA Galactic Descent. The destination brewery is a site to behold for anyone looking to revel in some beer, food, and a killer atmosphere.