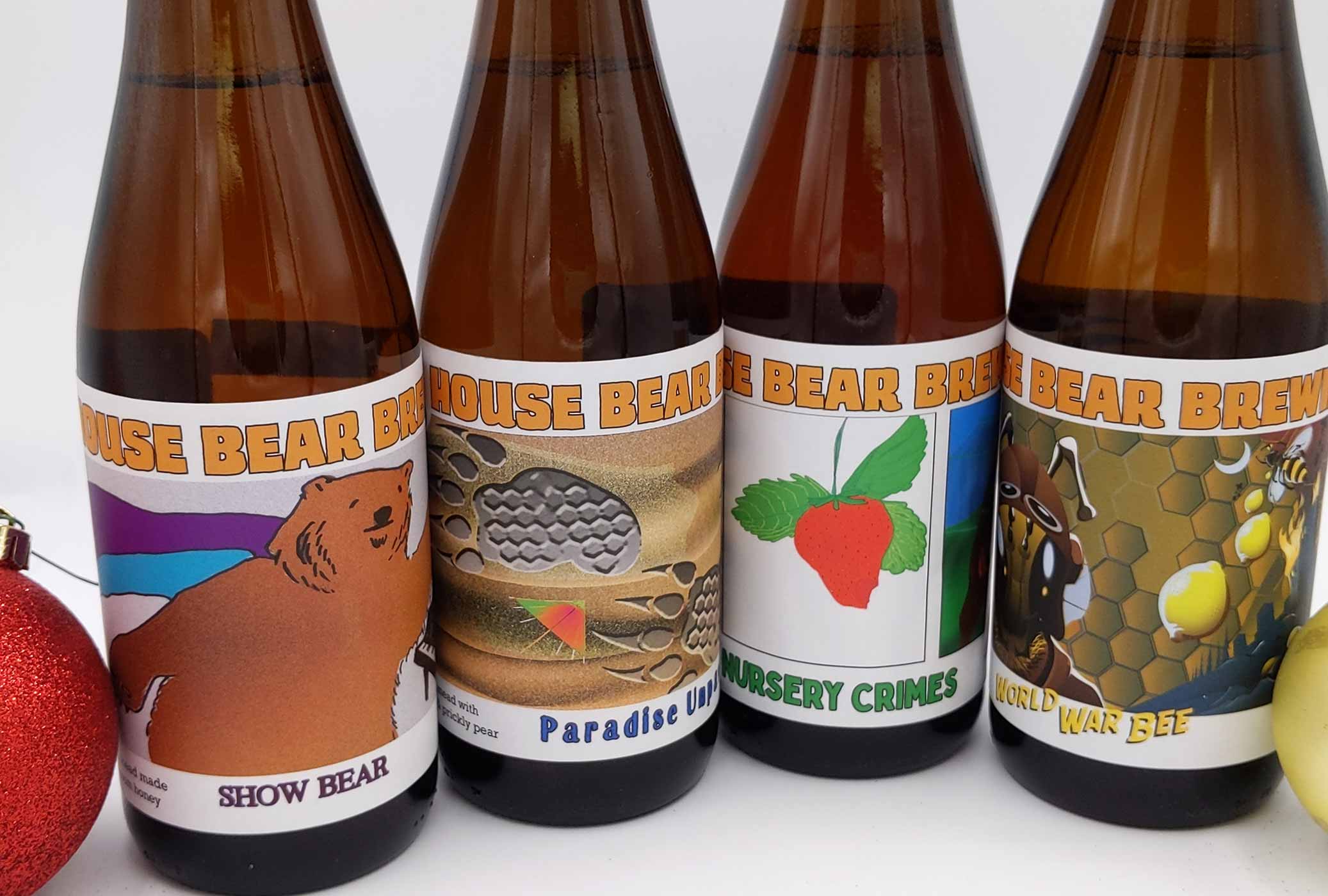 Photography courtesy of Andy Krump
At Hop Culture, we believe there's a craft beer out there for everyone. Like hops? Drink an IPA. Enjoy tart and juicy fruits? Try a sour. Love the taste of barbecue? Enjoy a smokey Grodziskie. Want to loosen up the muscles after a hard day of ripping down ski mountains in winter? Treat yourself to a beastly imperial stout. Looking for something a tad different? Considering trying a craft mead.
However, we also know we can't force people to drink something they don't want. As the adage goes: You can lead a horse to water, but you can't make them drink. That's why other beverages exist: hard seltzers, kombuchas, ciders, and more. And part of that "more" is craft mead.
Like beer, mead is an alcoholic beverage. Also called honey wine, ambrosia, or the nectar of the gods, mead is one of the world's oldest beverages; archaeological proof of age dates mead production all the way back to 7000 BC. Mead has lasted throughout the ages not only because it's delicious, but because it's versatile.
Beyond the basics, there is so much that clever brewers can do with craft mead from adding adjuncts to aging the product in barrels. And, just like beer brewers, a couple of the best craft mead makers stand above the rest. So we've gone above and beyond, seeking out ten of the very best craft meaderies in the U.S. and trying the best craft mead from each.
Here are Hop Culture's top ten favorite craft meads to drink this summer
Fleur De Bees
B. Nektar Meadery — Ferndale, WI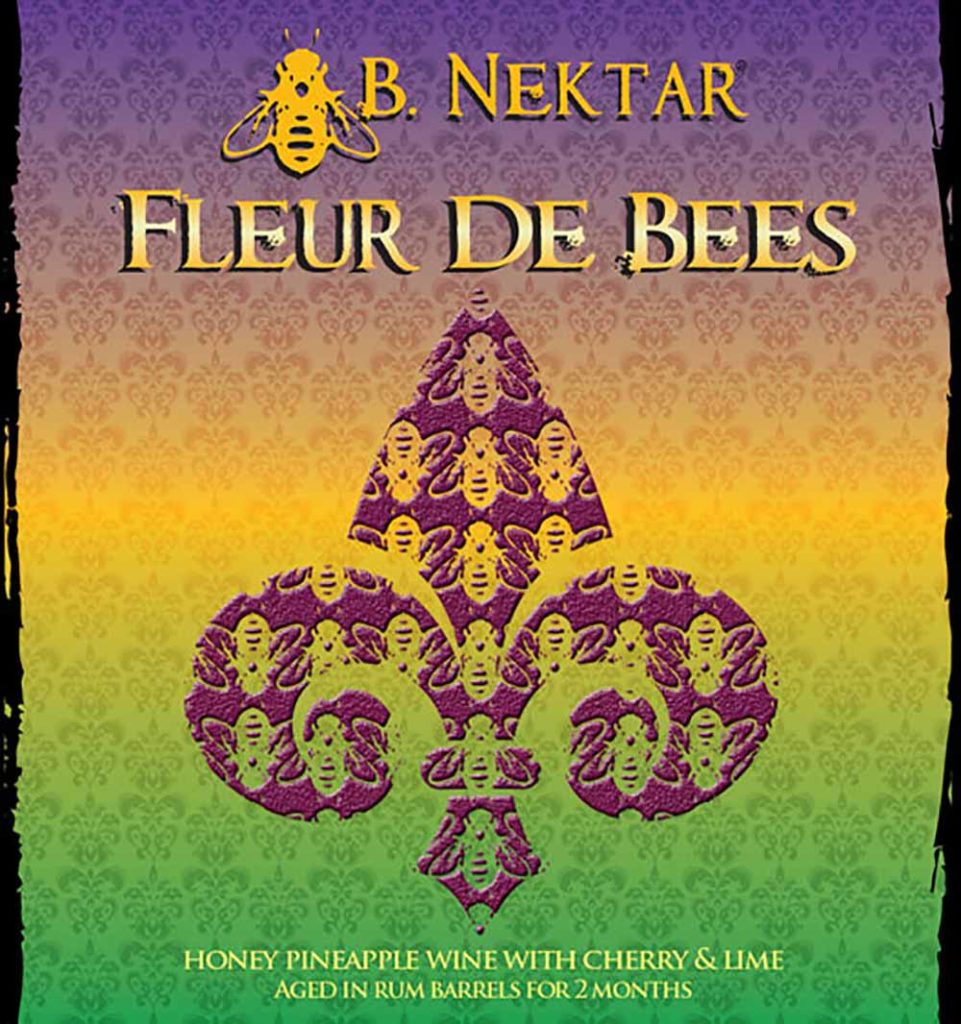 B. Nektar Meadery describes its Fleur De Bees as, "Honey pineapple wine with cherry lime." That's a hell of a brief even before rum barrel aging comes in as a capper. Too much going on in one sip, though? Not at all. In the craft mead business since 2008, B. Nektar holds the honor of being the first meadery to find its way to Ratebeer's list of the world's best 100 breweries. Fleur De Bees is zesty and complex; the semi-sweetness of the craft mead is cut through by acid from the lime and the pineapple, and given heft from the rum barrels — it's easygoing, but packs a punch.
Where to buy: B. Nektar offers direct to consumer shipping via their website; they won't ship to every state, so check the details before you get your hopes up.
This mead is for: Everyone who loves tropical fruit-forward beers on sunny days. Or, needs a craft mead equivalent to a lawnmower beer.
Barrel Aged Mango Mountain Honey Wine
Redstone Meadery — Boulder, CO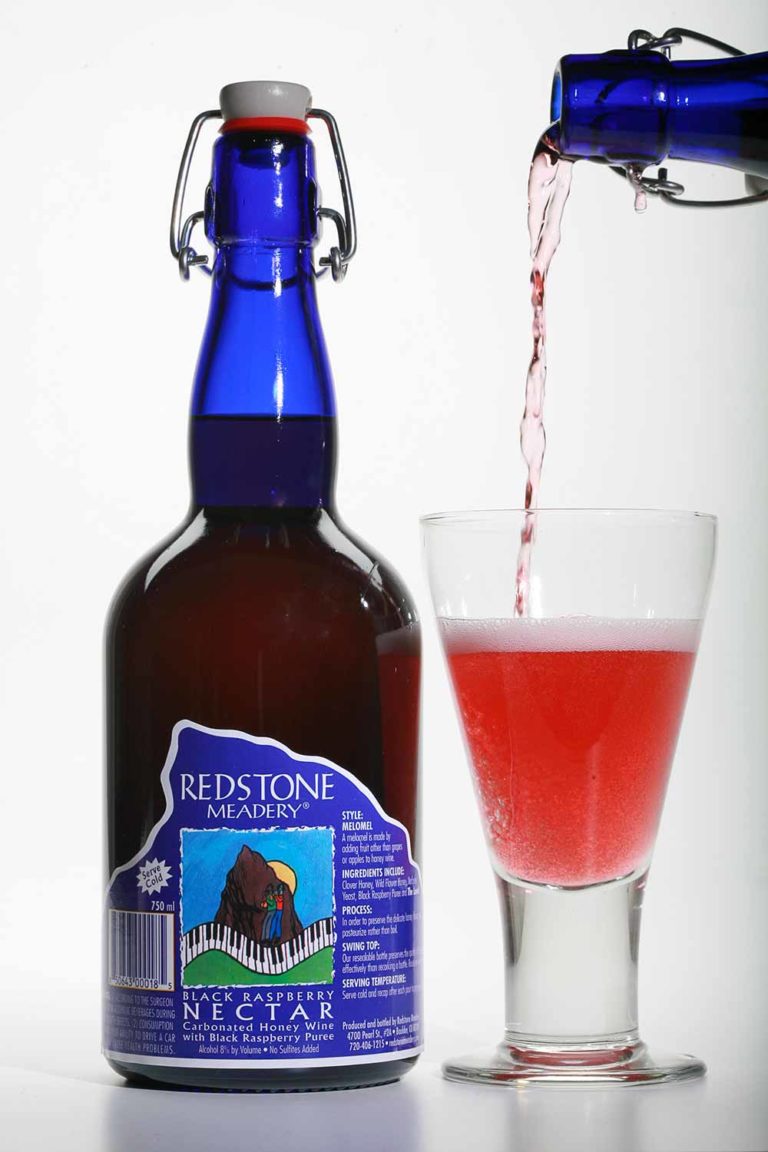 Napa Valley gets all the glory as America's premiere wine region, but Colorado isn't half bad, either. An award-winning craft mead outfit, Boulder's Redstone Meadery holds it down for the Centennial State. Like Fleur De Bees, Barrel Aged Mango has weight thanks to barrel aging. In fact, this craft mead tastes more like a beastly barrel-aged beer. But, that is proof of craft mead's versatility as a beverage. There is more than one way to brew a bottle of mead, and Redstone's way presents with oaky character up front before finishing with a nice mango kiss to compliment the more pronounced woody qualities that define the drink's base.
Where to buy: If you're local to Colorado, Redstone's meads are available in most liquor stores. If not, they ship!
This mead is for: Barrel connoisseurs who like a touch of sweetness for complimenting woody notes.
Paradise Unpaved
House Bear Brewing — Newburyport, MA
House Bear's Beth Borges knows a thing or two about mead; she's studied the art of making mead since college. Borges started up her own meadery in 2013, focusing on simplicity and fresh, clean flavors. On the lighter side of things, Paradise Unpaved is a drier example of craft mead, accented by the textures of its two fruity adjuncts. If you've never tried prickly pear or passionfruit on their own, maybe grab a couple of slices to enhance the experience. The fruit adds juicier layers to this self-described "still" mead, giving it surprising effervescence on the palate. This is easily one of the livelier meads on the market.
Where to buy: House Bear ships through Vinoshipper. Their meads can also be found in a bunch of Massachusetts liquor stores. If you get the chance, you really should go buy directly from Beth and her co-conspirator in mead, Carl Hirschfield.
This mead is for: Relaxing on the porch, in a hammock, or preferably on the beach, where the refreshment of the fruit combinations can have its best effect.
Aphrodisia (Batch 22)
Superstition Meadery — Prescott, AZ
From Arizona's first meadery to the largest and most decorated, Superstition Meadery recently became the first meadery in the world to open a mead-and-food pairing restaurant. Not too shabby for a company only nine years old. Their Aphrodisia mead puts the "wine" in honey wine. Which makes sense: It's a pyment, a subset of mead containing either grapes or grape juice in the mix. For Superstition's latest iteration of this particular pyment, Syrah makes up the grape profile, adding smoky sweetness and berry character to the viscous body. This is a thick and jammy drink. By far the most substantial in this listing, wine lovers may appreciate it best among the rest, but it isn't only for wine lovers.
Where to buy: Superstitions' craft meads can be bought through Vinoshipper. You can even buy a mixed case if you're into variety.
This mead is for: Dedicated wine consumers. It's accessible to all who enjoy mead, but suited best for drinkers with a thing for grapes.
Old Wayfarer, Oaked Amber Mead
Groennfell Meadery — Saint Albans, VT
Depending on how you drive, Saint Albans might be the last sight you see before crossing the border into Montreal's farmland. It's a charming, historic place in Vermont that's home to great craft beer (14th Star Brewing Co.) and great craft mead. Groennfell Meadery has a penchant for the classical. History being part of Saint Alban's background, it's fair that history plays a part in Groennfell's beverages, like this oaked amber mead, said to be the first of its kind in the world. Groennfell brews Old Wayfarer using German brewer's yeast, drawing an immediate connection between the mead and classic styles of German beers. And to an extent, it drinks like one – sweet, but crisp with just a touch of spice to lift up the natural flavors.
Where to buy: Buy direct through Groennfell's website, or through stores in most of New England – except for Maine and New Hampshire. Nyah.
This mead is for: Craft beer geeks incredulous about this "mead", who need a bridge between the two.
Brothers Drake Apple Pie
Brothers Drake Meadery — Columbus, OH
Once upon a time – 2007 to be exact – there existed a scant 40 meaderies in the U.S. And, Brothers Drake Meadery was one of them. It's tough being one of the first, or then again, maybe not, because 14 years later Brothers Drake is top tier at putting fruit into craft mead and calling it "dessert." What do you want after your supper? A sugary indulgence? A stiff drink? Why not both? Apple Pie might be better than your mom's apple pie, which in America is a form of sacrilege. Still, your mom never put as much effort into wrapping pastry around Cortlands as Brothers Drake has put into jamming the apple pie experience into mead. (Sorry moms.)
Where to buy: There's a button on the meadery's site that plainly reads, "buy all the mead." As long as you're on the list of states allowed to buy all the mead, go nuts.
This mead is for: Dessert beer diehards. If you love cake in a stout, or donuts in a sour, then you have to try this mead.
Rethinker
New Day Craft — Indianapolis, IN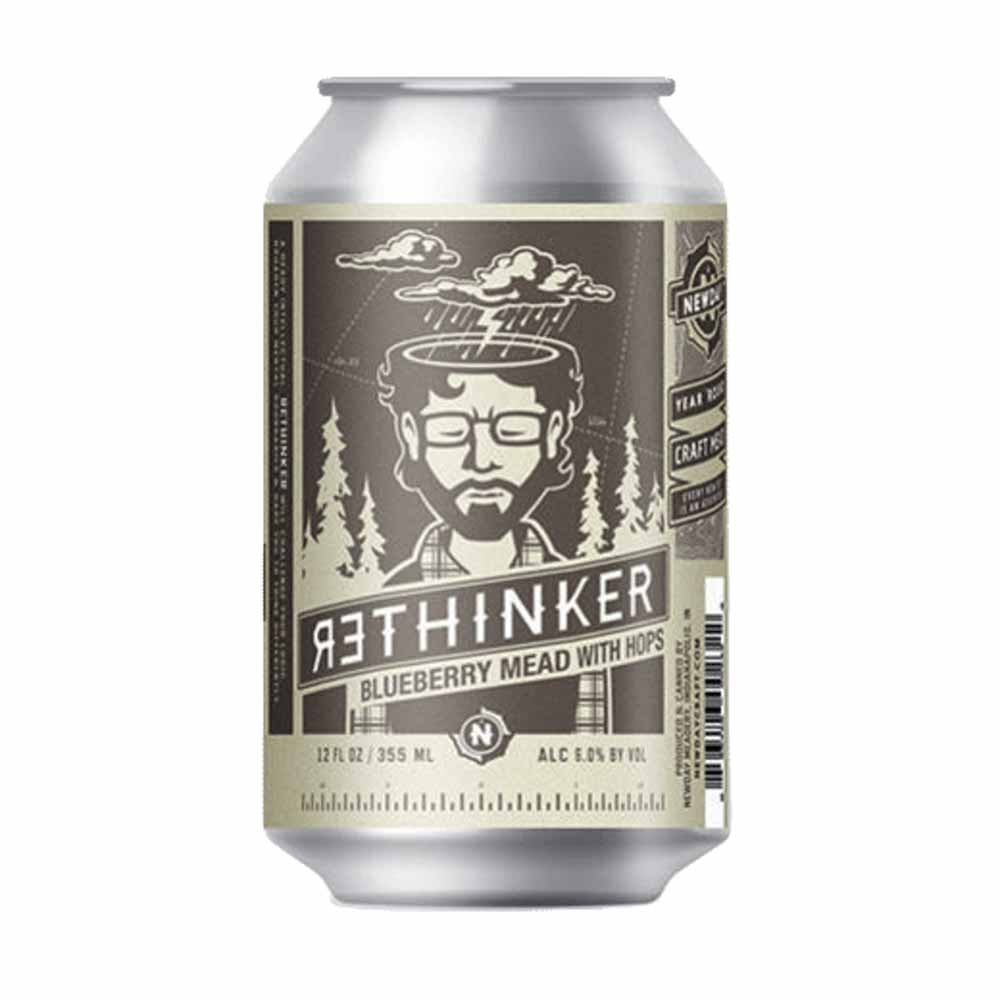 The folks at New Day pride themselves on the freshness of their ingredients. Their next best merit is their gift at welding beer concepts with craft mead processes. Rethinker is a mead that does exactly what its name implies: Invites drinkers to a new concept of what mead can be, and maybe in so doing what beer can be, too. Dry hopping mead is one task, and dry hopping a blueberry mead is a whole other beast. In Rethinker the combination of the hop profile — Cascade and Columbus — with the tartness of the blueberries results in a truly nuanced beverage. It's piney. It's hoppy. It's on the rose side of the color spectrum. The hops hit more on the nose than on the tongue, which is probably for the best since the blueberry is the star. But those hop notes add unexpected and welcome layers of freshness to a one of a kind craft mead.
Where to buy: Like most everyone listed here, New Day Craft ships through their site. Although, their selection is currently limited.
This mead is for: Indecisive types. Don't tie yourself in knots trying to figure out if you want mead or beer; just pour yourself a glass of this and enjoy. (Good for adventurous drinkers on the lookout for the next unique thing.)
Cranbañero
Four Fires Meadery — Maumee, OH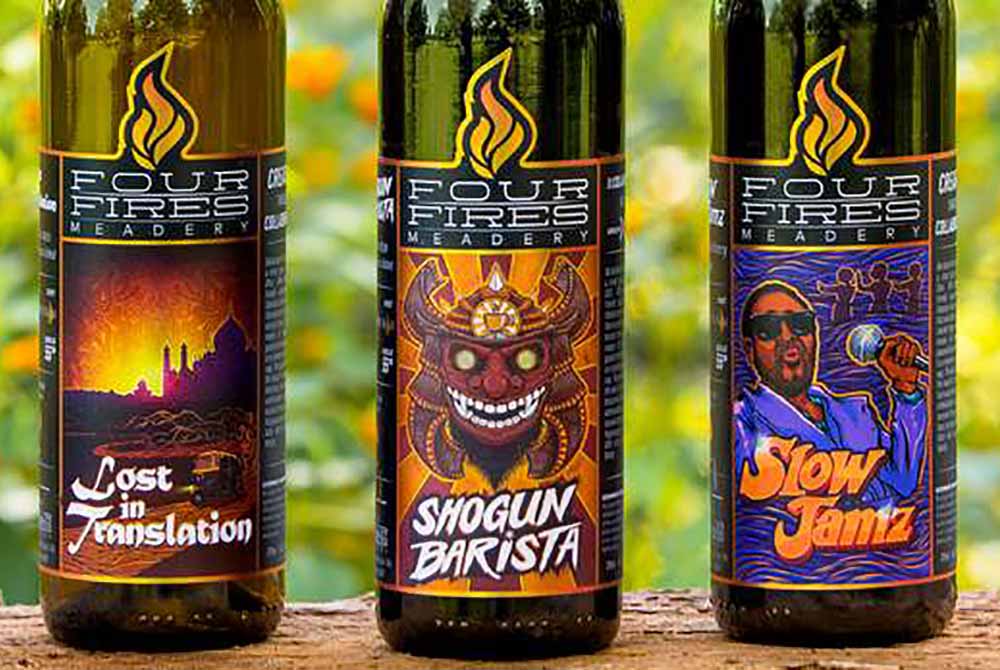 Adding another layer of history to their mead, the gang at Four Fires honors the indigenous tribes of northwest Ohio – the Ottawa, the Potawatomi, and the Chippewa – by naming their meadery after their joint community, The Council of Three Fires. Take that title, add one more fire for the quartet running the meadery, and there you go: A top tier meadery with real roots in its locale. Probably not by accident, Four Fires also likes working with spicy peppers, one of the most difficult ingredients to work with in any craft beverage – too little and you get no pepper presence, but too much and you set peoples' mouths on fire. Cranbañero walks that line wonderfully while also incorporating cranberries, that undersung vine fruit.. A little tart, a little smoky, Cranbañero is impressive.
Where to buy: Four Fires distributes through Vinoshipper. But. like New Day Craft, they're currently rocking a smaller list of offerings.
This mead is for: The true and brave who like to test their palates with a blast of heat.
Something Something Sour
Golden Coast Mead — Oceanside, CA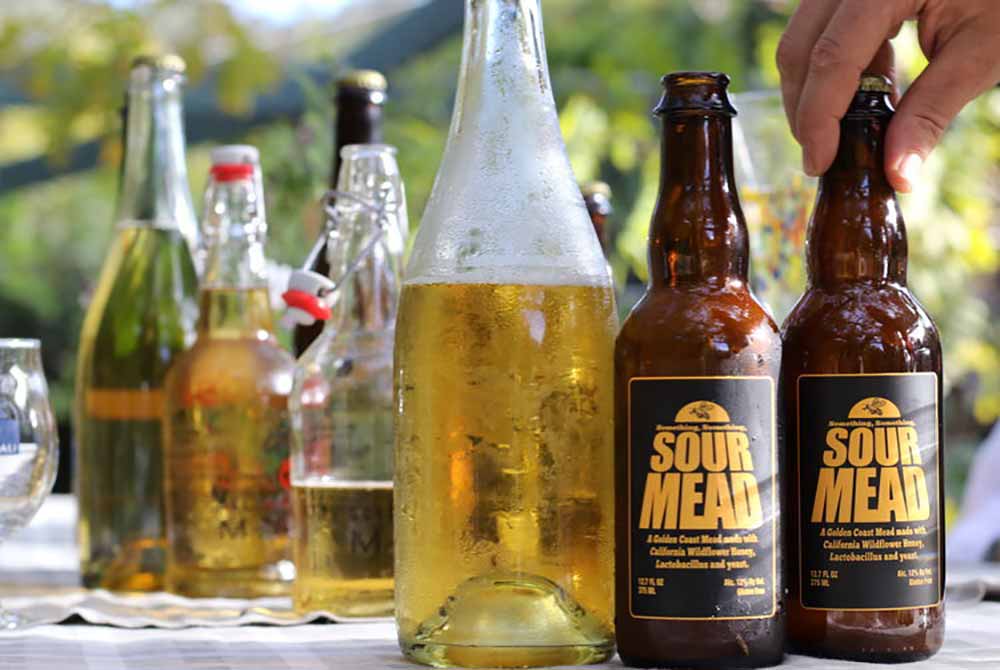 Golden Coast's mission is to marry mead – tasty, tasty craft mead – with a science lesson. The ecology page on their site reads, "Mead is the only alcohol that doesn't require you to rip up nature to produce the sugar source at the base of the alcohol." Mead heals the world! With that ethos in mind the meadery is working on an organic honeybee sanctuary in California, which is a much bigger deal than it might sound like on paper. Also a big deal: Their mead. Golden Coast's flagship, Something Something Sour, is subtle and delicate, a craft mead that reads like tart champagne with notes of honeycomb, citric acid, and of course that all-important funk.
Where to buy: Right off of their site or direct from the meadery.
This mead is for: Obviously, every sour-head out there who loves a nose full of barnyard hay. But the flavor profile expresses great sophistication, so might be a good fit for a funkier wine drinker as well.
California Orange Blossom
Heidrun Meadery — Point Reyes Station, CA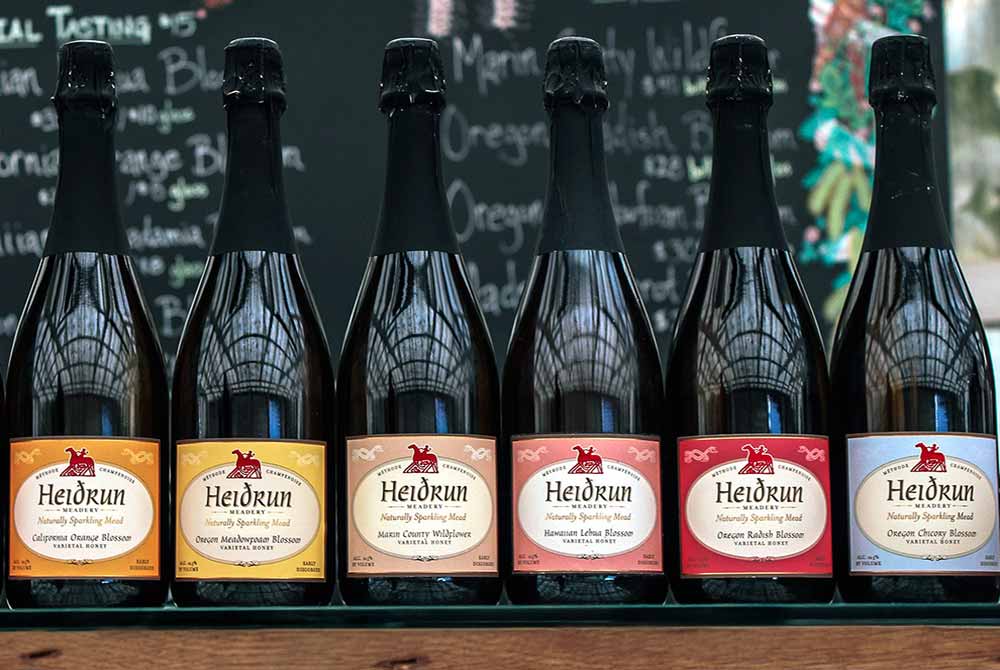 More so than even Superstition, Heidrun truly approaches craft mead the way vineyards approach wine: They give careful consideration to the individuality of the flowers their honey is harvested from, similar to the way viticulturalists talk about terroir. That level of specificity reflects strongly in California Orange Blossom, a mead designed to evoke the feeling of driving by one of California's orange groves on a warm day with the windows down. This craft mead is a floral, perfume-like concoction, bittersweet with touches of orange zest and oak. Softness is a prized tasting note in certain beer styles, and California Orange Blossom is all about that soft, pillowy quality.
Where to buy: Heidrun ships mead across the country. Check to make sure they ship to you. Stores like K&L Wine Merchants tend to carry their meads, too.
This mead is for: California Orange Blossom's refinement and precision in the details makes it a good pick for celebrations in summertime.