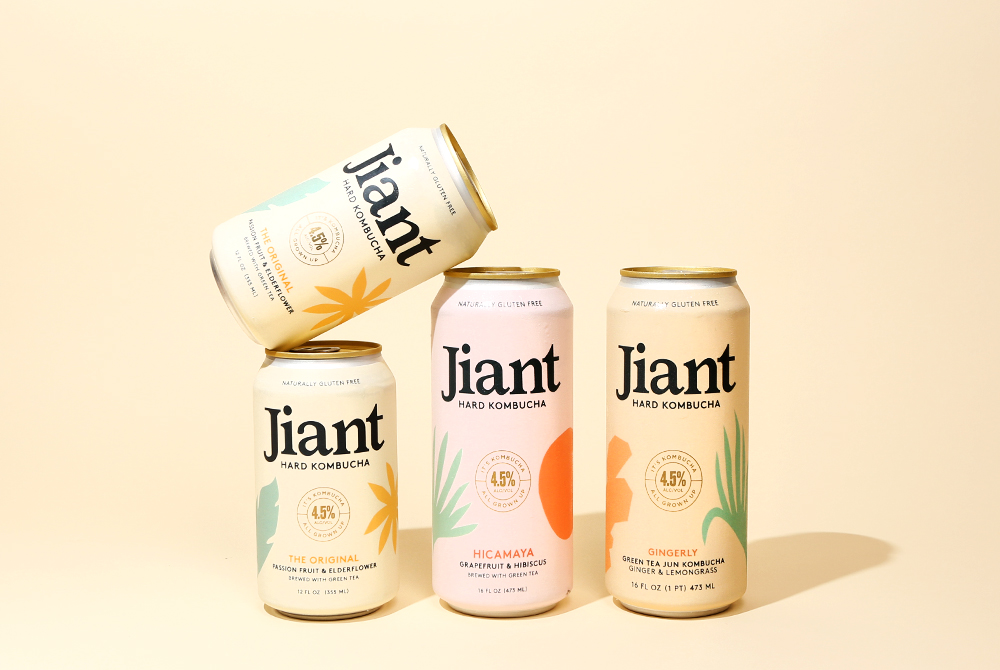 Photo by John A. Paradiso
A craft beer magazine getting down with kombucha? That's right. Though we love crushing pilsners and sipping on funky saisons, we also dabble in some non-beer beverages. We imbibe the occasional pét-nat, wild-fermented cider, and craft hard kombucha.
Like craft beer, hard kombucha can be extremely complex. It also showcases a wide range of flavors and acidity levels, and even purports to offer health benefits. And, though companies often brand their kombucha as a "health beverage," a well-crafted booch — hard or otherwise — can be enjoyed whenever you please.
What Is Kombucha?
Put simply, Kombucha is fermented tea. Just as beer brewers use yeast to eat sugar in wort, kombucha brewers use a symbiotic colony of bacteria and yeast (SCOBY) to eat the sugar that has been added to tea. As with any fermentation, both processes produce alcohol, though most kombucha brewers keep their percentages much lower than that of beer brewers.
Kombucha is often considered "alive," meaning the brewers didn't filter or pasteurize their product. Much like spontaneously fermented beer, microorganisms live in the final beverage. This is often where kombucha gets a reputation as a "health" beverage; supposedly, these organisms are beneficial to gut health.
What Is Hard Kombucha?
Several companies intentionally brew hard kombuchas. Naturally gluten-free, these beverages are similar in flavor and acidity to their non-alcoholic counterparts, though they provide a little extra kick.
In order to make hard kombucha, brewers typically re-ferment kombucha with an alcohol-producing yeast and some extra sugar. And just like that, you have a fermented tea with an ABV similar to most light beers.
Hop Culture's Favorite Hard Kombuchas
When we talk about kombucha at Hop Culture, we're usually talking about Yesfolk or Hex, two of our favorite kombucha breweries. These small-batch producers make exceptional kombucha and fermented products with the same care and consideration as your favorite craft brewer or natural winemaker. If you're looking for a stellar kombucha, we'd steer you in their direction.
But, their kombucha isn't "hard." So, if you'd like to achieve a bit of a buzz and still support a quality kombucha brewery, we've got you covered. Below are five of our favorite hard kombucha breweries. And if you have any recommendations, feel free to let us know!
Luna Bay Booch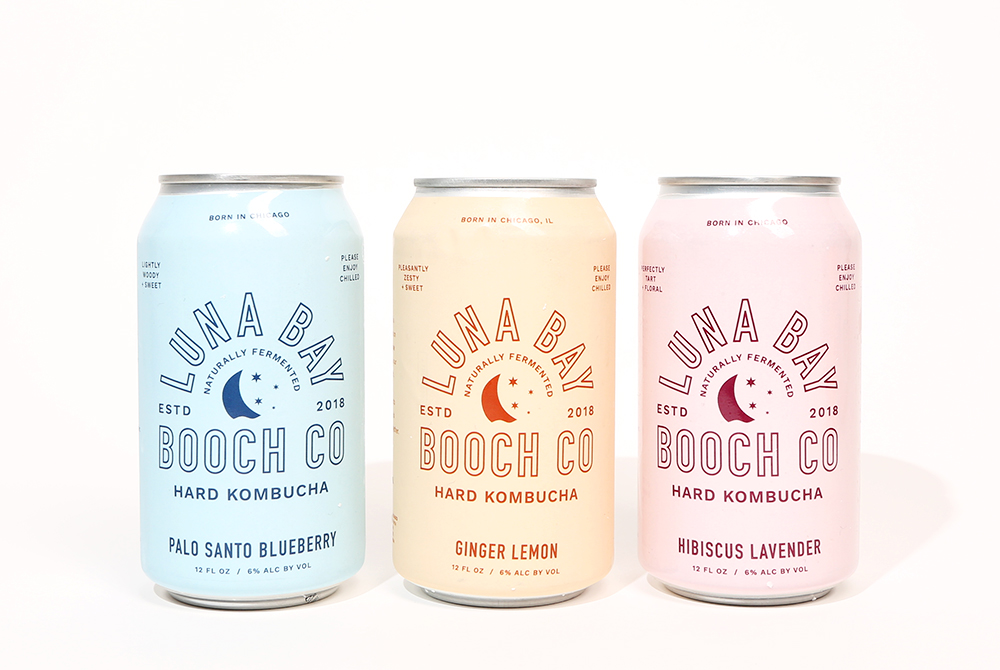 Female-owned and founded in Chicago, Illinois, Luna Bay Booch promotes health, fitness, and quality. The soft, inviting packaging welcomes drinkers to a naturally gluten-free, low-sugar beverage with a sessionable ABV.
After sampling three Luna Bay flavors, we vote Ginger Lemon as best of the bunch. With a subtle spice kick and exceptionally refreshing carbonation, Ginger Lemon was our ideal choice for a day on the beach. Still, the Palo Santo Blueberry and Hibiscus Lavender both offer gorgeous colors and quality flavors.
Luna Bay Booch offers Chicago a locally-made, craft beverage and its also part of 1% for the Planet. So not only does Luna Bay taste good, but it does good, too.
Kombrewcha
Kombrewcha is a Brooklyn-based hard kombucha producer that distributes its products in fifteen states and the District of Columbia. However, despite its wide reach, Kombrewcha still offers a flavorful product.
Kombrewcha is USDA certified organic and brews three flavors: Berry Hibiscus, Mango Pineapple, and Ginger Lemon. Our money is on the fruit-forward, herbal Berry Hibiscus but any of these would feel right at home in your cooler.
Walker Brothers
Walker Brothers is a family affair. The founders of this Nashville-based kombucha brewery inherited their first SCOBY from their aunt, who introduced them to the potential of kombucha. Since then, the eponymous Walker brothers have released a line of traditional and high-gravity (alcoholic) kombuchas.
Walker Brothers' hard kombucha appears in two regularly brewed forms: Ginger and Hops, though Watermelon is supposedly coming down the pipeline. Additionally, like your favorite craft brewery, Walker Brothers dabbles in one-offs. We sampled their Plum, which was flavored with lime and sea salt. With a zippy acidity and refreshing salinity, Plum reminded us of a gently fruited gose.
Walker Brothers is currently only available in Tennessee, so you'll have to make a trip to the Volunteer State to pick up some goodies. Or, you can order some of their non-alcoholic booch right to your door.
Boochcraft
Boochcraft prides itself on using real, quality ingredients and on "giving a shit." The San Diego kombucha brewery, which was founded by three friends from Ocean Beach, makes it a point to use its company to do good. They donate a percentage of sales to bettering their community, both locally and globally.
And their product is dang fine. Boochcraft has a core offering in cans and bottles as well as seasonal releases that are flavorful and refreshing. Plus, they're willing to get experimental with their Liquid Art Lab series.
The bottom line is that they produce excellent products and care about what and how they produce them.
JuneShine
With clean, clever branding, JuneShine is one of the country's leading hard booch breweries. Starting with organic fresh fruit and quality tea, JuneShine produces kombucha in a variety of flavors including Acai Berry, Blood Orange Mint, Honey Ginger Lemon, Hopical Citrus, and Midnight Painkiller.
The San Diego-based kombucha brewery has two stylish taprooms that are currently closed due to COVID-19. However, they offer local pickup and delivery.
If we had to pick just one option, we'd be stocking up on the Midnight Painkiller for a late-night tropical refresher.
Jiant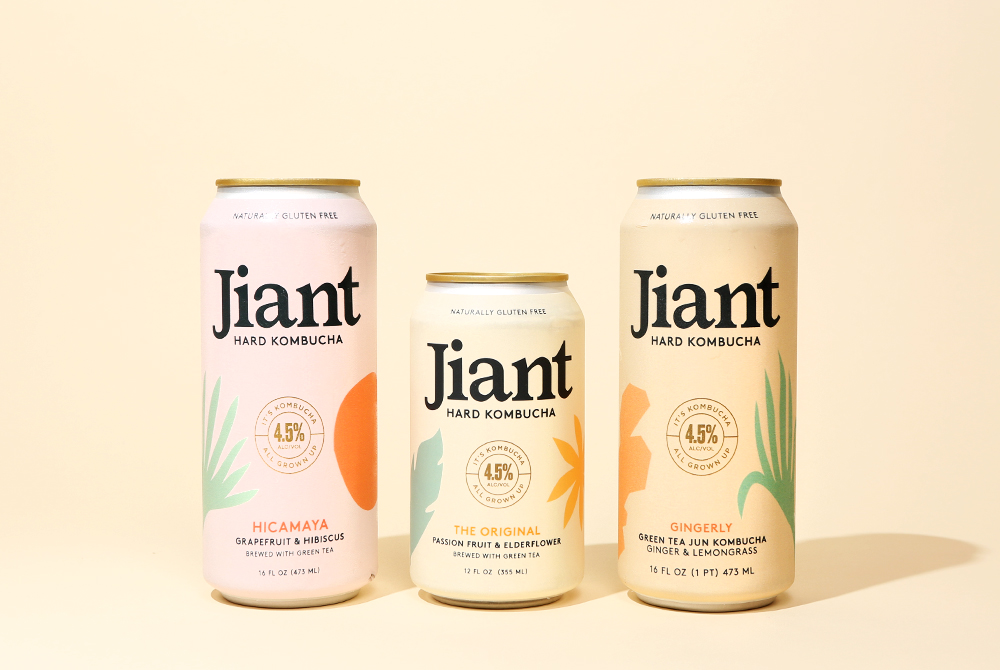 We took an in-depth look at Jiant in a previous article, which you can find here. But, the bottom line is they produce an incredibly delicious kombucha that will ease you into the style.
Jiant is very "brand-y" and sleek (the photos speak for themselves) but the stylish exterior meets a genuinely tasty beverage within. Gingerly and Hicamaya are standout flavors from the Southern California company and are easily two of our favorite kombuchas, hands down.
This is a refreshing, flavorful beverage that deserves to be enjoyed on a sunny summer day.
Flying Embers
Like the breweries previous mentioned, Flying Embers makes quality, tasty hard kombucha. Unlike the others, the Ventura, CA-based brewery makes hard seltzer as well. With both products, Flying Embers uses organic, real fruit ingredients and delivers a refreshingly vibrant beverage.
The brewery takes its name from the California fires that nearly burned down their space. But, as Flying Embers describes on its website, "when fortune shined upon us that night and the winds turned, we were left with a deep appreciation for the power of nature and a profound sense of gratitude for each other and life itself."
With gratitude and a passion for nature front of mind, Flying Embers produces exceptional kombucha and seltzer that pays homage to the agriculture around them.
Liked this article? Sign up for our newsletter to get the best craft beer writing on the web delivered straight to your inbox.