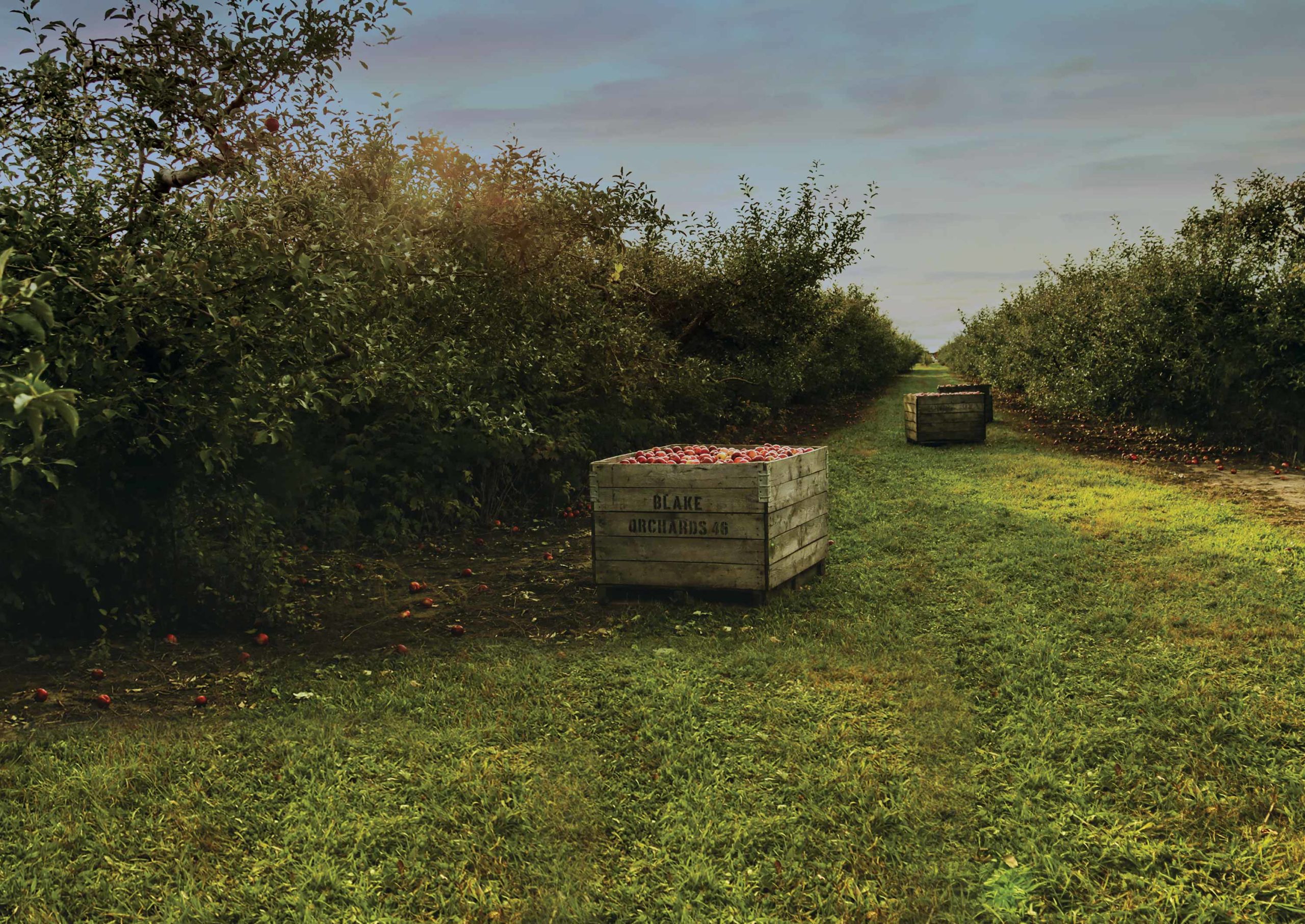 It might be easy to assume Blake's Hard Cider is a "big brand." The widely-distributed hard cider is accessible at many grocery stores and larger chains. However, the large scale presentation belies the cidery's small-town roots.
Blake's Hard Cider is a truly local operation, in every sense of the word. A third-generation apple farm in the suburbs of Detroit, Blake's plays host to, employs, and sells their products from their backyard to their neighbors — folks intimately familiar with the Blake family.
Through the years, many things about Blake's Hard Cider have changed, and the farm has expanded. But, at the center of all that change is family. And apples. Really, really good apples.
What's The Story Behind Blake's Hard Cider?
Soon after graduating college, Andrew Blake — the grandson of apple farmers — launched a hard cider company on his family's Michigan-based orchard. After many planning sessions, his family gave him their support and blessing to launch Blake's Hard Cider in 2013.
But the story goes back even further.
In 1946, Detroit-natives Gerald and Lovey Blake moved their thirteen children to Armada, Michigan, settling on a 100-acre plot where they grew apples. Years later, twin brothers Pete and Paul Blake returned to the Blake farm to expand what their parents started, adding more attractions and diverse experiences for visitors. And Andrew followed in his father's footsteps, returning to the farm where he'd worked for many childhood summers to grow the family business.
Andrew Blake saw hard cider as the ideal opportunity. As a homebrew hobbyist and someone intimately familiar with apple farming, making hard cider combined two of his passions. And, with the craft beer industry experiencing explosive growth, Blake believed cider also deserved a moment in the spotlight.
Who Is Blake's Hard Cider Founder Andrew Blake?
First and foremost, Andrew Blake considers himself a farmer. He's up at 5:30 AM and at work by 7:00 AM. Instead of a cushy office, Blake fields calls and emails from the passenger seat of his truck. And after meeting with the different departments of Blake's Hard Cider and checking in on the business side of things, you're likely to find Blake out in the field on a tractor, catching up with his father and uncle, who still work on the farm.
With three locations in the Michigan countryside, distribution in more than a dozen states, and a dedicated following, Blake's Hard Cider is well beyond Andrew Blake's initial vision.
"Originally, the only things I needed to do were to make a good product and not lose money," says Blake.
And seven years later, he's succeeded on both fronts.
As Blake's Hard Cider VP of Sales and Marketing Scott Roberts confirms, "Through June, [Blake's] was the number one dollar growth trend in the hard cider category."
But, growth isn't Blake's only defining characteristic. The idea to make quality craft cider straight from their own backyard has been the driver at Blake's Hard Cider from the beginning.
What Is Craft Hard Cider?
Independence. Apples. And fermentation.
Hard cider is produced when apple juice undergoes fermentation, either through commercially available yeast or the wild microflora naturally present in the air.
Hard Cider production is a relatively simple process. Additionally, it's one that has deep roots in America's history. Wildly popular in the colonies, hard cider worked its way west. In modern America, you'll find cider producers across the country, with Washington State being the country's leading apple producer.
However, the midwest has also proved a fervent region for apple growers and cider drinkers.
The "craft" piece of "craft hard cider" is a little harder to nail down. Unlike in beer, where the Brewers Association has clearly defined "craft beer", there isn't a governing body in cider to determine where the line is drawn.
Chelsea Iadipaolo, Director of Brand Development at Blake's Hard Cider, believes independence to be the foundation of craft. But it doesn't stop there.
"It's all about boundaries," says Iadipaolo. "Anything considered craft operates in a limitless, boundaryless expectation. Quality is at the forefront, but you can merge different categories and styles. Craft doesn't fit in a mold."
Independence and quality product provides the context. But with so many folks latching onto the "craft" catch-all, Iadipaolo sees innovation as a way to differentiate businesses.
What's So Special About Blake's Hard Cider?
Blake's Hard Cider is a family-run, independent cidery. But, what makes the company so compelling is its insistence on experimentation.
"There's an opportunity to push some boundaries, to change what cider can be," Andrew Blake says. "Cider has legitimate range as a product. And more and more, people are coming over because craft cideries are willing to give cider its due."
The key dilemma for most small companies is staying true to their roots. Authenticity is a buzzword in corporate America but customers are savvy and critical. Blake's isn't concerned, though.
"We could be in fifty states, but if we're still making an authentic product that isn't watered down, there's no boundaries to where we can go," says Iadipaolo. "Just because your footprint isn't small town anymore doesn't mean the product isn't a small town offering."
"We approach growth like a farmer does," Roberts says with a knowing laugh. "It's slow, very measured."
Currently, Blake's Hard Cider is distributed in more than fifteen states and, while they do the bulk of their business in their backyard, they've grown a significant following around the country. In fact, their second best-selling state behind Michigan is North Carolina. But even though their cider may be traveling hundreds of miles, the Blake's team is confident in their product.
"We've essentially been doing the same thing since the forties," says Blake. "So we don't have anything to prove as far as being genuine. Because of that, I don't feel bashful about becoming a national cider company with a great story. That's the stuff that great brands are made of."
"[Authenticity] is in the little details," continues Iadipaolo. "It's hard, right now at least, to fake authenticity. Authenticity can look like a lot of different things. You can say you're using red-flesh apples, but if you can't back it up with the photos of what you're growing on your orchard, people will be able to tell. Whatever your story is, it needs to be true and you need to stick to it."
The Blake's Hard Cider Kinder Series
And yet, at Blake's Hard Cider, quality, experimentation, and authenticity are only part of the equation. Customers want unique experiences; they want producers to take them on a journey as far as they're willing to go. That means exploring new flavors, experimenting with fermentation, and offering dynamic education. But for a company to succeed in 2020 and beyond, they need to offer something more.
Blake's Kinder cider series is evidence of wanting to do more.
The Kinder Series ciders are collaborations between Blake's and nonprofits in an effort to raise money and awareness for causes that hit home for the Blake's team. Currently, the cidery makes Rainbow Seeker, a pineapple and sage hard cider that benefits the National LGBT hotline. They also make Saint Chéri, a bourbon barrel-aged cherry cider that benefits Detroit homeless by supporting Empowerment Plan, as well as Fido, a hopped-raspberry and grapefruit hard cider that supports Pets for Patriots.
Sometimes, the Kinder Series ciders result from challenging conversations.
"We're a very conservative county," shares Iadipaolo. "And Andrew Blake wanted our first Kinder cider to stand for equality in the LGBTQ community. We knew we were going to get backlash. His parents said 'We support this, but are you ready for customers to say they're never coming back?' And we decided as a team that we wanted to take that stance because we couldn't imagine being quiet about it. The stance was worth more than the backlash."
Blake's Hard Lite Cider And The Future Of The Industry
When talking about how Blake's Hard Cider continues to stay creative and progressive in the industry, Chelsea Iadipaolo uses the phrase "adventurous exploration."
"When a cider producer stops being adventurous and stops exploring, customers stop being interested," she says.
That exploration can be a look inward at internal processes, like increasing quality control and consistency. Or, it can look outward at the larger landscape; it can ask questions and seek new frontiers.
With their new Lite Cider, Blake's Hard Cider did both.
As hard seltzer began to dominate the beverage landscape, Blake's considered the potential of offering their own alcoholic sparkling beverage. But, at the end of the day, "it didn't feel true to us," Iadipaolo says. "We've built our brand on not making products from water. Nothing against it, but it's just not our model."
So the team at Blake's Hard Cider went back to the drawing board. Ultimately, Blake's was looking for a refreshing, healthier beverage with less sugar and less calories than their other offerings, but with just as much flavor. Everything clicked when one of Blake's sales reps suggested that instead of trying to invent the new seltzer, they just make their cider lighter.
"We thought, Why can't we make a better-for-you apple product?" says Blake.
"It was just a light bulb," Iadiapaolo continues. "We had no data because no one had done it. There was risk involved but the whole company was being healthier. Our cidermaker lost 100 pounds by being more carb and sugar conscious, and he drove this idea. It was driven by employees wanting the product. The people who made it believed in it. And it's still true to our name."
The final product has a naturally sweet fruit flavor (in addition to the Apple Lite Cider, there's Mimosa, Strawberry Kiwi, and Melon) and finishes dry. It's fizzy, lively, and definitely a summer-appropriate beverage. Though on the Blake's Farm, we imagine folks will be drinking these well into fall.
The Bottom Line on Blake's Hard Cider
Blake's Hard Cider has quickly become one of the biggest craft cider producers in the country. And for Andrew Blake, that isn't anything to be ashamed about. Because Blake's built their reputation through quality, experimentation, authenticity, and strong values, and they continue to produce products that speak to that ethos.
"You can't lose your soul," Blake says. "You have to be introspective and reflective, making sure you never sacrifice who you are and what you are for some ambition."
This is a paid, sponsored article presented by Blake's Hard Cider.
Liked this article? Sign up for our newsletter to get the best craft beer writing on the web delivered straight to your inbox.