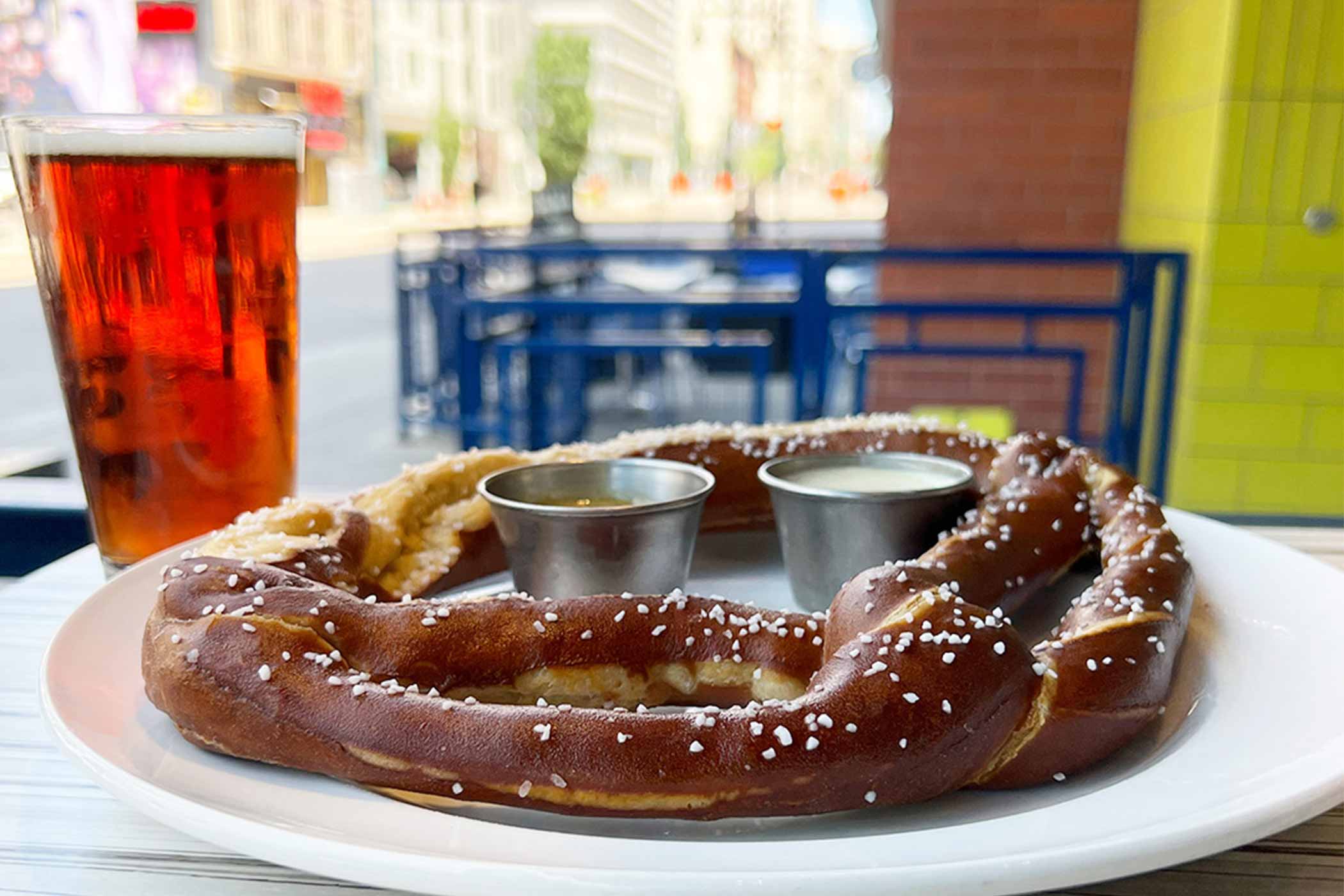 Photography courtesy of @besocialcolorado | Boulder Social
Editor's Note:
This is a paid, sponsored post presented by our friends at the Boulder Social.
Local legends Frank and Gina Day are bringing decades of experience running restaurants and breweries to Boulder with their newest venture—Boulder Social.
Officially opened in August 2022, Boulder Social is the perfect new place to hangout with friends, eat hand-tossed pizzas, burgers, and sandwiches, and drink locally brewed and housemade beers in Boulder.
Featuring thirty taps, Boulder Social sets itself apart from its sister restaurant Stout Street Social in Denver by featuring its own onsite brewhouse. While not quite brewing yet, housemade beers will be flowing out of the taps for folks to enjoy later this fall.
It's these small touches that leverage a thriving beer scene in Boulder. One where Boulder Social plans to make its mark with a boom.
In Boulder It's All About the Beer
Without a doubt, Boulder is a unique beer community. Perhaps Denver gets most of the publicity, but thirty miles northwest, Boulder has made a name as its own brewing mecca.
In fact, in 1982, when Charlie Papazian organized the first-ever Great American Beer Festival, he set up shop in Boulder for a reason.
"There are not a lot of places I've been that are as open and receptive to craft beer," says newly hired Boulder Social Brewmaster Rod Taylor.
And Taylor would know.
With almost three decades of experience brewing beer, Taylor fell in love with beer in Boulder. He first moved to the city after college in 1994 to "ride a snowboard until I figured it out," he says.
He found a thriving brewpub scene and immediately fell in love.
Taylor Brings Three Decades of Brewing to Boulder Social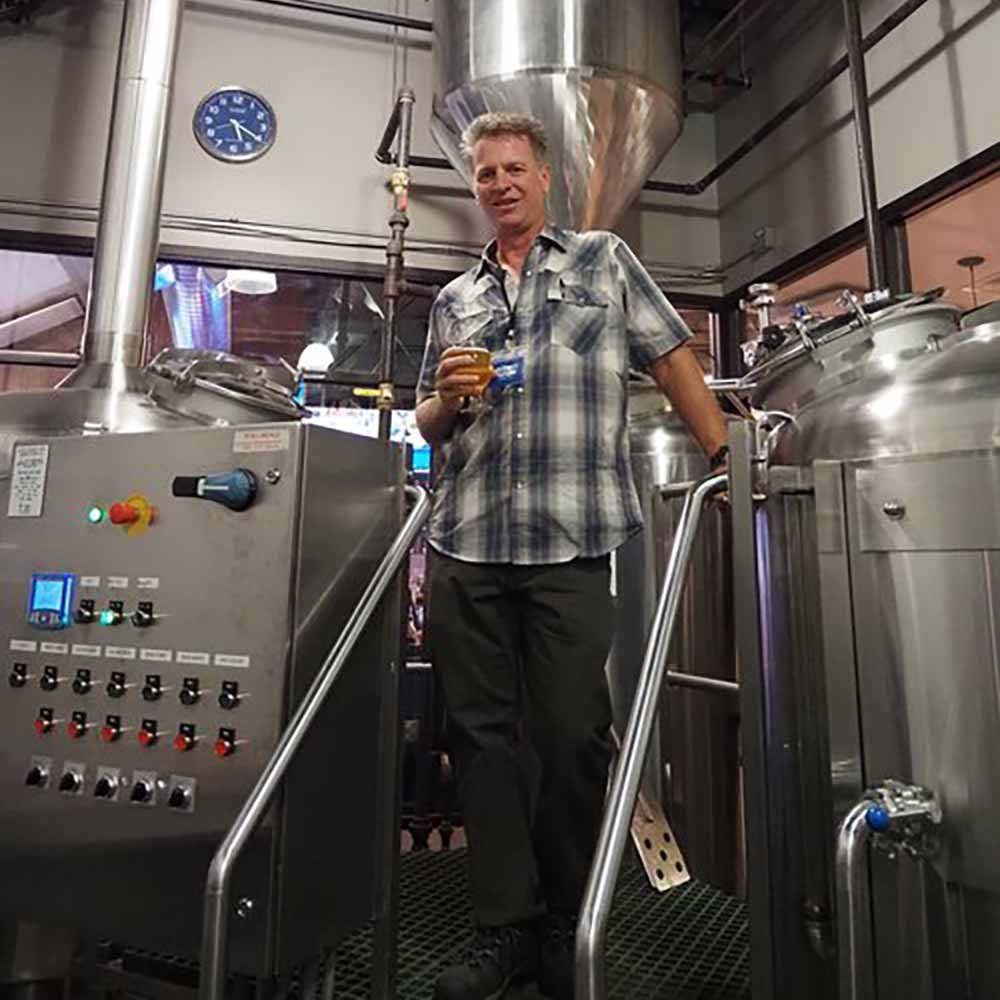 Actually, it's pretty fitting that Taylor is set to take over the brewing reins at Frank and Gina Day's Boulder Social. Afterall, Taylor began his brewing career waiting tables at another of the Days' ventures.
Taylor's hospitality career began in the front of house at Rock Bottom, the brewpub chain originally founded by Day in 1991.
"I bugged the hell out of them for a better part of a year until I got into the brewery," says Taylor. "Then, it was just up, up, and away."
Taylor spent the next several decades building up his pedigree, becoming assistant brewer at the Rock Bottom in downtown Denver before switching over to The Walnut in Boulder.
"Rock Bottom was where I was initiated and The Walnut in Boulder was my finishing school," says Taylor, who brewed there for two years.
After traveling around a bit during the late '90s setting up brewhouses at new Rock Bottom locations across the country, Taylor returned to Boulder.
In 2000, he got a call from Rock Bottom telling him The Walnut was available to run. "It took me not fifteen seconds to decide yes, I want to go back to Boulder," says Taylor, who was the head brewer at The Walnut until the lease ran out in 2017.
Bumping around between breweries for the next five years, Taylor is now at the helm at Boulder Social, running the beer program from top to bottom. "I'm excited to be back in Boulder," he says. "There is nowhere like Boulder. I've been in bars that have regulars and the regulars don't interact with one another; they don't know each other. In Boulder, it's not like that. It's like Cheers—just a little different and a little better."
Leveraging that unique beer scene, Boulder Social will pump out its own housemade beers from a brewhouse right on site. Hopefully, those beers will hit that taps starting in late fall 2022.
At Boulder Social, Beer Will be Front and Center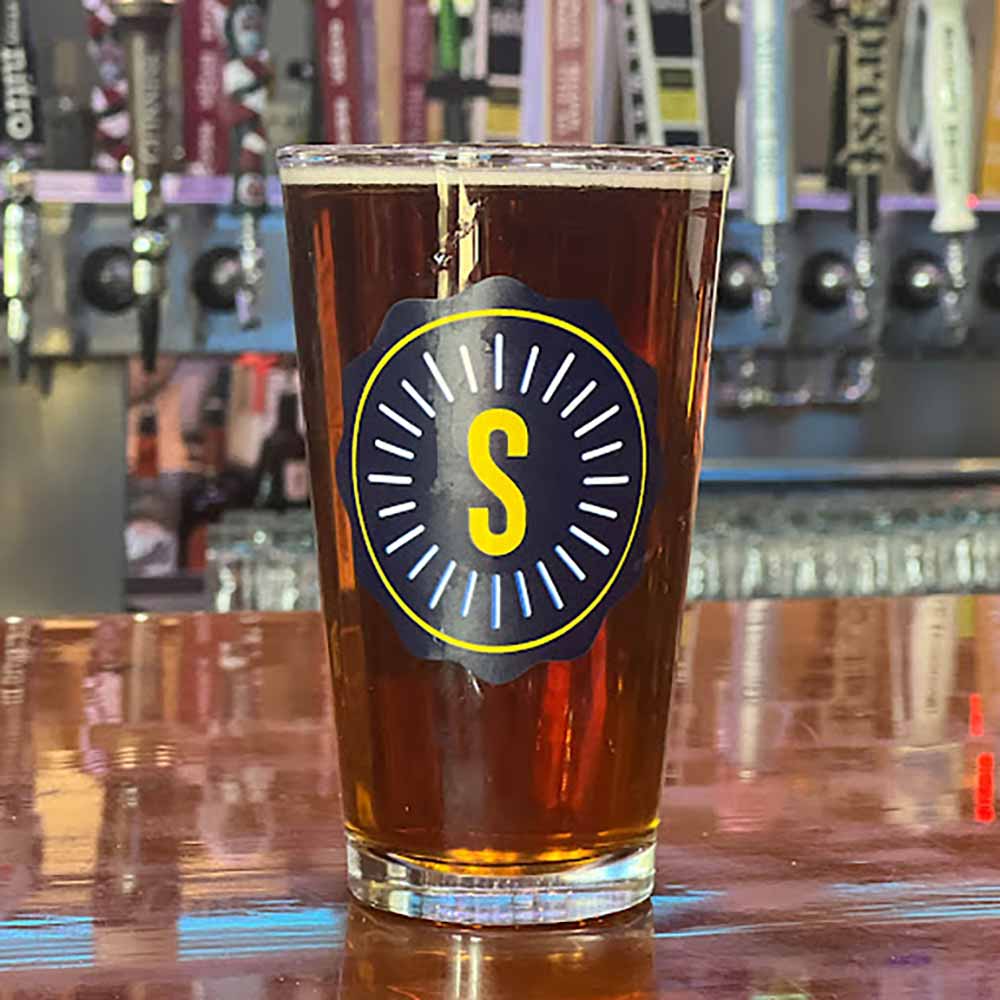 Opened in the former Fate Brewing Co. and Ska Street Brewstillery, Boulder Social features a 10-barrel 3-vessel German brewhouse already on site. The slightly more lager-centric brewery is "a whole new frontier" for Taylor who has previously worked mostly in English-style ale-focused brewhouses.
But it's an opportunity Taylor is excited for. "I'm appreciating lagers more for their subtlety in beer," says Taylor, who's interested in featuring a couple lagers in the brewpub's lineup alongside the hoppier options.
Taylor's new playground will give him the freedom to brew what he sees as at least four or five flagship beers. And while the lineup is still fluid, Taylor generally hopes to showcase at least a pils, a hazy, a house IPA, and something maltier like an amber or Irish red.*
"I'd like to have two lagers—a lager that leans hoppier and perhaps a kölsch or Mexican lager that leans malt," says Taylor. "I want to have three IPAs—perhaps a hazy, a West Coast, and a rotating IPA—and certainly something maltier like an Irish red, amber or even a Vienna."
With close to thirty years of recipes to draw from, Taylor says he has dozens and dozens of beers up his sleeve. Meaning room for creative freedom will lead to rotating seasonals as well.
For instance, Taylor mentioned potentially brewing a kettle sour, oatmeal stout, or rye porter, to name a few. Taylor expects to craft around a dozen specialty beers throughout the year.
But in addition to his own creations, Taylor says a focus will also be on guest taps. With twenty faucets available, Taylor sees at least twelve of those reserved for "more niche, unique beers that I couldn't do in house," he says.
Mostly, Taylor wants to highlight local beer, a nod to the incredible beer scene in and around Boulder.
Whichever way you pour it, fresh beer will be the focus at Boulder Social. "You see how much better fresh beer is when the beer travels all of twenty feet from inception to glass," says Taylor. "Boy, it is really tough to beat fresh beer in a pub!"
Only thing that might be able to beat it is pairing that fresh beer next to the perfect drinking food.
*Editor's Note: The house-brewed beers will most likely hit the taps by Thanksgiving, according to Taylor. For the moment, you can still find plenty of local beer pouring out of the twenty taps.
Boulder Social Expertly Pairs Fresh Brewed Beer with Pizza, Etc.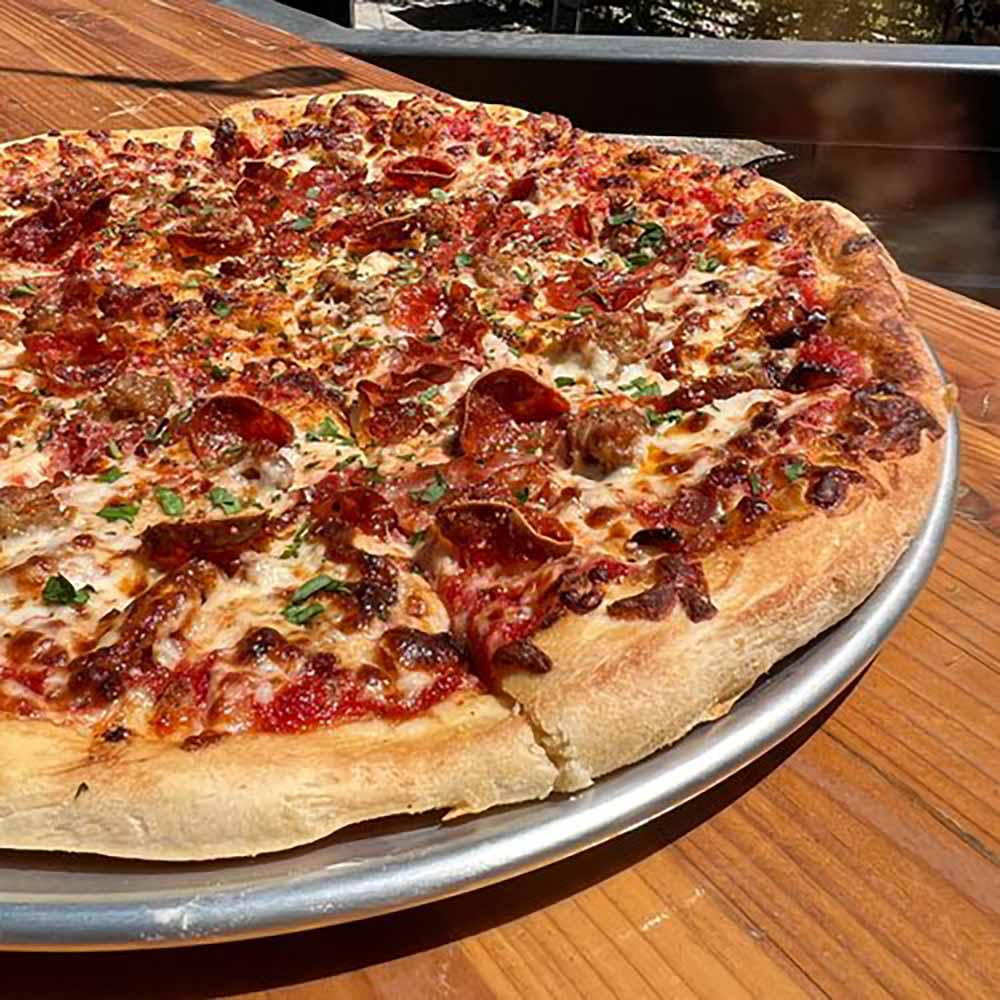 Although beer will be front and center at Boulder Social, just as much thought has gone into the food menu.
"Our roots are in beer and pizza," says Alex Hindman, general manager of Boulder Social. "We get the opportunity to fulfill [the owners'] wishes to explore small-batch beer that pairs well with a variety of menu items."
To that end, perhaps the best section to peruse to pair with beers are the signature hand-tossed Colorado Rustic Pizzas.
For instance, the Boulder Bello with roasted garlic, olive oil, mozzarella, and portobello mushrooms topped with fresh arugula, goat cheese, and a balsamic drizzle.
Or the Boulder Cowboy with BBQ sauce, mozzarella and cheddar cheese, grilled chicken, and applewood smoked bacon.
And it's no surprise that Hindman loves Alex's Spicy Prosciutto (yes, designed by her!) with prosciutto, fresh jalapenos, mozzarella and Hindman's favorite part—the creamy garlic sauce.
But the menu extends way beyond pies. In fact, Boulder Social features what Hindman calls "a social menu."
She says, "Anybody and everybody that comes in will find something that they love."
That could be seafood from the exclusive Raw Bar where chefs will shuck oysters and prepare handmade sushi rolls "with high-quality ingredients that are fresh and wonderful," according to Hindman.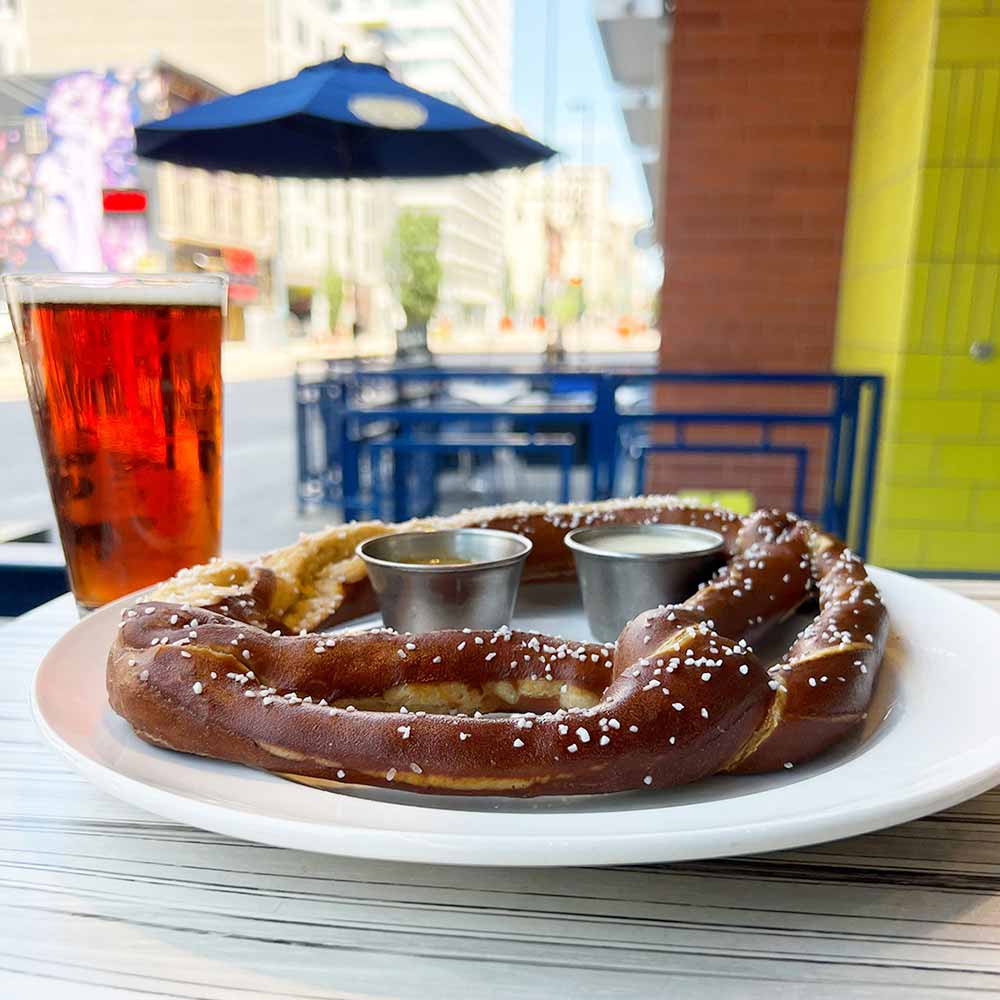 Or a couple of the Signature Appetizers. For instance, Hindman recommends the Giant Baked Soft Pretzel. "It's just so good," says Hindman. "Everybody loves a soft pretzel, and it's fun to share."
You'll find those dishes that you can share and socialize over threaded throughout the menu.
For example, the aptly named Social Nachos, the perfect big group appetizer that will have folks reaching for chips piled high with chicken pibil or pulled pork, queso, guacamole, black beans, diced tomatoes, fresh jalapenos, and all the fixins.
On the larger side, the Social Favorites include plates with a local twist like the Blackened Rocky Mountain Trout or Green Chile Mac & Cheese.
"At the end of the day, we just want people to leave happy and the menu allows us to do so," says Hindman.
Boulder Social Unites Beer, Food, and Friends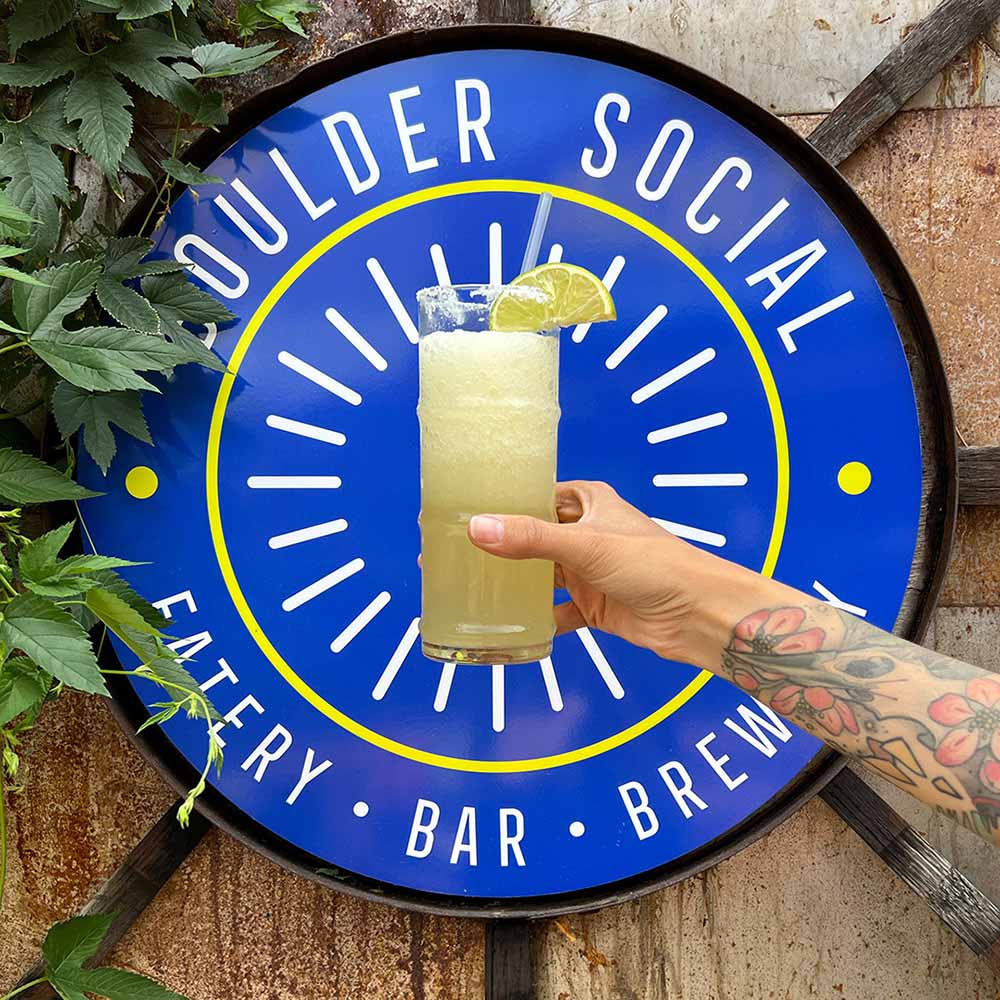 Boulder Social has been specifically designed to be "a beautiful environment to socialize" in Boulder, according to Hindman. The new restaurant and brewery is the kind of place where folks will feel right at home spending time with family and friends.
"I want everyone to feel comfortable hanging out," says Hindman. "There is a space for everyone whether that is grabbing food and getting back to work or playing Uno with the family while watching football on the patio."
Guests at Boulder Social will find various areas to get together with good food and company.
"They've done a beautiful job," says Taylor. "The space is gorgeous."
Want to catch the game with a couple friends?
Alongside a stylish center bar, fifteen large screen TVs throughout the complex mean you can watch the Denver Broncos, Colorado Rockies, or whoever you count as your favorite sports team.
Looking to host a social group meet-up or celebrate a birthday or bachelorette party?
Boulder Social has a huge outdoor patio with garage door access to the bar and fun yard games.
Just want to go out for date night?
In addition to the vast beer menu, Boulder Social features something for everyone with craft cocktail creations like the Elderflower Basil Martini, featuring Colorado's own Breckenridge Distillery. Or five Frozen Drinks and an extensive wine list.
Boulder Social's large beer menu, handcrafted cocktails, and unique offerings fit the bill for any social occasion.
Find Your Way to Boulder Social for Your Next Night Out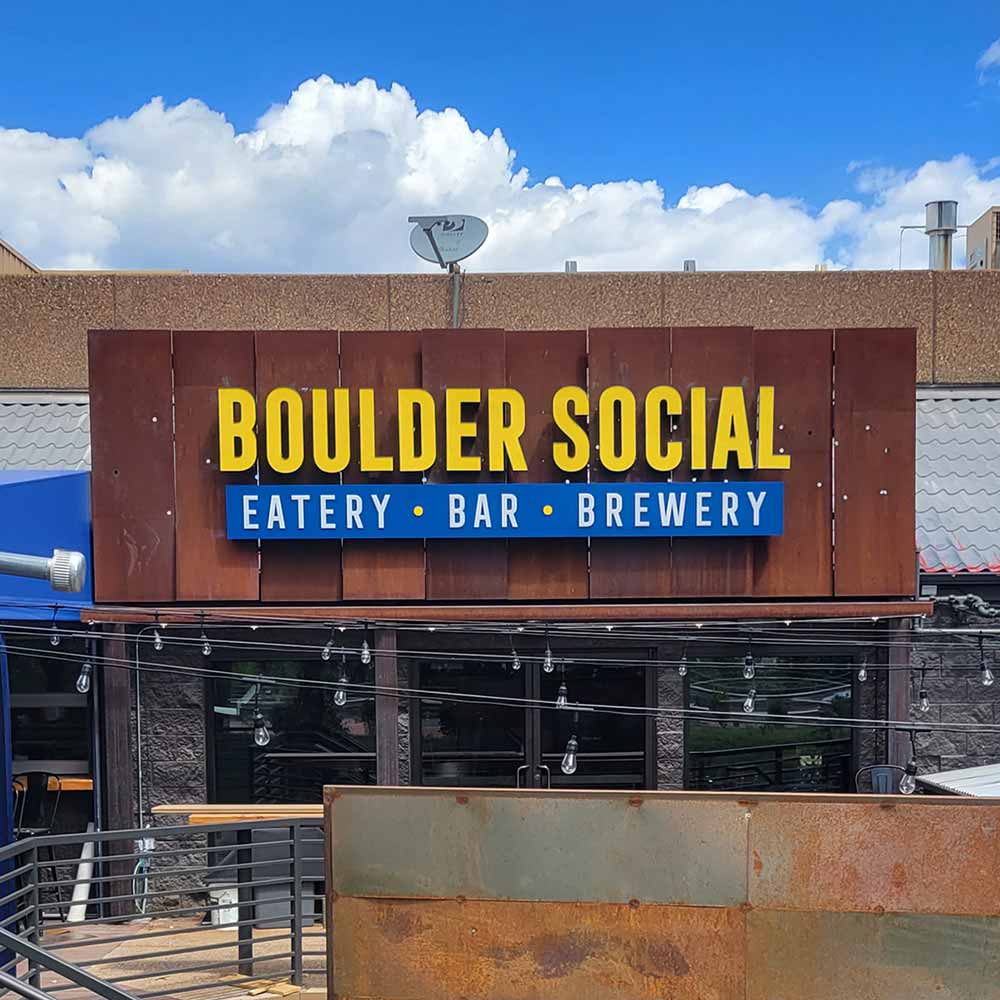 However you're looking to hang out and get together in Boulder, Boulder Social has elevated the game in town.
So far, Hindman says the reception from the community has been fantastic. "They're really happy a great local company has taken over the spot," says Hindman, who notes the patio has been especially popular.
For Taylor's part, he's not surprised at all.
"In Boulder, you build it and they will come," says Taylor.
Well, Boulder Social has certainly built the perfect hangout spot. Now, all that's left to do is for you to get over to 38th Street to eat and drink the night away with friends and family.