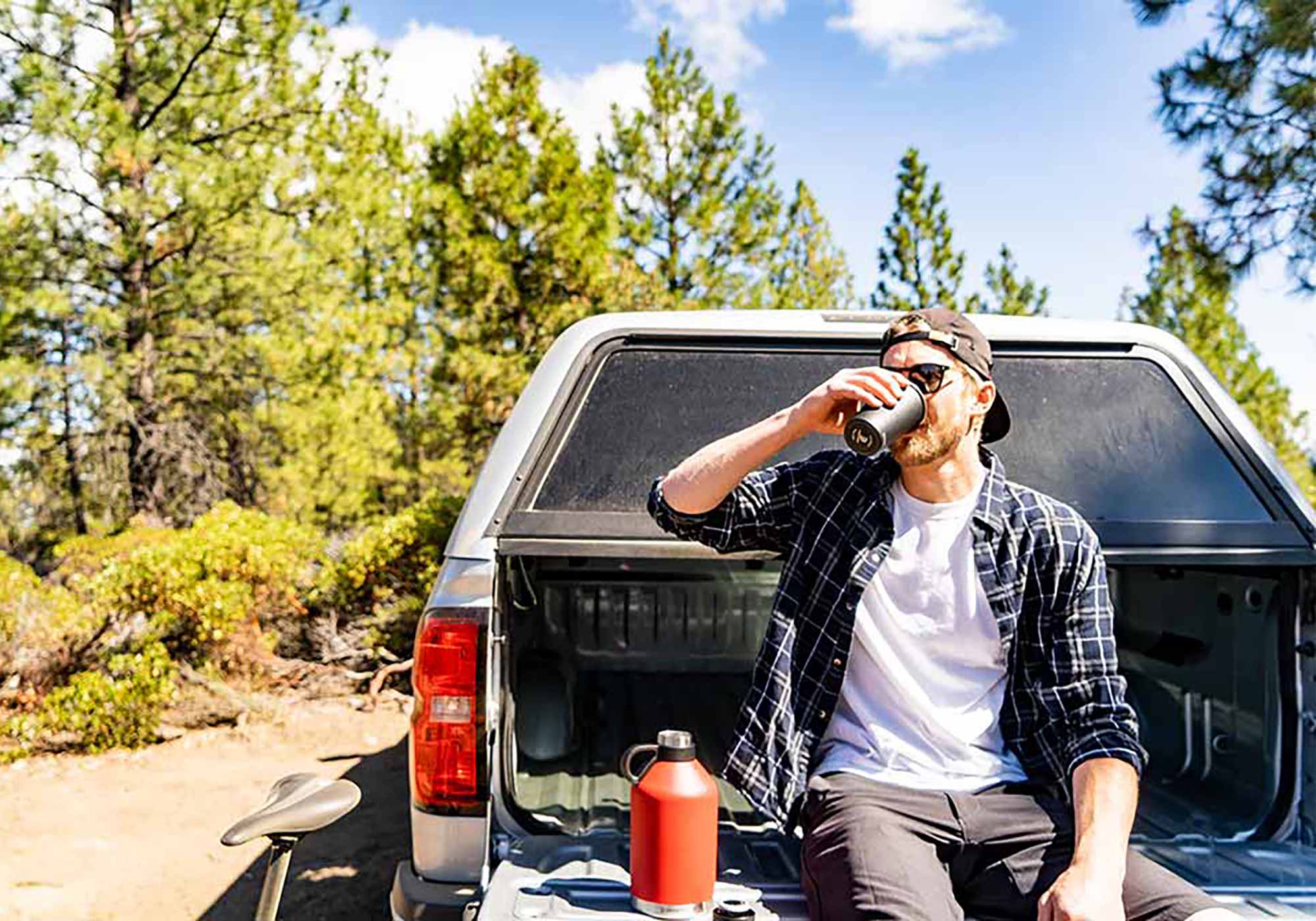 Photography courtesy of DrinkTanks
What does it mean to take an adventure today? Some might escape to Hawaii. Others might throw a tent in the car and drive to a campground. For me and my wife it means packing up the car for the day and taking our pup on a hike. Or visiting Lake Tahoe for a weekend of snowboarding. And honestly, it can also just mean hanging around the fire pit in our friend's backyard. Either way I have a good idea of what to put on a list of the best gifts for the adventurous beer drinker.
If you're looking for adventures to take in your own city check out the premier of Untappd's newest YouTube show, Next Exit, featuring the best places to eat, drink, and hang in the top beer cities in the world!
The point is travel and adventure has looked very different this past year. Whatever direction your compass points to nowadays these are the pieces of gear we love. Just make sure at the end of your adventure you toast it with a beer. We suggest one of these.
Hop Culture's Top 9 Gifts for the Adventurous Beer Drinker in 2021
DrinkTanks Travel Keg™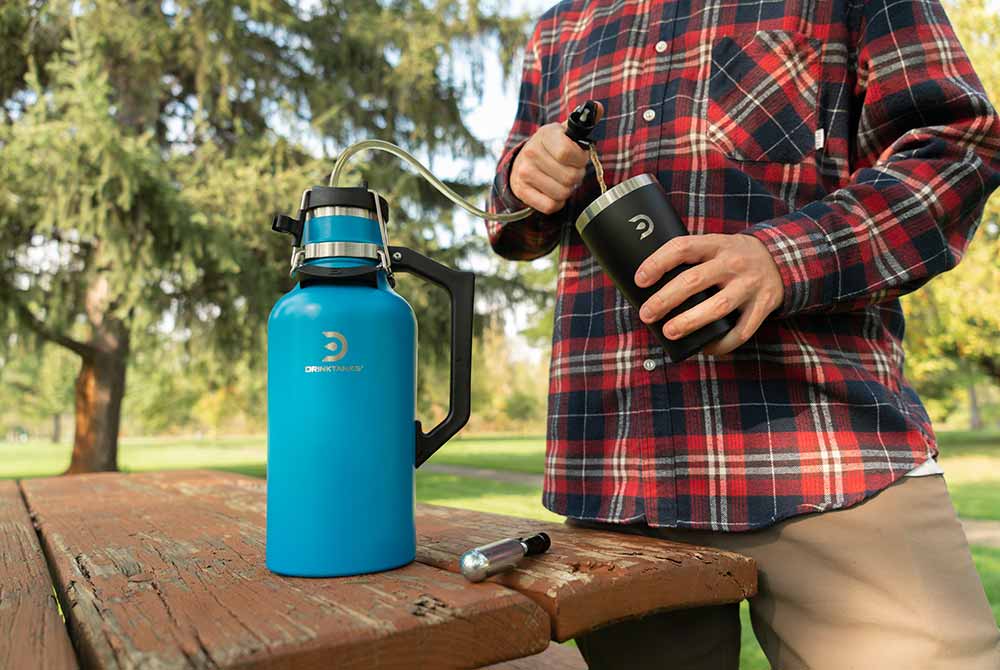 There's a reason we've repeatedly listed DrinkTanks in our top gear lists, such as The 8 Best Beer Growlers of 2021, The 11 Best Pieces of Gear for Memorial Day Weekend, and The Top 7 Beer Gifts the Hop Culture Team Loves. It's because DrinkTanks makes one of the best growlers on the market. We highly recommend the DrinkTanks Travel Keg™ for anything from your next tailgate to your upcoming mountain hike.
The DrinkTanks Travel Keg™ is the absolutely perfect for the adventurous beer drinker because you can fill it with beer and rest assured that your drink will consistently flow out of the Keg Cap® attachment as fresh and fizzy as when you poured it in. Even forty-five hours later, your beer will still be carbonated and cold. Thanks to DrinkTanks Craft growler's double-walled vacuum insulation, you just set it and forget it until your next perfect pour.
YETI Crossroads Duffel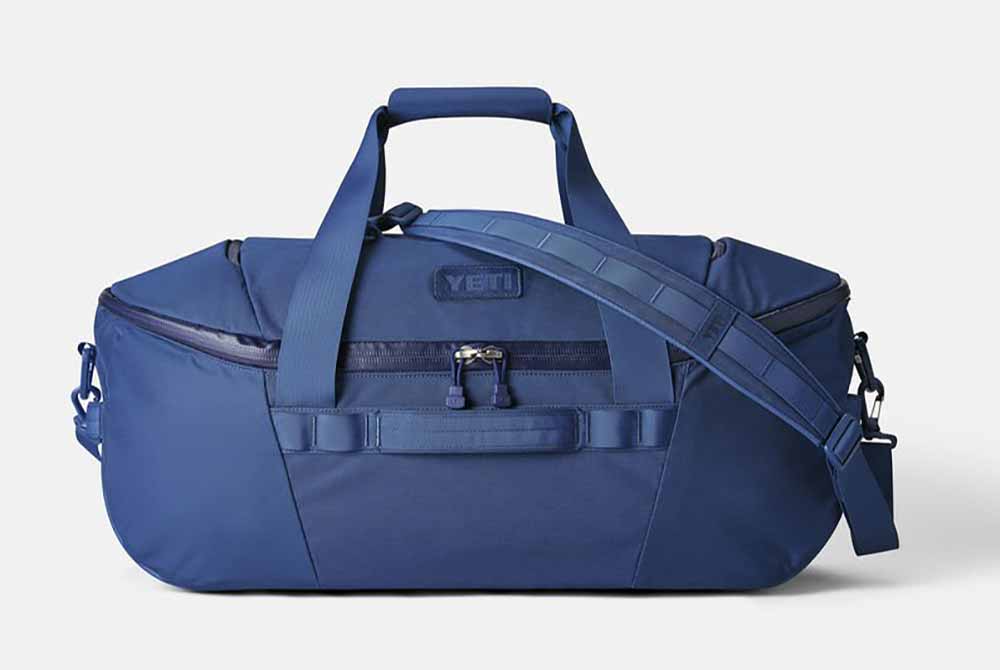 Normally, when we're talking about YETI it's because we're telling you to buy one of their amazing, durable coolers or Colsters. But this time we're switching gears because YETI surprised us with this new line of luggage. Regardless of whether you're looking for a duffel, cooler, bag, backpack, or rolling luggage, all of YETI's equipment features the same durability and versatility. This gear is made to last!
Our favorite is the Crossroads Duffel. Ready to rock and roll at a moment's notice, YETI's latest bag can hold all of your beer gear on your next adventure, whether you're taking off on a weekend trip to the cabin, flying cross country for a music festival, or planning an impromptu overnight. This is a no-nonsense, no-frills duffel that's actually put together with a lot of thought and care.
Weird Fishes Tumbler Glass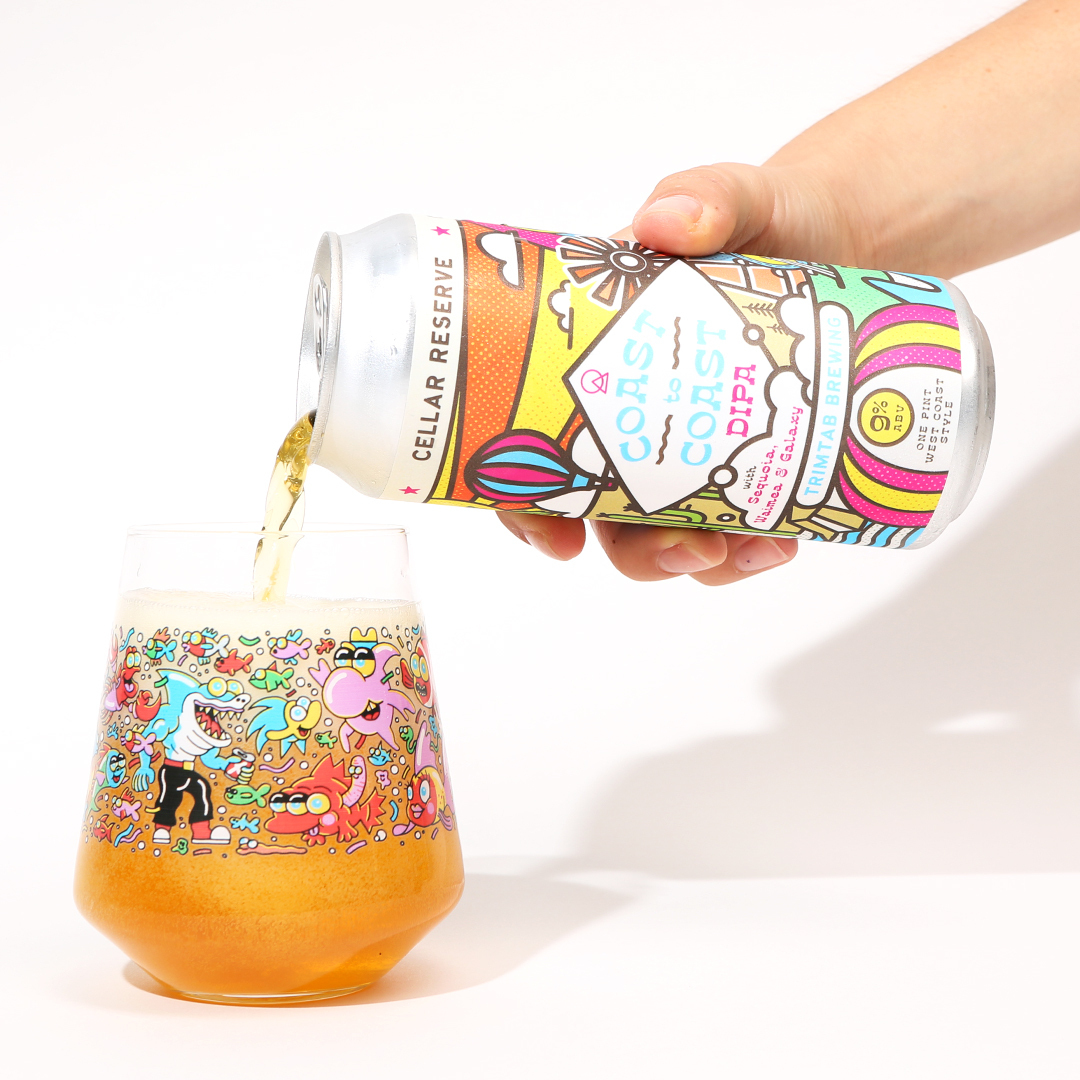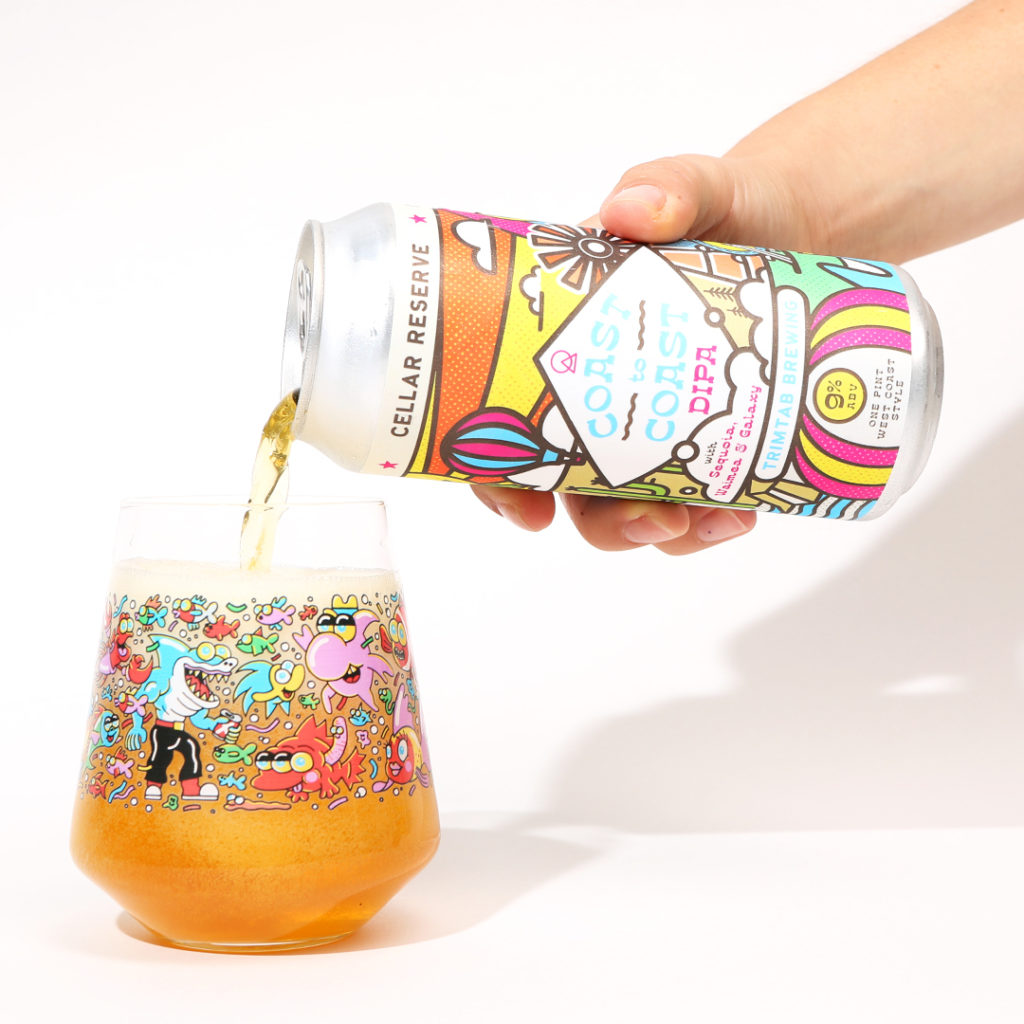 We've always wanted to make a glass that made it look like fish were swimming in your beer. And now, thanks to the genius of Hop Culture artist Sam Taylor, we've got one! Fish reminds us of many things: taking tropical vacations, going on trips to the aquarium, watching Jaws, or even just listening to that one Radiohead song. Regardless, you better hook one of these Weird Fishes glasses before they're gone.
The Good Thing Vinyl + Coffee Subscription from Tandem Coffee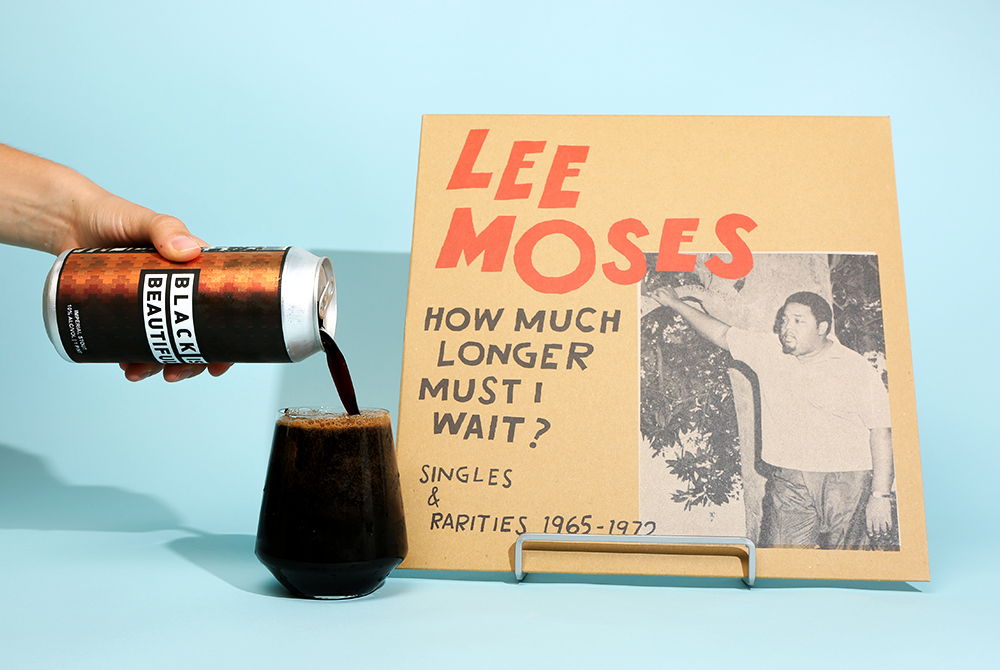 Speaking of music, I've been a part of Tandem Coffee Roasters The Good Thing Vinyl + Coffee club for over a year now. The subscription from one of Hop Culture's favorite coffee shops in the country sends out one bag of their excellent, hand-roasted beans sourced from all over the world next to an expertly-chosen vinyl every month.
Just in the past few months I've enjoyed coffee fairly sourced from Guatemala, Honduras, and Ethiopia. And listened to vinyl from artists from Los Angeles, CA to Addis Ababa, Ethiopia.
During the past year when I spent countless hours in my apartment I'd curl up with a good book and a strong cup of coffee, putting on the latest record I received in the mail. This subscription helped transport me to new places every weekend.
Brews Less Traveled Beer Club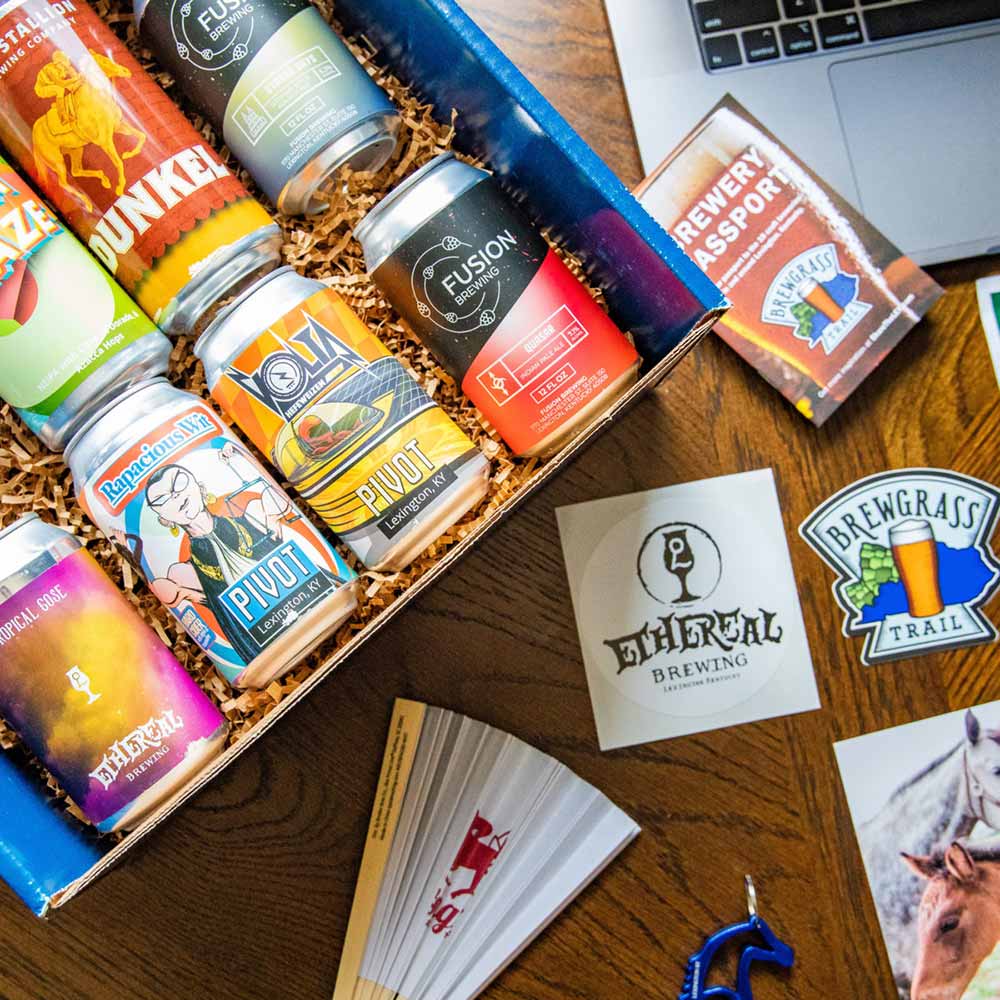 Again traveling may have been difficult for you this year. So why not bring beer from all over the country right to your front doorstep? The Brews Less Traveled Beer Club takes you on a tour through the best uncharted craft beer cities in the country, complete with weekly virtual tastings. Every month you'll receive six beers from different breweries across one unique beer city—each hand-picked by a team of beer experts—plus limited-edition glassware and a locally inspired gift. That's what makes this subscription box one of the best adventurous beer gifts.
Plus, you'll get to meet up with fellow travelers each week for the Brews Less Traveled live stream and virtual beer tasting to explore each beer in depth. You'll hear from brewers and other industry experts, chat with fellow Travelers and explore the beer scene in and around that month's featured city.
You can actually get your first month FREE when you lock in a six-month subscription to the Brews Less Traveled Beer Club today. So go forth and drink your way from state to state. All from your comfy couch!
Sip Under the Stars Wood Beer Chiller
Lying in the grass, counting constellations, and keeping an eye out for shooting stars are some of our favorite pastimes. Often the perfect adventure means packing up a tent and humping it into the woods for a campfire, some s'mores, and a couple of cold ones. And speaking of cold ones, these handcrafted starry night beer chillers are a great camping companion. Made by a couple in Vermont, these can holders are fashioned from the same Vermont hardwood used to make baseball bats. So they're durable. And biodegradable. Because, you know. Vermont.
Outdoor Beer Table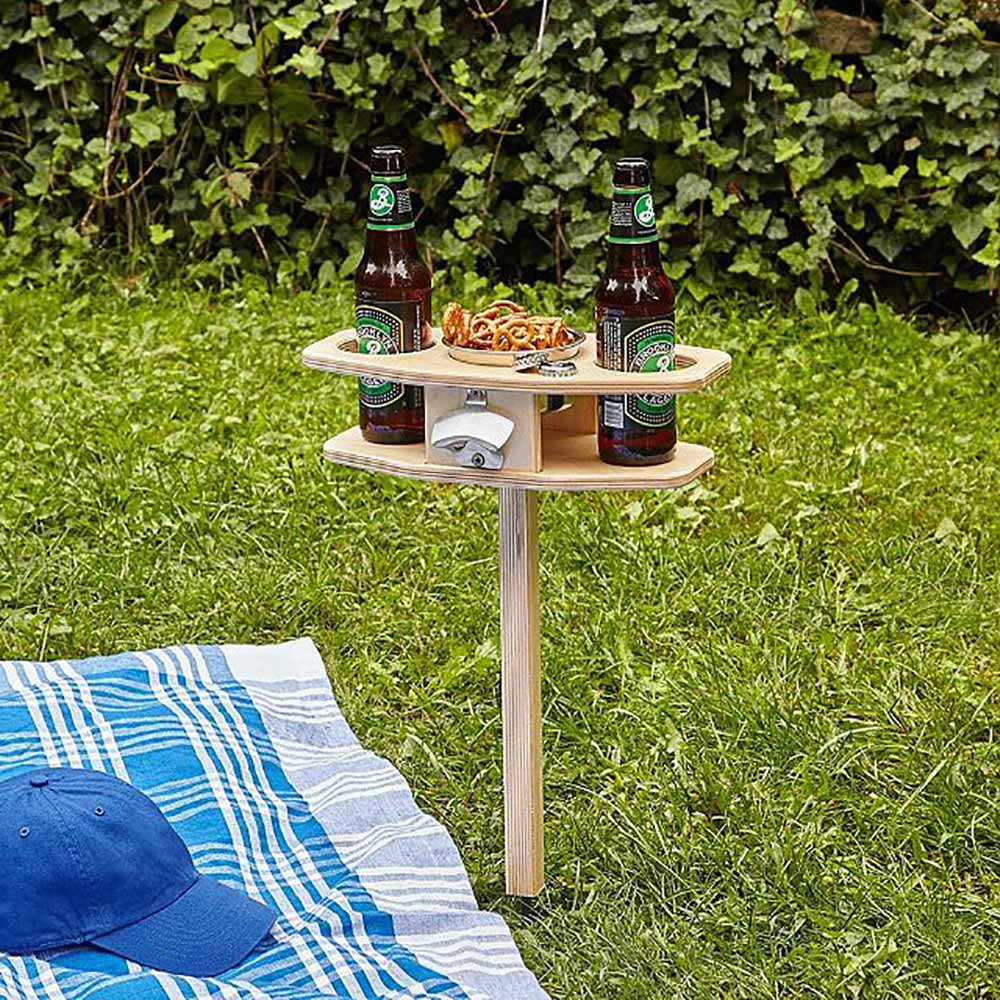 Here's our number one problem when we go picnicking: Keeping everyone's individual cans and bottles from spilling over every time someone gets up or a dog makes a move. We've tried a lot of DIY solutions like taking off our shoes and putting our cans into the ankle hole. But we're adults now, so finding something like this outdoor beer table means we can picnic without the panic. This Baltic birch plywood stand holds up to two cans, bottles, or glasses and even includes a built-in bottle opener and spot for a bowl. Because chances are, you're probably snacking along with drinking. Happy picnicking.
The Draft Top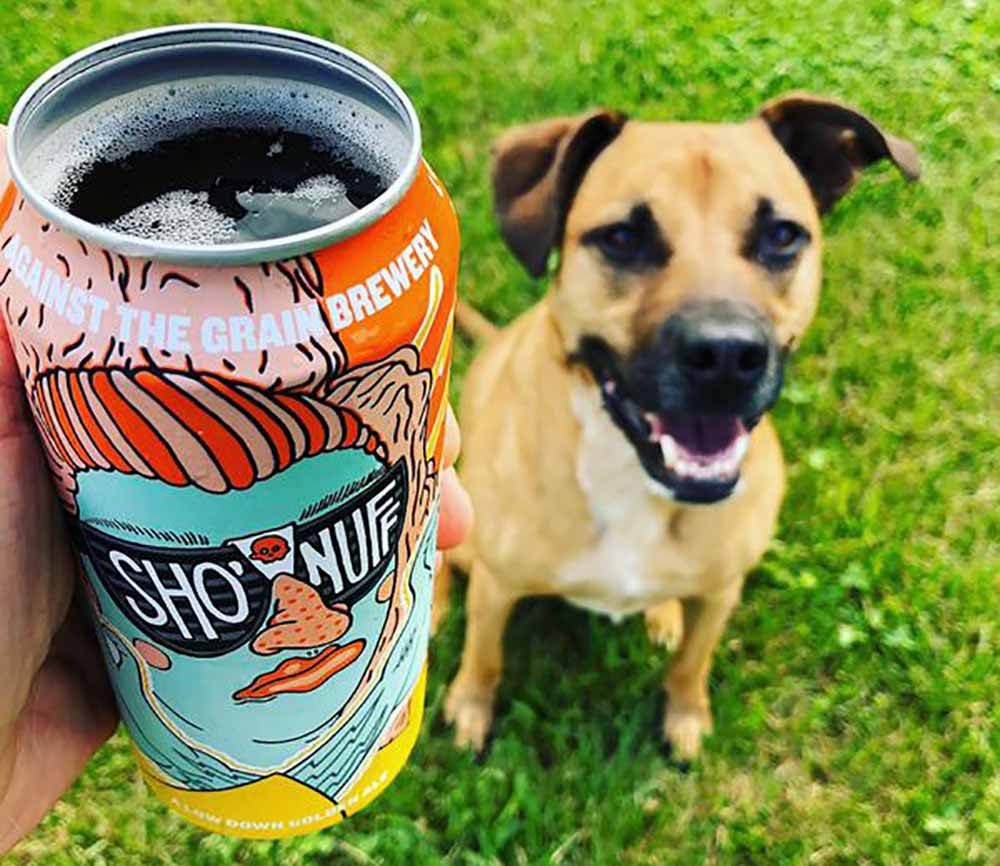 It's not often that we come across completely new beer gadgets. But this adventurous beer gift is a handy little tool that sheers the top right off your can. Draft Top lets your beer breathe, so you can enjoy the full aroma experience right out of the can without worrying about cutting your lips. Great for camping, hiking, or just sitting around a fire pit in the backyard. Is this something we absolutely need? Probably not. But, is it something we think is just cool and would make a great gift? Absolutely.
Limited-Edition Newair® Anniversary Series 100 Can Beverage Fridge
If I had to pick on a splurge on one adventurous beer gift it would probably be this beer fridge. Why? Well, one thing we can agree on right now: Even if we aren't able to travel across the country like we used to, we can still visit new places through the beer we drink. As Managing Editor I receive packages from breweries in every state from Maine to California. I need to make sure that I'm keeping all of this beer in its peak condition. So I need a beer fridge that's up to the task. While I'm a huge fan of Newair's complete line of beer fridges, I have to point you in the direction of this limited-edition beauty.
Celebrate Newair®'s twentieth anniversary in style. Available only on Newair.com (psst… hit the button below), this limited-edition mini fridge puts all of Newair®'s best design ideas and features into one complete fridge. That means a reversible double-paned glass door, adjustable shelving, LED lighting, and easy temperature control that chills your beer down to an icy 37° F.
Capable of storing 100 cans, this is the perfect fridge for well just about any aficionado whether an ale amateur or hardened hophead. There are only a limited number of these available. And once they're gone… they're gone. This could be your only chance to buy a fridge that features twenty years' worth of innovation.