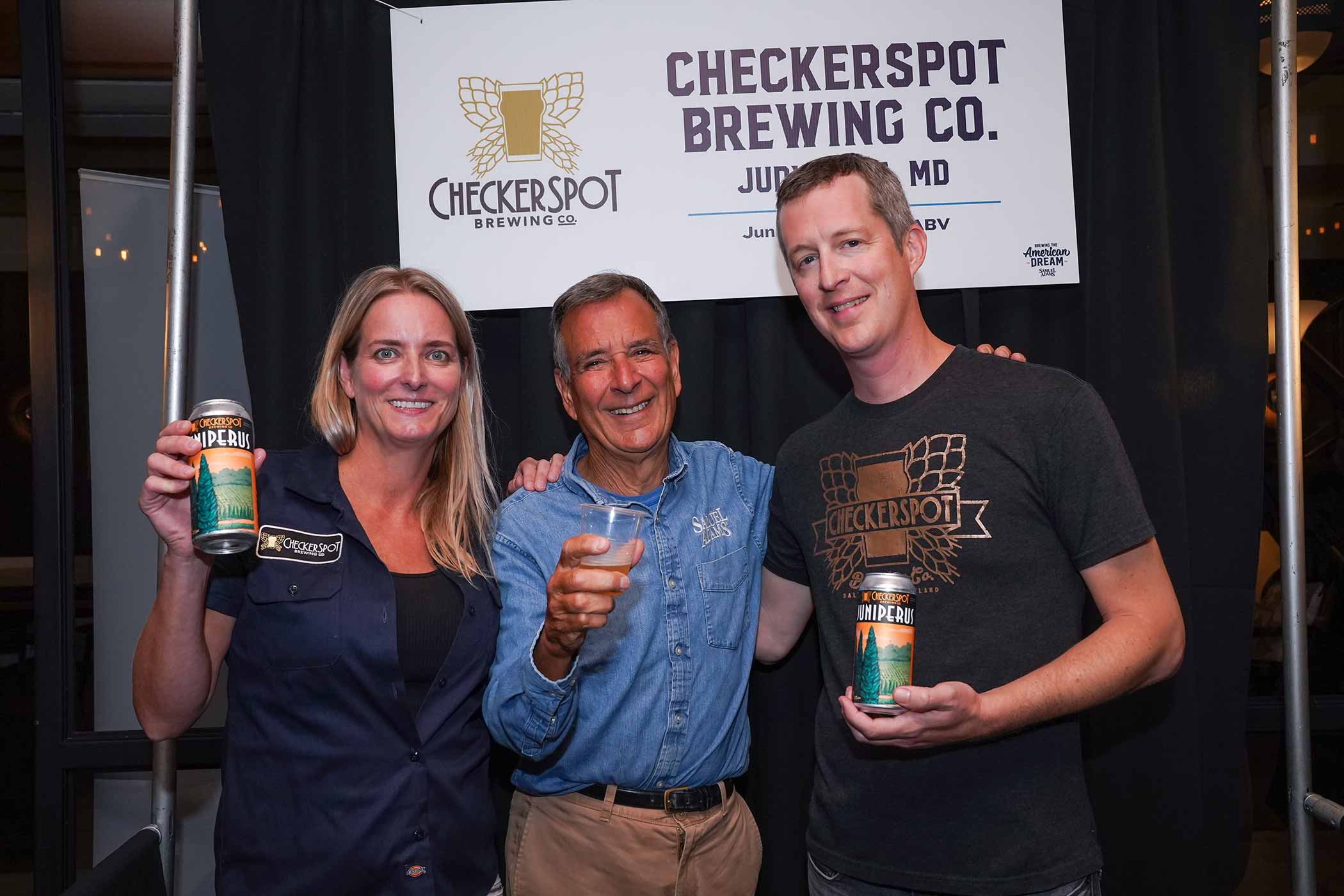 Checkerspot Brewing Co-Founders, Judy and Rob Neff, with Boston Beer Co. Founder, Jim Koch, at the Brewing the American Dream Beer Bash | Photography courtesy of John Nacion
Seemingly small actions can have a big impact. That's the underlying theory behind the butterfly effect. For Judy and Rob Neff, the co-founders of Checkerspot Brewing, named after the Maryland state butterfly, everything started during a tour of Anchor Brewery in San Francisco, CA.
Seventeen or eighteen years ago, Judy probably couldn't imagine how a simple guided walk through one of America's most iconic breweries would change her life forever. And in turn the lives of others.
"I thought it was the coolest thing and decided then and there that I wanted to start homebrewing," says Judy, who actually has a Ph.D. in microbiology.
What started as a kitchen stove setup turned into an actual basement brewery. By the time Judy shut that down, she said she had eight working taps downstairs. "It was pretty excessive," she laughs. "Probably meant I should start a brewery."
Which is exactly what she did. And then some.
Opening Checkerspot Brewing in 2018, Judy and her husband and co-founder Rob Neff were recently named the recipients of this year's Brewing the American Dream (BTAD) experienceship.
What Is the Samuel Adams Brewing the American Dream Program Experienceship?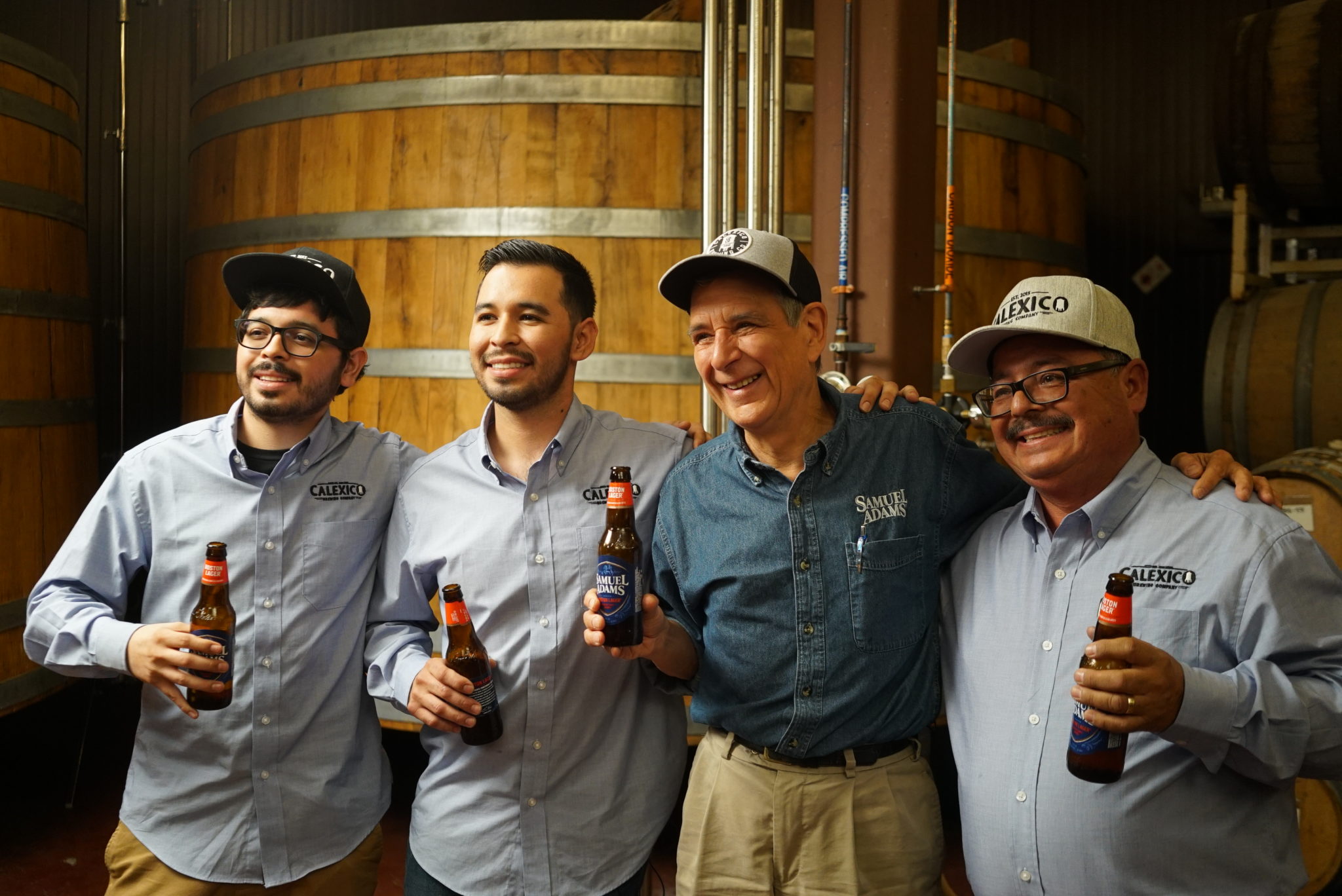 Awarded every year to an up-and-coming brewery with the goal to provide mentorship and capital to food and beverage entrepreneurs, The Samuel Adams Brewing the American Dream Program is a philanthropic arm of Samuel Adams that Jim Koch started in 2008.
In the past fifteen years, BTAD has partnered with the Accion Opportunity Fund to provide more than 3,900 loans totaling $91 million to food and beverage businesses in forty-one states. Additionally, the program has helped these businesses create more than 9,000 jobs and provided free business coaching to over 14,000 entrepreneurs.
This year alone, Accion Opportunity Fund and local partners have provided 510 loans totaling almost $17 million to food and beverage entrepreneurs across the country.
But the crown jewel of the program is The Brewing Experienceship, in which one brewer is chosen every year to learn from Samuel Adams' brewing and business experts such as Jim Koch himself. Furthermore, the winner receives financial support to check out important business building and industry networking events as well as the opportunity to brew a collaboration beer with Samuel Adams.
"The Experienceship is really near and dear to my heart as a brewer," says Jennifer Glanville, Brewer and Director of Partnerships at Boston Beer Co.
Those breweries that are chosen, like last year's winners Hopkinsville Brewery and five-year-old Checkerspot, demonstrate an extraordinary ability to fight the odds, thrive, and simultaneously give back to their own communities.
Boston Beer Co. Announces Winners of the 2022 Brewing the American Dream Program Experienceship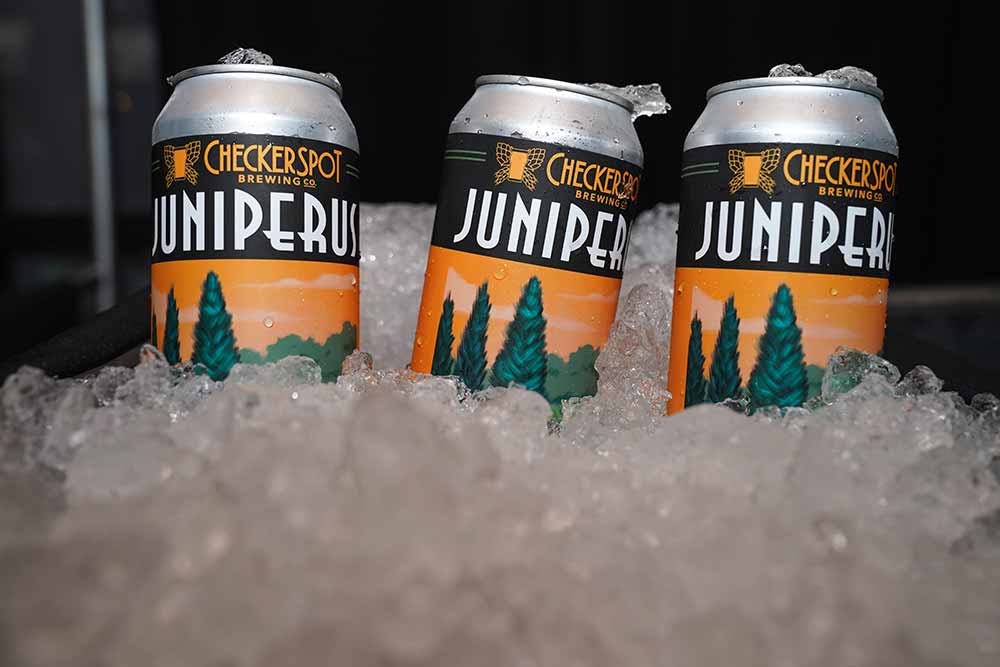 Boston Beer did things a little bit different this year. For the past fourteen years, when choosing a winner, Boston Beer picks from a series of around fifty-five applications.
"What could we do to evolve it a bit and make a connection?" says Glanville. "We're thinking that it's great that people apply, but we dont' know them, we can't taste their beer."
So Boston Beer developed the Beer Bash, a one night event in New York on National Beer Lovers Day on Sept. 7th, 2022, where they invited the five finalists—Wolf and Warrior Brewing Company from White Plains, NY, Brothas Brewing Company from California, Fibonacci Brewing Company from Cincinnati, OH, Rhythm Brewing Co. from Connecticut, and Checkerspot Brewing Company from Baltimore, MD.
The idea was that the Boston Beer team would be able to meet the folks behind the application, taste their beer, and make a final decision.
"We learned that it doesn't make it any easier when you know the people to choose a winner," laughs Glavnille. "All the brewers were amazing, it was very hard to choose a winner, but the thing that really resonated about Judy's story was it brought us back to people following their passion."
About someone who took a tiny little tour of an iconic brewery in San Francisco, came home, started homebrewing, and one day quit her job and went full force following her dreams.
Checkerspot Brewing: Beers for Everyone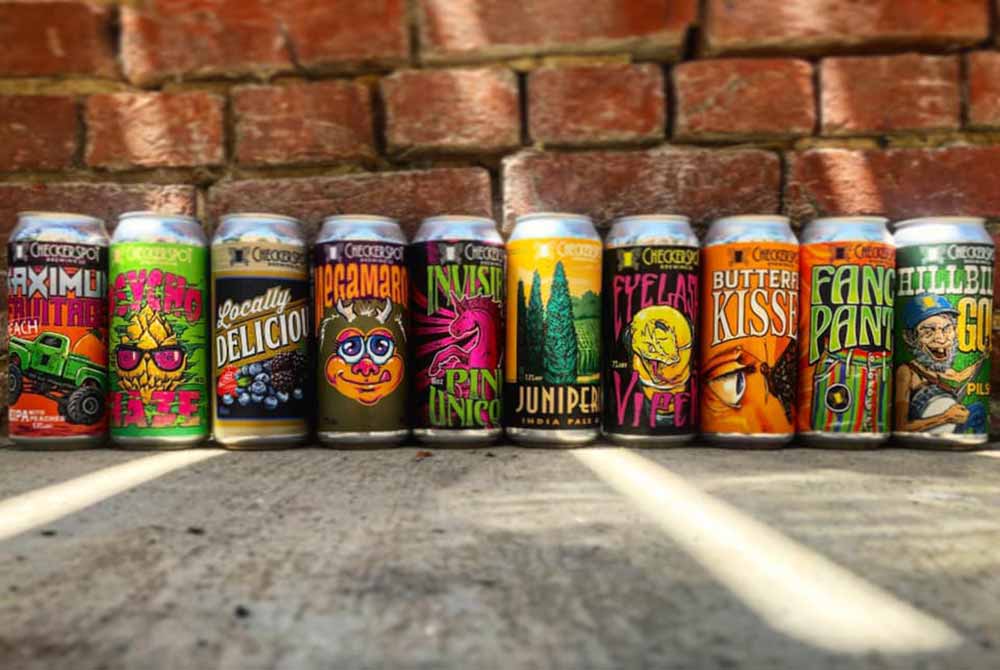 In the last half decade, Checkerspot made an immediate impact on their city. In fact, when Hop Culture Founder Kenny Gould visited Baltimore to film his travel show Next Exit, Checkerspot was one of the top spots he visited.
Named after the Maryland state butterfly, Checkerspot represents the idea that, "without great ingredients that are grown well and treated well by farmers and maltsters, we wouldn't have the beer we have," shares Judy.
And it's that deep appreciation that Judy and Rob carry through everything they do from the taproom to the brewhouse.
With a background and Ph.D. in microbiology, Judy meticulously applies all of her knowledge to her craft. But she doesn't peg the brewery down to just one style. Instead, Checkerspot has gained a reputation as a place that brews beers for everyone.
"One thing we're known for is having a variety on [tap], versus just a bunch of IPAs," says Rob. That means Judy puts a deft touch on everything from Belgian styles to stouts to sours to hoppy ales to high-alcohol imperial beauties.
For example, Juniperus IPA, an IPA brewed with juniper berries that Judy perfected for three years to get the right amount of juniper berries, malts, yeast, and water. "To me, it tastes like pine candy," says Judy.
Or Sip Happens, a sour with Earl Gray tea and lemon that "tastes like a very refreshing sour iced tea," says Judy.
It's an approach at the core of Checkerspot.
"'Something for everyone' is our motto," says Judy. And that extends beyond the taproom.
Brewing Beyond Beer: Checkerspot Creates Community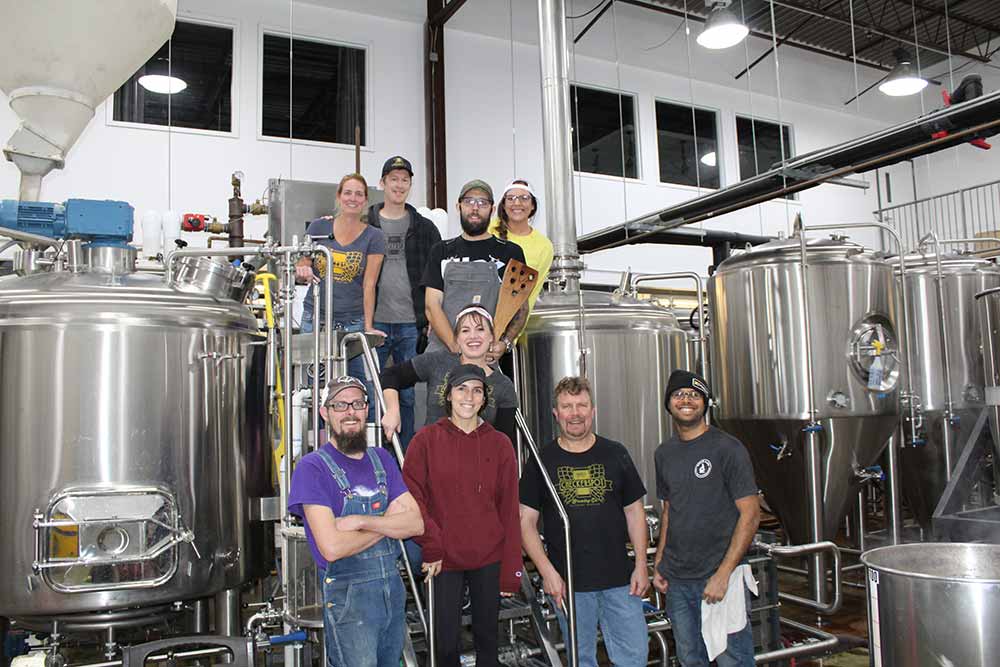 For Judy and Rob, beer has become the steering wheel to drive change.
"One of my favorite things is that you can use beer to do more, to give back so much more, than you could as an individual," says Judy. "From just raising awareness to different groups to donating beer to a ton of non-profit events to raising money."
At the core of Checkerspot is a dedication to giving back.
A fair amount of beers they brew support causes close to them and their fans.
Daily Dose of Freedom
For example, Daily Dose of Freedom, a beer the duo first brewed three years ago with a veteran homebrewer named Tim Treadwell, who, despite being diagnosed with stomach cancer, had dreams to take his brewing hobby to the pro level.
"He was a homebrewer like me, beyond passionate," says Judy
So much so that even smack dab in the middle of COVID, Treadwell masked up and brewed the beer again with Judy and Rob in 2020.
By 2021, Treadwell had passed away, but Judy and Rob wanted to keep his legacy alive, brewing the third iteration of the beer with his family. "All of them came, everyone had a hand in it, and celebrated it using his recipe," says Judy.
This year, for the first time, Judy and Rob decided to go bigger, brewing Daily Dose of Freedom on a larger 15bbl scale. Again Treadwell's whole family came out to help with the dry hopping and canning.
Each year Checkerspot brewed Daily Dose of Freedom, they chose a different organization to receive a portion of the proceeds, such as No Stomach for Cancer or Reveille Grounds by Baltimore Military Muster, a local veterans group.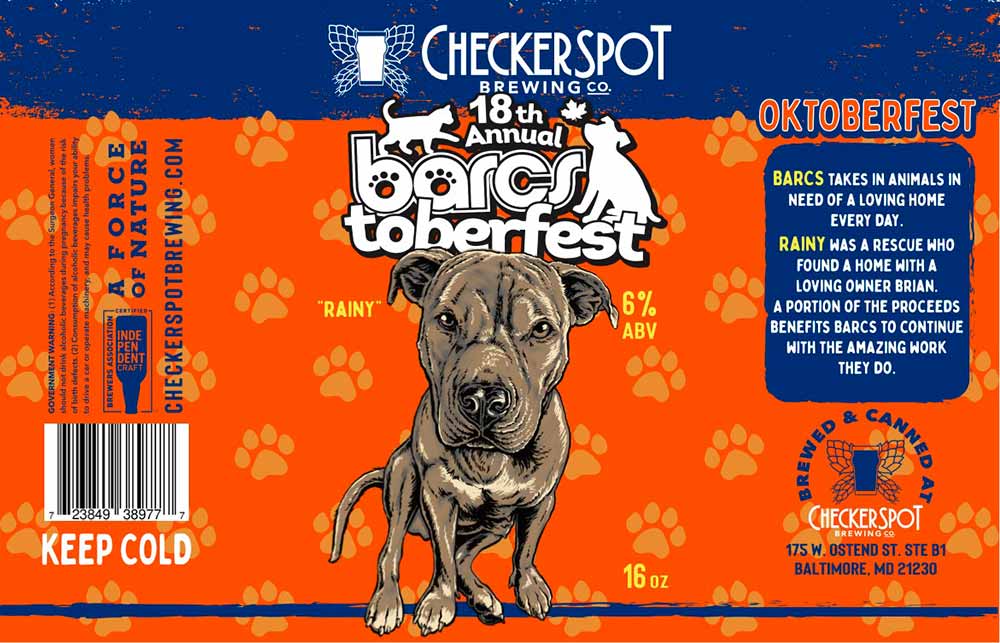 BARCStoberfest
Similarly, since dogs play a huge part at the brewery, Checkerspot partners with BARCS, the local dog and cat rescue in Baltimore. "We're extremely dog friendly as people as well as a brewery," says Judy. "There are so many dogs here all the time; it's one of the things we're known for."
Checkerspot does everything from direct fundraising to hosting events to even brewing BARCS' own beer—BARCStoberfest
To celebrate, the organization runs a raffle, raising thousands and thousands of dollars, according to Judy, where the winner gets to work with Checkerspot's incredible graphic artist Adam Miller (@amillerillustrator) to portray their dog on the can label. (Miller has actually been churning out Checkerspot's fantastic, creative labels since the very beginning.)
And once the beer comes out, Checkerspot also donates a portion of the proceeds directly back to BARCS.
It's this community-driven model that caught the attention of Samuel Adams.
"It's really about following your dreams and passion and often when things happen that are challenging that's what drives us to follow our passion," says Glanville, "She decided to quit her job and start this brewery. Fast forward when the doors open and they immediately had a connection to the community."
Glanville references Checkerspot supporting local veteran organizations, BARCS, and various efforts to support the community during the pandemic. "That combination with her inspiration really resonated with us. And of course, her beer was awesome."
Remember that Juniperus IPA? "Her beer was honestly incredibly balanced," said Glavnille. "Jim [Koch] looked at me and said, 'Jennifer, we brewed a beer with juniper that was really hard….this is really good!'"
Checkerspot Excited for Experienceship
Judy and Rob feel that winning this experienceship could not come at a better time.
Since opening five years ago, Judy says the brewery has grown faster and larger than they ever expected.
In fact, the pair bought a new, larger building for the brewery to accommodate for the growth.
Located in the entertainment district of Baltimore, this new location (what Rob affectionately calls "Checkerspot 2.0") is in a very up-and-coming area near stadiums and tons of foot traffic.
The bigger size and more efficient layout means there's room to increase production, a huge goal for the Checkerspot team.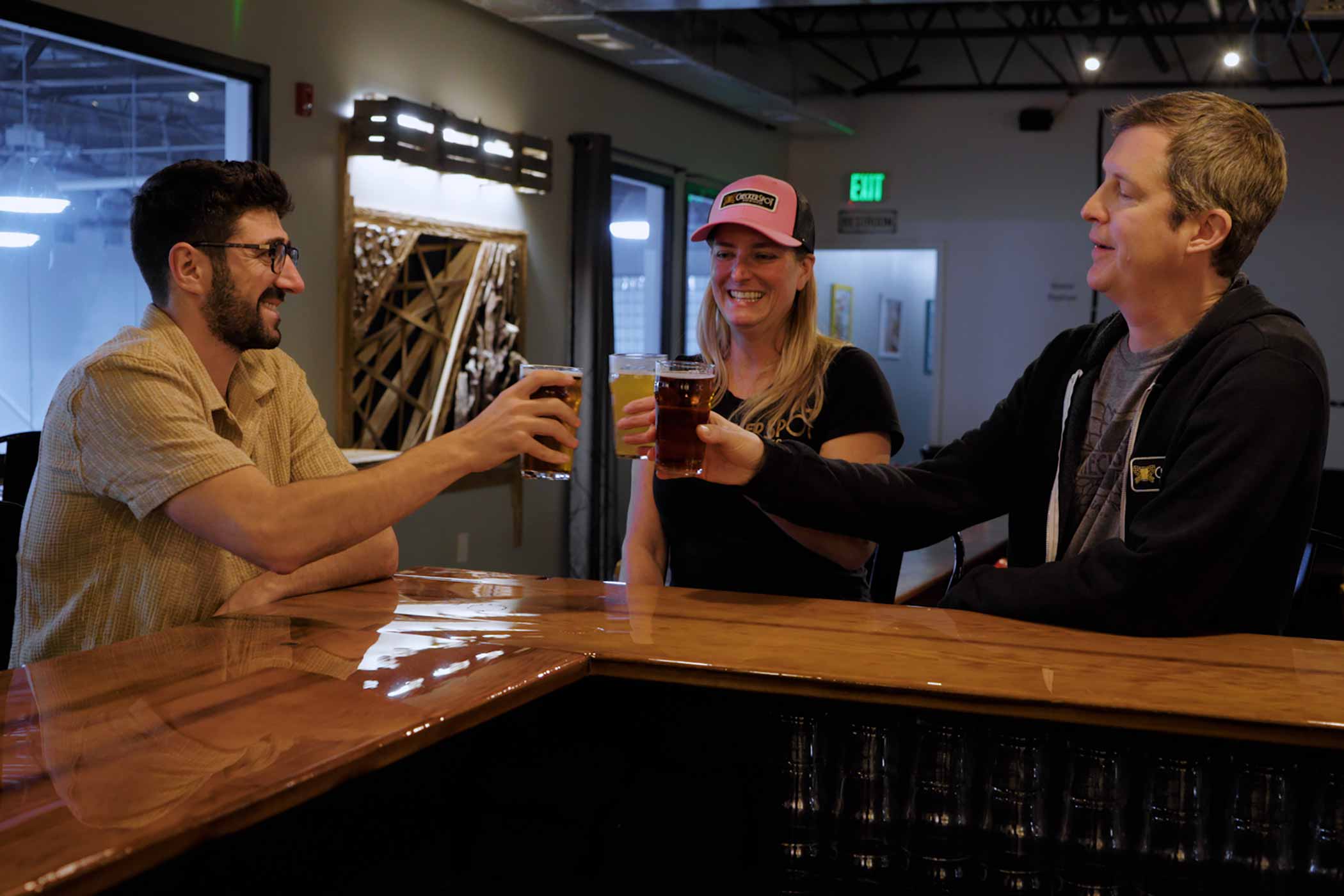 Checkerspot Takes Flight for the Future
For example, Checkerspot hopes to eventually send beer out of state, "having every tap line in the region," says Rob, who pretty much holds down all the sales right now. "Sam Adams has done this before a long time ago, so they know what they're doing."
It's that access to membership that has Judy psyched for the future. "We had our five-year plan…but all of a sudden it's been four and a half years, so now where do we want to be in five more years or ten years? What's the end game? What do we want to be?"
Those are the questions Judy hopes the people at Samuel Adams, one of the most successful breweries in the entire country (if not the world), can help her and Rob answer.
"Having experts to help us talk about the big picture can help us figure out [those questions] faster and feel a lot more confident that we're making the right choices," says Judy.
It makes a huge difference to have knowledgeable and experienced people just a phone call away so they can reach out at any moment. Even if it's just to discuss excise taxes or the best strategies to ship beer across state lines.
"We're permanently a part of the BTAD family and have access to all these amazing resources forever," says Judy.
It's hard to quantify the long-term effects of winning the BTAD experiencship for Checkerspot, but just like a tiny flap of a butterfly's wings, it will probably have reverberations for years to come. And at least for the moment, one thing is certain: Checkerspot is poised to soar to huge heights.